This recipe for Filet Mignon with Marsala Caramelized Onions is the best dinner I've eaten in a long time!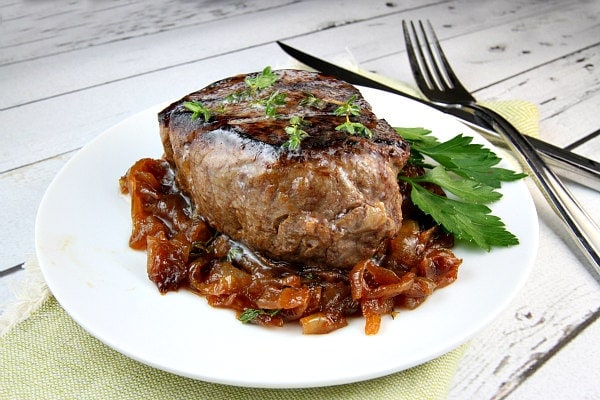 Now that my son is a big-time teenager, he's involved in high school activities most weekend nights.  This leaves plenty of time for my husband and I to have "date night!"  We very rarely go out to dinner.  I don't like spending the money to take a chance that what I'm eating out is going to be as good or better than what I can prepare at home.  This is one of those dinner recipes that was made at home and better-than-restaurant-quality!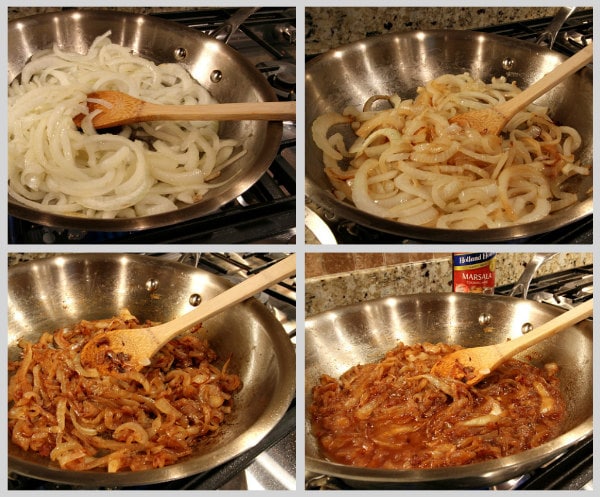 This recipe all begins with the onions.  They're slow cooked to caramelize them in the end.  Then they're doused with Holland House Marsala Cooking Wine to give them a burst of delicious flavor the is going to go perfectly with your tender piece of filet.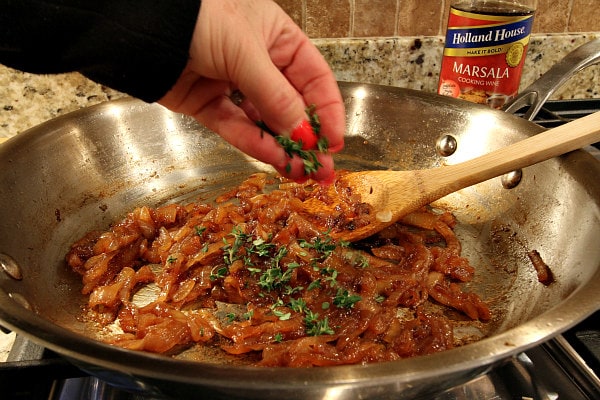 After the marsala cooking wine has reduced down and absorbed completely into the onions, a sprinkle of fresh thyme finishes them off.  Give the onions a taste at this point and you will see how absolutely wonderful they are!
I give some instructions for how to make a perfectly cooked filet mignon in the recipe below.  You'll be serving it on top of a nice pile of the Marsala Caramelized Onions.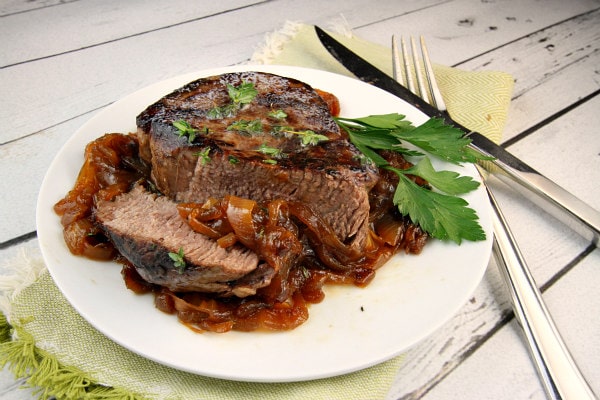 If all goes well, you should have a nice, tender piece of filet.  Grab a forkful of the onions to go with each bite.  You'll find the the Holland House Marsala Cooking Wine has really enhanced the flavor of regular caramelized onions.  The Marsala flavor component is a perfect pairing with beef.
This recipe would be nice for a Christmas Eve, Christmas Day or New Year's Eve special dinner.  And of course, it's perfect for date night too.  My husband had a very happy tummy on this date night!
Filet Mignon with Marsala Caramelized Onions
Yield:
2 servings
Prep Time: 40 minutes
Cook Time: 50 minutes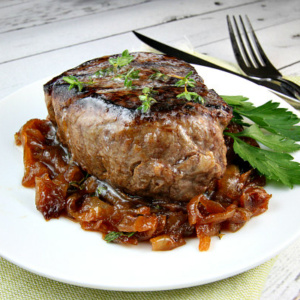 Ingredients:

          Marsala Caramelized Onions:

1 tablespoon olive oil
2 medium onions, sliced thinly
1 teaspoon kosher salt
1/2 cup Holland House Marsala Cooking Wine
2 teaspoons fresh thyme Filets:
2 medium-sized filet mignon
kosher salt
about 1 tablespoon olive oil
1/2 teaspoon garlic
freshly ground black pepper
1 tablespoon butter
thyme leaves, for serving

Instructions:

Prepare the caramelized onions:  Heat the oil in a large skillet over medium heat.  Add the onions.  Sprinkle with salt.  Cook the onions over medium to medium-high heat for 30 to 40 minutes, stirring often.  The onions will begin to brown, soften and reduce down.  Once they are looking nicely browned and softened (about 30 minutes in), add the Marsala Cooking Wine.  Turn heat to medium-high and continue to cook and stir until the wine cooks into the onions and evaporates.  Remove the onions from heat and sprinkle in the fresh thyme.  Set aside.
While the onions are cooking, prepare the filets.  Pat the filets dry with a paper towel, sprinkle both sides with salt and let sit on a plate at room temperature.
Heat the oil in a large skillet at medium-high heat.  Pat the filets dry with a paper towel one more time, rub with garlic and sprinkle with pepper.  Add the filets to the hot pan.  Cook until browned, about 5 minutes on each side.  Check with a meat thermometer for desired doneness:  120° for rare, 130° for medium-rare.  Top each filet with 1/2 tablespoon butter and let it melt on top.
Divide the onions between two plates.  Place a cooked filet on top of each pile of onions.  Sprinkle with additional thyme and serve.
SOURCE:  RecipeGirl.com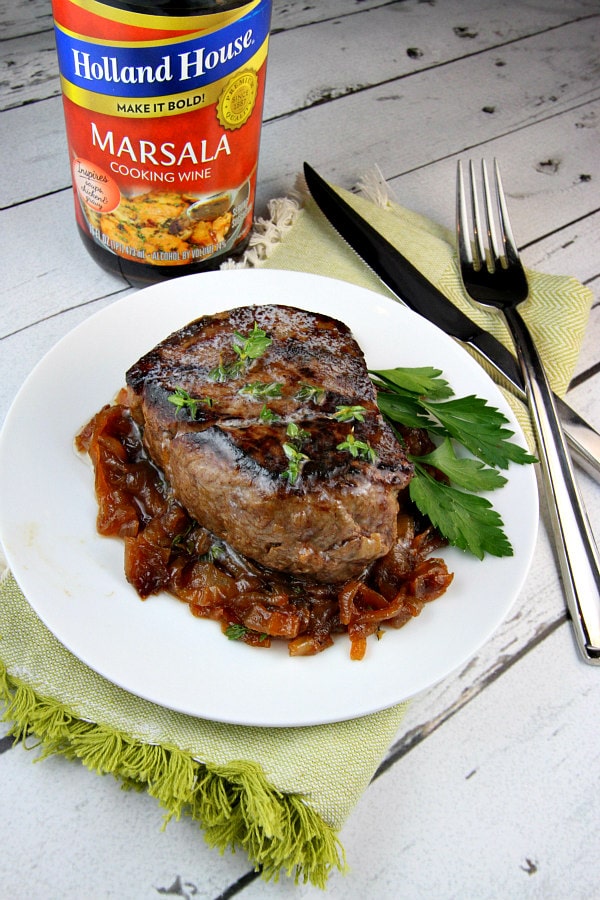 Here are a few more filet mignon recipes you might enjoy:
Disclosure:  This recipe was created in partnership with Holland House Cooking Wines.  I only write about products that I already use in my kitchen- and this is one of them!  RecipeGirl.com maintains full editorial control of the content published on this site. As always, all thoughts, opinions, and enthusiasm for products are entirely my own.