Great, simple rub for a good steak: Grilled New York Strip Steak with Spicy Rub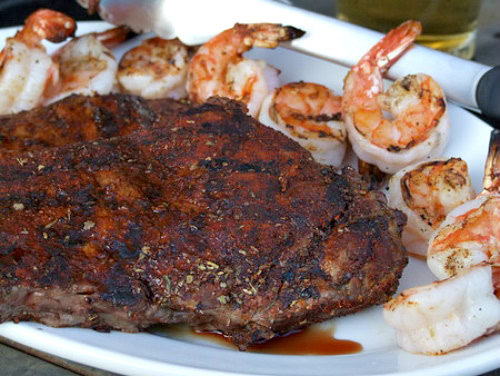 Grilled New York Strip Steak with Spicy Rub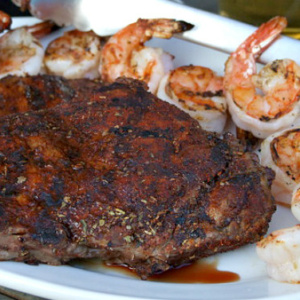 Yield:
4 servings
Prep Time: 10 minutes
Cook Time: 12 minutes
Ingredients:
Spicy Rub:
3 tablespoons paprika, preferably Hungarian or Spanish
1 tablespoon garlic powder
1 tablespoon chili powder
1 tablespoon dried oregano
2 teaspoons kosher salt
1/2 teaspoon cayenne pepper
1 teaspoon freshly ground black pepper
Steak:
4 1 1/2-inch-thick New York strip steaks
Directions:
In a small bowl, mix together the spice rub ingredients. Trim steaks of most of the external fat. Sprinkle both sides of steaks generously with rub.
Heat a gas grill. Turn one burner to high, another to medium, and another to off. (For charcoal grill, see tips below).
Sear steaks on hottest area of grill for 2 to 3 minutes on each side. Move to medium-hot (or unheated area of grill) if flare-ups occur. When steaks are seared and grill-marked,m move them to medium-hot area and rotate to create cross-hatched grill marks. Cook for another 4 or 5 minutes, then test for doneness with an instant-read thermometer: 120 to 125°F for rare, 130 to 135°F for medium rare. Continue to cook until done to your liking.
Remove steaks to a platter and cover lightly with foil. Let meat rest for 5 minutes or so before serving.
Nutrition:
If you slash the edges of the steaks in one or two places, it will prevent the steaks from curling up while grilling.
If you have any leftover rub, it can be stored in a close, covered container for up to 3 months.
If using a charcoal grill, arrange coals into 3 areas: a hot area, a medium-hot area and an area with no heat.