It's a day-off Labor Day holiday in America today.  Yippee!  It's a day for heading to the beach or the lake one last time for the summer, it's a day for visiting with friends, it's a day for loafing around on the couch in your PJ's and watching Lifetime television (oops… ), it's a day for cookouts and barbecues… it's basically a day for eeking out one last, long weekend of summer fun before you really have to get serious about the kids being back in school. Here's one for the cookout folks:  Grilled Skirt Steak with Corn and Cherry Tomato Salad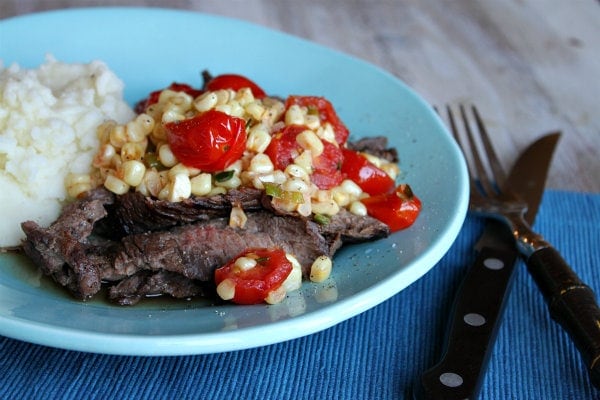 Here's how you make it: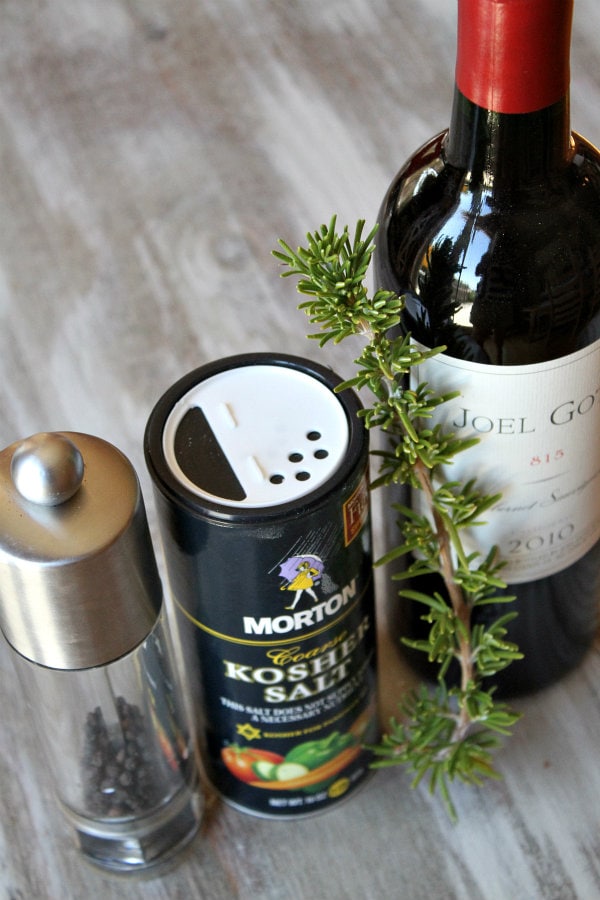 It's a very simple marinade- red wine- based with fresh rosemary, salt and pepper.  No oil is called for in the marinade- so if you want to keep as light as possible then leave it out.  Otherwise, I'd add in a glug of olive oil too (1 glug = about 1 tablespoon).
P.S. Use a red wine that you ENJOY for this recipe…not the cheapest stuff you can find.  Our newest favorite cabernet is Joel Gott.  Open up the wine for the recipe, and then drink the rest while eating your meal!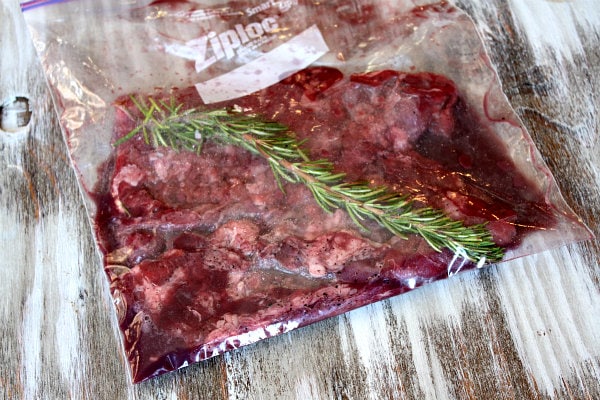 I used skirt steak for this recipe (but flank steak will work too).  Skirt is sometime tough to locate– I buy mine at Whole Foods.  I find that it turns out more tender than flank steak.  Marinate the steak in a zip bag while you prepare the corn- tomato salad.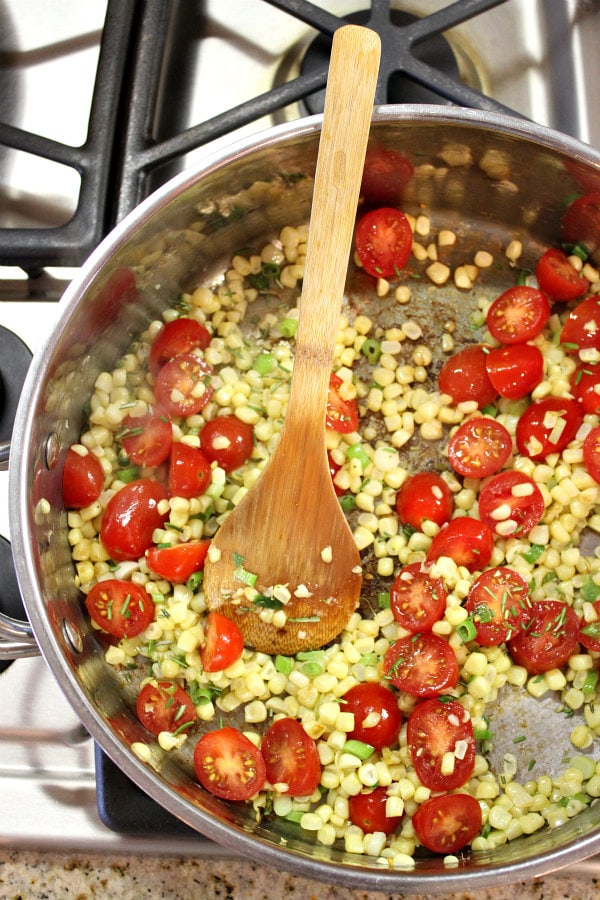 The "salad" begins with a simple corn and tomato saute with green onions and fresh rosemary in a small amount of oil.  It's then transferred to a bowl and finished off with red wine vinegar and a little salt and pepper.  Let the salad marinate a bit while you grill the steak.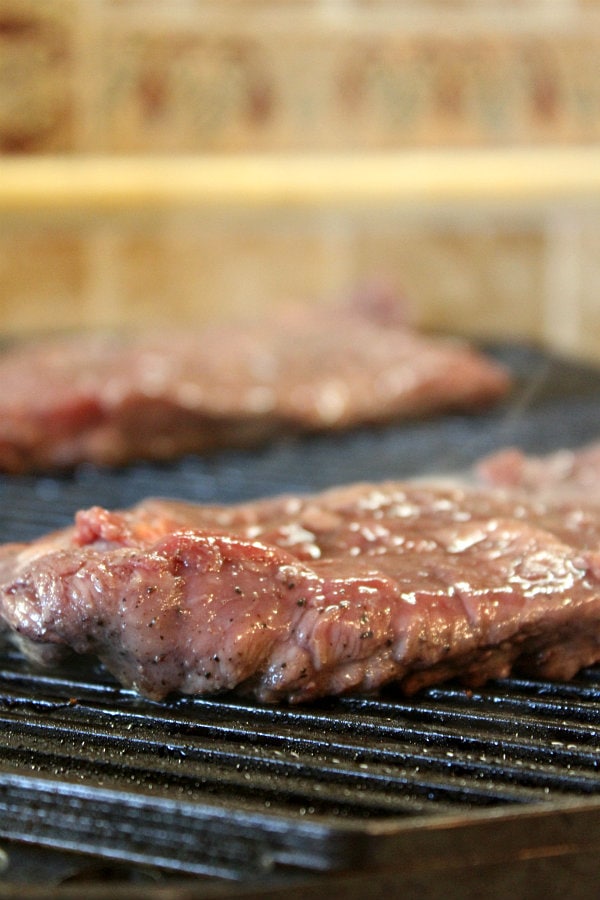 Grill the steak on a medium-heated grill outside or inside (I used an indoor grill pan, which I don't want to recommend since it's pretty tough to clean).  The perfect temp for medium is about 145 degrees- it's helpful to have a thermometer handy so you can get it cooked just the way you like it.  It's also a good idea to let the steak "rest" for a few minutes before you cut into it.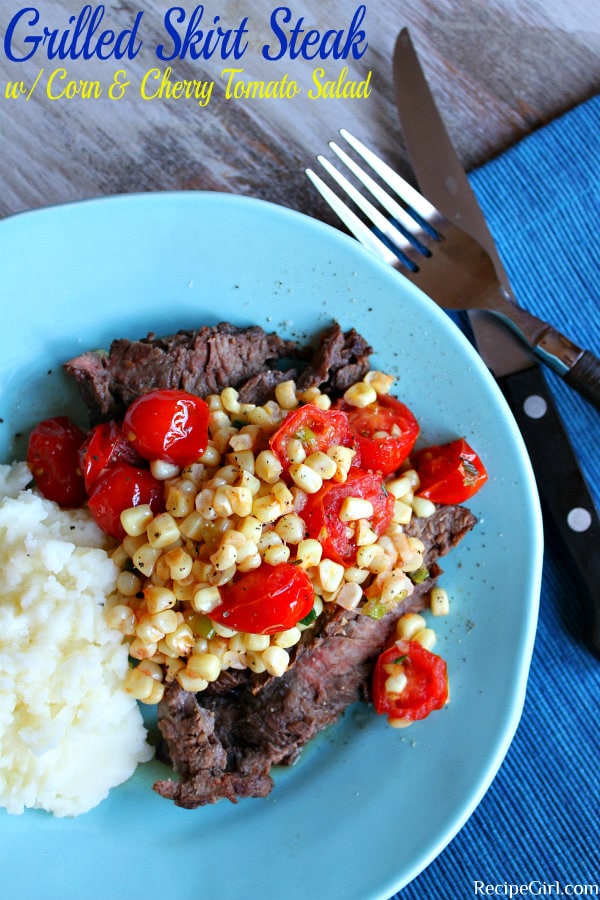 Slice the steak thinly across the grain, and top each serving with a spoonful of the corn- tomato salad.  Enjoy!  This recipe is Weight-Watchers friendly (points included in nutritional info below) and it's naturally gluten-free too.
Now, who's ready for FALL?!
Grilled Skirt Steak with Warm Corn and Cherry Tomato Salad
Yield:
4 servings
Prep Time: 20 minutes + marinating time
Cook Time: 25 minutes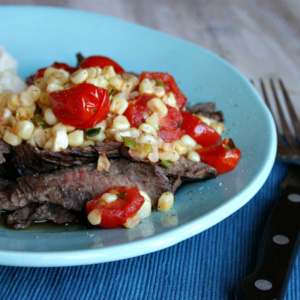 Ingredients:

1/3 cup dry red wine (cabernet is good)
1 sprig fresh rosemary
3/4 teaspoon salt, divided
1/4 teaspoon black pepper, divided
1 pound skirt or flank steak, trimmed (use a little more steak for more generous portions)
1 large ear corn on the cob, shucked
2 teaspoons extra-virgin olive oil
4 green onions (white and green parts), chopped
2 cups cherry tomatoes, halved
1 teaspoon minced fresh rosemary
1 tablespoon red wine vinegar

Instructions:

Combine the wine, rosemary sprig, 1/4 teaspoon of the salt, and 1/8 teaspoon of the pepper in a large zip baggie. Add the steak, squeeze out the air, zip the bag closed and massage the marinade into the steak a bit. Refrigerate the steak and lie it flat in the refrigerate. Let it marinate for at least 30 minutes and up to 2 hours (turning the bag occasionally to re-distribute the marinade).
Cut a piece off one end of the corn so that you can stand it flat inside a bowl. Use a sharp knife to cut down the side of the cob and gather the corn kernels into the bowl. Set aside. Heat 2 teaspoons olive oil in a medium skillet over medium heat. Add the corn, green onions, tomatoes and rosemary. Cook, stirring, 3 to 4 minutes, just until the corn begins to soften and the tomatoes begin to wilt. Spoon the corn/tomato mixture back into the bowl. Add vinegar and remaining 1/2 teaspoon salt and 1/8 teaspoon pepper. Let stand at room temperature.
Spray a grill rack with nonstick spray. Preheat the grill to medium-high. Remove steak from marinade (discard marinade). Place the steak on the grill rack and grill until an instant-read thermometer inserted in the side of the steak registers 145 degrees F. for medium, 3 to 4 minutes on each side. Transfer the steak to a cutting board and loosely cover with foil; let stand 2 to 3 minutes. Cut across the grain thinly into 12 slices.

Tips:

Optional: Add 1 large peeled and chopped cucumber to the corn salad.

Nutrition:

Nutritional Information per serving (recipe divided into 4 servings) Calories:

251, 

Fat:

9g, 

Saturated Fat:

3g, 

Sugar:

4g, 

Sodium: 499g, Fiber:

3g, 

Protein:

26g, 

Cholesterol:

42mg, 

Carbohydrates:

12g

Weight Watchers POINTS per serving:  Freestyle SmartPoints: 4, Points Plus Program: 6 Old Points Program: 5
Here are a few more grilled steak recipes you might enjoy: