Today I'm sharing a Four Seasons Hotel Baltimore Review:

Earlier this summer, my husband and I found ourselves in Baltimore with nothing to do while our son attended a lacrosse camp.  We consulted cousins who live in D.C., and they suggested we try the Four Seasons.  Since it was just going to be us… and it was like a little vacation all on our own… we decided to splurge and enjoy this inner-harbor, luxury hotel.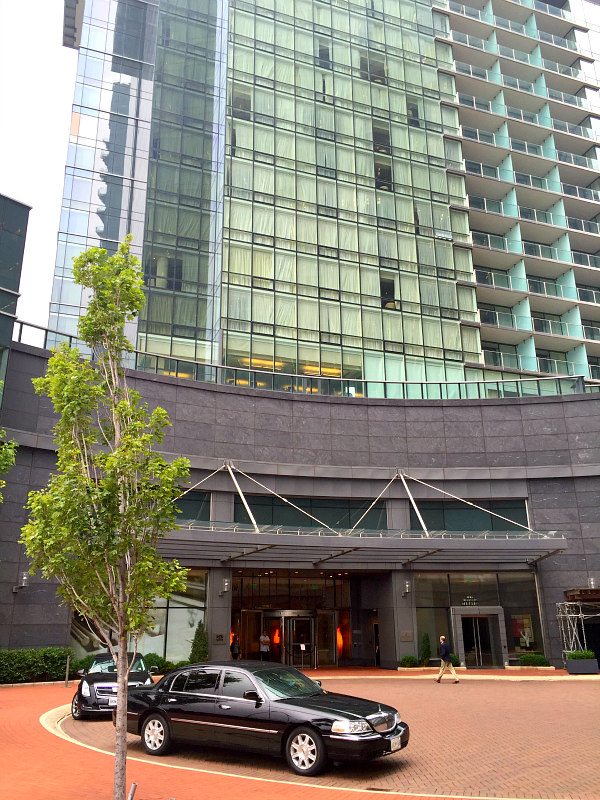 The Four Seasons Baltimore sits directly on the harbor.  It's a fantastic location for walking around to shopping and restaurants.  I was soooo excited to find an Anthropologie right next door to the hotel!!  As you drive or walk up to the hotel, their friendly doormen are eager to assist you and you will never open a door yourself!
We had a car with us and were able to park in the hotel's parking garage.  Cost for parking was around $25 per 24 hours.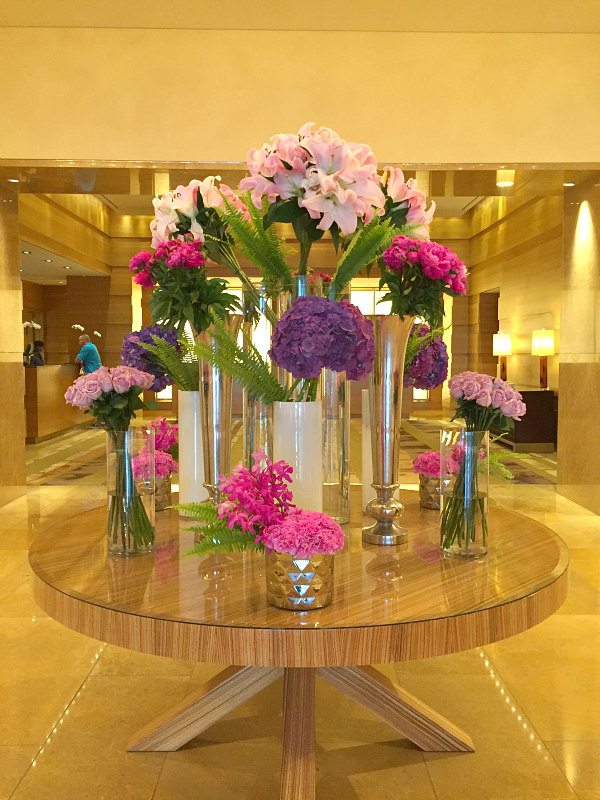 A gorgeous display of flowers greets you as you enter the lobby.  To access floors via the elevator at the Four Seasons Baltimore, you must scan your room card in the elevator.  Good security.
We were up on the 8th floor, and we chose a city view king room.  It was a very comfortable, spacious, quiet room…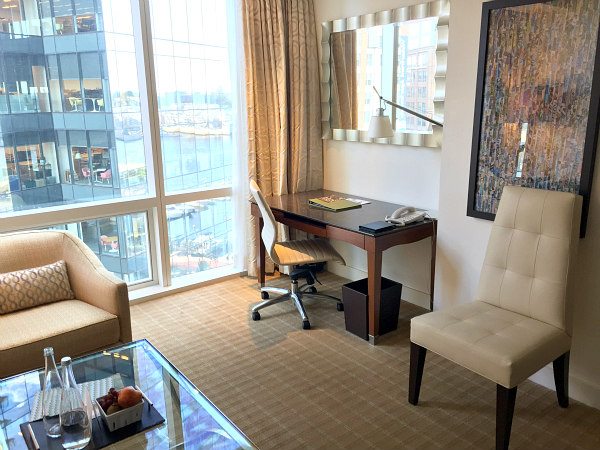 … with a nice sitting area and desk.  Our son stayed with us the first night we were there, and we were able to fit a rollaway bed easily into the extra space.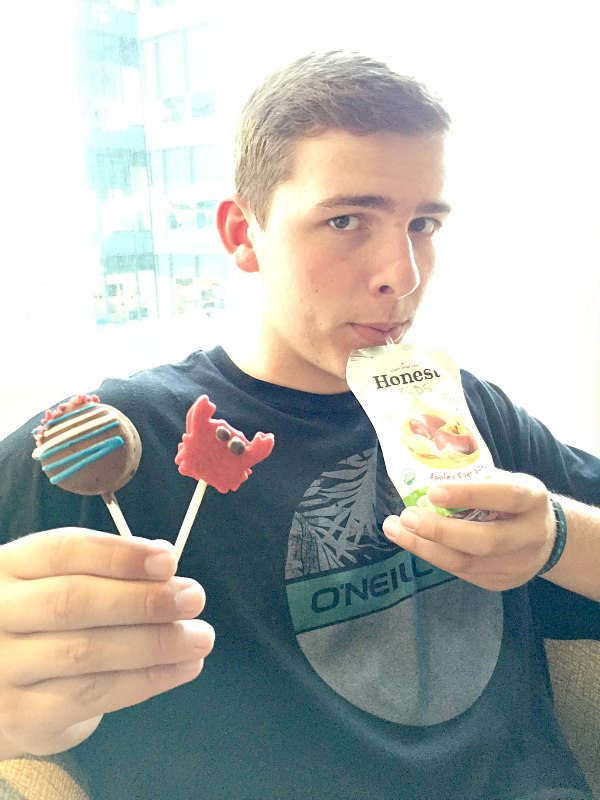 Concierge surprised us with some fruit, nuts and sparkling water– as well as a few goodies for the kiddo!  We've stayed at the Four Seasons in other cities, and have had this same sort of surprise at every one of their hotels.  It's a nice little luxury that they impose upon their guests.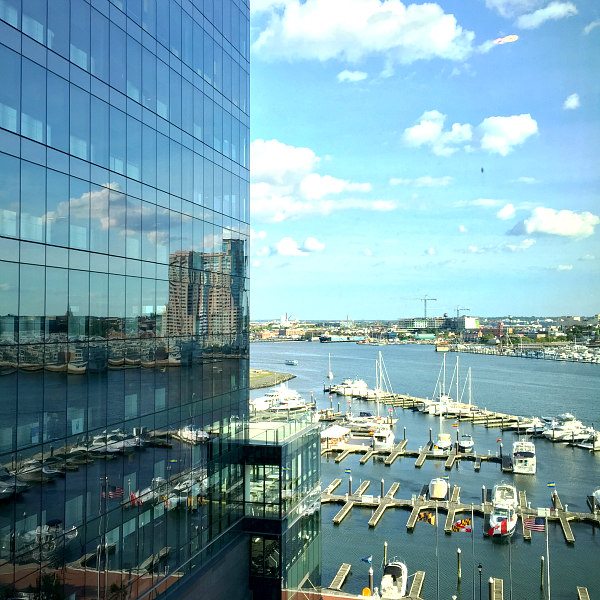 Since we reserved a city view room, we were delightfully surprised to also have a harbor view.  Gorgeous!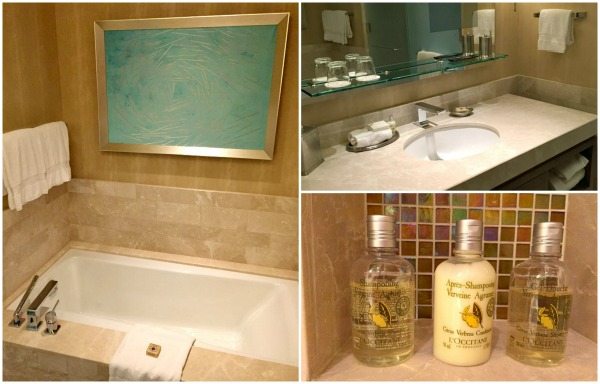 The bathroom was beyond our expectations.  The sink area had a TV built into the mirror (I've never seen that before!)  The tub area was comfortable.  Then there was a completely separate shower area and a separate toilet room too.  Nice bonus: good shampoo and body wash!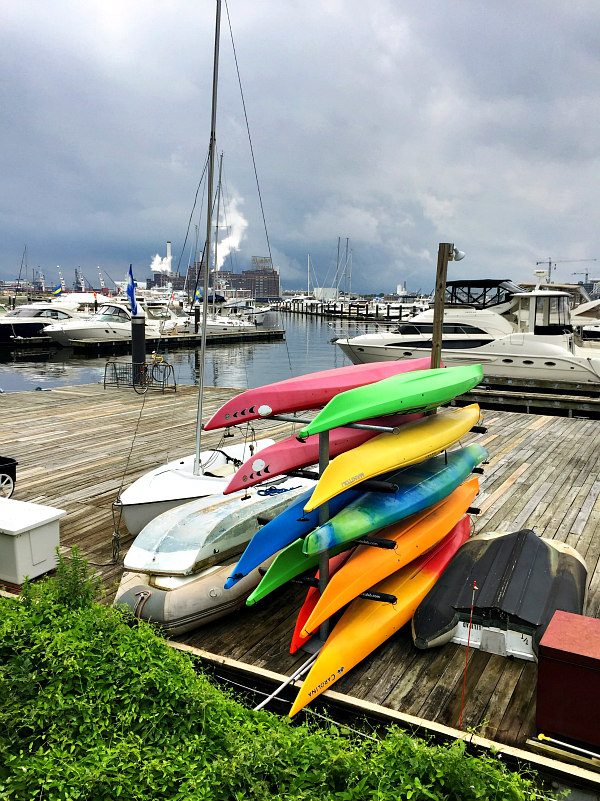 After we were all checked in and had relaxed a bit, we took off to explore the area and find some dinner.  This is the view as you walk along the harbor in front of the hotel.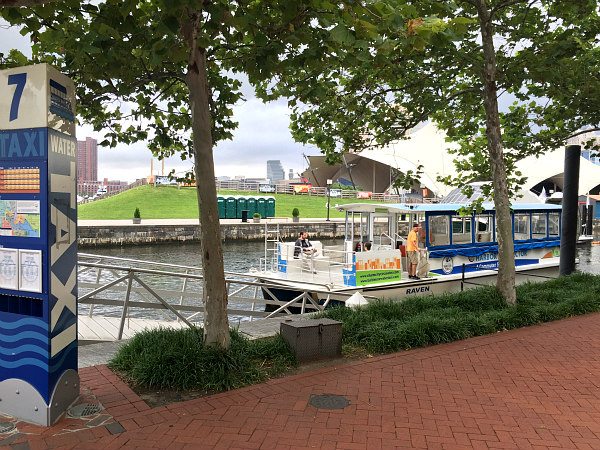 Around the corner you can grab a water taxi if you're headed somewhere that the taxi goes.  I talked to an employee at the hotel who actually takes the water taxi to work every single day!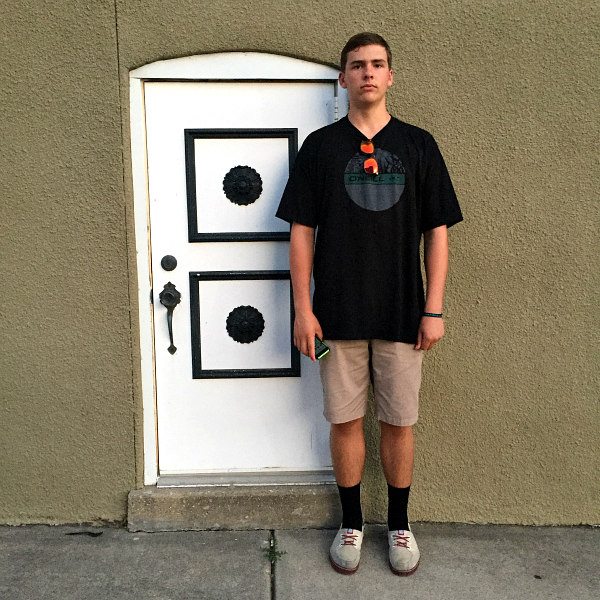 We ended up in the Little Italy area (5 minute walk from the hotel), which had a lot of cute buildings, balconies and interesting doors!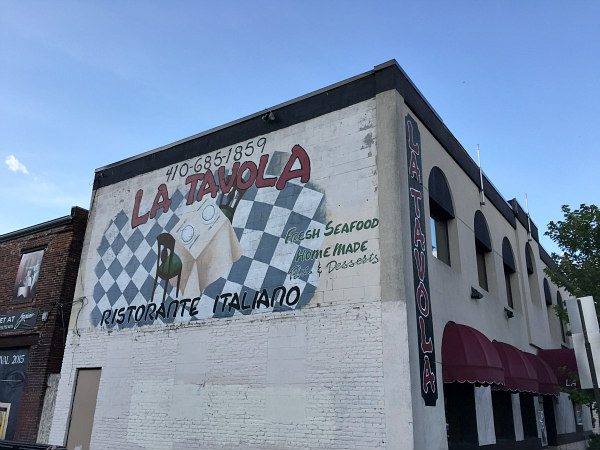 This is the restaurant we chose for our first night:  La Tavola. There are a ton of Italian restaurants to choose from in this area, but this one was recommended to me.  The interior is nothing to write home about- it's definitely nothing fancy…
…but the food (fresh-made pasta) and wine were much enjoyed.  The soft shell crab appetizer was fantastic.  I really enjoyed the La Tavola salad (with a lemon vinaigrette) and a mushroom ravioli.  My son had the gnocchi and my husband had the Fettuccini alla Romana (both were happy with their meals).  We had to try the cannoli for dessert.  I didn't care for it at all because it had raisins in it (I don't like raisins), but my dining companions liked it.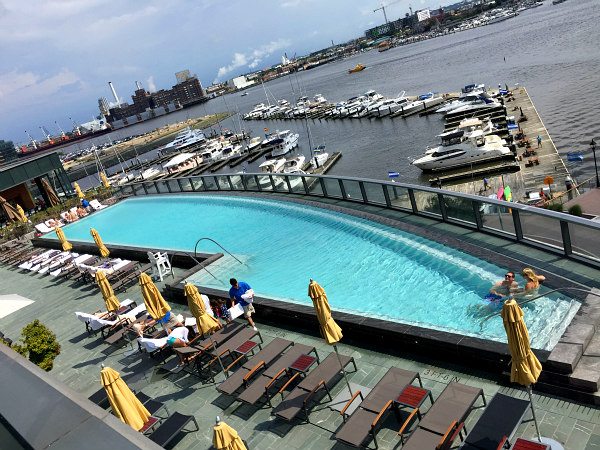 The following day, we dropped our son at his camp over in Towson and came back to enjoy the pool.  The pool at this hotel is an awesome place to hang out.  When you approach the pool area, you are greeted by staff who find the best spot for you and set up your chairs and towels.  A waitress will come around and take your drink and food orders.  There is even a sunscreen waiter who comes around and offers you sunscreen on a tray!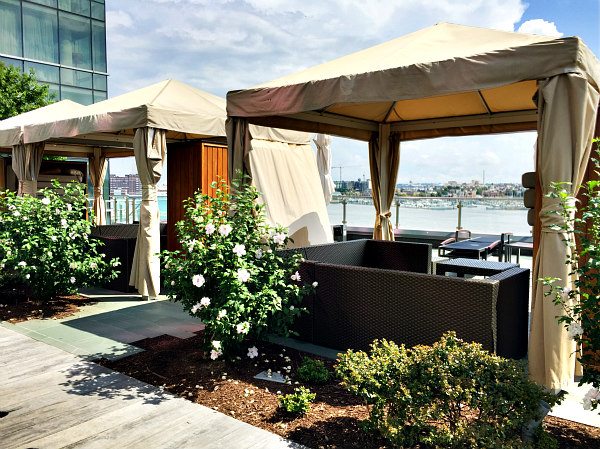 If you'd like, you can climb the stairs to an upper area where you can rent a cabana.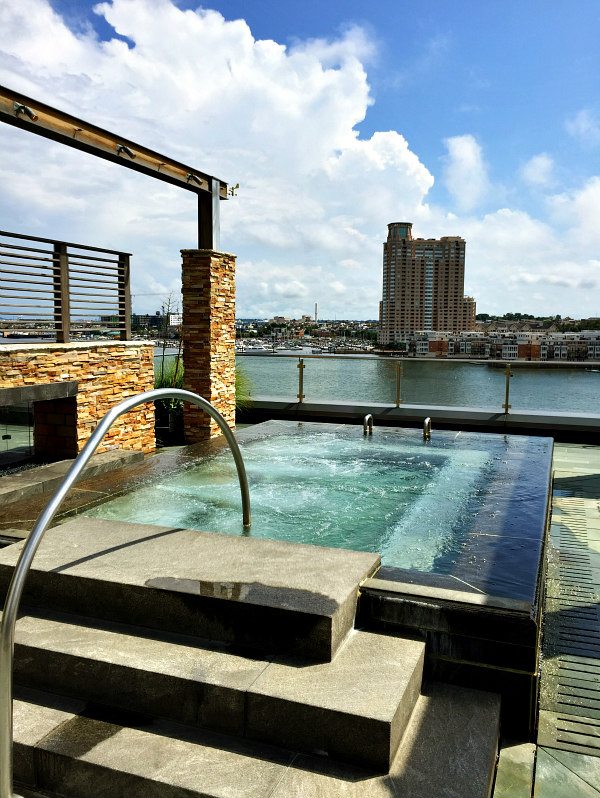 There is also a beautiful hot tub in the upper area…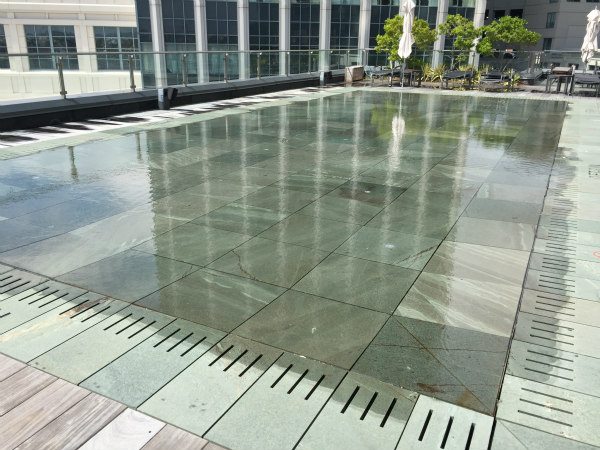 …and a very shallow wading pool for small children.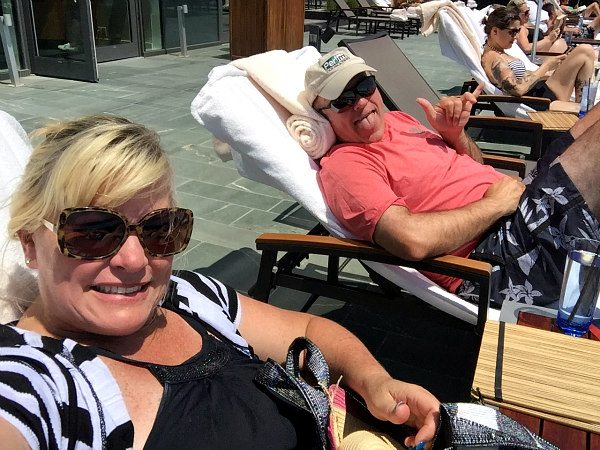 I think it's safe to say that we were rather relaxed… with no child to watch for four days and an amazing view of the harbor.  It was hot (July), but frequent dips in the infinity edge pool kept us cool.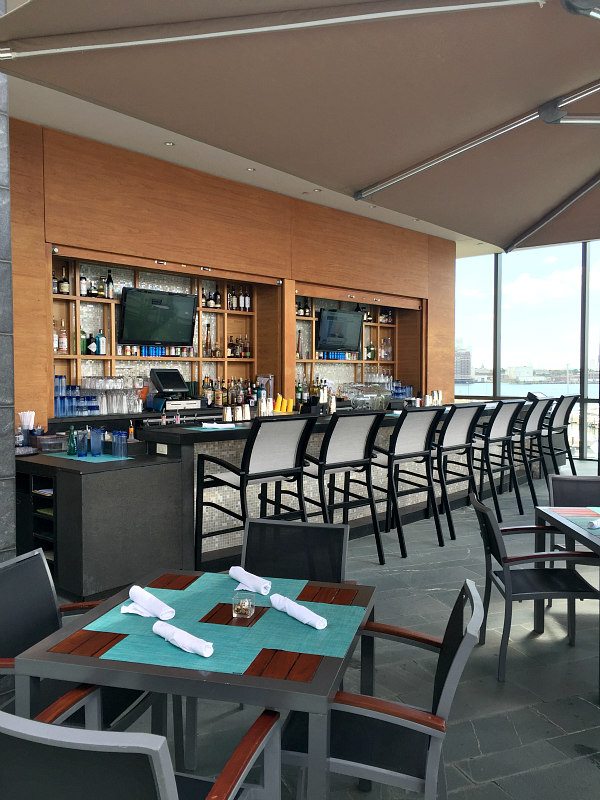 One afternoon we were there it was rather rainy, so we decided to hang out in the covered bar area of the pool.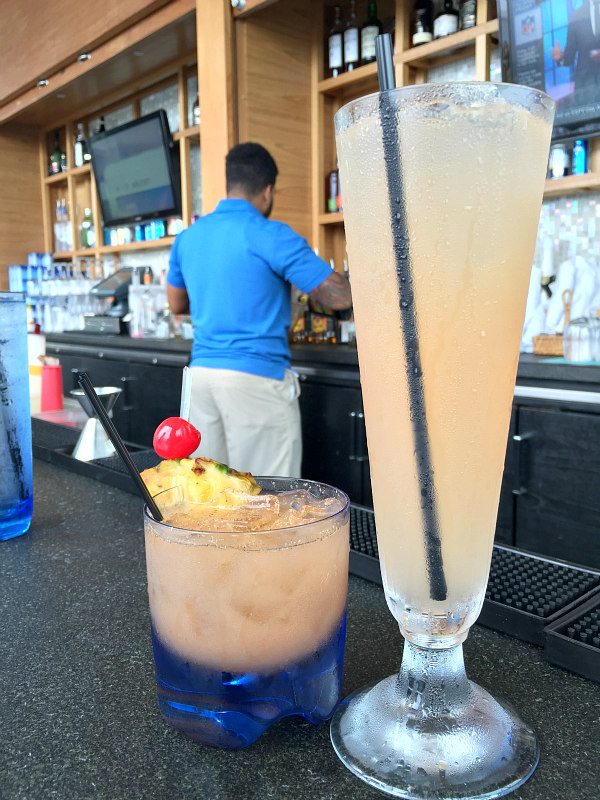 My husband had tried and enjoyed a few of the local Baltimore craft beers, and then he ordered up a Plantar's Punch.  Everyone had kept telling me to try one of the crush cocktails, so I listened and ordered a Grapefruit Crush.  I may have ordered a second!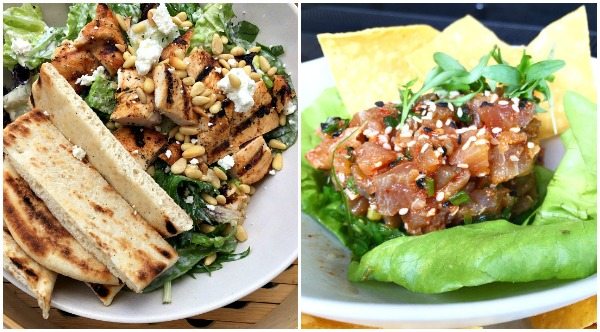 We didn't eat any meals at the restaurant in the hotel (Wit and Wisdom – a tavern by Michael Mina), but we did order food at the Splash Pool Bar & Grill.  The caesar salad with grilled chicken and the tuna tartare with chips were both delicious.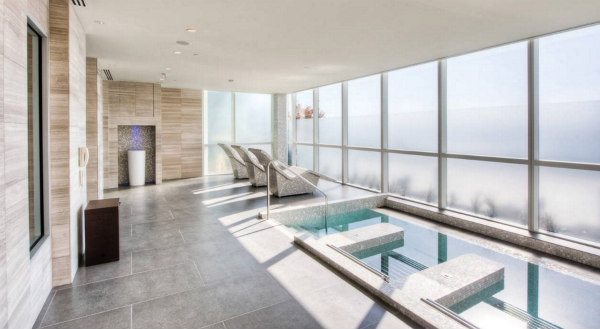 My husband utilized the hotel spa for their steam room/hot tub and relaxation room (cool view of Baltimore).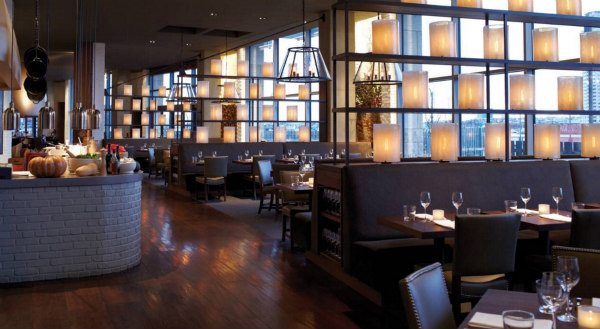 Here's a peek at Wit and Wisdom restaurant.  As I mentioned before, we didn't have a chance to eat here but we did enjoy a cocktail before dinner one night.  Great place to hang out!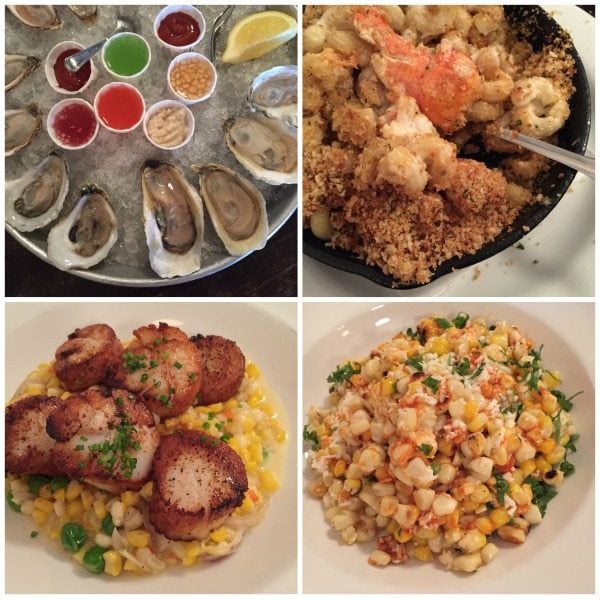 On one of the nights we were there, we walked to an area that was recommended by many people: Fells' Point (about a 15 minute walk from the hotel). Once we entered this adorable area of town, we wished we had discovered it earlier and spent more time there.  First we visited Max's Taphouse (highly recommended if you like beer).  It's a very popular place and can get very busy.  There are a zillion taps and varieties of beer to choose from.  I had some sort of raspberry beer that was really good.  Seating is at long tables and shared with other patrons.
Dinner on this night was at Thames Street Oyster House- which was quite possibly the best dinner I had all summer.  We tried a lot of different kinds of oysters with different sauces for our appetizer.  And we also ate things like lobster mac n' cheese, seared Block Island Scallops and grilled corn.  And the best wine.  It was such a great night.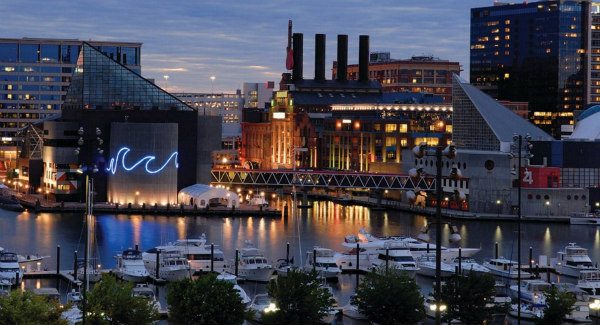 Until next time, Baltimore!  We had a lovely time in this city.  And the Four Seasons was the perfect place to stay!
What to do during your stay in Baltimore (some recommendations from my friend Jennifer at SavorySimple.net)
Fells Point:

 Very historic, cobblestone streets, on the waterfront.

Federal Hill:

good bars and restaurants, plus the hill has a great view of the city. It's close to Fort McHenry, if you like checking out some history. It has the Cross Street Market, which is a great place to try local oysters. Also check out the American Visionary Arts Museum.

Inner Harbor:

the harbor is very touristy, but it has one of the best aquariums- least crowded during the week: http://www.aqua.org/

Harborplace Gallery:

  shopping, eating and free outdoor entertainment.
Geppi's Entertainment Museum (if you have kids): a museum dedicated to American popular culture and born from the personal collection of one of Baltimore's self-made millionaires.
Urban Pirates (with kids): one hour tour of the inner harbor- a "pirate" experience!
Take the train into Washington D.C.!  It's a relaxing 1 hour train ride and about $12 per person each way.  It's a great way to get in and explore our nation's capital without having to deal with the traffic.  We actually took the train in to have dinner with relatives and then took the train back to Baltimore.  It was a blast!
Go to an Orioles or Ravens game!
Where to eat and drink during your stay in Baltimore:


Disclosure:  I was offered a press rate during our 3-night stay at the Four Seasons Hotel in Baltimore.  All opinions shared are my own (as always).