A delightful holiday cake recipe:  Gingerbread Cake with Cinnamon Cream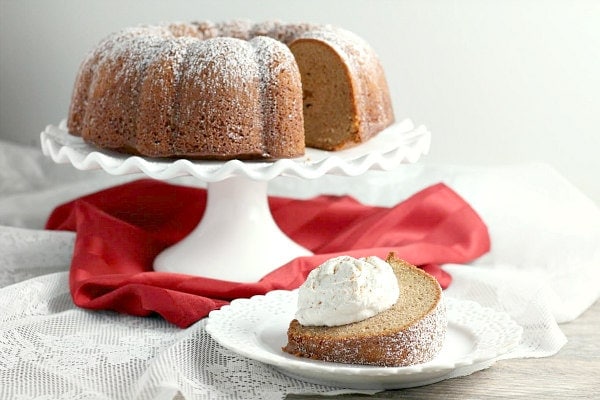 Perfectly pretty for entertaining too!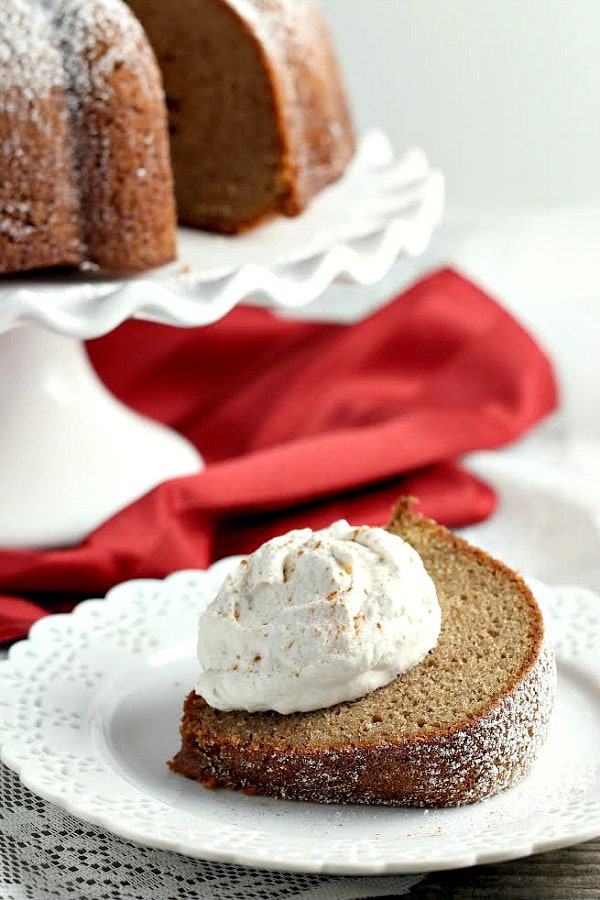 Gingerbread Cake with Cinnamon Cream
Yield:
12 servings
Prep Time: 20 minutes
Cook Time: 50 minutes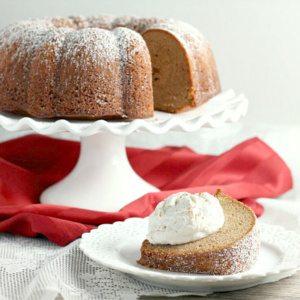 Ingredients:

CAKE:

2 cups (4 sticks) unsalted butter, at room temperature
1 cup dark brown sugar, firmly packed
1 cup granulated white sugar
2 teaspoons vanilla extract
8 large eggs
1 1/2 teaspoons ground ginger
2 teaspoons ground cinnamon
1 1/2 teaspoons ground nutmeg
1/2 teaspoon ground cloves
1 teaspoon baking soda
1 teaspoon baking powder
2 teaspoons salt
3 cups all-purpose flour
powdered sugar for dusting

CREAM:

1 cup heavy whipping cream
2 tablespoons powdered sugar
1/4 teaspoon ground cinnamon

Instructions:

Preheat oven to 350 degrees F. Butter a 10 cup ring mold pan, and set aside.
Prepare the cake: In the bowl of an electric mixer fitted with the paddle attachment, cream butter and sugars on medium speed until light and fluffy, 2-4 minutes. Add the vanilla and mix. Add the eggs, one at a time, mixing well after each addition.
In a large bowl, sift together ginger, cinnamon, nutmeg, cloves, baking soda, baking powder, salt and flour. Gradually add the flour mixture to the butter mixture, and mix on low speed just until the flour has been incorporated. Pour batter into prepared pan, and smooth the top with spatula.
Bake until a cake tester inserted into the middle comes out clean, 50-55 minutes. Transfer pan to a wire rack to cool completely. Invert onto a serving platter and dust with powdered sugar. Serve with a dollop of cinnamon cream.
To prepare cream: Place heavy cream, sugar and cinnamon in a chilled medium bowl. Using a whisk, whip cream until soft peaks form. Cover with plastic and refrigerate until ready to use.

Tips:

Martha Stewart recommends the 10-cup Kugelhopf ring mold pan.