Here's a summer salad recipe that you must try! >> Grilled Chicken Summer Salad with Balsamic Vinaigrette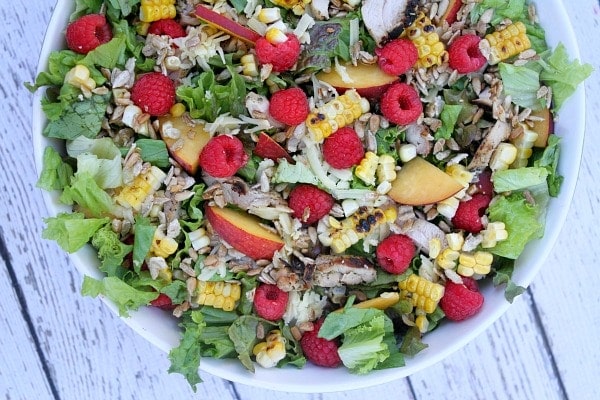 There are so many things that I wanted to include in the title for this salad, but Google makes you come up with something sort of short and succinct, so a summer salad it is!  Let me describe it for you:  It begins with fresh greens.  Fresh peaches, raspberries and a little cheese are added in.  It's topped with grilled pesto chicken and grilled corn, and a few simple-to-make candied sunflower seeds are sprinkled in too.  The whole thing is tossed with Newman's Own® Balsamic Vinaigrette.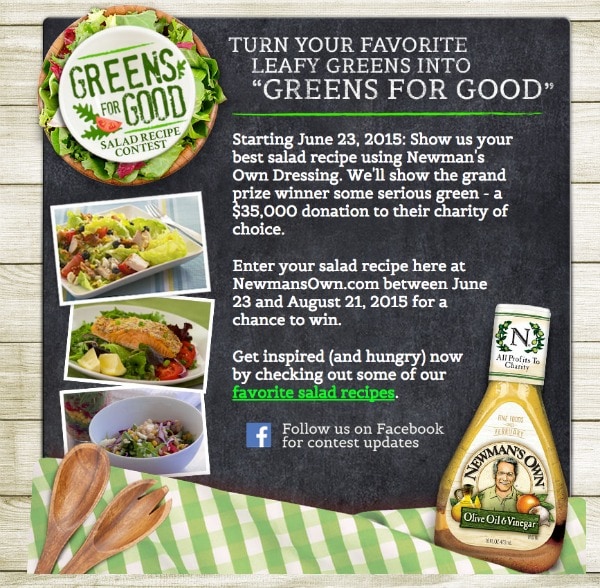 Today, I'm sharing about the "Greens for Good" Salad Recipe Contest– sponsored by the Newman's Own brand.  Paul Newman and Newman's Own Foundation have given more than $430 million to thousands of charities since 1982, all from the profits and royalties of Newman's Own Products.  So, this isn't your typical recipe contest… you know, the kind where you enter and you win a small prize and bragging rights?  It's much better than that.  The Grand Prize winner has the opportunity for a charity of their choice to receive a $35,000 donation from Newman's Own.  That's huge, right?  And nine runners-up will be able to each direct $1,000 donations to their selected nonprofits.  So you can think of this as a contest that you're entering to benefit a charity that means a lot to you.
This contest is a perfect way to get your daily dose of greens and serve up some serious green to a charitable cause.  What do you have to do to enter?  >>  Create a green salad recipe showcasing how you take your recipe from ordinary to extraordinary using Newman's Own Salad Dressing.  For more details on how to enter, go to the Newman's Own website (or read through to the end of this post where I am sharing all of the details).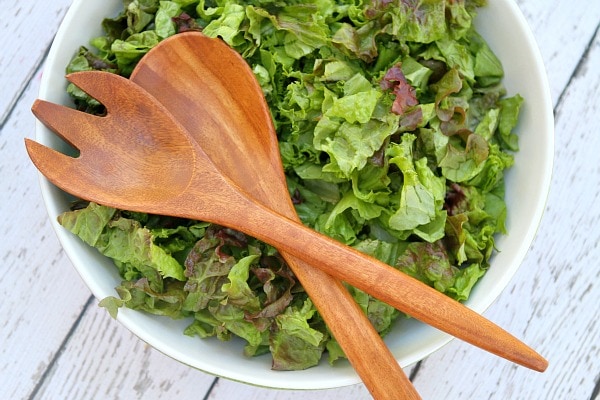 The greens of choice for almost every salad I make at home are a mixture of red leaf and green leaf lettuce.  I love how pretty it is, they provide the perfect amount of crunch, and everyone in my house is happy about these greens!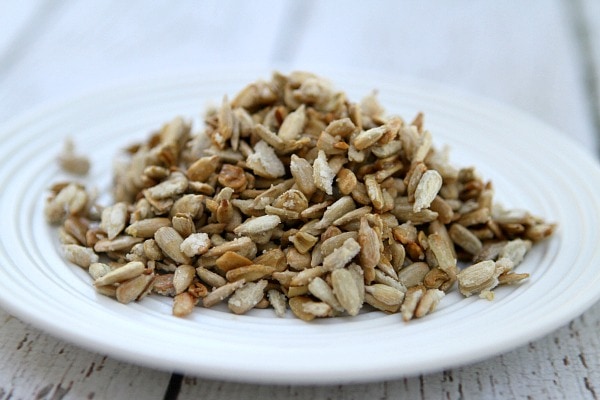 Here's a special addition I made to my salad recipe:  Candied Sunflower Seeds.  I just sauteed them with a little bit of sugar to add some sweetness to the salad, and they pair wonderfully with the sweet fruit too.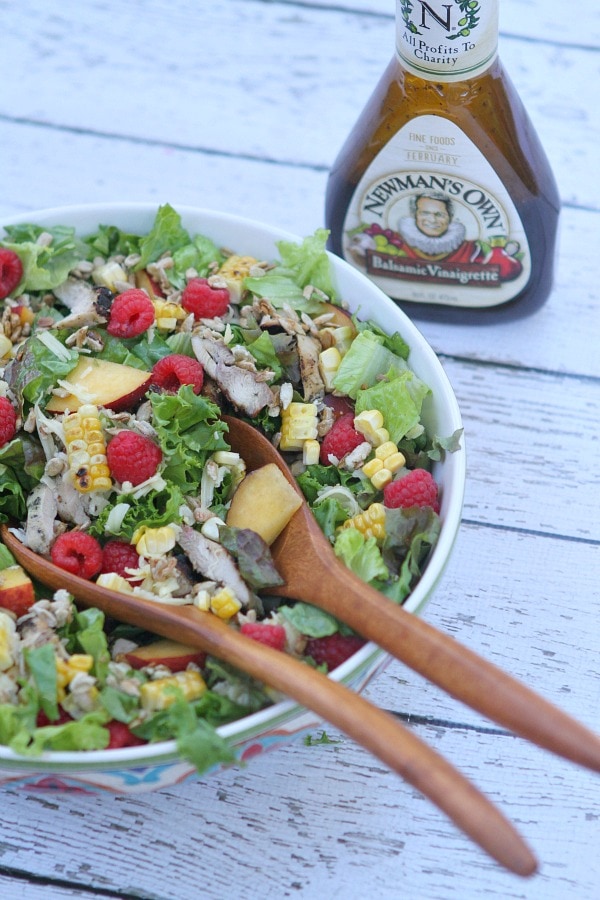 I served this salad at a backyard barbecue last weekend, and my friend Rachelle told me that the Newman's Own Balsamic is the only salad dressing she ever uses.  That was a nice surprise!  This salad is perfect blended with their balsamic dressing.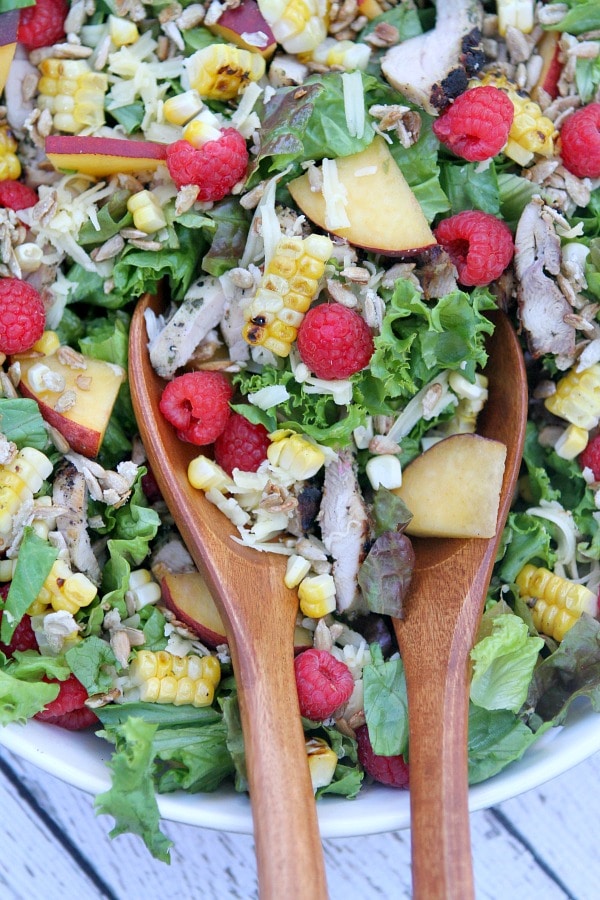 Lots of summery goodness is hiding in this salad recipe!
Newman's Own shares a love of great food and great community and realizes that to make this world successful we have to put something back into it- whether that be our time, our skills or our profits.  So it's time to get to work and think up a salad recipe to enter into this contest!  Enter at www.NewmansOwn.com/GreensforGood.  You could win $35,000 for a charity that means a lot to you!
The "Greens for Good" recipe contest begins June 23, 2015 and the entry-phase closes August 21, 2015.  On October 21, 2015, Newman's Own will announce the $35,000 grand prize winner and charity, as well as nine runners-up, who will each direct $1,000 donations to their selected nonprofits.  The top ten finalists will be posted online at www.NewmansOwn.com/GreensforGood for public voting to help determine the top nine finalists and Grand Prize winners.  Good luck!
Grilled Chicken Summer Salad with Balsamic Vinaigrette
Yield:
8 servings
Prep Time: 30 minutes + marinating time
Cook Time: 10 minutes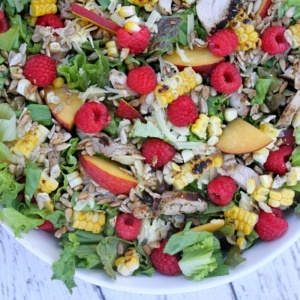 Ingredients:

1 pound chicken thighs, trimmed
1/2 cup prepared pesto
1 head red leaf lettuce, washed and torn
1 head green leaf lettuce, washed and torn
1 cup sliced fresh peaches
1 cup fresh raspberries
1/2 cup shredded sharp white cheddar cheese
1/3 cup raw sunflower seeds
1 tablespoon sugar
2 corn on the cob
1/2 cup Newman's Own Balsamic Vinaigrette

Instructions:

In a large zip baggie, combine the chicken and the pesto.  Refrigerate for at least 4 hours.
While the chicken is marinating, prepare the rest of the salad.  Place the greens in a large bowl and toss together.  Add peaches, raspberries and cheese to the bowl.  Cover the bowl with plastic wrap and refrigerate while you prepare the rest of the salad.
In a medium skillet, combine the sunflower seeds and sugar over medium heat.  Stir often until the sugar melts and coats the sunflower seeds as they become toasted.  Remove from the pan onto a paper towel to let cool.
Remove the chicken from the zip bag and grill over medium heat until done.  Grill the corn on the cob at the same time, just enough to get some grill marks all around.  Slice the chicken and add to the salad.  Cut the corn off the cob and add to the salad.  Scatter the candied sunflower seeds on top.  Drizzle the balsamic vinaigrette on top and toss (you may choose to use less vinaigrette, depending on your preference).  Serve immediately.
SOURCE:  RecipeGirl.com
Here are a few more summer salad recipes you might enjoy:
Disclosure:  This post was written in partnership with Newman's Own to help spread the word about their Greens for Good Salad Recipe Contest.  Any opinions shared about their products are entirely my own.