Here's a simple, healthy dinner recipe for you today:  Herb Topped Fish Baked in Parchment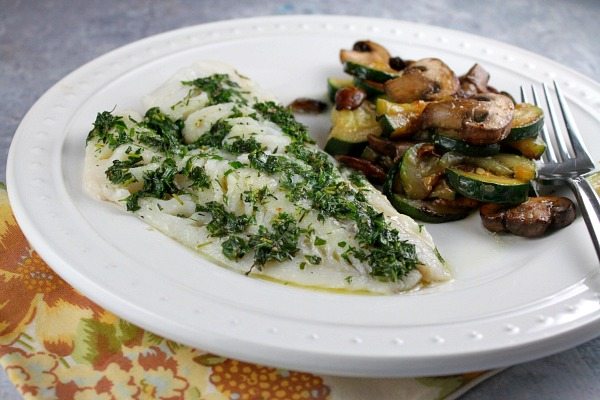 As much as we love our cheese and pasta, we try to eat healthy in our house most of the time.  Right now, we're on a kick to try and limit our carb-intake after 3pm.  It's a pretty easy plan to stick to if you are not a major afternoon snacker or evening dessert person.  My husband has been doing a great job with it all- super disciplined after that 3pm cut-off time.  I've been good too.
To make things easiest, I serve a generous piece of protein and a nice amount of vegetables for dinner.  We are occasionally drinking wine too– I know wine has carbs, but I enjoy it too much to cut it out completely.  I guess it's probably better than a big hunk of French bread, right?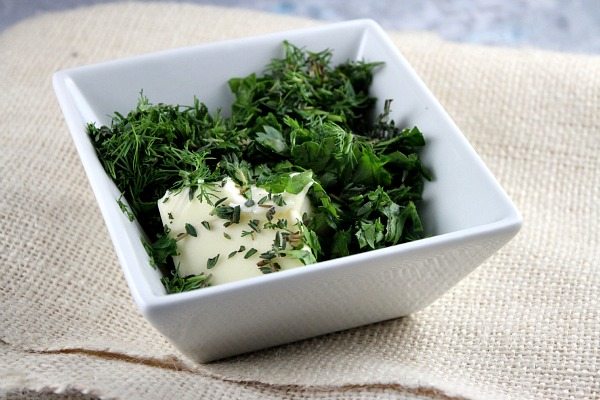 This recipe is so simple it's ridiculous.  It starts with an easy mix of butter and fresh herbs.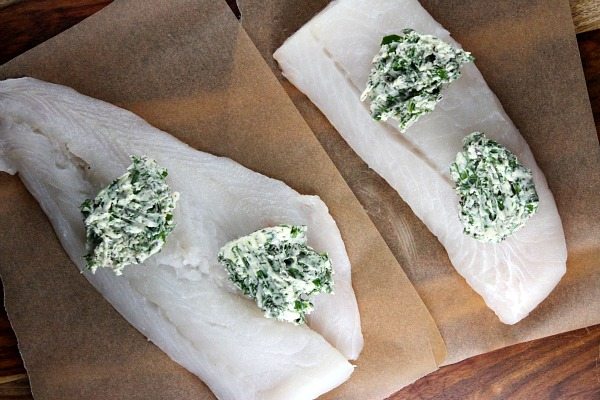 You can use cod (my choice), halibut, mahi mahi or trout for this recipe (or anything else that is similar).  I used pre-made parchment paper bags that I bought at Whole Foods, but you can make your own parchment packets with regular-old parchment paper.  Bon Appetit has a nice visual tutorial showing you How to Make Parchment Packets.
In the recipe below, I instruct you to make a parchment packet for each of four servings.  In the visual here, I made two large parchment packets instead.  These parchment packets get wrapped up snuggly so they'll steam and cook in the oven.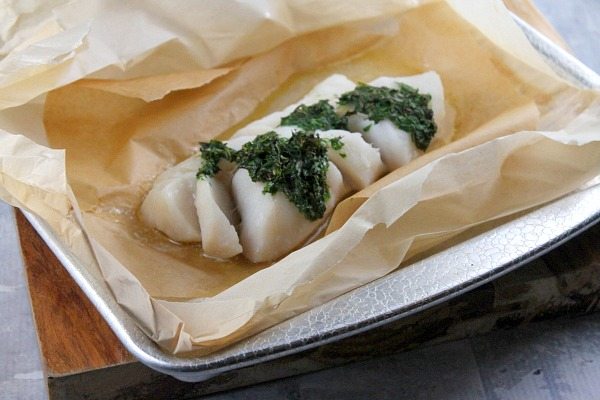 The fish will visibly flake apart and become opaque when done.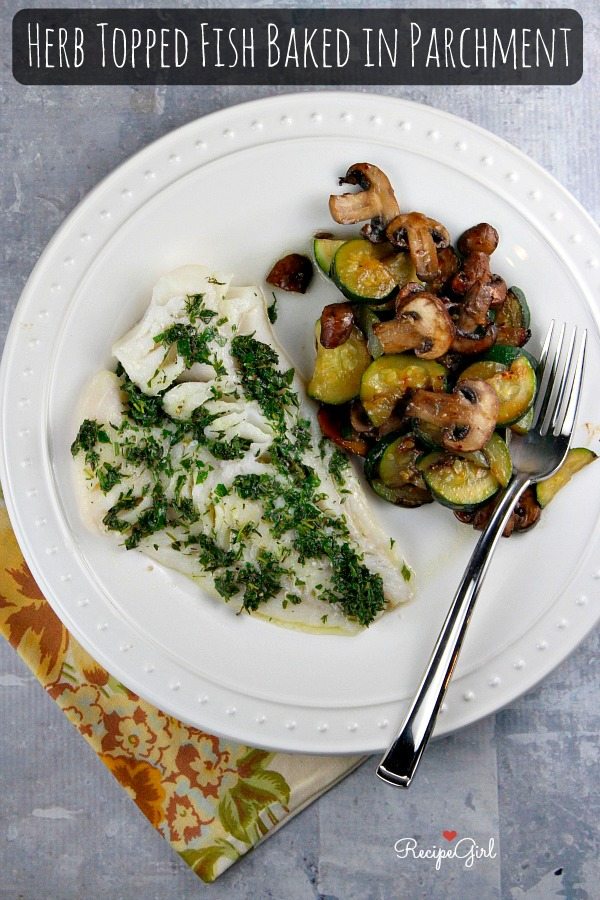 If you want to be super cool and impress the recipients of your fish, you can slide the parchment packets onto plates and let your eaters peel open the parchment and eat it from there.  I took mine out of the packet and drizzled juices on top.  Something to note:  I FORGOT THE LEMON!  It was sitting on the counter, but it would have tasted great squeezed onto the fish.
Enjoy this nice, light dinner… oh, and a big bonus is that it's easy clean-up and your house won't smell like fish for days on end.  Yahoo!
Herb Topped Fish Baked in Parchment
Note: A double portion of fish (8-ounces) is featured in the photo.
Yield:
Serves 4
Prep Time: 10 minutes
Cook Time: 15 minutes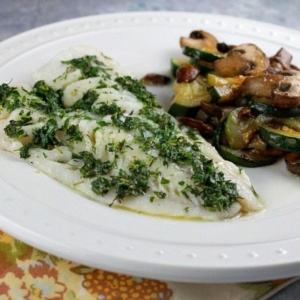 Ingredients:

3 1/2 tablespoons butter, at room temperature
2 tablespoons chopped fresh Italian parsley
1 tablespoon chopped fresh thyme
1 tablespoon chopped fresh dill
salt and freshly ground black pepper
Four 4-ounce fillets (salmon, cod, halibut or trout)
lemon wedges for serving, optional

Instructions:

Preheat the oven to 425 degrees F. You'll need 4 parchment baking bags for this recipe (I bought mine at Whole Foods), or you can make your own packets using 4 pieces of parchment (12-inches square), and you can even use foil in its place.
Make the herb butter: Combine butter and fresh herbs in a small bowl.
Place a piece of fish in the center of the paper (or do as I did and bake two larger pieces to be divided upon serving). Add a spoonful of butter in the center of each piece of fish. Sprinkle each piece of fish with salt and pepper. Fold the square in half to enclose the filling, then fold in the edges to seal and form a packet.
Bake for 13 to 15 minutes, until the fish is just opaque and flakes apart easily all the way through. You'll need to open one to check. Serve in the packets (if you wish) and let each person open up the packets, or slide onto a plate with its juices to serve without the parchment. Garnish with lemon wedges, if desired.

Tips: Nutrition:

Nutritional Information per serving (Serving size:

One 4-ounce piece of cod with herb butter) 

Calories:

130, 

Fat:

10.4g, 

Saturated Fat:

6.4g, 

Sugar:

0g, 

Sodium:

247.1mg, 

Fiber:

.2g, 

Protein:

8.5g, 

Cholesterol:

47.6mg, 

Carbohydrates:

.3g

Weight Watchers POINTS:  Freestyle SmartPoints: 5, SmartPoints 6, Points Plus Program: 3, Old Points Program: 3
Here are a few more fish recipes baked in parchment paper you might enjoy: