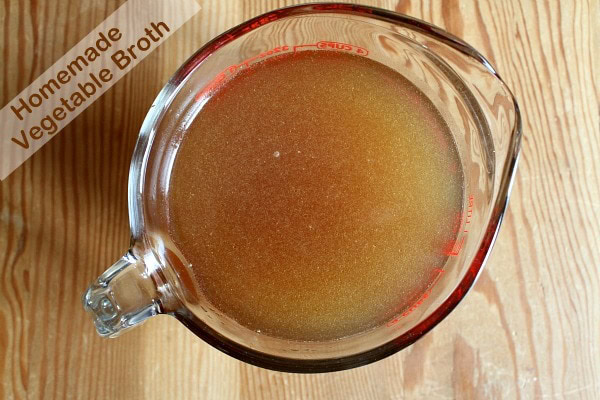 Homemade Vegetable Broth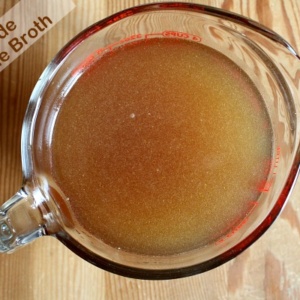 Yield:
About quarts (8 cups)
Prep Time: 20 min
Cook Time: 1 hour 20 min
Ingredients:
1 to 2 tablespoons olive oil
1 medium onion, coarsely chopped
2 carrots, coarsely chopped
2 parsnips, coarsely chopped
2 leeks, trimmed and washed thoroughly, then sliced into 1-inch chunks
1 large stalk celery, coarsely chopped
1 large handful chopped kale leaves
several sprigs fresh thyme
several sprigs of fresh parsley
Two 1-inch pieces of peeled ginger
1 large bay leaf
Directions:
1. Heat the olive oil in a medium to large saucepan or stockpot over medium-high heat. Add the onion and cook, stirring until caramelized, about 8 minutes. Add the carrots, parsnips, leeks and celery. Continue to cook and stir until the vegetables begin to soften, about 10 minutes.
2. Add 10 cups (2 1/2 quarts) of water, plus the kale leaves, thyme, parsley, ginger and bay leaf. Bring to a boil, reduce heat, and let simmer about 1 hour.
3. Remove from heat and strain the broth through a fine sieve, pressing on the vegetables to extract as much juice and flavor as possible. Discard the vegetables (don't worry... you've sucked all of the flavor and nutrients in them and transferred them to the broth). The broth can be refrigerated for 3 to 4 days, and it can be stored in the freezer for up to 3 months.
Tips:
*If you would prefer the ginger flavor to be pronounced, grate one piece of ginger into the pot instead.
Source: RecipeGirl.com (adapted from Martha Stewart)