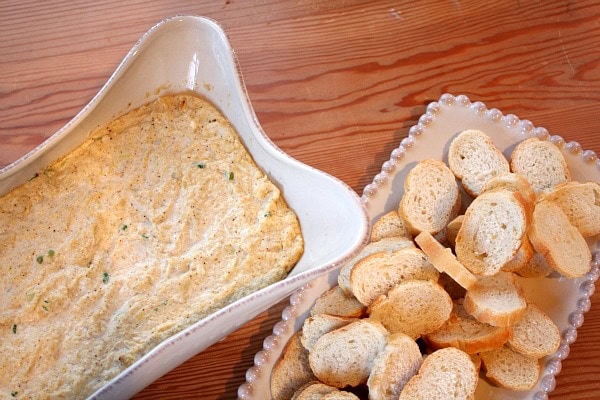 Hot Artichoke and Crab Dip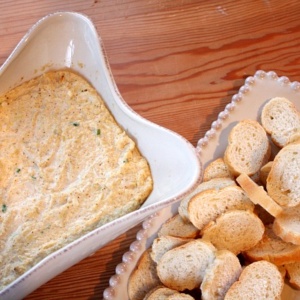 Yield:
8 servings
Prep Time:15 min
Cook Time:15 min
Ingredients:
1 teaspoon unsalted butter
Two (14-ounce) cans artichoke hearts, drained
8 ounces cream cheese
1 cup freshly grated Parmesan cheese
1 cup mayonnaise
2 tablespoons Creole seasoning
3 teaspoons tabasco sauce, or more to taste
3 tablespoons freshly squeezed lemon juice
8 green onions, very thinly sliced (divided)
10 ounces fresh lump crabmeat
salt and freshly ground black pepper, to taste
crackers or baguette slices, for serving
Directions:
1. Preheat the oven to 350 degrees F. Butter an 9x9-inch pan with 1 teaspoon butter.
2. Place the artichoke hearts in a food processor and pulse 2 to 3 times to chop (don't puree). Add the cream cheese, Parmesan cheese, mayonnaise, seasoning, tabasco and lemon juice. Pulse 2 to 3 more times just to combine. Transfer to a medium bowl and stir in two-thirds of the green onions, reserving the remaining green onions for garnish.
3. Gently fold in the crab. Taste and adjust the seasoning as needed with salt and pepper. Spoon the dip into the prepared pan. Bake until hot throughout and brown and bubbling around the edges, 15 to 20 minutes. Remove from the oven and top with remaining green onions. Serve immediately with crackers or baguette slices.
Source: RecipeGirl.com (via "Shopsticks" on CLBB)