Hotel Zelos San Francisco – Union Square : a Review
Today I'm sharing a review of Hotel Zelos San Francisco – in the Union Square area of the city.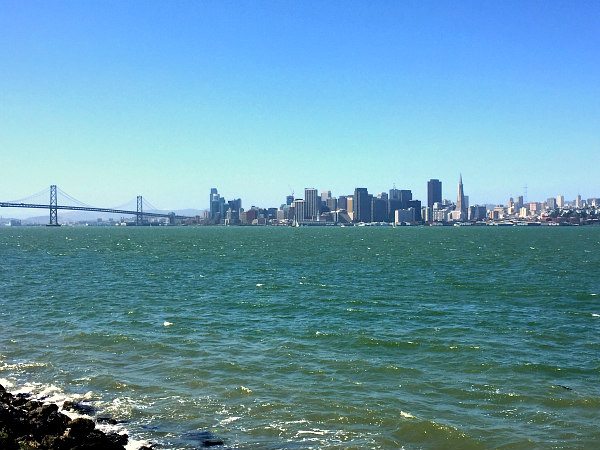 Our family travels to San Francisco quite often since my son is playing on a lacrosse team in the Bay Area.  It's just over a 3-hour drive for us… which isn't terribly awful if there is no traffic.  It's a beautiful drive over the mountain and into the city.  We're always looking for affordable options for hotels in San Francisco- which can be tough to find!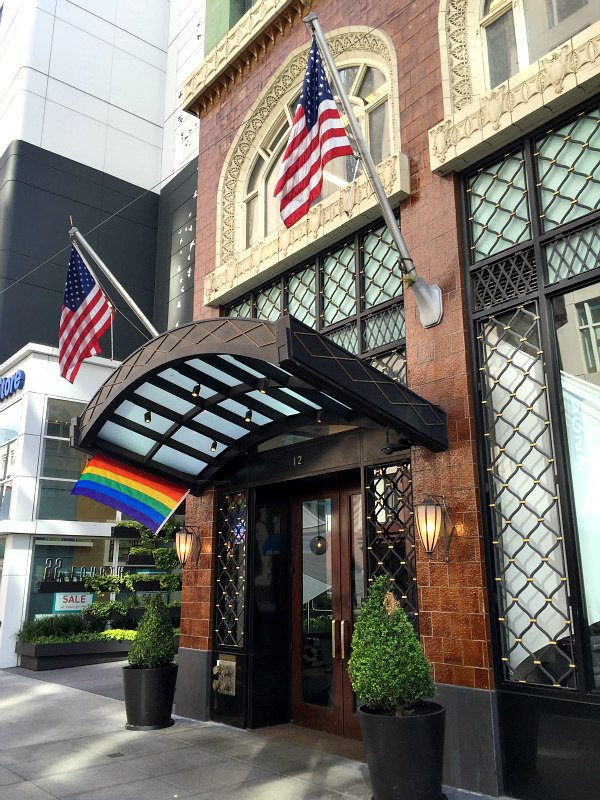 I found one!  Hotel Zelos is a hip, luxury boutique hotel located in the middle of all of the action (Union Square) at 4th and Market in the SOMA District.  It's a 3-minute walk from the Powell Street BART rail station and 5 minutes from the galleries, museums and theaters at Yerba Buena Gardens.  You can also walk to AT&T Park (where the Giants play).  They have valet service, so you just drive up to the front of the hotel, and the valet will take care of parking your car for you.  Parking in San Francisco is not cheap.  It will cost you $57/night to park here.  Hotel Zelos does offer a "Park and Play" option: free parking + 2 cocktails at their restaurant bar for only $1 more than their best available room rate.
The lobby gives you the first indication that this is a hip and cool hotel.  Animal print pillows and stylish decor are prevalent.  Hotel Zelos resides in the historic Pacific Building (est. 1907).  Since it was originally built as office space, the rooms are very spacious!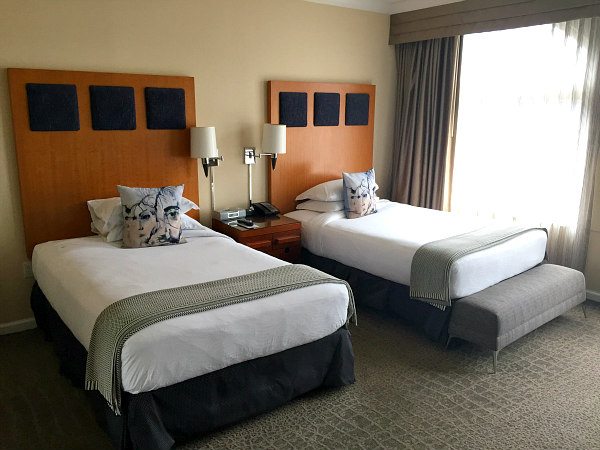 My son and I stayed in a Double Deluxe room (2 doubles) on the 8th floor.  The room was quite large with a spacious entry and lots of room for luggage.  The beds were super comfortable– loved the sheets, the down comforter and the fluffy pillows.  And the room was very quiet.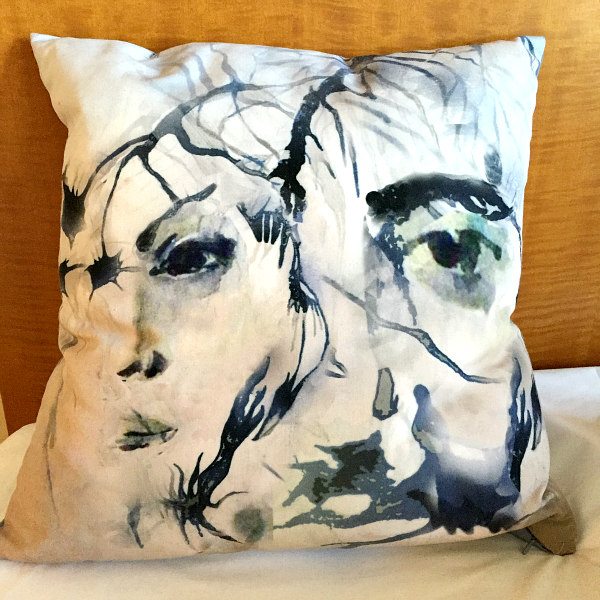 I thought these throw pillows were too funky not to share.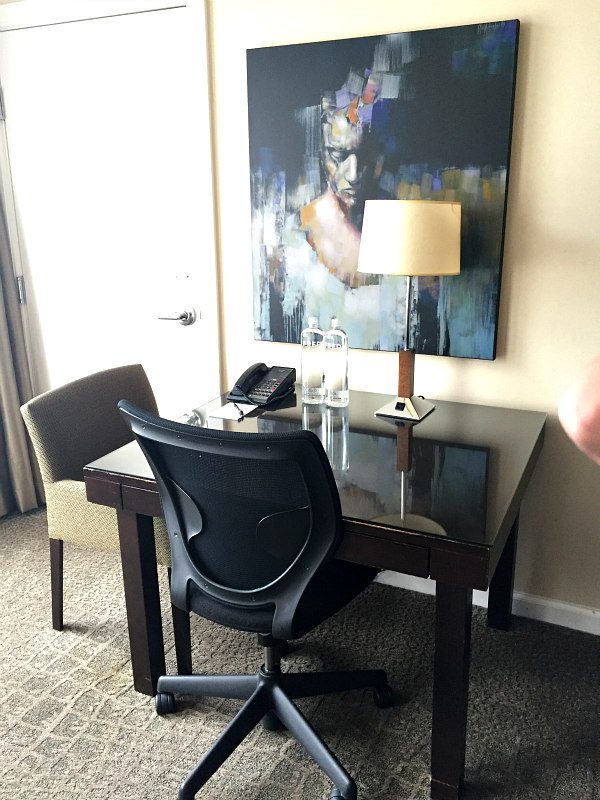 A desk in the room was spacious enough for working.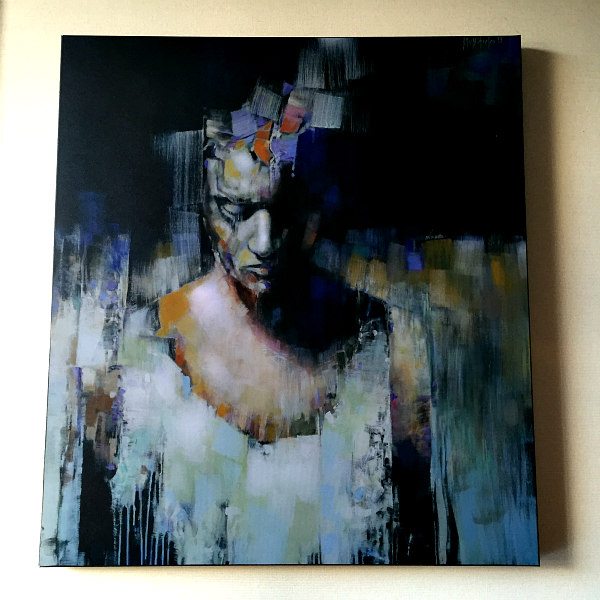 Hello funky wall art.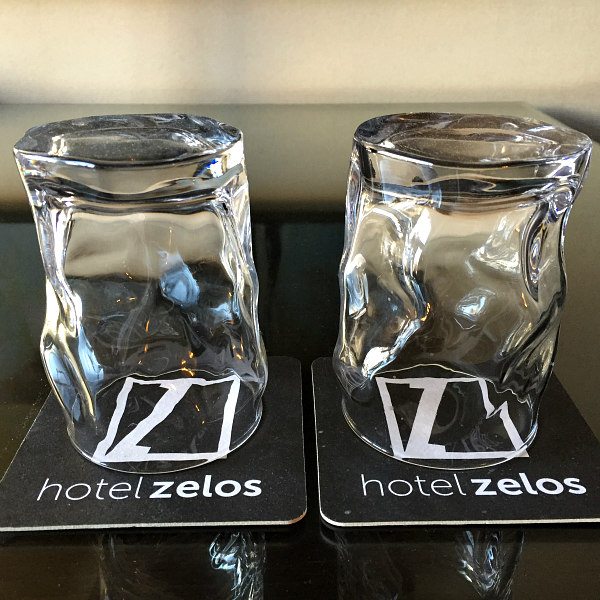 So you know how you go to a hotel and they just have your average water glasses that are sometimes even plastic??  I love that Hotel Zelos trusts their guest enough to provide these chunky glasses.  I almost wanted to go out and buy some scotch to sip!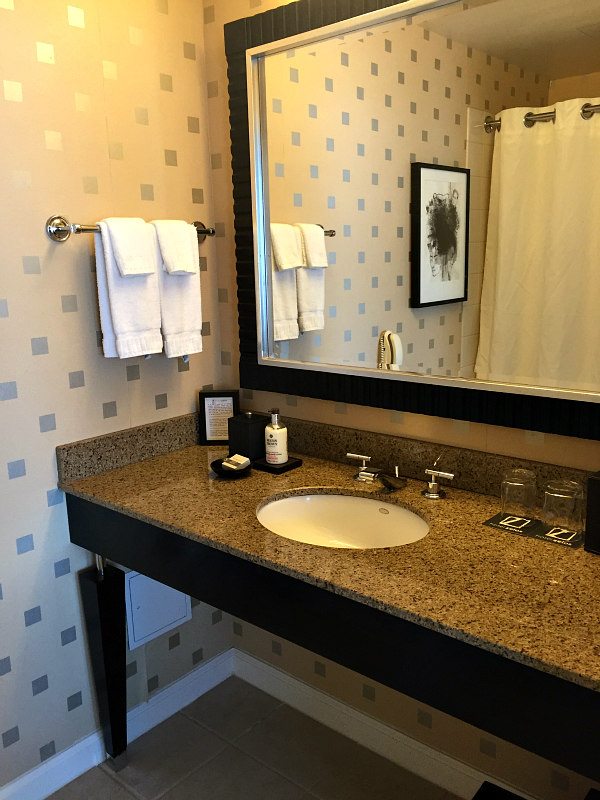 Nothing super special about the bathroom except that it was just nice and clean.  I love when a hotel bathroom has a magnified makeup mirror so I can see what's going on… they had one!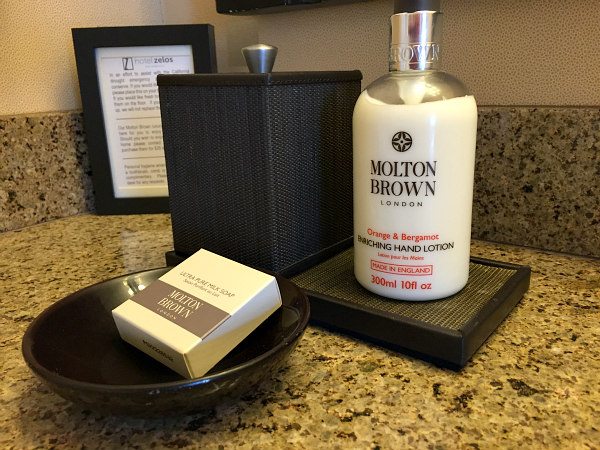 I especially loved all of their Molton Brown bath accessories.  I'm one of those people who uses a ton of lotion for dry skin, so this pump bottle was greatly appreciated over the tiny bottles that are usually provided at hotels.  Their choice shampoo, conditioner and body wash were also in pump bottles.
After we felt settled, we took off to go shopping.  Hotel Zelos is located in the middle of all the best shopping, and there is a wide range of stores within walking distance.  My favorite (Anthropologie) was only a half block away.  Don't miss the popcorn stand as you walk down Market Street (Kettle Corn, Caramel Corn and regular).  You'll also likely encounter a good number of street performers as you walk near the shops.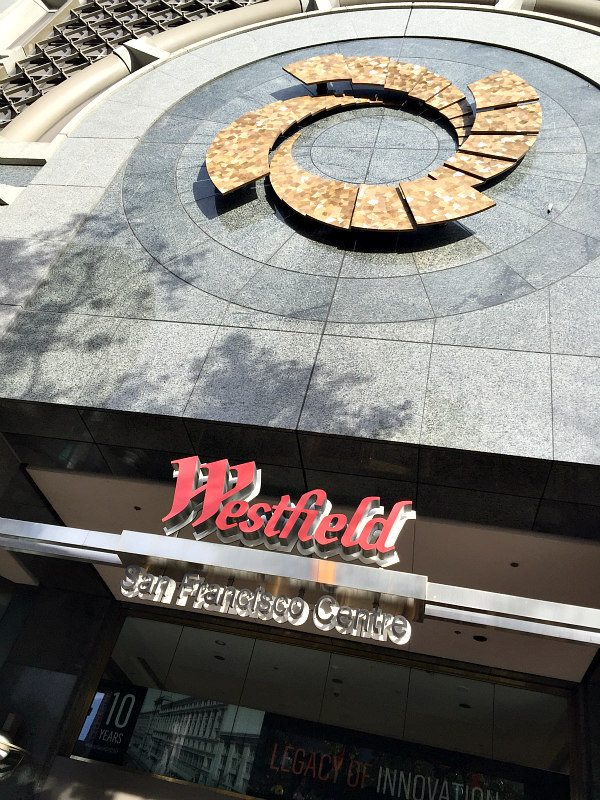 There is a big mall about a block away too- filled with both regular mall stores and high end designer stores (you'll see Bloomingdales and Nordstrom in this mall).  There is also a Nordstrom Rack across the street from the mall.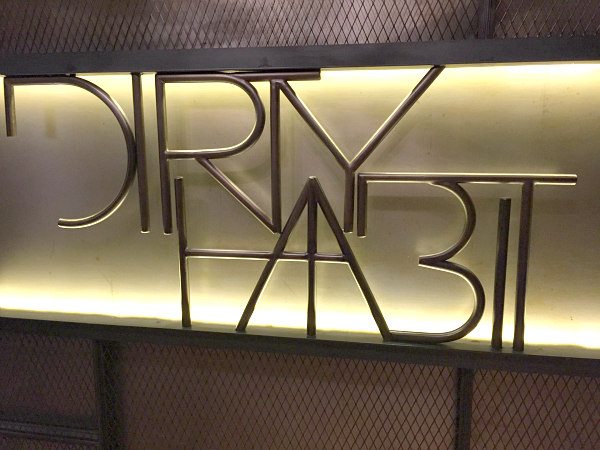 For dinner, we tried the hotel's restaurant and bar:  Dirty Habit.  It's a happening place to hang out for locals as well as hotel guests.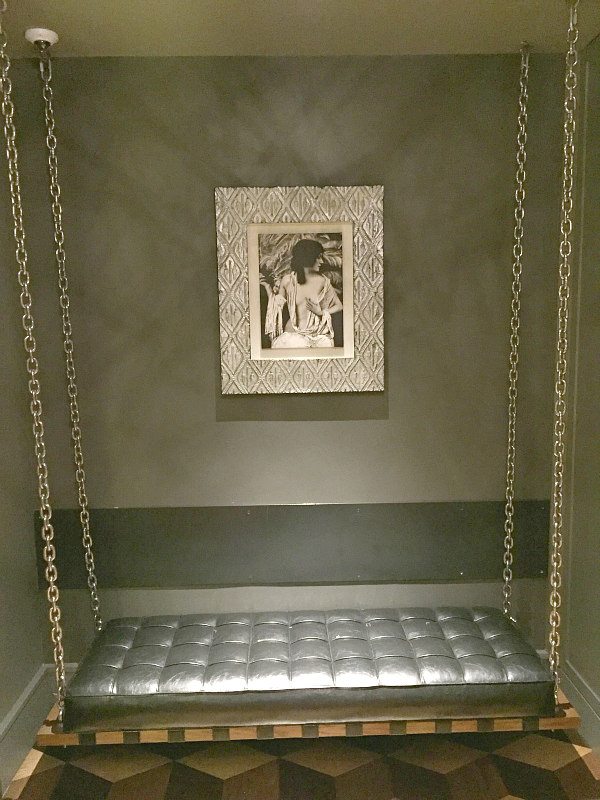 The vibe in the restaurant mirrors the funky vibe of the rest of the hotel.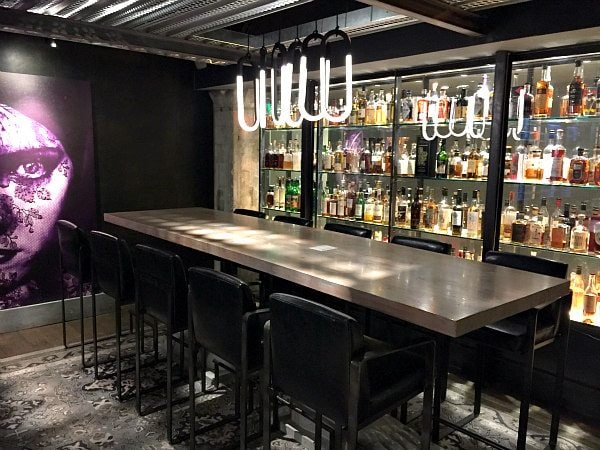 This gives you an idea of what you'll find in the bar.  This table was just waiting for a big group to take it over.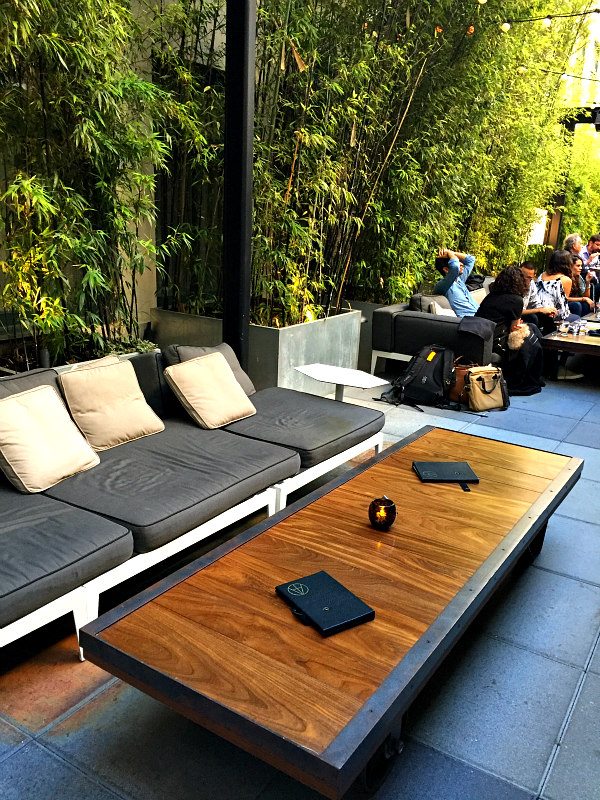 In the patio area, there are quite a few comfortable, lounge couches among fountains and fire pits.  We ate at one of the regular tables in this outdoor area that was set up for dinner.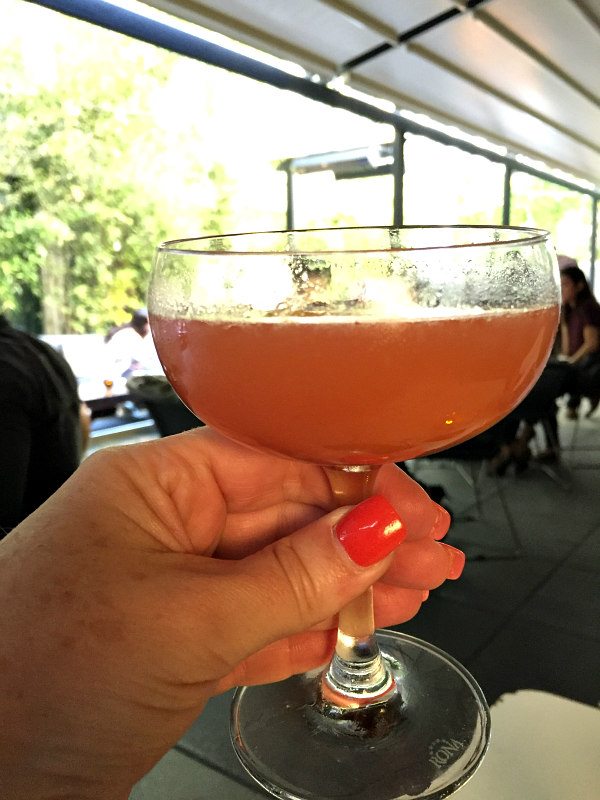 Dirty Habit is known for being a good bar with fun, craft cocktails.  So I tried one of their cocktails:  10 Seconds Flat (Plymouth Gin, Christian Drouin Selection Calvados, Strawberry, Sourdough, Peychaud Bitters).  Loved it!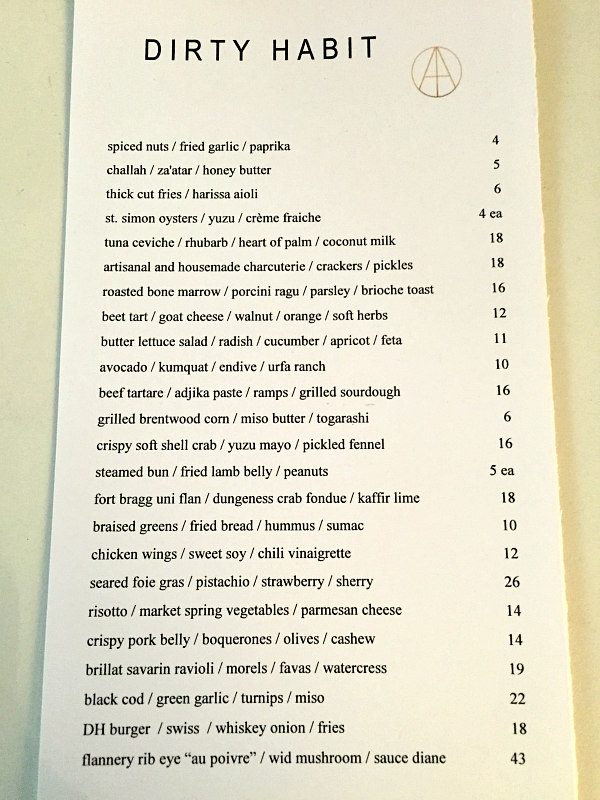 Here's a peek at their tapas-style menu.  I'm so happy to have a (15 year old) son who enjoys sampling a variety of things.  The safe bet for him would have been to order the burger… but he did not!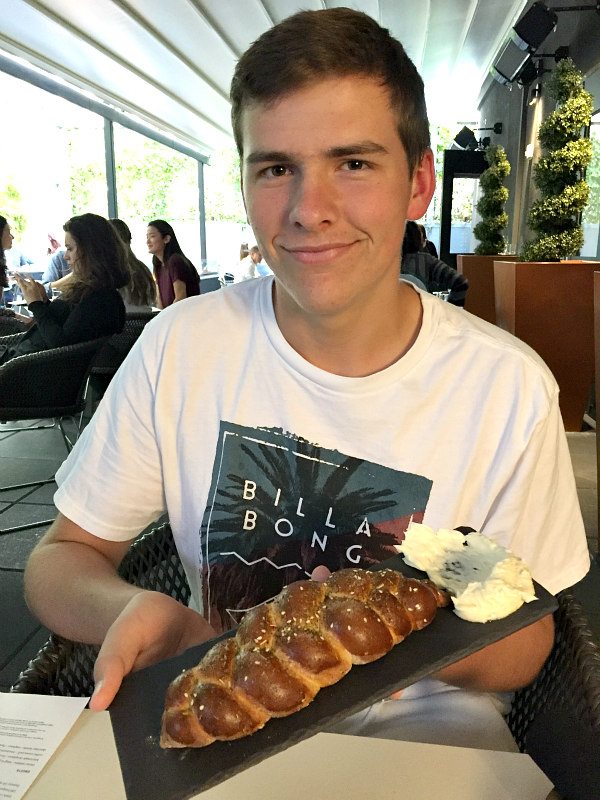 We started off with a loaf of challah with honey butter (OMG) and the Butter Lettuce Salad.  We liked all of the things IN the salad (radish, cucumber, apricot and feta), but neither of us cared for the tart dressing.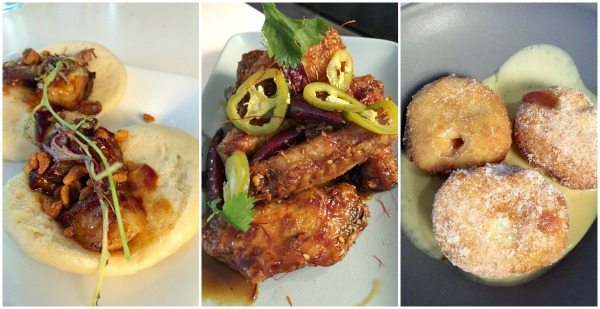 Among the other goodies we shared and devoured:  Steamed Buns with Fried Lamb Belly and Peanuts (YES!), Sweet Soy Chicken Wings with Chili Vinaigrette (our favorite of the entire meal), Black Cod with Green Garlic + Turnips + Miso (enjoyed), Housemade Doughnuts with Rhubarb and Hazelnuts (loved) and a Chocolate Bombe with Raspberry + Banana + Macadamia (more my son's favorite since he's the chocolate-lover).  At this point, we were in a food coma and retired to bed quite early!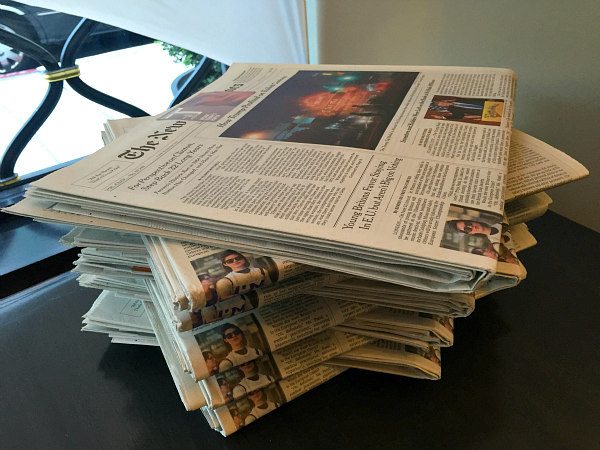 The next morning, I found that the lobby houses complimentary copies of The New York Times + coffee and tea.  We opted for a quick breakfast at Dirty Habit because we had to head out to a lacrosse practice.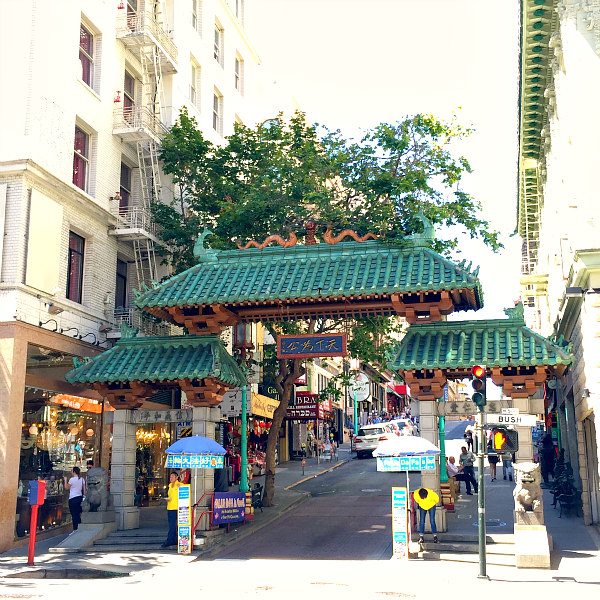 After a morning of playing lacrosse at nearby Treasure Island (it took us less than 10 minutes to drive there from the hotel), we cleaned up and took a walk into Chinatown (definitely walkable).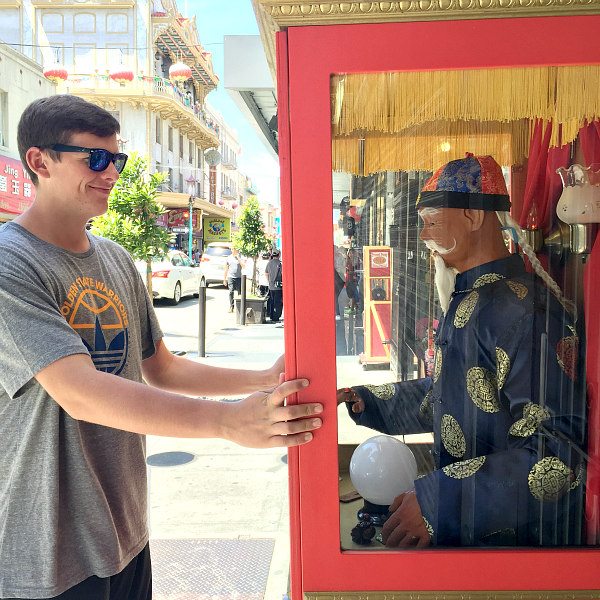 Brooks found a fortune telling machine like the one that is featured in the movie "Big."  For $1.00, it'll spit out a fortune for you!  I don't think Brooks got a fortune that was anything life changing.  Dollar wasted, but at least we got a photo!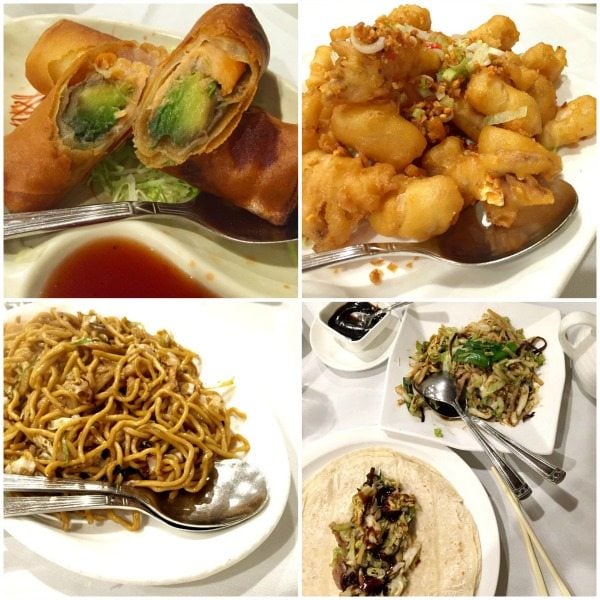 Our true mission in Chinatown was to find a place to eat some good Chinese food!  We had quite a few recommendations from friends- we went with R & G Lounge.  Since we were absolutely the only non-Asian folks in the restaurant, we concluded that we must be in the right place!  You can get good, old-fashioned Chinese food in this place, and that's what we wanted.  We sampled Salmon-Avocado Egg Rolls, Salt & Pepper Calamari, Chicken Chow Mein and Mu Shu Pork.  ALL SO GOOD.  We learned later that they're known for their crab and their salt cod fried rice.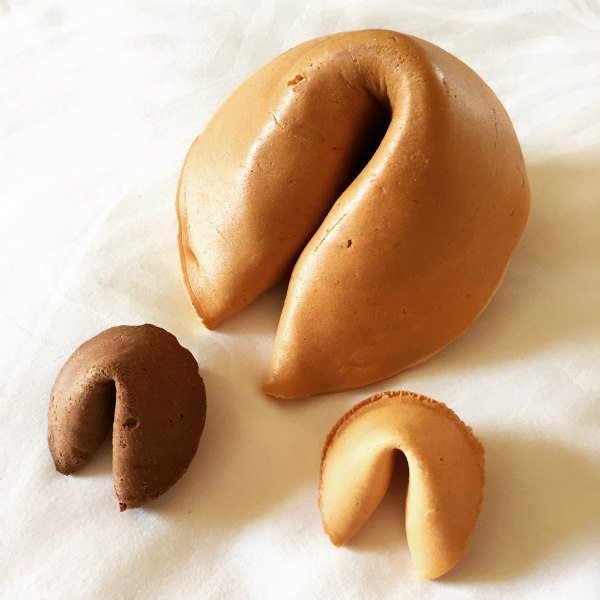 Our next mission was to visit the Golden Gate Bakery, but it was closed.  Apparently it's closed pretty often, so you should check before you stop by.  We were told that they have the most amazing Egg Custard Tarts.  We ended up finding some pretty delicious Egg Custard Tarts to try at Eastern Bakery instead.  And we also visited Golden Gate Fortune Cookie Factory (it's in an alley, so you have to look for it).  You can peek in and watch them making fortune cookies by hand.  Take a picture for 50 cents.  And bring some fortune cookies home with you!  The best part… they usually sneak some of the fortune cookie rejects into your bag– which is lovely because they are warm off the press.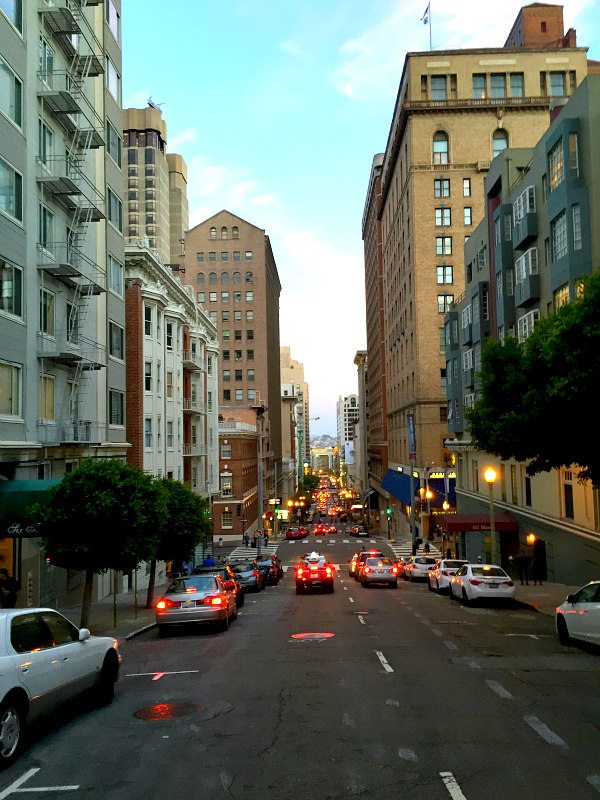 When you visit San Francisco and you want to eat ALL THE FOOD… walking is key.  Lucky for your body, the walking you do is up and down giant hills.  It's a nice way to walk off all of the calories you're eating.  The food is too awesome not to try.  On our second evening in the city, we wanted sushi.  I was given the following recommendations for good sushi near Union Square:  Unfortunately, those places were completely booked for the evening– it was a Saturday night.  We hadn't thought to make a reservation.  We did grab sushi at a small sushi joint with a basic menu.  It was okay, but not good enough to recommend.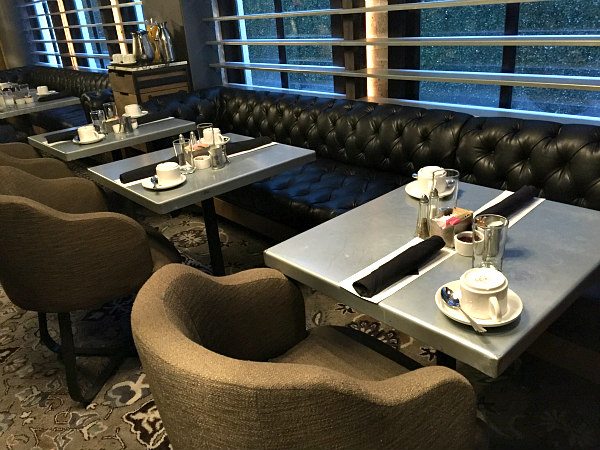 On our second morning, we found ourselves back at the hotel's Dirty Habit restaurant.  Note that there are a few diners within 2 or 3 blocks of the hotel… but we opted to stay close and were pleased that the hotel offered excellent food!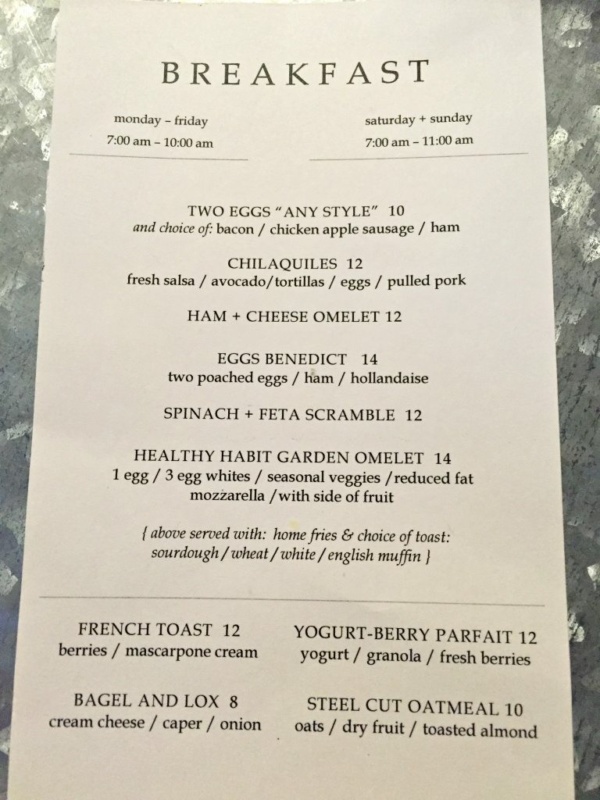 A peek at the breakfast menu…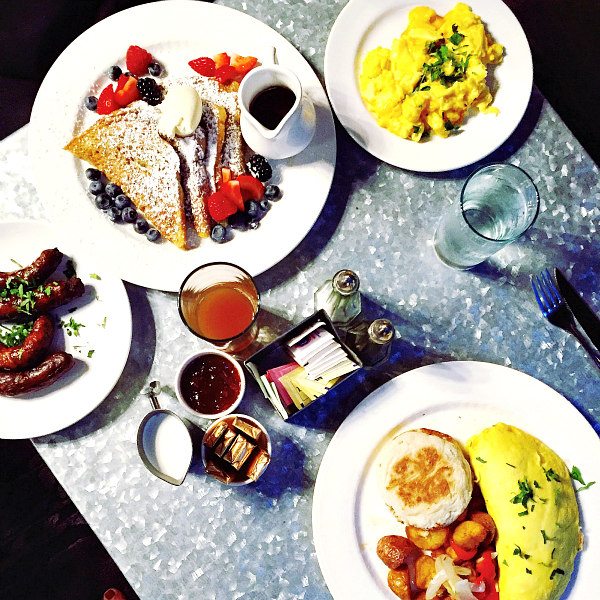 This was our spread: note that my growing teenager's meal is on the top portion of the photo and mine is on the bottom.  Active teenagers eat an awful lot of food!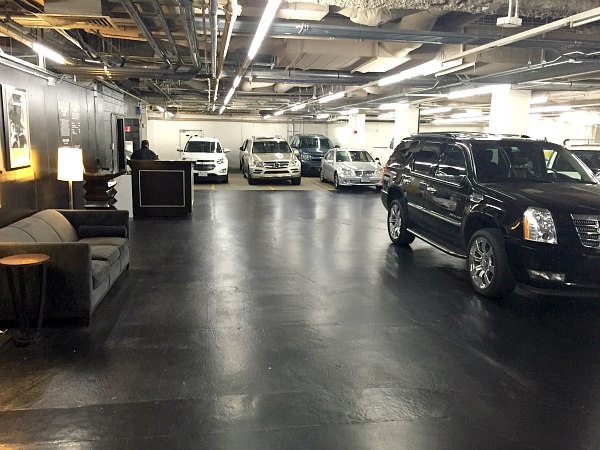 And finally– after a wonderful stay at Hotel Zelos– it was time to take off. I mentioned before that the parking here was rather expensive… but the garage is very secure (and fancy!) and the service is perfect.  You can call down to get your car, and by the time you get downstairs to retrieve it from the garage… it's there!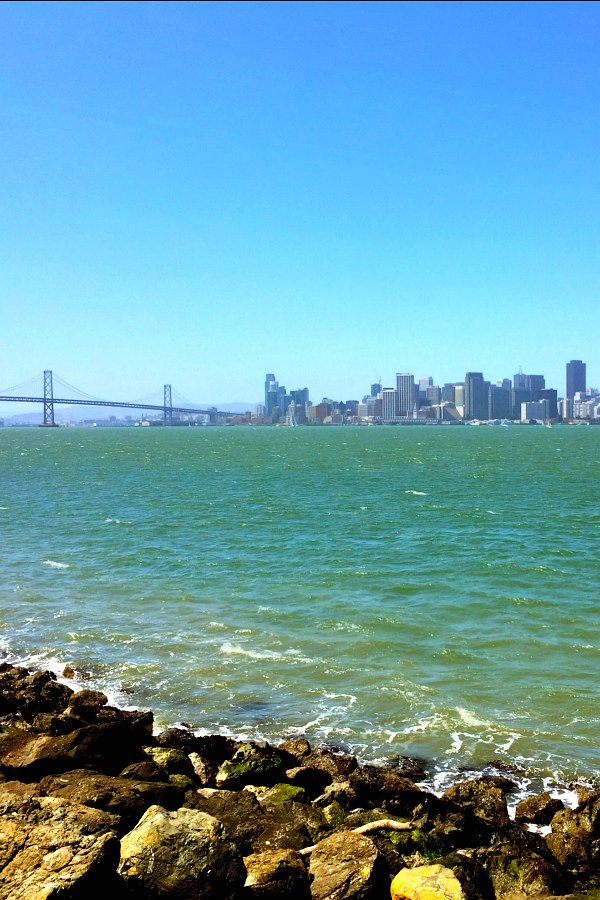 One last look at the city and the Bay Bridge (from Treasure Island).  We had gorgeous weather the whole time we were in San Francisco… which isn't always the case.
Some things to note about Hotel Zelos and the area:
Address:  12 4th Street, San Francisco (close to the Bay Bridge)
Secure parking and valet available.
I observed rates for this hotel ranging from $190 to 500+/night- depending on dates throughout the year.
Free wifi is offered for up to 3 devices.
There is a small gym in the hotel.
Things to do:  shop, visit San Francisco Museum of Modern Art, explore Fisherman's Wharf, ride the cable cars, go to Chinatown, browse your way through Haight-Ashbury and go to Alcatraz!
Chinese restaurants that were highly recommended to me (Chinatown): House of Nanking, R & G Lounge, Hunan's Home, Great Eastern (for dim sum), and Mr. Jiu's (upscale).
Sushi restaurants recommended to me in the Union Square/Chinatown area:  Sanraku, Akiko on Bush Street, and Hakkusan.
Disclosure:  Hotel Zelos provided a complimentary two-night's stay + dinner and breakfast in order for me to review their hotel and share my experience with my readers.  I wouldn't hesitate to recommend Hotel Zelos as an affordable, spacious hotel room option in a great area of the city.

Comments