My crazy life is a bit of a whirlwind right now with a zillion things going on. Busy things. Things that make me want to pull my hair out sometimes. Things that are turning out to be great opportunities that are good and exciting and fun. And a few things that aren't so good. All of these things make me feel stressed out and want to eat carbs… lots of them, because that's my downfall when I'm stressed out. Not chocolate. Not french fries or milkshakes, but plain old, good-old fashioned carbs: like this Cinnamon Swirl Bread.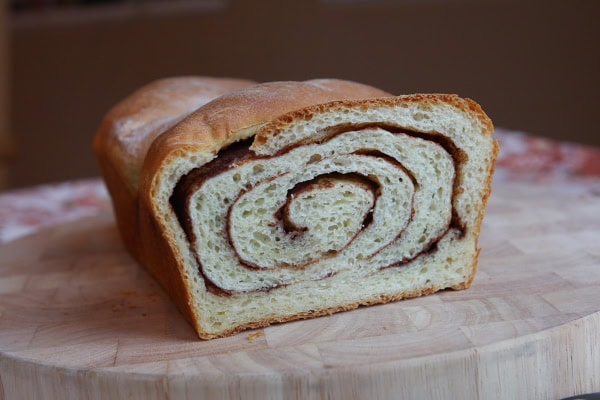 It's a yeasted bread, but don't be afraid. I'll show you how easy it is to make…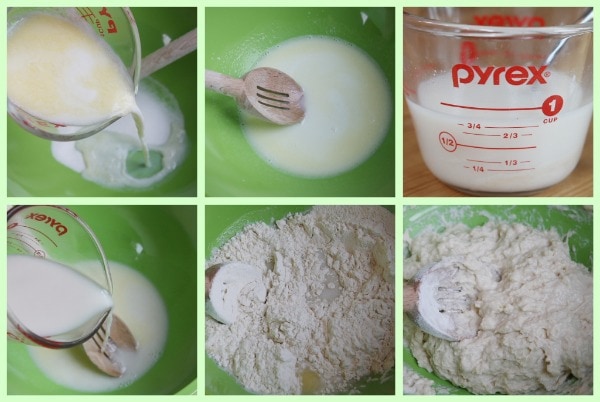 Into a bowl, place sugar, salt and cinnamon. Pour melted butter and warmed milk over; stir. Dissolve yeast in warm water and pour that in there too. Add flour; mix. Pretty easy so far, right?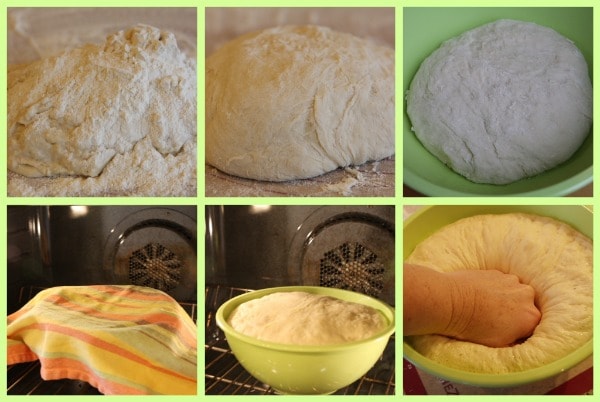 Dump the dough out onto a floured surface, add more flour and knead it for a few minutes until it's smooth and no longer sticky. Place the dough into a greased bowl, cover with a towel and let it rise in a warm place (I use a slightly warmed oven). Take it out and punch it down. Still pretty easy…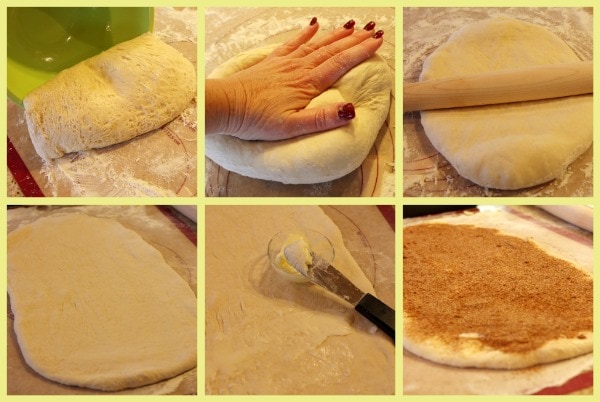 Dump it onto a floured surface again, knead it for a minute or so and then roll it out into a rectangle. Spread with butter and sprinkle w/ cinnamon & sugar. It's here that you may want to begin nibbling pieces of dough that are coated with butter and cinnamon/sugar. Maybe not, but I'm always tempted to do it. You must be strong. Resist.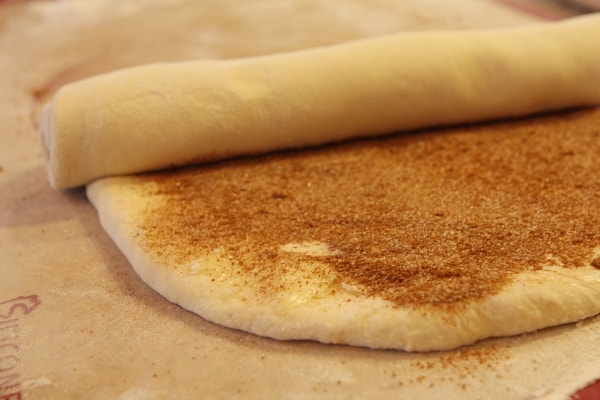 Start at one end and roll it up. Yum yum yum yum yum.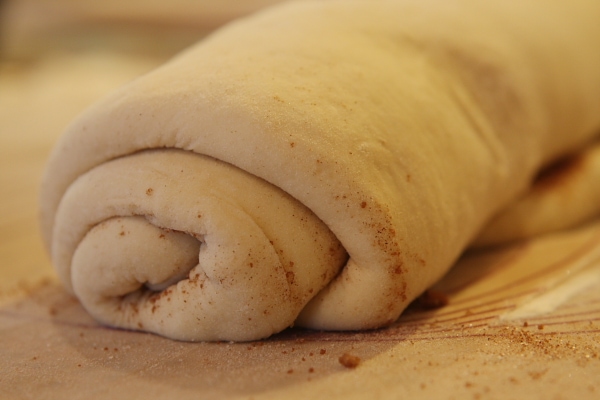 Look? It's all cute and snuggly all rolled up like that. Keep the seam underneath…


…because then you're going to transfer it to a bread pan, seam-side down. Cover the pan, and let it rise in a warm place one more time. Soooooooo, what you're probably realizing at this point is that making bread is really pretty darn easy. You just have to be patient with the rising times. Your patience will be rewarded soon. Promise.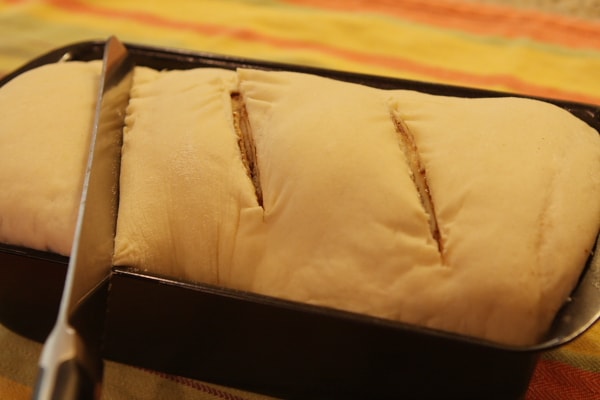 Cut some slits into the top of the loaf.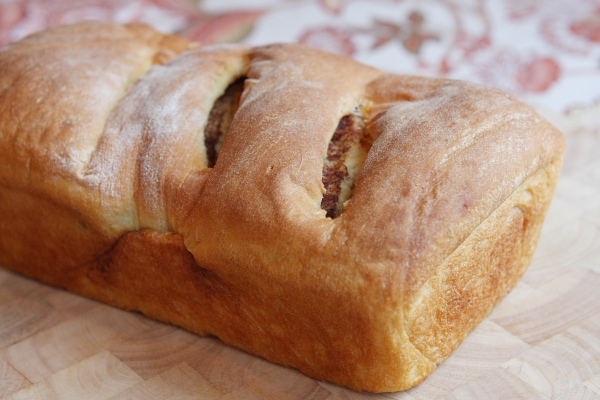 And bake it up into a perfectly golden loaf.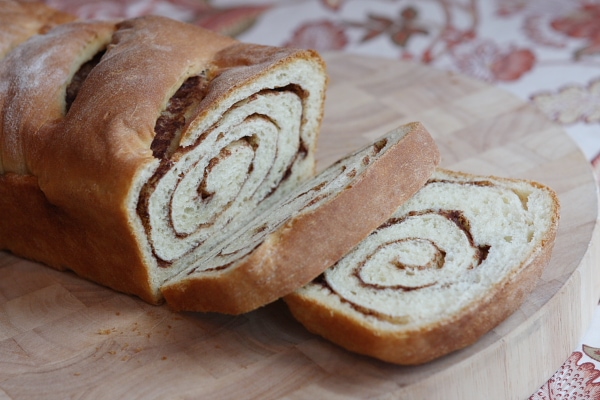 Technically, you could slice it up right away and sample it with some melted butter all sunken into those cinnamony crevices. It's good like that.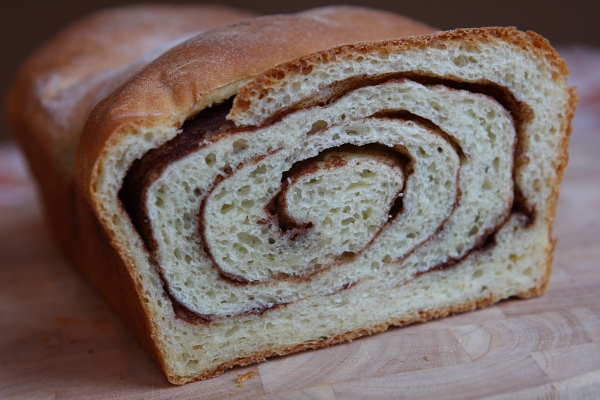 But probably you should let it cool, then slice. It's just as good sliced and popped into a toaster in the next day or two. And it's even more incredible when used as French Toast. This Cinnamon Swirl Bread is also useful for satisfying carb cravings and relieving stress (and I speak from personal experience).
Cinnamon Swirl Bread
This cinnamon bread is simple to prepare and makes a delicious breakfast treat.
Recipe Details
Servings:
10
servings (1 slice per serving)
Ingredients
BREAD
1

tablespoon

butter

½

cup

milk

2

tablespoons

granulated white sugar

½

teaspoon

salt

1

teaspoon

ground cinnamon

1

envelope (2¼ teaspoons)

active dry yeast

¾

cup

warm water

(105 to 115 degrees F.)

3

cups

all purpose flour,

divided + more for surface work
TOPPINGS
2

tablespoons

butter,

softened

2

tablespoons

granulated white sugar

1

tablespoon

brown sugar

1

tablespoon

ground cinnamon
Instructions
In a microwavable cup, heat butter and warm milk in short bursts; stir together until butter is melted.

In a large bowl, stir sugar, salt and cinnamon. Pour warm butter/milk mixture into the bowl and stir.

In a glass measuring cup or small bowl, mix yeast and warm water until yeast is dissolved; pour into the bowl and stir.

Mix in 2½ cups flour. Turn out dough onto a floured board (dough will be sticky). Sprinkle remaining ½ cup of flour onto the dough and knead until the dough is soft and smooth (4 to 5 minutes). Add additional sprinkles of flour, if needed.

Put dough into a greased bowl; turn the dough over so the top of the dough is greased too. Cover with a clean dish towel and let rise in a warm place for about 60 minutes, or until doubled in size (see tips below).

Punch down the dough in the bowl with your fist. Turn dough onto a floured surface and knead for about 1 minute.

Roll dough out into a basic rectangular shape. Use a butter knife or your clean fingers to spread 2 tablespoons softened butter on the surface of the rolled out dough. In a small bowl, mix white sugar, brown sugar and cinnamon. Sprinkle this mixture on top of the butter.

Roll up dough and form into a loaf. Place into a buttered 5x9 inch bread pan, seam side down. Cover with a clean dish towel and let rise in a warm place until doubled in size, about 30 minutes.

Preheat the oven to 375 degrees F.

Score risen dough in the pan by cutting 3 slashes diagonally across the top of the loaf with a sharp knife. Bake bread for 35 to 45 minutes, or until golden brown. Fully baked bread should sound hollow when tapped.

Turn out bread and let cool on a wire rack.
Notes
I like to use the oven as a place for rising. Turn the oven to 400 degrees and heat for one minute. Turn the oven OFF, turn on the light, and now you have a nice, warm place for rising. Make sure the oven is turned off!
Nutrition
Serving:
1
serving
,
Calories:
200
kcal
,
Carbohydrates:
36
g
,
Protein:
4
g
,
Fat:
4
g
,
Saturated Fat:
2
g
,
Polyunsaturated Fat:
0.3
g
,
Monounsaturated Fat:
1
g
,
Trans Fat:
0.1
g
,
Cholesterol:
10
mg
,
Sodium:
149
mg
,
Potassium:
66
mg
,
Fiber:
2
g
,
Sugar:
7
g
,
Vitamin A:
128
IU
,
Vitamin C:
0.04
mg
,
Calcium:
33
mg
,
Iron:
2
mg