This recipe has been featured in a post on The Recipe Girl blog: Food Porn Daily and Pumpkin Cinnamon Rolls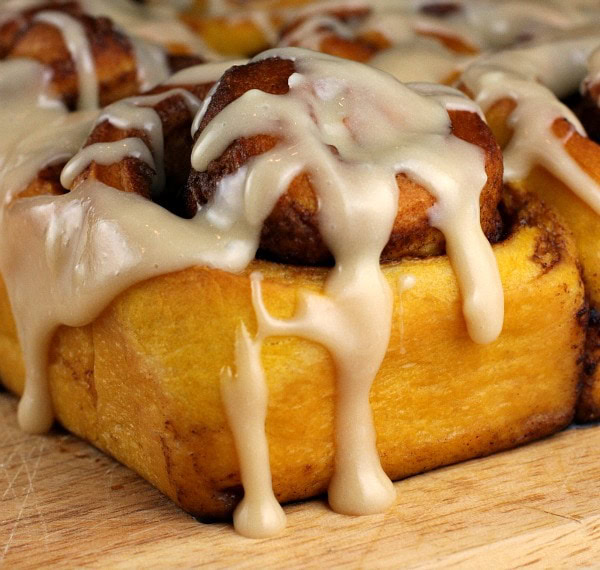 Pumpkin Cinnamon Rolls w/ Maple Icing
These cinnamon rolls from the Food Porn Daily cookbook are perfect for a Thanksgiving breakfast or any fall weekend. Our family thought they were pretty droolworthy. There are quite a few steps in this recipe but don't be afraid... the result is so worth the effort you'll put into making these!
Yield:
12 cinnamon rolls
Prep Time: 50 min + rising time
Cook Time: 30 min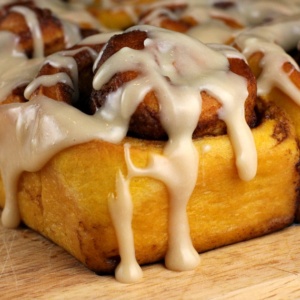 Ingredients:

DOUGH:
4 Tablespoons salted butter, melted
1/4 cup granulated white sugar
1/2 teaspoon salt
1 cup canned (unsweetened) pumpkin puree
1 large egg, beaten
1/2 cup lukewarm water (105 – 110 degrees F)
1 packet active dry yeast
1 Tablespoon granulated white sugar
3 3/4 cups all-purpose flour, plus extra- as needed
cooking spray

FILLING:
4 Tablespoons butter, at room temperature
2/3 cup light brown sugar
1 Tablespoon ground cinnamon
1/4 teaspoon ground cloves
1 teaspoon ground ginger
1/8 teaspoon ground allspice
1/8 teaspoon ground nutmeg
1/4 teaspoon salt

ICING:
3 ounces cream cheese, at room temperature
1 cup powdered sugar, sifted
1/4 cup pure grade B maple syrup
1/4 teaspoon salt

Instructions:

1. Spray a non-reactive bowl with nonstick spray. Set aside. Line a 13x9x2-inch metal baking pan with parchment paper.

2. In a mixing bowl, whisk together first 5 ingredients of the dough (through egg) until well combined. Set aside.

3. In a small bowl, whisk together warm water, yeast and 1 Tablespoon sugar. Let sit for 5 minutes until the yeast is frothy and active. If after 5 minutes yeast does not appear active, discard the mixture and start over with a newer, fresher yeast packet.

4. Place flour in a large mixing bowl (or the bowl of a stand mixer). Add yeast mixture and pumpkin mixture to the flour. Stir until ingredients have incorporated into a dough. If using a stand mixer, attach a dough hook and knead on medium speed for 5 minutes. If kneading by hand, turn dough out onto a clean, lightly floured surface and knead for 8 to 10 minutes. The desired consistency of the dough should be soft and just slightly sticky. Add more flour as necessary throughout the kneading process until you achieve the proper consistency.

5. Form dough into a ball and transfer to the oiled bowl. Toss dough around in the bowl to coat all sides lightly with oil. Cover with oiled plastic wrap and a kitchen towel. Place in a warm, draft-free spot. Let the dough rise until nearly doubled, usually 1 to 1 1/2 hours.

6. Roll dough into a 16x10-inch rectangle on a large, lightly floured piece of parchment or waxed paper. While rolling out the dough, make sure it's not sticking to the surface. Lift the dough and sprinkle flour underneath, as needed.

7. Spread a thin layer of butter over the dough, leaving a 1/2-inch border on all sides. In a small bowl, whisk together remaining filling ingredients. Sprinkle this mixture evenly over the butter. Roll dough into a tight spiral- jelly roll style- by rolling the 16-inch long edge closest to you over the filling. Continue rolling dough into a log until the opposite edge is on the bottom. Slice dough into 12 even pieces and arrange in the prepared baking dish cut-side up. Cover the pan with oiled plastic wrap and a kitchen towel. Let rolls rise for 30 minutes in a warm, draft-free area. They'll get puffy and smash into each other as they rise. Preheat oven to 350 degrees F.

8. Remove towel and plastic wrap. Bake until tops and edges are golden and rolls are cooked through- 30 to 35 minutes. Remove from oven and place on a wire rack to cool for at least 20 minutes before icing.

9. Place a baking sheet over the dish of cinnamon rolls. Invert rolls onto the baking sheet and peel away parchment paper. Flip the rolls onto your choice of serving dish. Whisk together the icing ingredients until smooth, then spoon evenly over all of the cinnamon rolls, allowing it to dribble down the sides.

Tips:

*To create a warm, draft-free place for rising, use your oven… turn on the oven for 30 seconds, then turn it off, turn the light on, and place your bowl inside the very slightly warmed oven. It's a great place for your dough to rise if your oven is not in use.
*Make-ahead tip: Once your cut cinnamon rolls are in the pan, you can wrap them with plastic wrap at this point and refrigerate them overnight. Take them out of the fridge and let them warm up in the morning (at room temperature) and do their rising. Then you can continue with baking.
*These are best the day they're made, but they're also good re-heated the following day.
*Cinnamon rolls store better when they're kept together since the edges will dry out if separated.