Italian-made cannoli can be counted among my all-time favorite desserts in this world.  I had my fair share of them on a visit to Italy, and have enjoyed pretty decent cannoli at both Mike's and Modern in the North End of Boston.  It's also the dessert I've most wanted to write about since Day 1 of food blogging.
When our Gourmet Club hostess announced that she was planning a Tuscan-Themed dinner party, I offered to make the cannoli… shells, filling, the whole bit… I wanted to make them completely homemade and authentic.  So I set out to do research on how this Portuguese-Swede was going to accomplish making this wonderful Italian dessert.  I settled on adapting ideas/recipes from a discussion at Serious Eats and reading few tips from the blog- Eggs on Sunday .
Here's my version of How To Make Homemade Cannoli (about 16):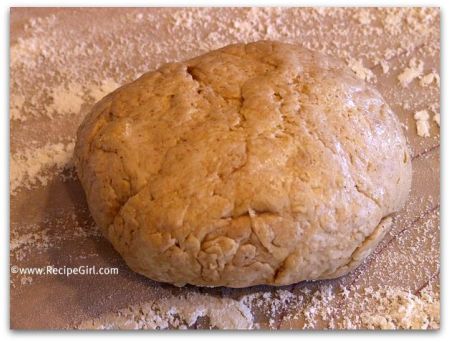 The making of the cannoli dough is a snap. Just mix the ingredients together, form into a ball and refrigerate for a couple of hours. At this point, you can make the filling too. My filling consisted of fresh ricotta and imported mascarpone cheese from our city's Little Italy. The cheeses are mixed with Grand Marnier, cinnamon and powdered sugar. The filling should also chill for a while.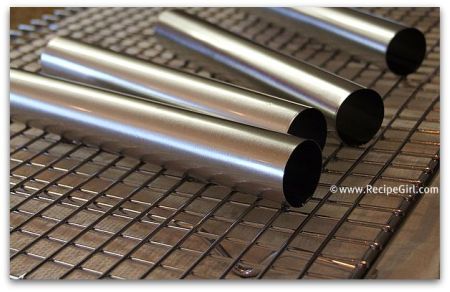 I really, really wanted to use authentic wooden dowels to make the cannoli shells. And by authentic, I mean cutting up my own wood, sanding it down, seasoning it and frying the shells wrapped around the wood. I didn't get around to doing that. So I bought the metal cannoli tubes, which was a fine alternative.
At this point, you can prepare the oil. Pour it into a deep saute pan (a couple of inches), dip your metal cannoli tubes into the cold oil and let them drain on a rack. Heat oil to 350 degrees F. I used my cast iron pan. Be careful with the temperature… if it's too hot, the shells will burn, and if it's too cool the cannoli will turn out soft and greasy.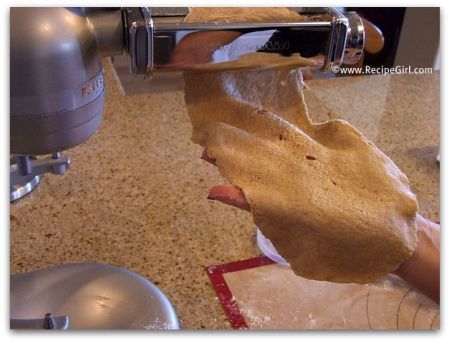 Divide the chilled dough into 4 pieces. Roll out one piece at a time on a floured surface. You can roll out the dough by hand, but if you have a pasta machine… you might have better luck with getting the dough as thin as you need it. I rolled out the dough first and then ran it through the pasta attachment on my KA Mixer. The first few times it will come out looking like this.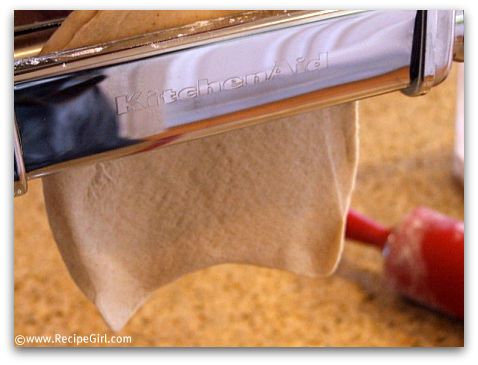 Keep folding it and running it back through until it comes out smooth and thin. The #4 setting on my KA attachment was perfect for me.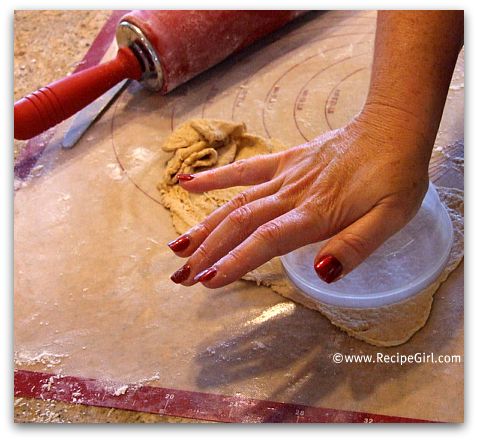 You'll need to cut out circles that are about 4-inches in diameter. I used an oh-so-fancy plastic container.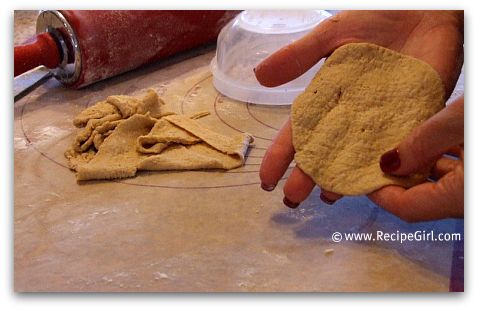 Don't worry about the scraps. They can be re-rolled many times. The dough is very easy to work with. Just add flour if it starts getting sticky.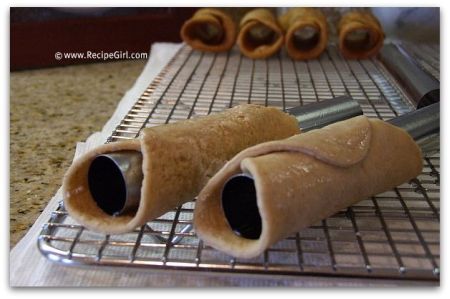 Wrap dough gently around the oiled cannoli tube.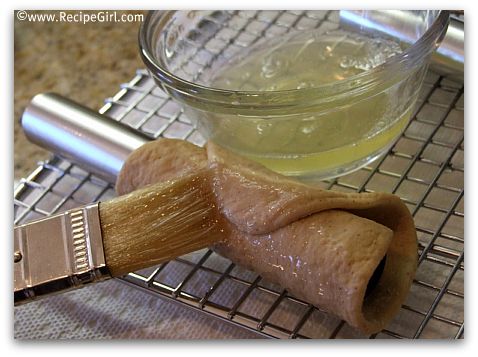 Brush on a little bit of egg white to seal the edges.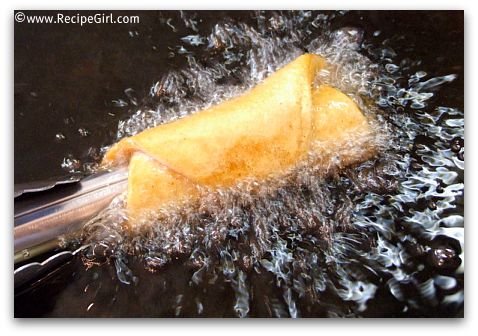 Check the temperature of your oil to make sure it's darn near 350 degrees (trust me). Lower the cannoli gently in the hot oil and let sizzle until golden brown and crispy (about 2 minutes).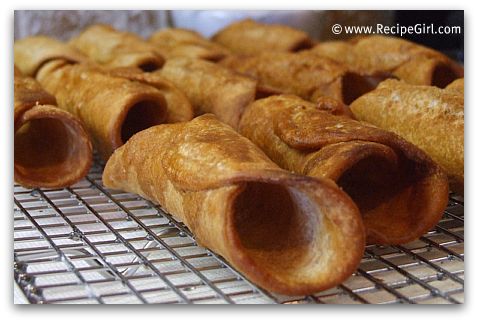 Remove fried cannoli shells to a rack to let cool and drain for a few minutes. I folded up a paper towel and wrapped it around the metal part while I gently urged the shell off of the tube.  I didn't have any problems with the shell sticking to the tubes. 
The shells can be made up to a couple of days in advance. Just make sure they're kept in a covered container and they should stay nice and crispy.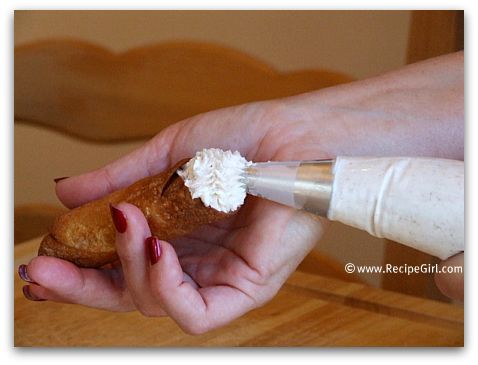 Place the filling in a piping bag or a large ziploc with the corner snipped. It does not have to look fancy since you're just going to be dipping the edges in something decorative. Hold the shell in one hand and pipe the filling in the other. Be gentle- the shells will be somewhat delicate.
Don't fill your shells until a few hours before serving. If you fill them too far ahead, the shells will begin to absorb the moisture from the filling and lose their crunch.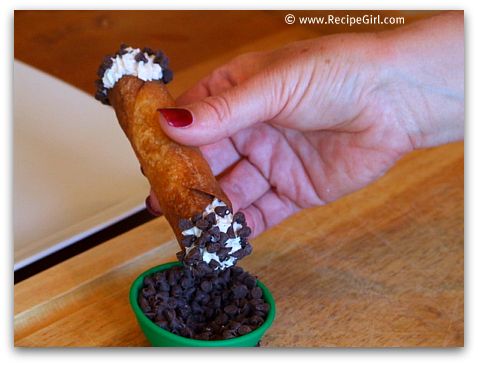 Dip the edges in mini chocolate chips (or chopped pistachios, candied orange peel, etc… get creative!).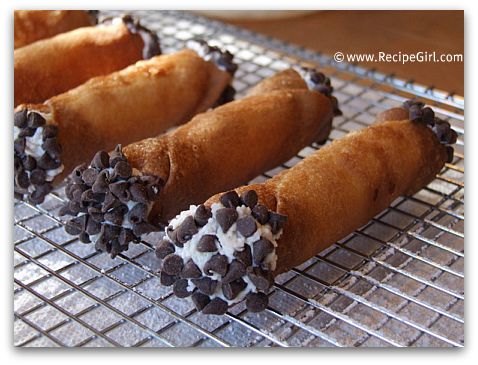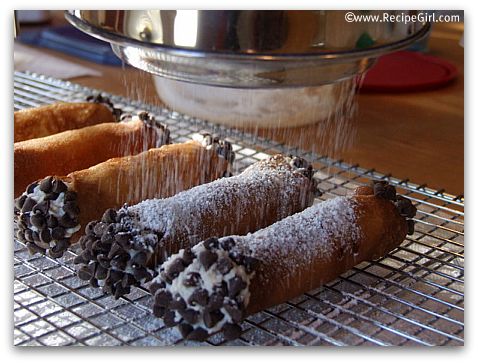 Sift powdered sugar on top to finish them off.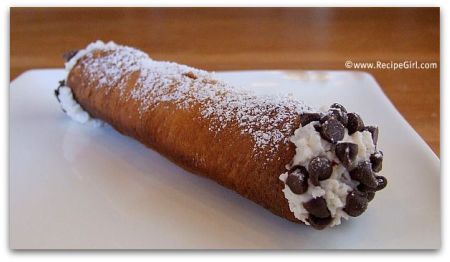 Ready to eat!
Notes:
*This was not an easy project and it was time-consuming, but I do have to say that it was fun… a good learning experience and something I'm glad I experienced.
*Admission… I made two batches of the cannoli shells. The first shells I made were a bit too thick and not quite crispy enough. With the second batch, I made sure to roll the dough very thin, and I cooked the shells for a full two minutes- much better!
*Would I make them again? Sure. It's always easier the second time around, right?
*And finally, the cannoli were a big hit at our Tuscan-Themed dinner party. Not a cannoli bite was left on anyone's dessert plate!
The instructions for this cannoli recipe can be found HERE.