I've been on a "diet" for 17 very long days now. For the most part, I've managed to avoid wine, pasta, cheese, nuts and bread, and I've consumed very little sugar. As you can probably imagine, I've been fairly grouchy. But I've been working out like a mad woman and- 7 pounds down so far- I feel pretty darn great. I figured that after 17 days of discipline, it was high time to whip up a little treat that I could sample and then pass along to someone else. Making Homemade Nutella seemed like as good a choice as any other.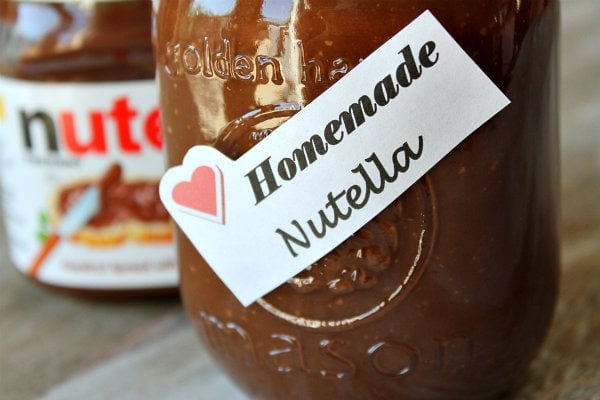 I cheated a little. Classic Nutella is basically Chocolate- Hazelnut Spread. See, I've never been super keen on hazelnuts, so I decided to use Marcona almonds instead. Marcona's are a Spanish almond- they are skinless, lightly fried in olive oil and salted. Since they're already toasted and skin-free, they make the grinding process that much quicker.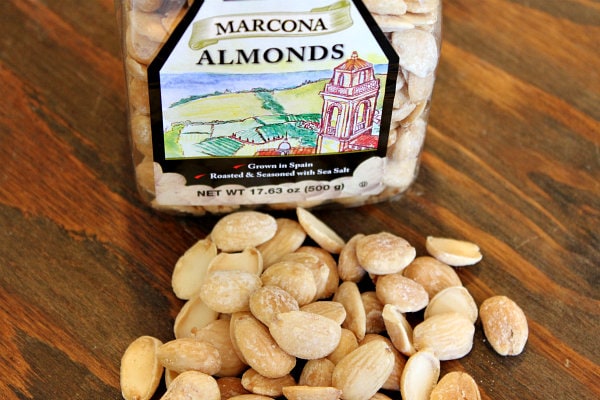 Marcona's are awesome for snacking, adding to cheese trays and placing in bowls to nibble when guests drop by. They're a zillion times more delicious than regular almonds. You can pick up a good-sized 17.6-ounce tub of them at Costco for only $7.99 (in the candy/nuts aisle). Or you can find several varieties on Amazon for a little bit more. The brand I used is roasted rather than fried in oil, so we're going to add some oil to the recipe to compensate for the dryness.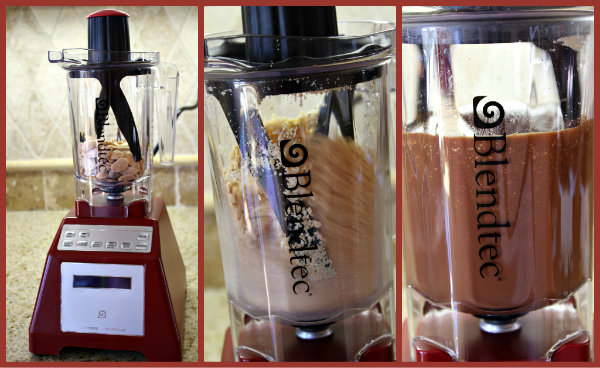 I used a Blendtec blender for this recipe since it has a really cool Twister Jar option for superior nut grinding ability. Those little black arms you see– you simply turn those by using the handle on top, which keeps stuff from sticking to the sides of the blender. Not to worry though…if you don't own one of these yet then you should go for using a food processor for this recipe. Here's how you make it:
Place your Marcona almonds in your processor or Blendtec.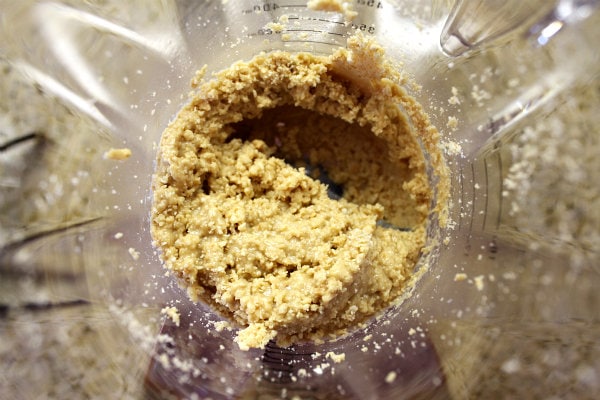 Grind away until it turns into a paste. Here's how it looks when it's almost done. Keep grinding.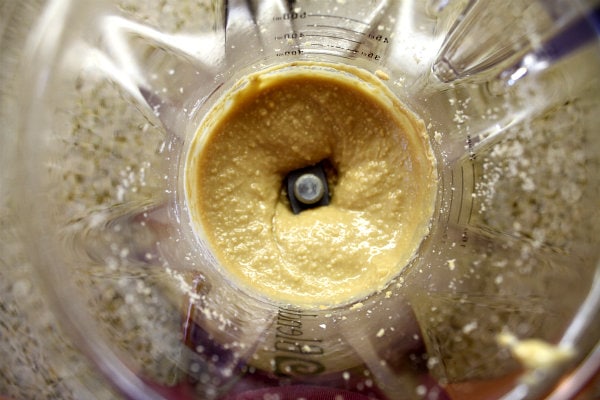 You're looking for a creamy consistency like peanut/almond butter. At this point, you can call it a day and use this up as Marcona Almond Butter! Or you can continue and make my variety of Nutella (Chocolate- Almond Butter).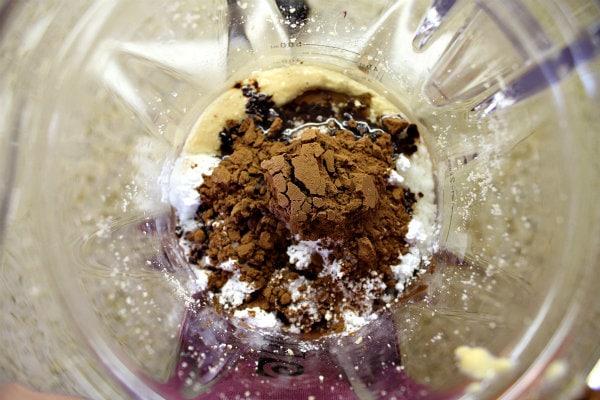 Add the remaining ingredients, then turn the machine back on until everything is mixed and smooth. I adapted a recipe that I spotted on David Leite's site, which originated in the book, "Cake Simple" by Christie Matheson. Instructions in that recipe offer an option to strain the Nutella at this point to bring it to a true creamy, classic Nutella consistency. See that recipe if you'd like to strain (or if you'd prefer to make classic Nutella with hazelnuts). Otherwise, just leave it as is and it will have a slight crunch to it- tiny pieces of almond. I left mine unstrained.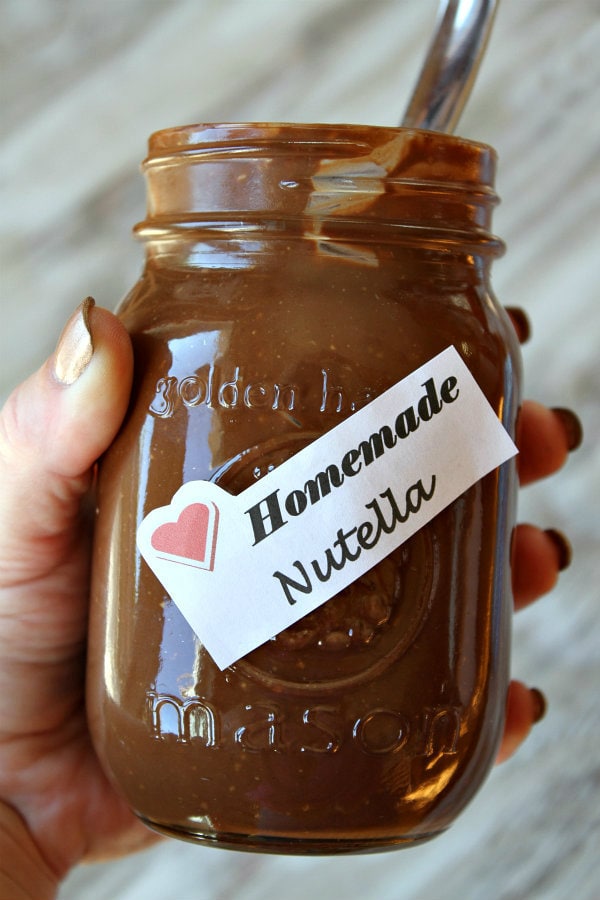 Transfer it into a jar and it will be rather loose and pourable- much unlike the Nutella that you spoon out of a jar. Don't refrigerate it or it will solidify, but do place a lid on top and keep it at room temperature. It should thicken up just fine- to a nice, spreadable consistency, though it will not be quite as thick and creamy as classic Nutella. And if it does happen to get too thick- just pop it in the microwave for a short burst and a softer consistency will return.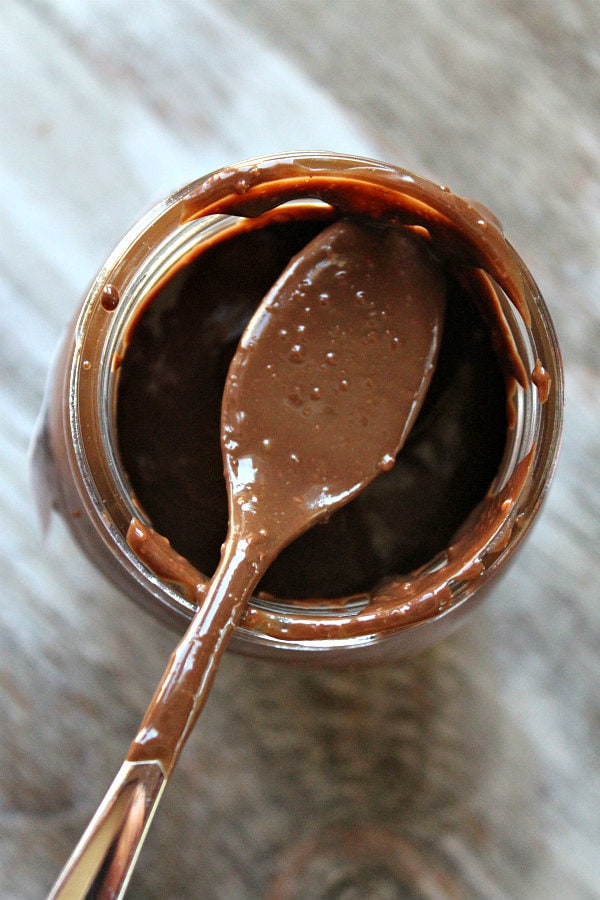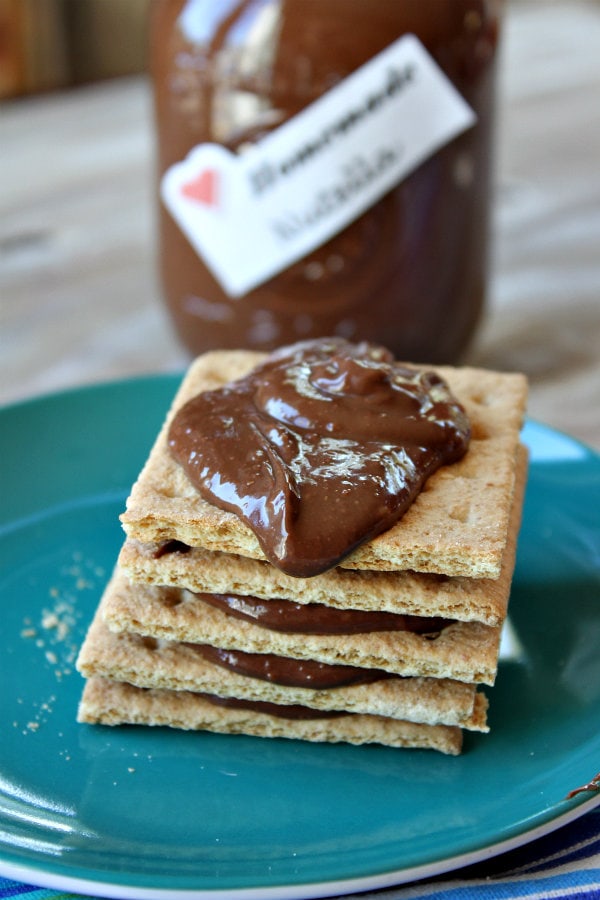 At our house, we enjoy our Nutella on graham crackers for after-school snacks, and we like it swirled into banana bread and in thumbprint cookies too. If you're feeling wild-and-crazy, you can add a little Marshmallow Fluff on those graham crackers too.
According to Matheson, you've got two weeks to eat this jar of yummy stuff. I'd say that's a feat that won't be too difficult to accomplish, wouldn't you?
Homemade Nutella
This recipe is made with Marcona almonds, but you can opt to use skinned, toasted hazelnuts if you wish.
Recipe Details
Servings:
1
batch (2 cups total yield)
Ingredients
12

ounces

milk chocolate,

chopped (I used Hershey's milk chocolate chips)

1

cup

Marcona almonds

(or skinned and toasted hazelnuts)

2 to 3

tablespoons

canola oil

(if your almonds have been fried in oil, use only 2)

3

tablespoons

powdered sugar

1

tablespoon

unsweetened cocoa powder

½

teaspoon

vanilla extract

¼ to ½

teaspoon

sea salt

(taste, and add as much as you'd like)
Instructions
Place the chocolate chips in the top of a double boiler over simmering water; heat and stir until smooth and melted. Alternately, you can place the chocolate in a microwave-safe bowl and heat in short bursts until the chocolate is soft and melted. Set the hot melted chocolate aside to cool.

Place the almonds in your processor. Process until they are well ground. Take a peek, then process again until the mixture is creamy like peanut or almond butter.

Add melted chocolate, oil, sugar, cocoa, and vanilla. Process again until all is well combined and smooth. Taste and add salt, as desired.

Pour the Nutella into a jar. Let cool at room temperature. Place a lid on top and store at room temperature. (see *Tips below) Consume it all within 2 weeks!
Notes
To prepare this recipe with hazelnuts, see Christie Matheson's original recipe for instructions on how to skin and toast hazelnuts.
Don't store the Nutella in the refrigerator or it will solidify. The mixture will be a thinner consistency until it comes to room temperature. It should stay a soft consistency. If it does happen to harden, just pop it in the microwave for a short burst and it will return to a soft consistency.
If you are preparing this recipe as gluten free, just be sure to use brands of chocolate and vanilla extract that are known to be GF.
Nutrition
Serving:
1
serving
,
Calories:
2820
kcal
,
Carbohydrates:
256
g
,
Protein:
41
g
,
Fat:
211
g
,
Saturated Fat:
76
g
,
Polyunsaturated Fat:
27
g
,
Monounsaturated Fat:
98
g
,
Trans Fat:
0.1
g
,
Sodium:
661
mg
,
Potassium:
1890
mg
,
Fiber:
33
g
,
Sugar:
205
g
,
Vitamin A:
9
IU
,
Calcium:
384
mg
,
Iron:
14
mg