This recipe has been featured in a post on The Recipe Girl blog: Chocolate- Nutella Thumbprint Cookies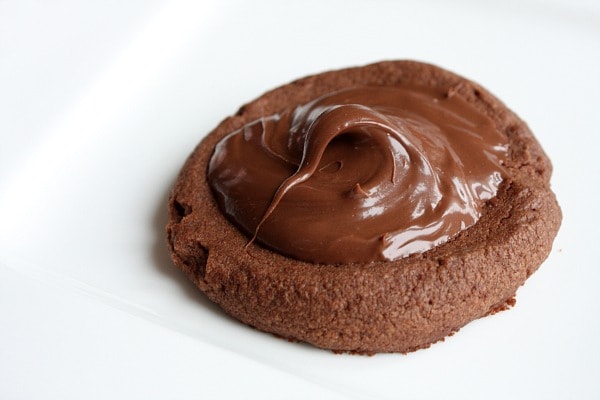 Nutella Thumbprint Cookies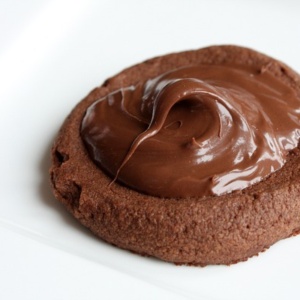 A good smudge of Nutella set inside a simple chocolate thumbprint cookie is a good reason for baking... these are delicious!
Yield:
24 cookies
Prep Time: 30 min
Cook Time: 10 min
Ingredients:
1 cup all-purpose flour
1 cup powdered sugar
1/3 cup unsweetened cocoa
1/4 teaspoon salt
1/2 cup butter, softened
2 large egg yolks
1/2 teaspoon vanilla extract
1/2 to 3/4 cup Nutella (or other chocolate hazelnut spread)
Directions:
1. Preheat oven to 350 degrees F. Line two baking sheets with parchment paper or silpat (or spray with nonstick spray).
2. In a medium bowl, whisk together flour, sugar, cocoa and salt. In a separate, larger bowl, beat butter with an electric mixer until it's light and fluffy (about 2 minutes). Add egg yolks and vanilla and beat well. Mix in flour mixture at low speed, just until combined.
3. Turn dough out onto a sheet of wax paper and knead a few times until it is smooth and shiny. Shape dough into 24 (1-inch) balls. Arrange balls 1 inch apart on prepared baking sheets. Press thumb into the center of each cookie, leaving an indentation.
4. Bake one cookie sheet at a time for 10 minutes. Remove cookies from pans; cool completely on wire racks. Spoon a generous teaspoonful of Nutella into the center of each cookie.
Source: RecipeGirl.com (Adapted from Cooking Light)