For chocolate lovers:  Dark Chocolate Crackles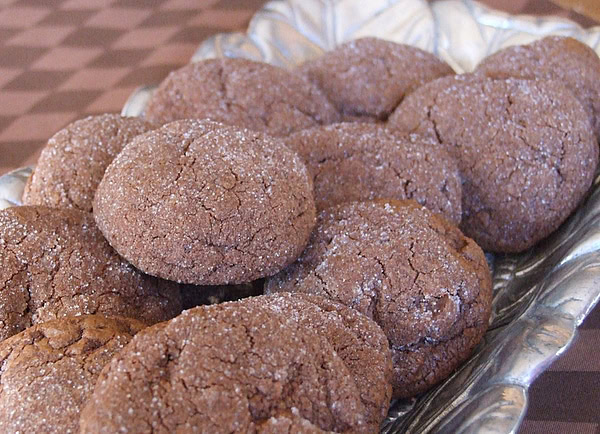 This recipe makes a good amount (5 dozen) so it was perfect to send off with the boys on a YMCA Indian Guide camping trip. If you're not familiar with Indian Guides, it's a father-son group that is designed to harbor close relationships between the two. They do a lot of boy-type activities together and head out on weekend camping trips once a month with the rest of their "tribe." It's great fun for them, and a quiet, relaxing weekend for me! It also gives me a chance to bake away… and send off goodies that are much-appreciated by the hungry group of men.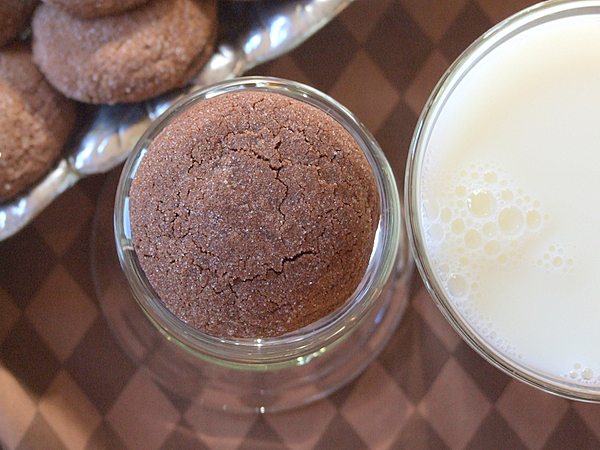 A recipe from Fine Cooking, these very chocolatey cookies are filled with three kinds of chocolate and a smidgen of orange zest to set them apart from the rest. You'll need a tall glass of milk to wash it all down. If this doesn't send the already energy-filled boys into a caffeine frenzy then I don't know what will. I'm sure the dads will appreciate me for this one.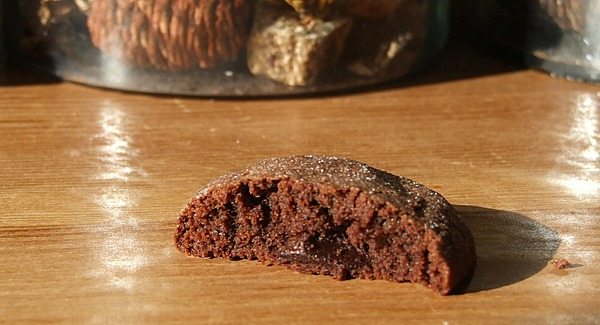 A little peek inside shows you that you will indeed get a chocolatey chunk or two inside each cookie.  Chocolate lovers… you'll like this one!
Dark Chocolate Crackles
These are a really chocolatey cookie- terrifically rich with flavor and a touch of orange.
Yield:
About 5 dozen cookies
Prep Time: 30 min
Cook Time: 12 min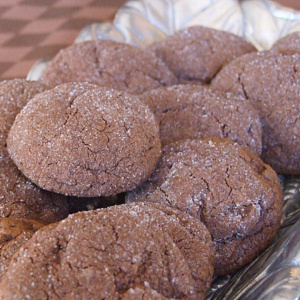 Ingredients:

2 1/2 cups all-purpose flour
1 teaspoon baking soda
1/4 teaspoon salt
1 cup (2 sticks) unsalted butter, at room temperature
2 cups firmly packed light brown sugar
2/3 cup unsweetened cocoa, sifted
2 teaspoons finely grated orange zest
1 teaspoon vanilla extract
3 large eggs
8 ounces bittersweet chocolate, melted and cooled until barely warm
3/4 cup (4 ounces) chopped chocolate (white, bittersweet or semisweet)
1/3 cup granulated sugar; more as needed

Instructions:

1. Preheat oven to 350°F. Line cookie sheets with parchment or nonstick baking liners.

2. In a medium bowl, whisk together the flour, baking soda and salt. In a large mixing bowl, use a hand mixer to beat the butter, brown sugar, cocoa, orange zest, and vanilla on medium speed until well combined, about 4 minutes. Beat in the eggs one at a time. Add the cooled chocolate and mix until blended, about 1 minute. Add the dry ingredients and mix on low speed until almost completely blended, about 1 minute. Add the chopped chocolate and mix until blended, about 15 seconds.

3. Shape the dough into 1 1/4-inch balls with a small ice-cream scoop or two tablespoons.

4. Pour the granulated sugar into a shallow dish. Dip the top of each ball in the sugar and set the balls sugar side up about 1 1/2 inches apart on the prepared cookie sheets. Bake one sheet at a time until the cookies are puffed and cracked on top, 11 to 12 minutes. Let the cookies cool on the sheet for 5 minutes before transferring them to a rack to cool completely.

Tips:

*The balls of dough may be frozen for 1 month. Thaw them overnight in the refrigerator before proceeding with the recipe.

SOURCE: RecipeGirl.com (Slightly adapted from Fine Cooking)