Want to spice up your breakfast? This classic recipe for Huevos Rancheros is so delicious. A perfect way to start your day!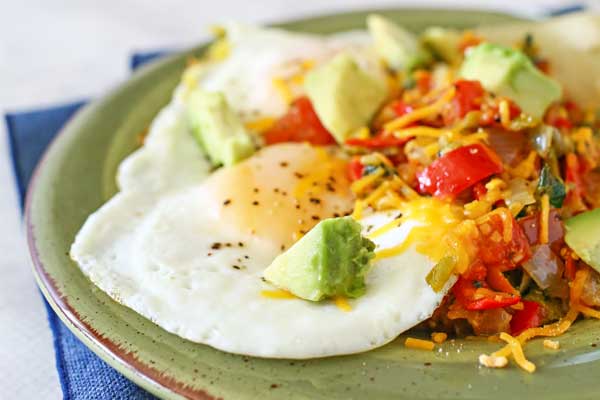 It's so easy to get caught up in the same old thing for breakfast. You're tired, hungry and most likely short on imagination because you are still groggy. This happens so often in our house and we resort to things like toast or yogurt to start the day. But what we really need is something to wake our senses and get us going. So we have been pulling out our grandparent's family cookbook and reviving old recipes that were once well loved and making them new again. I have to tell you, it's been so refreshing to have something new on the plate for a change. But not just something new, it's also nice to enjoy things that were once forgotten. We are reminded of those times long ago, vivid memories of our past that are tied to these flavors. It sparks great meal time conversation as we tell our stories relating to these recipes to our kids. It sure makes for great family time.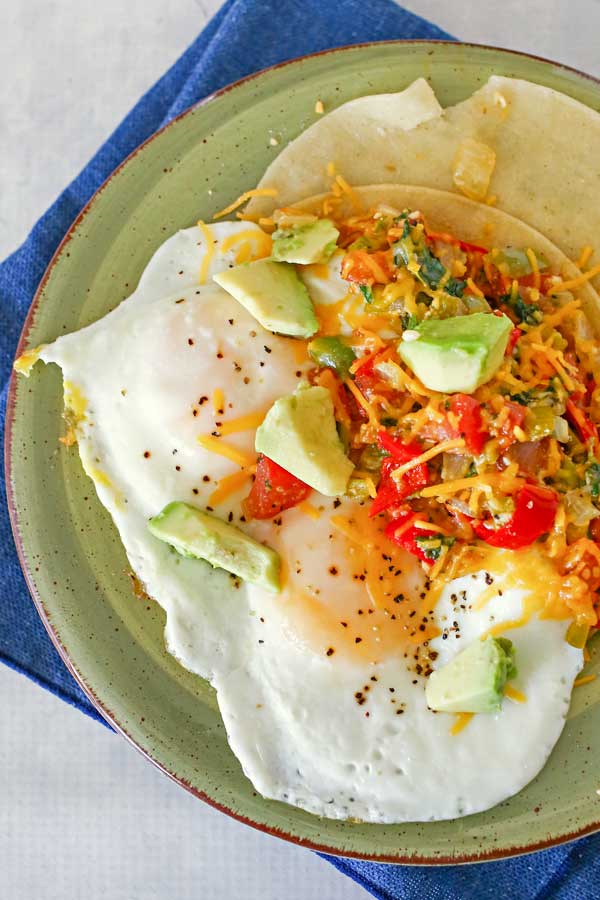 My family is so in love with this recipe for huevos rancheros from my grandmother. They literally made it 3 days in a row because they couldn't get enough. My husband woke up talking about it after the first time and couldn't wait to get cooking first thing so he could enjoy it again. Yes, it's that delicious. I know that your family will love it too. Fried corn tortillas loaded with a kicky salsa and topped with gooey eggs, sunny side up– they are in love, and I really can't blame them! Even my youngest is now obsessed with this spicy way to start her day.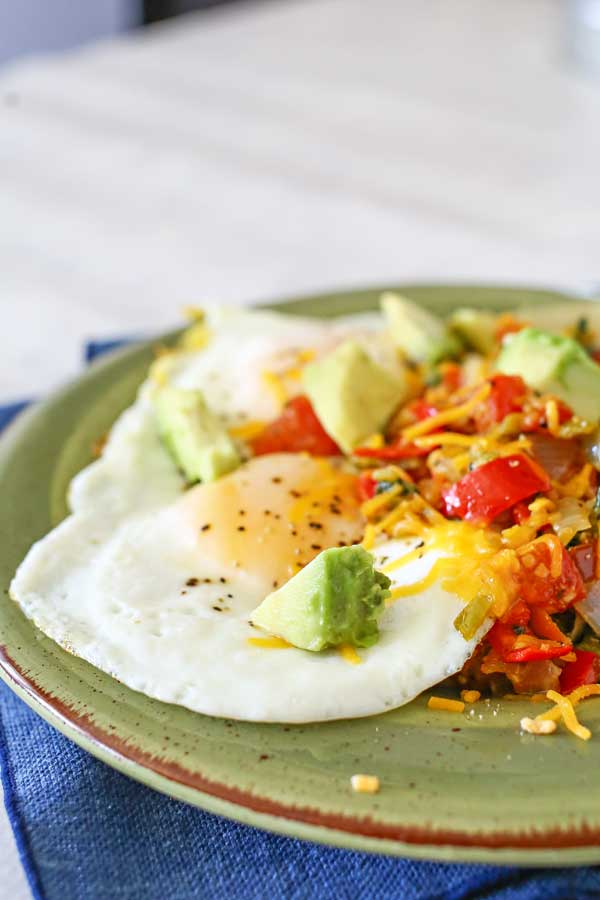 Because we are Southern California natives, we love to add avocados to just about everything we can. So of course we added them to this dish as well. They were a scrumptious, perfect addition to this already perfect breakfast.
Huevos Rancheros
Yield:
1 serving
Prep Time: 10 minutes
Cook Time: 10 minutes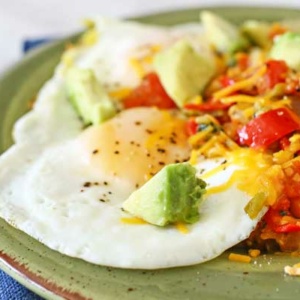 Ingredients:

1/2 teaspoon canola oil + more for the eggs
1/2 onion, minced
1 large tomato, finely chopped
2 large Anaheim chilies, seeded and finely chopped
1/2 cup chopped spinach
Salt, pepper, chili powder to taste
Oil Spray
2 corn tortillas
2 large eggs
1/4 cup shredded cheddar cheese
1/2 medium avocado, cut into chunks
optional toppings:  hot sauce, corn, black beans, lettuce and/or sour cream

Instructions:

In a small pan, heat the oil.  Add the onion, tomato, chilies, spinach and seasonings-- cook until spinach is wilted but still bright in color, set aside but keep warm.
Spritz the corn tortillas with cooking spray, and heat in a separate small skillet for several minutes on each side until they begin to crisp. Transfer to a serving plate and set aside
Using the skillet from the tortillas, heat to medium and add a generous drizzle of oil.  Then add eggs with a sprinkle of salt and pepper
Cook the eggs  for several minutes.  Once the whites begin to turn white, carefully spoon the hot oil over the whites but not over the yolk.
Once the whites are set and not loose, spoon a little oil over the top of the yolk to cook slightly.
Once the eggs are cooked, it time to serve.
Spoon the cooked tomato salsa mixture over the plated tortillas, and then top with the eggs.
Sprinkle the eggs with cheese and avocado.
Add optional toppings, as desired.

Nutrition:
*If you are preparing this recipe as GLUTEN FREE, just be sure to use a brand of corn tortillas that are known to be GF.
SOURCE:  RecipeGirl.com
Here are a few more breakfast recipes you might enjoy!