This Hummus and Roasted Veggies Board is a beautiful board to create for a party!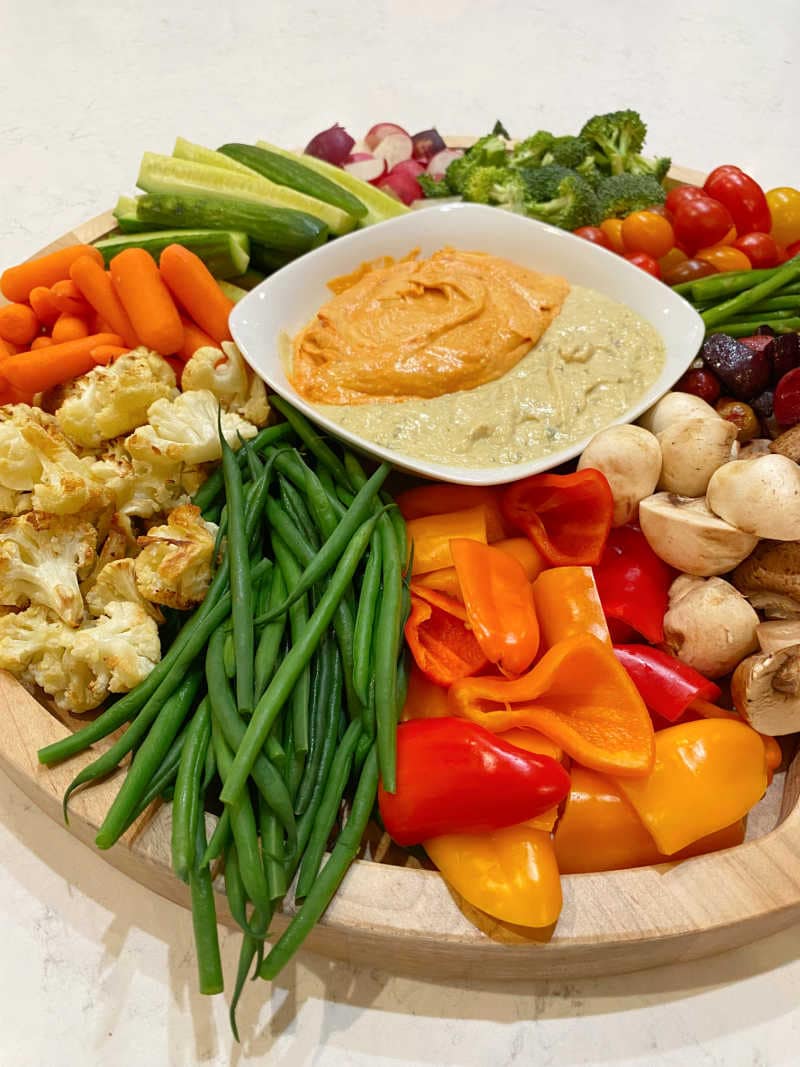 Since I've picked up a few charcuterie boards in the last year, I make a board of some sort every time I have guests in my home. And in the case of this Hummus and Roasted Veggies Board, I brought it to contribute to a friend's party the other night. Good, healthy veggies and hummus are always appreciated at a party because there are always party-goers that like to eat a bit lighter. At the end of the party, everything on the board was completely gone, so I guess it was a big hit! Detailed instructions for creating this board are in a printable card at the end of this post.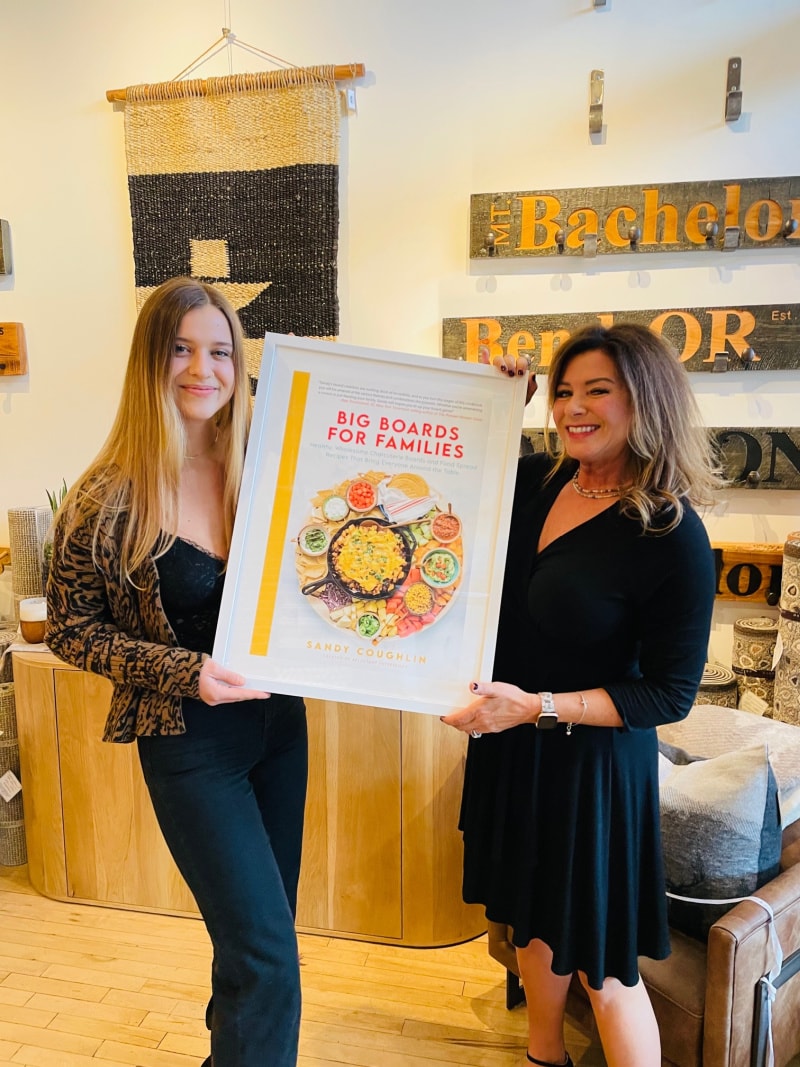 Big Boards for Families
This beautiful board recipe comes from a brand new book by the very talented entertaining expert Sandy Coughlin: Big Boards for Families– healthy wholesome charcuterie boards and food spread recipes that bring everyone around the table. Sandy's daughter Abby shot all of the gorgeous photography for the book. Sandy happens to be one of my very best friends, and I'm so proud of what she and Abby created in this book. Sandy's website is ReluctantEntertainer.com. It's a must-visit website for recipes and entertaining!
There are more than 50 food boards to choose from in the book- for dinner, lunch, after-school snacks, breakfast or brunch. They're a fun spread for parties too. Get in on the board craze, and order the Big Boards for Families book so you can start creating them at home!
Here are a few of the fun board ideas in the book that have caught my eye:
European Breakfast Charcuterie Board
After-School Energy Bites Board
PB&J Snack Board
Family-Size Nacho Board
Deli Spread Sandwich Board
Melt-in-your-Mouth Cheese Fondue Board
Classic Charcuterie Board
Best Clam Chowder Board
Three Bean Chili and Cornbread Board
Cake Bites Dessert Board
Chocolate Fondue Board
Make Your Own Trifle Cups Board
These are all fun ideas. And as with any recipe or board, you can customize it to your liking. It's a way to bring family and/or friends together to enjoy food in your home. If you enjoy entertaining, then Big Boards for Families is definitely a book to add to your cookbook collection!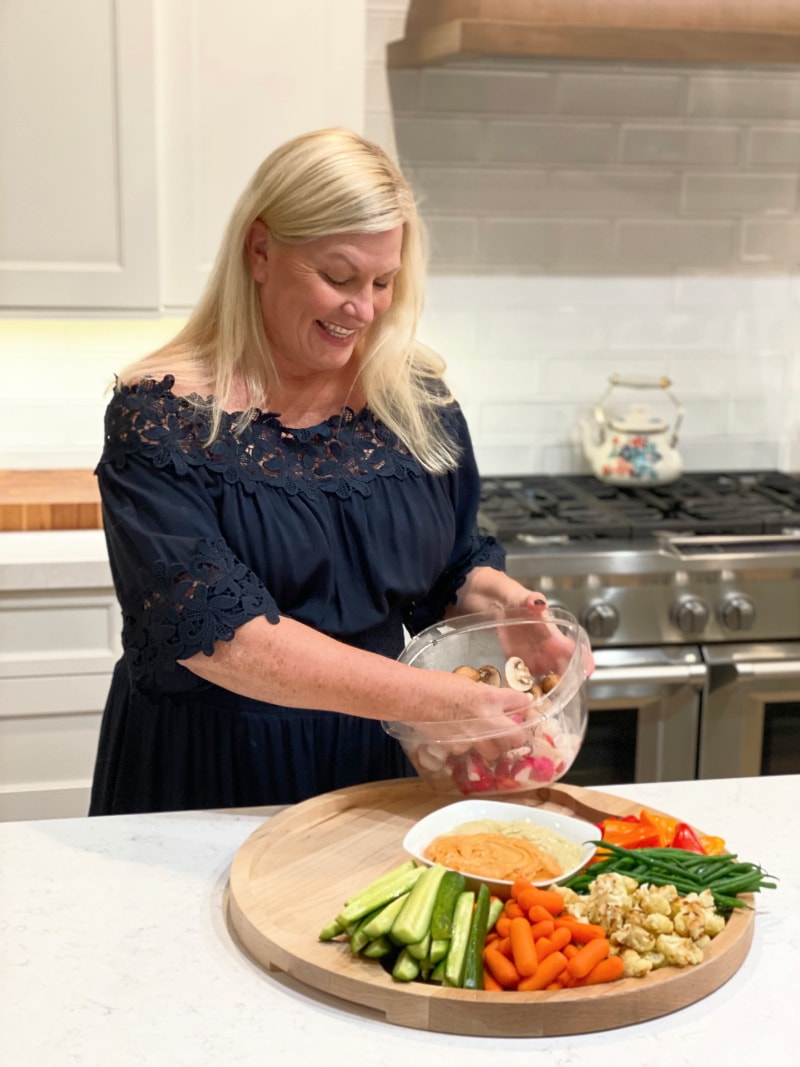 The great thing about creating a board for a party is that you can prep everything ahead of time and just stick it in the fridge. When it's go-time, you can quickly assemble your board and set it out for serving.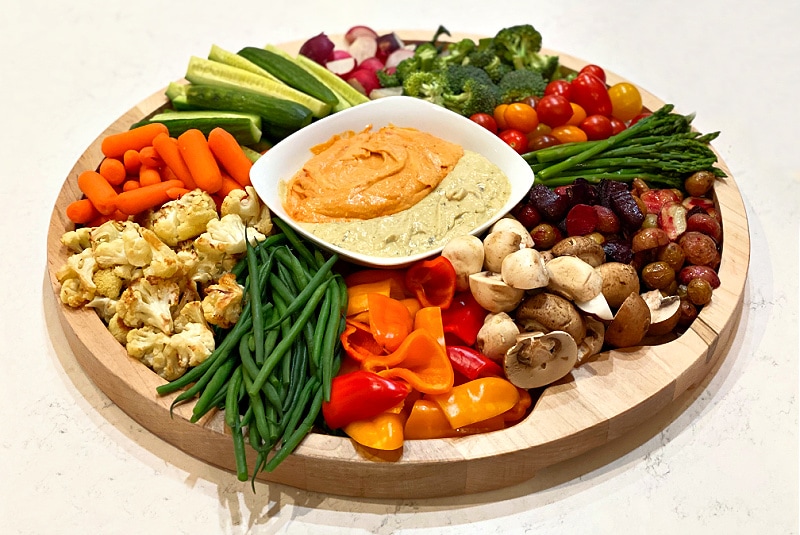 Add some little tongs or forks if you have them, so you don't have everyone's hands reaching into the food on the board. Sandy has a recipe for hummus in her book, but I decided to use store-bought hummus. I used a mix of sun dried tomato hummus and cilantro hummus.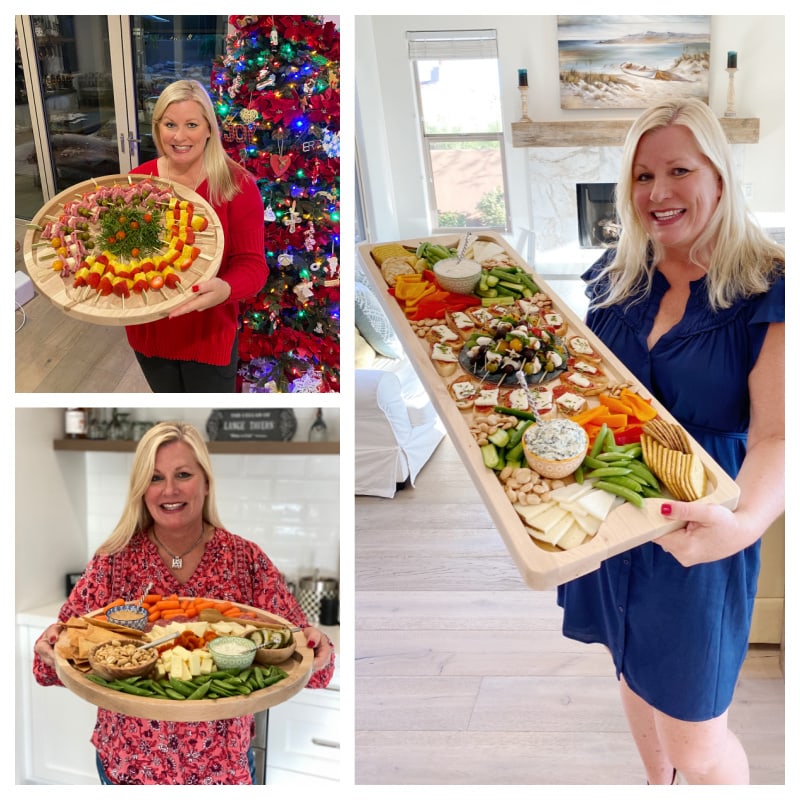 Here's a few photos of me with my board creations from the past year. I really love to create them for parties!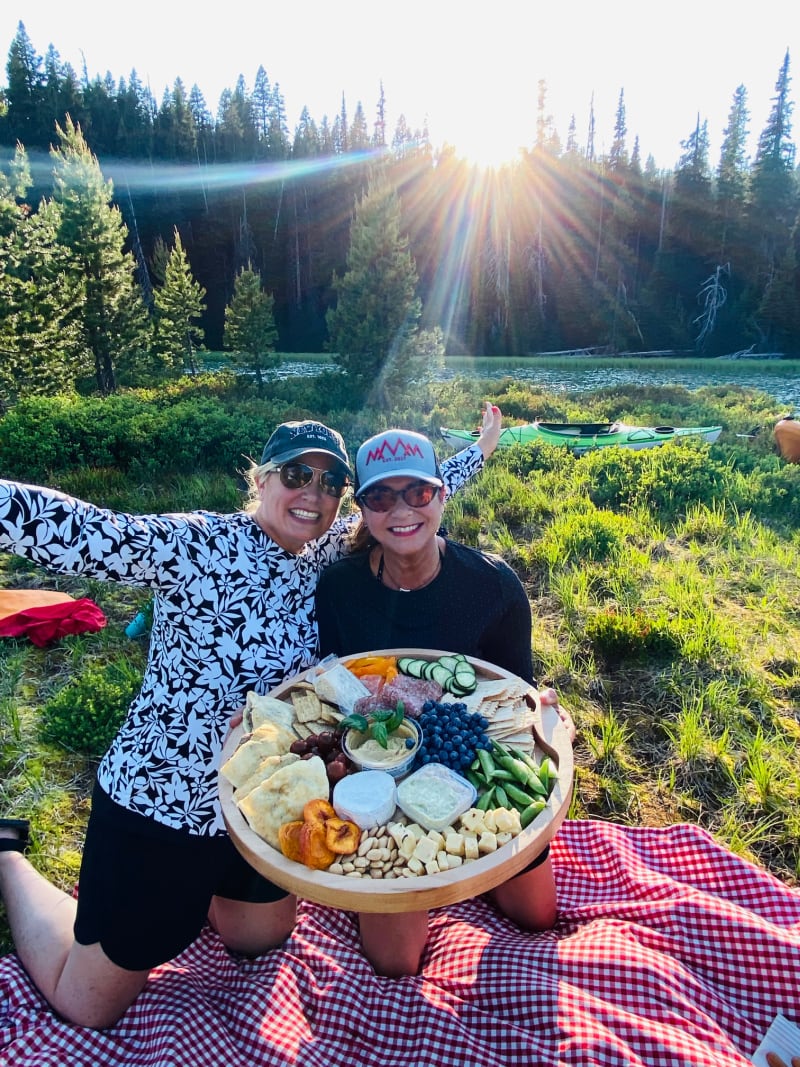 Sandy and I live close to each other in the summer months. This last summer we created the most epic charcuterie board while kayaking on a lake together with our husbands. Sandy wrote about the Kayak Charcuterie Board on her blog. Isn't it fabulous?!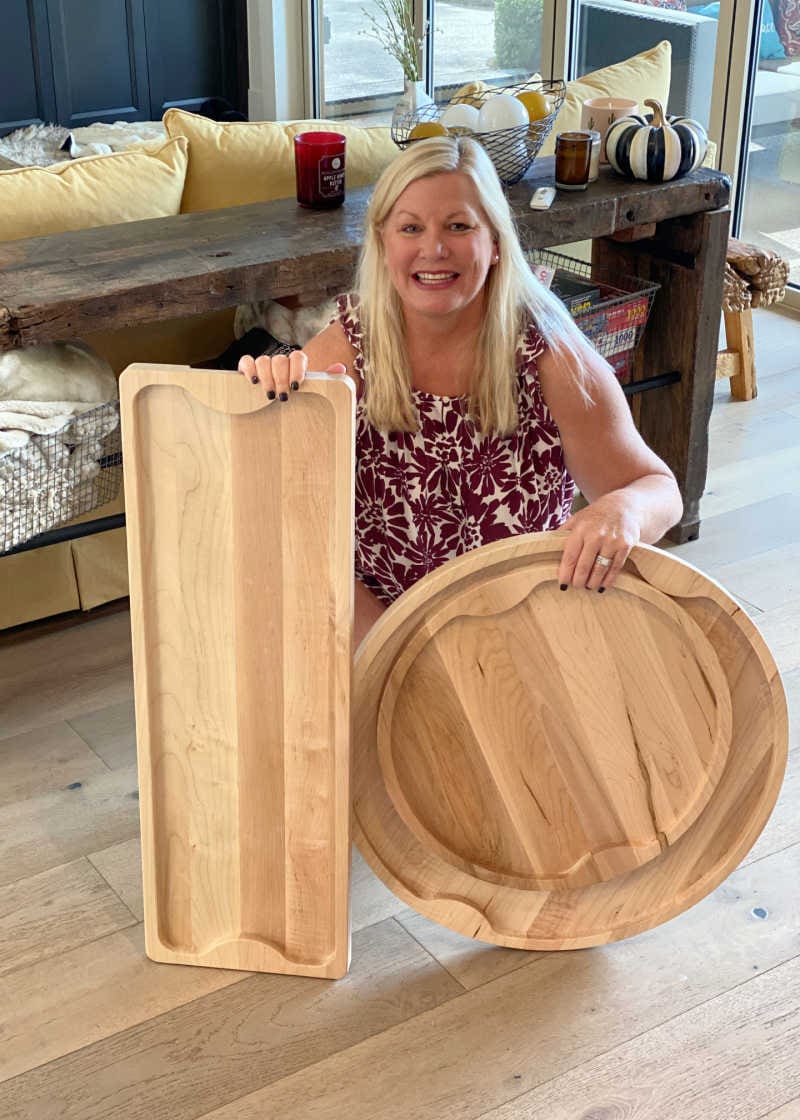 Where to buy Charcuterie Boards:
You can create Sandy's Big Boards on any kind of big board that you have on hand. But I suggest you browse the different types of Big Boards that Sandy offers for sale. I have bought three of them already– the 20-inch round, the 26-inch round and the 36-inch rectangular board. They can be used for appetizers or dinner displays. And you can even create a pretty, decorative centerpiece using a board as a base. They wipe off easily, and they are made in the U.S.A. I love them! Be sure to pick up the new book: Big Boards for Families, and take a peek at Sandy's website ReluctantEntertainer.com too. Enjoy!
Hummus and Roasted Veggies Board
A wholesome, vibrant, delicious board for parties!
Recipe Details
Ingredients
One

26-inch

food board

store bought hummus

(or homemade)

½

cup + 1 teaspoon

kosher salt,

divided

1

pound

asparagus,

trimmed

1

pound

haricot verts or green beans,

trimmed

12

petite

carrots

(or carrot sticks)

1

pound

cauliflower florets

1½

pounds

mixed baby potatoes,

halved

1

medium

red beet,

peeled and cut into cubes

¼

cup

olive oil,

divided

¼

cup

finely chopped fresh cilantro

(optional)

10

large

white button mushrooms

20

baby bell peppers,

seeded and cut in half

5

Persian cucumbers,

cut lengthwise

6

large

radishes,

halved

2

cups

broccoli florets

1

pint

cherry tomatoes
Instructions
PREP THE BOARD:
Place a large bowl in the center of the board to hold the hummus.

Prepare a large bowl of water and ice; set aside. Bring 6 cups of water to a boil in a large pot and add ½ cup kosher salt. When the bubbles are vigorous, add the asparagus and haricots verts. When the water returns to a boil, cook for 3 to 4 minutes. Drain the vegetables, then immediately submerge in the ice bath. When the veggies have cooled, remove them from the ice water to paper towels to drain. Refrigerate until ready to use.

Preheat the oven to 400 degrees F. and line 1 large baking sheet with foil. Line a strip down the middle to separate the sheet into two parts. Spread the carrots and cauliflower on one side and the potatoes and beet on the other side. Drizzle each side with 1 tablespoon of olive oil and the remaining ½ teaspoon of kosher salt; toss to coat. Place on the center rack of the oven and roast for 15 minutes, then gently toss and roast for 15 to 20 minutes. Let cool.
ASSEMBLE THE BOARD WHEN READY TO SERVE:
Add hummus to the bowl in the middle of the board. Drizzle with the remaining 2 tablespoons of olive oil and slightly mix in. Top with chopped cilantro (if using).

Arrange the roasted veggies and remaining ingredients decoratively around the bowl.
Notes
Ingredients can be adjusted according to preference. Add in other things or leave some of these items out.