These light and fluffy Buckwheat Pancakes might just become your new favorite pancake recipe.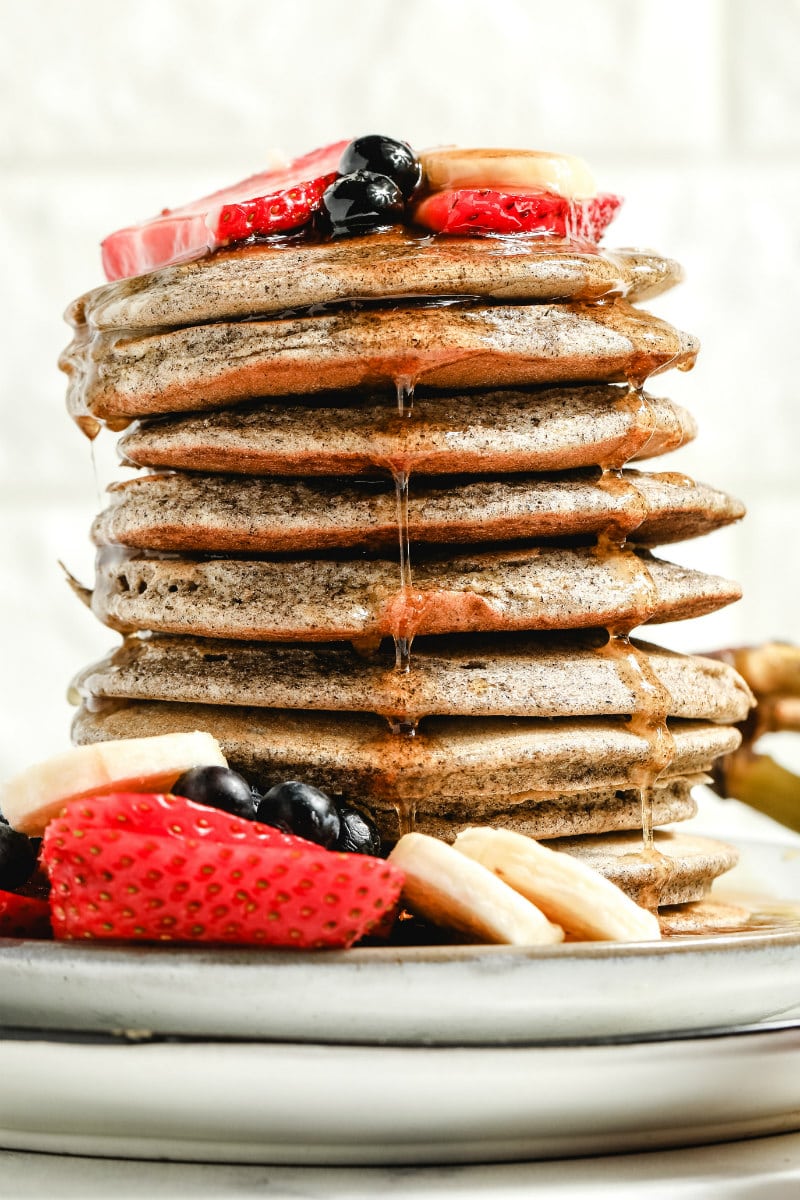 This is a very different kind of pancake recipe. If you're looking for the typical dense pancake that you might find at your favorite breakfast place, this probably isn't it. Egg whites are whipped up and folded into the batter, which makes for a light and airy sort of pancake. It's a wonderful, light and fluffy pancake with great flavor.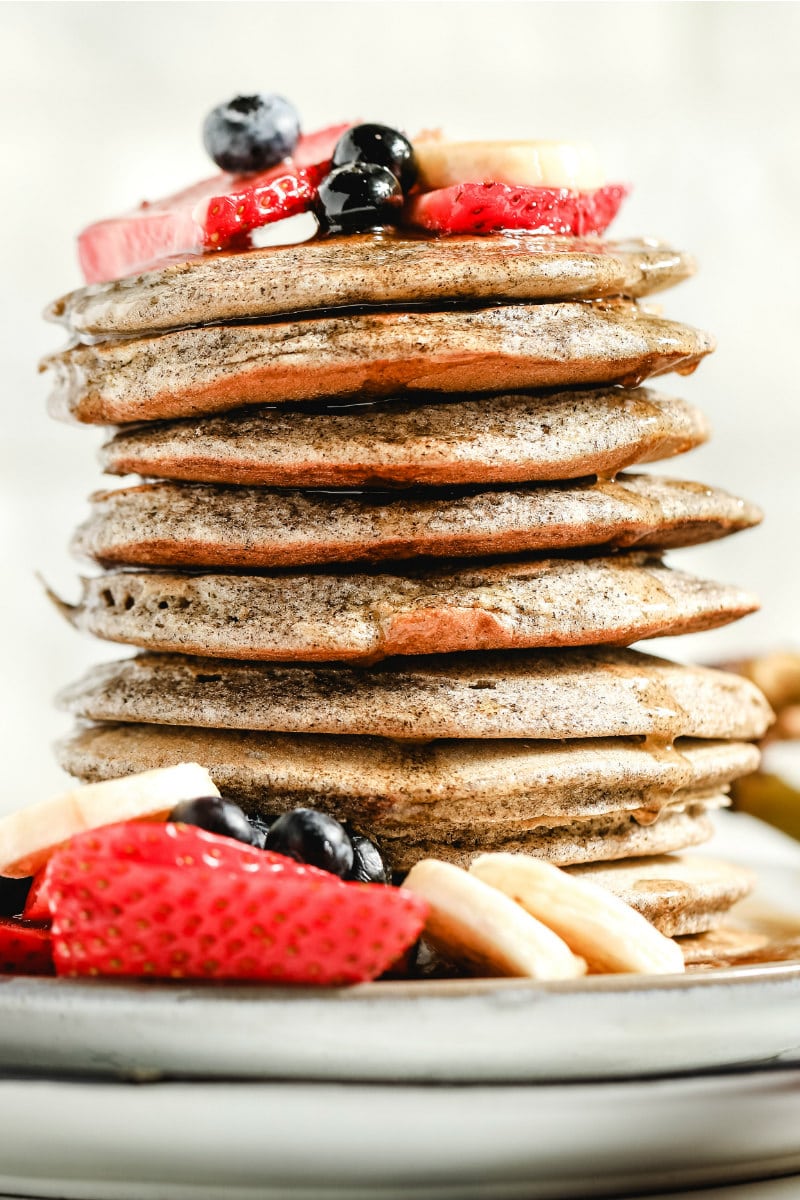 What is buckwheat flour?
In this new world of trying to find flour in the markets to use in baking and other recipes, it's nice to have some options for using alternative flours too. This recipe calls for using buckwheat flour, which comes from the buckwheat plant and is both grain and gluten-free. It has more protein and fiber than wheat or oat flour.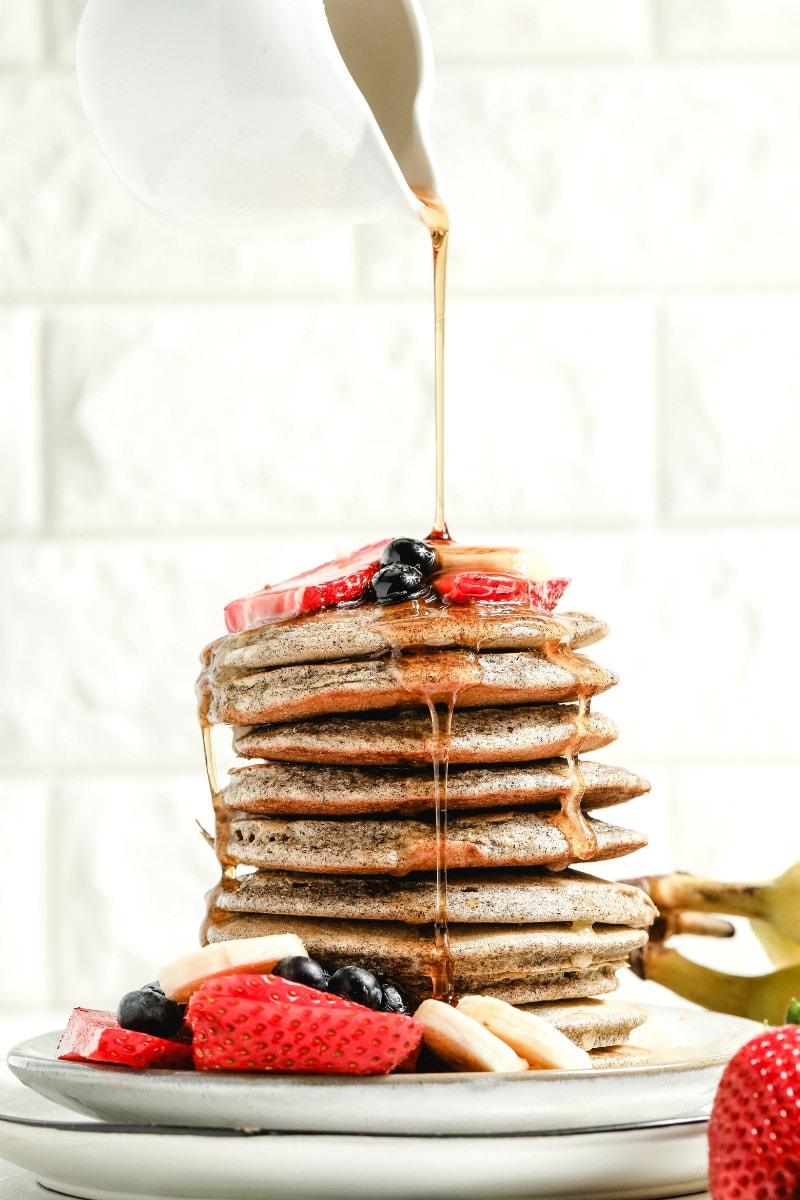 How to make Buckwheat Pancakes:
You'll use three bowls. One will have a mix of milk and egg yolks, another will hold the dry ingredients, and in the final bowl, you'll use an electric mixer to whip up the egg whites. Then the dry ingredients are mixed with the milk/egg yolks. And finally, you'll fold the fluffy egg whites into the batter. You won't incorporate them fully. In fact, you'll see swirls of the egg white in the batter, and that's okay. Then you'll spoon the batter onto a hot skillet and cook them just like traditional pancakes.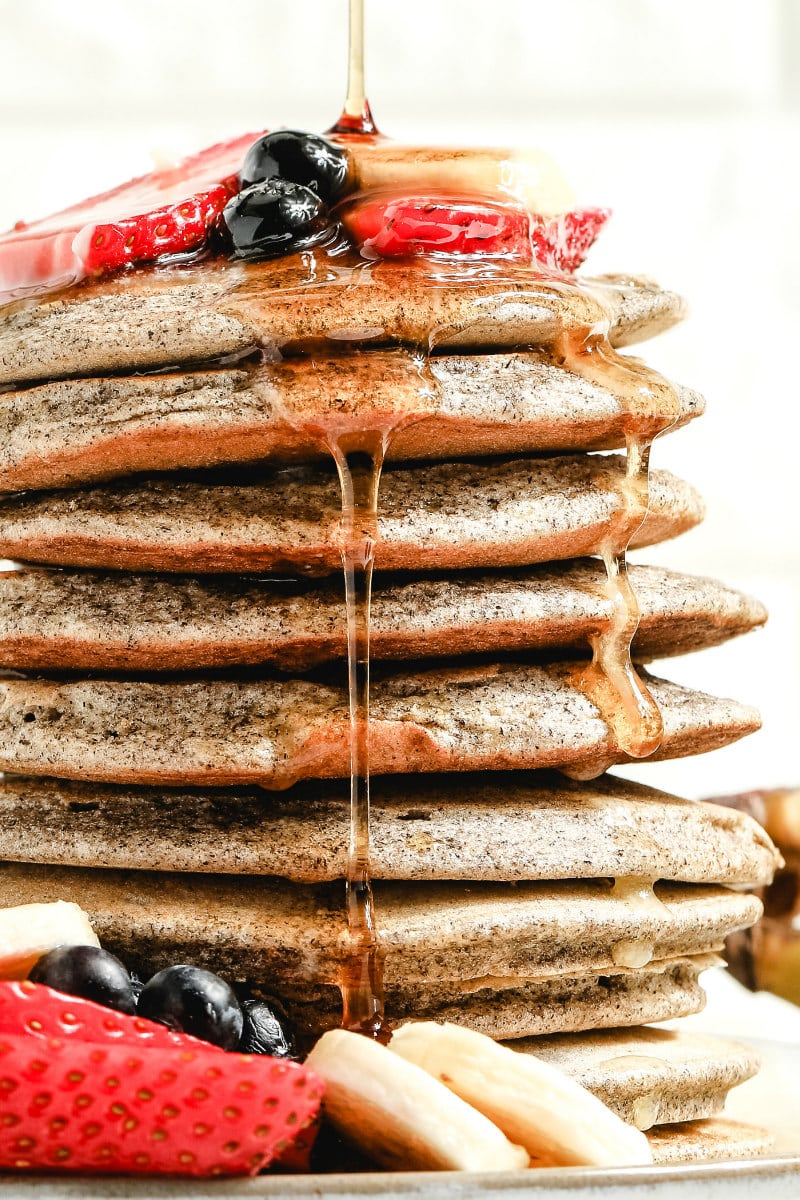 How to garnish a Buckwheat Pancake:
Warm maple syrup is a given for drizzling onto this awesome stack of pancakes. My favorite is to serve them with sliced bananas and toasted pecans. Fresh berries are really good served with buckwheat pancakes too.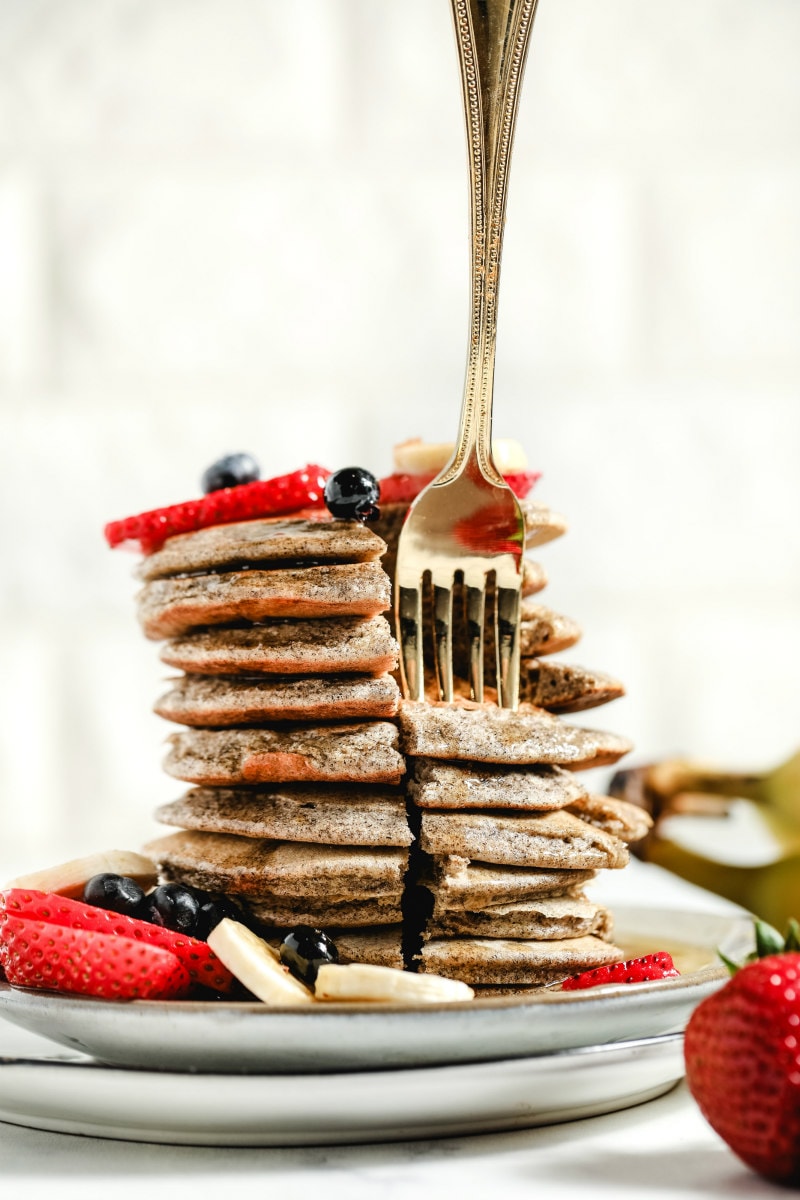 When I first made these, it was my first time ever using buckwheat flour. I was so pleased with the results. My kiddo thinks they are awesome. My husband thinks they need to be a little sweeter (but this comes from a man who adds sugar to his sugar cereals.) You can certainly adjust the amount of sugar that you add to the batter, but with all that syrup… it seems like overkill.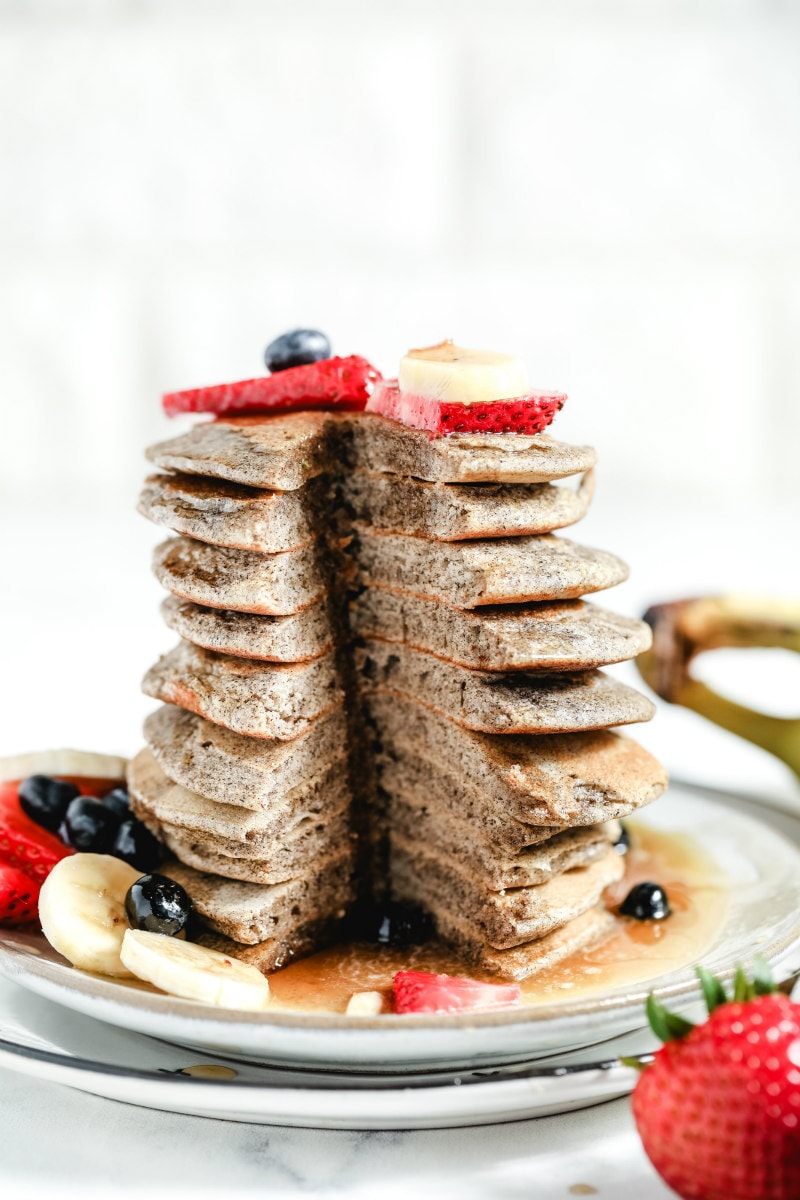 Look for buckwheat flour in the baking section of your grocery store. It might also be located where the "alternative" flours are displayed. It will be in a smaller bag than traditional flour. Try these wonderful buckwheat pancakes, and then come back and let us know what you think. Enjoy!
Here are a few more whole grain pancake recipes you might like to try:
Buckwheat Pancakes
A delicious, alternative-flour pancake recipe!
Recipe Details
Ingredients
1¼

cups

milk

4

large

eggs,

separated

1

cup

buckwheat flour

dash

of

salt

3

tablespoons

granulated white sugar

1½

teaspoons

baking powder
Instructions
In a medium bowl, whisk together the milk and the egg yolks.

In a separate bowl, whisk together the dry ingredients.

In another bowl, use an electric mixer to beat the egg whites until stiff but not dry (this is an important step for the outcome of the texture of the pancakes).

Add the dry ingredients to the milk-yolk mixture, stirring to blend. DO NOT OVER-MIX. Gently fold in the beaten egg whites; they should remain somewhat distinct in the batter.

Add about 1 teaspoon butter or oil to a preheated griddle or skillet. Add the batter by heaping tablespoon, making sure to include some of the egg whites in each spoonful. Spread into a circle with the back of the spoon. Cook until lightly browned on the bottom, 3 to 5 minutes, then turn and cook until second side is brown. Serve, or hold in a 200° oven for up to 15 minutes.
Nutrition
Serving:
1
serving
,
Calories:
234
kcal
,
Carbohydrates:
35
g
,
Protein:
13
g
,
Fat:
6
g
,
Saturated Fat:
2
g
,
Cholesterol:
188
mg
,
Sodium:
108
mg
,
Potassium:
513
mg
,
Fiber:
3
g
,
Sugar:
14
g
,
Vitamin A:
426
IU
,
Calcium:
199
mg
,
Iron:
2
mg