These Light and Fluffy Buckwheat Pancakes might just become your new favorite pancake recipe.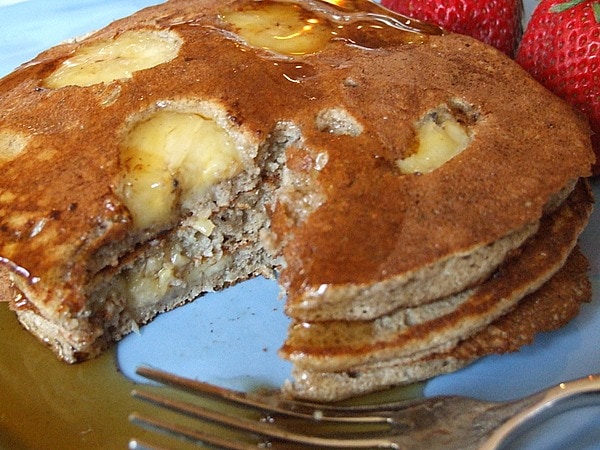 This is a very different kind of pancake recipe. If you're looking for the typical dense pancake that you might find at your favorite breakfast place, this probably isn't it. Egg whites are whipped up and folded into the batter, which makes for a light and airy sort of pancake.
This was my first time using buckwheat flour for pancakes, but I was pleased with the results. My kiddo thought they were awesome. My husband thought they needed to be a little sweeter (but this comes from a man who puts sugar atop his sugar cereals.) You can certainly adjust the amount of sugar that you add to the batter, but with all that syrup… it seems like overkill.
You might also like my Sweet Potato Pancakes or my Banana Oatmeal Pancakes.
Light and Fluffy Buckwheat Pancakes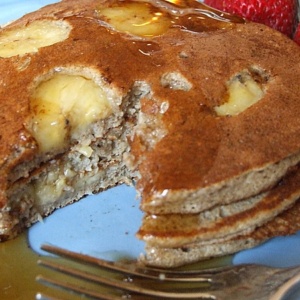 These are fantastic! Try adding blueberries and toasted pecans.
Yield:
4 servings
Prep Time:15 minutes
Cook Time:15 minutes
Ingredients:
1 1/4 cups milk
4 large eggs, separated
1 cup buckwheat flour
dash of salt
3 tablespoons granulated white sugar
1 1/2 teaspoons baking powder
butter or canola oil as needed for greasing pan
Directions:
Beat together milk and egg yolks.
In a separate bowl, whisk together dry ingredients.
In yet another bowl, beat egg whites with a whisk or electric mixer until stiff but not dry.
Combine dry ingredients and milk-yolk mixture, stirring to blend. Gently fold in the beaten egg whites; they should remain somewhat distinct in the batter.
Add about 1 teaspoon butter or oil to a preheated griddle or skillet. Add batter by heaping Tablespoon, making sure to include some of the egg whites in each spoonful. Cook until lightly browned on the bottom, 3 to 5 minutes, then turn and cook until second side is brown. Serve, or hold in a 200° oven for up to 15 minutes.
Tips:
You can find buckwheat flour at Sprouts/Wild Oats/Whole Foods (or any sort of well-stocked gourmet or health food market.)
Add sliced bananas or berries to pancakes while they're cooking in the pan.
SOURCE: RecipeGirl.com (Adapted from How to Cook Everything)