Have you noticed these 2-Ingredient Pancakes floating around on the internet??!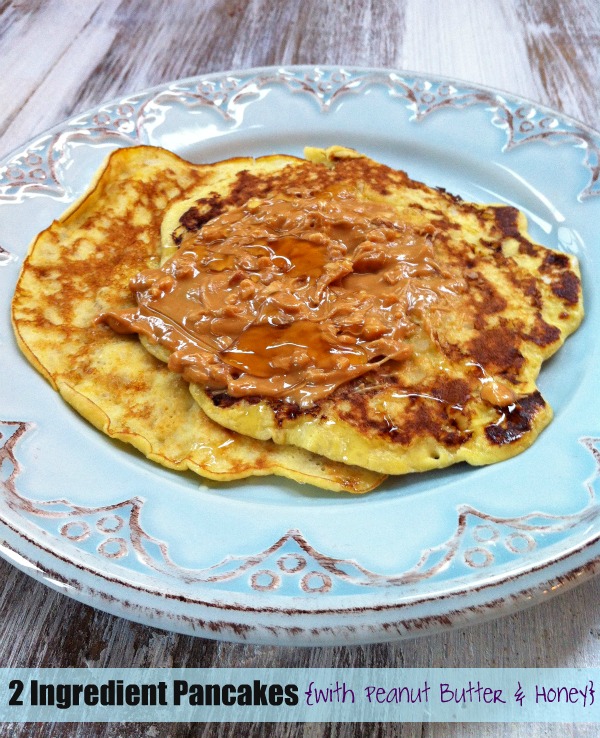 Maybe I'm late to the party, but my son and I spotted 2-ingredient pancakes on the gorgeous food blog- Top with Cinnamon last weekend- the girl is only 16 and she nabbed the coolest-ever photos! And my son shared his version of 2-Ingredient Pancakes on his own blog last week.
Since I've been trying to cut down on consuming carbs in general, I've been a little enthusiastic about trying out different variations of this crazy "pancake" concoction. It's a fun little recipe that everyone should know about (especially my gluten-free friends and anyone watching their weight).  So I'll share the basic recipe with you here and some suggested ways to play around with: 2 Ingredient Pancakes
The 2 secret ingredients are: Mashed Ripe Banana and Egg. That's it. No flour, nothing else. Just banana + egg. Isn't that crazy?
So in this first version you see above, (for only me) I used about 1/3 cup mashed banana + 1 egg. Stir it all up and fry it like a pancake. I topped this one with crunchy peanut butter and a little bit of honey. What does it taste like? Well… it tastes a lot like a banana pancake. It's not fluffy like a regular flour pancake, but it provides a fairly good simulation of a normal pancake.  It's definitely NOT the same (so don't expect that), but I think it's pretty darn good.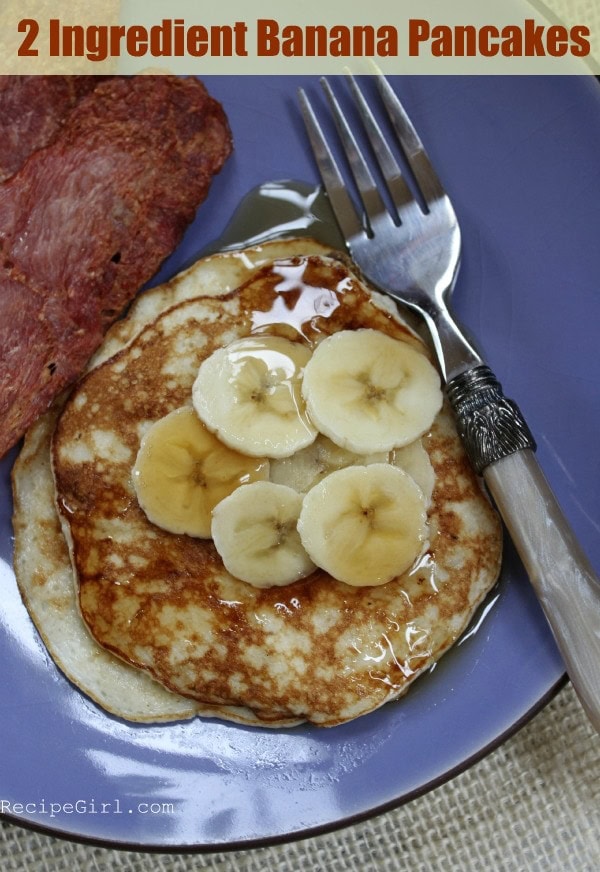 For this second version, I tried using just egg whites.  I used about 1/4 to 1/3 cup mashed banana + 2 tablespoons egg whites, then topped it with a few banana slices and a quick drizzle of light maple syrup. This one definitely tasted like banana pancakes. It was a little lighter in texture than the version above where I used a whole egg. All in all it was still rather good, though I preferred the version where you use the whole egg (plus, I like the idea of that added protein).
So what do you think… are you intrigued enough to try them?  I'd definitely encourage you to play around with the ingredients a little bit- there isn't an exact ratio of egg to banana or anything. You could always mix in a tablespoon or two of almond flour to get a more substantial pancake, or top the classic version with Nutella and strawberries too.
And be sure to check out my son RecipeBoy's version too: 4 Ingredient Chocolate Chip Pancakes. His actually look much better than mine!
*Nutritional information is included in the recipe below. If you want to modify the ingredients and you need to figure out nutritional information, you can try using the Spark People Recipe Calculator
2 Ingredient Pancakes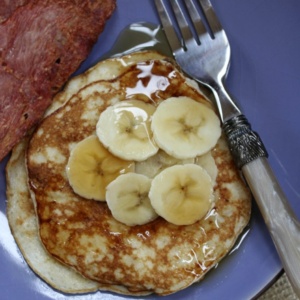 This recipe is for the basic version. Contribute add-ins, as desired.
Yield:
Serves 1 or 2 people, depending on how hungry you are
Prep Time:10 minutes
Cook Time:5 minutes
Ingredients:
1/2 cup very well mashed ripe banana
2 large eggs
Directions:
Mix banana and egg in a medium bowl. Heat a skillet to medium, and spray with nonstick spray. Scoop about 1/4 cup of the batter onto the skillet. Cook until edges are dry- the pancake will be thin. Flip and cook the other side briefly.
Repeat with the remaining batter. You should be able to get 4 or 5 thin pancakes.
Tips:
Suggested Add-ins or toppings: *mini chocolate chips *tiny blueberries *nutella + strawberries *peanut or almond butter + honey *maple syrup
Nutrition:
Nutritional Information per serving: (Serving size:

Recipe divided in half (no add-ins) 

Calories:

122, 

Fat:

5.3g, 

Saturated Fat:

1.6g, 

Sugar:

7g, 

Sodium: 71g, Fiber:

1.3g, 

Protein:

6.8g, 

Cholesterol:

185mg, 

Carbohydrates:

13.2g

WEIGHT WATCHERS POINTS per serving (for the pancake with no toppings-- topping are extra):  Freestyle SmartPoints: 0, Points Plus Program: 3 Old Points Program: 3