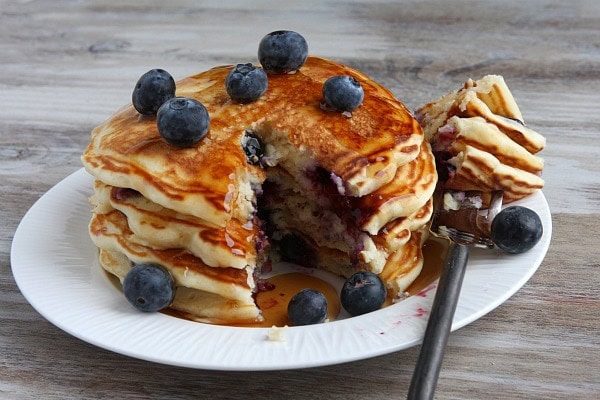 Blueberry Pancakes
Yield:
8 to 10 (6-inch) pancakes
Prep Time: 10 min
Cook Time: 15 min
Ingredients:

1 1/2 cups all-purpose flour
1/4 cup granulated white sugar
1 teaspoon baking powder
1/8 teaspoon salt
3/4 cup milk + more to thin out the batter, as needed
1 large egg
1 Tablespoon vegetable oil
1/2 cup fresh or frozen blueberries
maple syrup

Instructions:

1. Whisk together first 4 ingredients; make a well in center of mixture.

2. In a separate bowl, whisk together milk, egg, and oil; add to dry ingredients, stirring just until moistened. Gently fold in blueberries.

3. Pour about 1/4 cup batter for each pancake onto a hot, lightly greased griddle. Cook pancakes until tops are covered with bubbles and edges look cooked; turn and cook other side. Serve with maple syrup.