Today I have a very special guest… the first-ever guest poster on RecipeGirl.com: my good friend Cheryl at TidyMom.net  Cheryl shares recipes, crafts, tutorials and amazing photography on her blog.  She's sharing her recipe for Red Velvet Pancakes with Sweet Cream Cheese Topping with us today.  I guess she knows my weakness for red velvet and pancakes and cream cheese.  These are simply perfect, and heart-shaped no less!  Take it away Cheryl!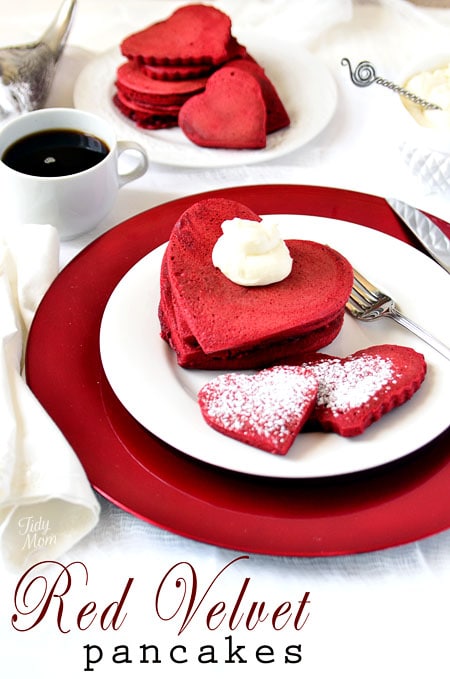 I'm sort of in love with any thing Red Velvet. I mean it's basically 'red chocolate' right? and who doesn't love chocolate or the color red? HA!
Well, if you ever needed a reason to have red velvet for breakfast, Valentines Day would be the perfect time, and Red Velvet Pancakes would be the answer! Use heart shaped cookie cutters to make them even sweeter!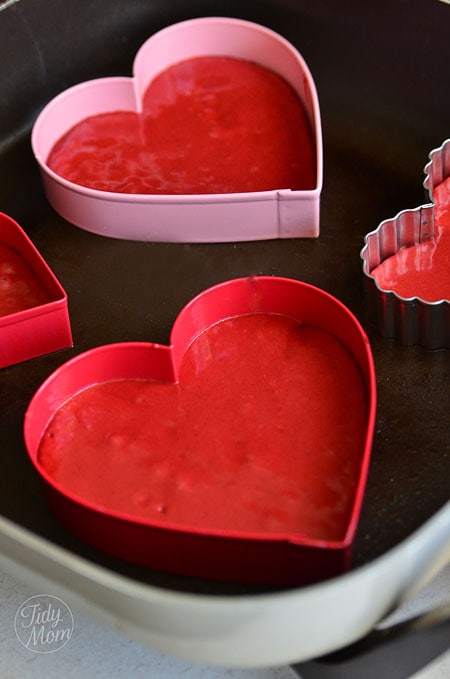 Whether you buy into the whole "Hallmarky" holiday or just want to celebrate the ones you love, why not show them how much you love them with a gift from the kitchen! Take a break, just one day, from all the chaos and start their day with a bang!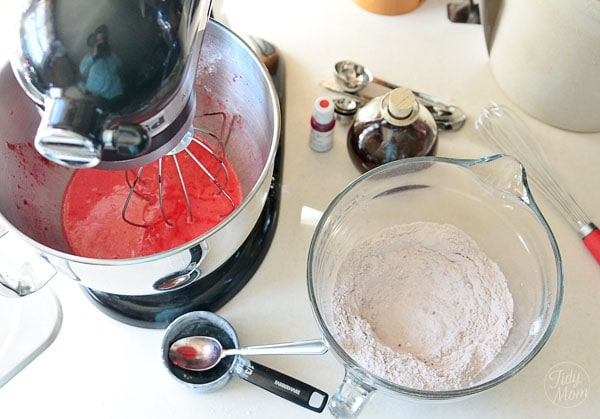 I have to be honest here, these are more like eating dessert than breakfast if you top them with the cream cheese topping, but hey, it's Valentines Day right? I declare it "sweets all day long" day! But if you prefer, the red velvet flavor is just as delicious with a pat of butter and maple syrup drizzled over them.
The delicious, fluffy, red velvet cake aroma filled the entire kitchen, from the moment they hit the skillet! And yes….. they tasted exactly like red velvet cake, especially when the creamy frosting melted into the warm pancakes!
My family loves anything red velvet, and I can't help but give my family what they want! HA! uh, and any excuse to have 'cake' for breakfast! Maybe you'd like to do the same for your family?
I hope that your day is filled with red and pink hearts, lots of hugs and kisses and sweet sweet chocolate!
If you enjoyed this recipe, you may also enjoy my Red Velvet Crepes! What's your favorite red velvet recipe?
Thanks so much for letting me be a "Recipe Girl" today!!
for more great ideas be sure to visit Cheryl at her blog TidyMom, & follow her every move on twitter, facebook and pinterest

I happen to be guest-posting on TidyMom's blog today too, sharing how I organize my spice and baking supply cupboards. Check it out!
Red Velvet Pancakes with Sweet Cream Cheese Topping
Yield:
16 small pancakes
Prep Time: 20 min
Cook Time: 16 min (cooking 4 at a time)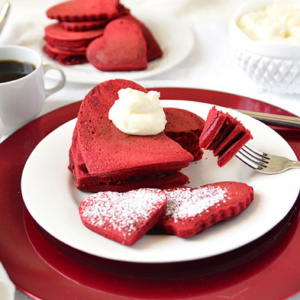 Ingredients:

PANCAKES:
1 1/2 cups all-purpose flour
2 tablespoons unsweetened cocoa powder
2 tablespoons granulated white sugar
1/3 cup powdered sugar
1 1/2 teaspoons baking powder
1/2 teaspoon baking soda
1 teaspoon ground cinnamon
1 teaspoon salt
1 1/2 cups buttermilk (or make your own buttermilk)- or add a little more if the batter appears to be too thick
2 large eggs
1 teaspoon vanilla extract
2 tablespoons white vinegar
1 tablespoon red food coloring (red gel paste will get the dark red seen in the recipe)
4 tablespoons (1/2 stick) salted butter, melted

KICKED-UP SWEET CREAM CHEESE TOPPING:
Two 8-ounce packages cream cheese, softened
1/2 teaspoon freshly squeezed lemon juice
2 cups powdered sugar
1/ 2 cup ricotta cheese
1 teaspoon vanilla extract
2 tablespoons prepared strong coffee
1 teaspoon rum (optional)

Instructions:

1. Pre-heat skillet or griddle over medium heat or 320°

2. Make the pancakes: Mix all of the dry ingredients (flour through salt) together in a large bowl. Whisk thoroughly to combine until all lumps are gone.

3. In a separate bowl, thoroughly mix the buttermilk, eggs, vanilla, vinegar, and food coloring. Make a well in the center of the dry ingredients and add the buttermilk mixture. Stir until mostly combined. Add in the melted butter and fold gently to mix.

4. Pour batter in 1/4 cup measurements onto skillet and let cook until bubbles form on top, about 2-3 minutes. *See tips below for making heart-shaped pancakes. Flip and cook for 1 minute more. Serve with cream cheese topping.

5. Prepare Cream Cheese Topping: In medium bowl, whip softened cream cheese and ricotta until smooth. Add remaining ingredients and mix smooth. Add a scoop between each pancake and on top of the Red Velvet Pancakes! Garnish with powdered sugar and enjoy!

Tips:

*If you wish to make heart pancakes, use a heart shaped pancake mold or metal cookie cutter. Be sure to grease inside of mold and fill 1/2 way with pancake batter. Remove mold when ready to flip.
*Make- ahead tip: For an easy morning- Mix dry ingredients and make topping the night before. Cover and place pancake mix on counter, and topping in refrigerator. Next morning, remove topping so it can become room temperature, and just add wet ingredients to pancake mix, cook and serve

Source: RecipeGirl.com (recipe created by guest poster Cheryl from TidyMom.net)

Cheryl adapted the recipe from HERE, where there is a news segment video on how to make these