This is the second in a short series about my travels to London, England.  When I was trying to plan this trip, I Googled "London Hotel Reviews" and came up with very little, so my hope is that this post will be helpful to others who are planning a trip to London.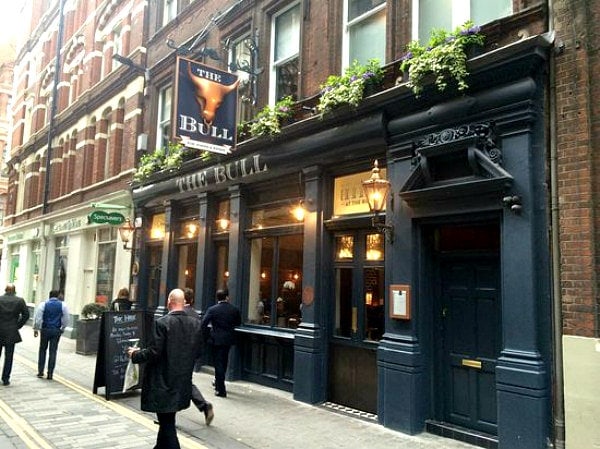 Location:  The City of London- London's primary financial district … just a short walk from Liverpool Street Station.  The hotel has 7 uniquely styled boutique hotel rooms and is located directly between Bishopsgate and Devonshire Square (Devonshire Row is an alley that you can't drive into… it's best to be dropped off in Devonshire Square and roll your luggage down the alley). It's a 37 minute drive from London Heathrow Airport.  Here's the company I used for airport transportation while in London:  http://www.the-chauffeur-company.co.uk.  If you are already in London and are looking for transportation to this hotel, here's some advice for you:  do not take Uber!  The Uber drivers in London are not skilled enough on the difficult street patterns and routes to figure out where they're taking you.  I had two horrible experiences with Uber in London.  The taxi drivers know what they're doing- take a taxi!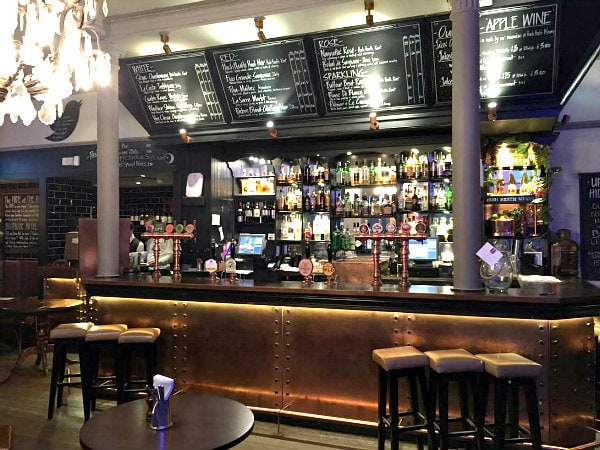 Upon walking up to this place, we found the pub (called The Bull) and wondered where the hotel was!  So we walked into the pub and told the bartender we were here to check in.  Frasier the bartender happily whisked us off through a secret side door that took us upstairs to our rooms.  Yes, the rooms are situated above the pub!  We climbed many stairs to get to our rooms (no elevator), but they absolutely insisted on carrying our luggage up for us.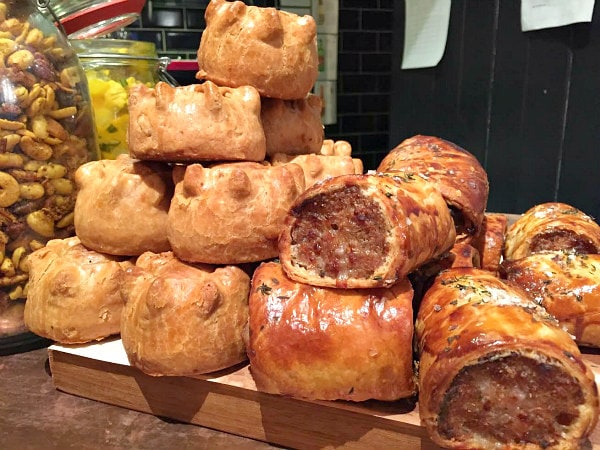 Oh, and before I forget… I spied some pretty awesome looking bar treats at the bar counter- these sausage rolls, chicken skins, nuts and other lovely homemade bar snacks.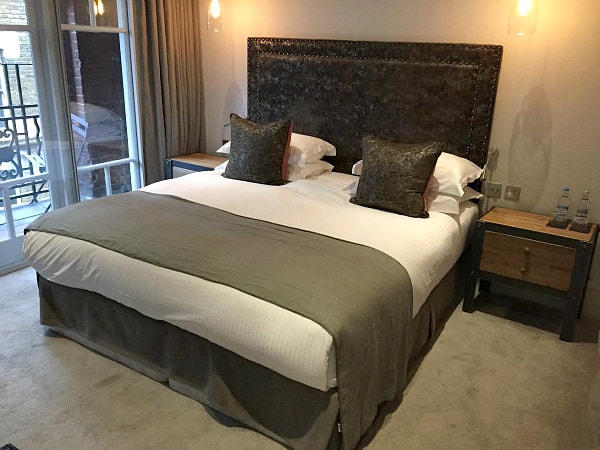 We were not at all sure what to expect lodging above a pub and restaurant establishment, but what we discovered was completely beyond our expectations!  Our guide opened a door and there were two rooms tucked way behind it.  I was lucky enough to be given the Hush Heath Suite.  It was gorgeous.  Everything felt very crisp, clean and luxury.  There were many lovely touches to make this room feel homey and welcoming.  The bed… super comfortable and lush…a duck feather duvet and goose feather pillows.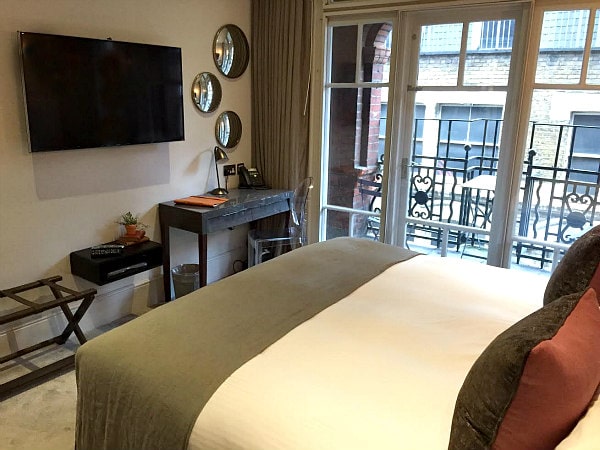 There was a small writing desk (good wifi included).  In fact, we were having trouble gaining access to wifi, and they quickly set us up with an alternate login that worked.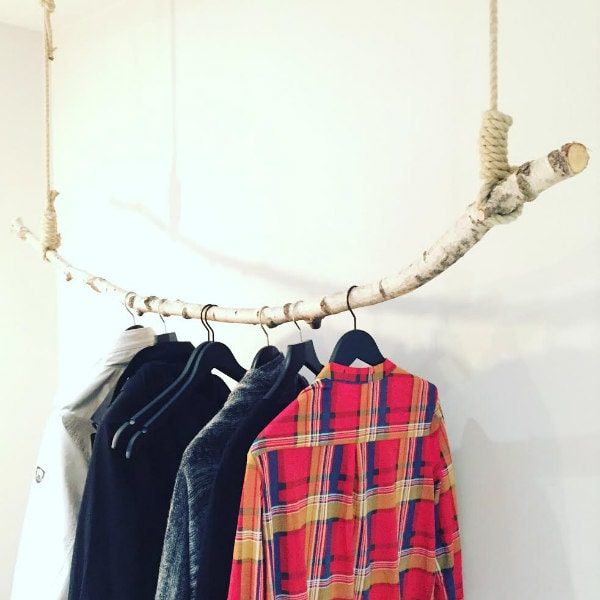 I thought this was a brilliantly fun touch: my closet!  They artfully hung a branch from the ceiling with hangers.  It was perfect for hanging up a few things, and it looked so cute too!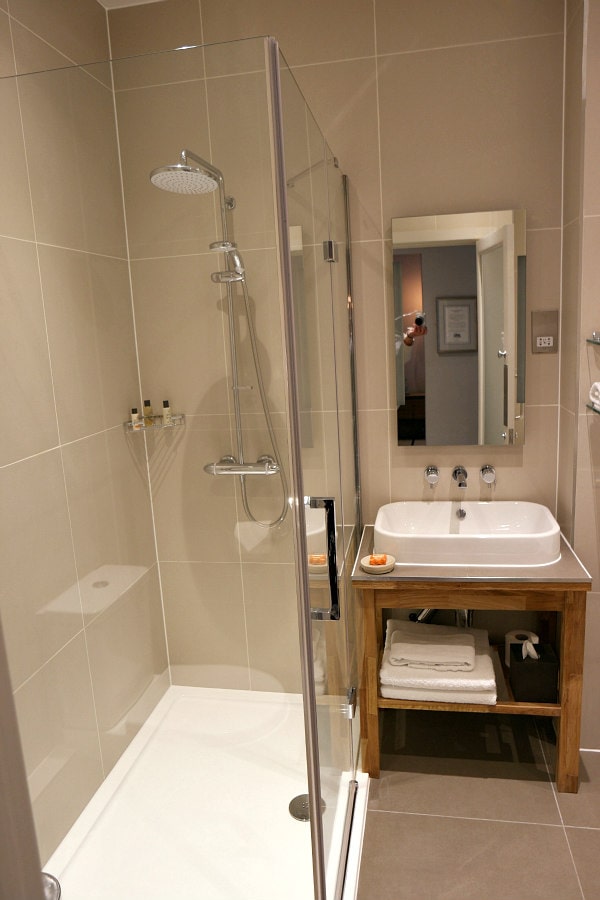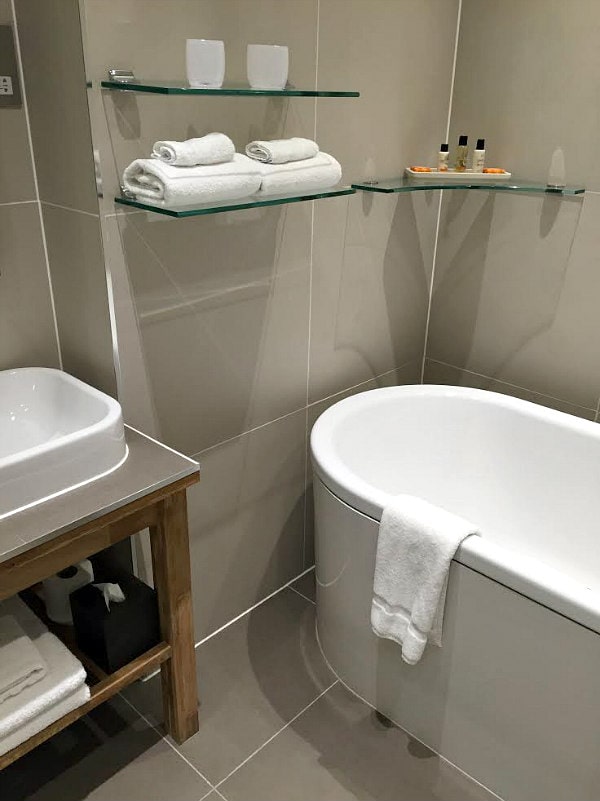 My bathroom was pretty and well equipped- heated floors, heated towel rack, a rain shower head and a blowdryer.  I dumped shampoo into this tub and took a fantastic bubble bath later in the evening during my stay!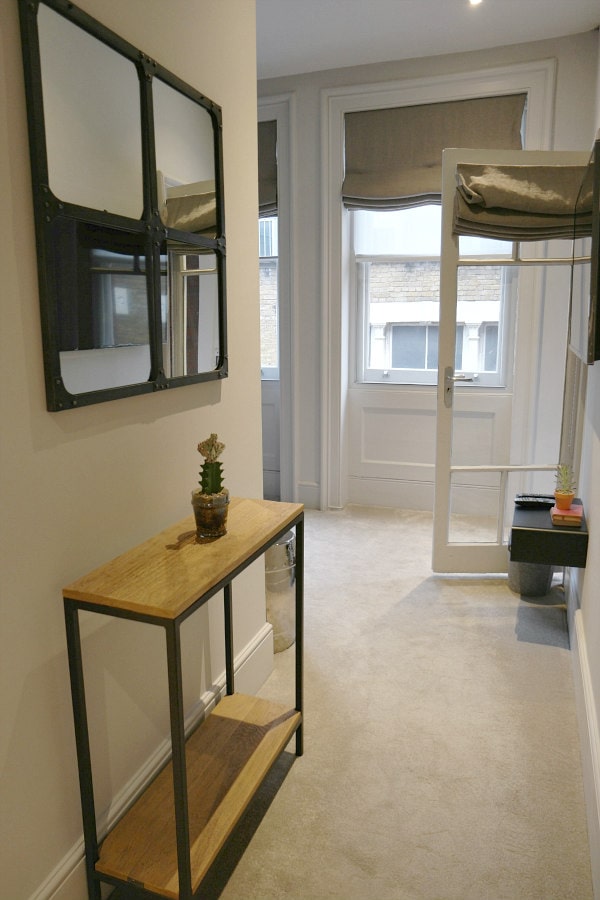 Just off the bedroom and bathroom was a little hallway that led to a sitting room.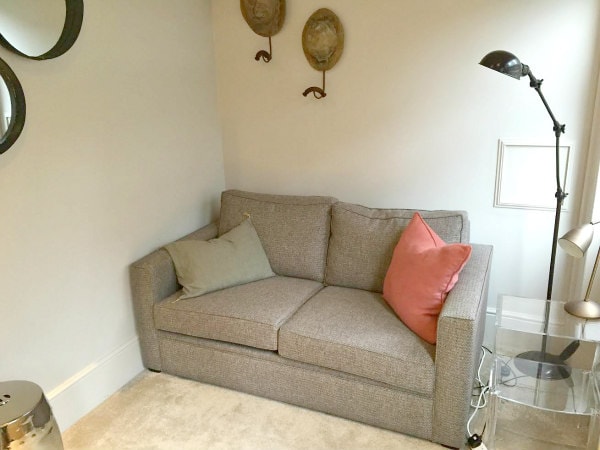 Here's the sitting room, which is absolutely perfect if you're staying in this place with another person.  It's a great escape if you're an early riser like me… or a night owl who wants to stay up reading.  This is also a pull out sofabed, so if you have kids with you that works out nicely!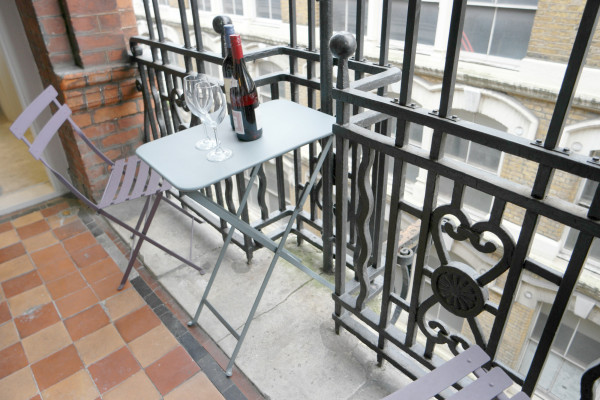 And just outside the sitting room was an adorable balcony.  The owners of The Bull and the Hide have a winery in Kent:  Hush Heath Estate.  We had the opportunity to try a couple of their wines on my little balcony.  What a nice welcome!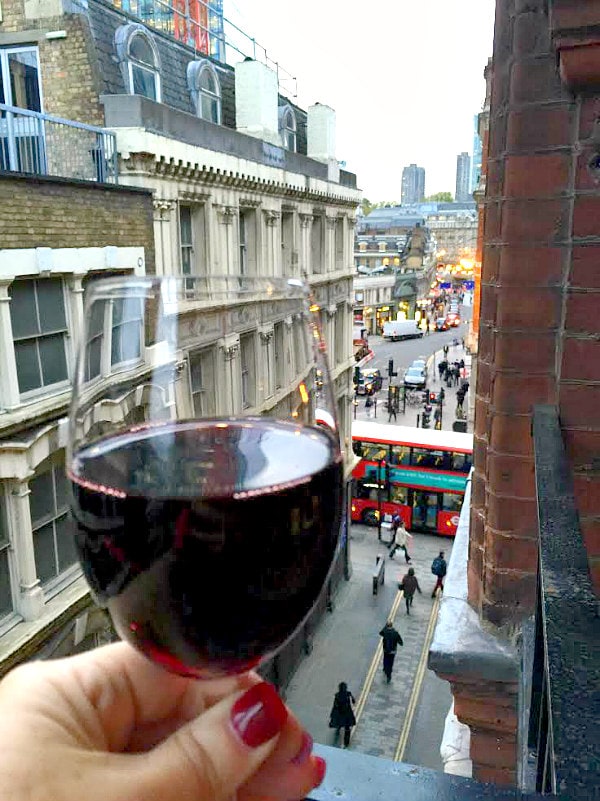 Here was the view peeking off my balcony toward Bishopsgate street.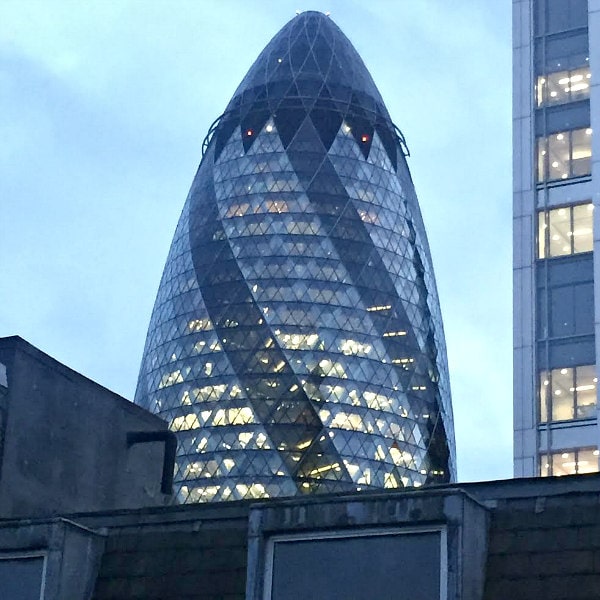 I had a prominent view of 30 St. Mary Axe from my balcony… it's a contemporary commercial skyscraper affectionately called "The Gherkin."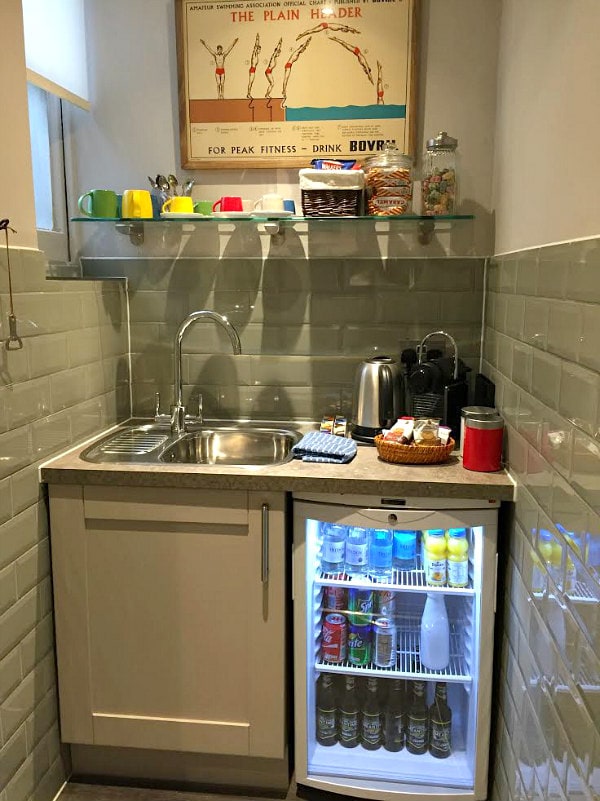 Directly outside both of our rooms was The Guest Pantry- something you are able to help yourself to 24/7 if you need it.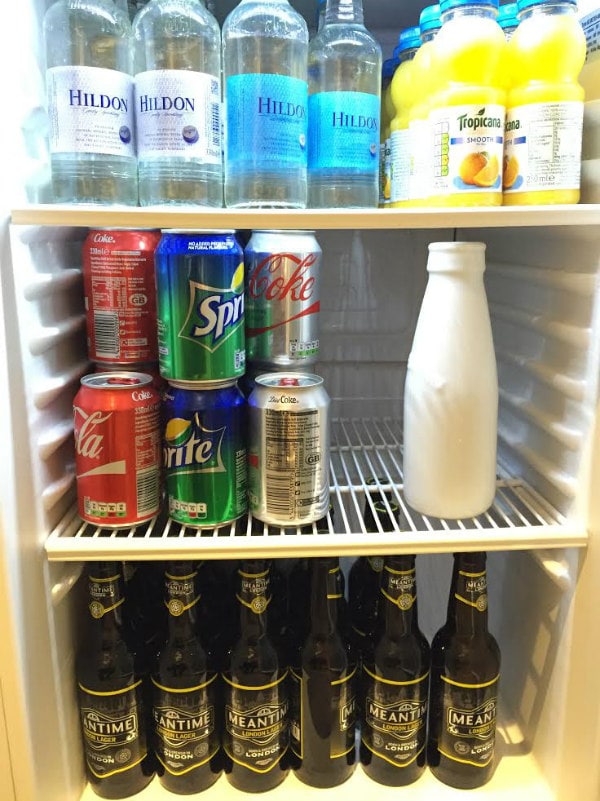 The contents of the refrigerator- waters, orange juice, milk, soda, beer!…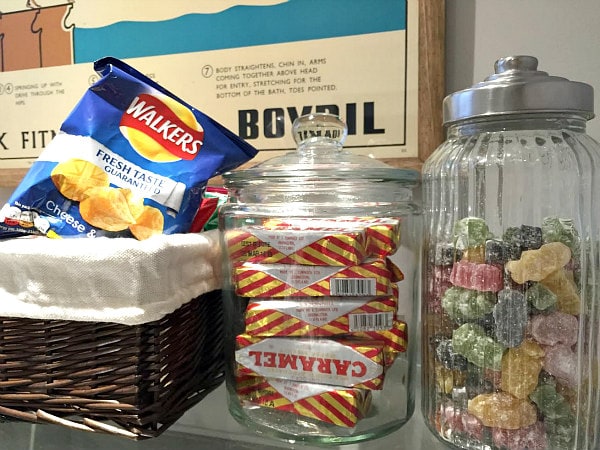 …and some snacks and sweet treats too!  Those caramel wafer cookie things you see in that jar were amazing.  I should have snuck some of them home.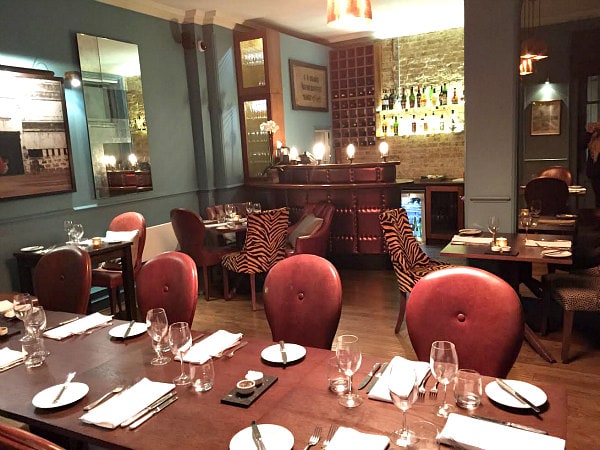 Above the pub is their 36 seat restaurant, bar and private dining room called The Hide.  This is where we chose to eat dinner on our one night stay.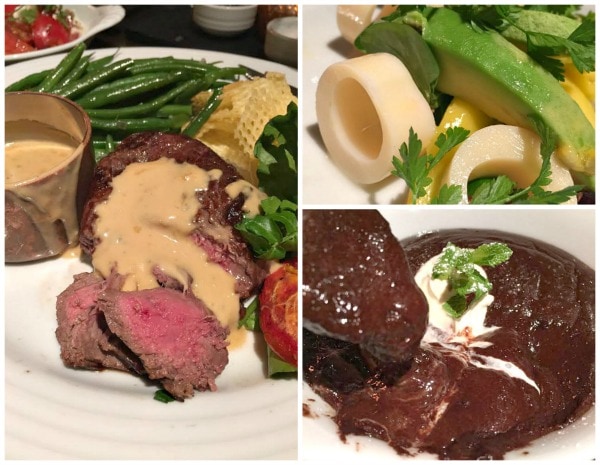 They serve contemporary English food with European influences.  I sampled Avocado + Palm Hearts + Mango + Passion Fruit Dressing, Angus Filet Steak with Stilton Sauce and Hot Chocolate Soup + Creme Fraiche and Flaked Almonds.  Everything was top notch delicious.  The wine list was excellent at the restaurant too.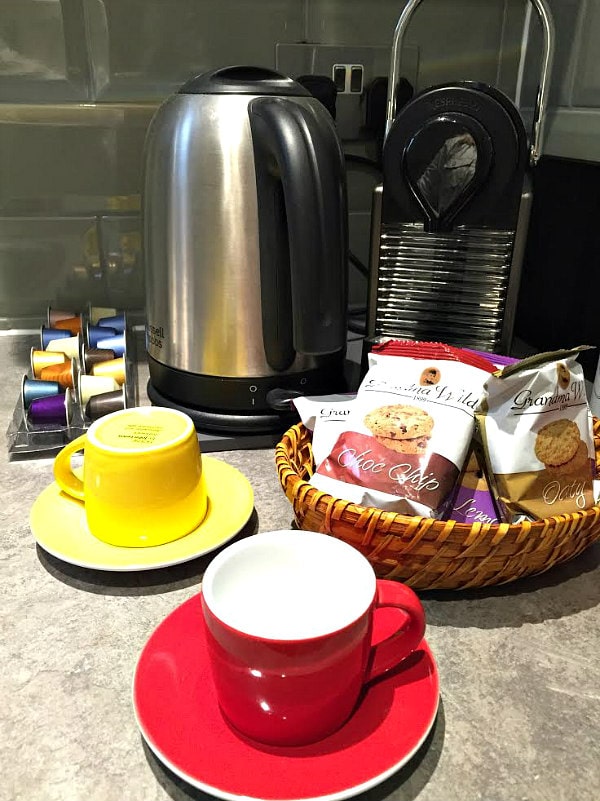 The next morning, we were able to open up the guest pantry and make espresso in the early morning hours…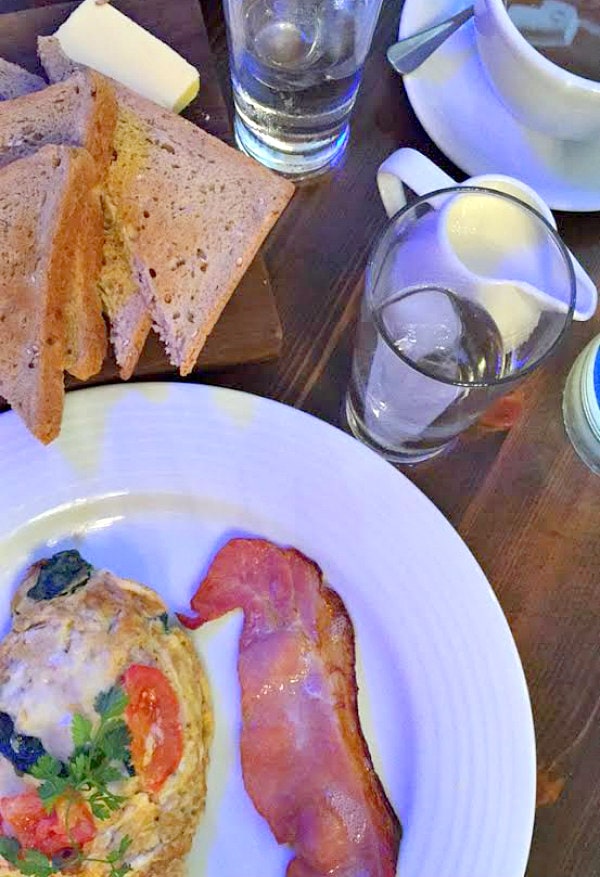 …then we snuck down to the pub to eat breakfast on our final morning here.  The pub was scattered with business folks who stop in for breakfast before work.  I ordered an omelette and bacon, which was perfect.  The restaurants here use locally sourced products when available.  Everything is made homemade in their restaurant.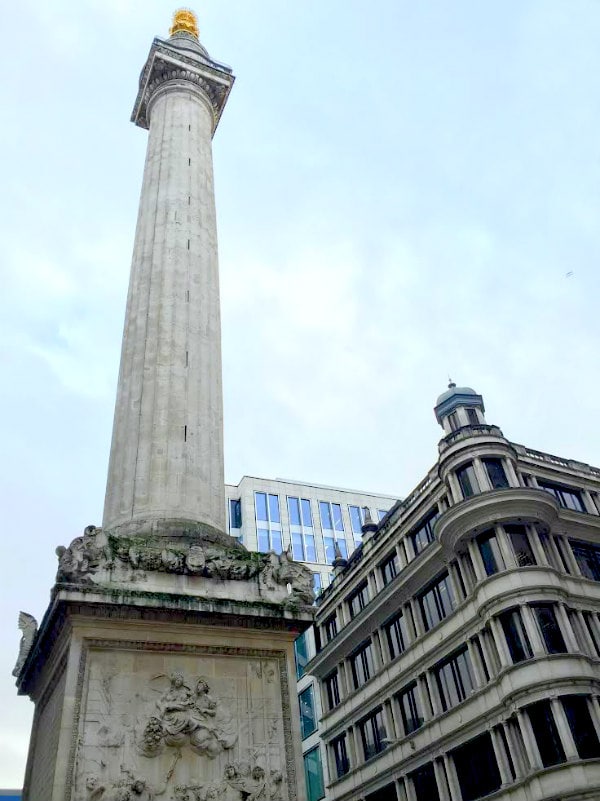 We had to head out around noon, so we took a quick exploration walk to see what was nearby.  London Bridge is a short cab ride away, but we opted to climb Monument Tower (331 steps to the top for a beautiful view of London).  Monument Tower was built in 1671 to commemorate the Great Fire of London in 1666.  A mesh cage was added in the mid-19th century at the top to prevent people jumping off, after six people had committed suicide from the structure between 1788 and 1842. We also enjoyed shopping in this area because the stores were much more affordable than the luxury district we had previously stayed in.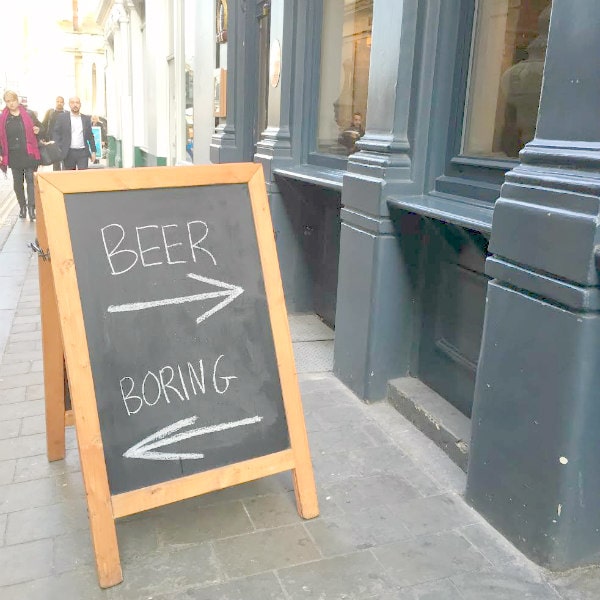 When we returned to the hotel to check out, we noticed that they had this sign displayed… which totally gives you an idea of the playful nature of the staff and vibe of the pub and hotel.
MY FINAL THOUGHTS:
I wholeheartedly recommend The Bull and The Hide 100% for a non-traditional, unique lodging experience in London.  It's not what you'd expect at all, and that's what made it so fun.  We were definitely longing for another night here.  My husband would go absolutely nuts for this place, so when we come back to London together… we'll be staying at The Bull and The Hide for sure.  The manager- James- and other staff went out of their way to make sure we had everything we needed. Our stay here was memorable and so much fun. The hotel is not in the middle of all of the typical tourist destinations (which I rather liked!), but it's a short cab ride away from most everything.  The pub and restaurant can both be reserved for private parties if you have something special going on.
THE BULL AND THE HIDE, 4 DEVONSHIRE ROW, BISHOPSGATE, LONDON EC2M 4RH
http://www.thebullandthehide.com/
Let me know if you try it out!
Disclosure:  The Bull and The Hide provided a complimentary one-night stay + breakfast and dinner so that I would be able to experience the hotel and share my experience with RecipeGirl readers.  RecipeGirl.com maintains full editorial control of the content published on this site. As always, all thoughts, opinions, and enthusiasm for food and travel are entirely my own.