Here's a peek at the Viking Cruises Ancient Mediterranean Treasures Cruise: excursions, activities and food in Greece.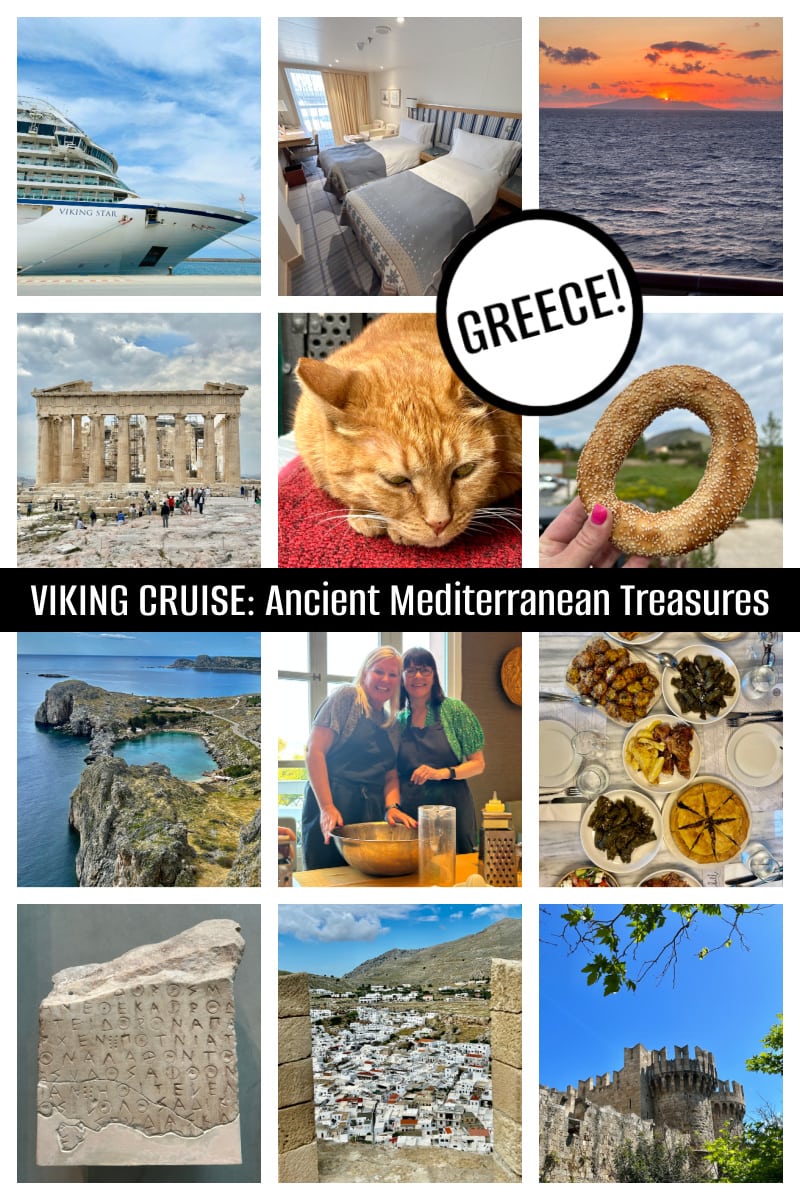 This was my fourth Viking cruise! I've done two river cruises (Southern France and Swiss Alps to Paris) and one ocean cruise (Berlin to Bergen, Norway). I have been wanting to go to Greece forever, so this trip was a dream for me. My sister Susie and I went together on this one!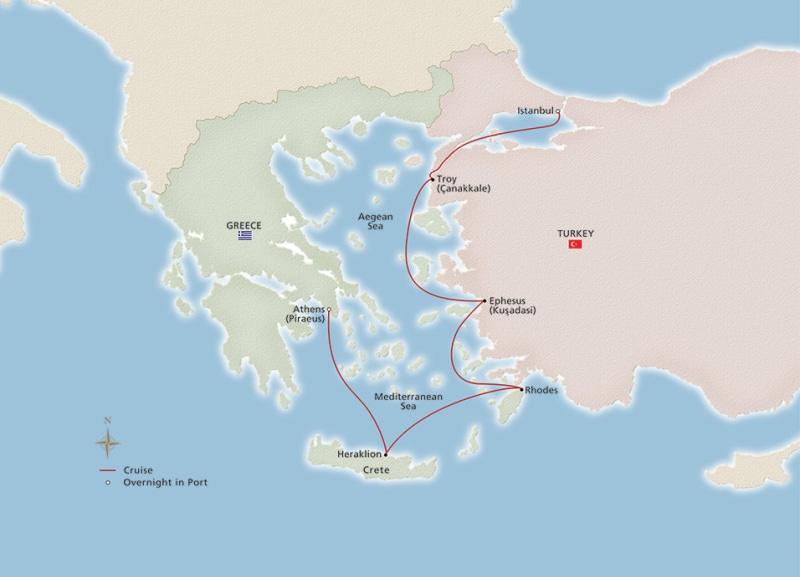 The Ancient Mediterranean Treasures cruise is an 8-day adventure with 6 guided tours. There are three stops in Greece (Athens, Crete and Rhodes) and three stops in Turkey (Ephesus, Troy and Istanbul). My sister and I decided that we would add a 2-day extension onto the beginning (2 additional days in Athens) and a 2-day extension onto the end (2 additional days in Istanbul). This is a cruise where you have the opportunity to see a lot of ancient ruins if you'd like. It was all very interesting!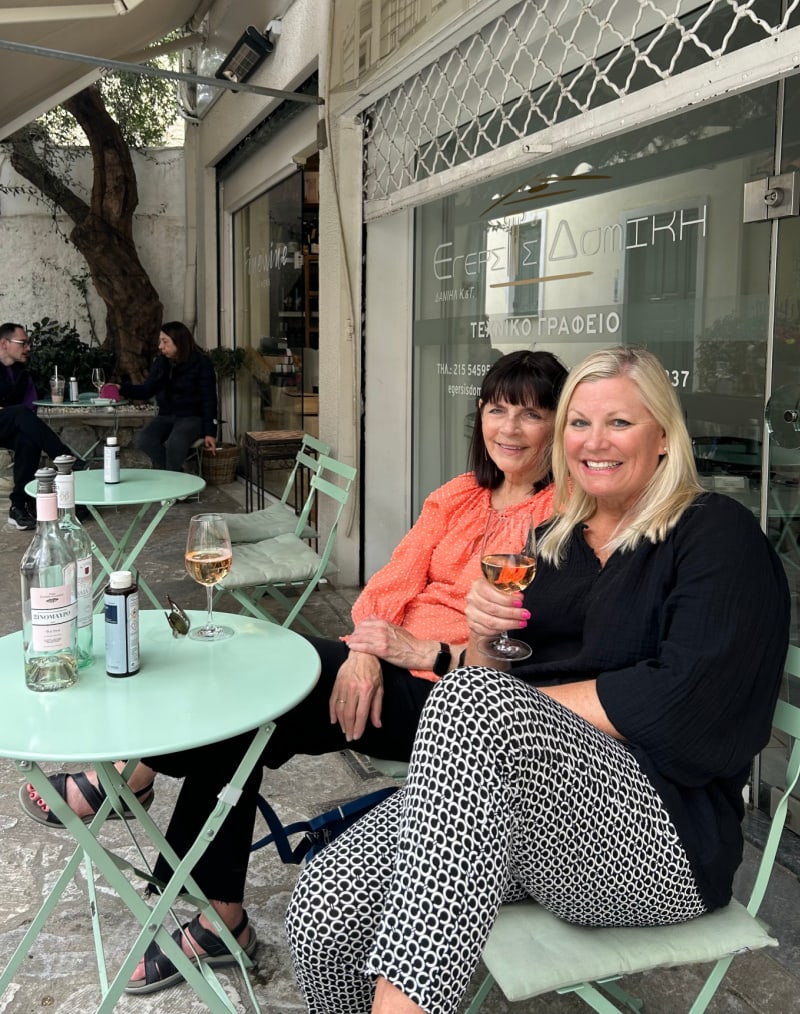 Here we are in Athens after our very long day of travel, enjoying wine at a cute cafe. We flew overnight to Athens and arrived in the morning. Viking staff met us at the airport and bused us to the hotel. That made things so easy. The hotel was a little bit outside of town, so we had to take a taxi into the city center. If you take this tour and do the extension, it's a good idea to ask about the location of the hotel. I believe it's not always the same one. The hotel was totally fine, but we would have preferred to stay right in the middle of things instead of outside of town. It wasn't a big deal, but it would have been easier to have been closer to the action!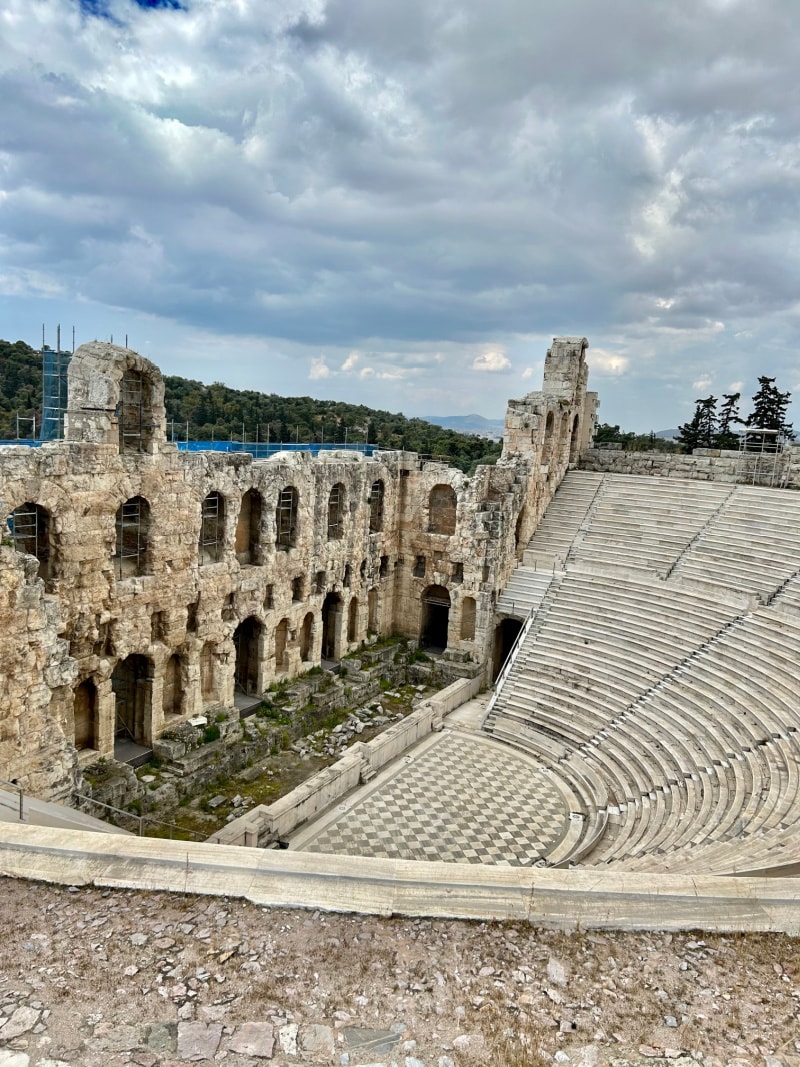 We did our own thing in Athens. After a good night of sleep, we bought tickets through Athens Walking Tours to walk the ground of the Acropolis with a guide. I believe this is a theater that used to have a roof!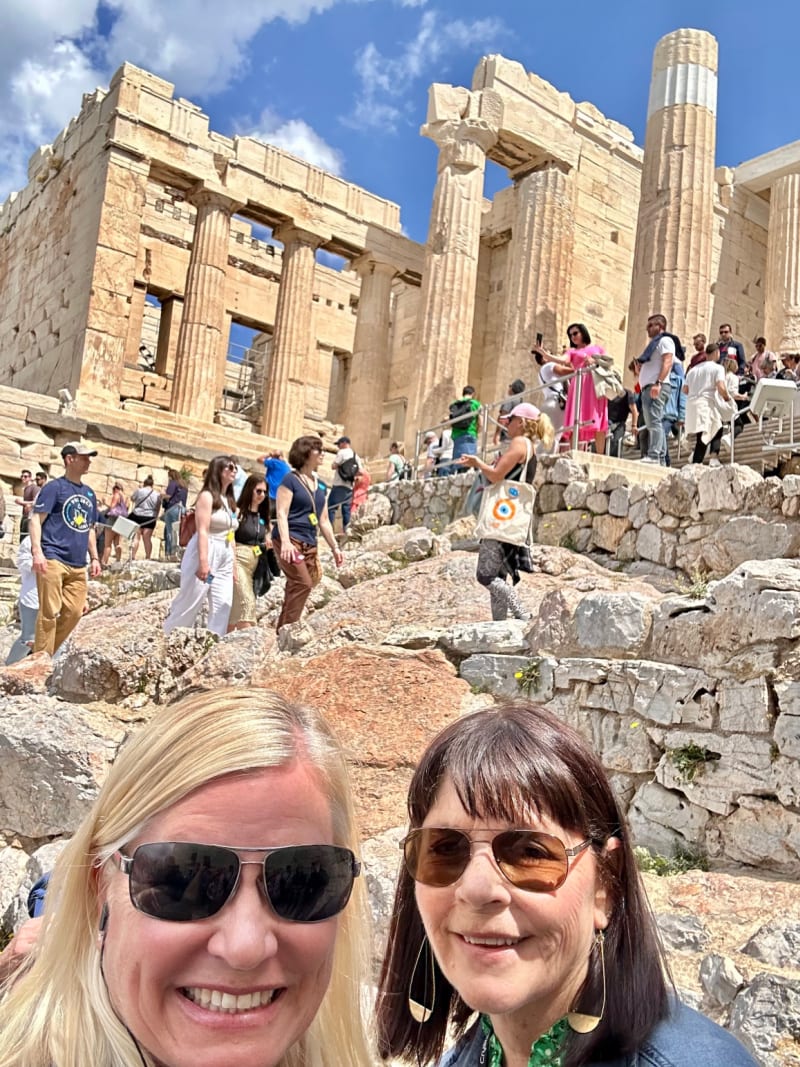 We went on this cruise at the end of April and early May. There were a lot of people there, but it wasn't super crowded. It also wasn't super hot. If you go to Athens in the summer months, I've heard that it can be miserably hot.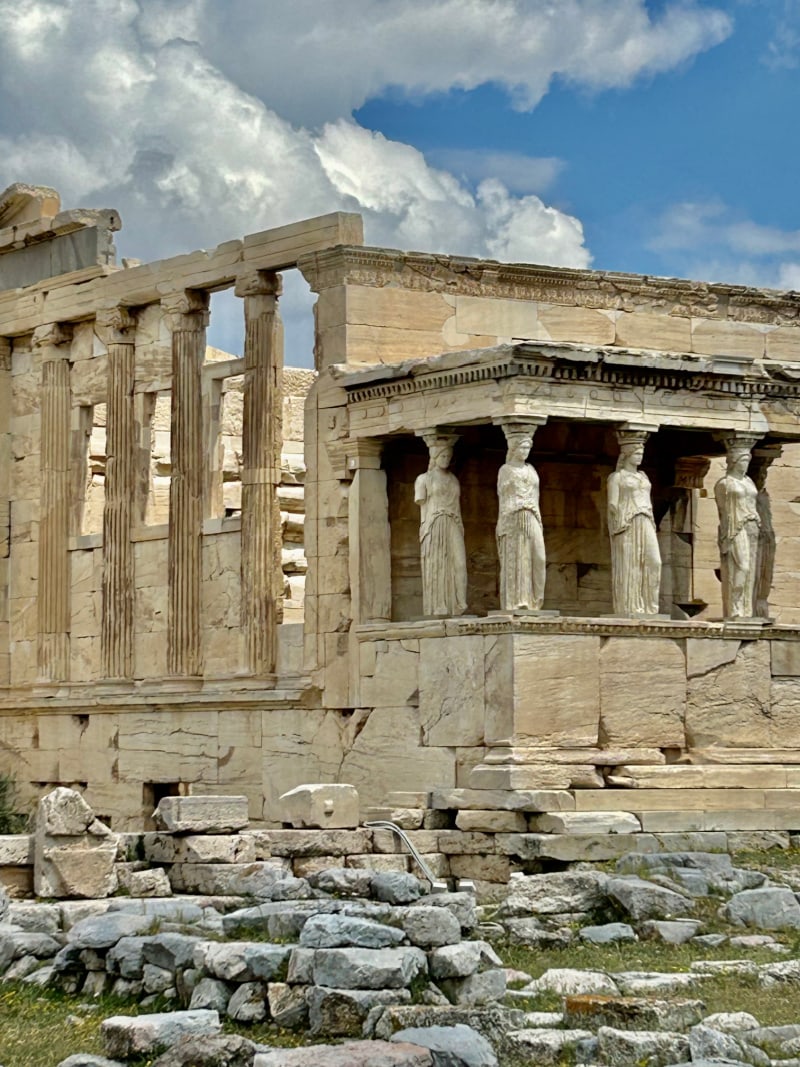 This is the Erechtheion. These are sights that we've all seen in photos and movies and history books. To see it all in person is just crazy cool.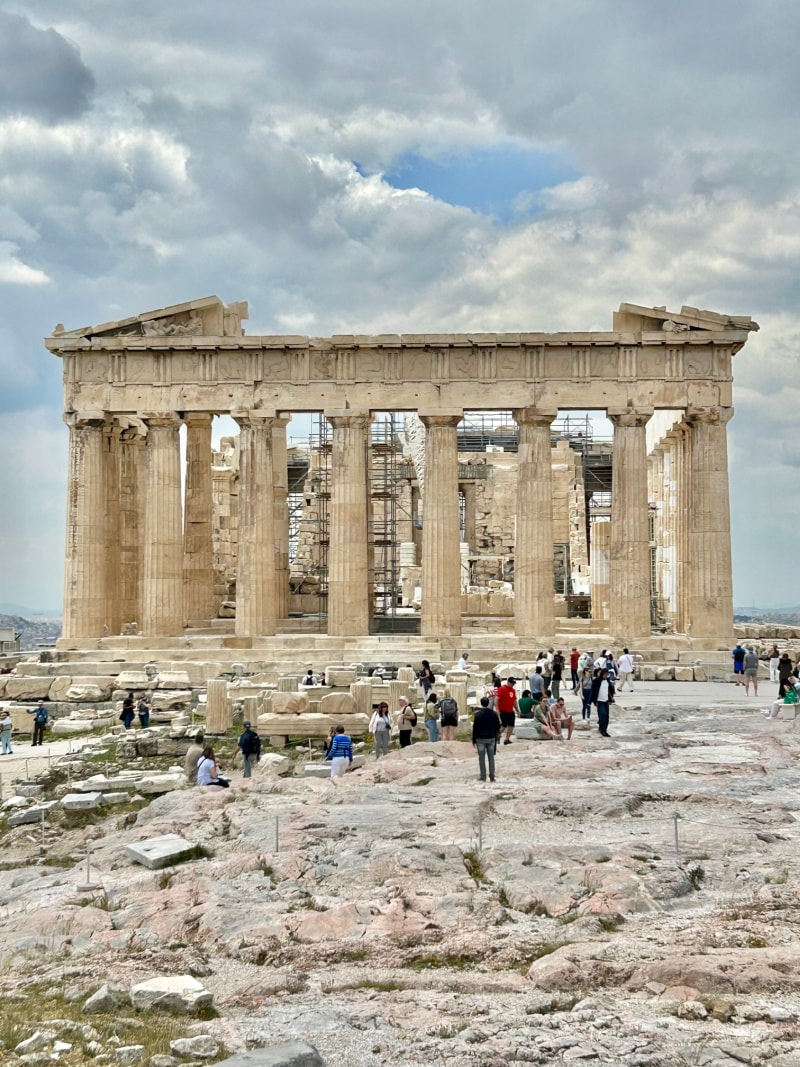 This is the Parthenon. They're always working on taking care of the ruins, so there is scaffolding everywhere. There were also a ton of people posing and taking photos for their Instagram accounts.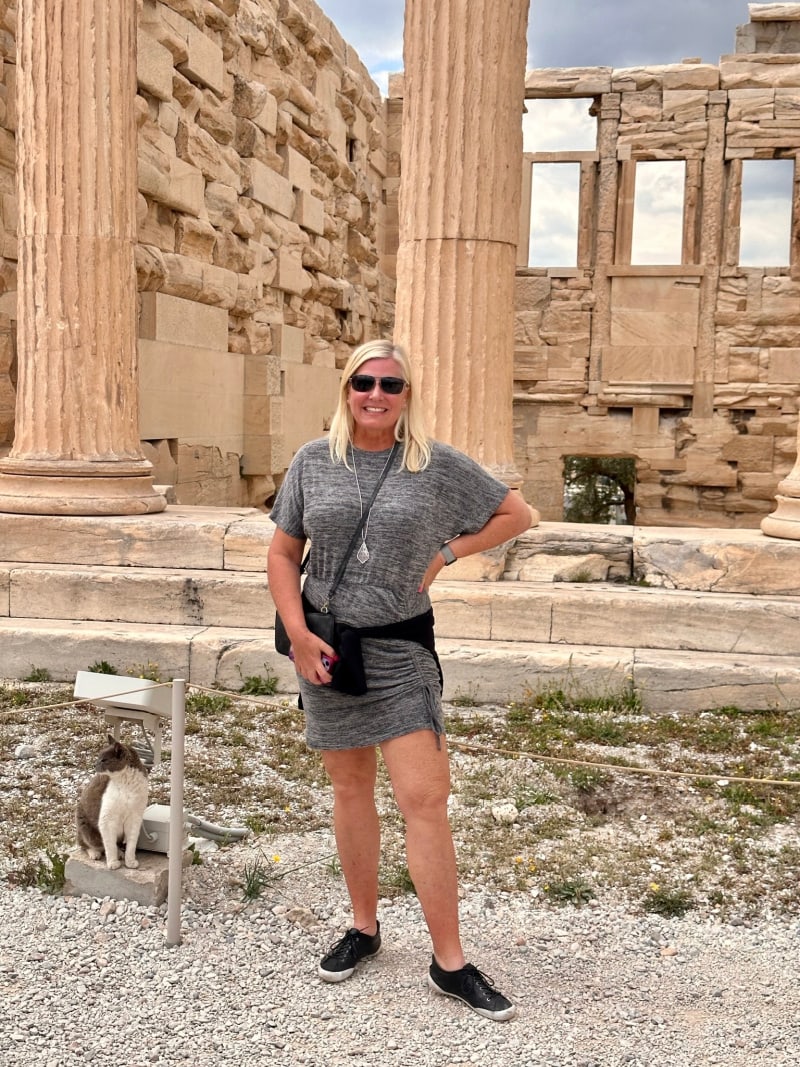 See that cat hanging out among the ruins? There are cats everywhere in Greece.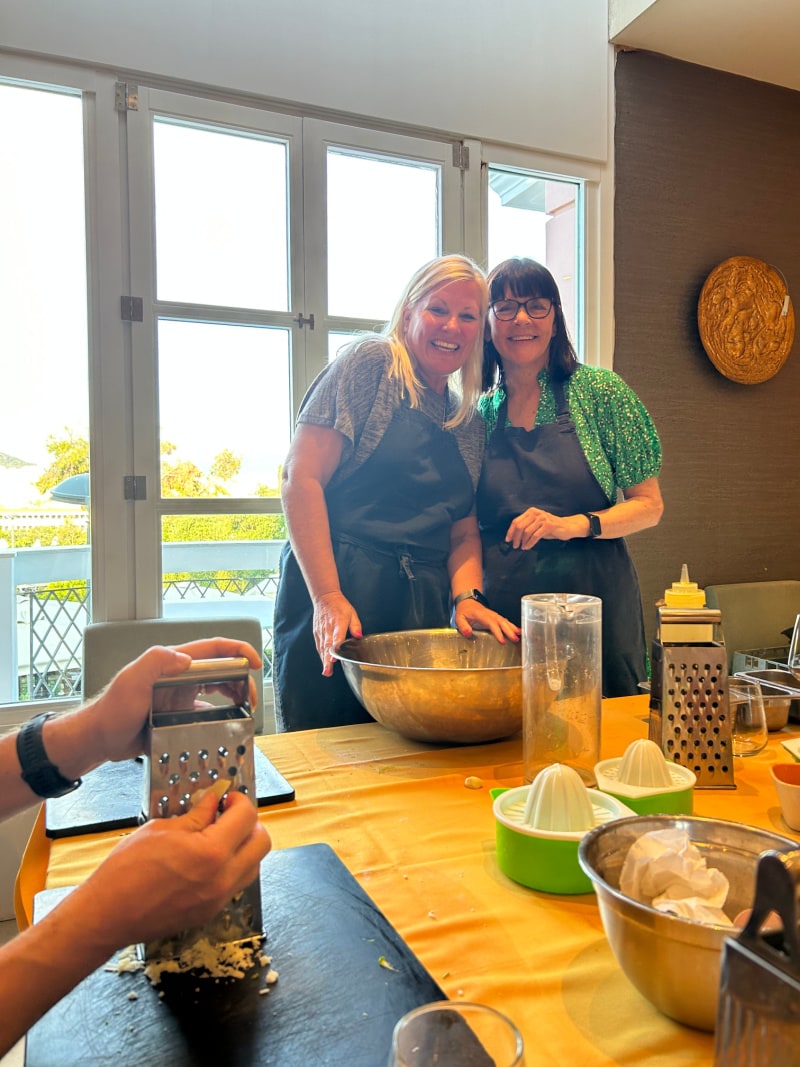 Susie and I took a cooking class (also through Athens Walking Tours). Of all the things we did in Athens, this was the most fun thing we did! The instructor was awesome. We were paired with another bunch of people who happened to also be joining us on the Viking cruise. They were so much fun. The instructor taught us to make about seven courses plus dessert.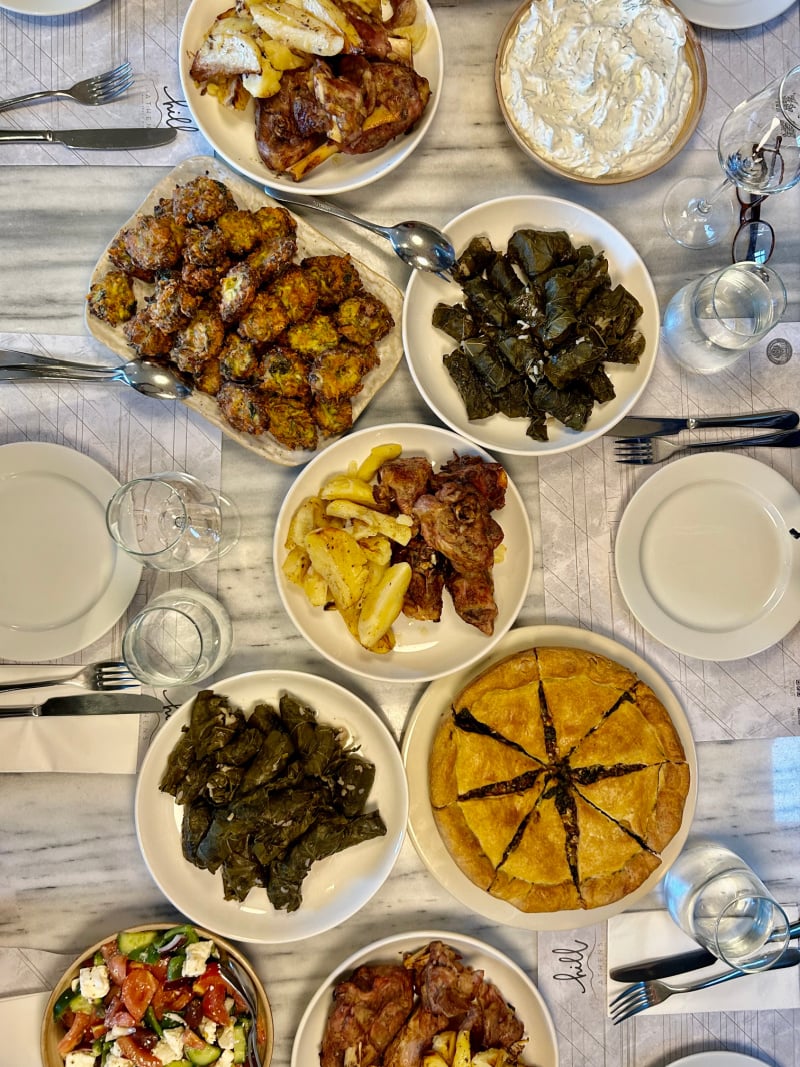 This is a snapshot of all of the dishes we made: dolmades (stuffed grape leaves), zucchini fritters, spanakopita, Greek potatoes, Greek salad, lamb and potatoes, tzatziki sauce and sweet lemon Greek yogurt for dessert. My favorites were the zucchini fritters and the traditional Greek salad (which does not contain any lettuce!)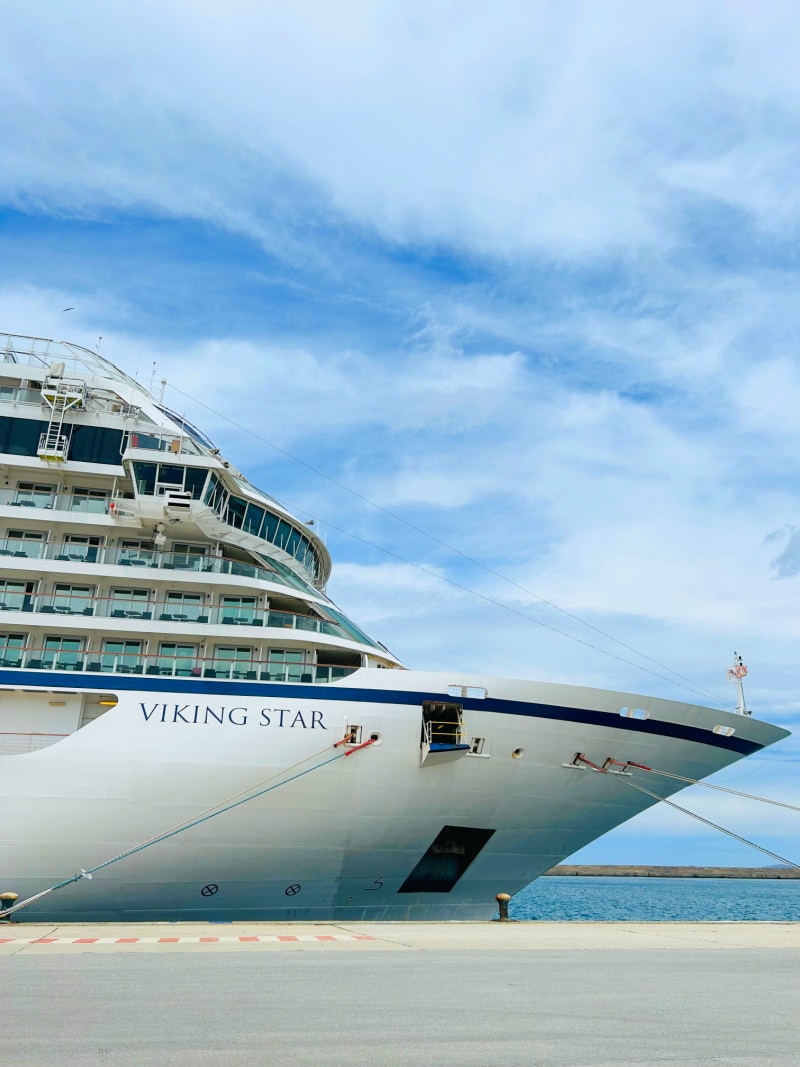 After two days of touring on our own, we finally boarded the Viking Star!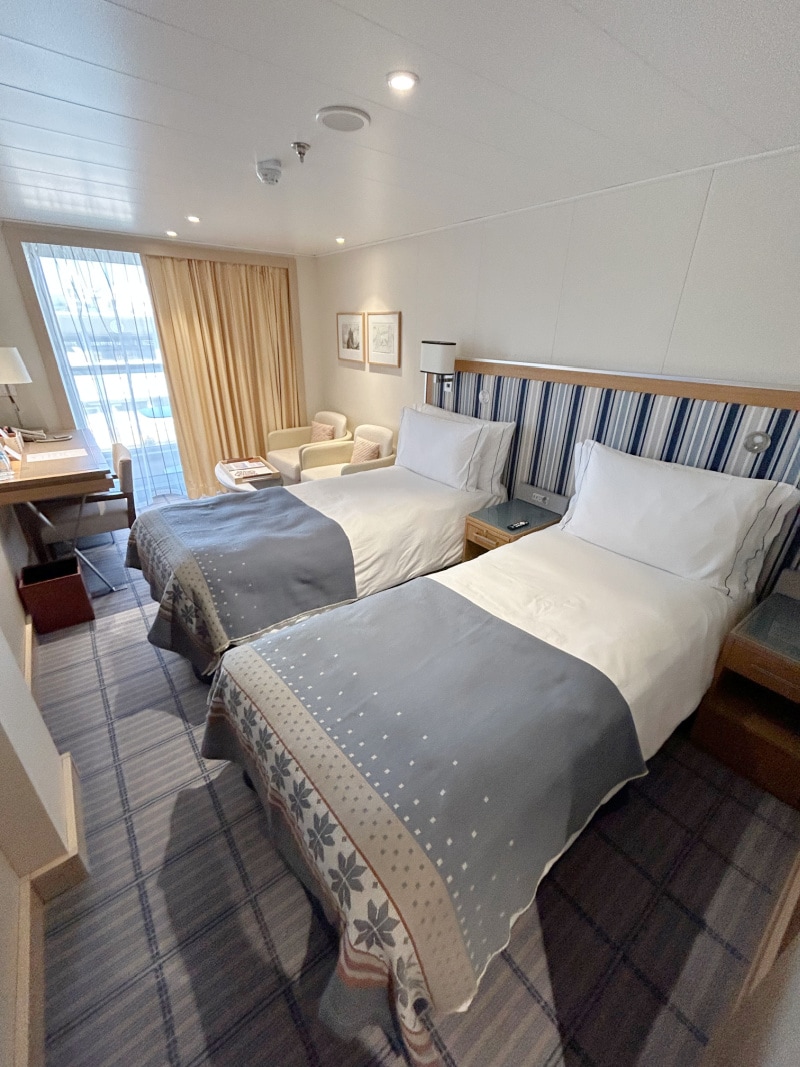 Here's what our stateroom looked like. If you're on a cruise as a couple, there is one big bed. They split the beds apart for us. There's actually quite a bit of room in the stateroom. I loved that we each had a nightstand, and I loved that we had built in places to plug in our electronics and charge our gadgets. You don't need a European plug converter on the Viking ships. They have regular USA outlets.
There is a nice desk area, and a fridge that they re-stock with (included) goodies every night. The sitting area is spacious with a little table.
The balcony is nice to have too. There are chairs and a table on the balcony so you can enjoy hanging out in the fresh air while cruising!
The bathroom is quite spacious- especially the shower. Shampoo, lotion and a hair dryer are all included.
On my last ocean cruise, I shared a tour of the ship with a lot of cruising information. Check it out if you'd like to see more!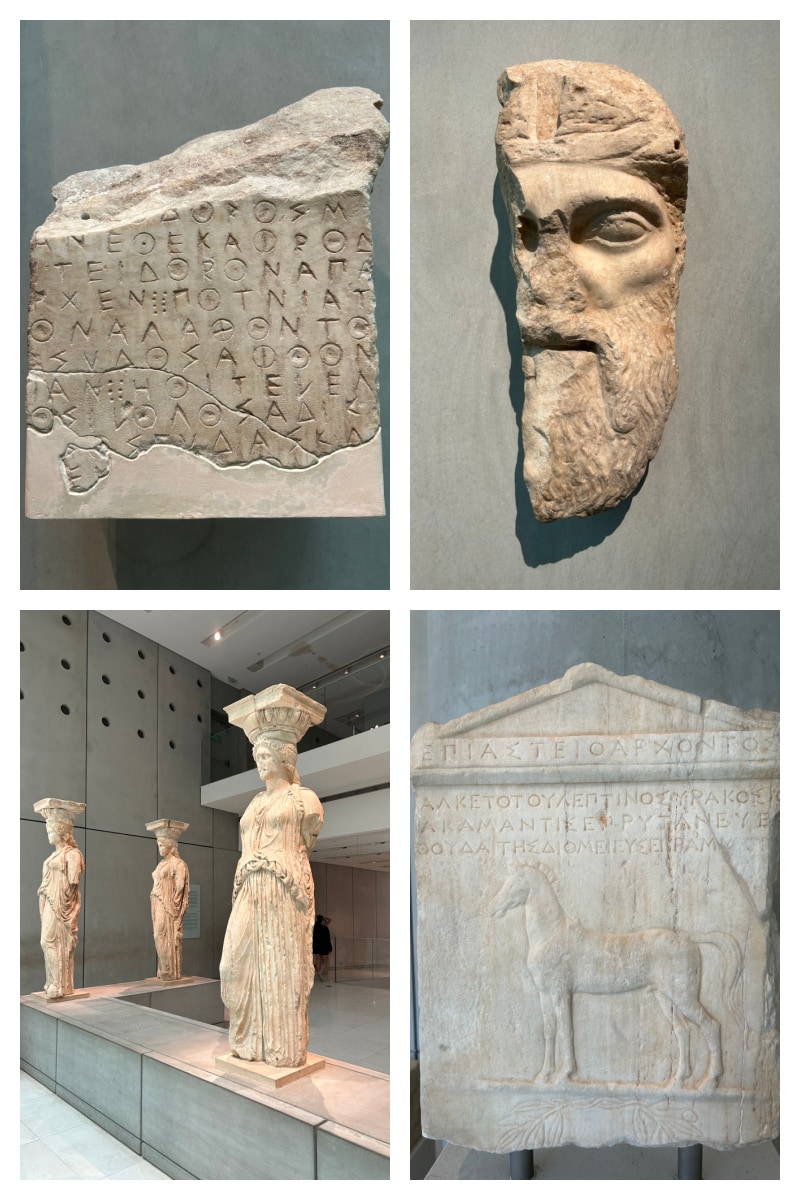 For our last day in Athens, we decided to go to the Acropolis museum. I highly recommend that you don't skip the museum. I thought it was nice to visit after seeing the actual grounds of the Acropolis. There are so many more ruins to see. Rent the headset for a self-guided tour so you know what you're looking at.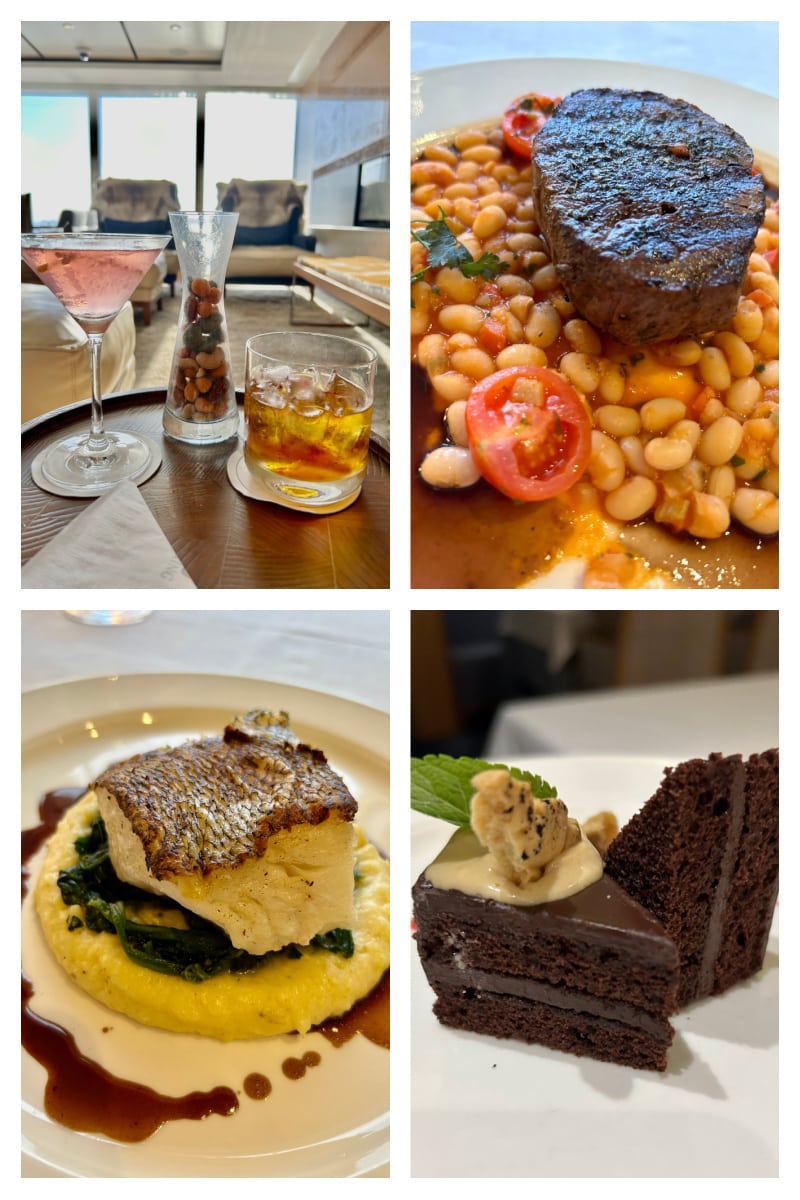 Our first evening on the ship, we ate at the regular restaurant (rather than the buffet restaurant or the specialty restaurants). The food on the Viking ships is pretty amazing. There is a lot to choose from, and you can order whatever you'd like. This is a peek at Happy Hour (which we did every night), and filet mignon, halibut and chocolate cake.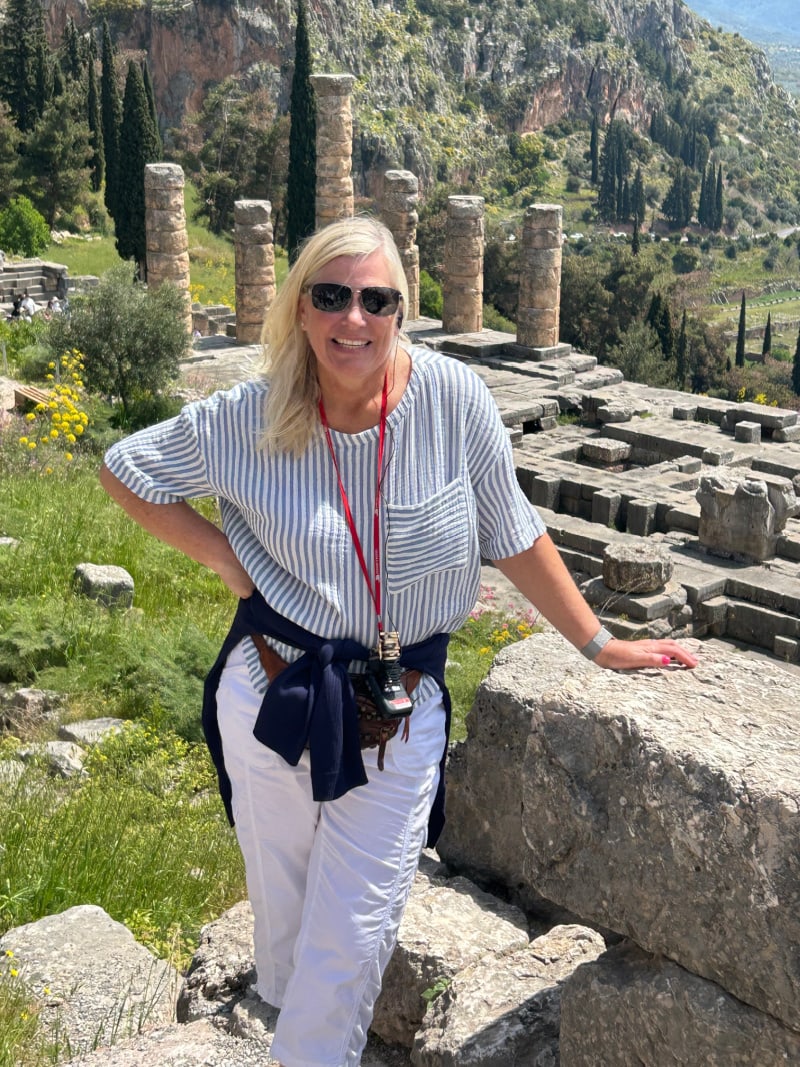 Excursion choices in Athens include visiting various sites and ruins. If you want to be a little more active, there's a choice to tour Athens by electric bike. My sister and I chose the Delphi and the Oracle excursion. Delphi is a historical site in a mountainous area outside of Athens. Viking uses buses for their excursions, and they're very comfortable. This was a great excursion. It was a long one. We had a bit of a drive to Delphi. But we stopped along the way and had a bathroom and coffee break. We visited the Delphi Archaeological Museum and then moved on to the Delphi site. It was pretty amazing to see all of these ruins that they've discovered in these mountains. After the tour, we were hosted for lunch at a local restaurant.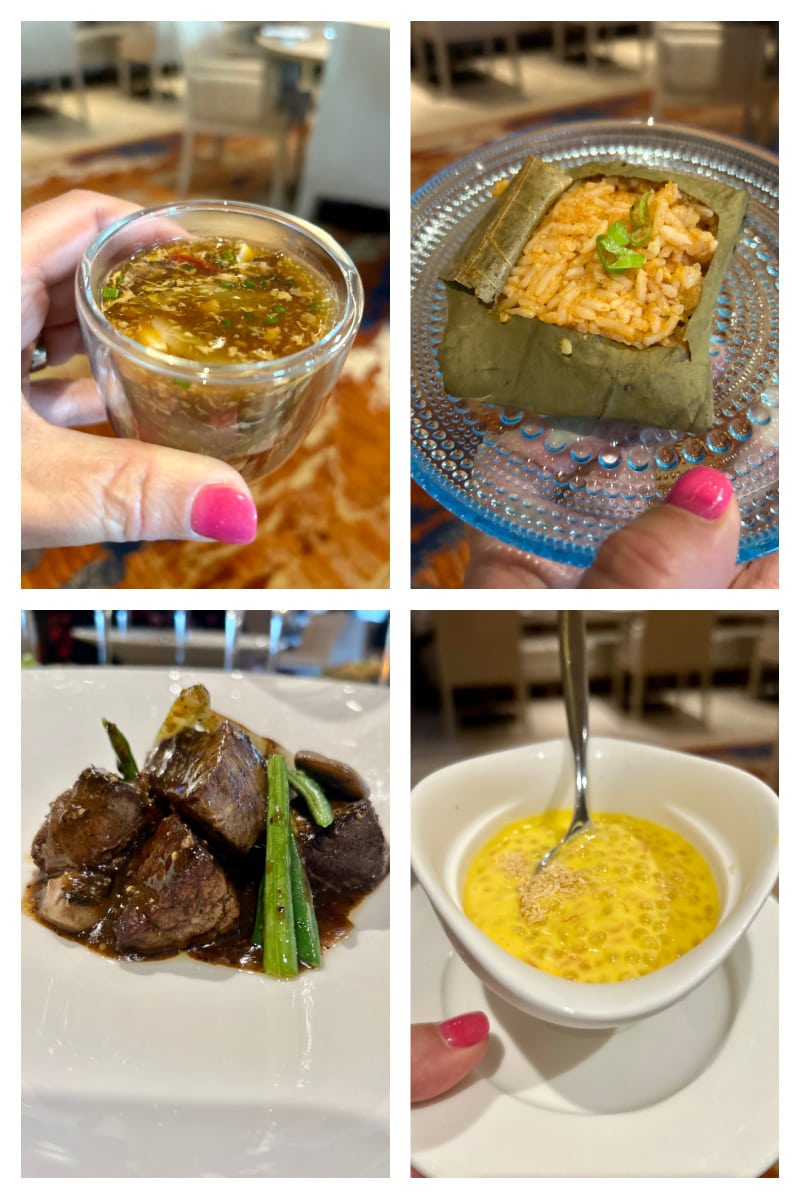 This evening we chose to eat at The Chef's Table restaurant on the ship. This is a specialty restaurant that offers a few unique menus during the cruise that are focused on different cultures. It's included in the price of the cruise. You just need to make a reservation. The dinner theme this night was "Cantonese and Huaiyang Cuisine." We enjoyed Hot and Sour Soup, Fried Prawns, Coconut Granita, Wok-Fried Beef and Chilled Mango Cream. It was delicious!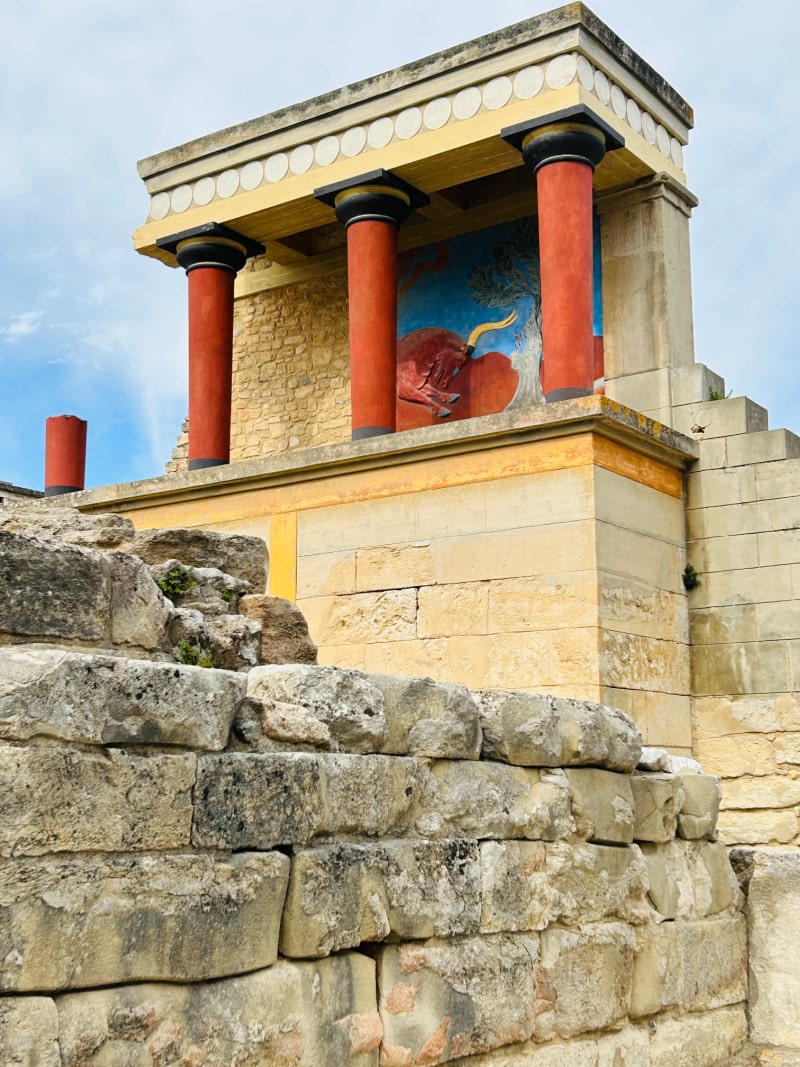 The next stop on the cruise was Crete, Greece. Excursions in Crete included a lot more visits to ancient ruins, as well as a couple of culinary experiences. We chose The Palace of Knossos and a Glimpse of Heraklion excursion. The grounds of the palace were pretty impressive. It's just so hard to believe that they've dug all of this stuff up. There must be so much more underground that has yet to be discovered.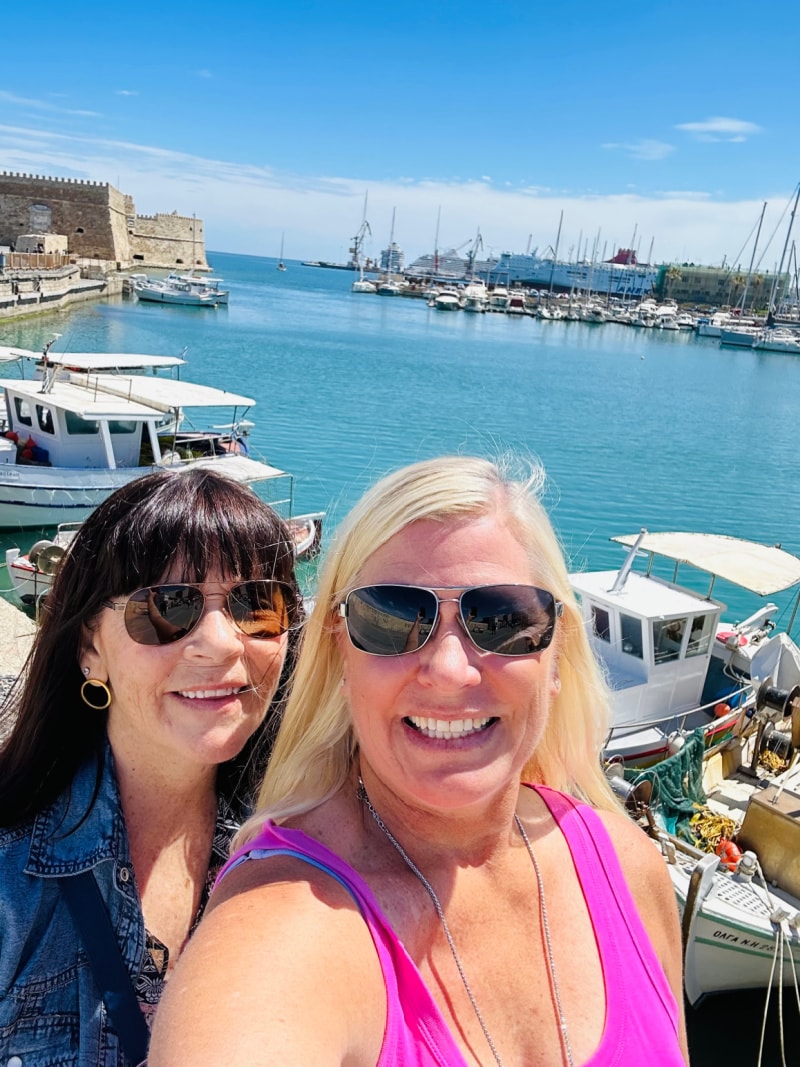 After visiting the ground of the palace, we were able to walk around the seaside city of Heraklion. We took that opportunity to walk down to the water, do a little shopping and have a great Greek lunch.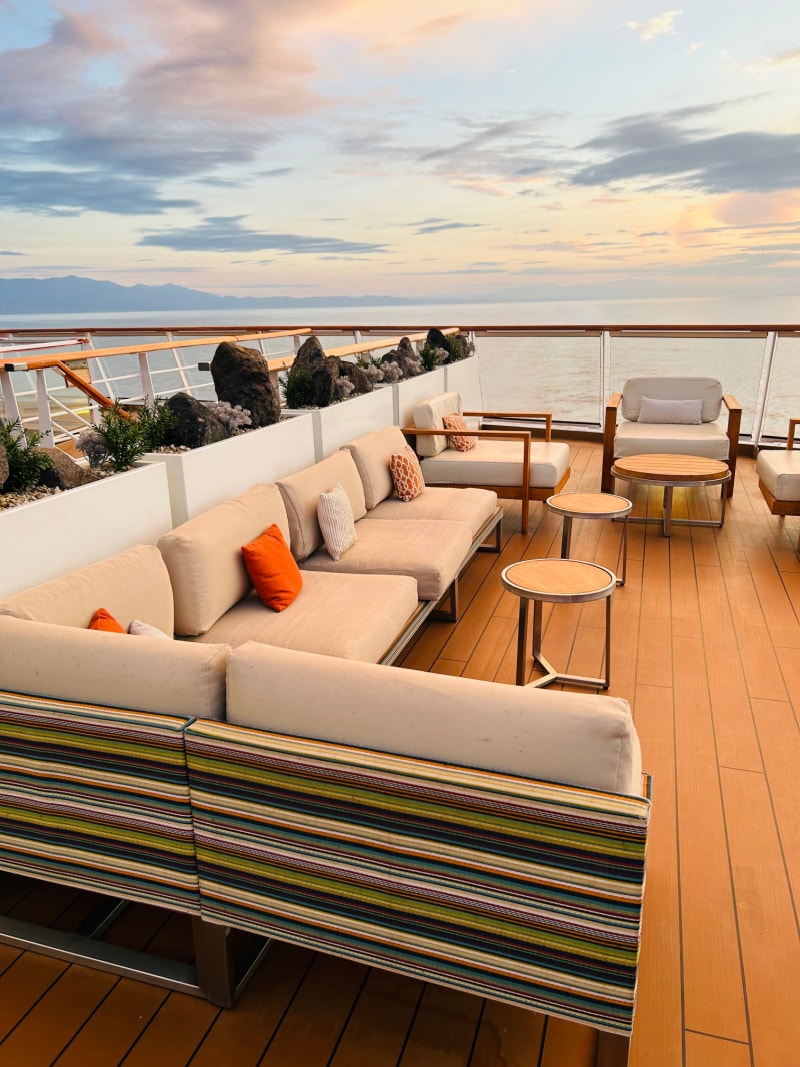 Back on the ship, we enjoyed a pretty sunset and (another) happy hour!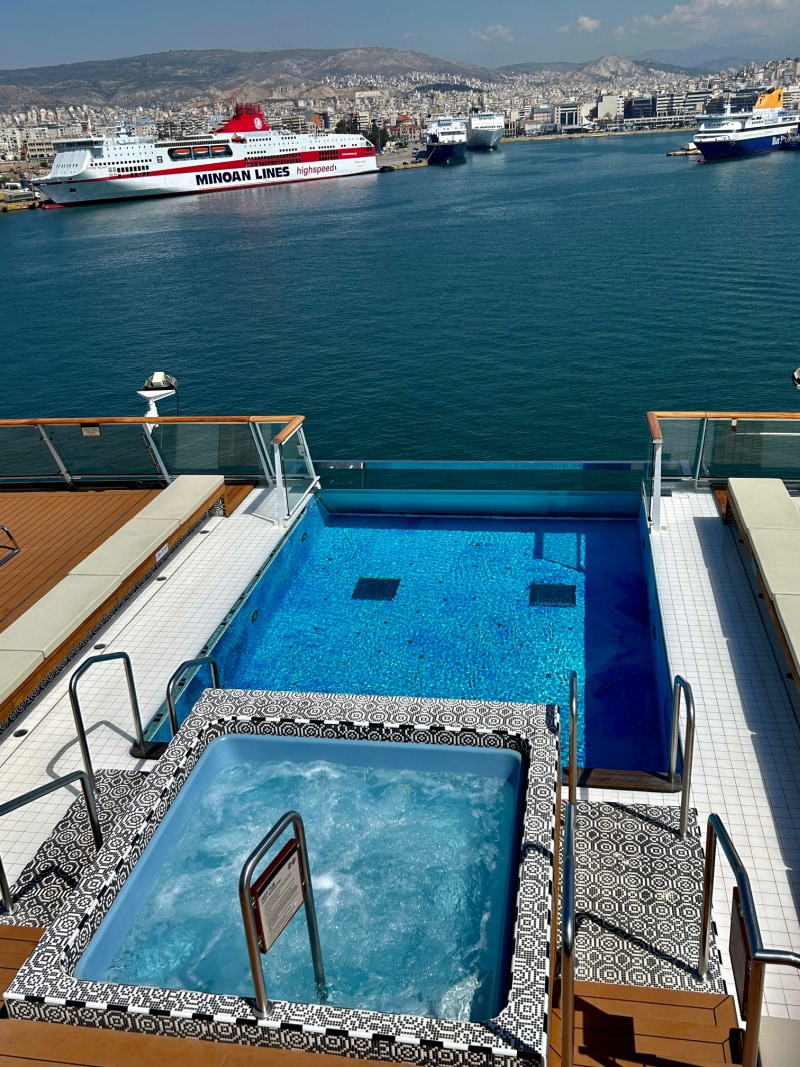 There's a pool in the interior of the ship (covered) and then there's this cool pool and hot tub on the back of the ship.
Activities offered on board The Viking Star:
Educational offerings: lectures about the culture of the region (Vikings, talks about each of the ports you're visiting)
Music: piano, guitar
Movies
Dancing
Afternoon tea
Evening stage entertainment
Jewelry seminars
Exercise classes
Spa
Sports Deck (shuffleboard and putting)
Trivia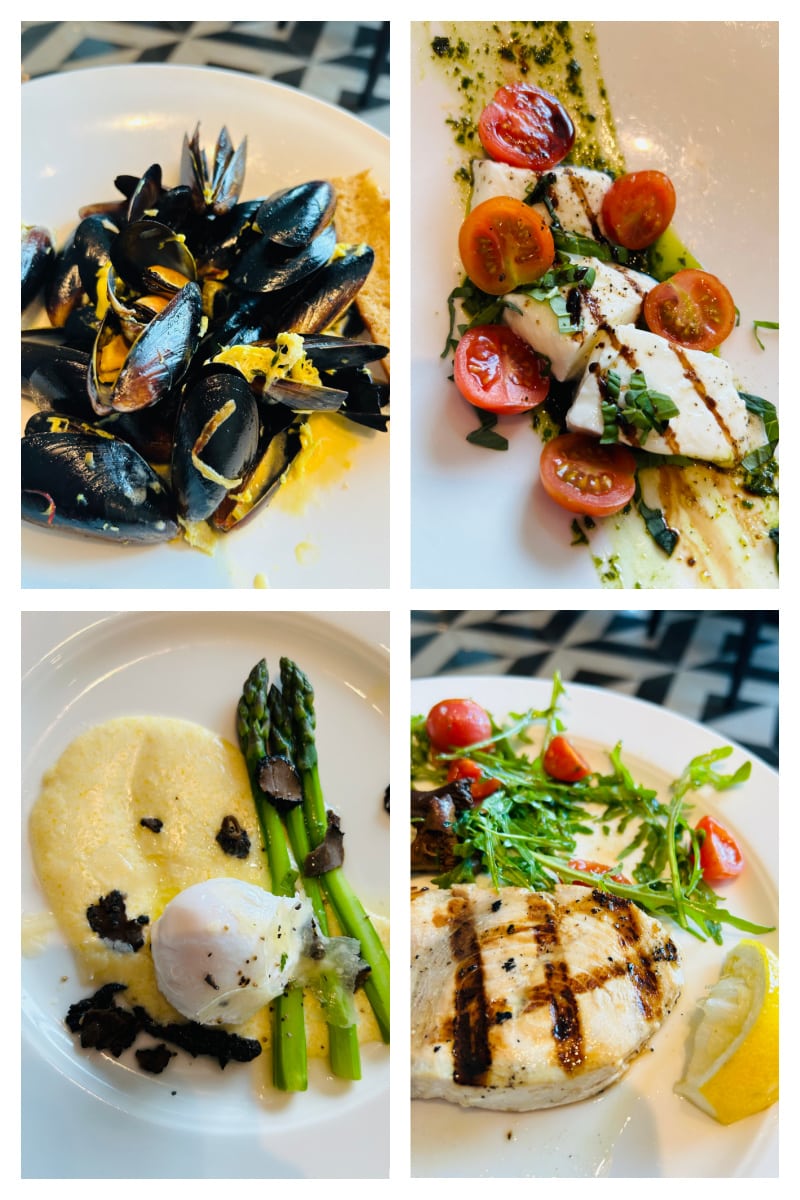 This evening we enjoyed another specialty restaurant on the ship: Manfredi's Italian (also included, but reservations are needed). There are some great food items on the Manfredi menu (lots of pasta, fresh fish, steak, etc). We chose mussels, caprese salad, asparagus and polenta and fish. You can eat as healthy or as indulgent as you'd like!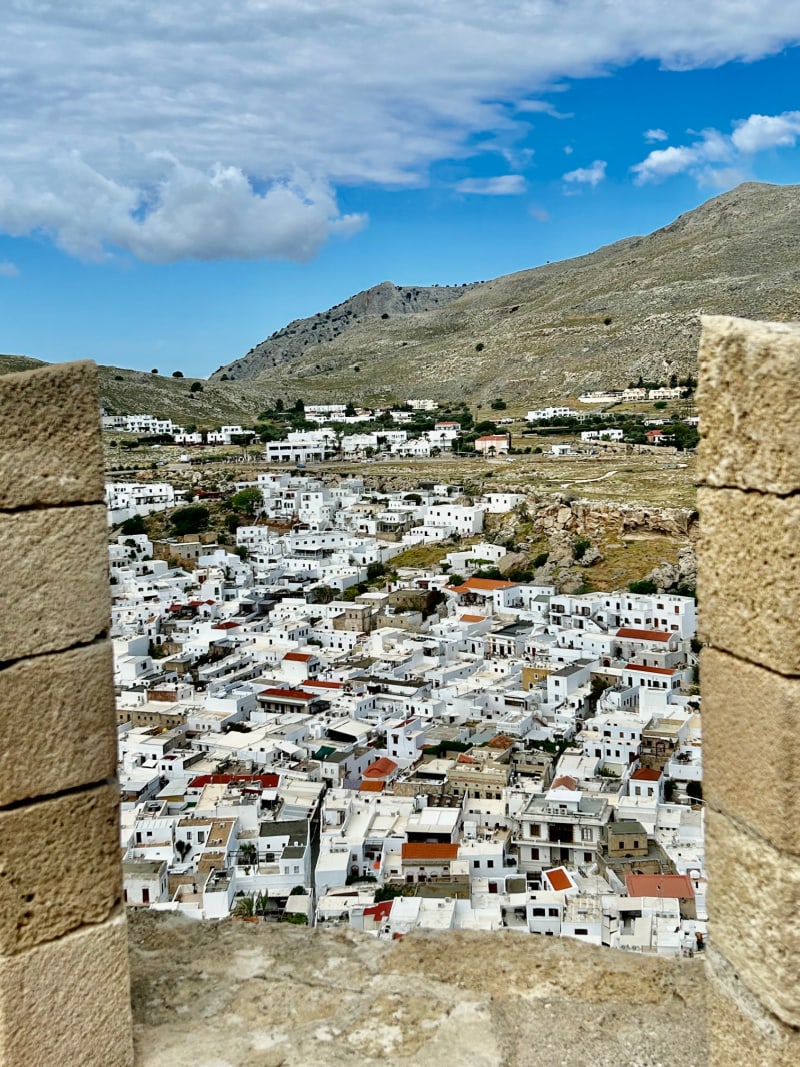 The last stop in Greece was Rhodes. There are a variety of excursions to choose from in Rhodes! We chose the Ancient Lindos, Panoramic Vistas and Grand Masters Palace excursion. I loved this one. We hiked a short distance up to some ruins (another acropolis) where we were able to look down at the village of Lindos and the Aegean Sea.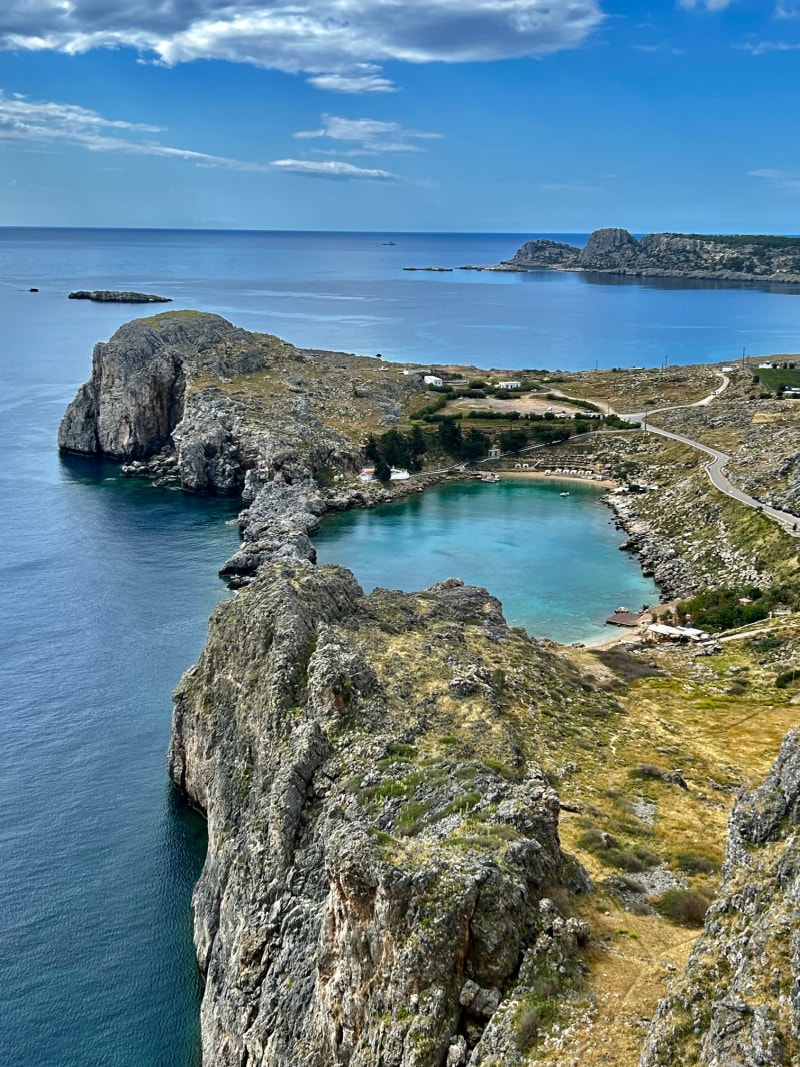 Isn't it gorgeous? After our hike, we were able to walk back down and do a little shopping in the cute shops that line the walkway.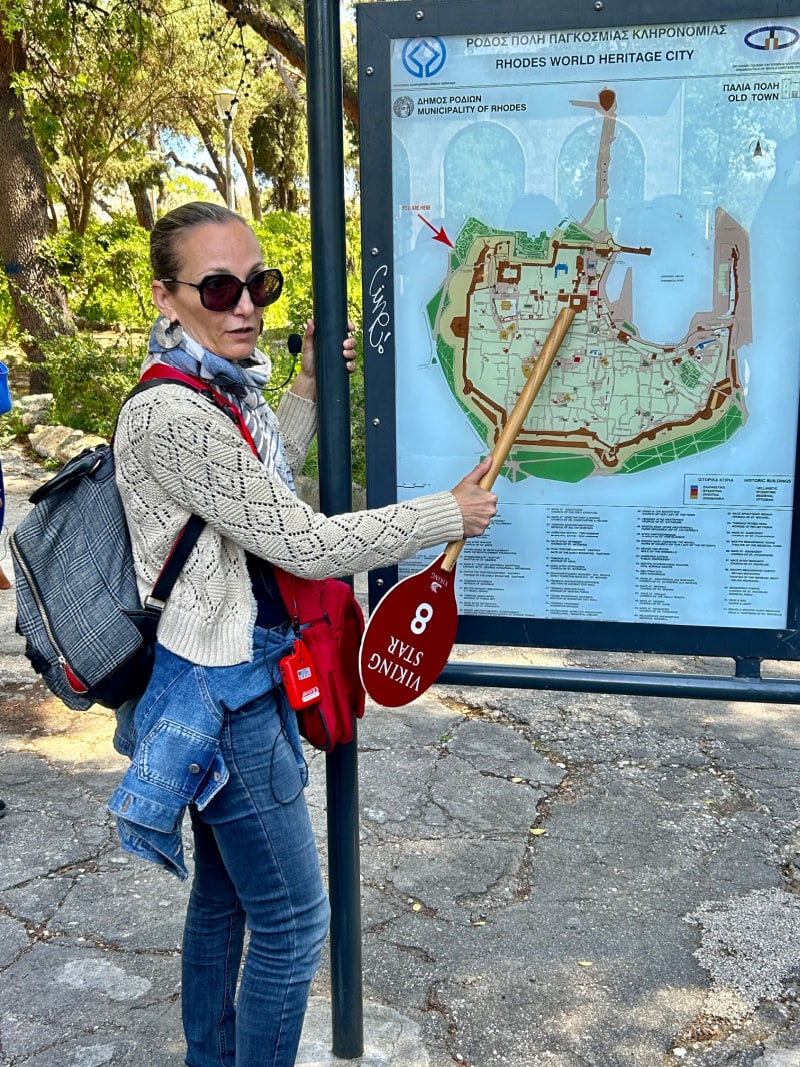 Here's one of the Viking guides. She's local to Crete, and she was a good one!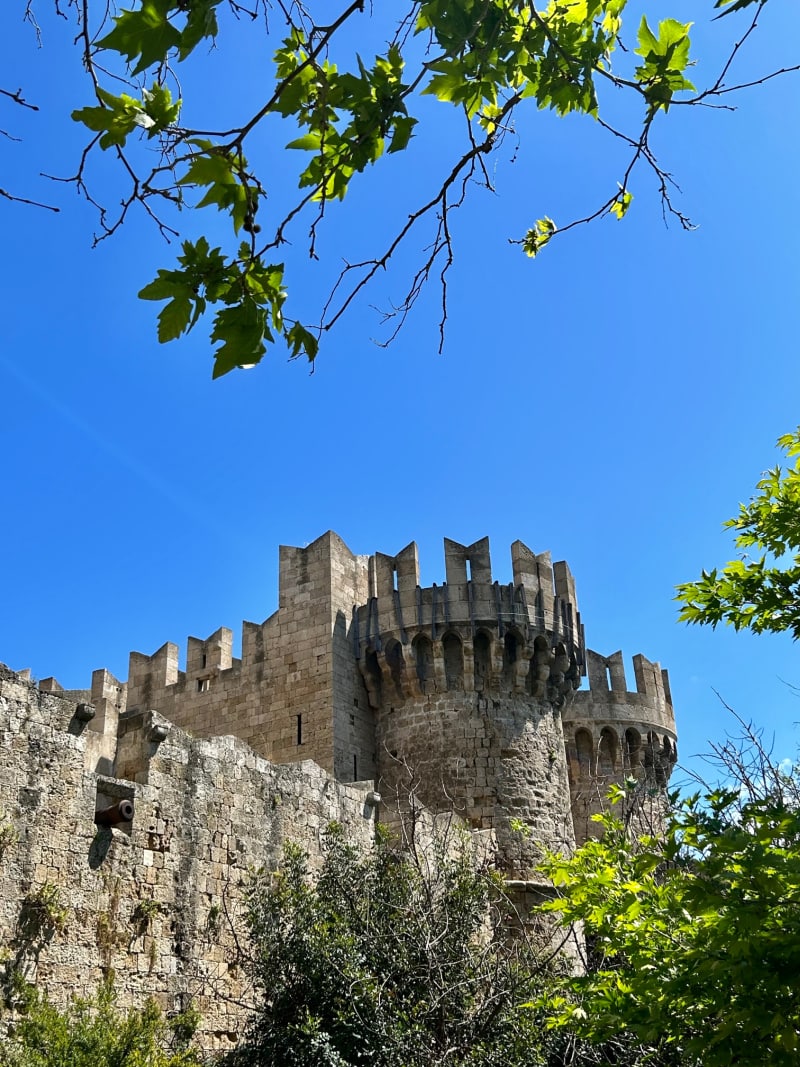 The last stop on this day was the Grand Master's Palace (built in the 14th century) in the old village of Rhodes.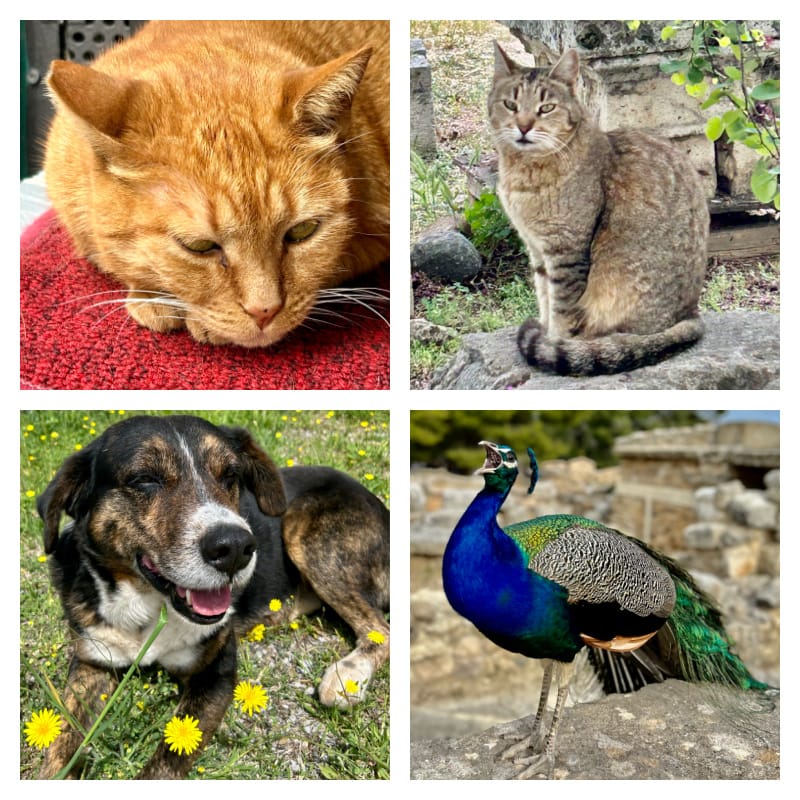 Something fun to note about Greece is that there are animals everywhere (specifically cats and dogs, but also a few peacocks among some of the ruins). The dogs and cats are all so happy and friendly. People feed them and leave water out for them. They just live on their own throughout the country!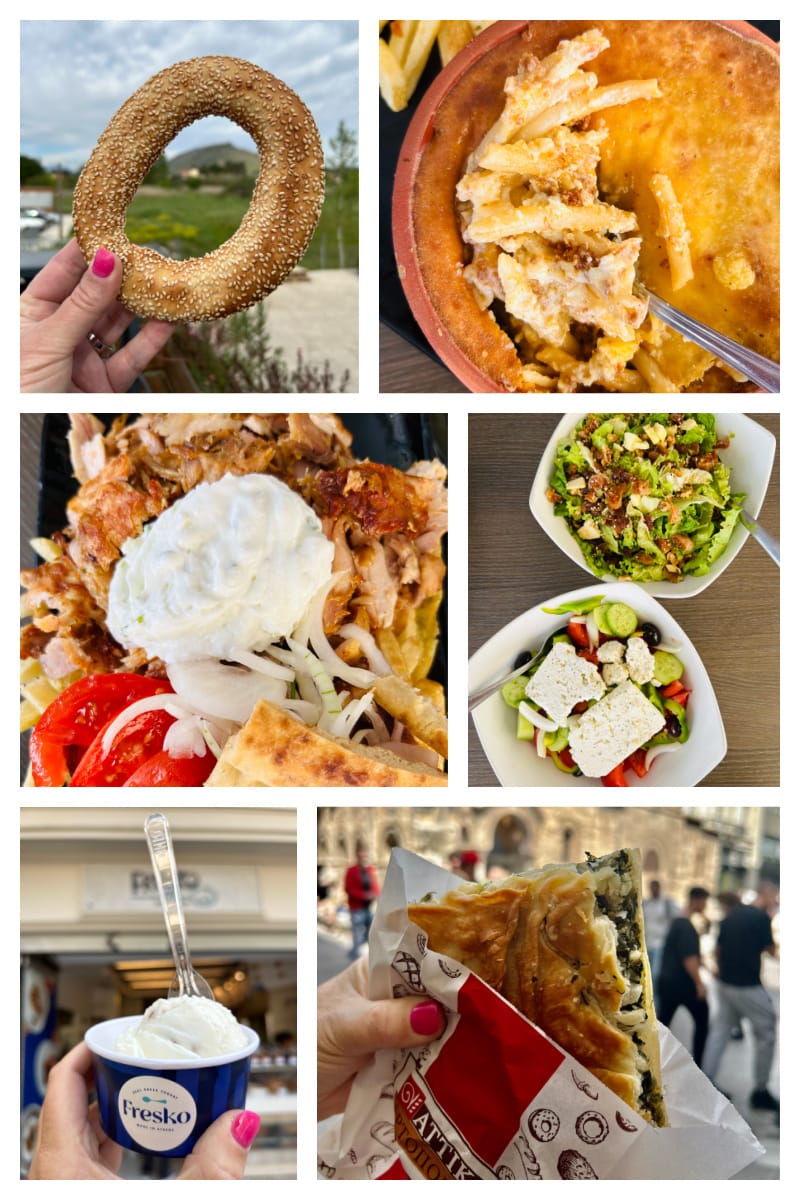 Here's a peek at some of the food we enjoyed while traveling around Greece. Sesame bread was super popular. I kept seeing it everywhere, so I finally had to try it. It was really good- just a tiny bit sweet. We ordered Pastitsio at a restaurant because I had to compare it to my recipe for Pastitsio. I like my version better, but this one was good too. Chicken Gyros were a must to try, with a big dollop of tzatziki sauce on top. We tried a traditional Greek salad as well as another type of salad that featured figs and honey. Both were amazing, and I especially love that they serve Greek salads with a big chunk of feta on top. Frozen yogurt in Greece is frozen Greek yogurt. It's more tart, but it's rather delicious! And of course, spanakopita is sold in every pastry shop. It's as amazing as you can imagine.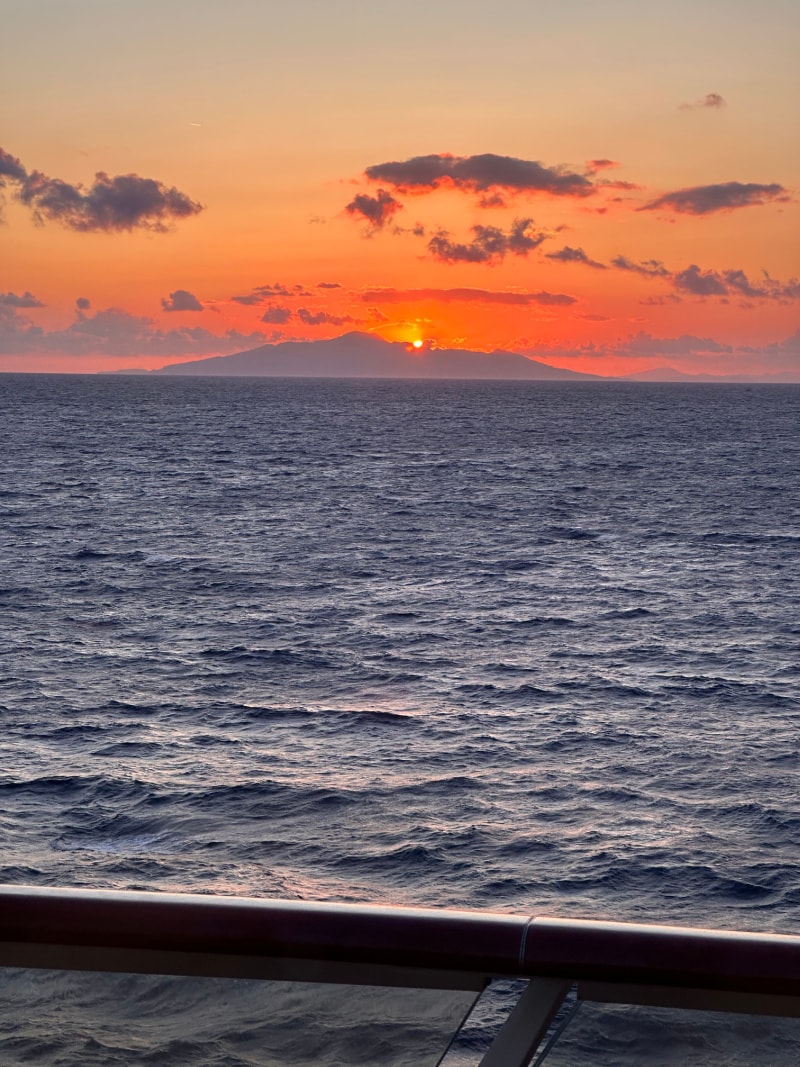 Good night from our last night cruising around Greece!
A Few Tips for Cruising on The Viking Star:
Take the time to plan ahead- look at the forecasted weather and plan accordingly for clothing. Having a laundry room available on board made it so much easier to re-wear our clothes!
As soon as you make your reservation, begin looking at the options for shore excursions and make those reservations too. They do sell out, so you want to make sure you reserve what you want! If the excursion you want is offered in both the morning and afternoon, book the early one! You'll be happy to have the second half of the day to explore.
Take the time to get a sea sickness patch from your doctor and USE IT. Some people don't think they'll need it, but it's better to be safe than feel sick and realize it's too late. You can never predict how bumpy the sail is going to be or how your body will handle it.
Bring comfortable shoes for your shore excursions.
Check out your itinerary and book spa time for the days where you'll be at sea!
If you enjoy your cocktails and wine, then splurge and get the Silver Spirits Package so you'll have more options available to you.
For more information:
Visit Viking Ocean Cruises to take a peek at all of their ships and itineraries.