Last fall, my husband and I embarked on a Viking Ocean Cruise aboard The Viking Star. Our journey began in Berlin, cruised along through Denmark, and it ended in Bergen, Norway. Today, I'm sharing about our stops in Norway: Stavanger, Eidfjord and Bergen.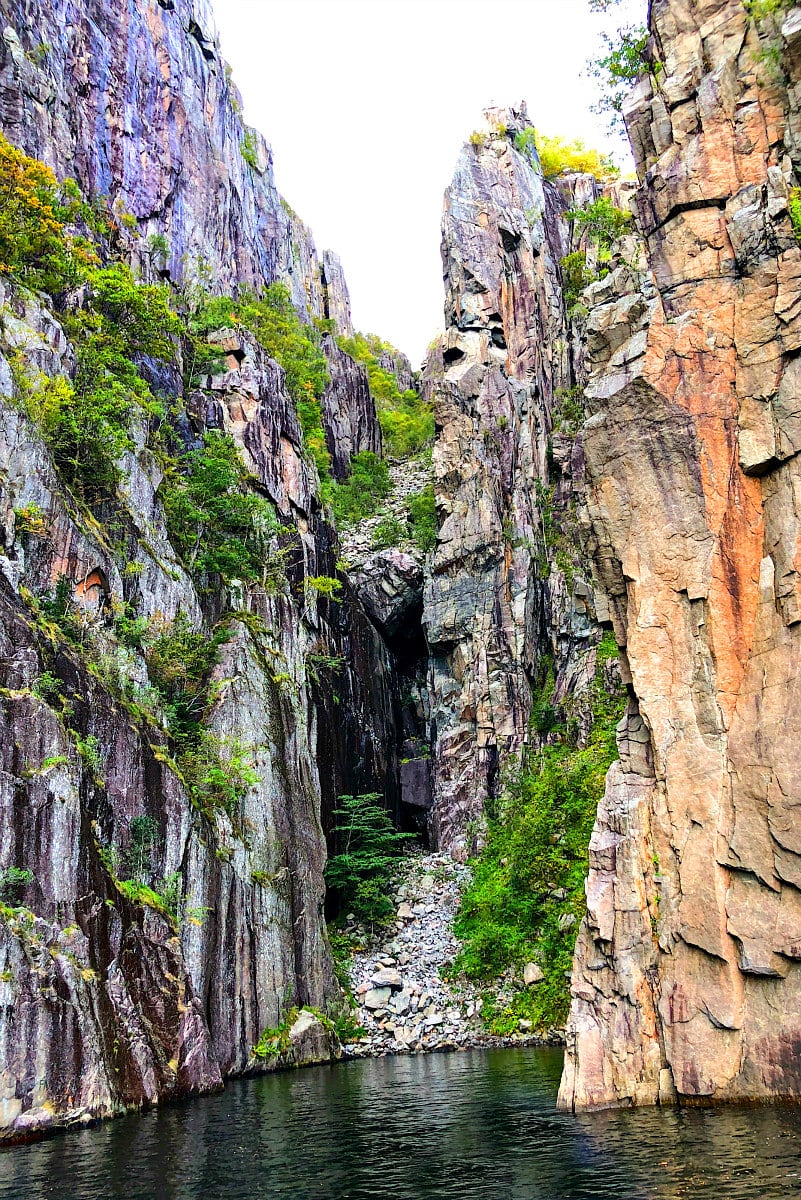 Here's a peek at the beauty of Stavanger, Norway. Everywhere you look, there is a lot of green. Frequent rainfall helps with that. I love that all over Norway and on our other stops on this Viking Ocean Cruise, the landscape varies greatly. The world is such an amazing place, and there is so much to see!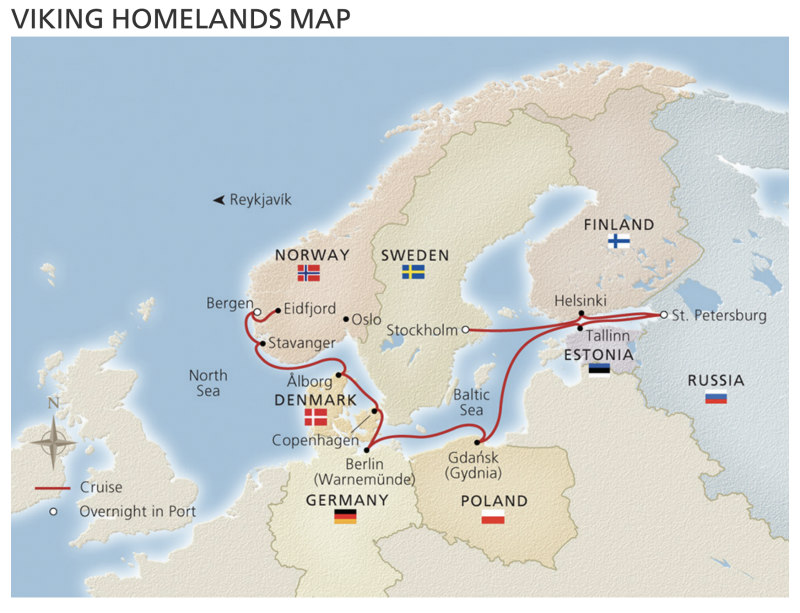 Viking Ocean Cruises: Viking Homelands
Here's the full map of the Viking Homelands route. It's a 15-day ocean cruise that begins in Stockholm, Sweden. There are stops in Helsinki (Finland), St. Petersburg (Russia), Tallinn, (Estonia), Gdansk (Poland), Berlin (Germany), Copenhagen & Aalborg (Denmark), Stavanger & Eidfjord (Norway) and the final stop in Bergen, Norway.
My husband and I were invited on the 2nd half of the cruise, so we boarded the ship in Berlin. You can read about the beginning of our trip here:
Next Stop on our Viking Homeland's cruise: Stavanger, Norway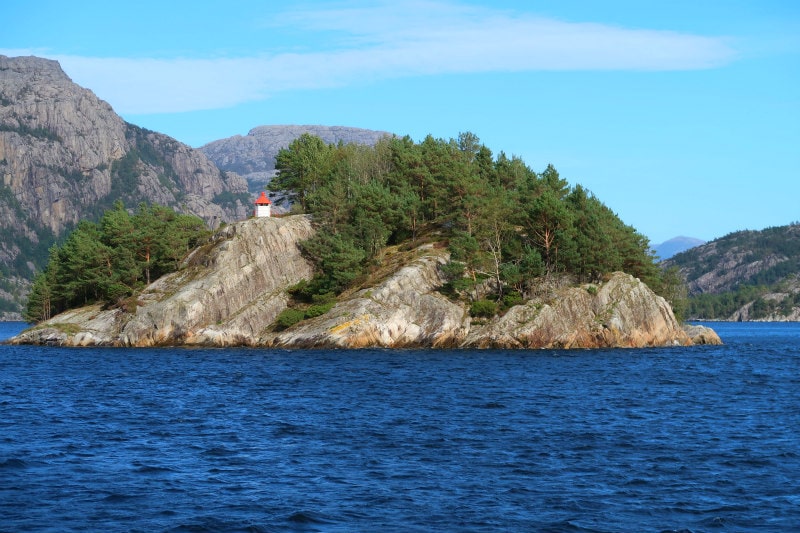 About Stavanger:
Stavanger is one of Norway's oldest cities. Located in Southern Norway, Stavanger is full of cobblestone streets and wooden buildings that date back to the 17th and 18th centuries. The oldest cathedral in Norway is in Stavanger. This coastal town is known for having great seafood!
Viking Cruises Shore Excursions offered in Stavanger:
Stavanger Walking Tour and Oil Museum
Pulpit Rock Cruise or Pulpit Rock by Private Yacht
Stavanger by Helicopter
Traditional Fishing Experience
Iron Age Farm and Utstein Abby
Stavanger Home Visit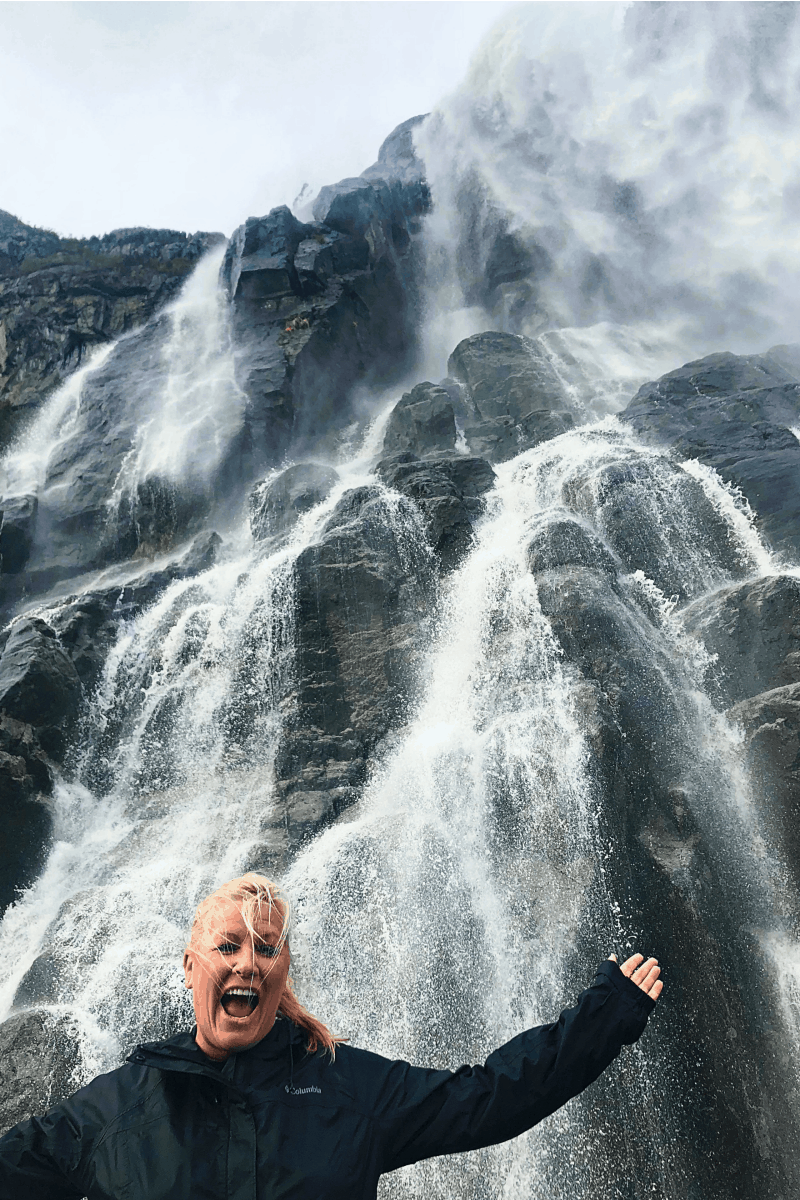 We chose to do the Pulpit Rock Cruise. Right next to the ship, we boarded our boat and traveled through one of Norway's most stunning fjords: Lysefjord (meaning "light fjord" and named for the lightly colored granite rock that rises from the waters– see first photo in this post!) We cruised up next to towering waterfalls.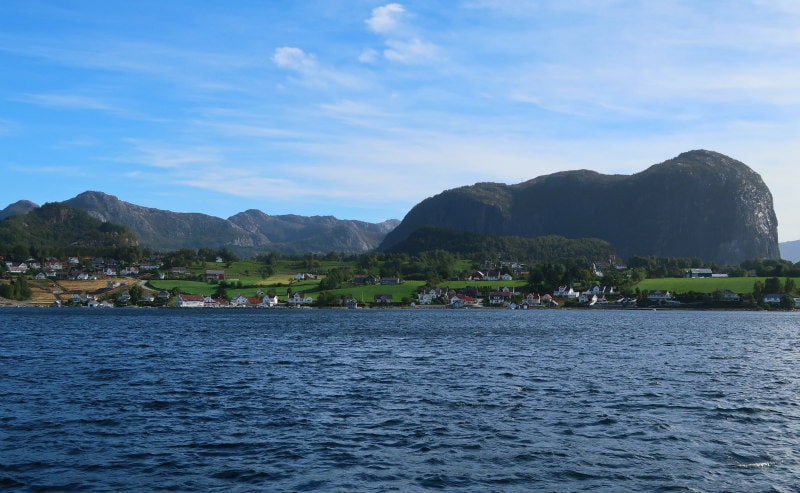 And we got a peek at the quaint villages along the shore.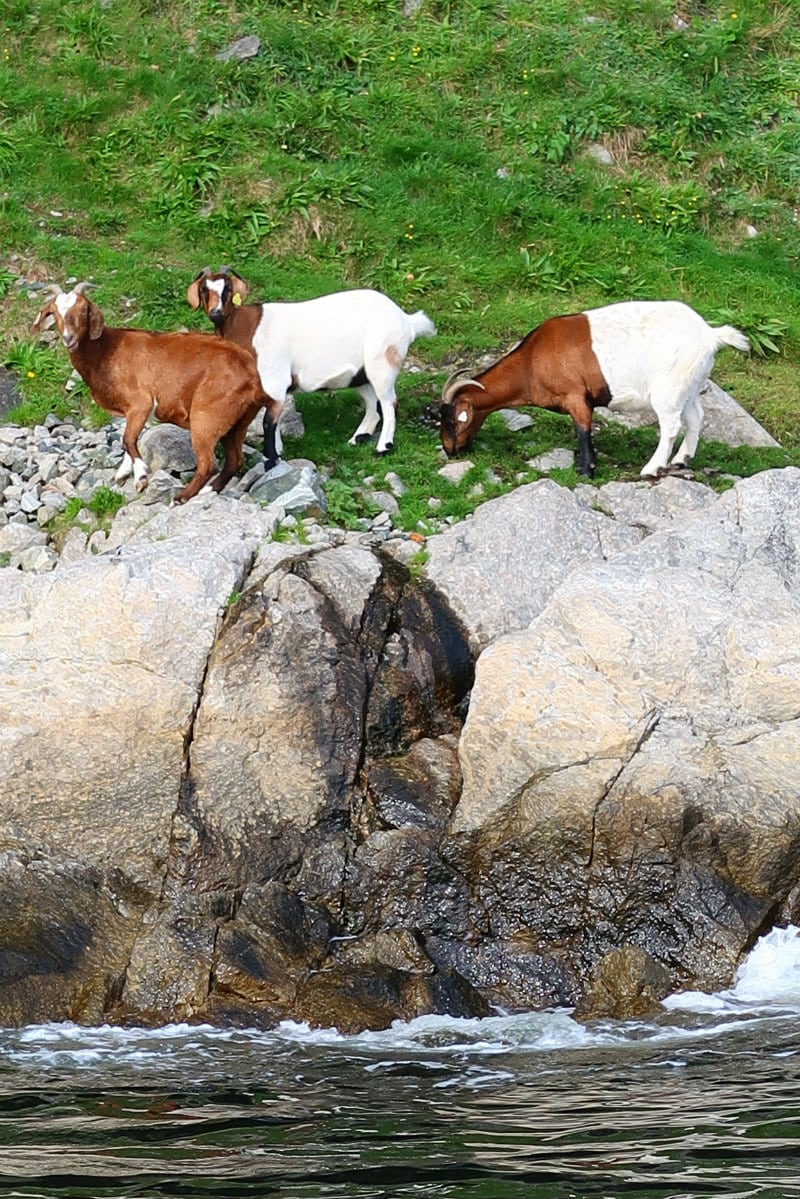 Goats are abundant, and they come down to the water's edge to wait for the boat captain to throw some carrots ashore.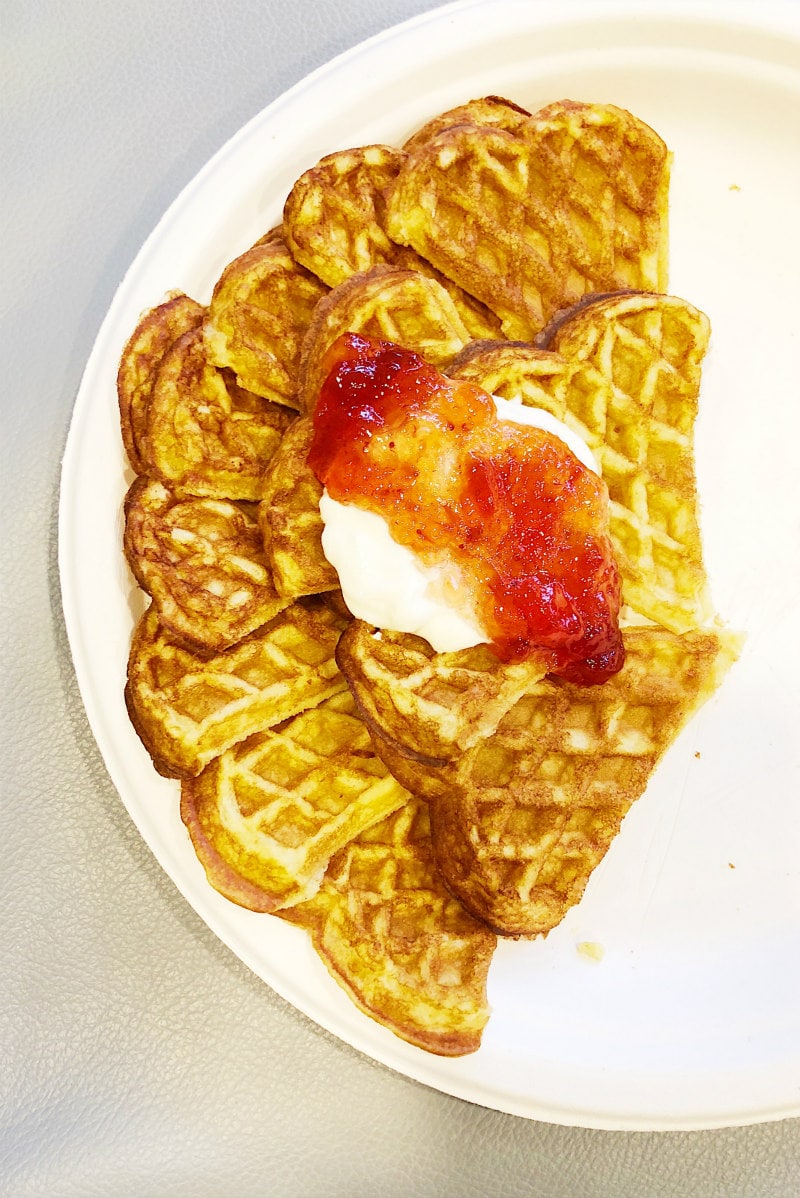 Normally, they take you ashore to one of the beaches and serve waffles with cream and jam. Since we had a rainy day, we skipped the shore stop and were served waffles on board instead. Norwegian waffles are a popular treat to make and share in Norway, and they are traditionally made in a heart-shaped waffle iron.
Next stop: Eidfjord, Norway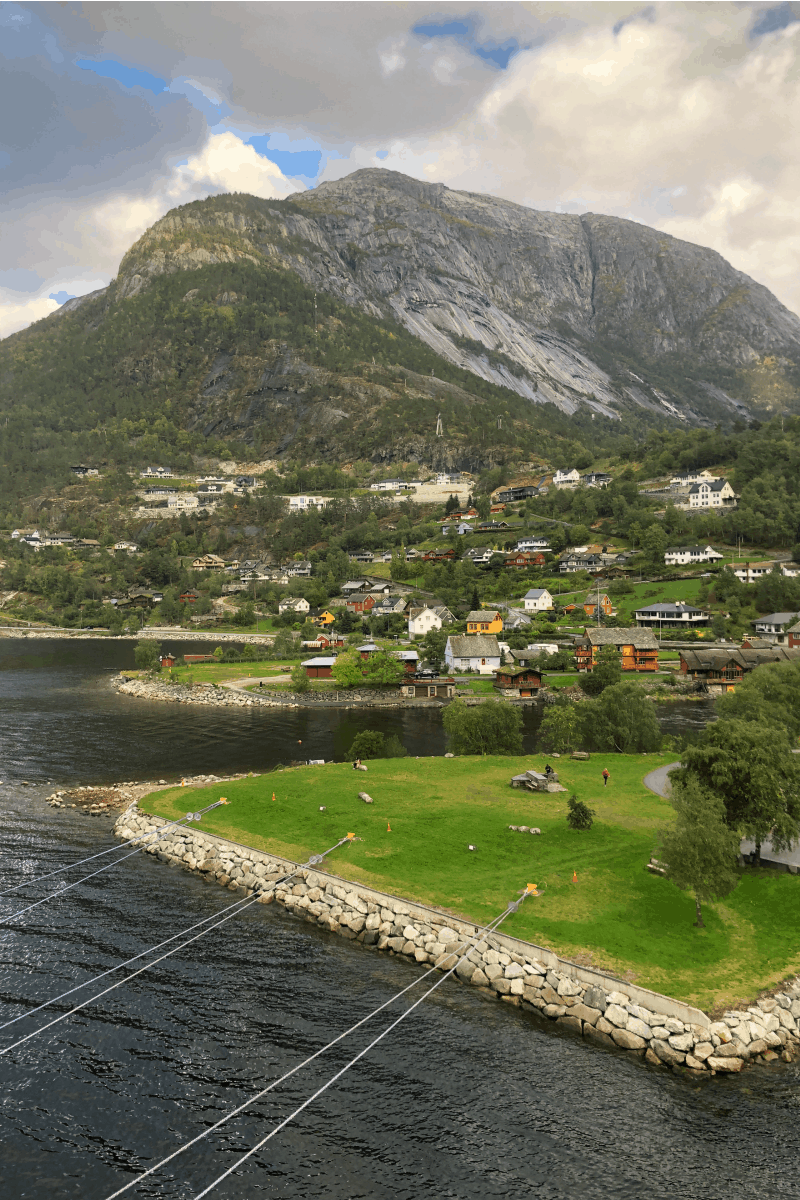 About Eidfjord:
Eidfjord is a quaint village nestled against the mountains. It's an extremely picturesque region with stunning landscape, rivers, streams, waterfalls, soaring mountains and wild reindeer. Eidfjord is located at the end of Eid Fjord. Although there are only 921 residents of Eidfjord. It's a port of call for many cruise ships because it's such a gorgeous place to visit.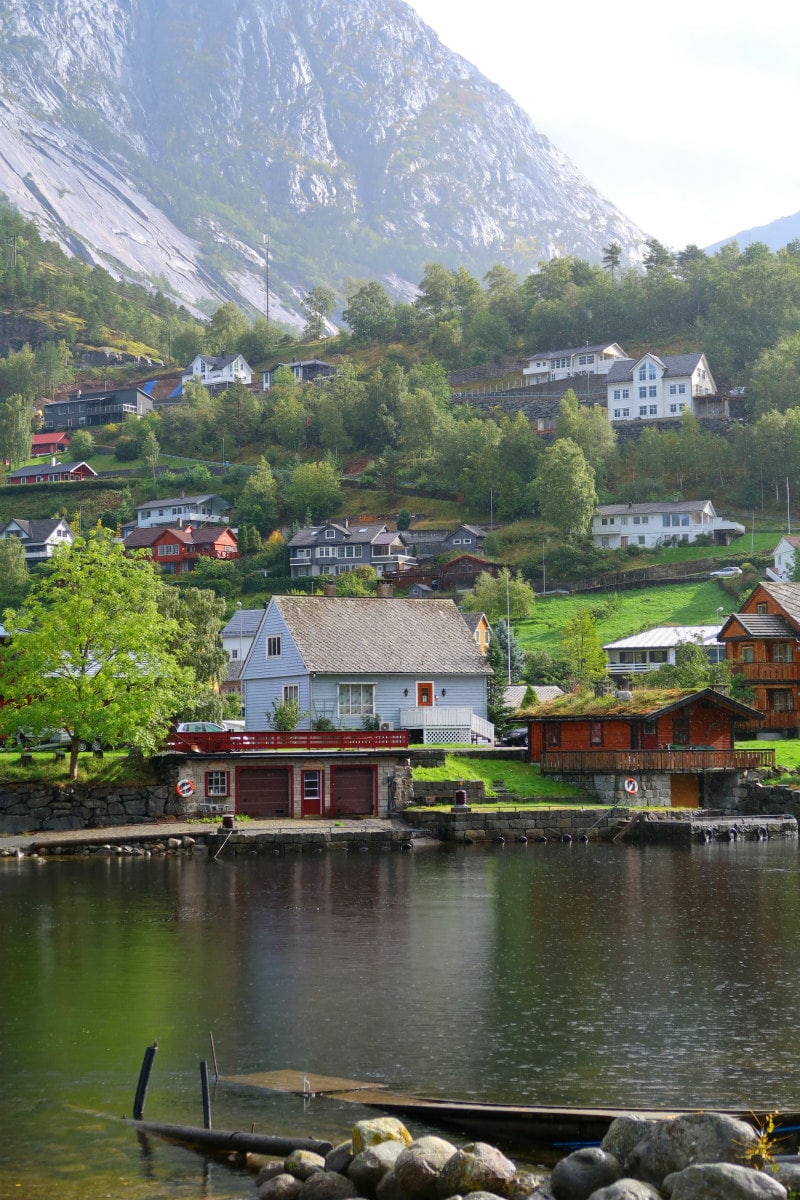 Viking Cruises Shore Excursions offered in Eidfjord:
Scenic Hardangervidda Nature Center
The Scenic Flam Railway
Scenic Hardangervidda and Voringsfossen
Voss, Geilo and Bergen Railway
Viking Village of Gudvangen
Kayaking Adventure
Eidfjord by RIB Boat
Secrets of Cider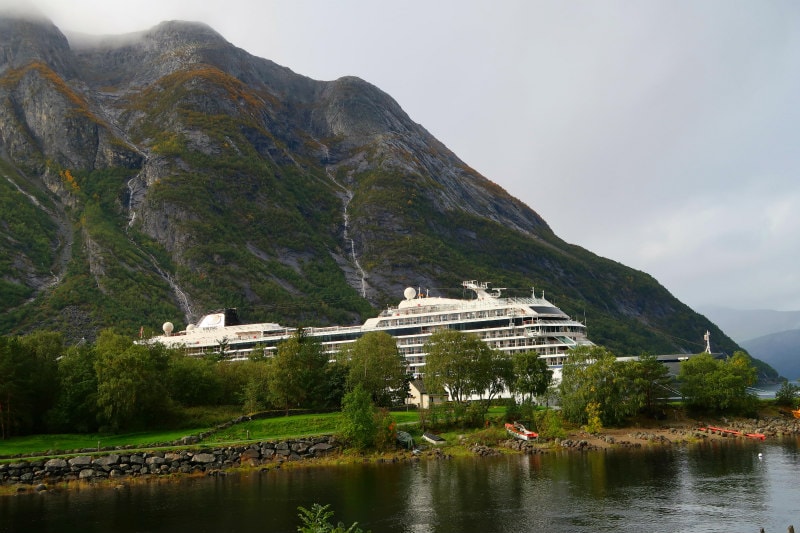 We were originally scheduled to go on the Kayaking Adventure, but it had been pouring rain… and we didn't really have good gear for keeping dry. So we cancelled that excursion and decided to go to the nature center and explore the town on our own instead. It ended up being a very relaxed day, and we were so happy to just have the time to walk around and take in all the beauty of this place. Eidfjord was one of my favorite stops on this cruise because everything is so green and gorgeous.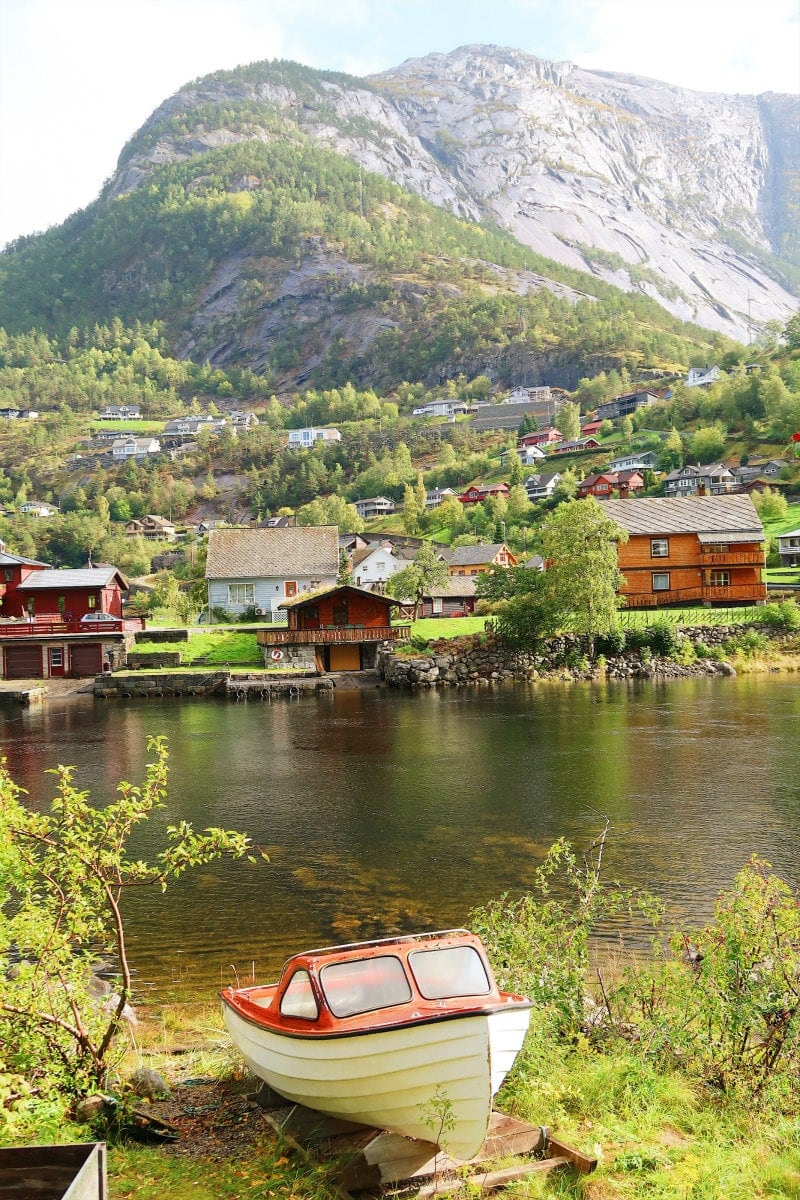 Cruising in to Eidfjord through the fjords of Norway was magical. And then to arrive in this tiny village and park our enormous cruise ship on their shore was just crazy! Everywhere you look in Eidfjord, there is water. The town sits at the base of soaring mountains, and there are waterfalls coming down the mountains all over the place. Rivers and streams are everywhere too.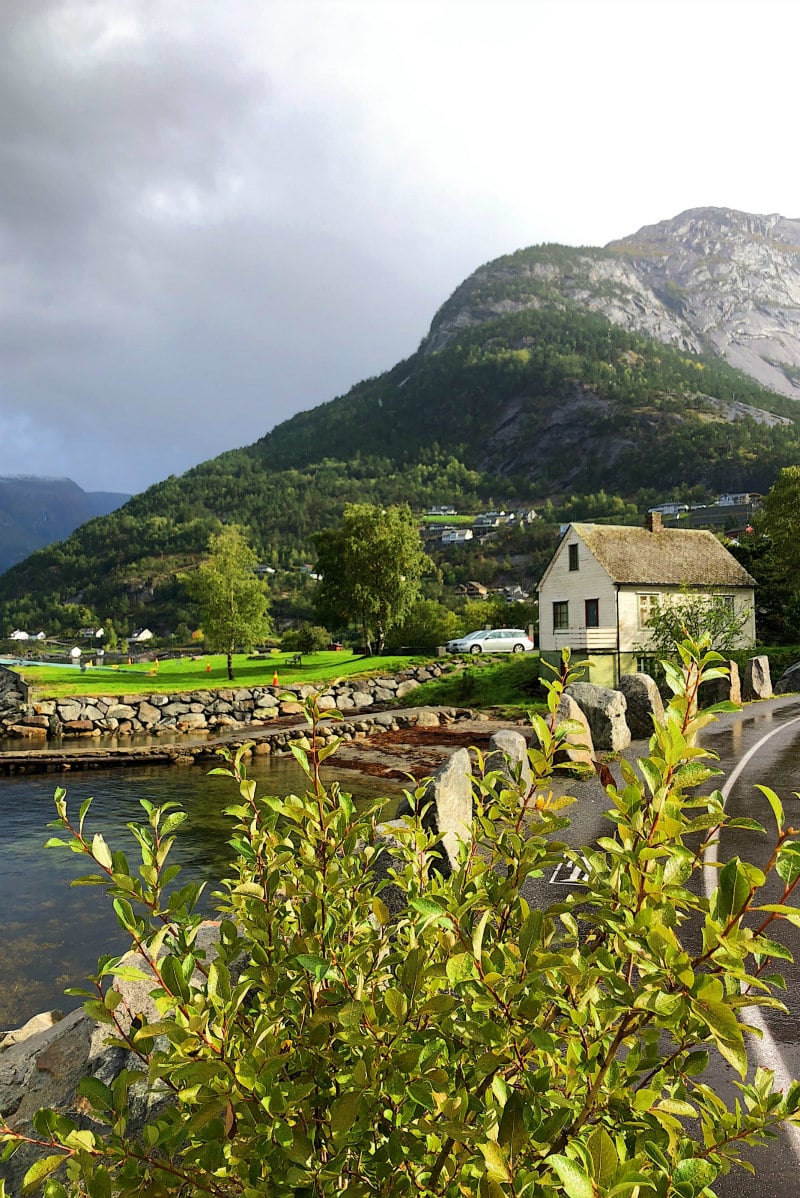 We couldn't help but wonder what it would be like to live in such a remote and relaxing place.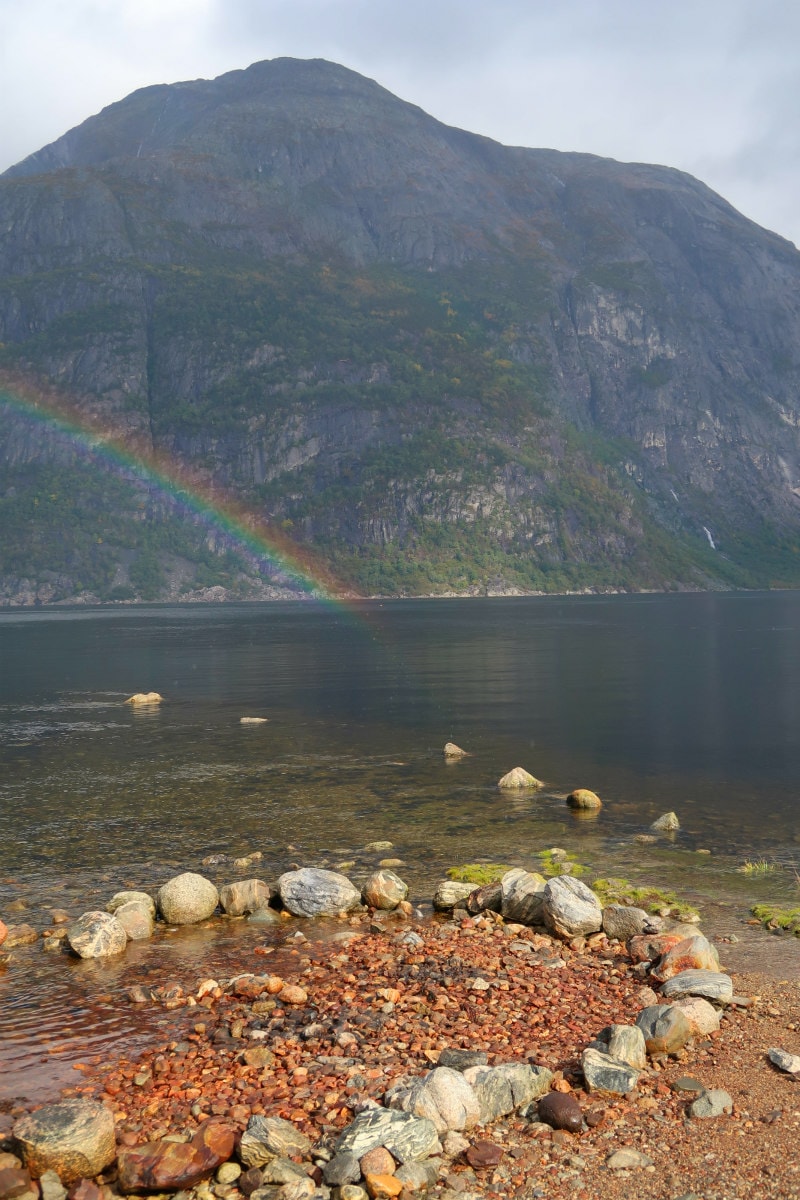 So much beauty.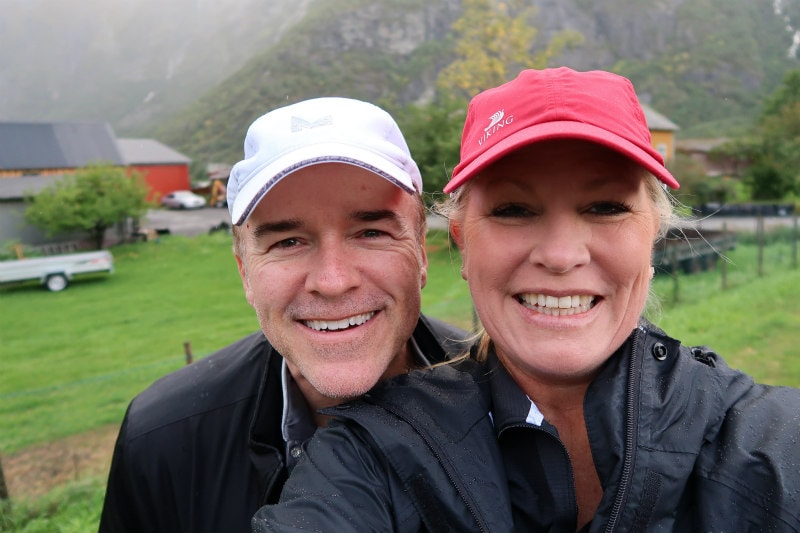 It made us happy!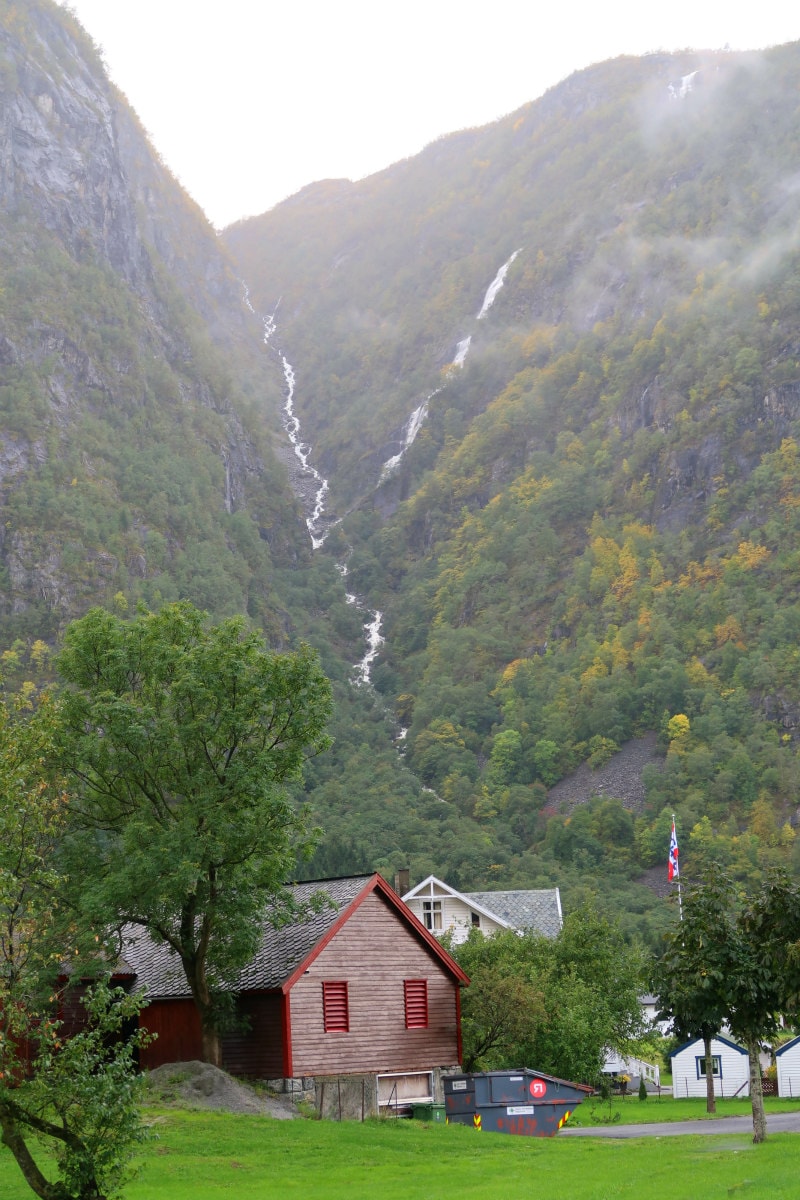 There's a peek at one of the many waterfalls streaming down the mountain.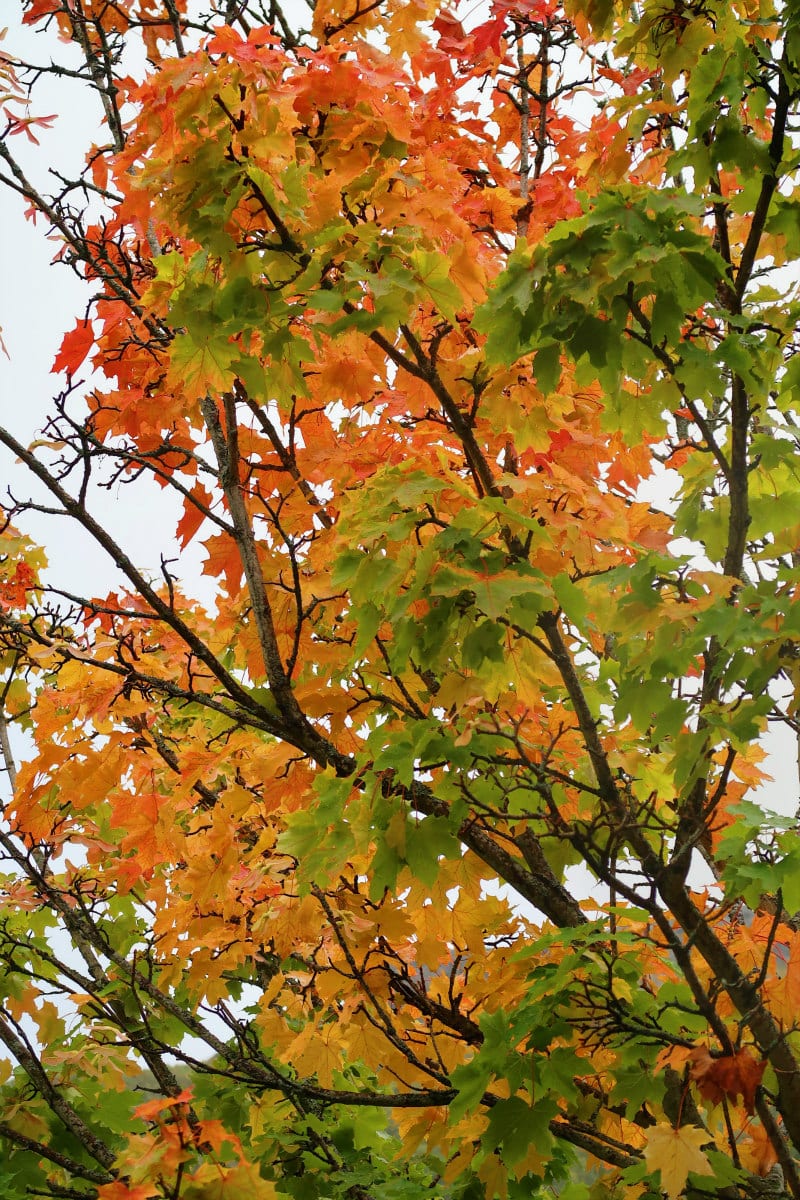 We were there in September, so the leaves were gorgeous.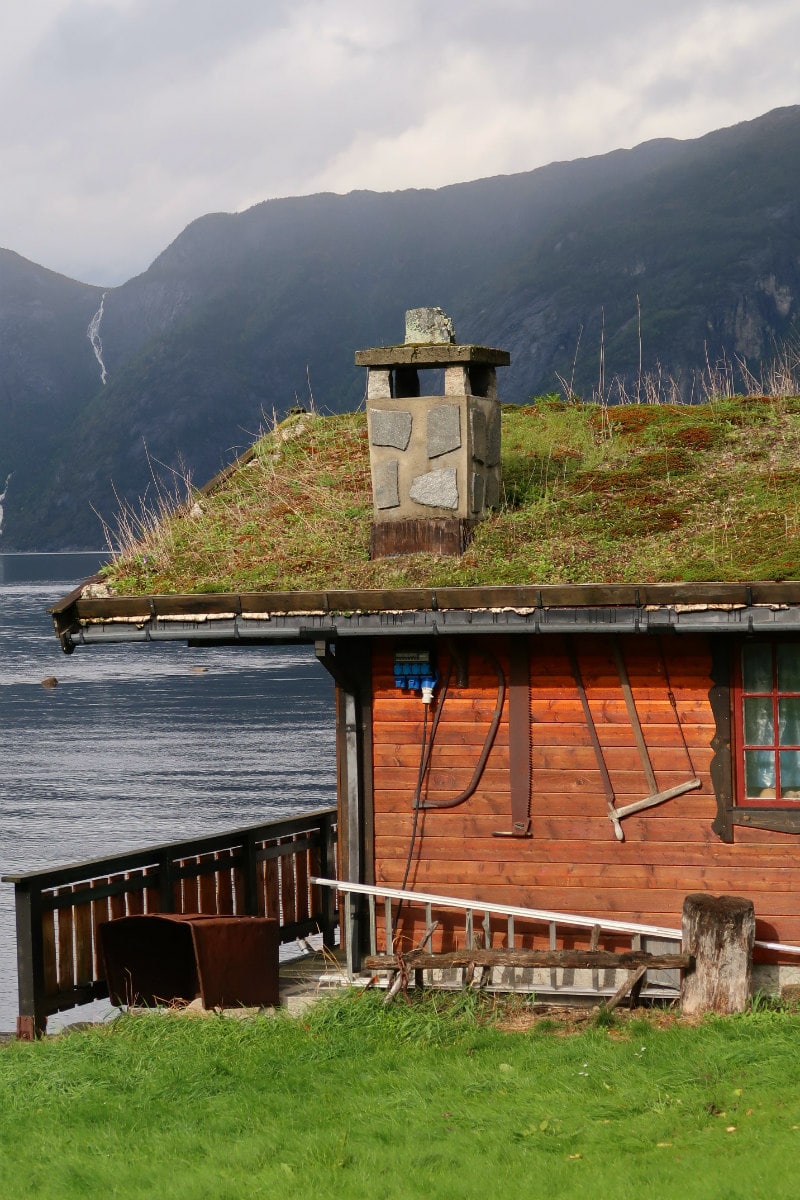 I loved this little shore house with grass growing on the roof.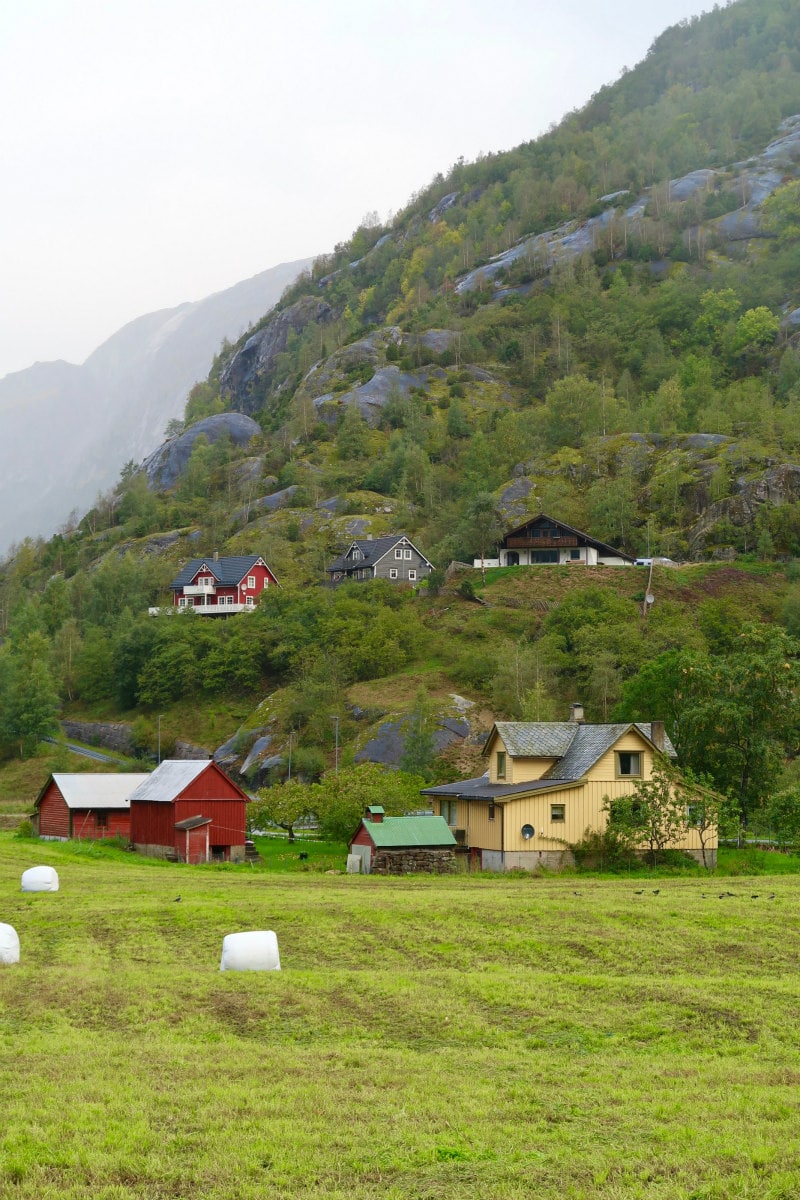 The setting in Eidfjord is so picturesque. Imagine owning one of these pretty mountain homes!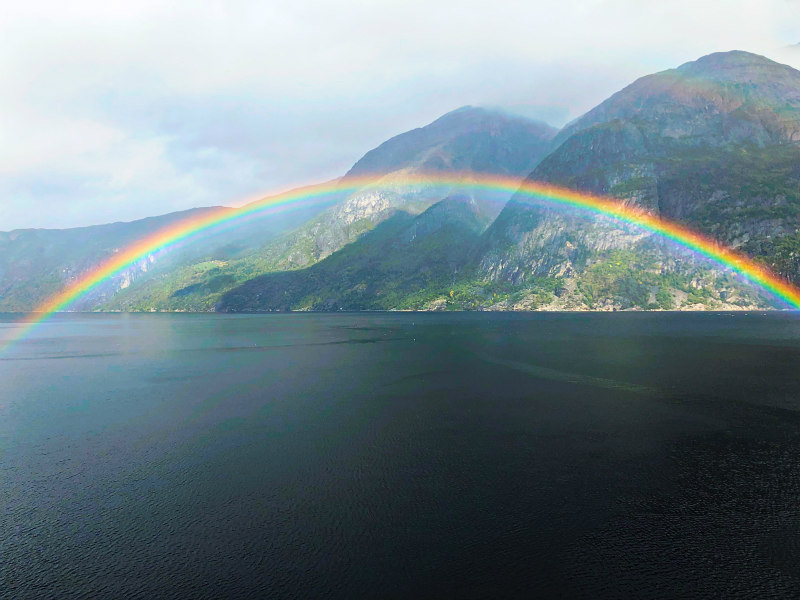 From our stateroom, we were able to capture a picture of a FULL rainbow! I think this is the first time I've seen a full, beautiful rainbow.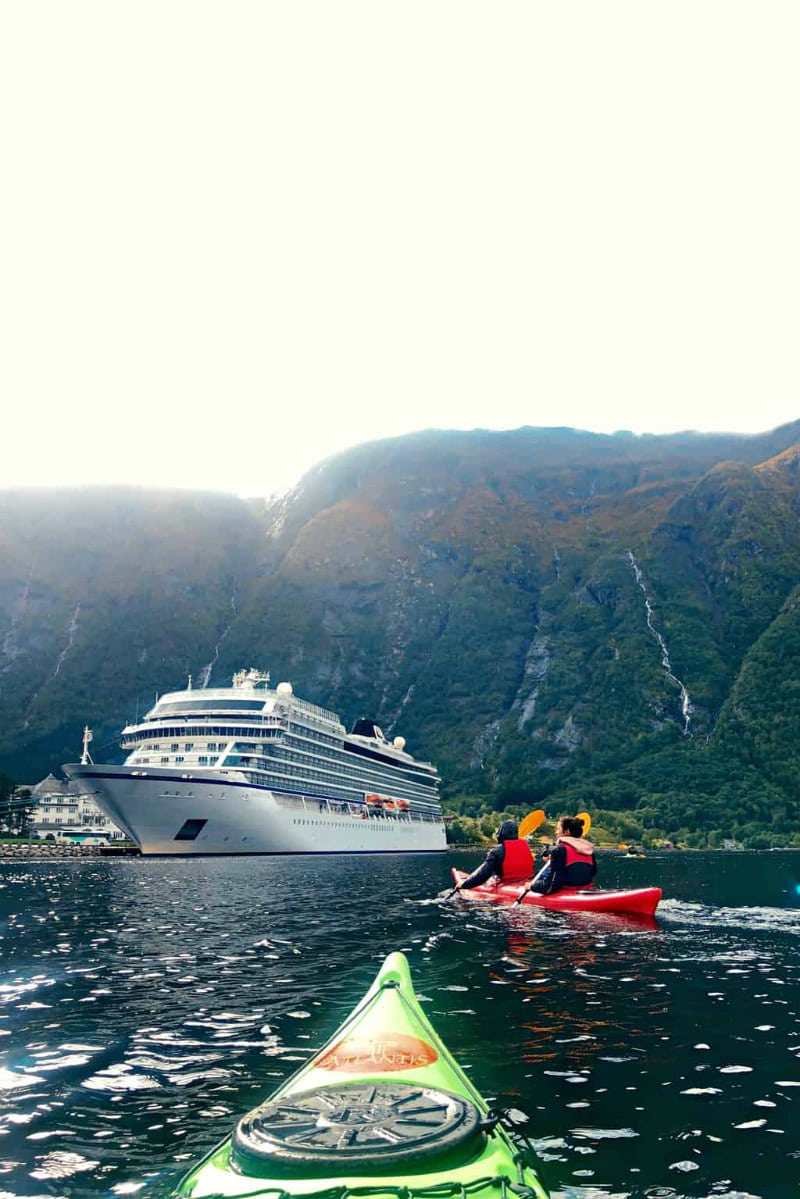 My friend Sandy wasn't intimidated by the rain, and she and her husband went on the kayaking trip. This is a photo from their adventure. They got a little wet, but they told me that it was an amazing excursion!
Final stop: Bergen, Norway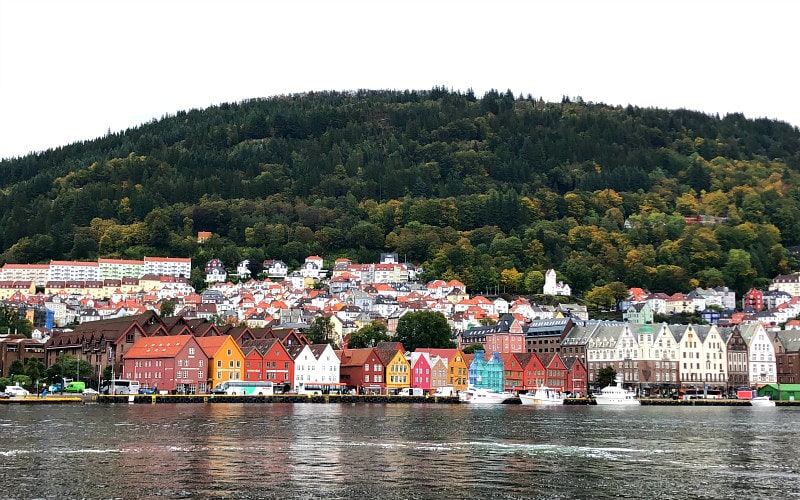 About Bergen:
The city of Bergen, Norway's second largest city, is nestled between huge mountains, magnificent fjords and one of Europe's largest glaciers. Historic, colorful wooden buildings and the amazing seafood market along the wharf are not to be missed. Bergen is considered the most rainy city in Europe (89 inches average per year) with plentiful rainfall in all seasons.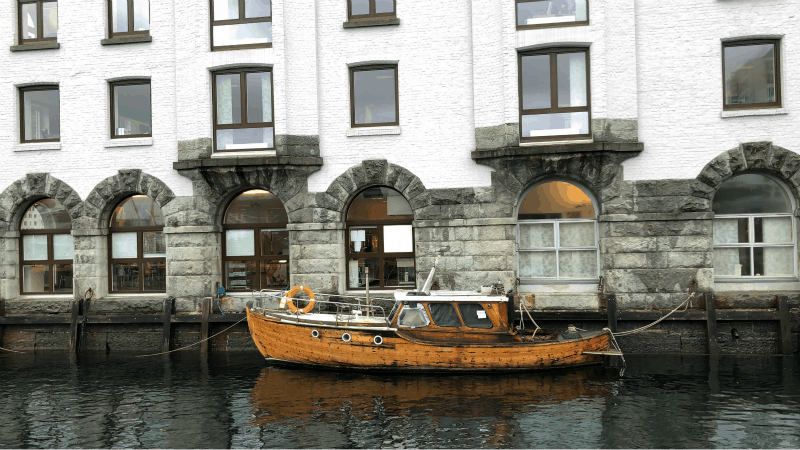 Viking Cruises Shore Excursions offered in Bergen:
Panoramic Bergen
Ascent of Mt. Ulriken
The Best of Bergen and Mt. Floien
A Taste of Norwegian Farm Life
Dale of Norway: A Living Museum
Lysoen Island and Fantoft Stave Church
Flightseeing Over Fjords and Glacier
Scenic Bergen Fjords and King Crab
Mount Floien Hike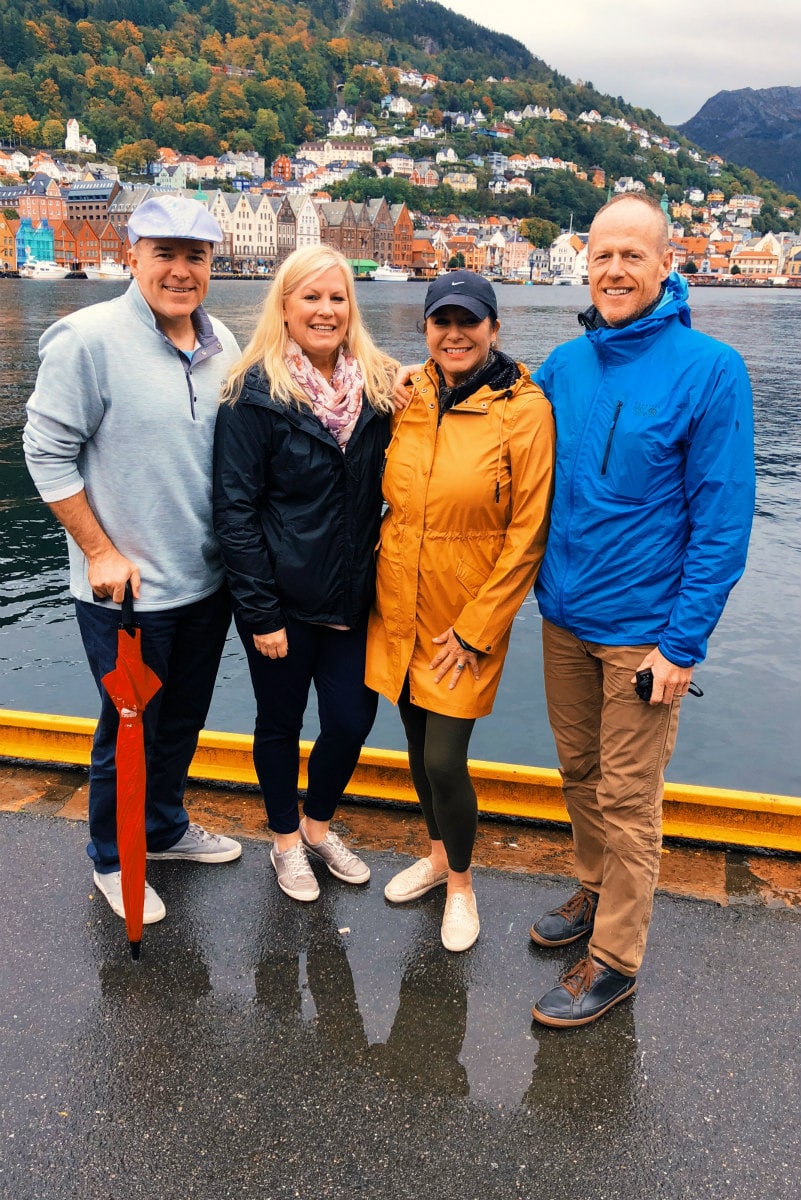 We opted for the Panoramic Bergen excursion, which was a bus tour all around Bergen. We were on the first part of the tour and got a good overview of Bergen, but we hopped off the bus when we stopped downtown so we could explore on our own and grab some food and drink too.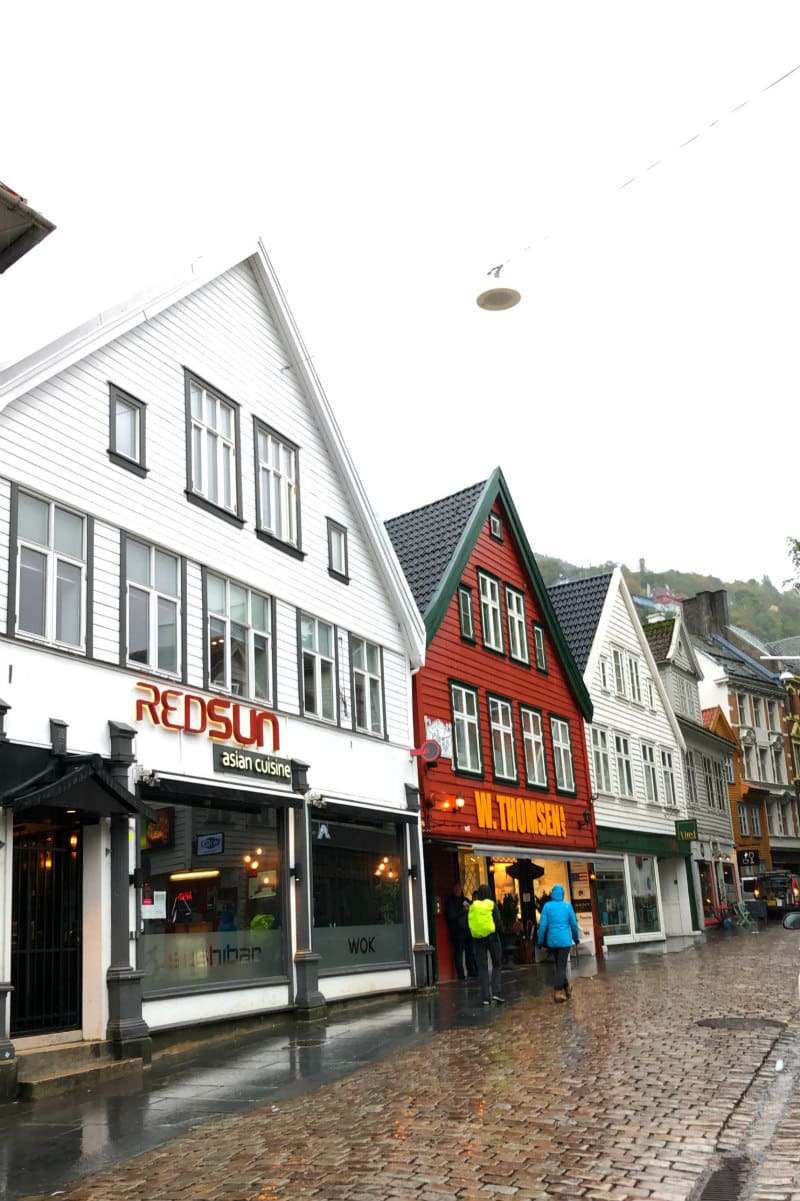 It was raining pretty hard the whole time we were in Bergen, so we just used our umbrellas and trudged along! The buildings are all so colorful and fun.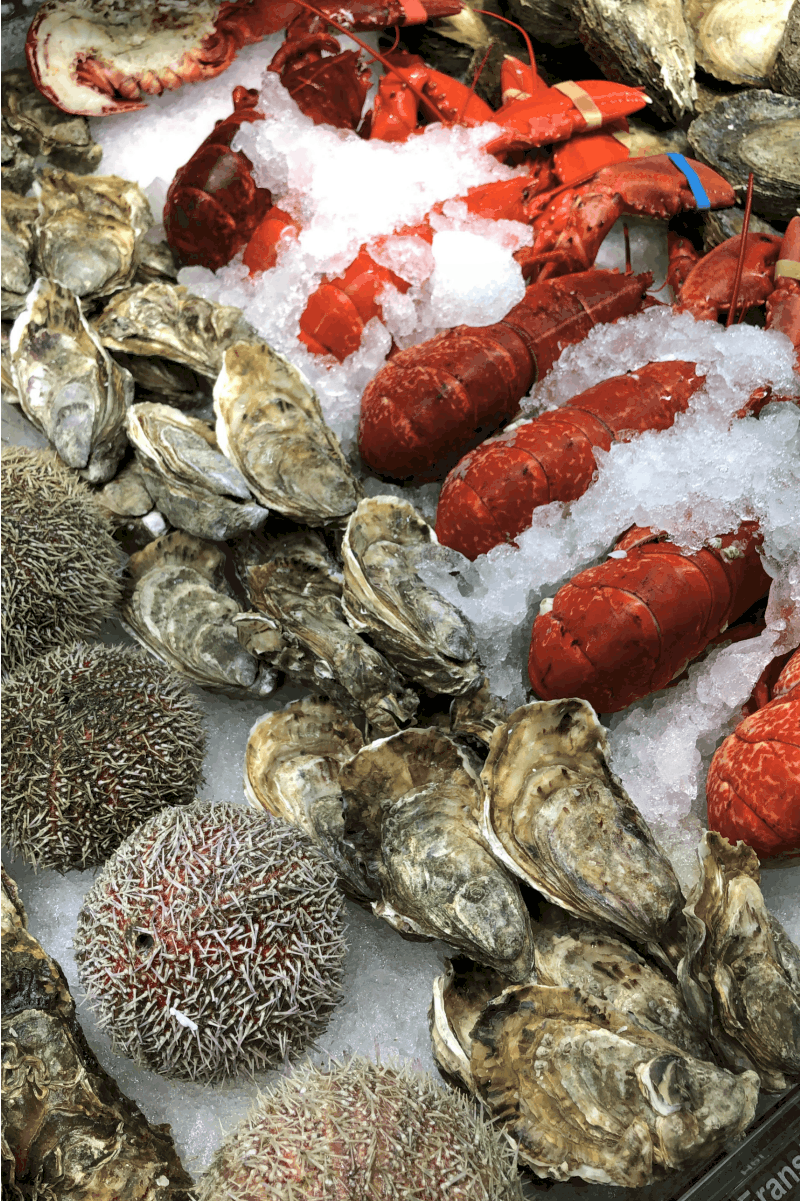 There's a really nice seafood market in town where it appears that everyone goes to pick up their fresh seafood (it was packed with locals!) You can grab lunch there, if you'd like. Everything looked amazing (and fresh!)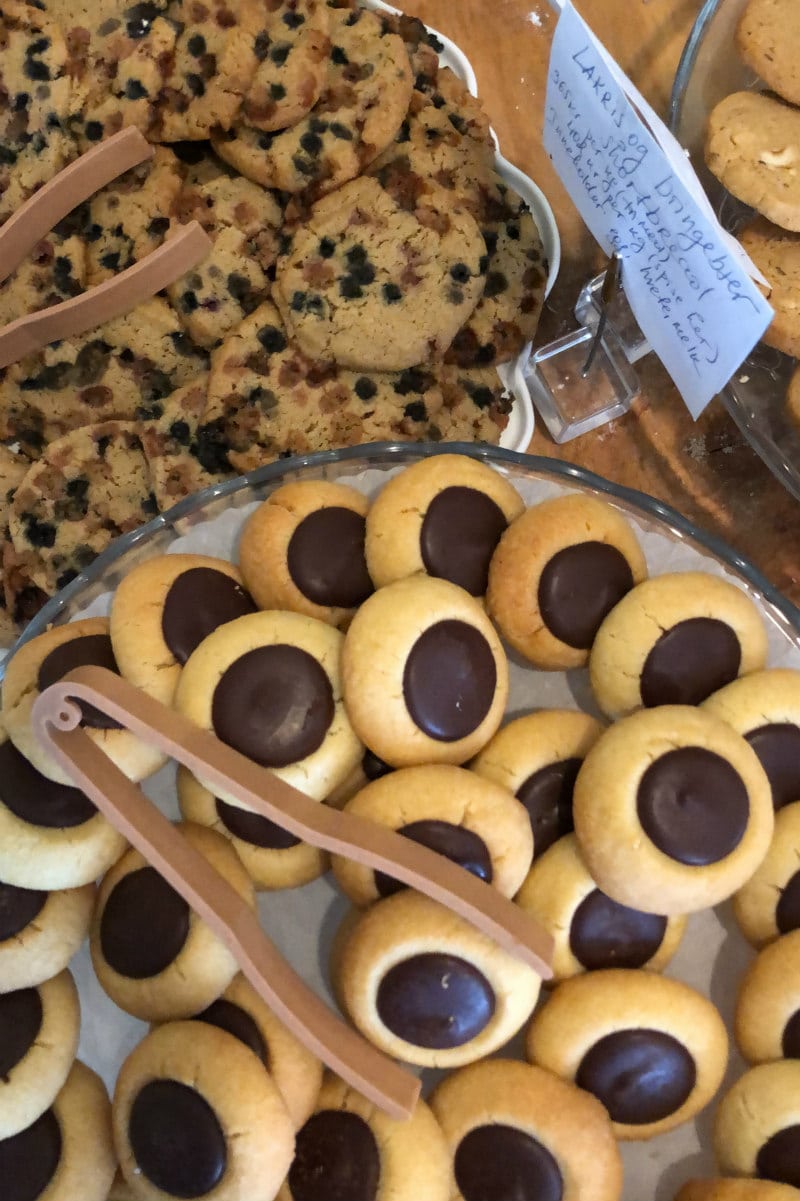 As we were walking along, we found the cutest little Norwegian bakery… so we picked up a bag full of cookies. The gal who owned the bakery told us of an "ice bar" down the street that she had heard was pretty interesting. Naturally, we had to check it out!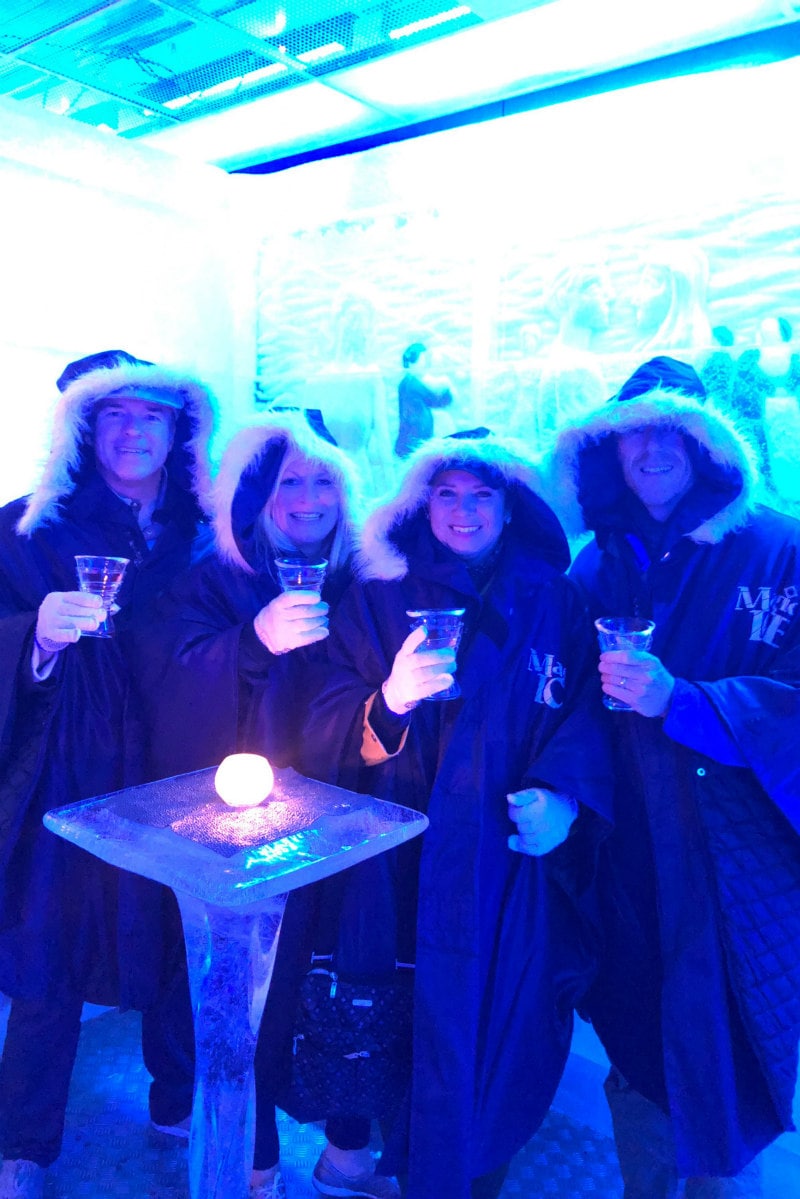 Magic Ice Bar
We were a little worried that this ice bar was going to be touristy (and it kind of was, of course). But it was a fun highlight of our visit to Bergen. I think it was around $20 USD per person. They wrap you up in these cozy cloaks with gloves and send you into the ice bar, which is completely made of ice. The chairs and tables are made of ice and the bar is made of ice too. The drinks are served in ice glasses, and you can walk around and check out the ice sculptures as you sip your cocktail. We all thought it was super fun, and it was a nice ending to our day in Bergen.
Viking Ocean Cruises: Norway – the end!
And that wraps up our Viking Homelands cruise! The four of us had an amazing time on this cruise. If you've ever been on the fence about cruising, I highly recommend trying a Viking Cruise. This was my first time on one of their ocean cruises, and we've done a Viking River Cruise through France as well. Both were such wonderful trips, and I'd book again in a heartbeat. Oh, and if you can share a cruise with a couple of friends, I think that makes it even more fun. We did that on this cruise and loved having friends to enjoy it with. On our river cruise, we went by ourselves and ended up meeting so many people. Either way works!
For more information on Viking Cruises, check out their website: https://www.vikingcruises.com/