When you only have 24 Hours in Berlin, Germany… it's a bit of a whirlwind trying to get everything in that you want to eat and see!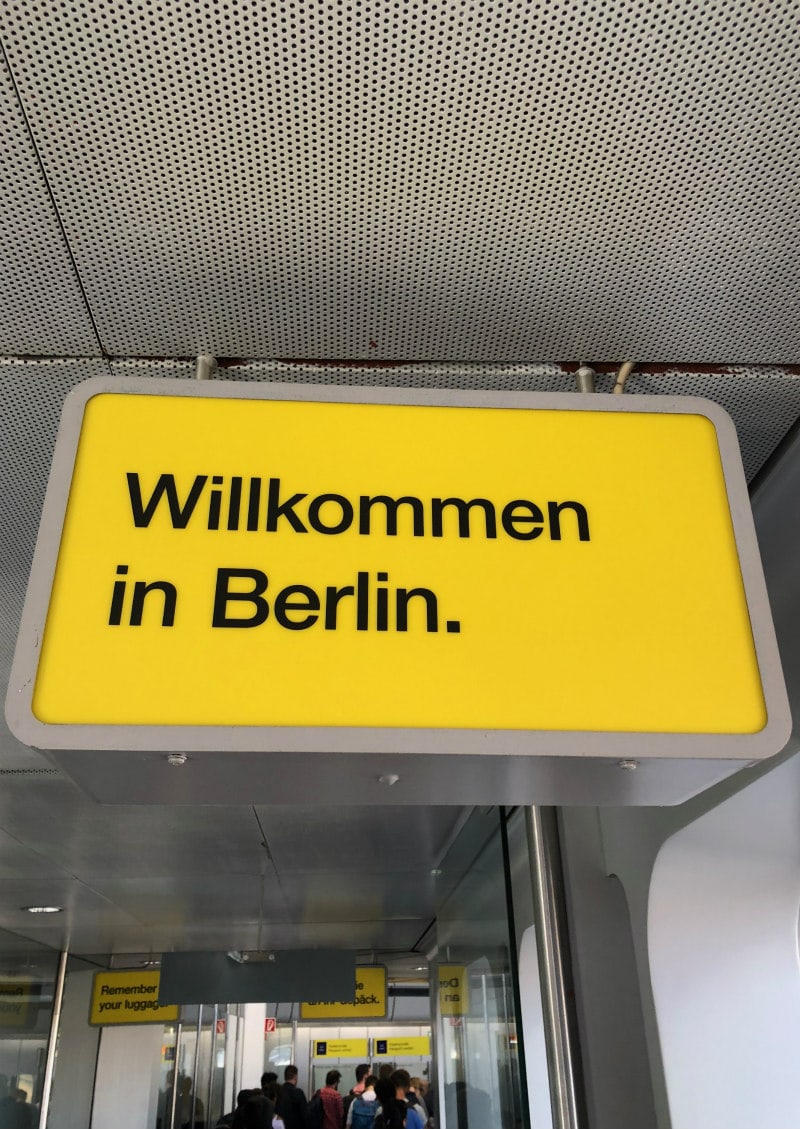 I was invited to Berlin, Germany to embark on the 2nd half of a 15-day Viking Ocean Cruise through the Norwegian fjords in the legendary homelands of the Vikings (through Denmark and Norway).  This was a part of the world I had yet to explore, so I was very interested to go on this trip.  My husband joined me, and our journey began when we landed in Berlin.  We had 24 hours in this historical city before we boarded our Viking cruise.
How bad is the jet lag when you travel to Europe?
If you've ever traveled to Europe, you know that the jet lag is real.  It's tough to travel through time 9 hours ahead of  your home town and try to adjust to a different time of day.  We took an overnight flight (recommended), and did our best to get at least a little bit of sleep on our flight (it's tough).  We landed in Berlin in the morning.  We were tired.  But the worst thing you can do when you arrive in Europe is go to your hotel and take a nap.  It'll mess you up, and you'll never have a normal night's sleep.  It's best to just power it out, and try to stay awake all day until you go to bed that night.  Get on track with normal sleeping as soon as possible.  So that's what we did.  We got to our hotel, unpacked, and then hit the road to explore Berlin!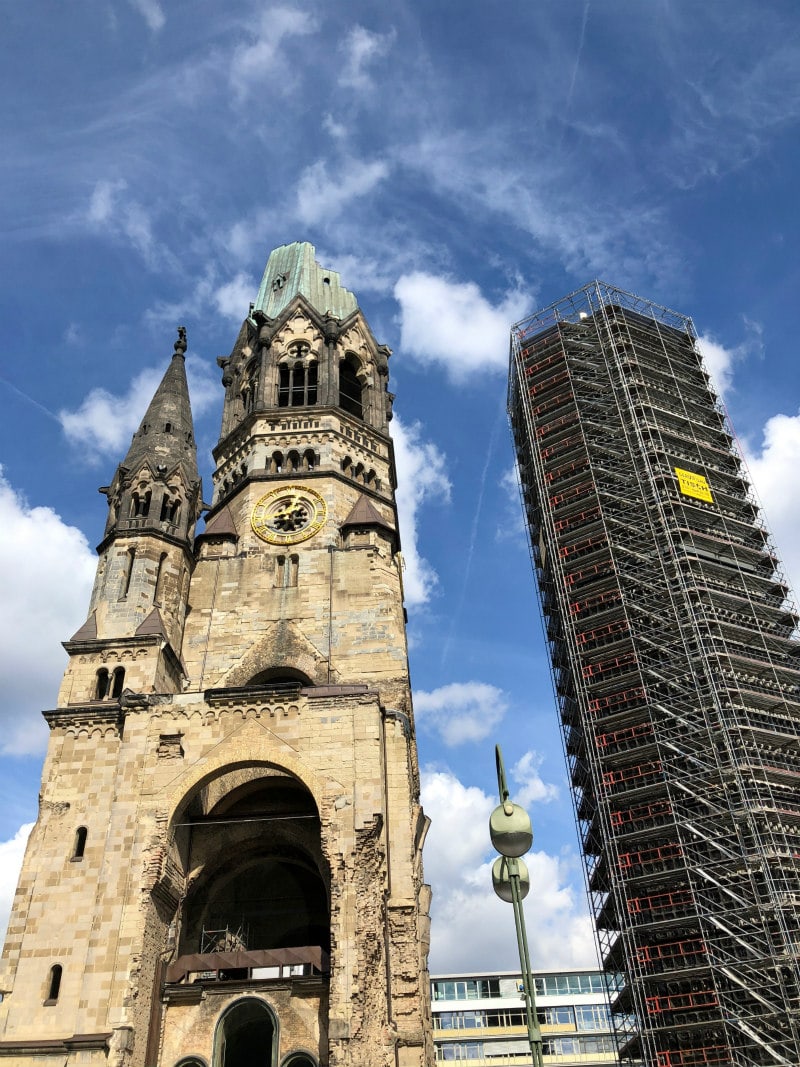 Viking Cruises had all of the press people on the trip staying at the Sofitel Berlin, a five star hotel overlooking Kurfürstendamm, the luxury shopping street in Charlottenburg.  It seemed to be pretty centrally located, and it was a nice and comfortable hotel.
As we ventured out, we immediately came upon the Kaiser Wilhelm Memorial Church- a Protestant church affiliated with the Evangelical Church in Berlin. (from Wiki:) The original church on the site was built in the 1890s. It was badly damaged in a bombing raid in 1943. The present building, which consists of a church with an attached foyer and a separate belfry with an attached chapel, was built between 1959 and 1963. The damaged spire of the old church has been retained and its ground floor has been made into a memorial hall. The Memorial Church today is a famous landmark of western Berlin, and is nicknamed by Berliners "der hohle Zahn", meaning "the hollow tooth".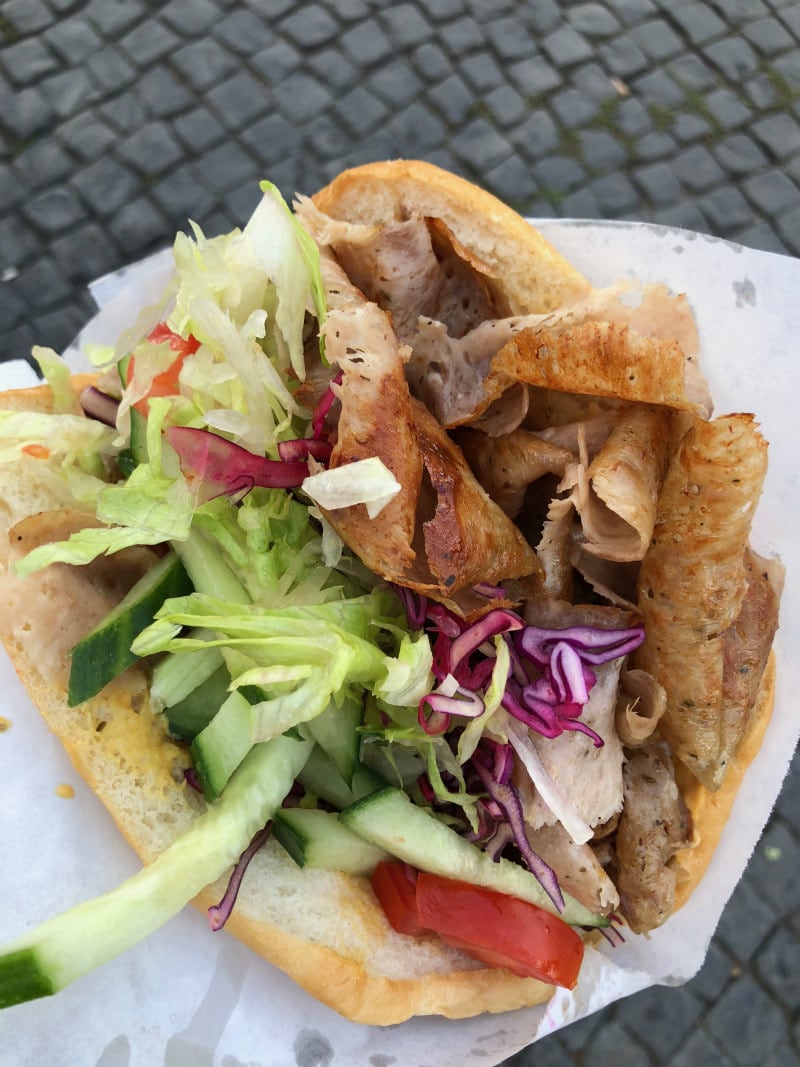 Having just arrived in Germany, we were pretty focused on FOOD.  The concierge recommended that we find a Döner Kebap Sandwich.  This is common street food found all over Germany.
The best way to describe it is to think of how Gyros are made.  You know… the Greek fave- a big slab of lamb from which they shave slices to create a Gyros sandwich?  Same thing with the Döner Kebap. It's fresh baked pita stuffed with marinated chicken or lamb and topped with lettuce, tomato, onions, cabbage, chili flakes, and garlic-yogurt sauce.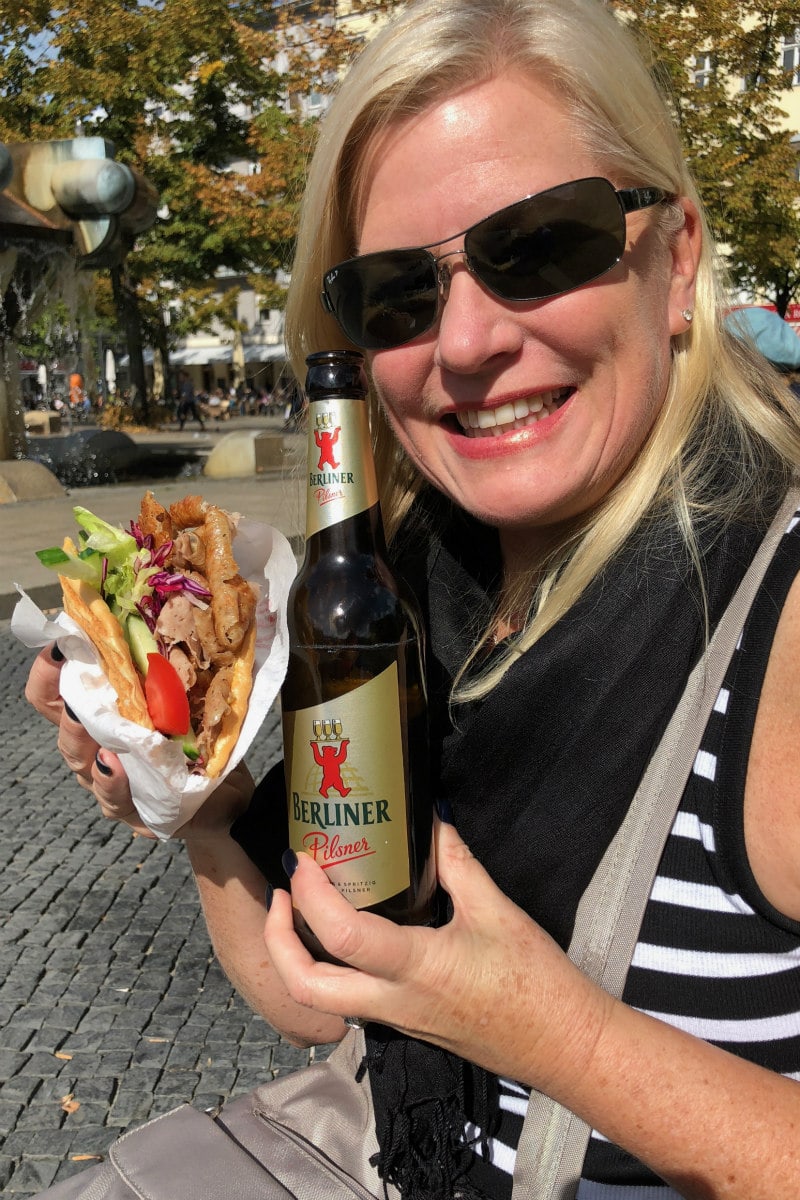 It's delicious.  And it was probably even more delicious because we were totally starving!  You can order a beer with your street food and carry it though the streets with you.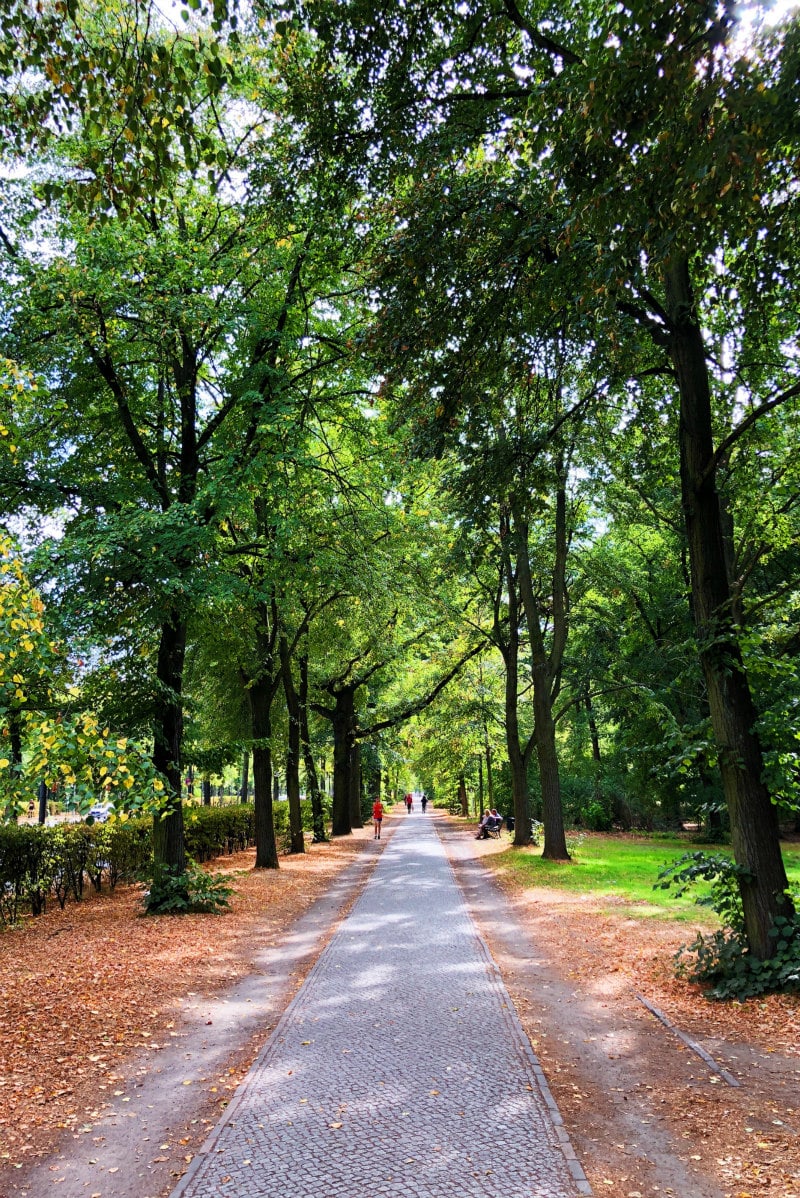 Tiergarten Park
If we'd had more time to research and plan out our day, we probably would have done so.  But we knew we'd be tired, and we just set out walking with a map in hand.  The concierge had told us that walking was probably our best bet.  We found a beautiful park to walk through-
Tiergarten Park, which is one of Europe's largest and most beautiful innercity parks.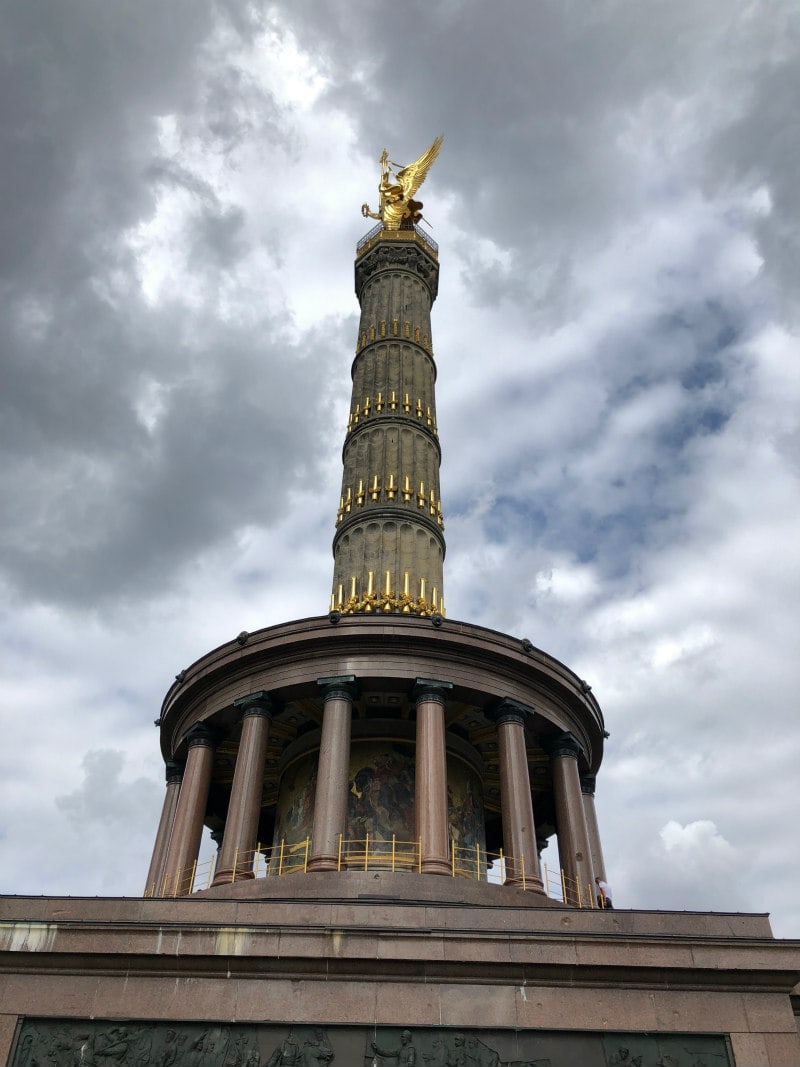 The Victory Column
On the other side of the park, we came upon the Victory Column, a monument in Berlin, Germany. It was built to commemorate the Prussian victory in the Danish-Prussian War.  It's a popular tourist attraction in Berlin.  You can buy tickets to go to the top and get an elevated peek at Berlin, but we opted not to do that.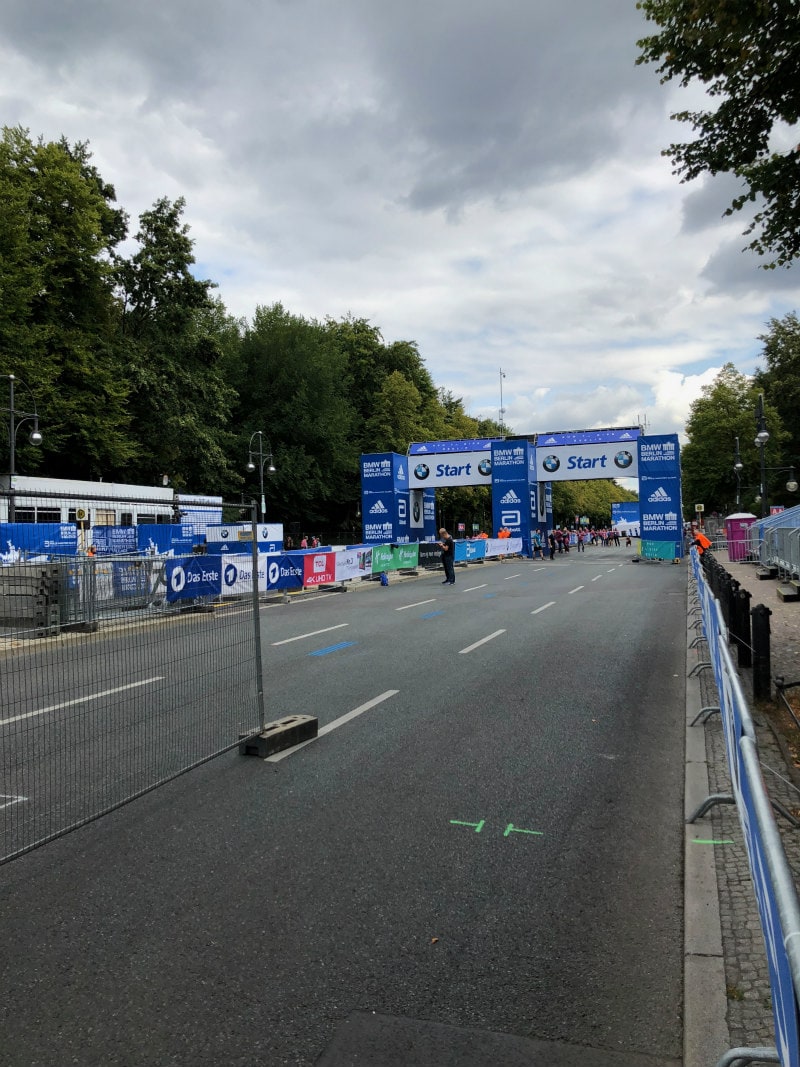 They were getting the entire city ready for the Berlin Marathon.  Inline skaters (roller bladers) had completed the marathon the day we arrived.  The big running race was set to take place the following day.  The Berlin Marathon is one of six of the largest and most renowned marathons in the world. It's a huge event, and people from all over the world come to race in the marathon.
As it turns out, we ended up being about three miles from our hotel, and we weren't able to get grab a taxi to get back… because they were closing all of the streets down for the marathon!  So we continued to explore!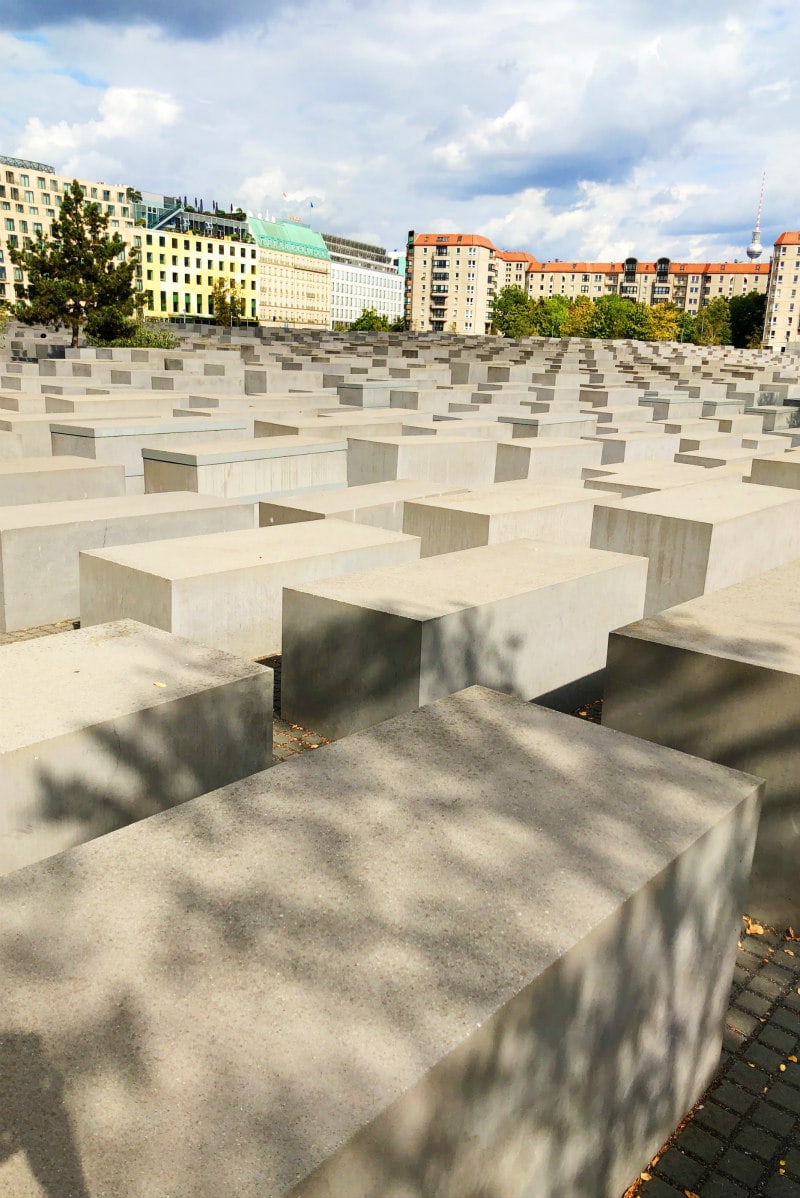 The Holocaust Memorial
By this time of day, we were getting pretty tired from our journey and lack of sleep… but we powered it out, and it's a good thing we did.  We came upon some pretty important pieces of history.
This is the Memorial to the Murdered Jews of Europe, also known as the Holocaust Memorial. The monument is composed of 2711 rectangular concrete blocks, laid out in a grid formation. The monument is situated on the former location of the Berlin Wall, where the "death strip" once divided the city. During the war, the area acted as the administrative center of Hitler's killing machine.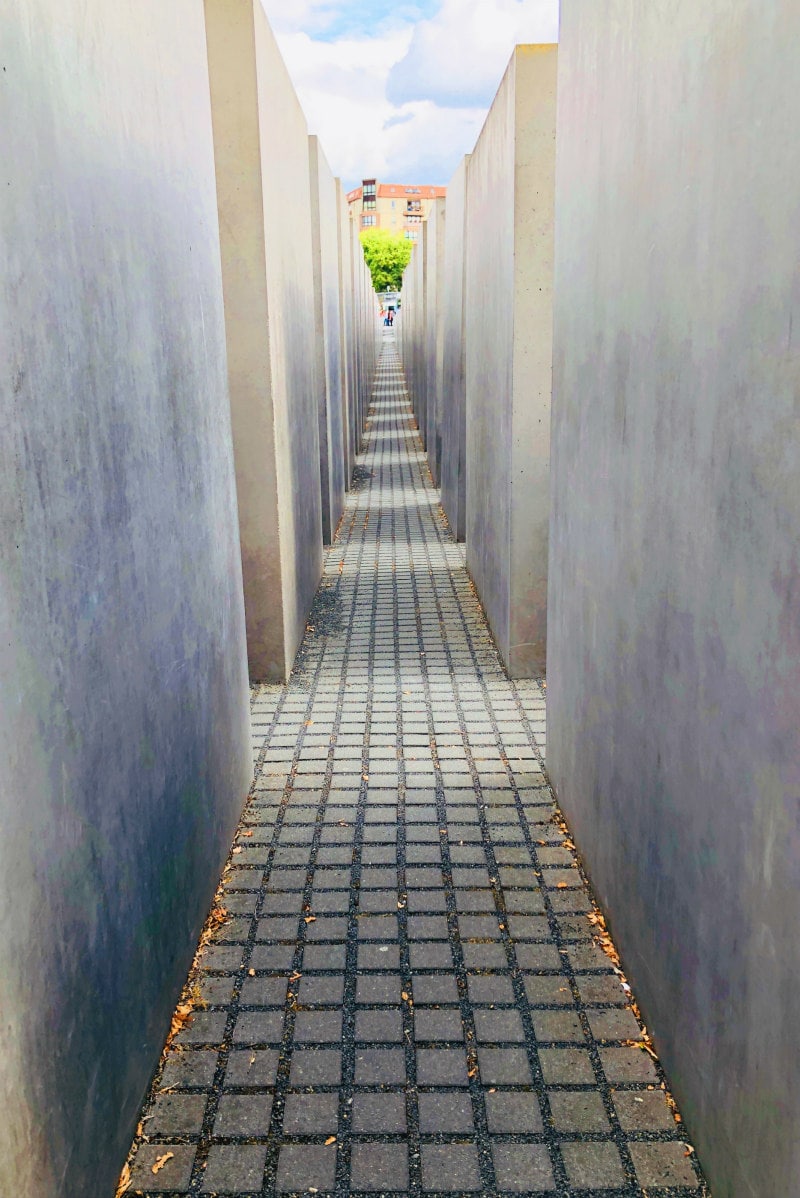 Before World War 2, Berlin had one of the largest Jewish populations in Europe.  This is a memorial to the Jewish victims of the Holocaust. An attached underground "Place of Information" holds the names of approximately 3 million Jewish Holocaust victims.
I really wish we had more time in Berlin to learn more about all of this.  It's such a sad and unnecessary part of history.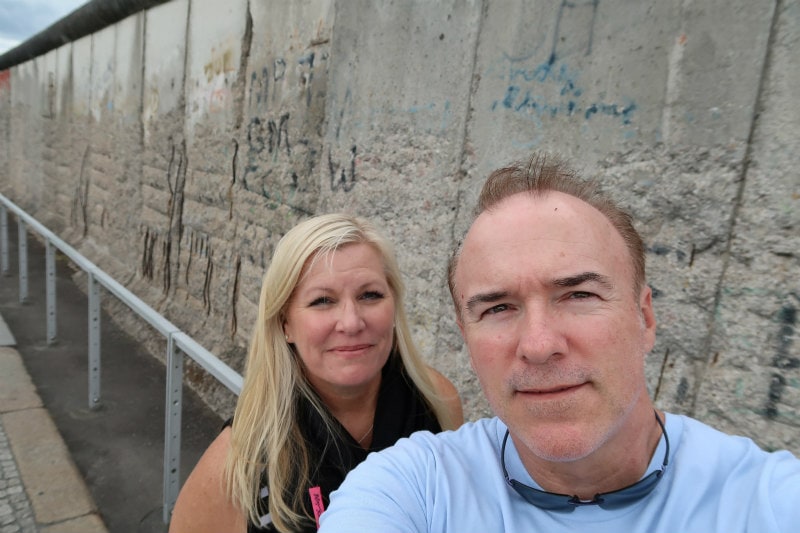 The Berlin Wall
As we meandered back to our hotel, we came across a big chunk of the Berlin Wall.  It's amazing to be walking around Europe and just stumbling into huge pieces of history!!  I can't begin to describe it as well as anyone else, so I'm going to include a chunk of information from The History Channel for you:
On August 13, 1961, the Communist government of the German Democratic Republic (GDR, or East Germany) began to build a barbed wire and concrete "Antifascistischer Schutzwall," or "antifascist bulwark," between East and West Berlin. The official purpose of this Berlin Wall was to keep Western "fascists" from entering East Germany and undermining the socialist state, but it primarily served the objective of stemming mass defections from East to West. The Berlin Wall stood until November 9, 1989, when the head of the East German Communist Party announced that citizens of the GDR could cross the border whenever they pleased. That night, ecstatic crowds swarmed the wall. Some crossed freely into West Berlin, while others brought hammers and picks and began to chip away at the wall itself. To this day, the Berlin Wall remains one of the most powerful and enduring symbols of the Cold War.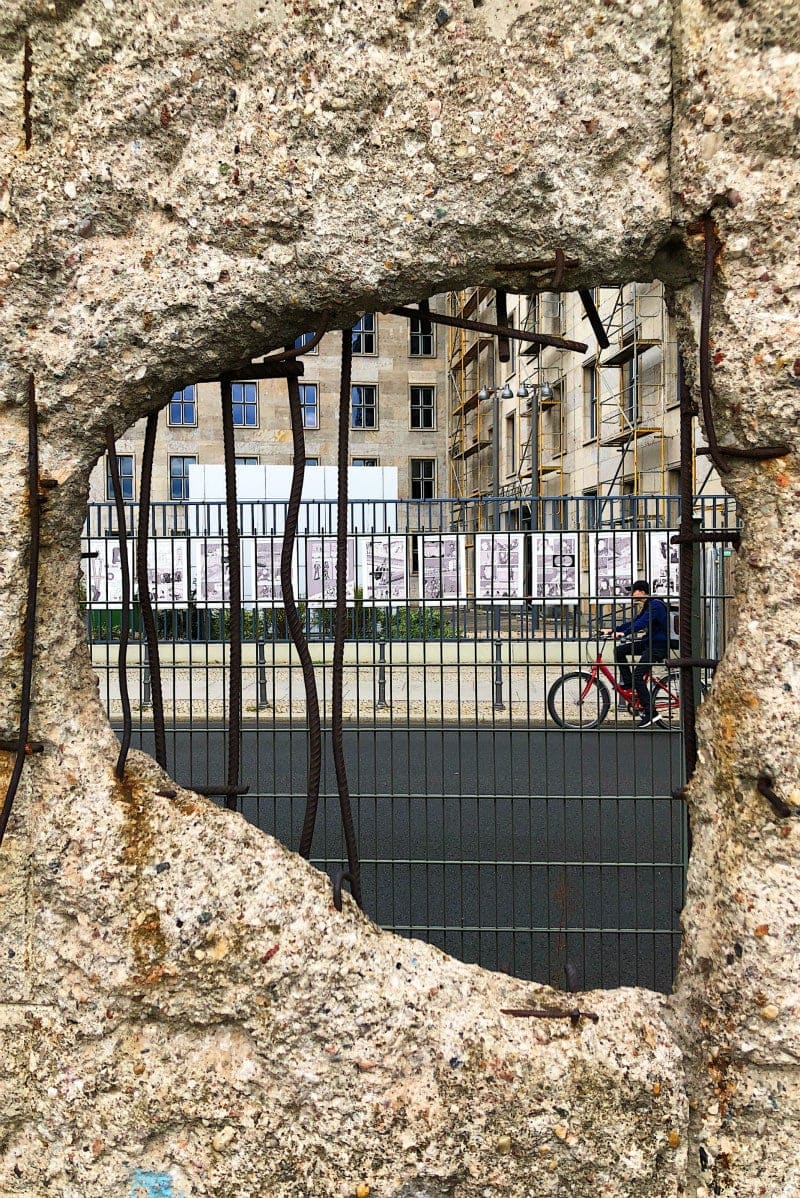 There are still pieces of the Berlin Wall standing- with chunks taken out of it and graffiti splattered on it in places.  It's so surreal to think that the wall once existed as a barrier- with guard towers.  Over 100,000 East Germans attempted to escape over the wall and into West Berlin, where they could migrate to other Western European countries.  Over 5,000 succeeded, and some died during their attempt to escape.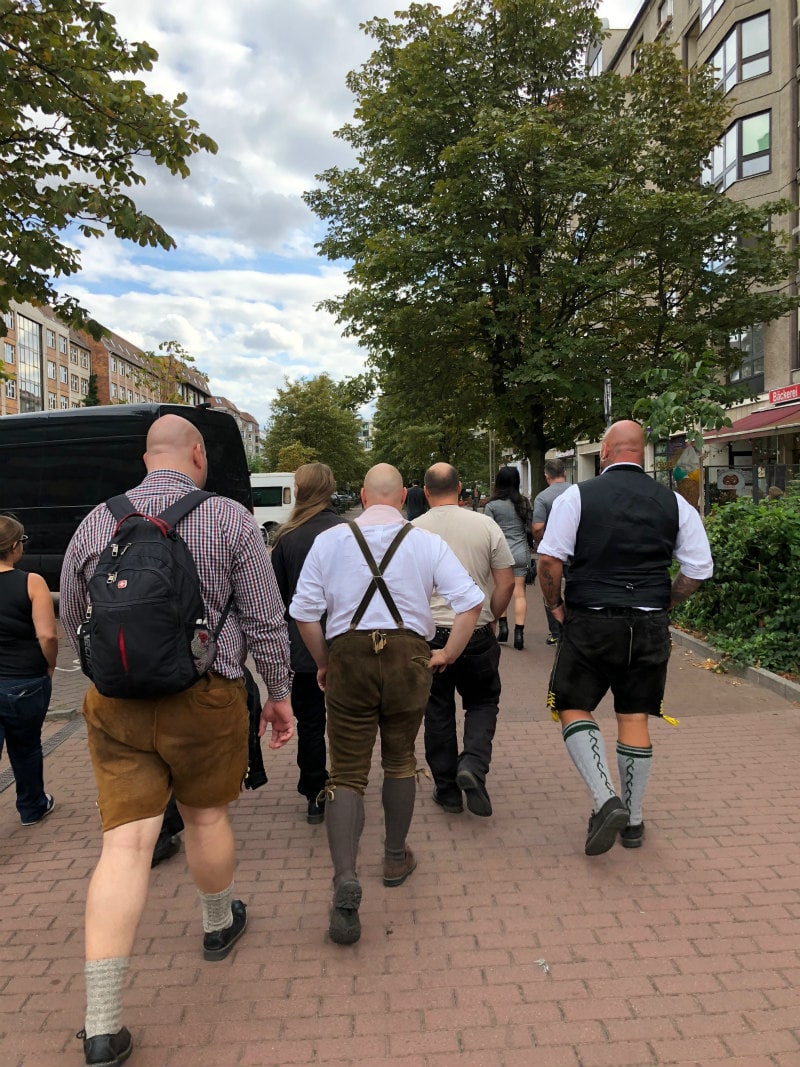 Continuing on our walk… just some German guys.  I like to think this is what they wear on a daily basis, but I think they might have been part of an entertainment type of group.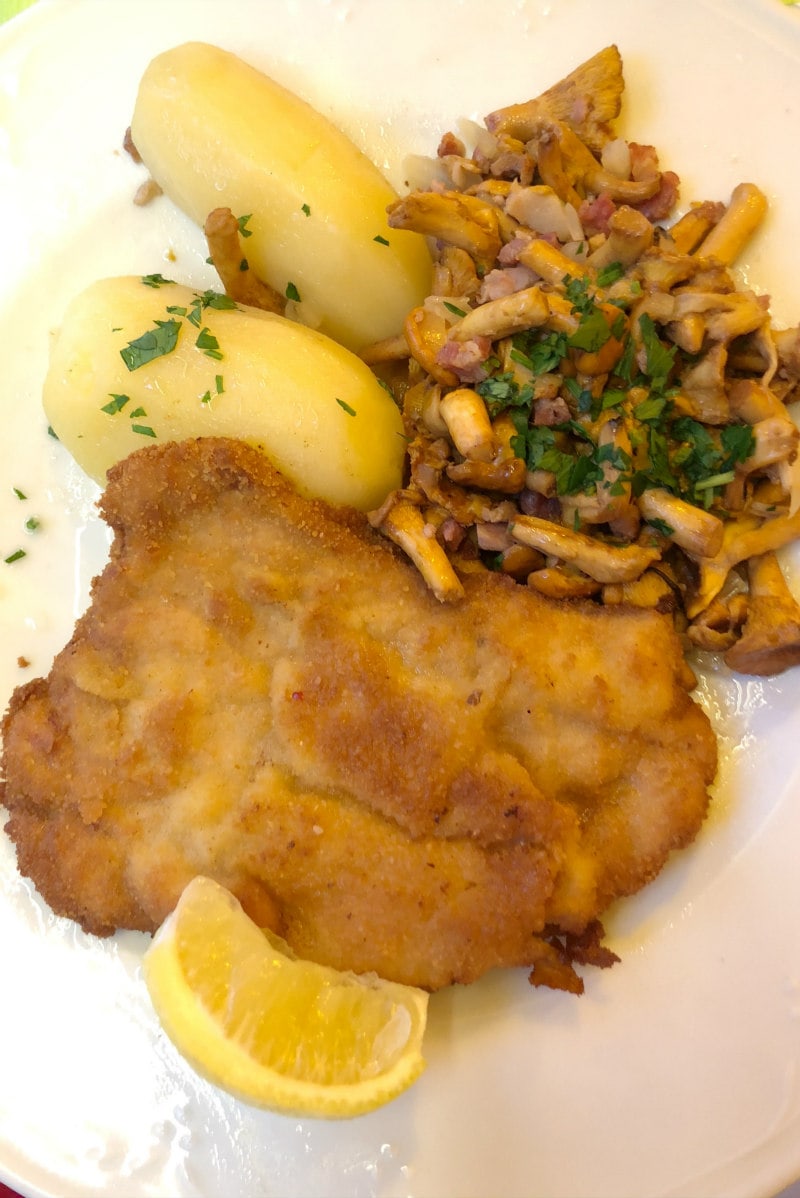 That evening, we enjoyed a fantastic, classic German meal of Pork Schnitzel.  This one was served with sauteed mushrooms and potatoes.  YUM.
Surprisingly, we actually made it until about 10pm without laying down to take a nap.  Every time we sat down though during the day… that tired feeling kind of overwhelmed us.  So we just kept going!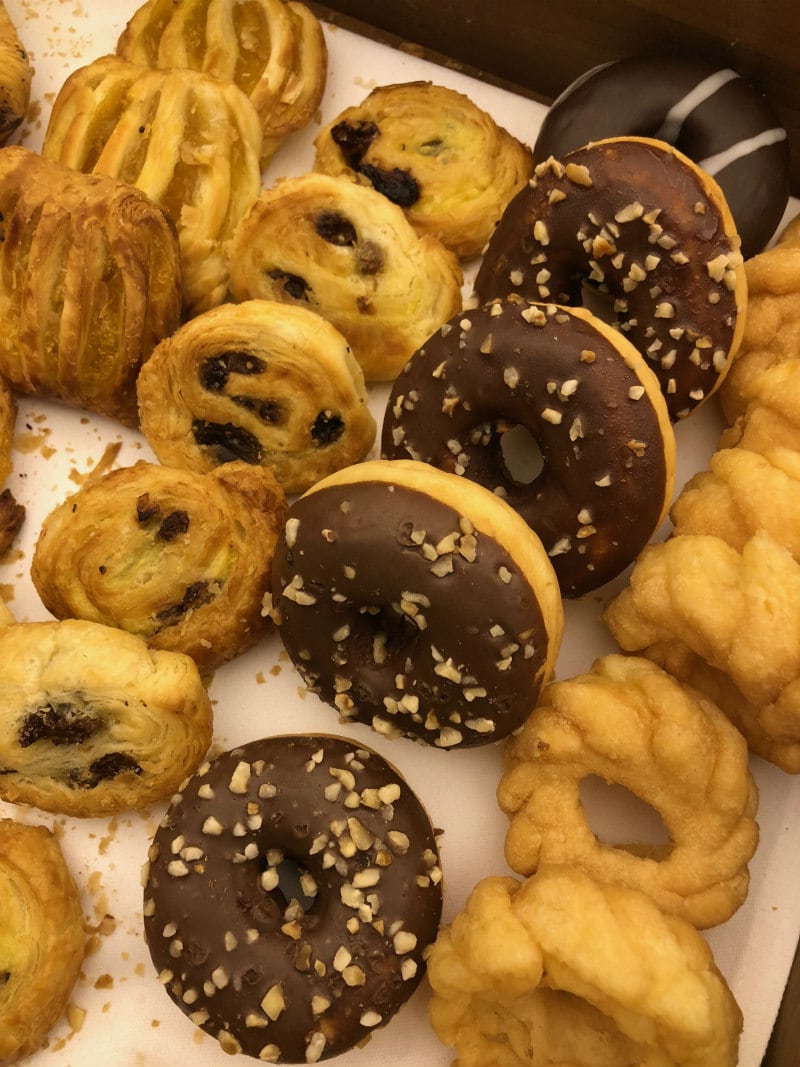 It felt like the best night's sleep ever, and we felt normal and ready to go the next morning. Great pastries were available at our hotel (along with a great breakfast buffet!)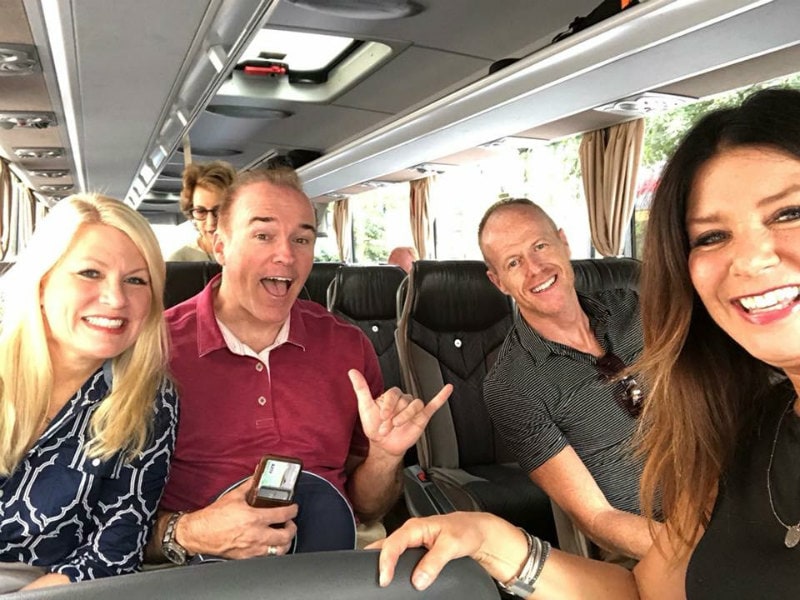 We met up with my friend Sandy (ReluctantEntertainer.com) and her husband for the 3-hour bus ride to our cruise ship.
If you choose to go on this 15-day Viking Homeland cruise, you'll start in Sweden and cruise to Finland, Russia, Estonia and Poland before you arrive in Germany.  From Germany, you'll cruise through the Fjords with several stops in Denmark and Norway.  That's the part of the cruise that we experienced, and I'll be sharing more about it in the weeks to come.
If you're interested in learning more about Viking Cruises, you might like to read about my Viking River Cruise in Southern France.
For more about Viking River Cruises- all of the countries they visit and their itineraries, visit their website:  VikingCruises.com