Viking River Cruises Zurich and the Swiss Alps is my travel adventure that I'm sharing today. It's the beginning of a Viking River Cruise that I went on back in October/November. Read on!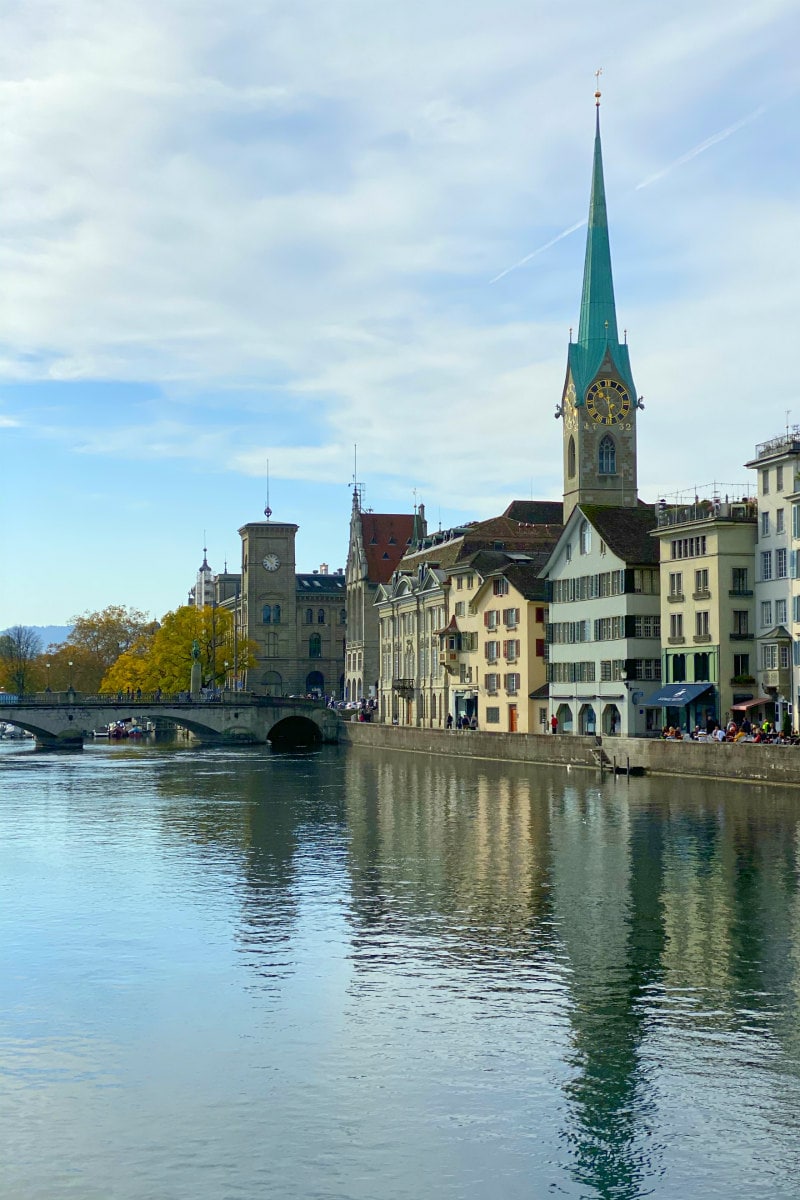 You've seen the Viking River Cruise commercials, I'm sure. There are so many incredible destinations to choose from for their river cruises. This is the Swiss Alps to Paris itinerary (12 days):
Days 1 to 3: Zurich, Switzerland
Day 3: Basel, Switzerland
Day 4: Strasbourg, France
Day 5: Speyer, Germany
Day 6: Mainz, Germany
Day 7: Koblenz, Germany and cruising along the Rhine
Day 8: Cochem, Germany
Day 9: Bernkastel, Germany
Days 9/10: Trier, Germany and Luxembourg
Days 10 to 12: Paris, France
My husband and I flew to Europe a little early for this trip. We spent a couple of nights in Paris, and then we caught a short, cheap flight to Zurich for the beginning of this itinerary with Viking. Today, I'm writing about our experience in Zurich, Switzerland and the activities/excursions that we did. You don't board the river boat in Zurich. Instead, it's a pre-boat experience in Zurich… and then you take a motor coach to Basel on day 3 to board the boat for the river cruise. So, here's Viking River Cruises Zurich.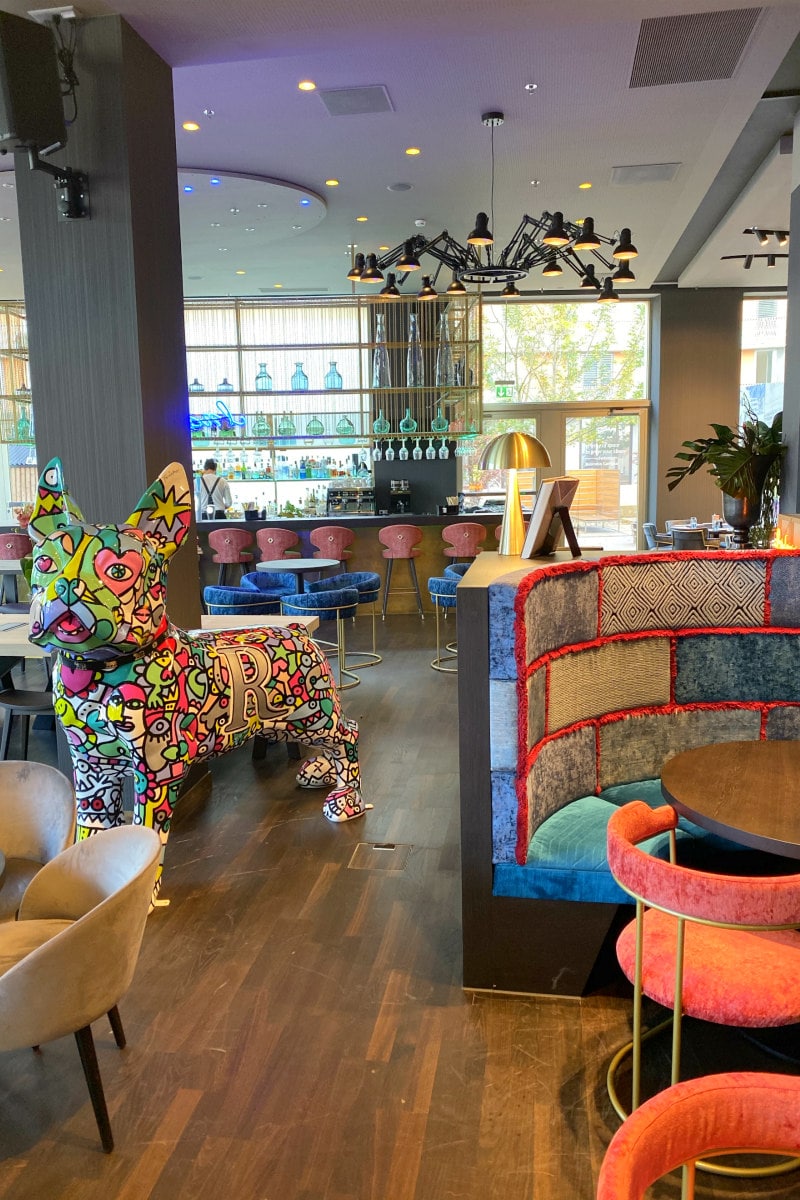 Renaissance Zurich Tower Hotel
All of the Viking cruisers stayed at the Renaissance Zurich Tower Hotel. It was easy to fly in to the airport in Zurich because there was a Viking person at the airport there to greet us and bring us to the hotel. Upon arrival, Viking had a table set up in the lobby to check you in and give you all of the informational docs needed for the trip. That afternoon there was a little tour of downtown Zurich available. We opted to explore on our own. The hotel is a bit of a walk from the "cute" part of Zurich. It's a nice, long walk or a quick Uber or taxi ride. Plenty of restaurants are located near the hotel, so we grabbed some local fare for dinner and called it a night.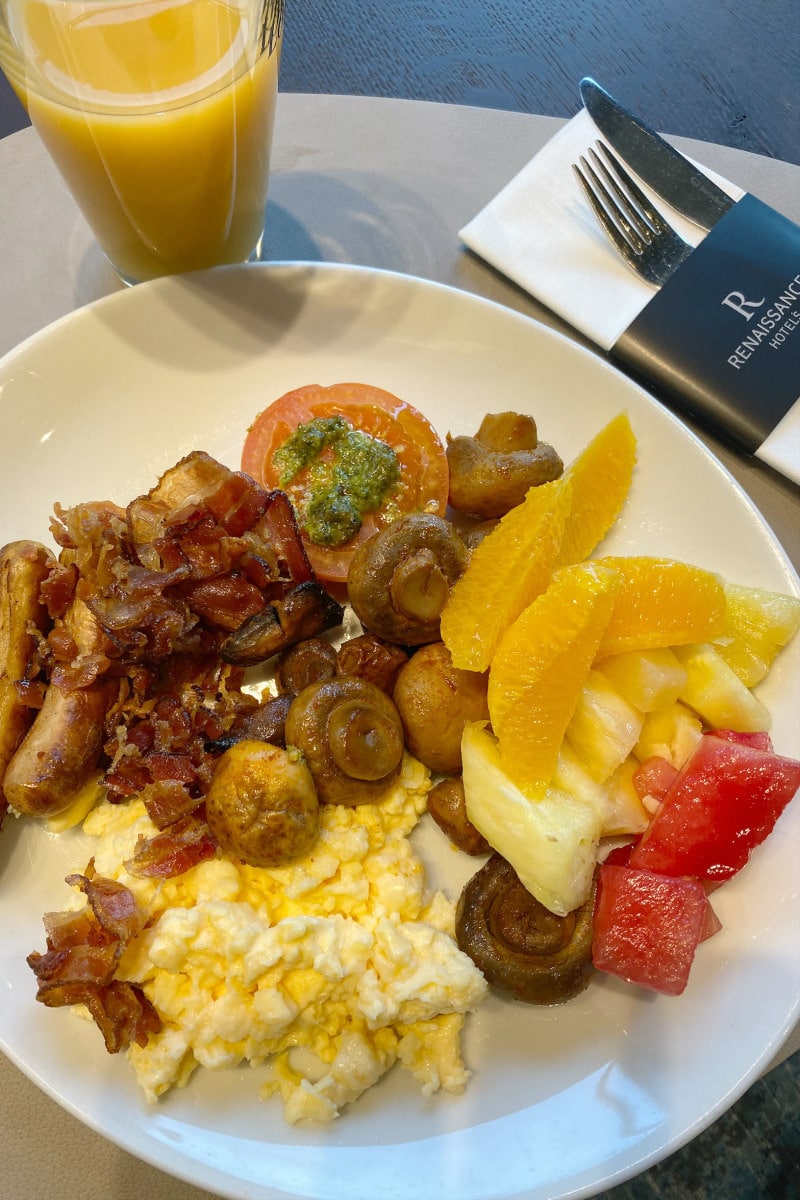 The hotel offers quite an extensive buffet breakfast. So on Day 2 of our stay in Zurich we grabbed breakfast and then went on the (Viking included) Zurich Walking Tour and Lake Cruise.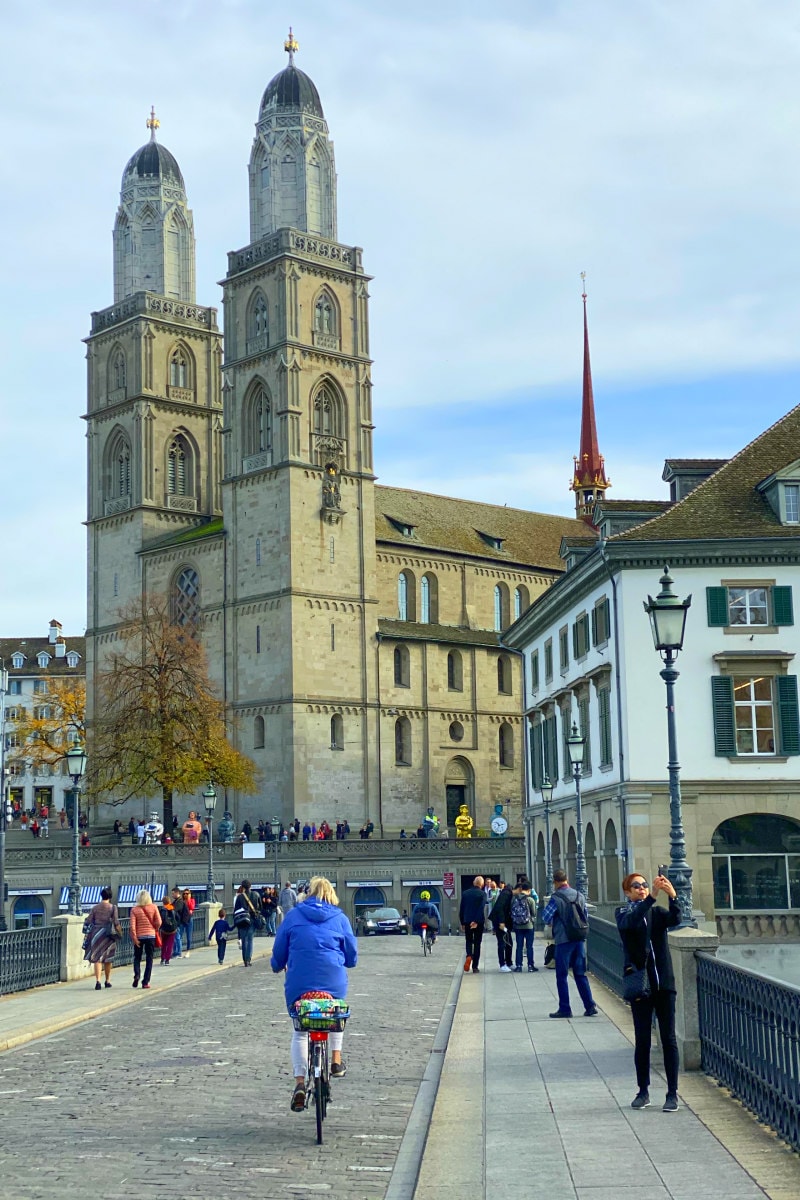 Zurich Walking Tour
On Viking River Cruises, Viking offers optional excursions in each city. There is always a "free" excursion that is included with the cost of the cruise. And then there are other excursions that you can pay for. This walking tour is one of the free ones. We got a good overview of Zurich on the tour. It's a neat city with a lot of charm. Check out the photos ahead from our walk.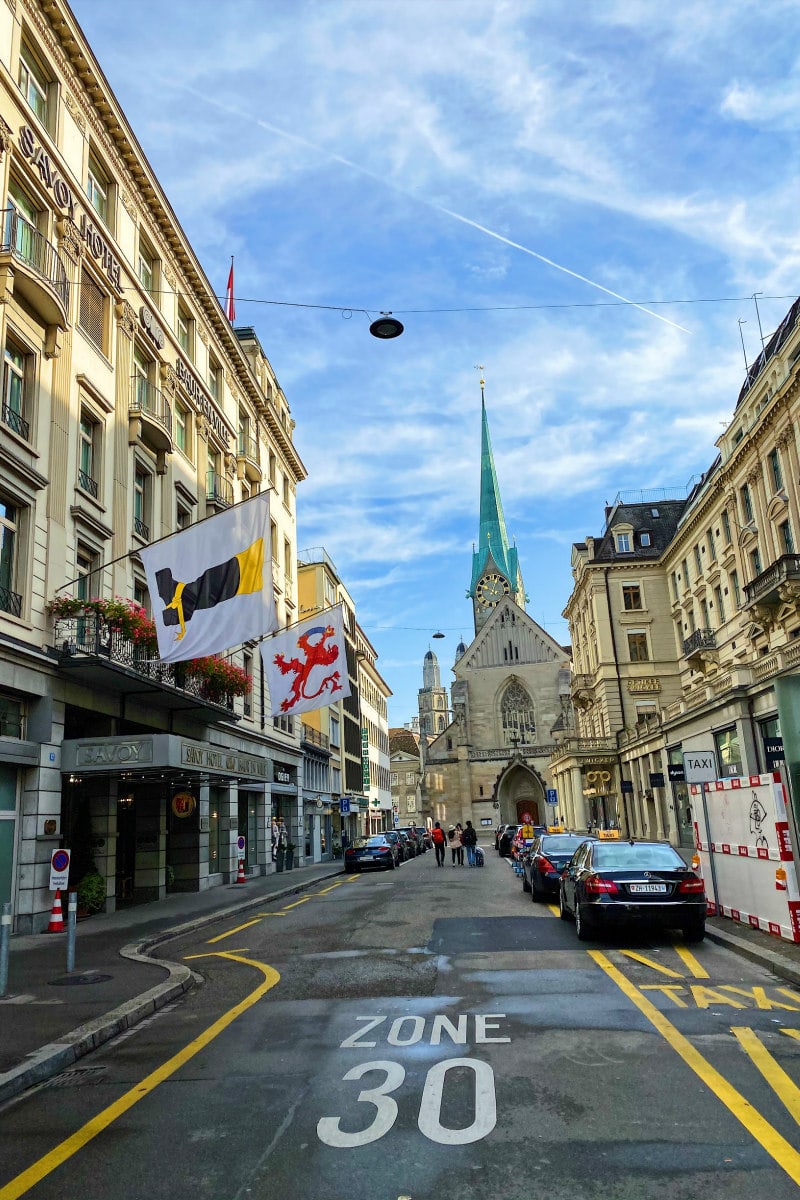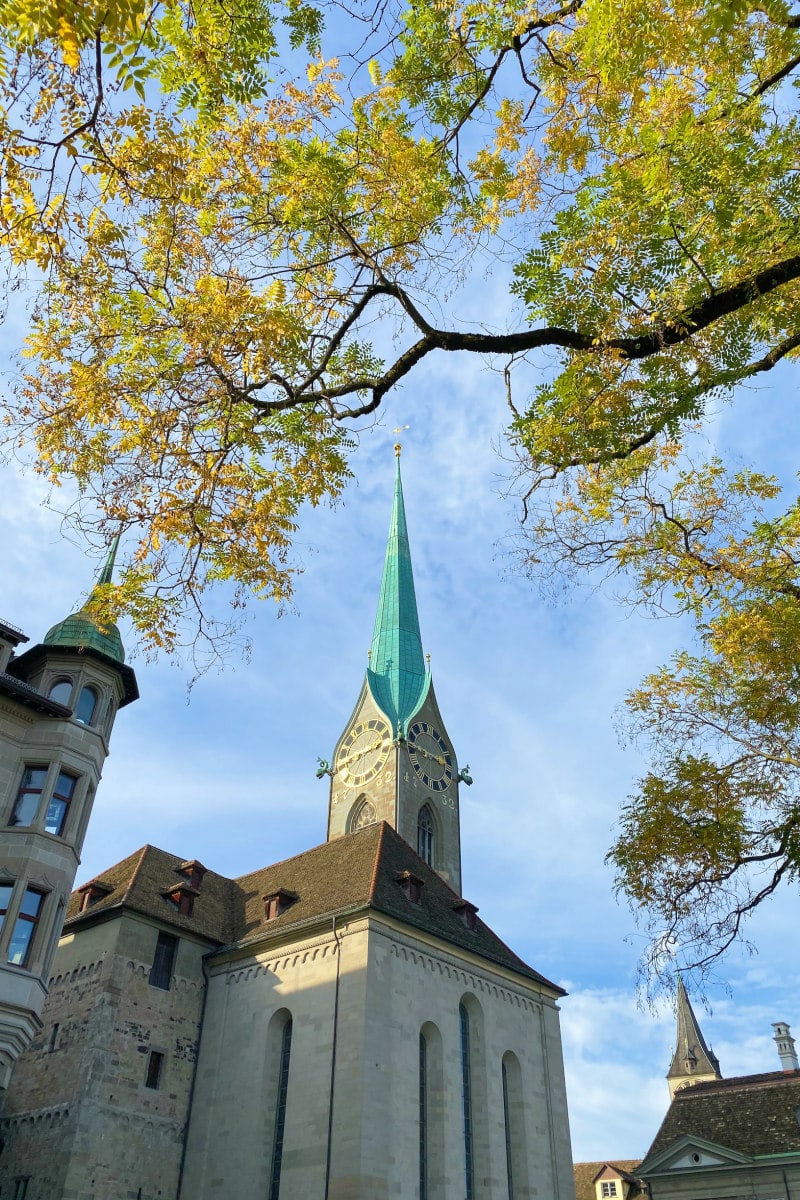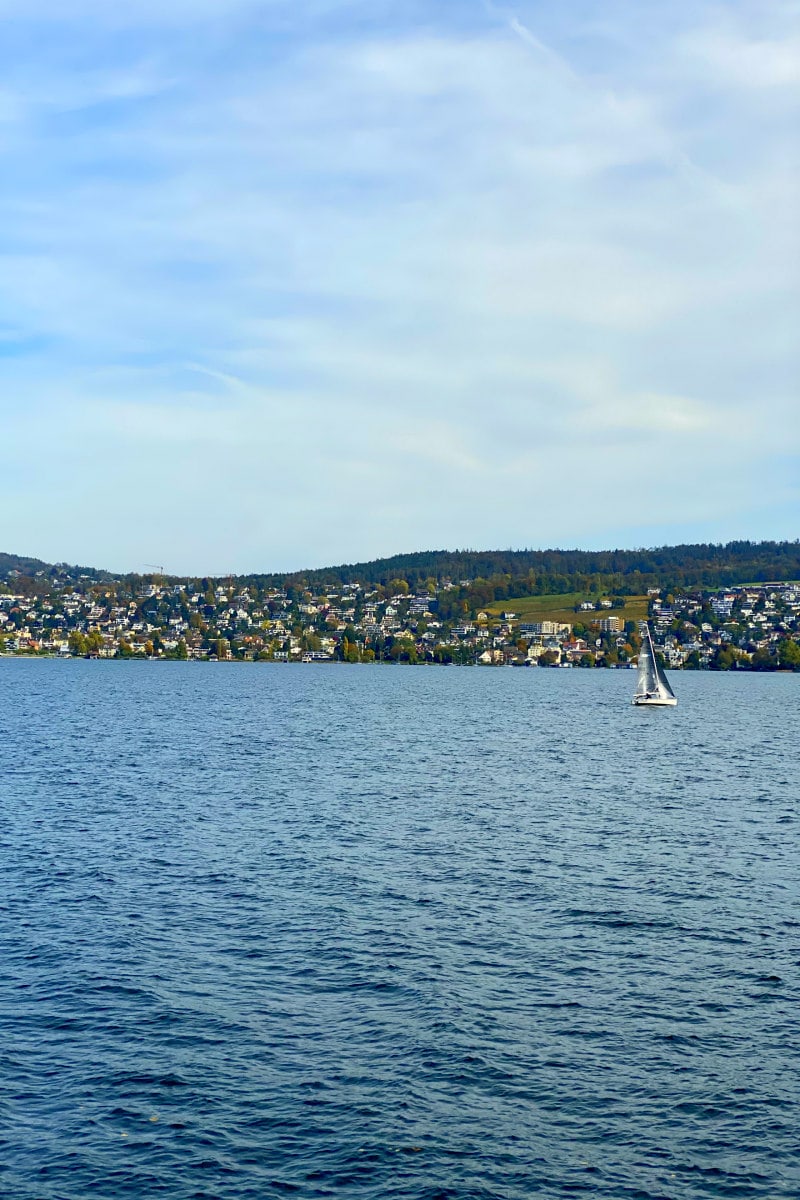 Zurich Lake Cruise:
The cruise was also included. It's a nice cruise around the lake- a good one to go on if it's a nice day. We loved looking at the little towns and homes nestled along the shore. If you go on the walking tour and cruise, I suggest you sign up for an early time so you have plenty of time to explore Zurich after the cruise.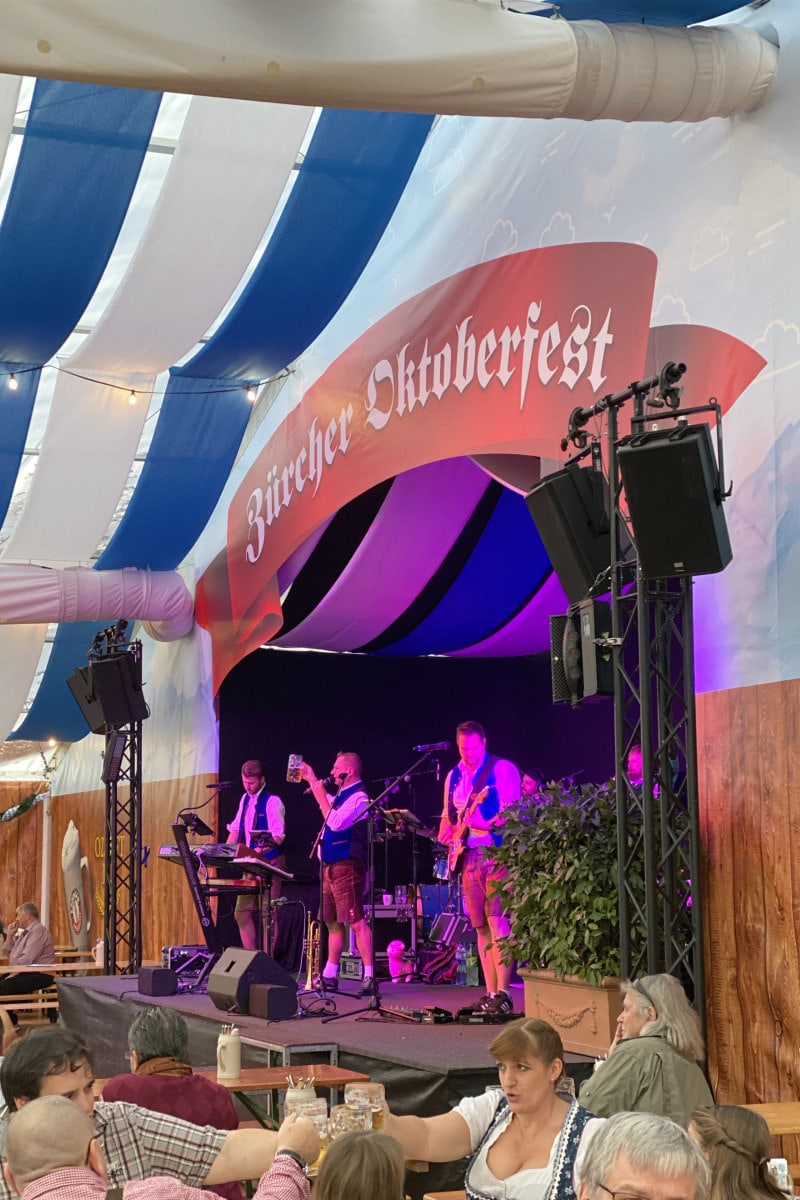 Oktoberfest in Zurich
On our own time in Zurich, we happened upon an Oktoberfest celebration (which we found out happens pretty much every weekend in October in all of Germany in Switzerland). I'm pretty sure we were the only tourists at this Oktoberfest, and there were a ton of locals. Right away, we knew we were going to have a great time. The music on stage was exactly what you'd expect- festive Oktoberfest celebration music. Plenty of beer was flowing. Everyone was dressed in traditional Oktoberfest outfits. Huge platters of turkey legs and schniztel were being delivered to tables. People stood up and sang along with the band. Long tables of people joined arms and did "dances" to go along with the music. People aged 18 to 80 were doing shots of Jägermeister. And everyone was happy and having a blast!
The locals at our table took us in and included us in their celebration. Super friendly people. They bought us drinks, and the grandmother at the table bought us cookies too. It was an amazing, local experience!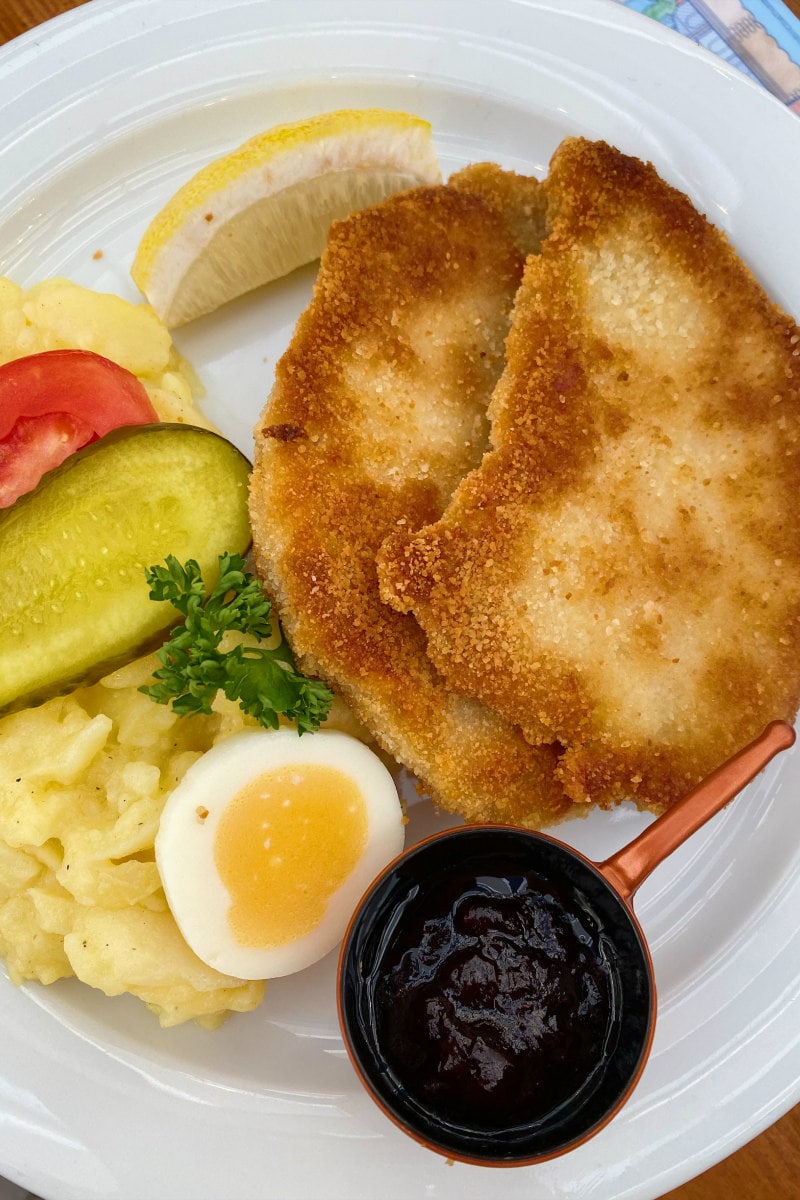 We opted to try a plate of pork schnitzel with potato salad.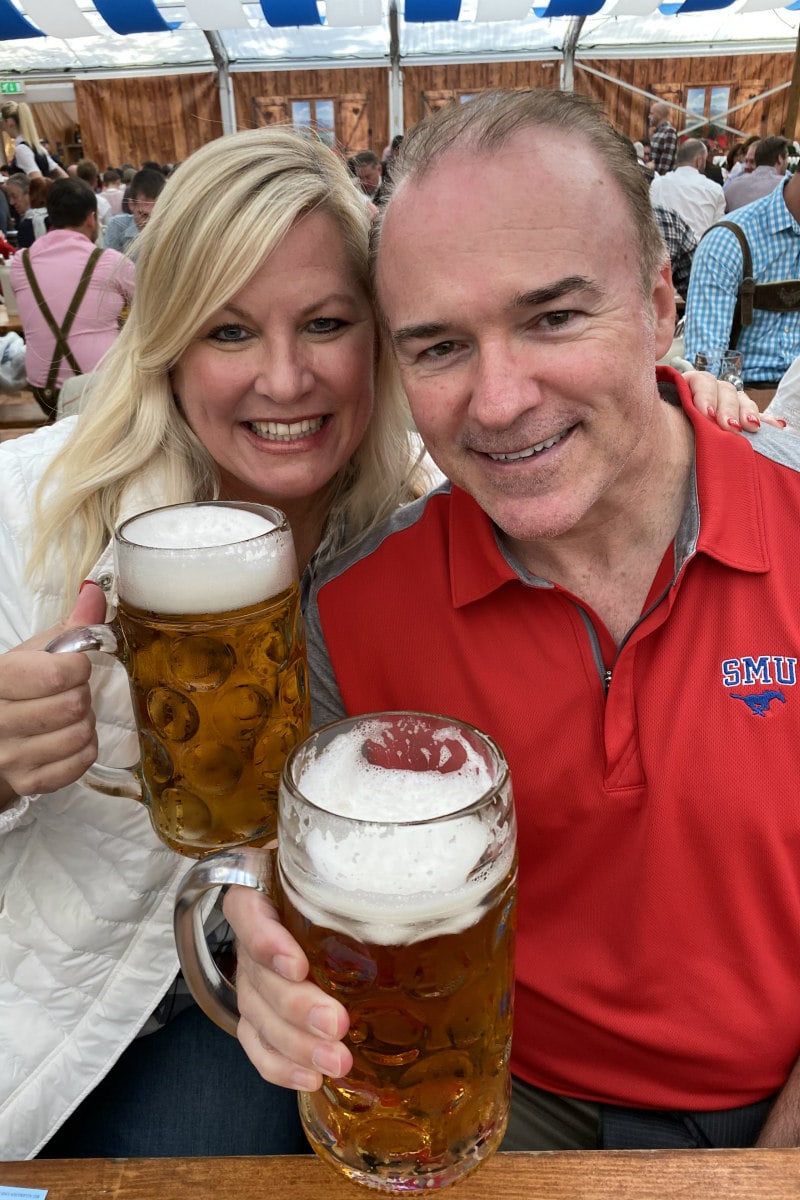 My husband likes his beer, but I don't normally drink beer much at all. It seemed like the right thing to do at Oktoberfest though (I did see people drinking white wine too). These were giant mugs! We had only been in Zurich for 24 hours, and this was already a highlight of our trip!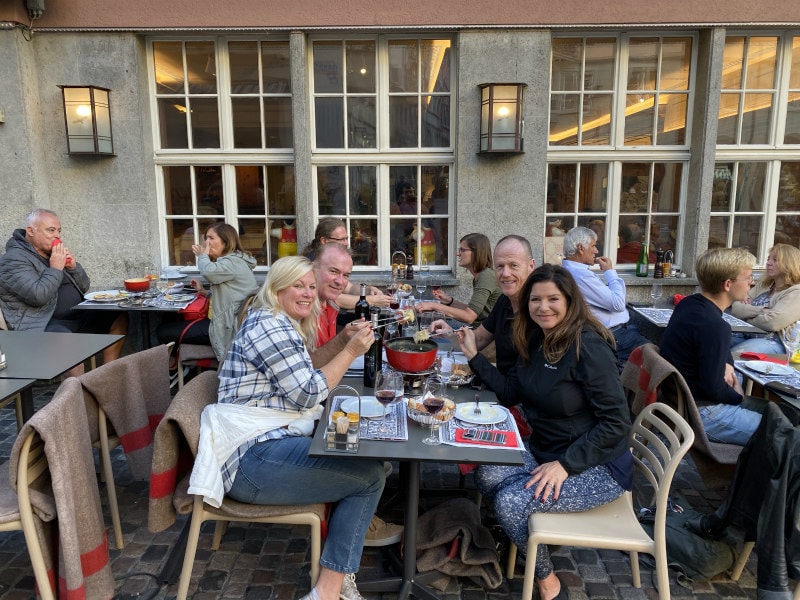 After Oktoberfest, we had to experience trying fondue in Switzerland. So we stopped by one of the local places and ordered a giant pot of warm cheese and wine too. Pictured here are me and my husband (on the left) and our friends Sandy (ReluctantEntertainer.com) and her husband Paul. Sandy and Paul are good friends of ours and great travel companions!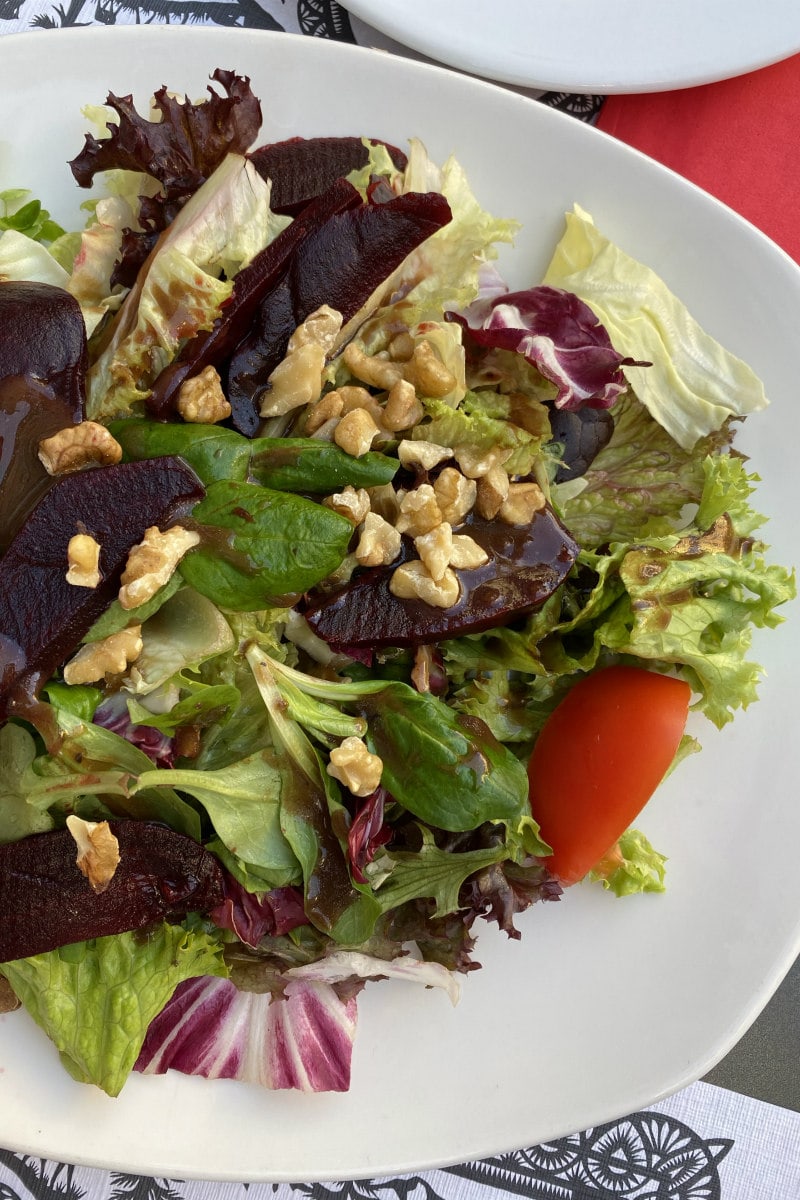 We had to balance out the cheese with a nice beet salad.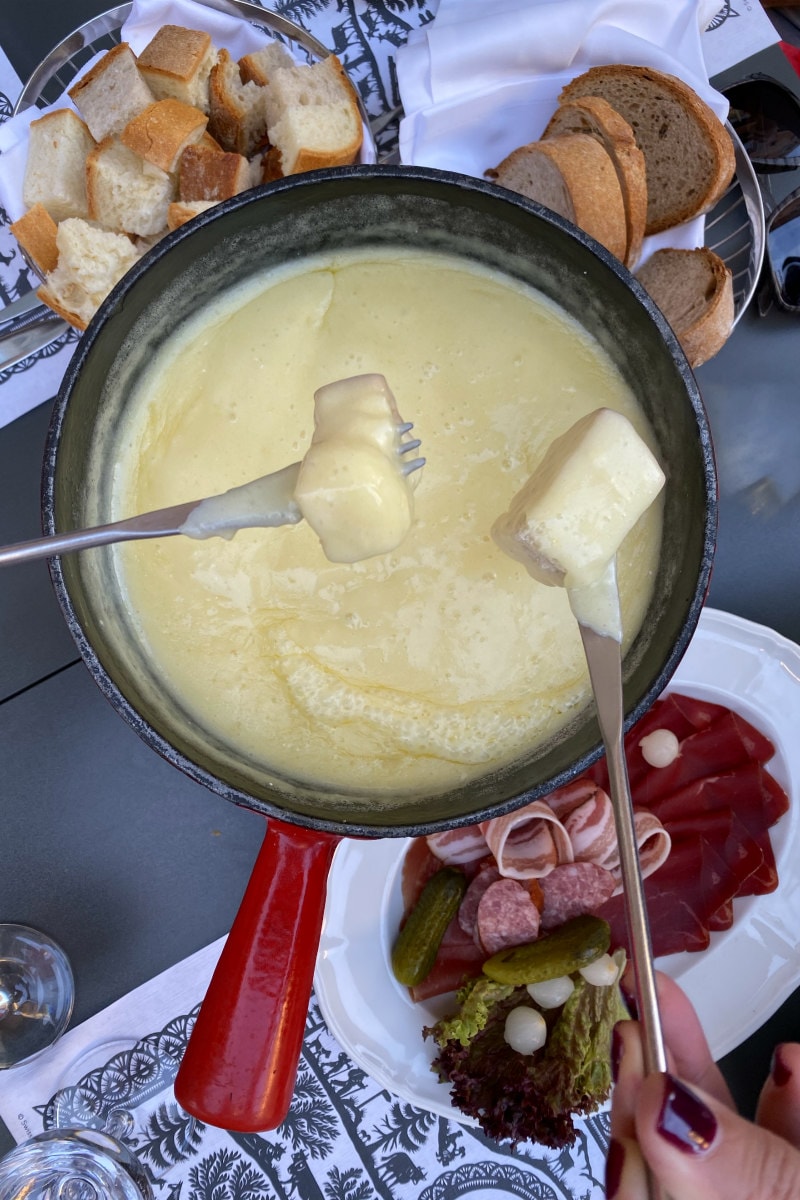 Doesn't that gooey cheese look so amazing??!!!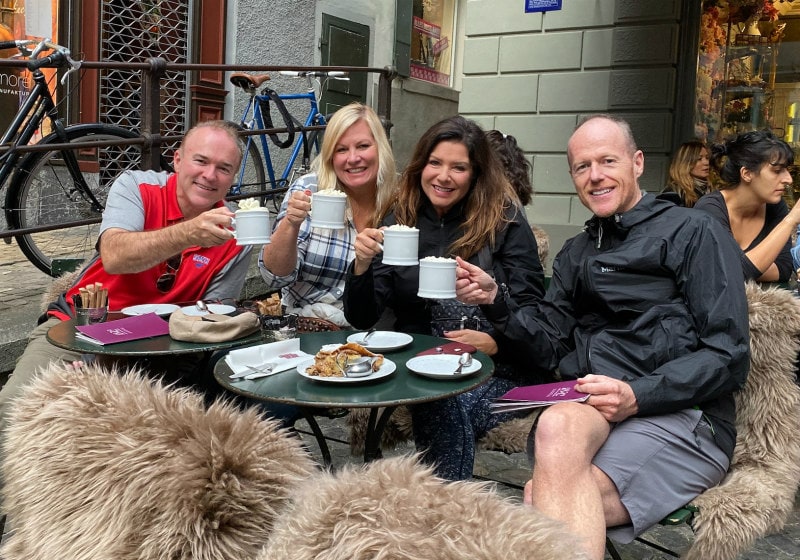 After fondue, we went to a local coffee shop and got hot chocolate.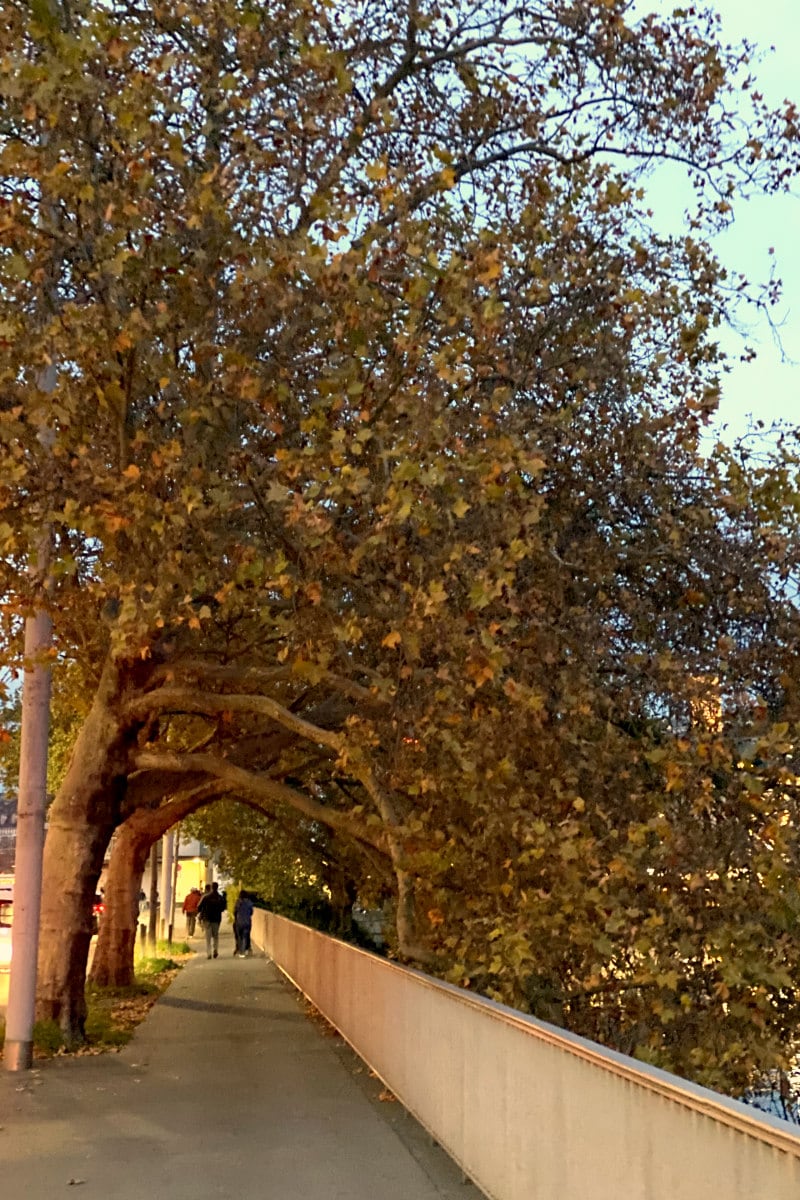 Since the day was so decadent, we skipped taking an Uber and walked the 30-minutes back to the hotel. It turned out to be a very nice walk. We went to bed that night with smiles on our faces. What a perfect day we'd had in Zurich, Switzerland.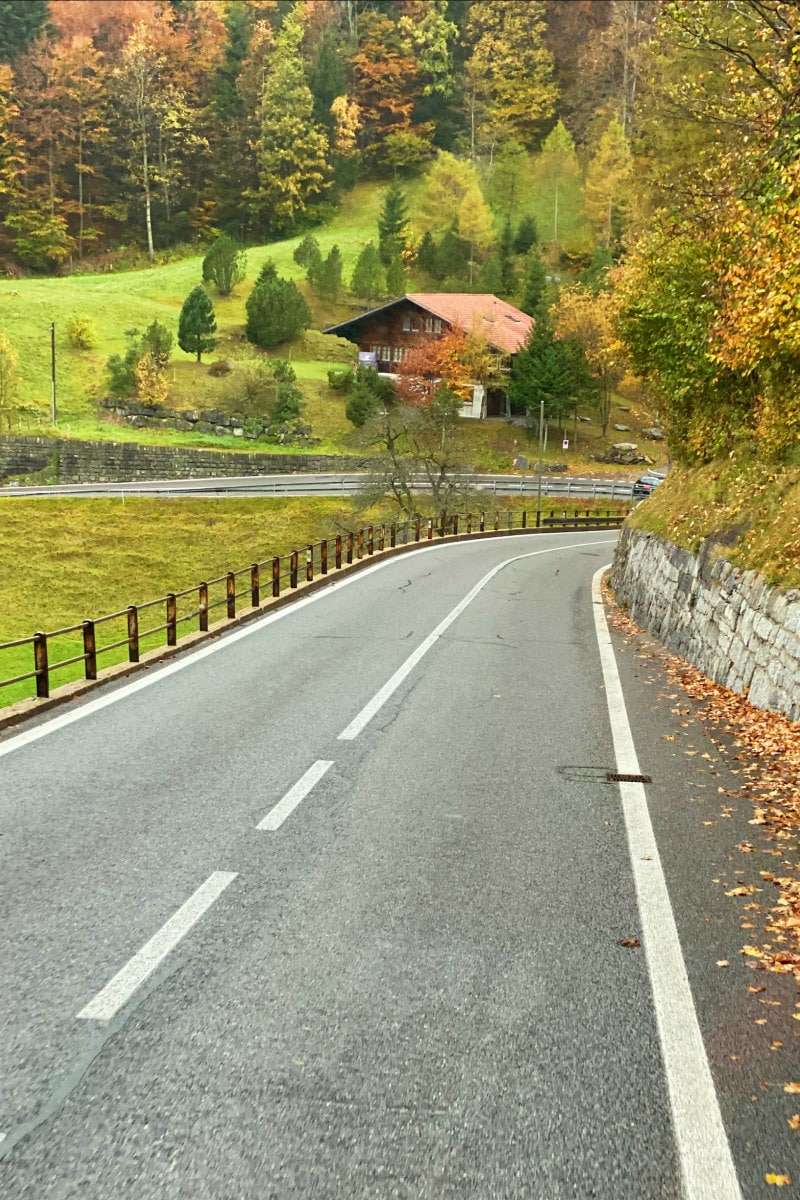 Highlights of the Alps
On Day 2, we chose an optional all-day excursion venturing in a motor coach up the mountain to see the Swiss Alps. It was kind of a dreary, cloudy day so we were taking our chances with how much we'd be able to see. The drive up the mountains was very pretty.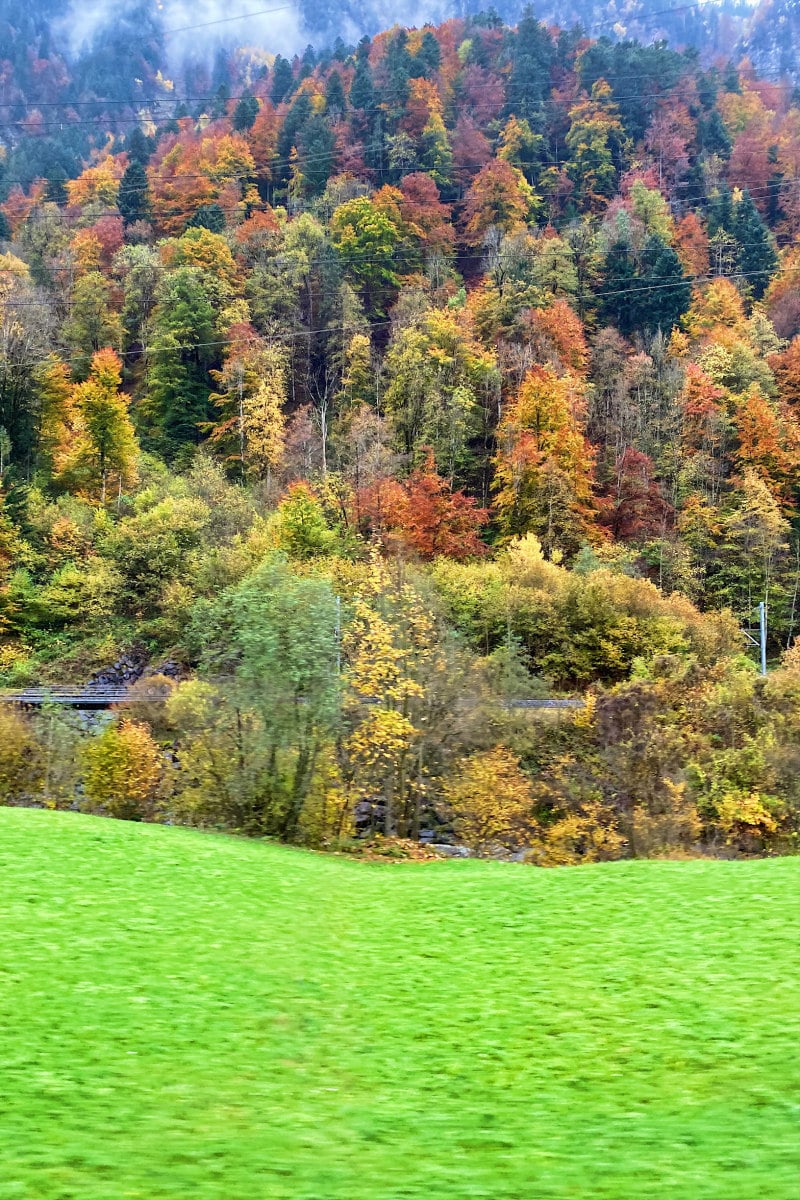 Since we were there in the fall, the trees were changing color.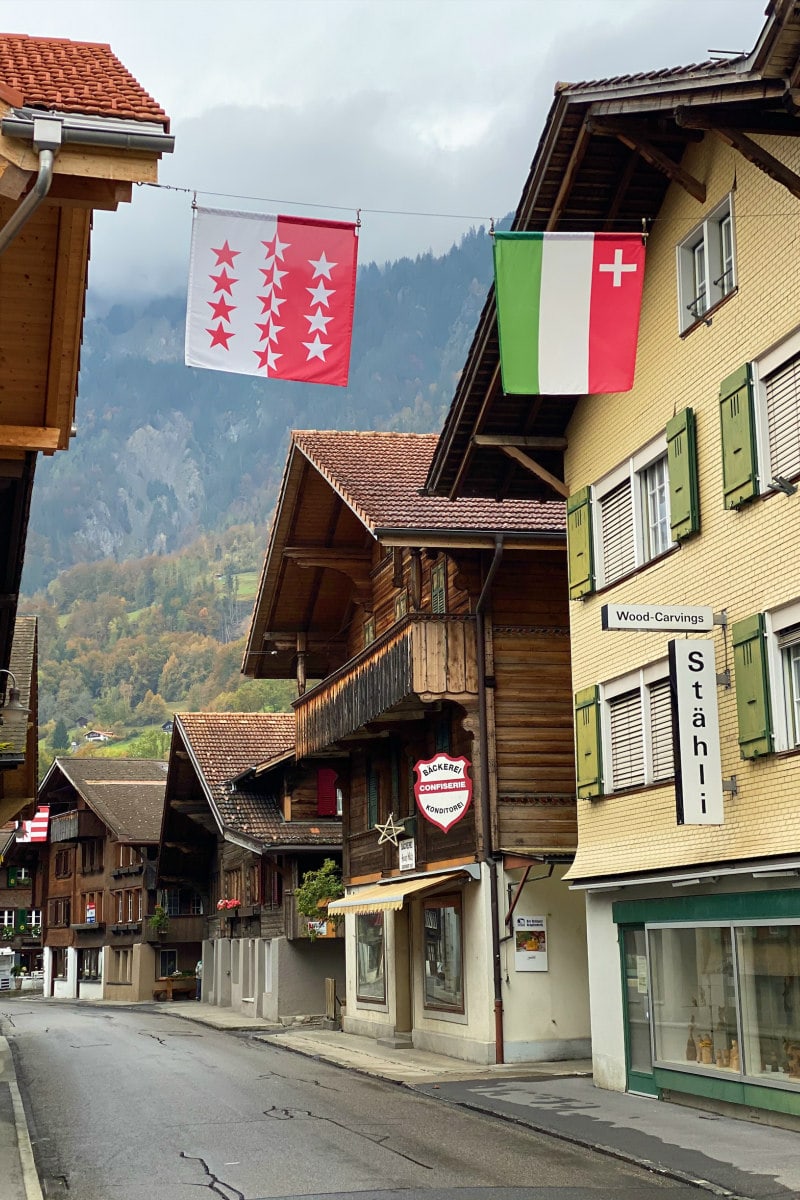 Village of Brienz
The motor coach made a 30-minute stop in the darling Swiss village of Brienz. We walked around the town and took photos of the houses, the hillsides and Lake Brienz. Check out the photos below.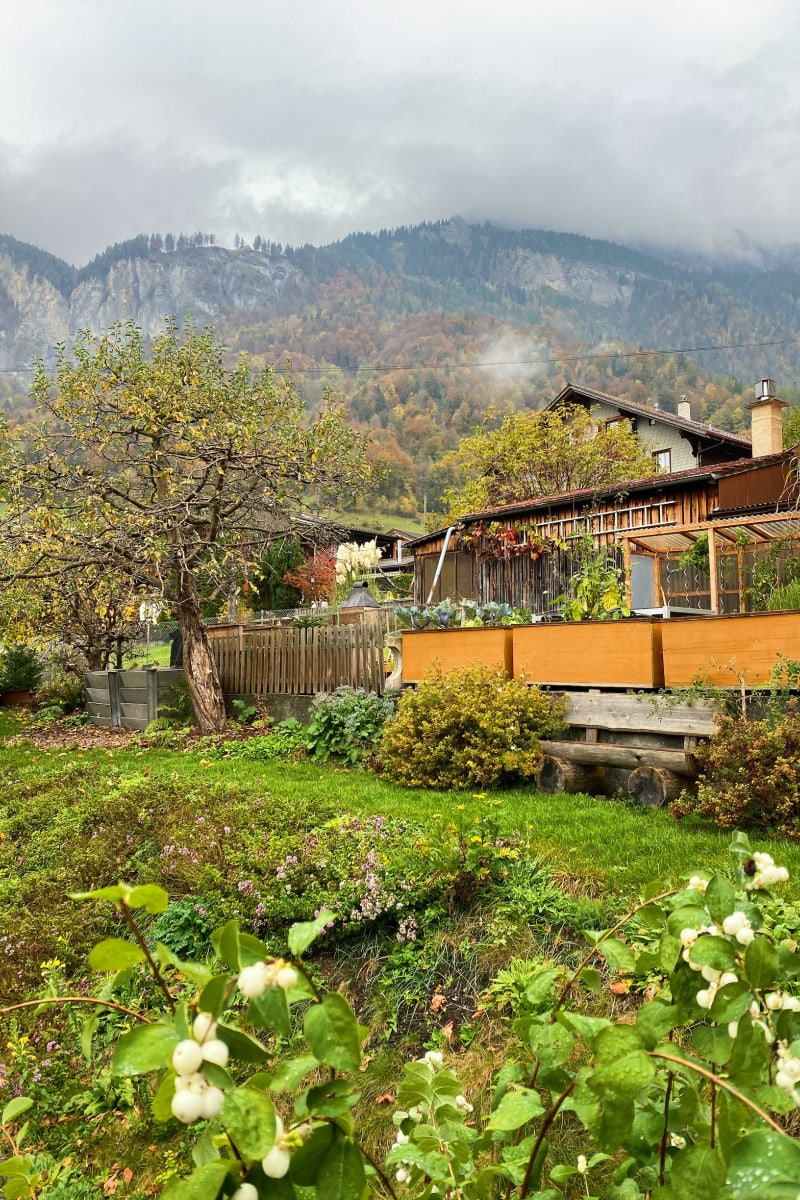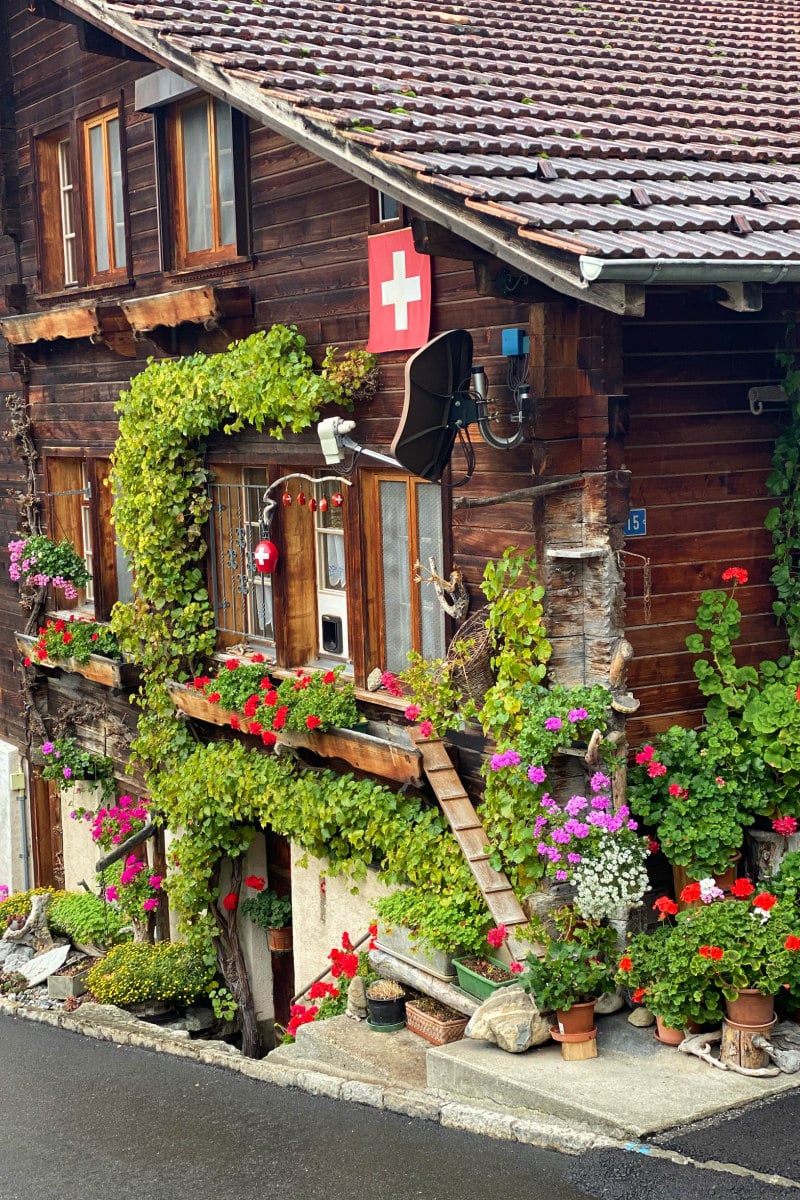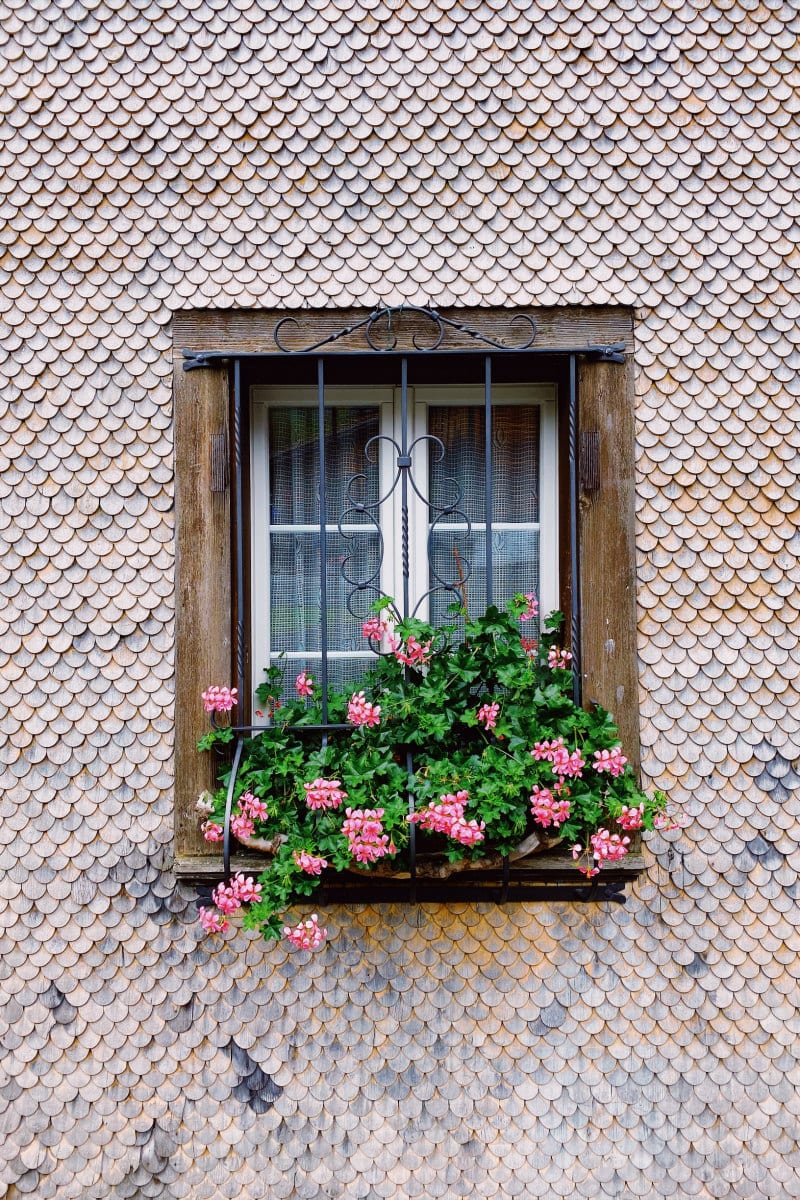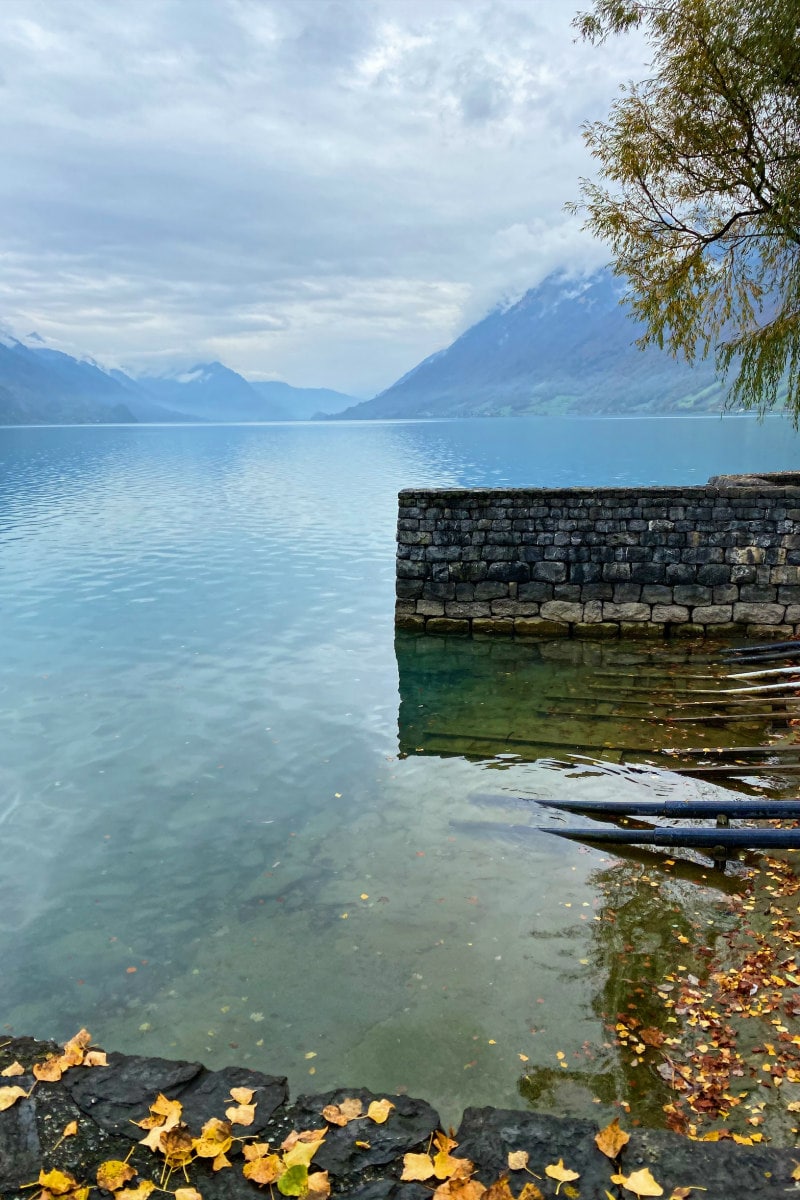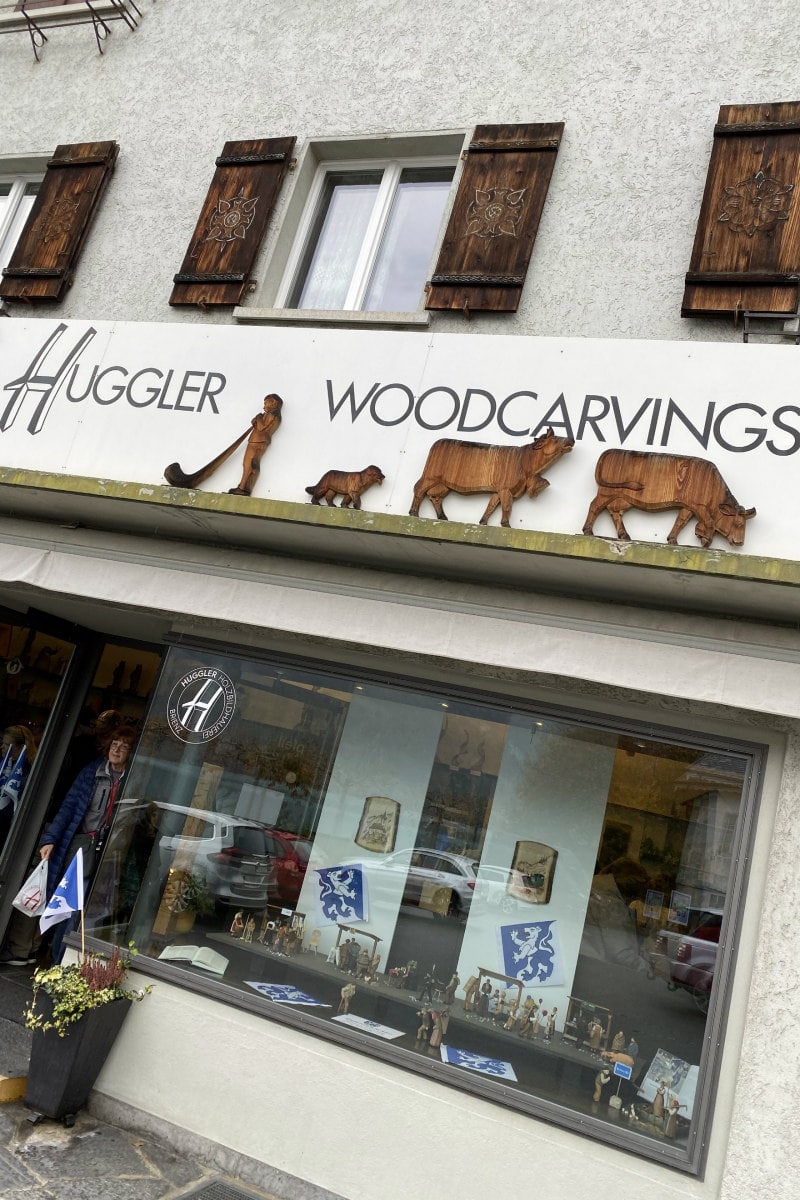 Before we left Brienz, we wandered into this woodcarving shop and were able to watch the local woodcarvers do their thing. I bought a wood carved Christmas ornament as a souvenir. There were a lot of neat things to buy in the shop!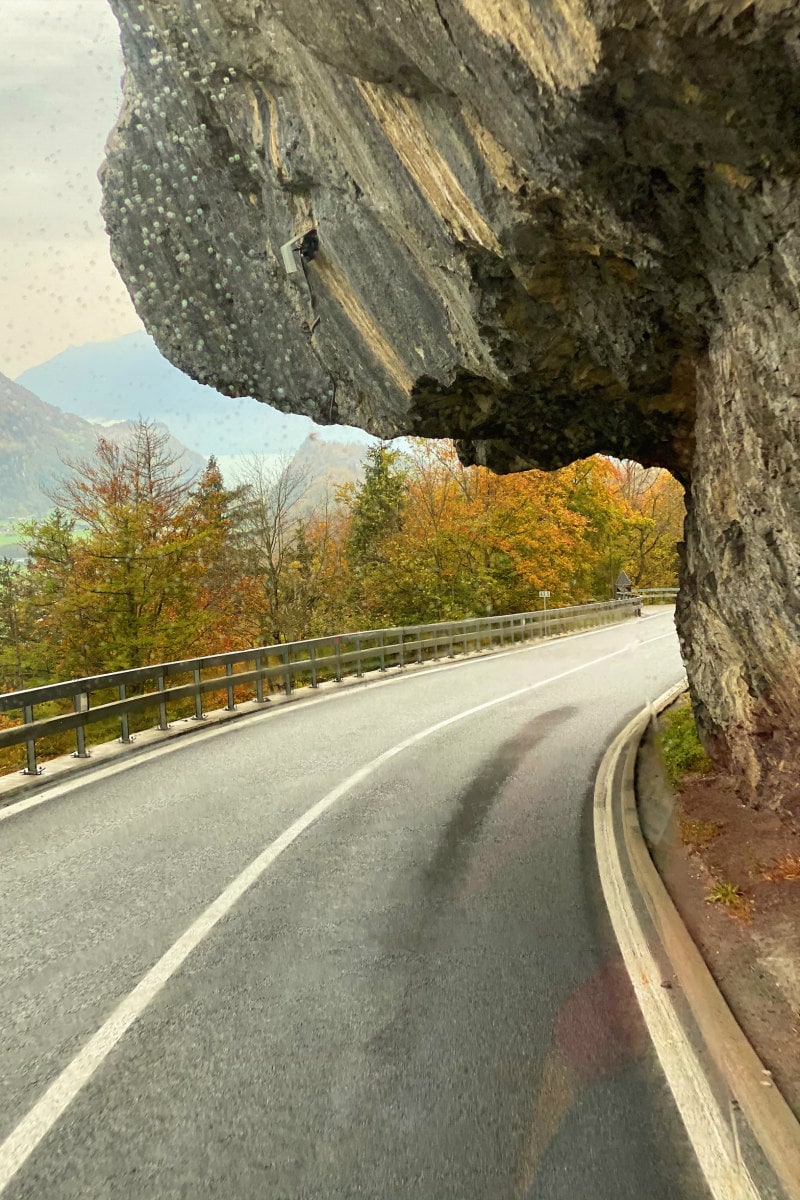 Back on the road again up to the Swiss Alps!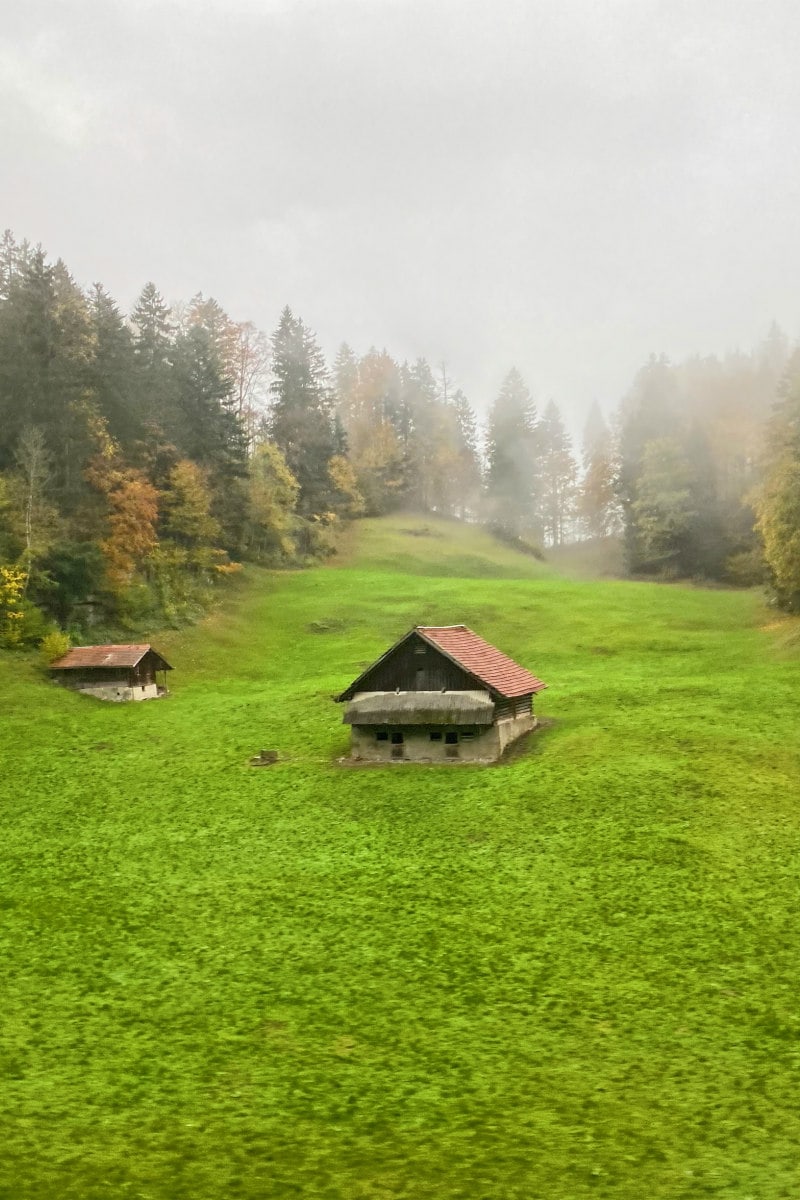 Everyone was green and gorgeous along the way.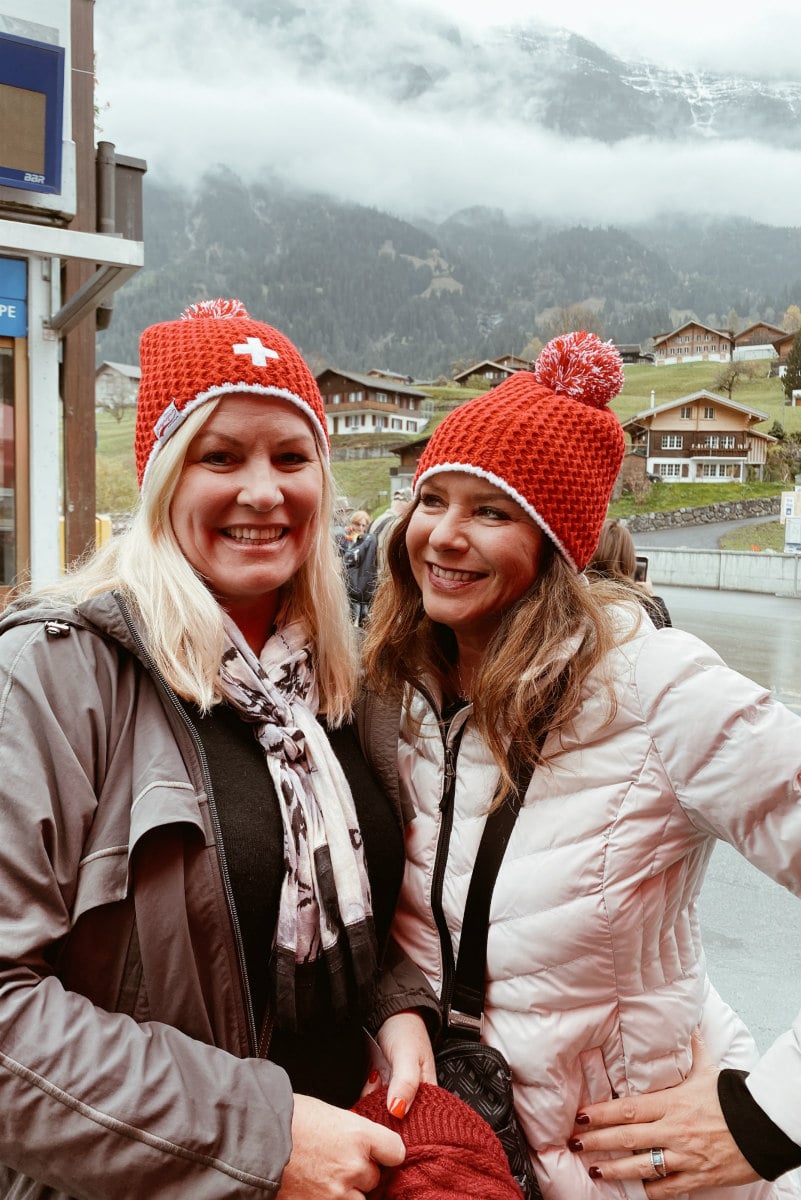 Grindelwald
This is the spot where we stopped to catch a train up the mountain. You can "sort of" see the Swiss Alps behind us… but the weather was not ideal. I can only imagine what it would be like on a bright, sunny, blue-sky day!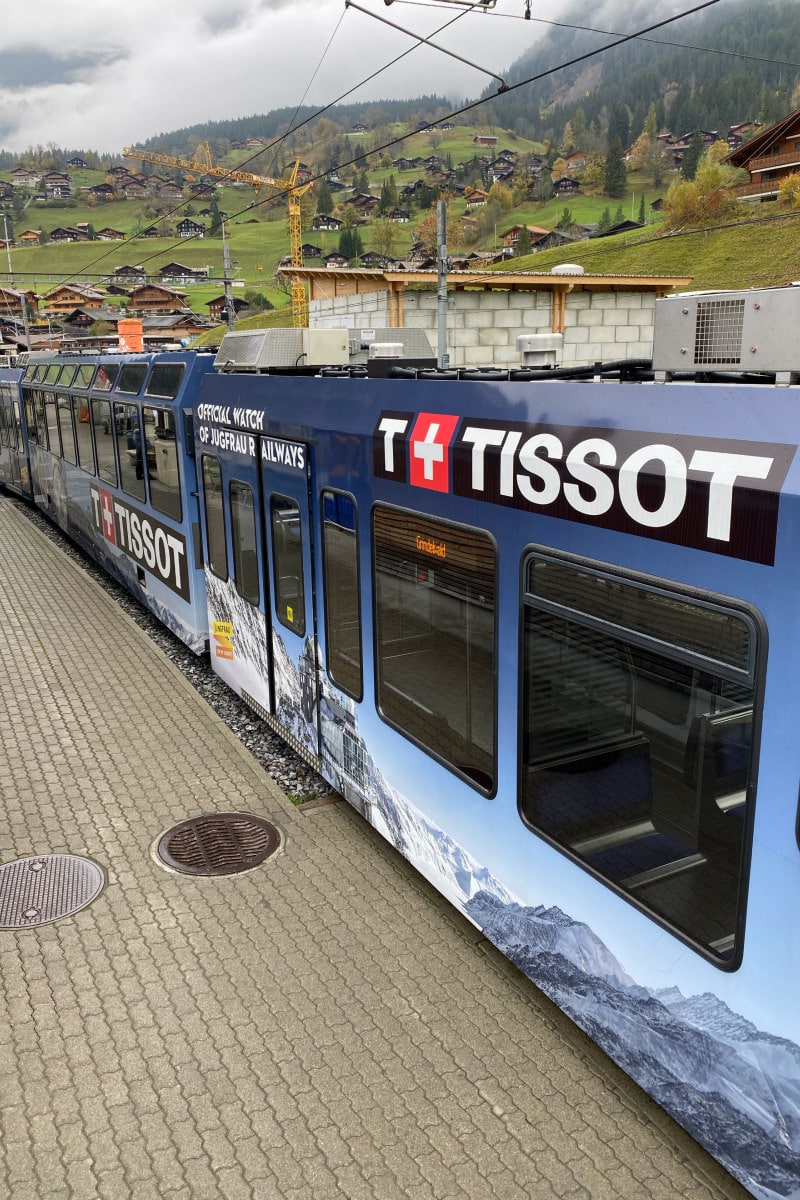 This is the train we boarded to take us to Kleine Scheidegg, a breathtaking mountain pass with (usually) stunning mountain views.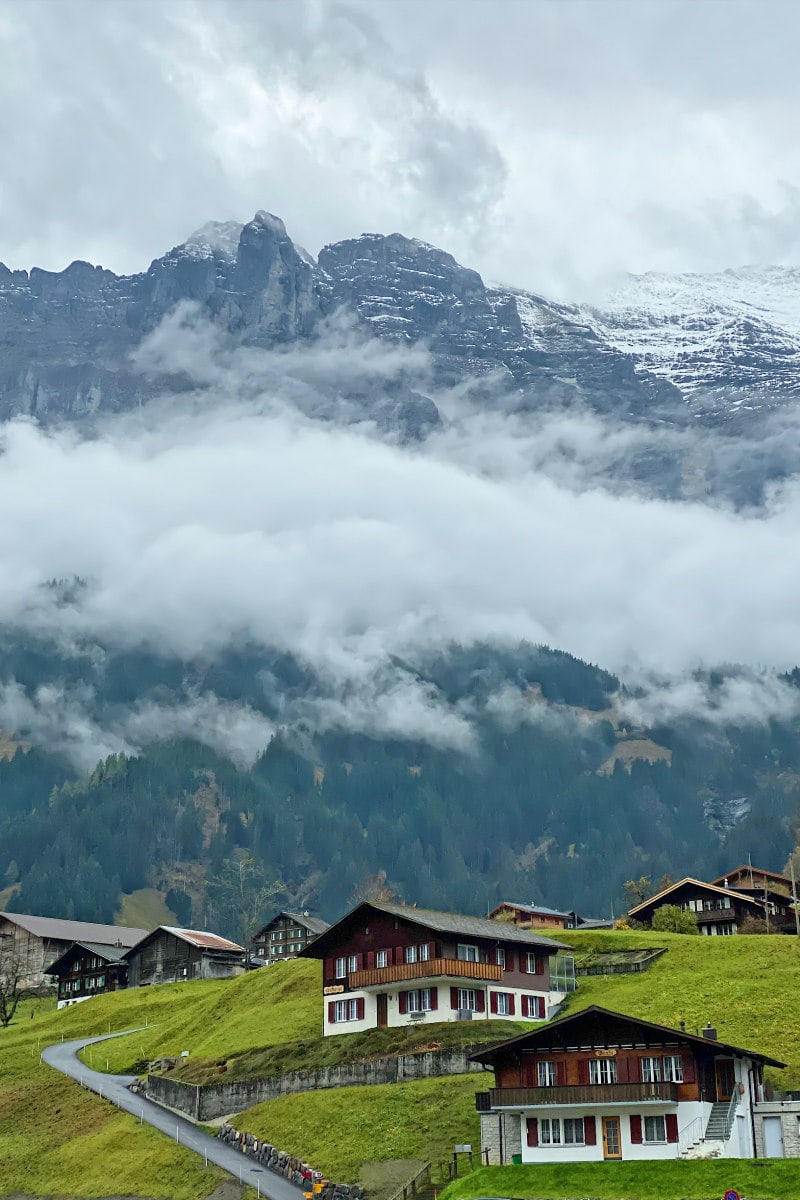 On our way up the mountain, it was beautiful scenery. All of these homes sitting just under the Swiss Alps have amazing views out their windows every day!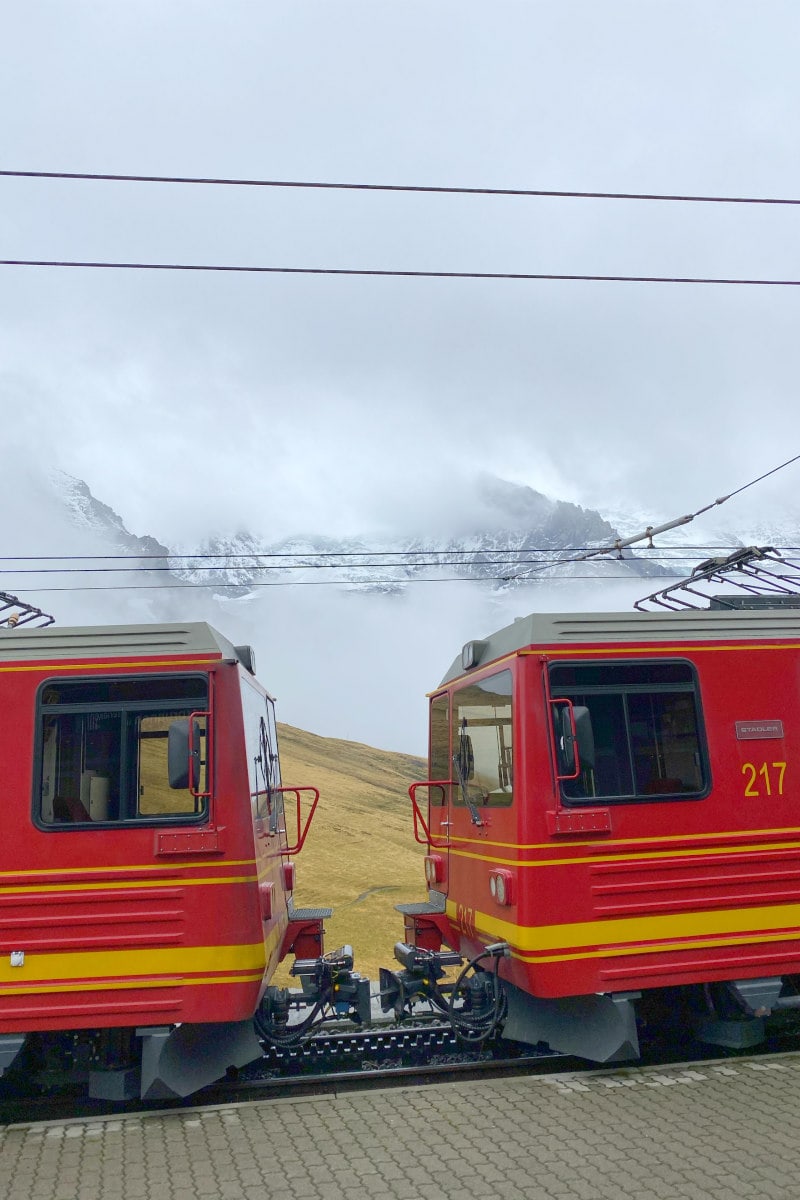 Unfortunately, this is what we were able to see when we got to the pass. Not much! We had a delightful lunch at a restaurant up there and shopped in the gift shops, but the views just weren't there because of the clouds. So sad.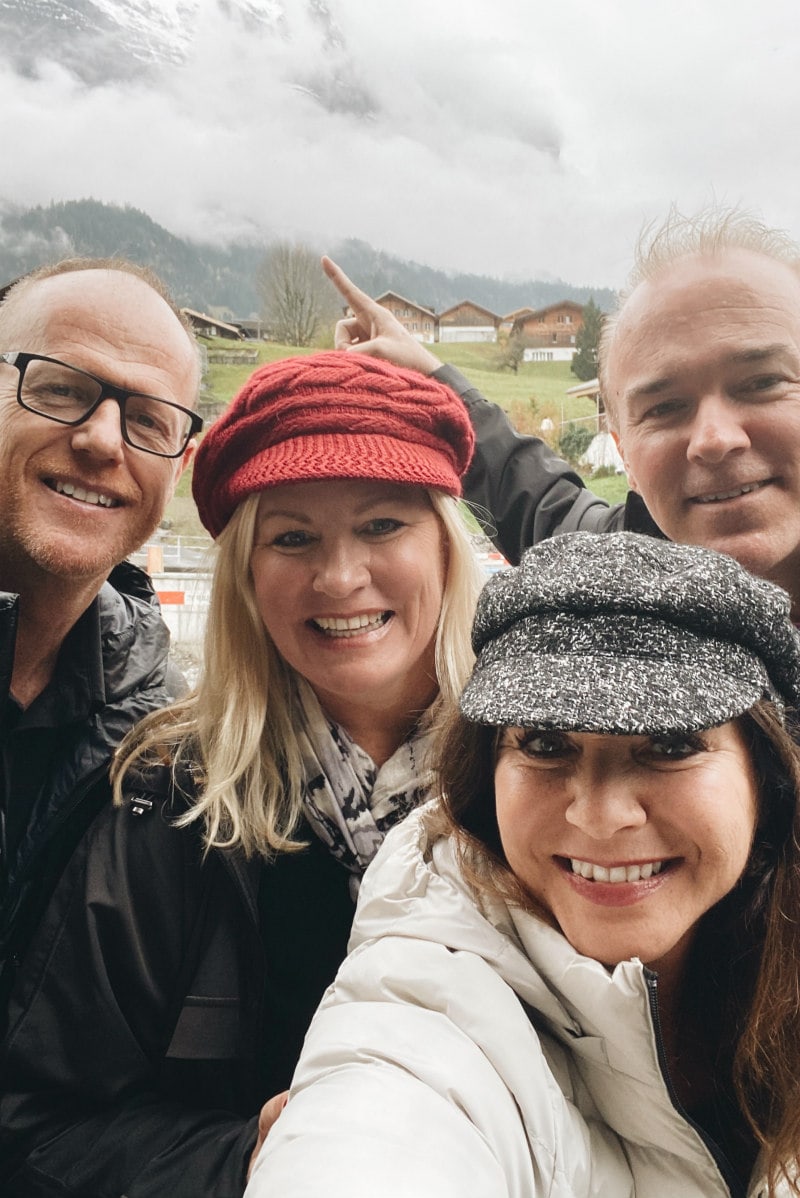 The Swiss Alps is definitely a place to return and explore. I'd love to go on a hike or even rent a house up on the mountain somewhere one of these days! Viking River Cruises Zurich was a great start to our Viking River Cruise adventure.
Next, we take the motor coach to Basel, Switzerland… where we board the Viking Hild River Boat for eight nights on the Rhine and Moselle rivers! More to come…
For more about this Viking River Cruise itinerary, visit VikingRiverCruises.com.