This is a Saint James Paris Review: a review of an iconic, luxury hotel in the heart of Paris.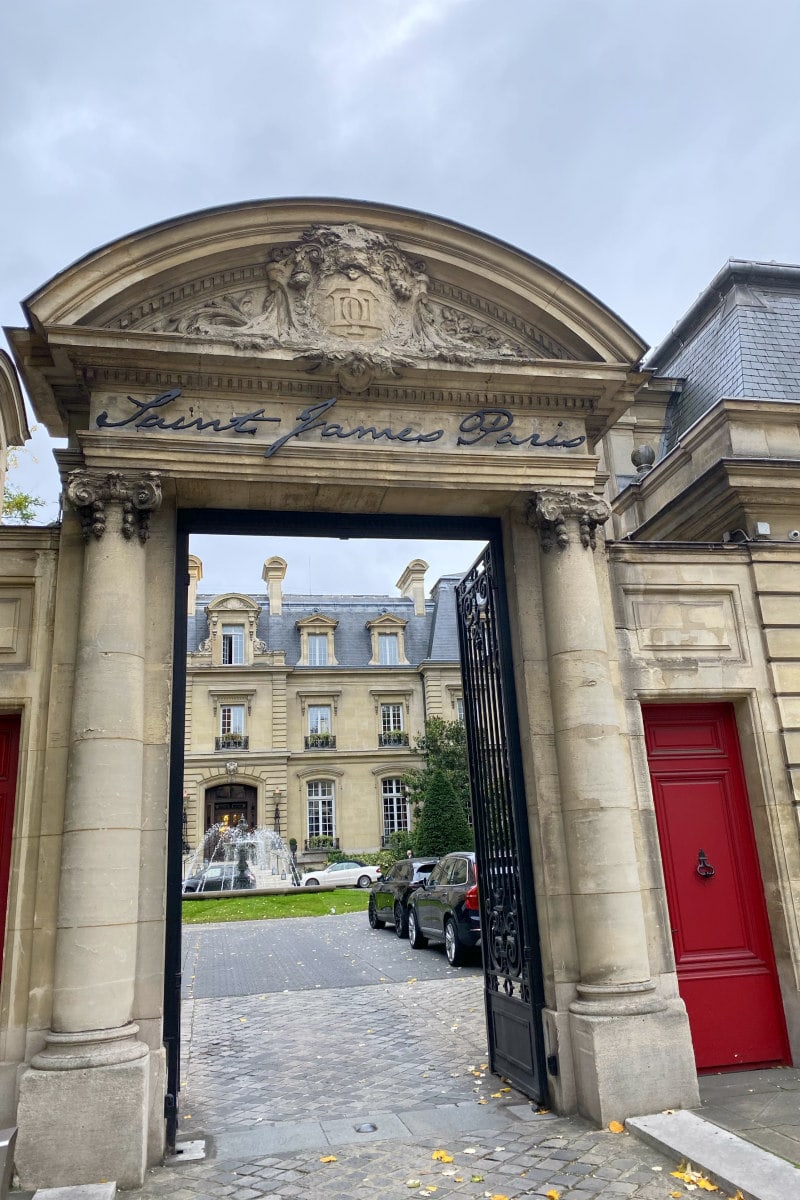 Here's the entrance to the Saint James Paris. I have to say that when the car dropped us off here, I was already delighted. What a grand entrance and a lovely welcome to Paris! Cars can drive between the columns here into the circular driveway for the hotel. It's fabulous!
About Saint James Paris:
This hotel was built in the 19th century. There are 49 rooms and suites. It's in a great location- close walking distance to Arc de Triomphe and Trocadéro. It's also close to Palais des Congrès, the Musée d'Art Moderne and the Fondation Louis Vuitton. And most importantly, there is a lot of luxury shopping not too far away from the hotel! We Ubered a lot of places for minimal cost.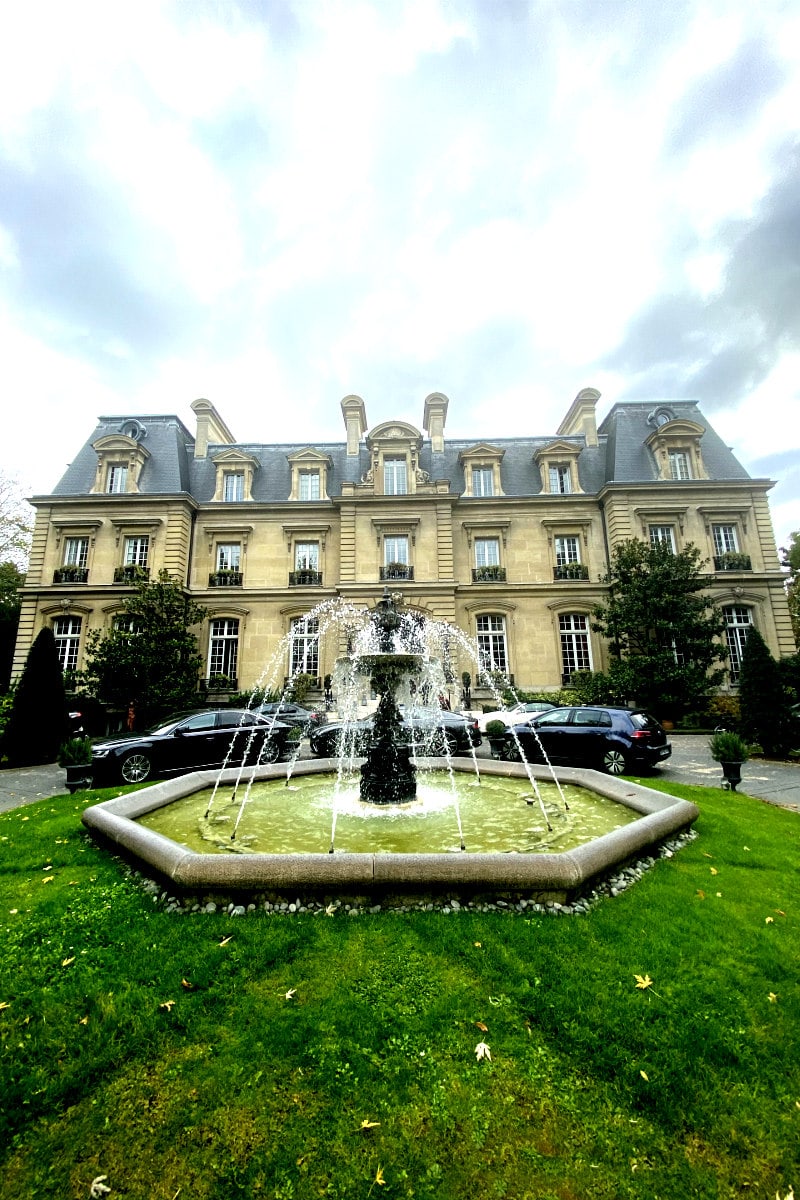 My husband did the research for this trip to Paris, and he booked us two nights at Saint James. I'm not sure how he found this hotel, but we ended up loving every minute of our stay here. Although it's in the middle of Paris, it felt like we were in the countryside.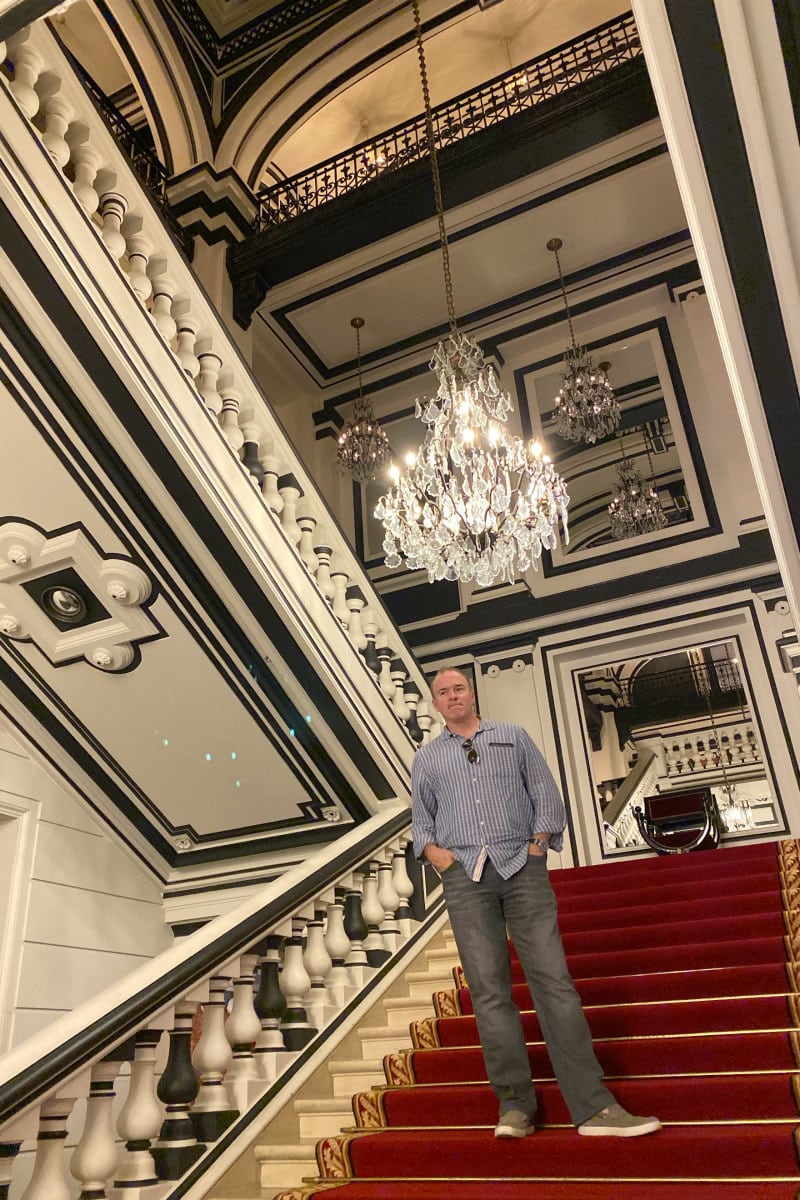 Saint James Paris appears as a luxury chateau from the outside, but when you enter the hotel you will find that it has quite eclectic, interesting design inside! It has many of the amenities of a luxury hotel (room service, spa, concierge and valet). And there is a restaurant, bar and a gym. The colors in the lobby and rooms are whimsical and bright. Animal print is abundant. The hotel has such a cool vibe, and it's quite a popular place in the neighborhood too- as evidenced by the busy bar and restaurant in the evenings.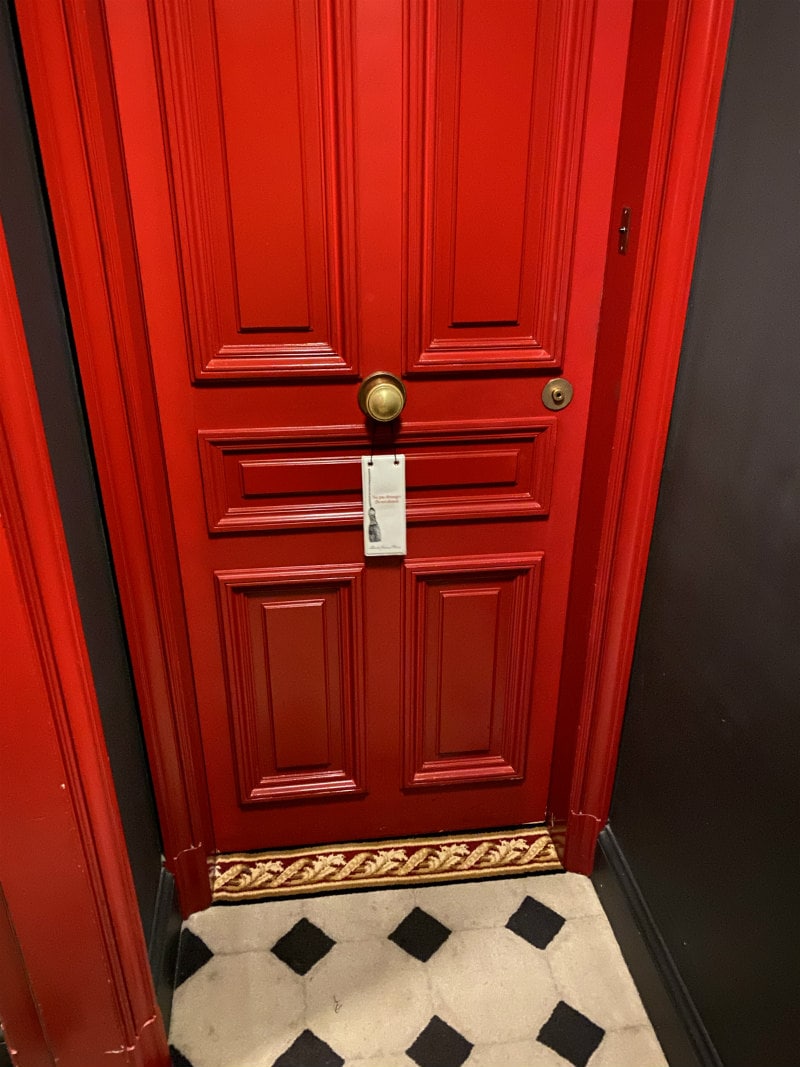 This was the entrance to our room- isn't it adorable? And yes, we had a good, old-fashioned key instead of a plastic key card.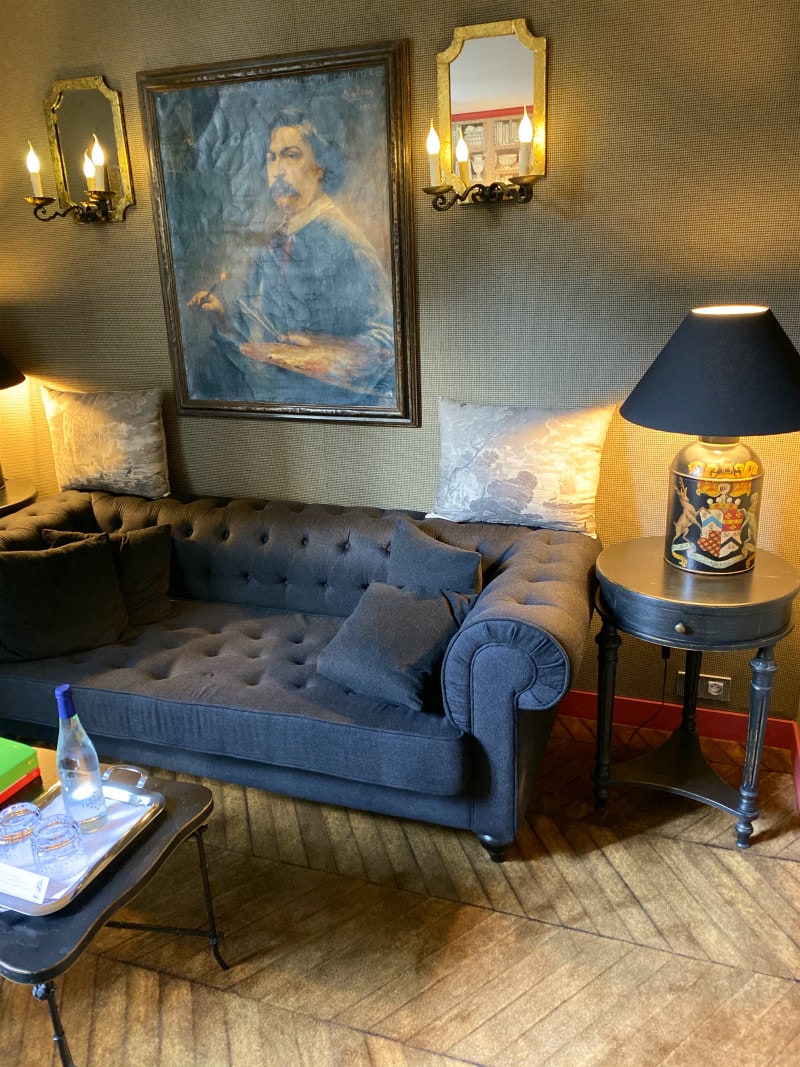 Our unit was two stories. Upon walking in, there is a spacious living area on the ground floor with a half bathroom and a closet. Plenty of other seating is also in this room, as well as a writing desk area (not pictured).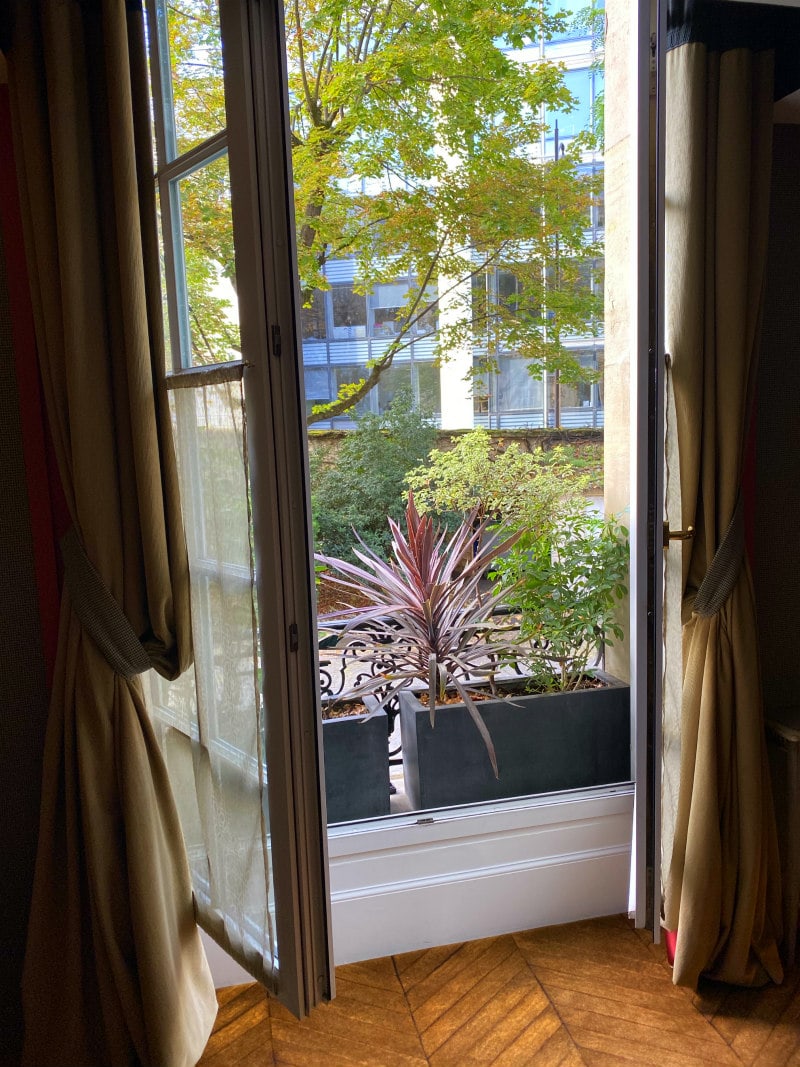 We were able to open up these big windows and let Paris into the room!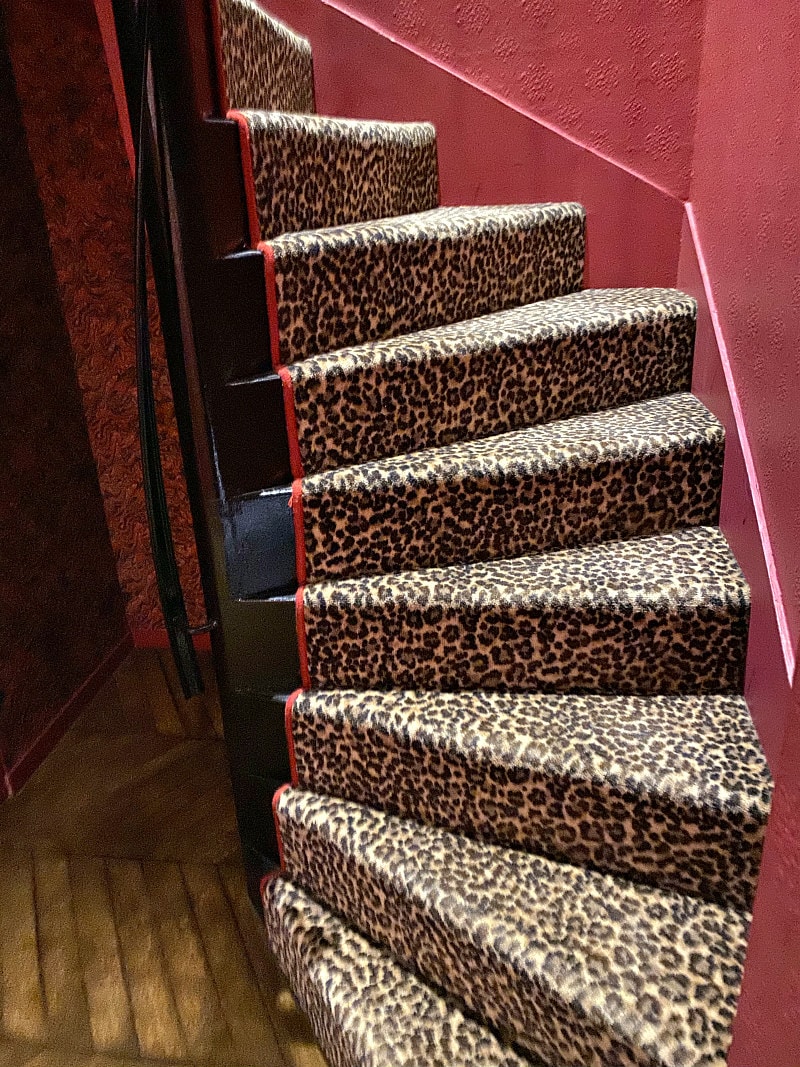 Here's an example of animal print mixed with traditional design. This winding staircase in our room led up to the master bedroom and full bath. I loved that the living area was completely separate from the bedroom.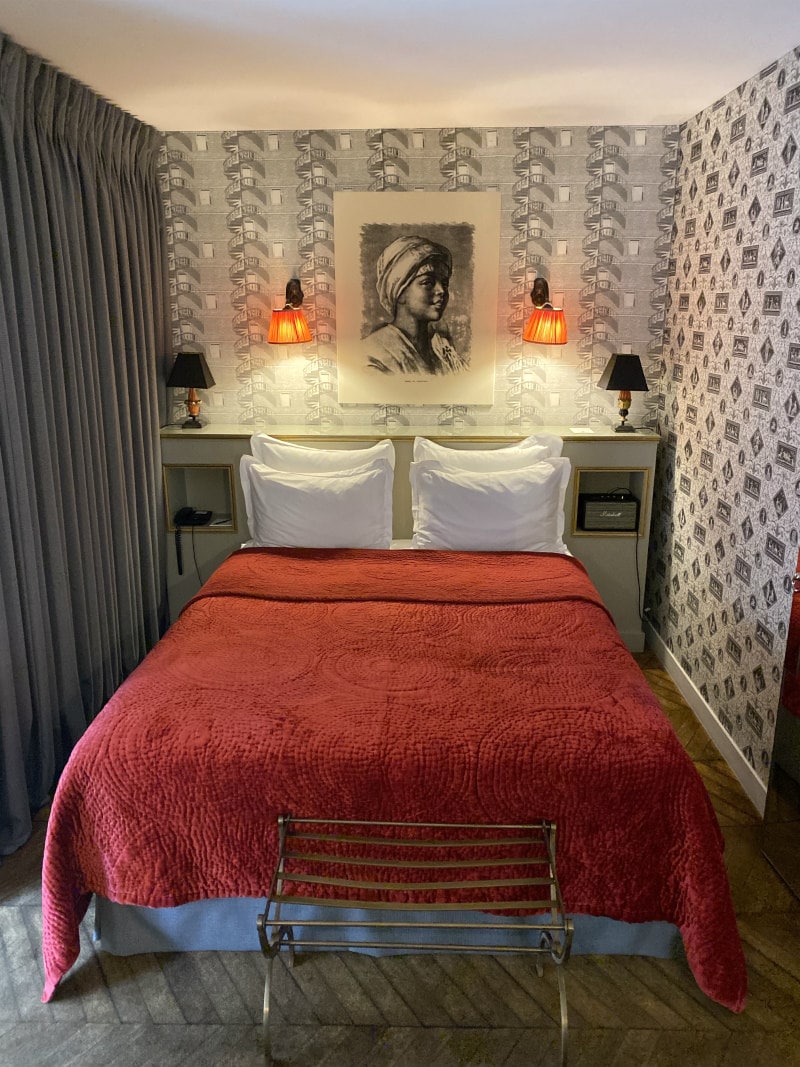 And here is the upstairs bedroom. It's larger than it looks. There is a dresser on the opposite wall and a large closet behind that curtain on the left. The upstairs bathroom was quite large.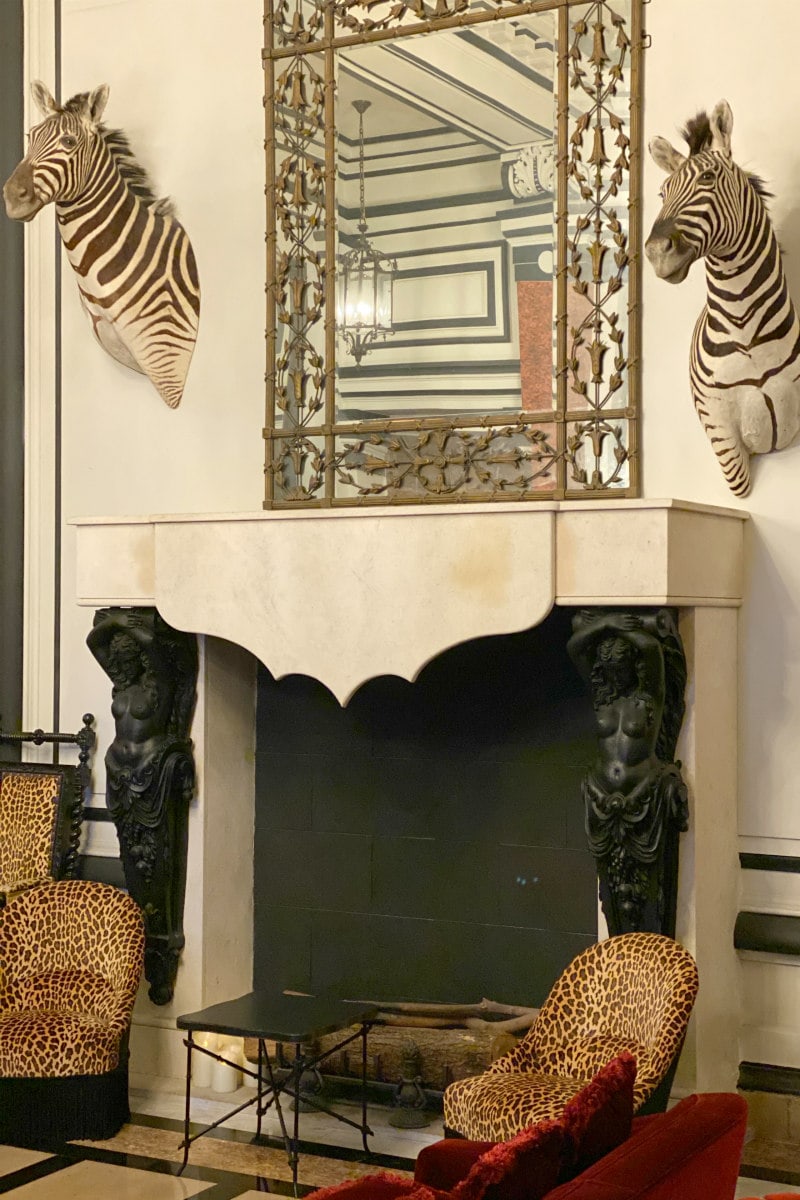 There's a touch of animal print in the lobby too.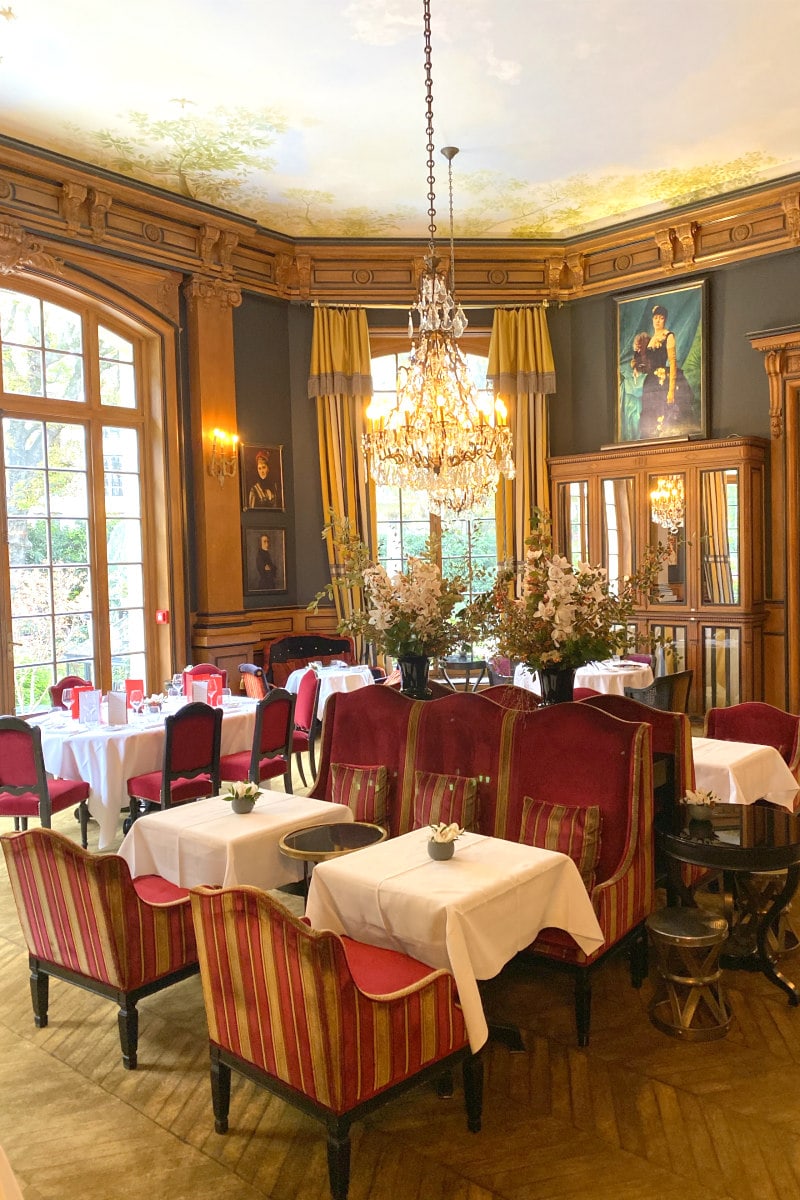 And then, when you enter the restaurant, you get a major dose of fancy, traditional design. Those chairs were all so comfortable!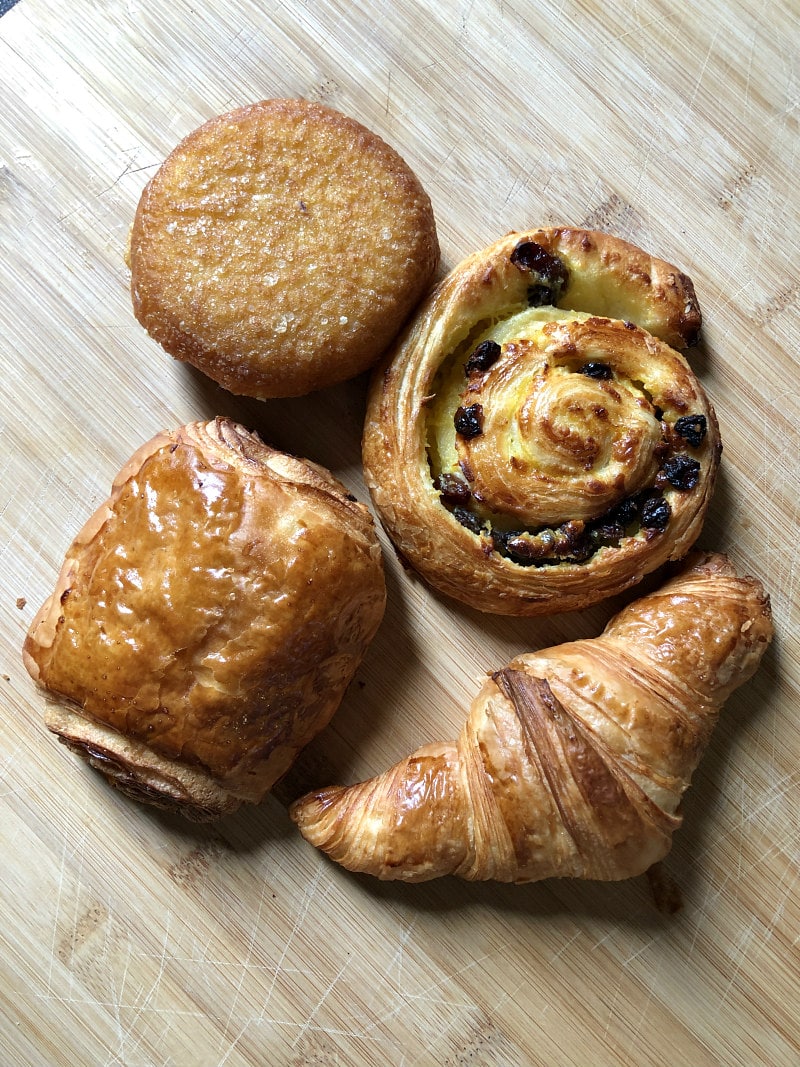 We had breakfast included with our stay each morning. French pastries and coffee/tea are abundant!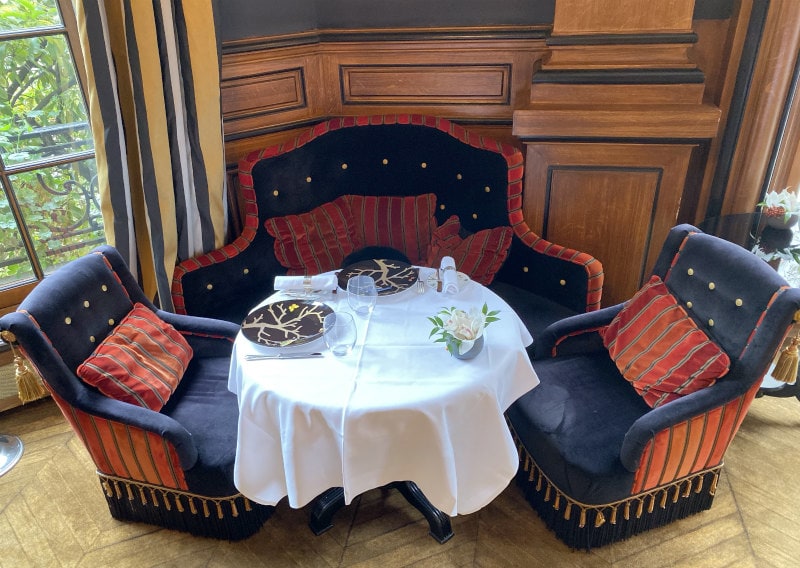 Here's another example of a seating area in the restaurant. So whimsical!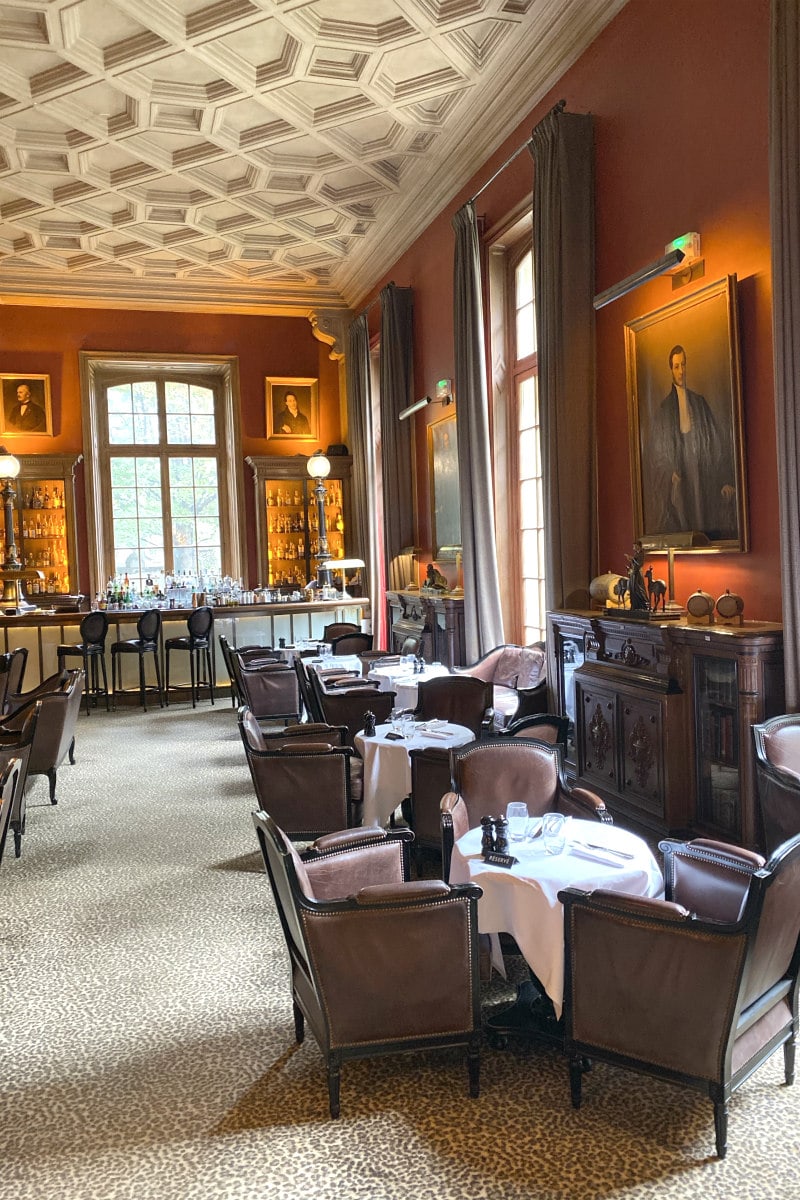 We spent our evenings relaxing in the bar- a very traditional set-up. The bar is a popular place for local Parisians. It seemed like a lot of people met here after work.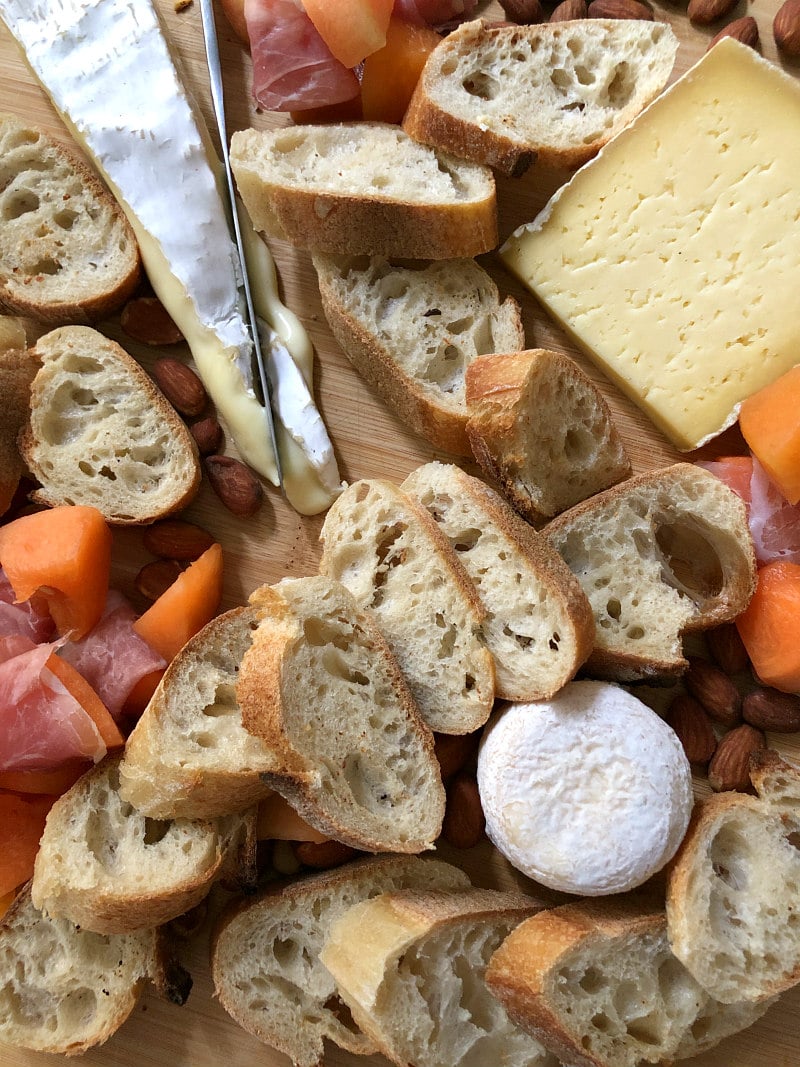 They had good munchies in the bar, and we were impressed with their selection of wine and cocktails too.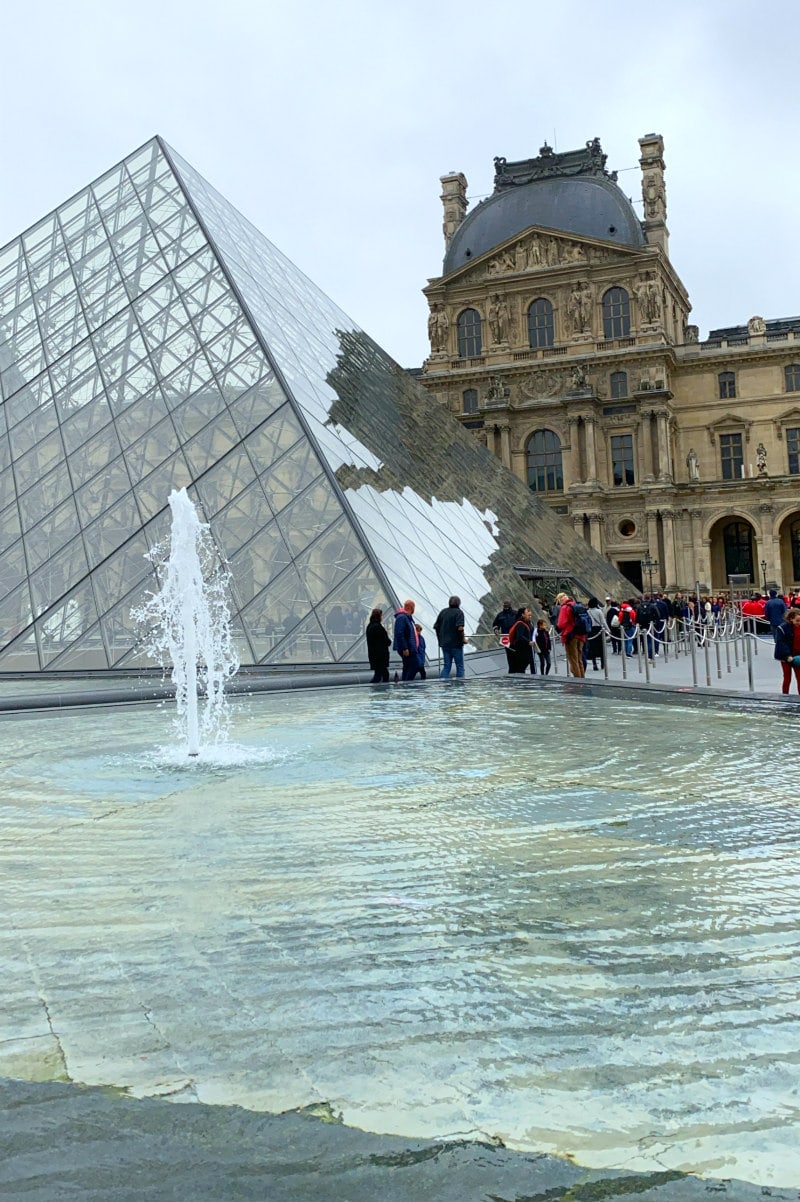 We only had two days in Paris this time. Since we have been to Paris a couple of times before, we didn't feel rushed to see so many things. We walked the grounds of the Louvre (have already been inside, so didn't opt to do it again).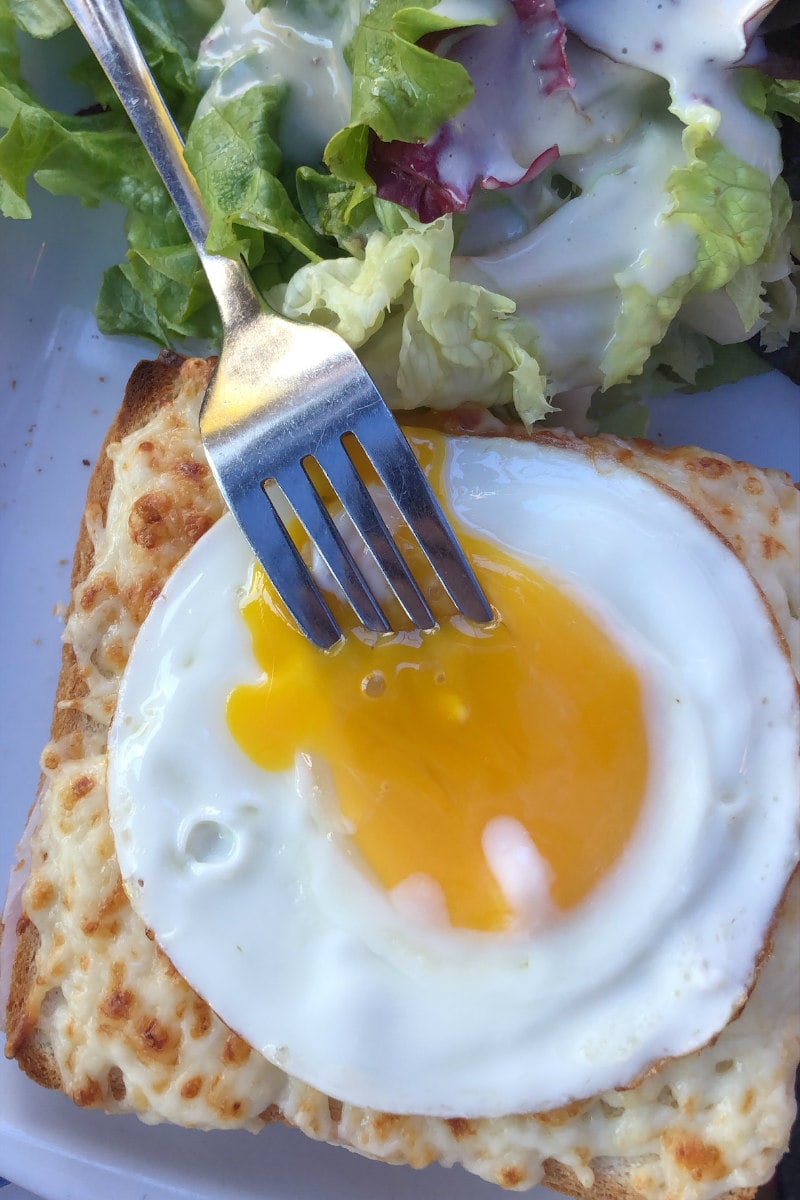 And we ate the obligatory Croque Madame (fried ham and cheese sandwich with an egg on top).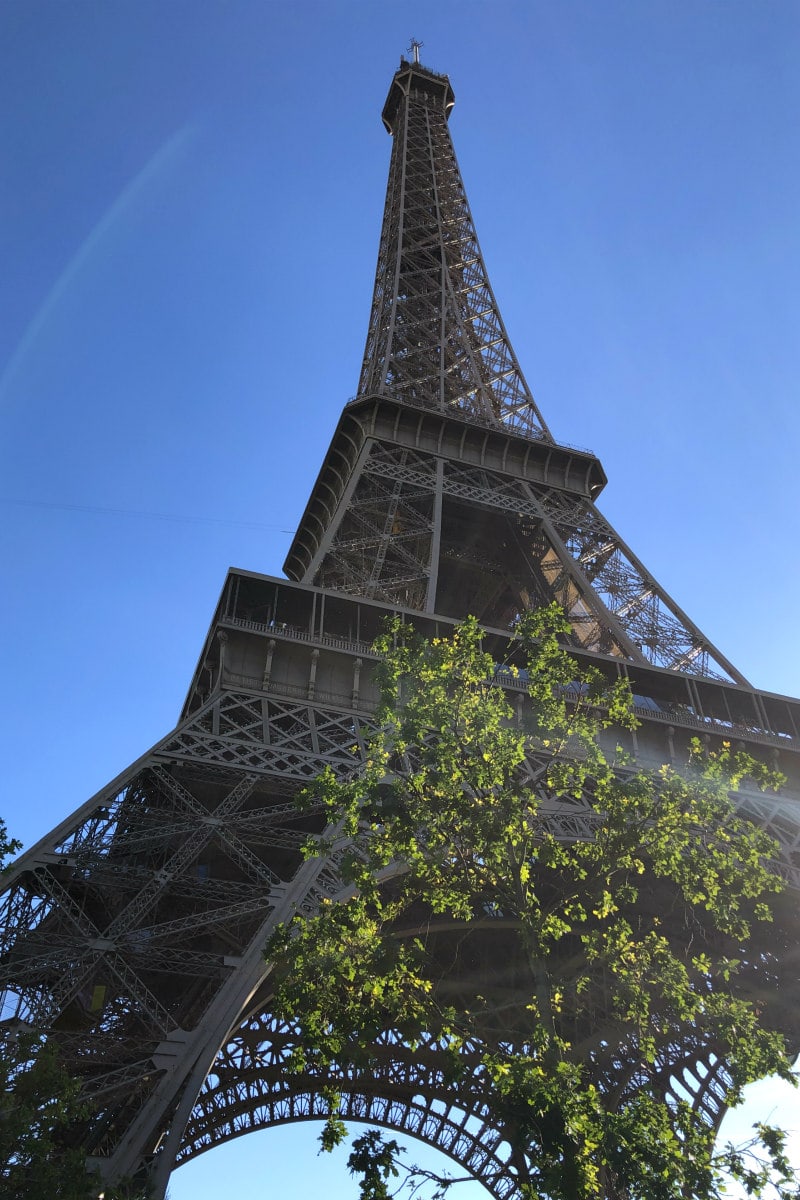 We did take the time to book a trip to the top of the Eiffel Tower. I highly recommend it. You don't wait in much of a line because you have a ticket to go in at a specific time. Book online– many weeks ahead of your trip.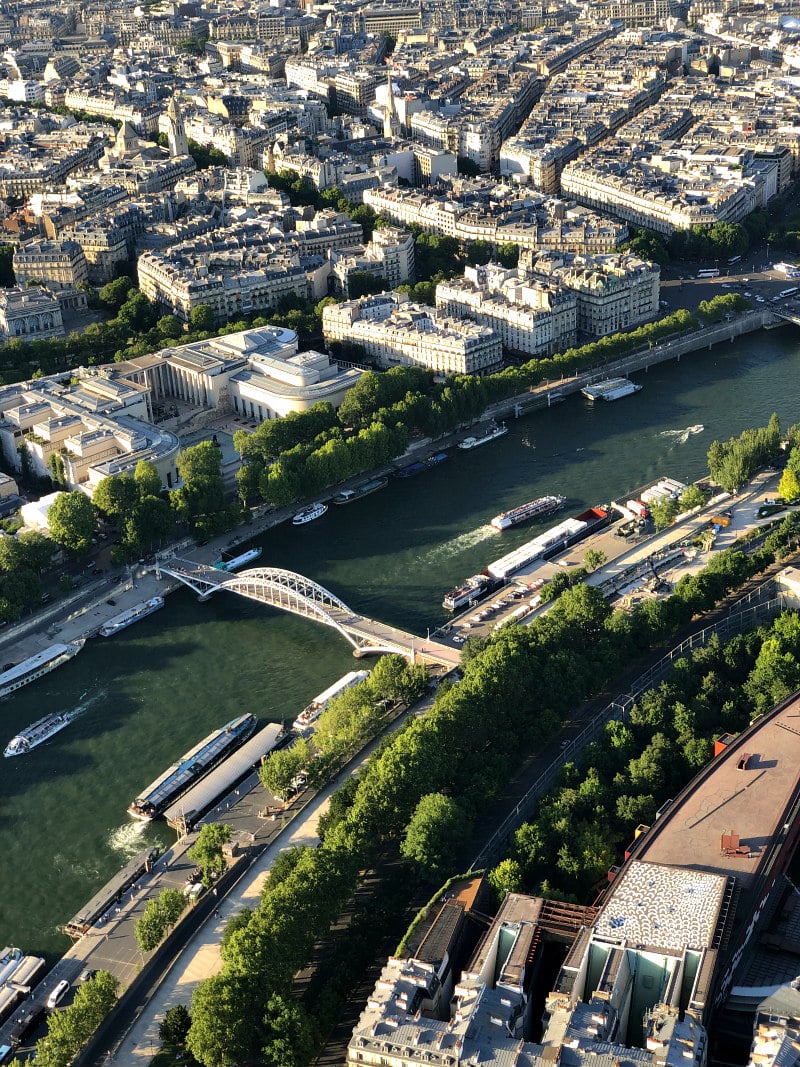 This is a view looking down onto Paris below. There are gorgeous views all around. You can stay at the top as long as you'd like.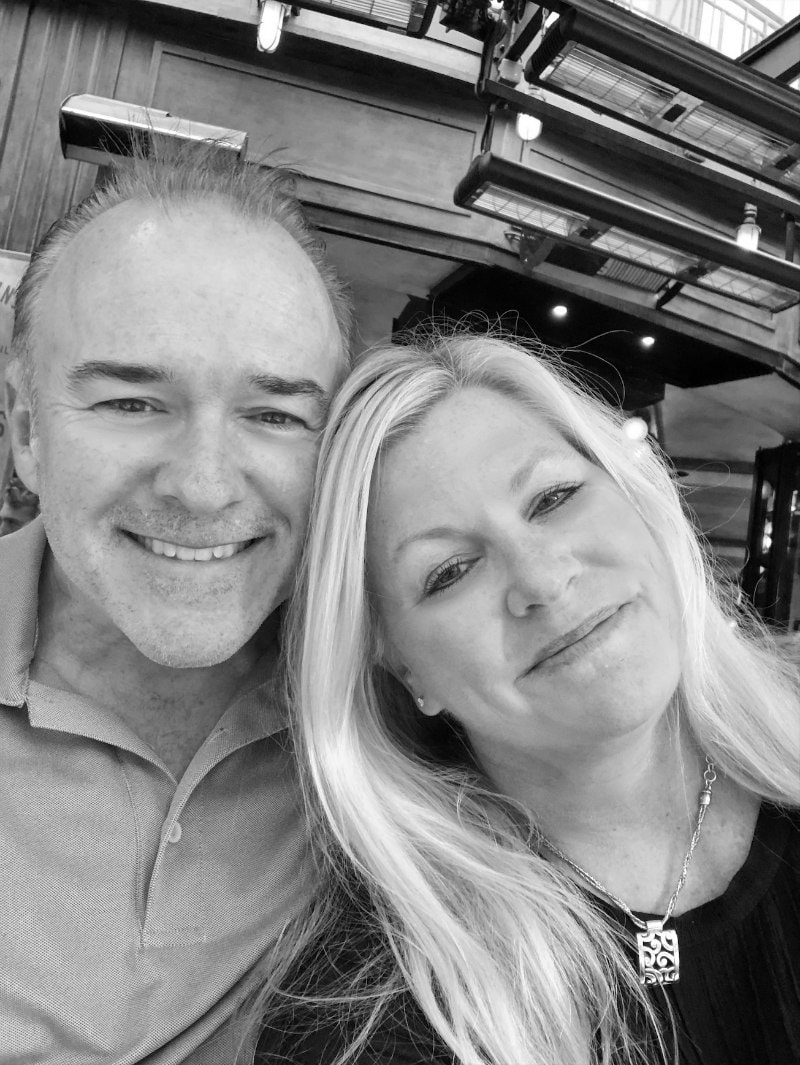 Paris is such a romantic city, and there is so much to do. This is me and my husband of course. We're empty nesters now– do we look happy about that?!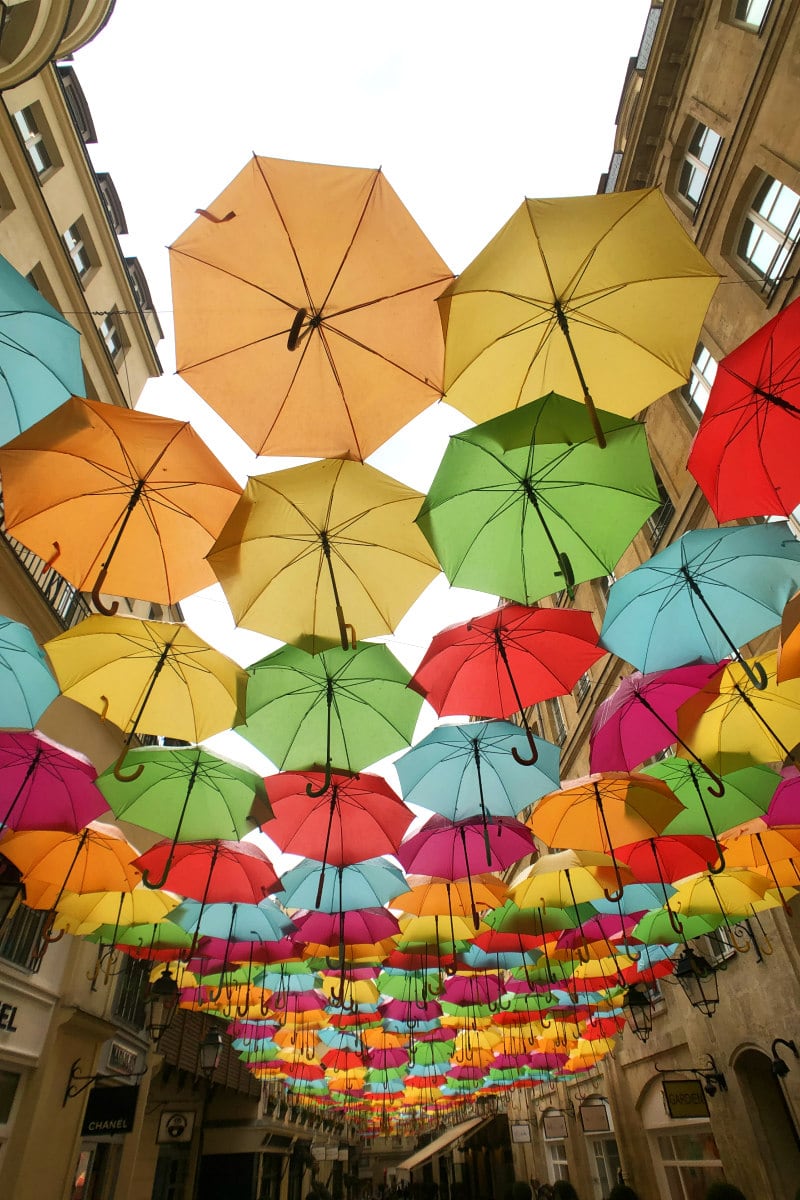 We found this scene of umbrellas near the luxury shopping not too far from our hotel… but they're not there year-round. They seem to pop up in different locations around the city at different times of the year. If you're lucky enough, you'll spot them one of these days. So pretty!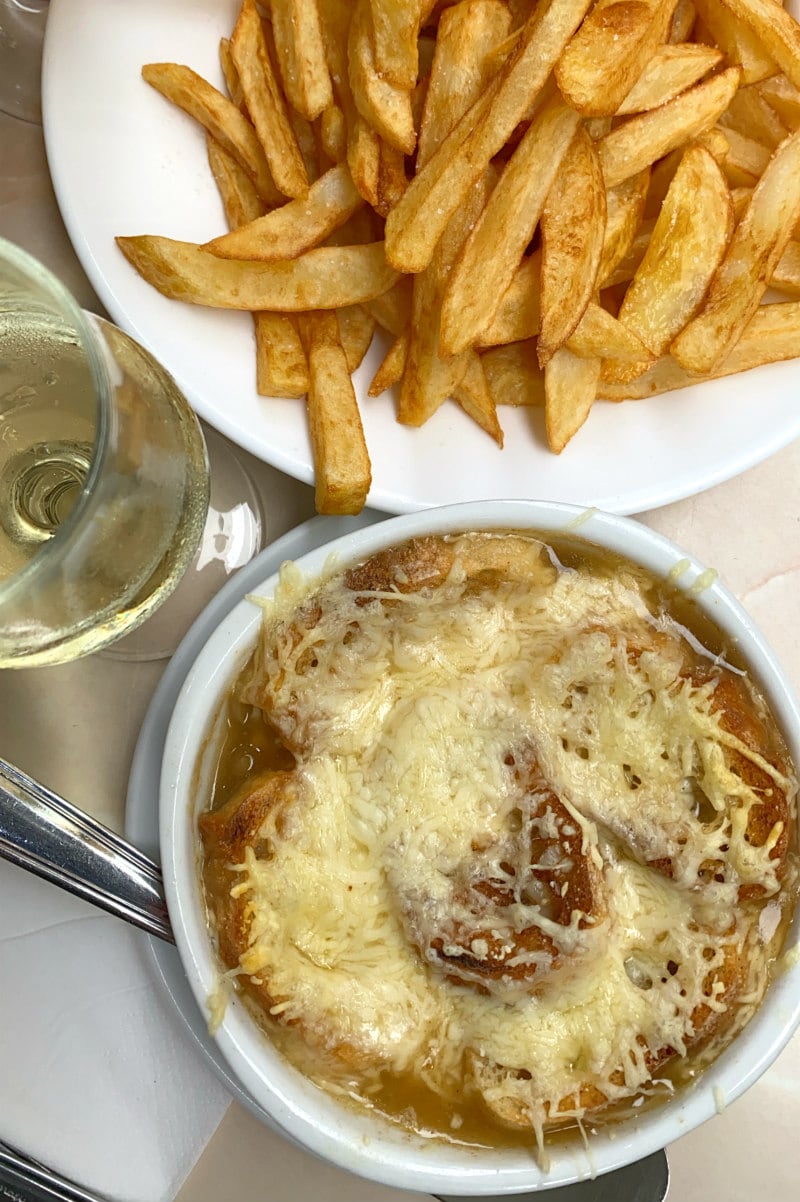 For late afternoon enjoyment, we grabbed French Onion Soup and French fries (because my husband thought it would be funny to order "French" fries, lol). Glasses of wine, of course, too!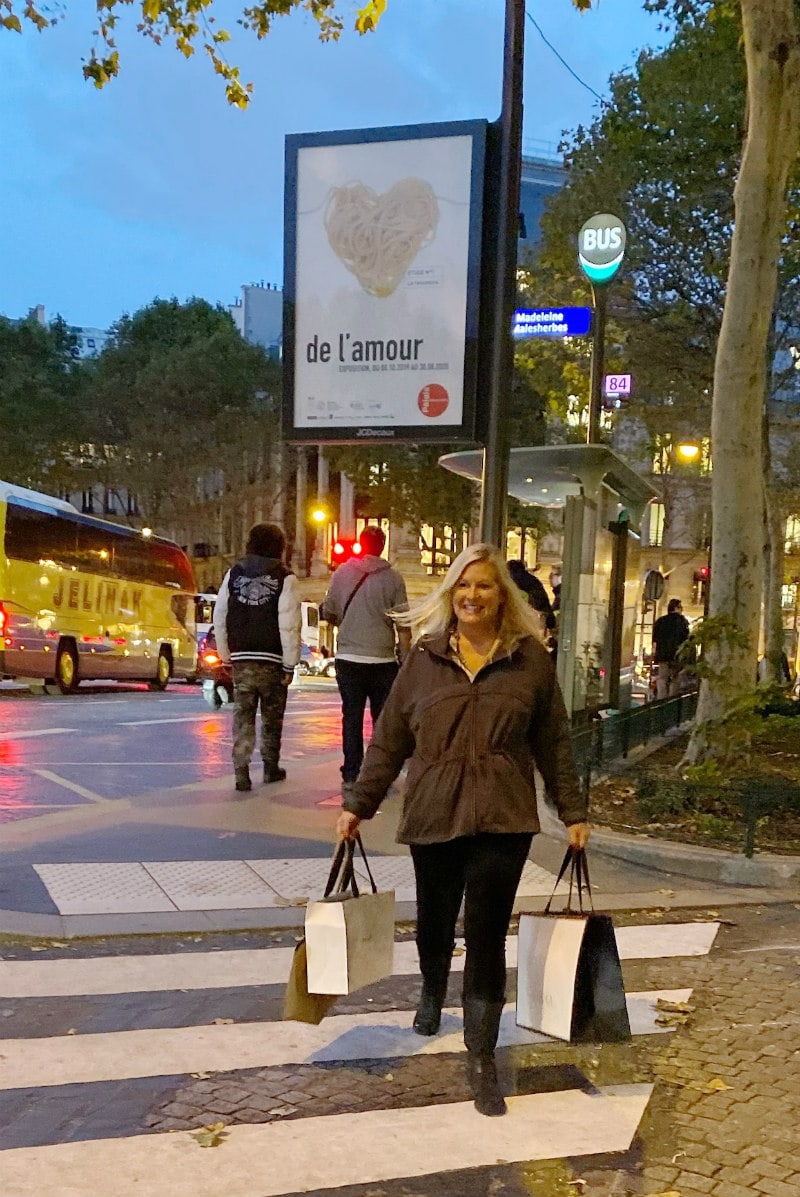 Shopping in Paris:
Once of the days we were there, I spent a good chunk of time shopping for handbags. I was pretty successful! If you shop in Paris (or anywhere in Europe), be sure to tell the vendor that you will be asking for a VAT TAX REFUND. In order to qualify for refund, your total purchase at any given store must be $175 Euro or more. Compile your receipts, get to the airport early, and fill out the form. You'll get around 12-15% refunded from your total purchase, and it will appear as a credit on your credit card (or in your bank account) in about 4 weeks.
Note: last summer, I traveled in London, Paris and Rome. I compared prices at all of the luxury stores and found that Paris and Rome had similar pricing. Everything in London was priced a little higher.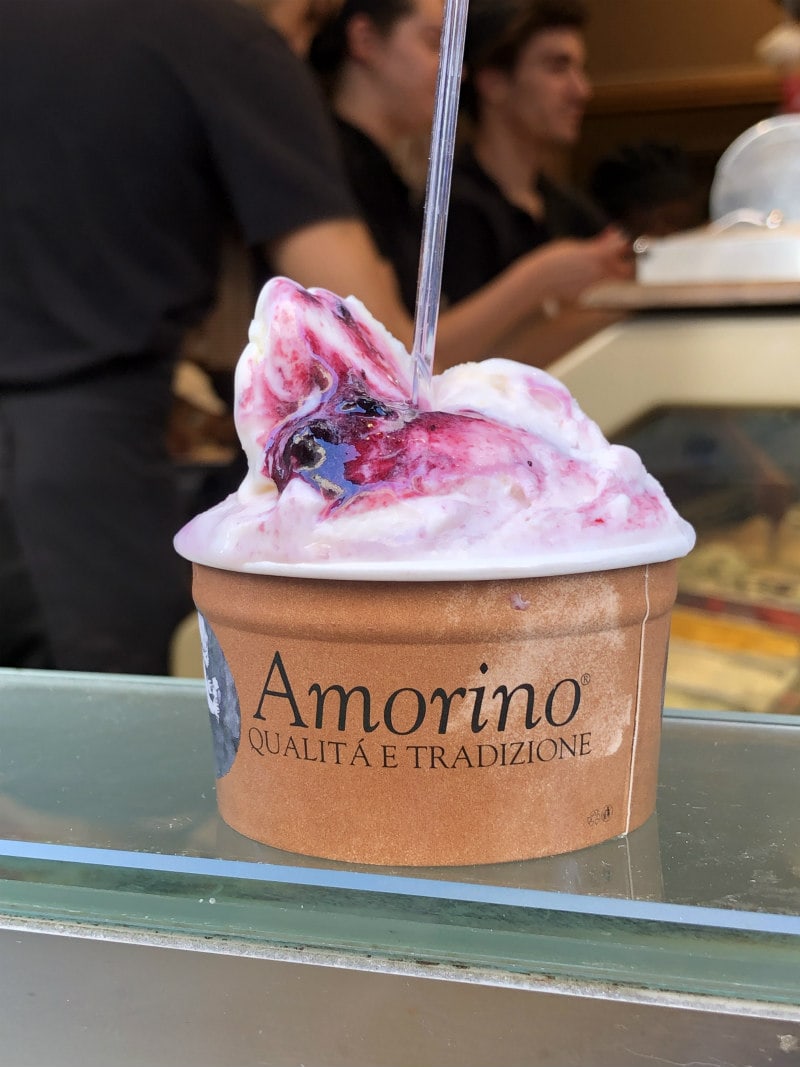 When in France, be sure to eat plenty of gelato. And pastries. And crepes!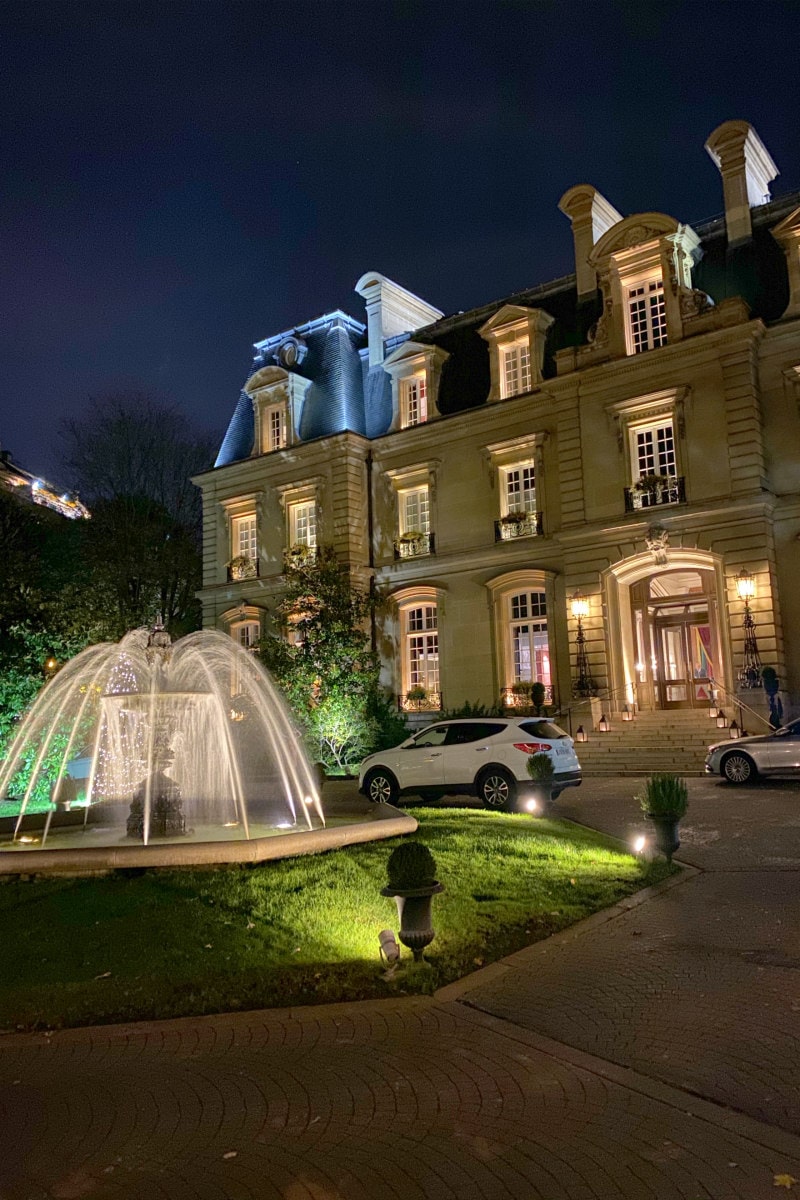 Saint James Paris Review- What we loved about this hotel:
The location. If you are one who likes to walk, it's walkable to so many places.
The hotel grounds. It feels like you're on a fancy, important estate… rather than a hotel.
The room. It was cozy, and it felt like home having two floors to explore.
The bar and restaurant. These were both inviting and relaxing.
The staff. Everyone was super friendly and helpful.
Hotel Information:
Saint James Paris: https://www.saint-james-paris.com/
5 PLACE DU CHANCELIER ADENAUER
75116 PARIS
TEL : + (33) 1 44 05 81 81
Email: CONTACT@SAINT-JAMES-PARIS.COM
Note: This is not a sponsored post. It's just a beautiful hotel where my husband and I chose to stay while visiting Paris.
Here are a few more posts highlighting European travel that you might like to read: