I'm excited to share with you a short series of posts (the next few Sundays) about my recent trip to Italy with Insight Vacations: Luxury Escorted Tours.  They invited me to come along on the trip with several other travel and food writers from all over the world… to experience this tour of Rome, Italy for myself and to share it with my readers.  The first stop on our tour was Rome!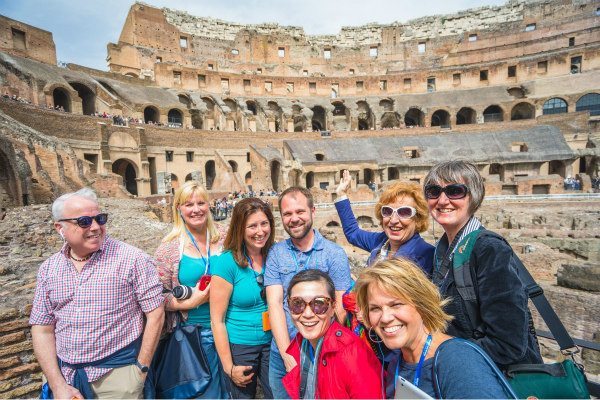 I have been to Italy a couple of times with my husband, but I had never been to Rome.  Needless to say, I was really, really excited that Rome was on the itinerary.  The Ultimate Italy trip is part of Insight Vacations Luxury Gold collection of tours.  This means it's a high-end guided luxury tour with 5-star hotel stays, Michelin-star dining and VIP access to landmarks, performances and unique excursions.  The tour offered from Insight is a 12-day tour… on our press tour, we had an 8 day sampling of the Ultimate Italy tour.  What you'll be seeing on my posts is the same or similar to what you'd experience if you were to book an Ultimate Italy tour with Insight Vacation's Luxury Gold.
Here's a peek at our tour of Rome, Italy:
Our hotel: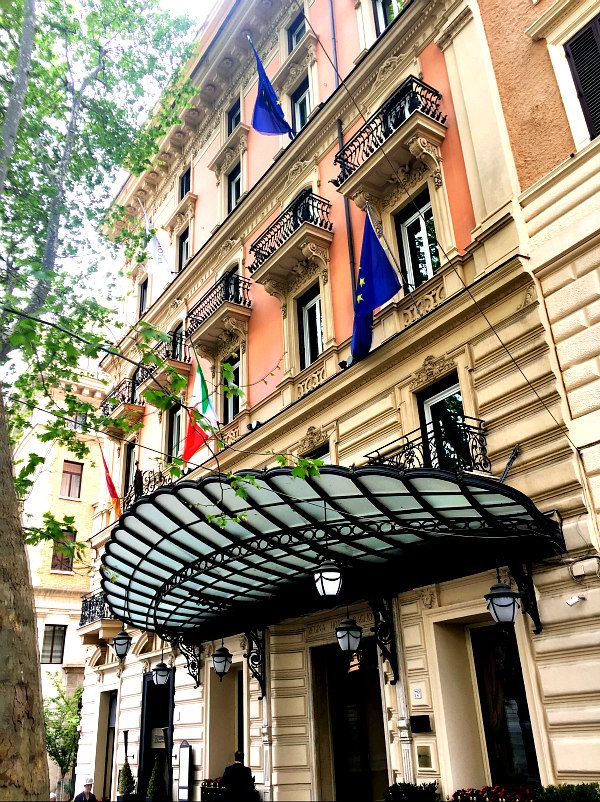 I traveled with my friend Sandy (Reluctant Entertainer), and we arrived in Rome on the morning of Day One of the tour.  Private transportation (organized by Insight Vacations) met us at the airport and whisked us off to our hotel: Baglioni Hotel Regina.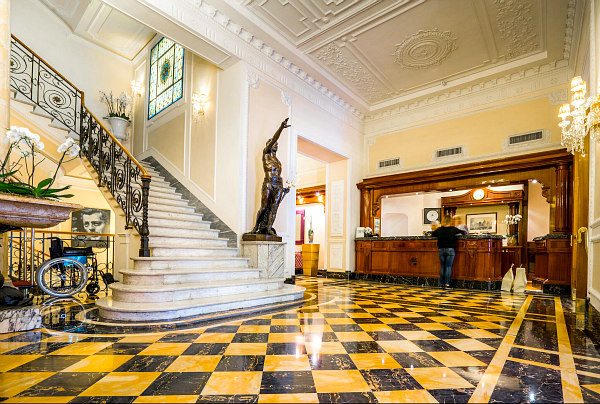 This is a gorgeous hotel with 5-star service– and it's in a fabulous location.  We were able to walk to just about everything!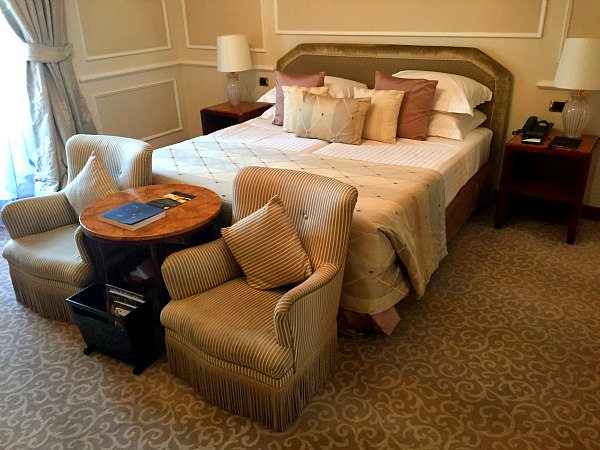 Here's a peek at my (double twin) room.  It was large and comfortable and quiet.  As with most European hotels, you need to make sure you bring an adaptor for your electronics.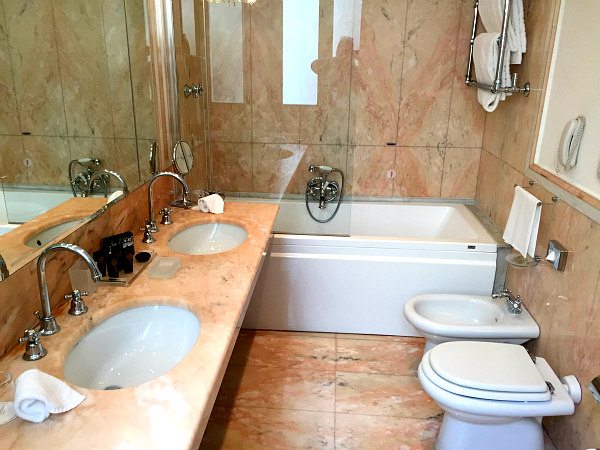 The bathroom was upgraded luxury as well.  Two cozy robes were provided for our use, and high-end toiletries too.  We arrived at our hotel early, checked in with our Insight Vacation's tour director (who informed us that we'd all be meeting in the lobby for dinner), so we had plenty of free time to do whatever we wanted. After a short chat with the hotel concierge regarding the map of Rome, we took off to explore some of Rome's greatest sights by foot.  Exploring Italy is pretty exciting… there are ancient ruins just about everywhere!
A walking tour of the city: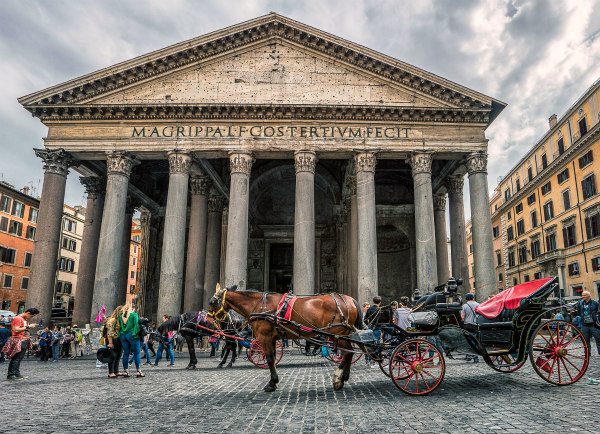 The Pantheon:  The first building of this ancient temple was built by Agrippa, the son-in-law of the Roman Emperor Augustus, about 27 B.C. Today, above the entrance carved in stone are the words "M. AGRIPPA L. F. COS. TERTIUM FECIT" which is translated, "Marcus Agrippa, son of Lucius, in his third consulate, made it."   The present building was completed by the emperor Hadrian and probably dedicated about 126 AD. He kept Agrippa's original inscription. It is one of the best-preserved of all Ancient Roman buildings. Since the 7th century, the Pantheon has been used as a church.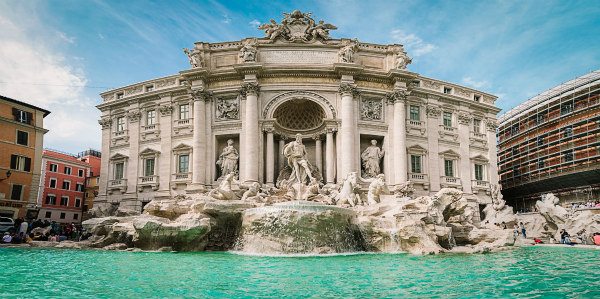 Trevi Fountain:  This is a fountain in the Trevi district in Rome.  It's the largest Baroque fountain in the city, and it's one of the most famous fountains in the world.  Design and construction on the fountain began in 1732 (Nicola Salvi) and it was completed in 1762 by Pietro Bracci.  Legend holds it that if visitors throw a coin into the fountain, they are ensured a return visit to Rome!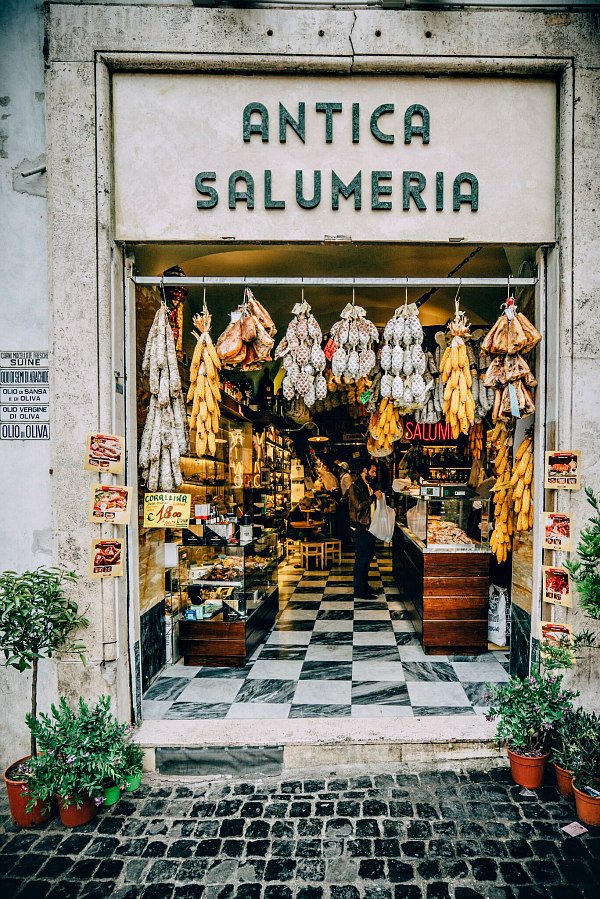 … just your basic, beautiful charcuterie on the streets of Rome!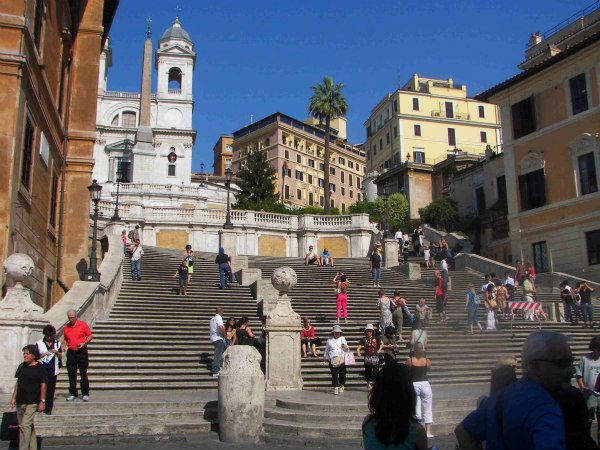 The folded street maps of the city are slightly confusing.  We walked all over the city trying to find the Spanish Steps… and we FINALLY found them.  The Spanish Steps are a set of 135 steps connecting Piazza di Spagna at the base and the Trinità dei Monti church at the top.  They've been the setting for many movies (including The Talented Mr. Ripley and Roman Holiday).  The residence of English poet John Keats is at the bottom of the steps (now a museum).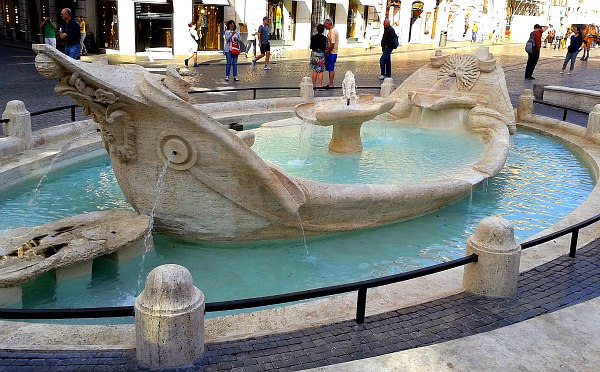 Also at the base of the Spanish Steps is this famous fountain in the Piazza di Spagna:  Fontana della Barcaccia (translated as "fountain of the ugly boat").  It is so named because it is in the shape of a half-sunken ship with water overflowing its bows. The design was inspired by a 1598 flood in the Piazza di Spagna. Once the water withdrew, a boat was left behind in the square.  The fountain was completed in 1627 by Pietro Bernini and his son Gian Lorenzo Bernini.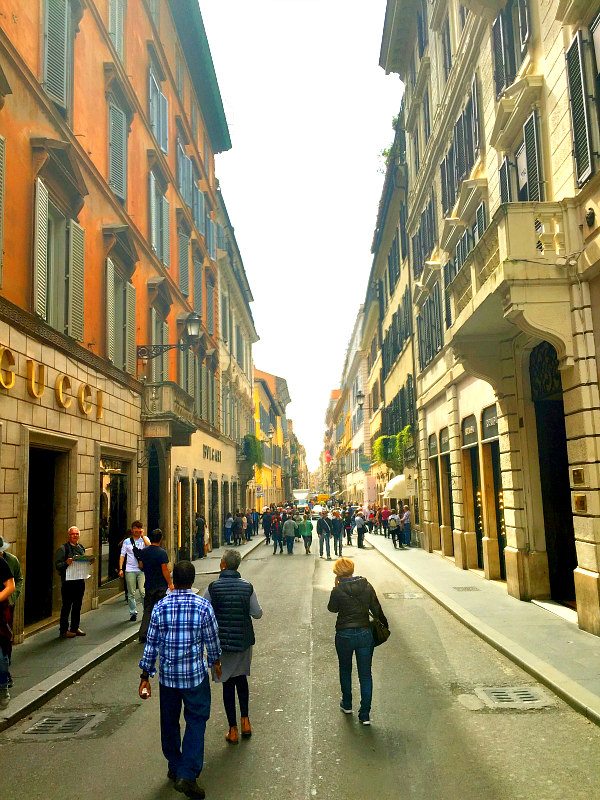 The Piazza di Spagna is full of hotels, residences and great shopping.  It's a fabulous place to walk around.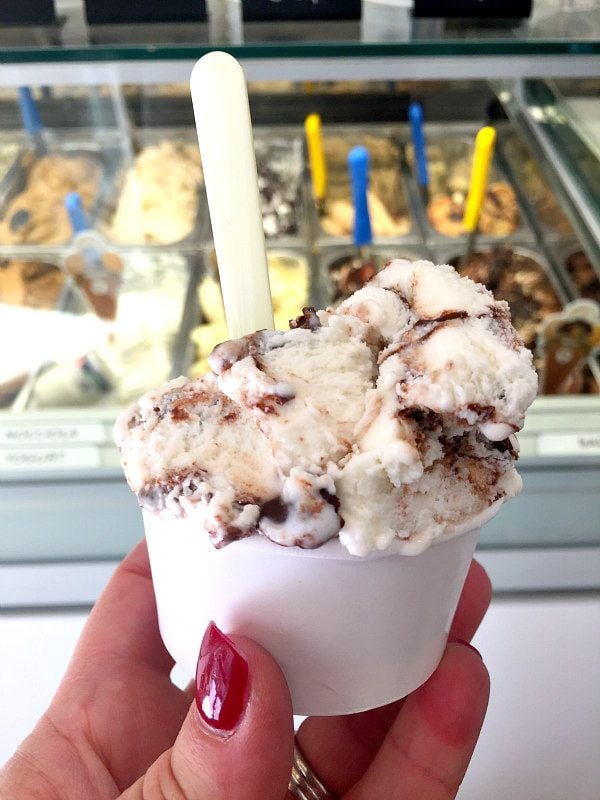 After exerting so much energy walking all over Rome, it was time for gelato.  Sandy and I decided on Day 1 of our trip that we were going to treat ourselves to a gelato every single day while we were in Italy.  Gelato #1: Nutella Swirl.  Let's just say I ate every bite!  We were pretty exhausted, so we grabbed a cab back to the hotel (cabs are easy to catch… just don't catch one in front of a popular site such as the colosseum or they'll really hike the price up for tourists).
Dinner with the Insight Vacations tour group: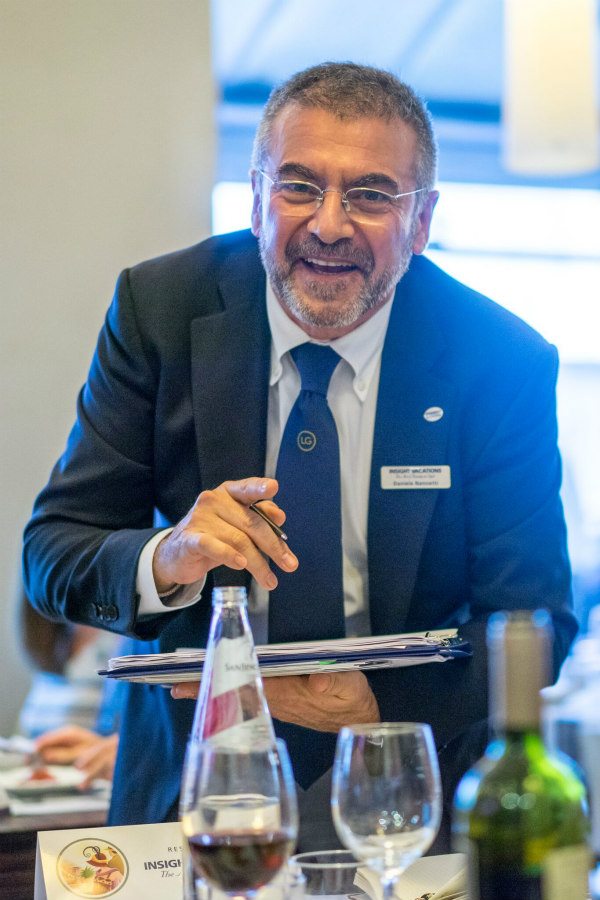 This is Daniele, our tour director.  Let me just say that if Insight chooses their tour directors as carefully as they chose Daniele, then every tour is in for a treat.  He was absolutely fabulous in every way.  Every detail… every concern… every event we did together… Daniele was right there taking care of everything and running such a smooth tour.  Plus, there was a smile on his face 100% of the time.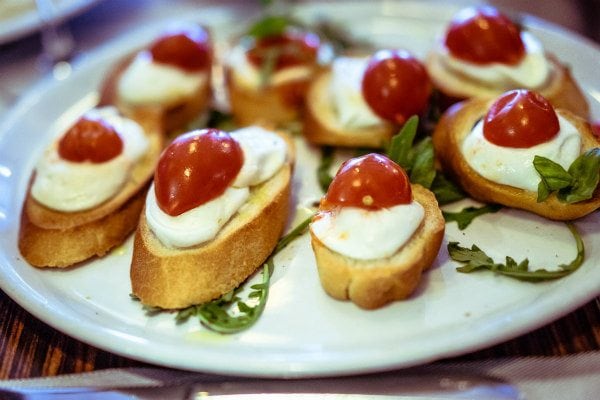 The first night, our tour group ate together for a welcome dinner at an authentic, boutique Italian pizzeria: Pizzeria San Marco.  It was a lovely evening of getting to know the other folks on the tour (from places such as the UK, Australia, Philippines, New Zealand and Canada).  The food was wonderful and the wine flowed endlessly.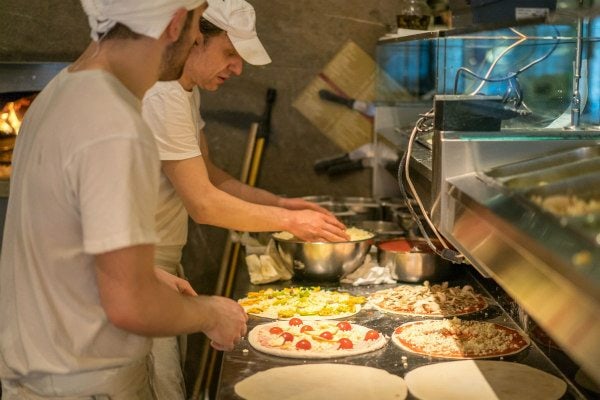 We each ordered our own pizza from a large selection of choices.  The wonderful thing about a tour like this is that Insight Vacations takes care of everything.  We didn't have to worry about the bill, and our transportation was taken care of too.  After dinner, our motor coach took us on an evening tour of the city.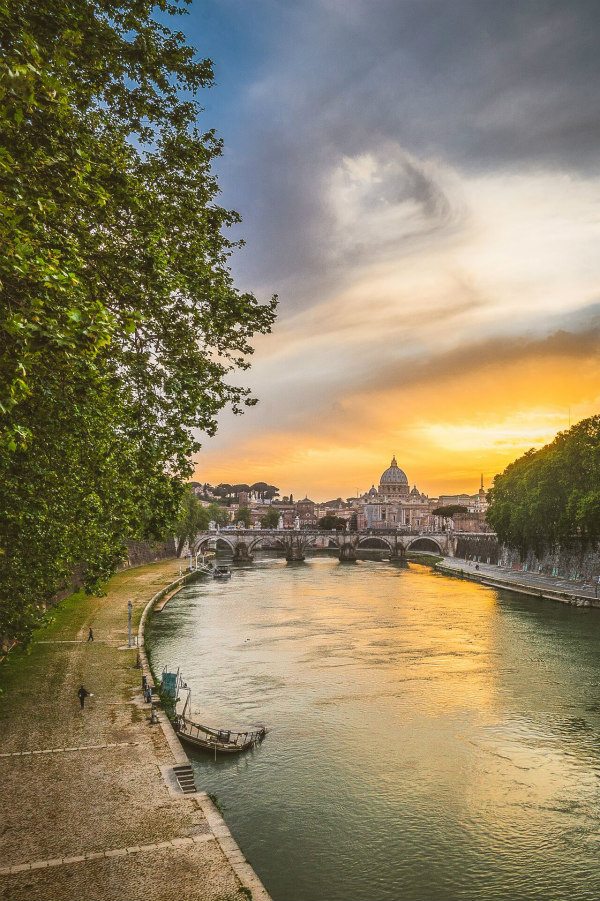 A photo from our tour photographer Simon…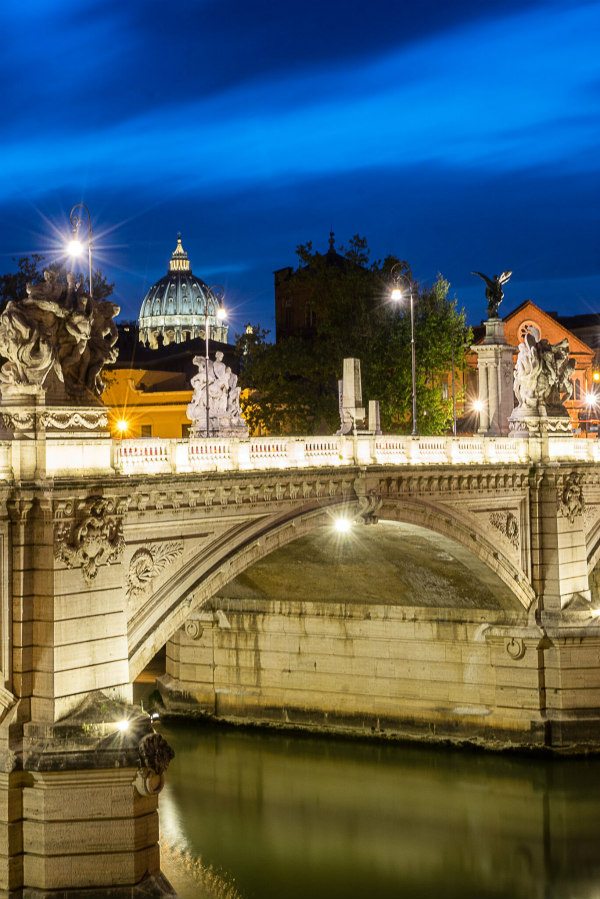 … and another.
Day 2:  Seeing a few of the major sights in Rome
First:  The Vatican– Sistine Chapel– St. Peter's Square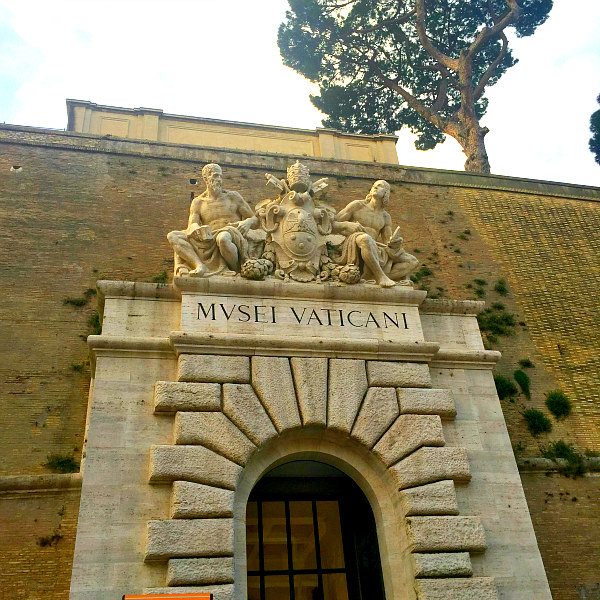 After a delicious buffet breakfast at our hotel, we were off for a full-day of sightseeing in Rome. Something cool about the Insight Vacation's Luxury Gold Tours is that they offer VIP experiences.  We were able to get into the Vatican early- before it opens to the public and before the huge crowds descend upon it.  That works so well for me because I really dislike being in large crowds!  Once we arrived, Daniele introduced us to our expert tour guide who would be educating us about what we'd be seeing that day.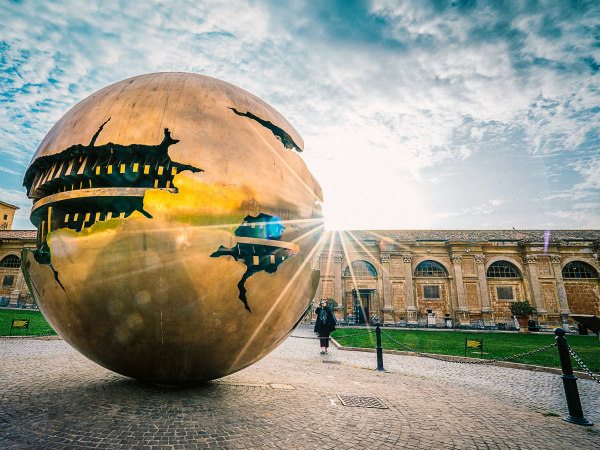 The "Sphere within a Sphere" Statue depicts a huge fractured orb. Inside the cracked orb you can see another one. Each tremendous sphere is broken, showing yet another cracking sphere. The design of the internal layers seems to imitate the gears or cogwheels of a complex machine such as a clock. It symbolizes the fragility and complexity of the world. This statue is located in the courtyard of the Pine cone outside the Vatican Museum. Italian Sculptor Arnaldo Pomodoro started to create these orbs in the early 1960s. (text from Vatican.com)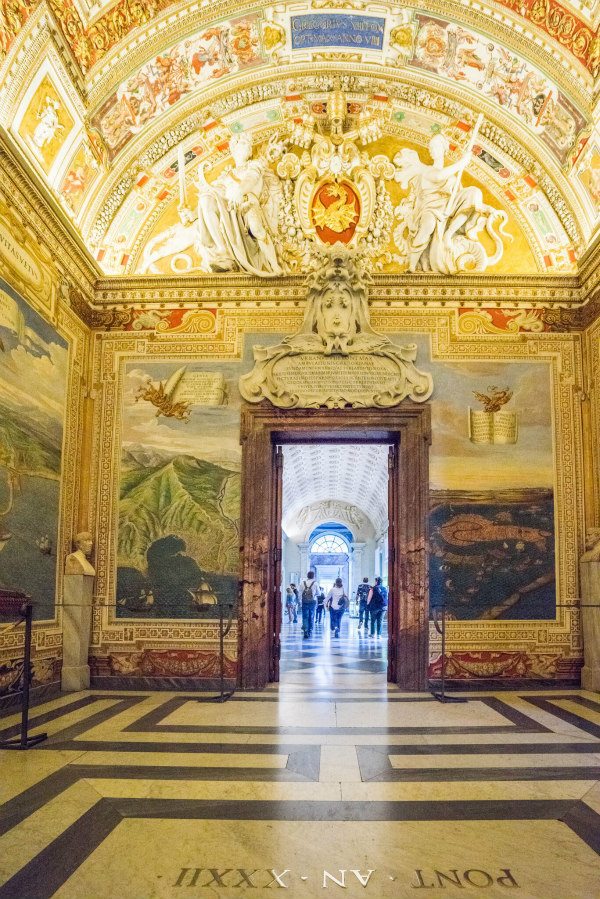 Prior to coming to Italy, everyone told me that the hallways/museums leading to the Sistine Chapel were actually more beautiful than the chapel itself.  They were right.  Every hallway was indeed opulent and grand.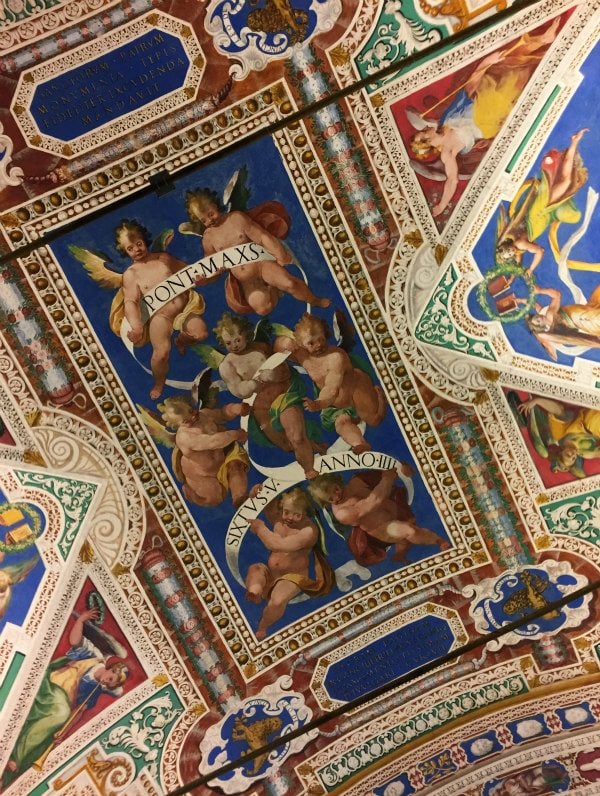 The ceilings were beyond anything you could ever imagine.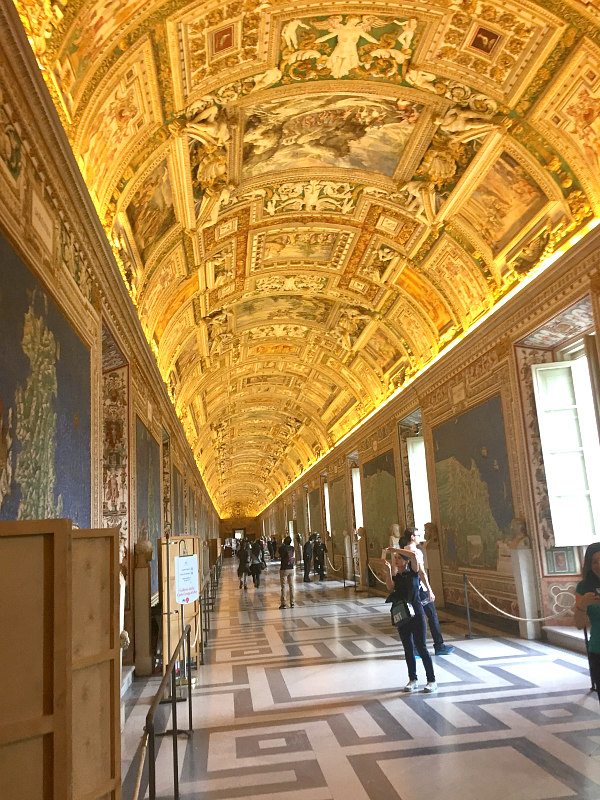 And as you can see, there were very few people in the hallway since we were permitted to enter before it opened to the public.  That made the experience so much more enjoyable… and it was much easier to take photos.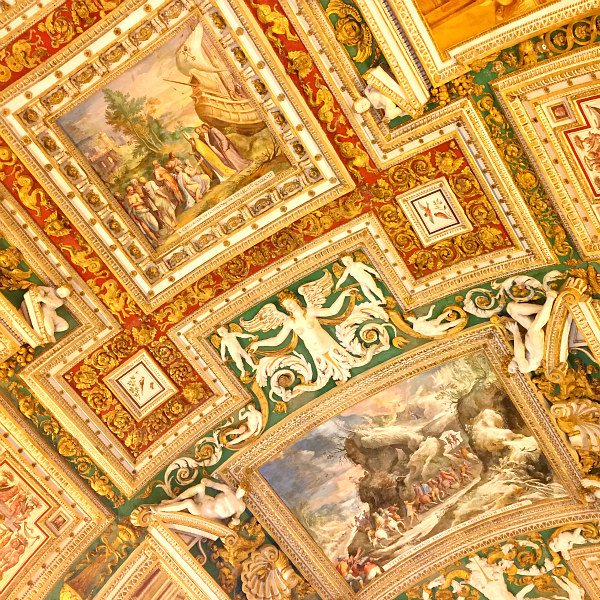 Clearly I was obsessed with the ceilings!
This is a peek at the exterior of the Sistine Chapel– the large papal chapel built within the Vatican between 1477 and 1480 by Pope Sixtus IV, for whom the chapel is named.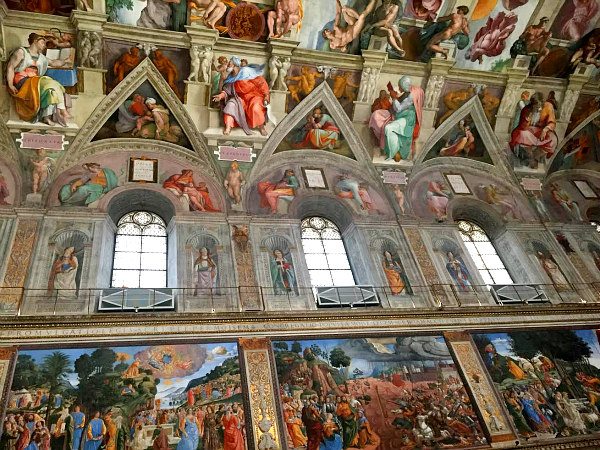 We weren't supposed to take any photos in the Sistine Chapel itself, but I was able to sneak a non-flash photo of the wall leading up to the windows and the ceiling.  It's the ceiling that is most famous– it was painted by Michelangelo between 1508 and 1512.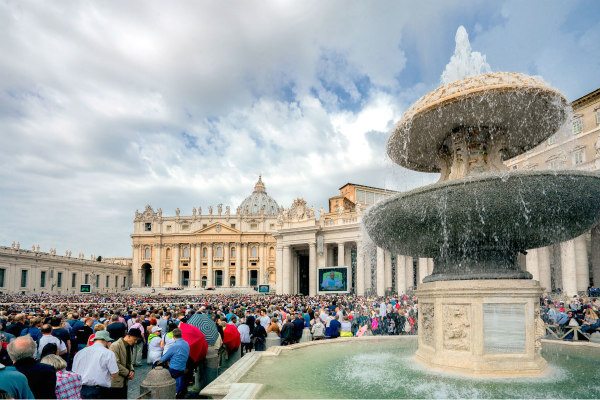 As we made our way into St. Peter's Square– the large plaza located directly in front of St. Peter's Basilica- our guide mentioned that we just might see Pope Francis.  Indeed we did!  He was addressing the crowd… you'd need to arrive early (with a ticket to get in) if you wanted to be up front.  As you can see, there were a LOT of people there to see him.  They have large screens around the square showing him up close and speaking on the screen.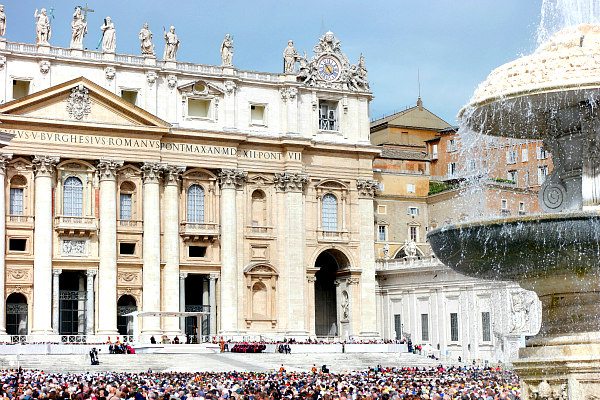 You can see where he is up there under the covered area…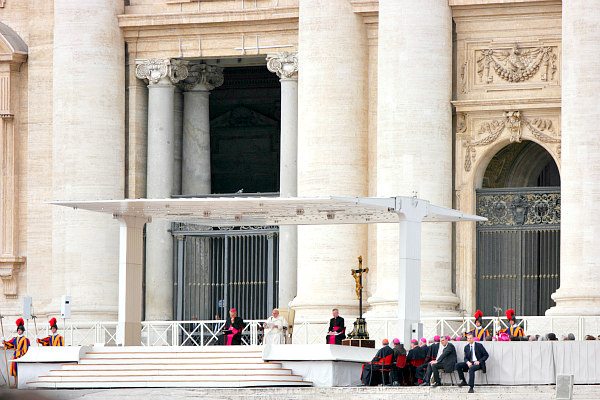 …and here he is a little closer up!  Such a neat experience… I mean, it's the Pope!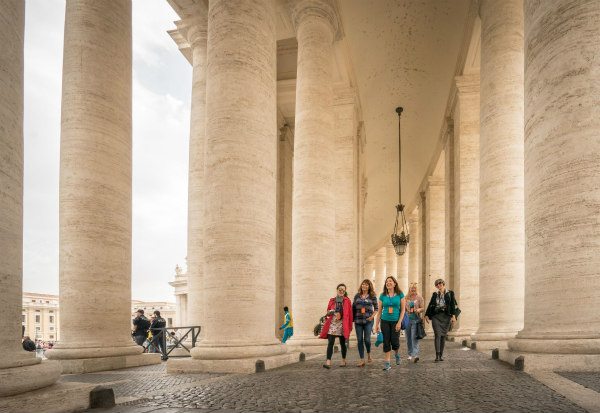 Here's a few of us walking on the outskirts of St. Peter's Square along a pathway of giant columns.
Next:  The Colosseum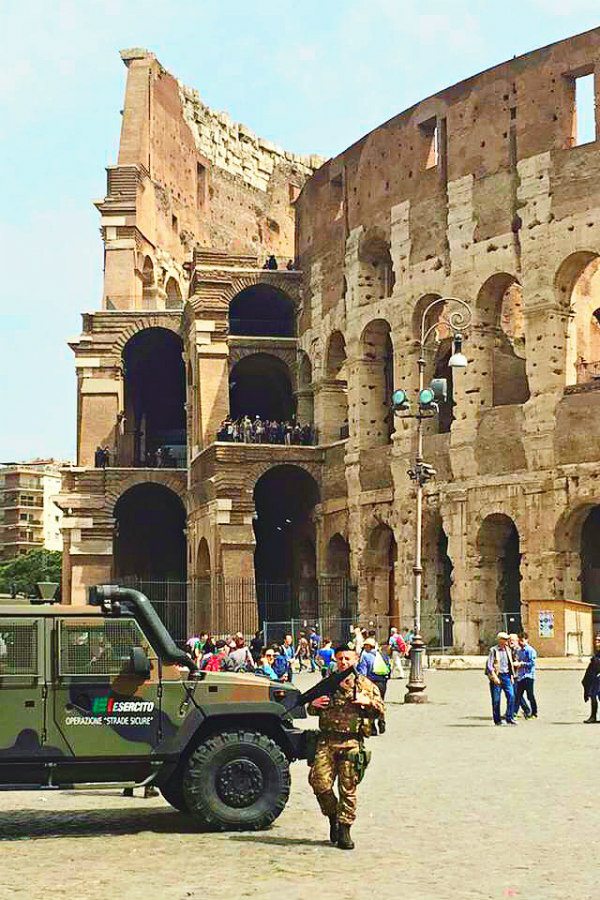 The Colosseum, also known as the Flavian Amphitheatre, is an oval amphitheatre in the centre of the city of Rome, Italy. Built of concrete and sand, it is the largest amphitheatre ever built.  Construction began under the emperor Vespasian in AD 72, and was completed in AD 80 under his successor and heir Titus.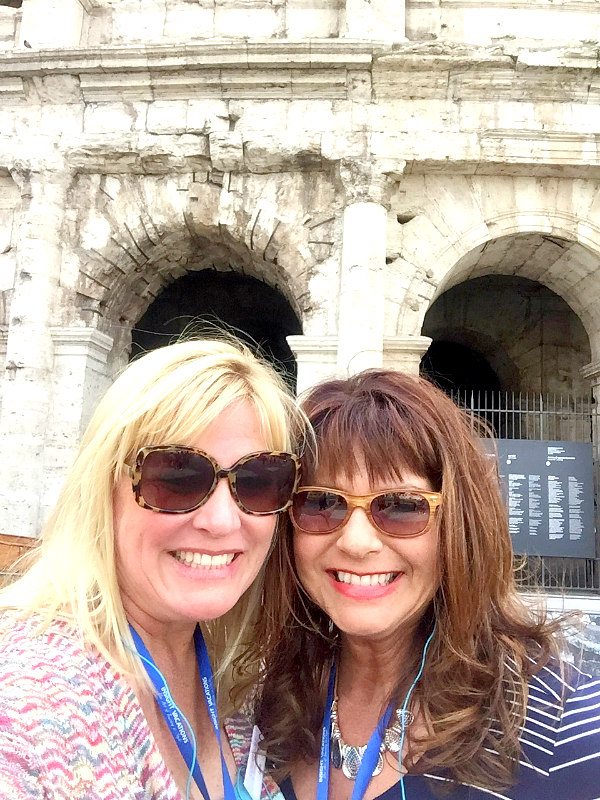 Sandy and I were pretty excited to experience this historical landmark!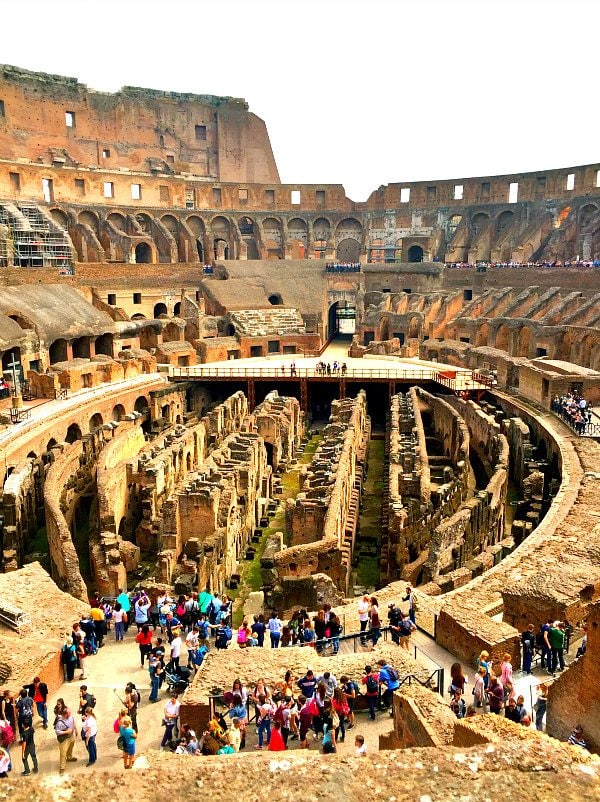 It is estimated that the Colosseum could hold between 50,000 and 80,000 spectators.  It was used for gladiator contests, animal hunts, executions, re-enactments of famous battles, and dramas.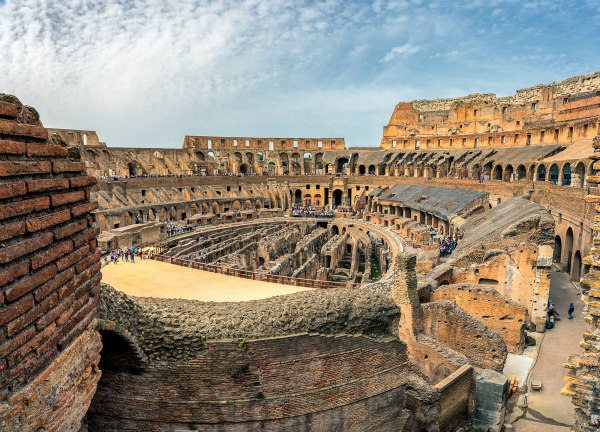 It's truly amazing that this piece of history has been frozen in time so nicely.  The city has done a lot over the years to help with the restoration process.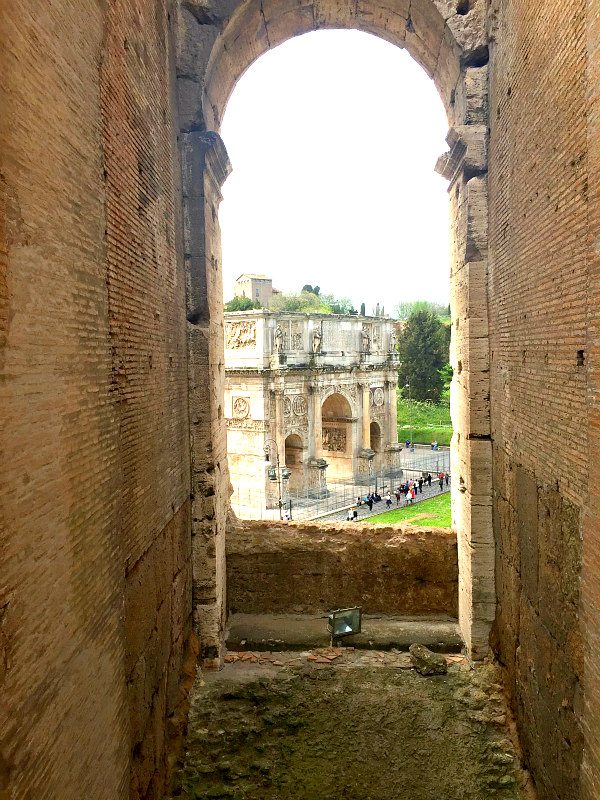 This is a view peeking out at some more of Rome's preserved historical landmarks.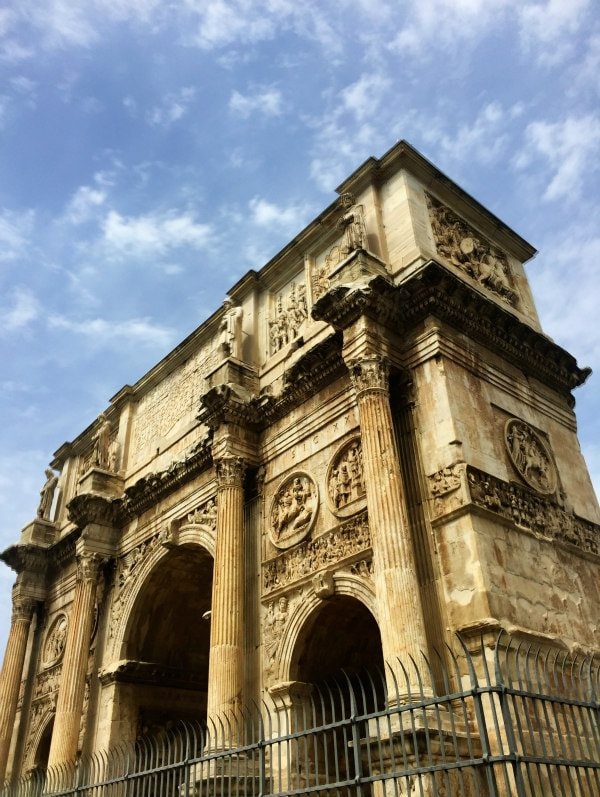 This is the Arch of Constantine.  It was erected by the Roman Senate to commemorate Constantine I's victory over Maxentius at theBattle of Milvian Bridge in 312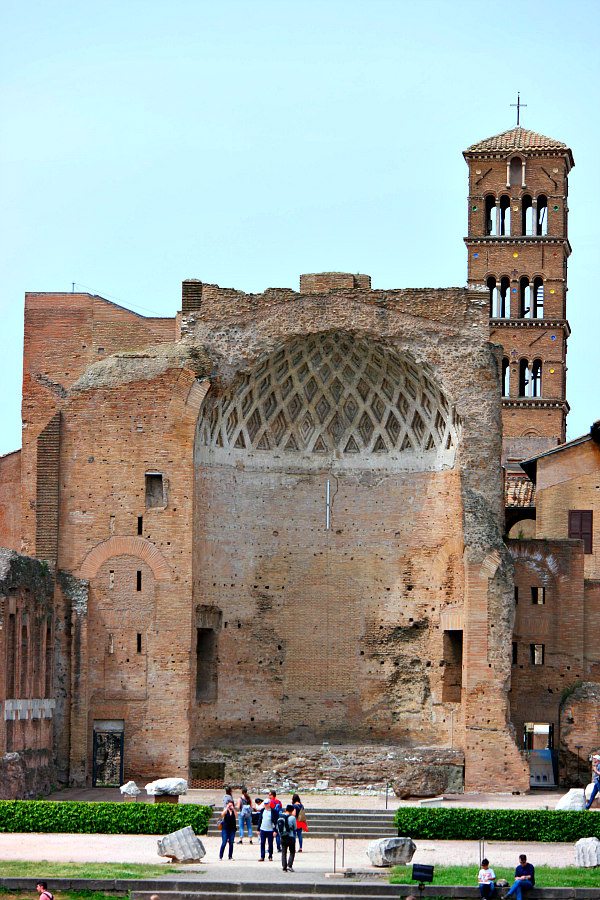 These are Roman Forum ruins…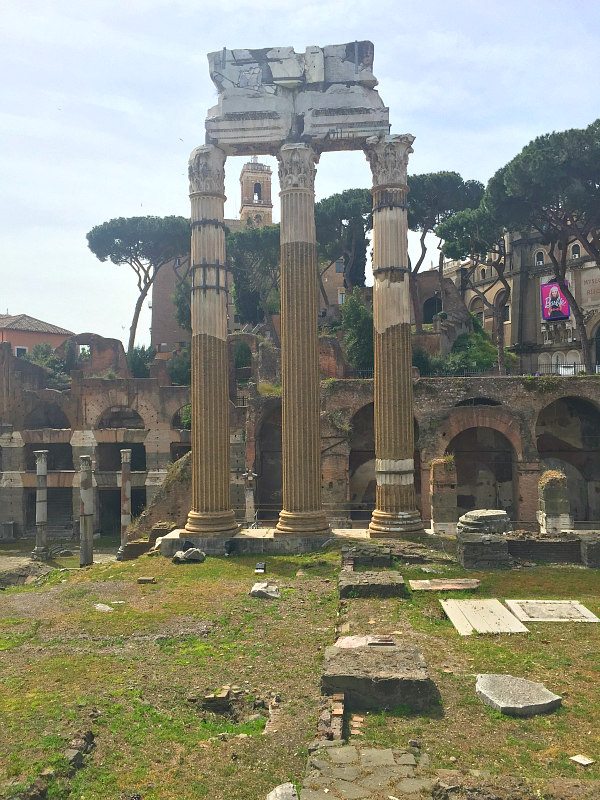 … and more!  When you walk around Rome, it's not unusual to turn a corner and find some more ruins in the middle of a busy street.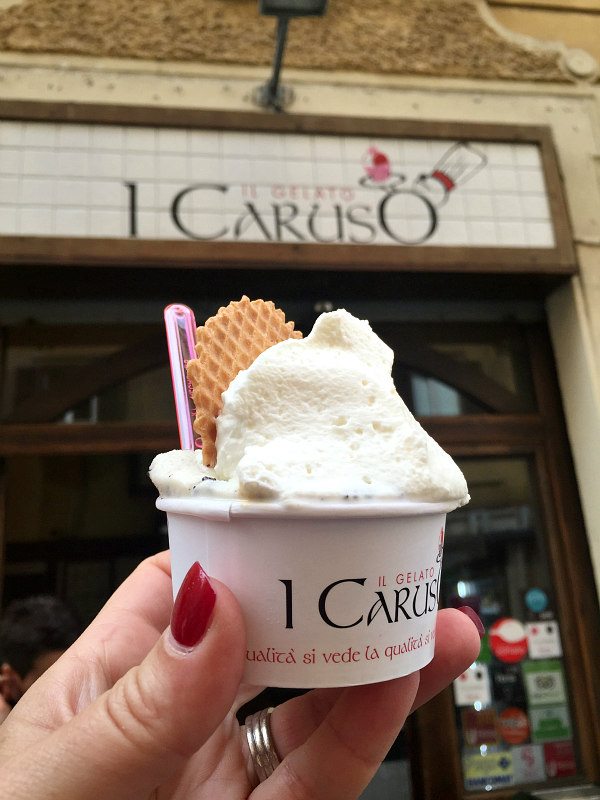 Of course, at the end of a long day of touring Rome… it was time for our daily gelato.  This one was a little bit special:  Stracciatella with a wafer and a dollop of full-fat cream.  Heavenly!
Dinner, and an evening with the tour group: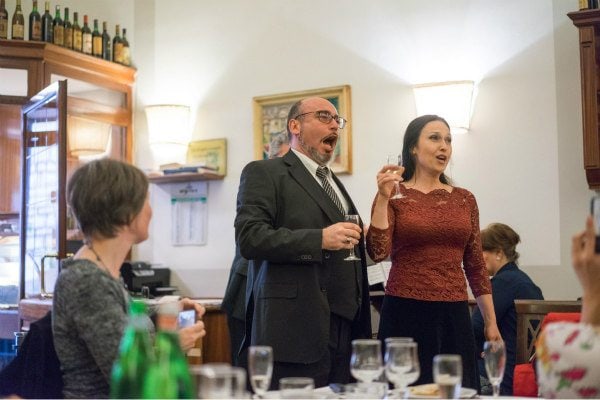 This was an unplanned dinner at Ristorante Le Volte— it wasn't on our official tour schedule, but it was planned at the last minute and everyone on the tour was invited.  All of the meals and activities that are scheduled with the tour are always optional for guests… but we felt like we had plenty of free time on the tour, so we opted to joint the group for most things.  This dinner was so much fun and the food was good- we were surprised with two Italian opera singers while we were dining.  This is the sort of thing that Insight Gold does for their guests… little surprises here and there as you're on your tour!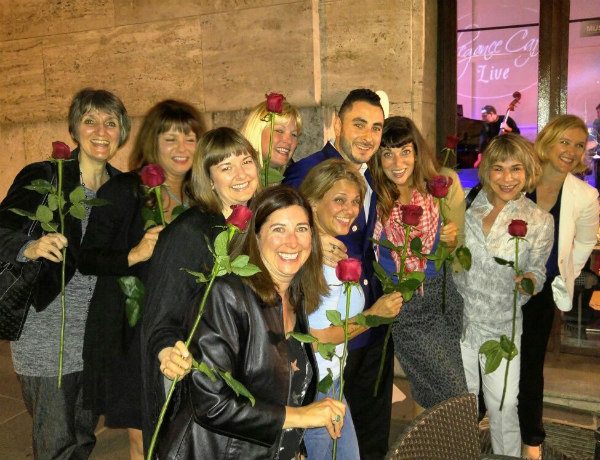 To end our evening, we all headed to a local jazz club- Elegance Cafe- near the hotel to have drinks.  Our darling bachelor Anthony (in the middle) bought all of the women red roses.  I hope you can tell that Rome was a fantastic beginning to our Ultimate Italy tour!
Next week… I'll be sharing the next few days of our Ultimate Italy tour.  Are you getting excited yet about planning a trip to Italy??  I hope so.  It's something that everyone should be able to experience.
Disclosure:  Insight Vacations invited me on their Ultimate Italy tour to experience the tour and share my travels with RecipeGirl readers.  Photos shared are a mix of my own photos… and some from professional photographer Simon Boucher-Harris from Insight Vacations.