Viking River Cruises : Strasbourg : France is my travel adventure that I'm sharing today. It's the first stop on the Swiss Alps to Paris itinerary since we boarded the boat in Basel, Switzerland.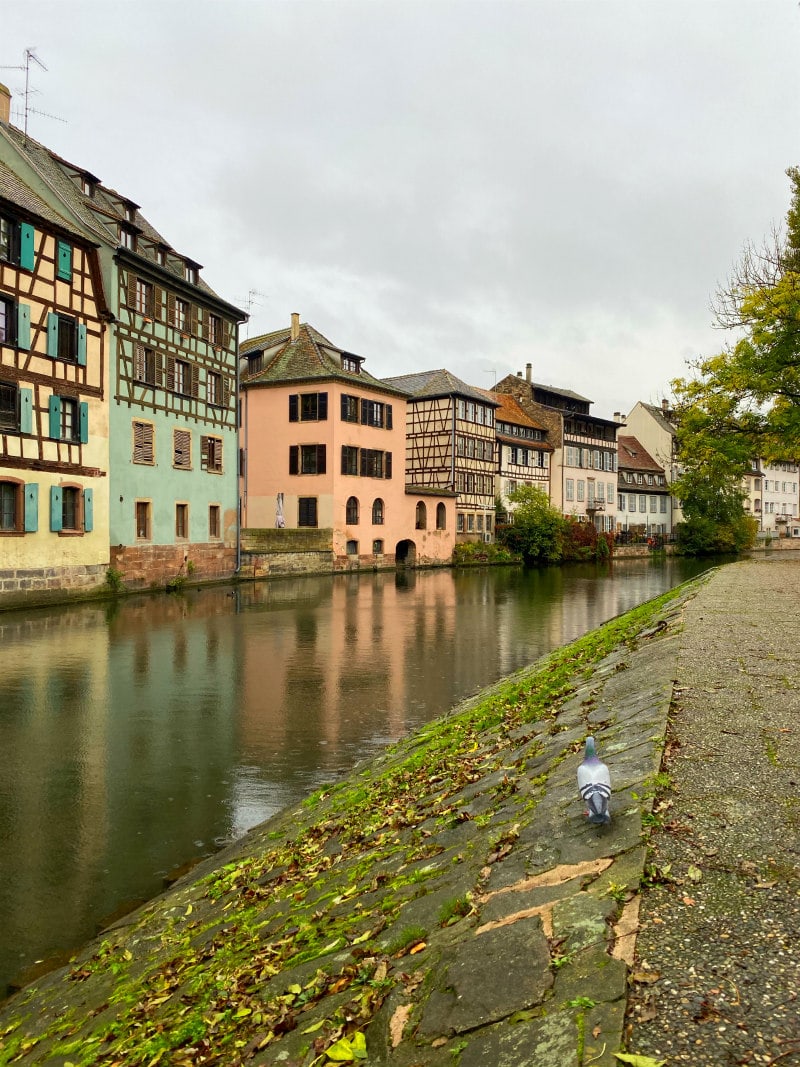 This was Day 4 of our Swiss Alps to Paris Viking River cruise. I've already written about our time in Zurich, and I've shared a tour of our Viking River Cruise boat (the Viking Hild) too. Here's the whole itinerary f0r Swiss Alps to Paris:
Days 1 to 3: Zurich, Switzerland
Day 3: Basel, Switzerland
Day 4: Strasbourg, France
Day 5: Speyer, Germany
Day 6: Mainz, Germany
Day 7: Koblenz, Germany and cruising along the Rhine
Day 8: Cochem, Germany
Day 9: Bernkastel, Germany
Days 9/10: Trier, Germany and Luxembourg
Days 10 to 12: Paris, France
And this is Strasbourg, France!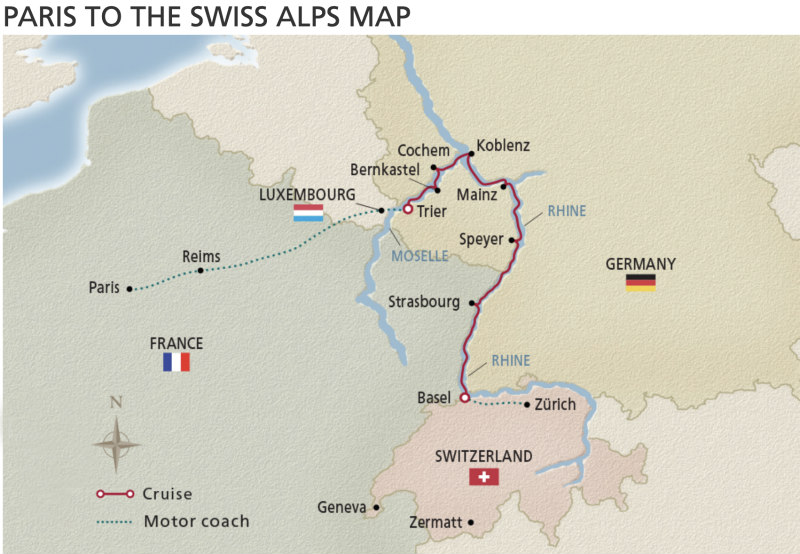 This river cruise itinerary cruises both ways. We started in Zurich and ended in Paris. The map shows you where you travel in a motor coach on the trip with the dotted lines. The solid red line is where you travel on rivers.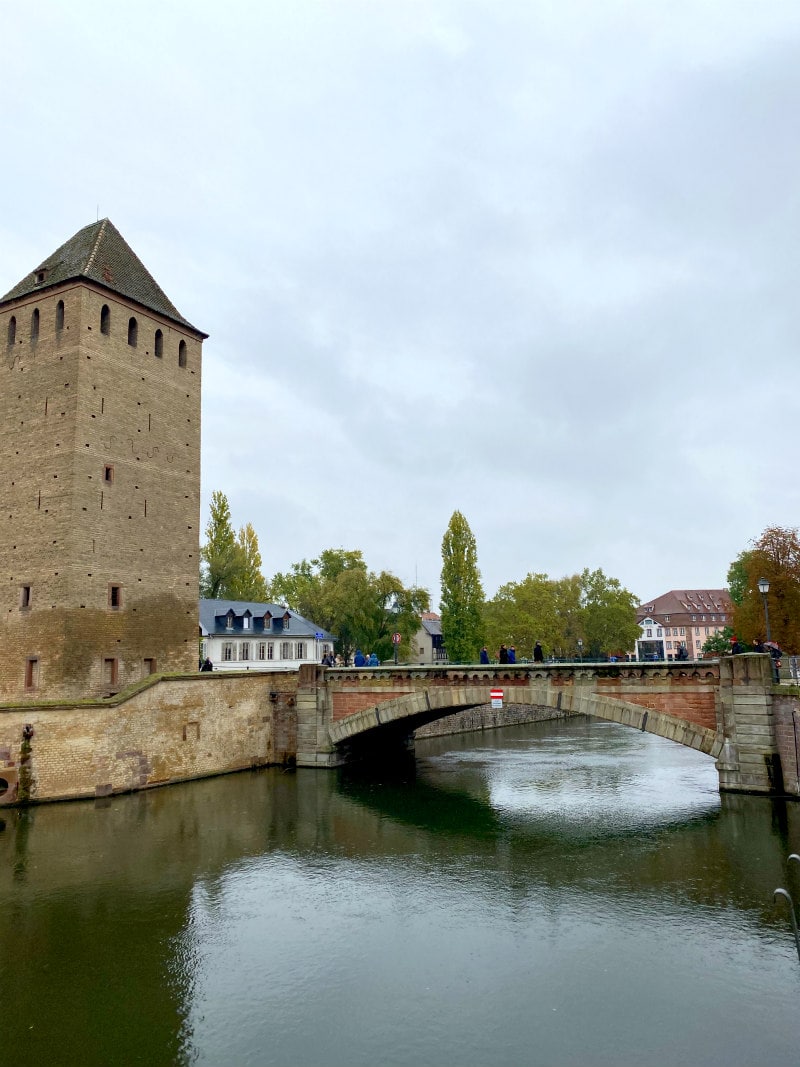 I've been to France a few times, but I've never visited the quaint and adorable town of Strasbourg- located at the border of France and Germany.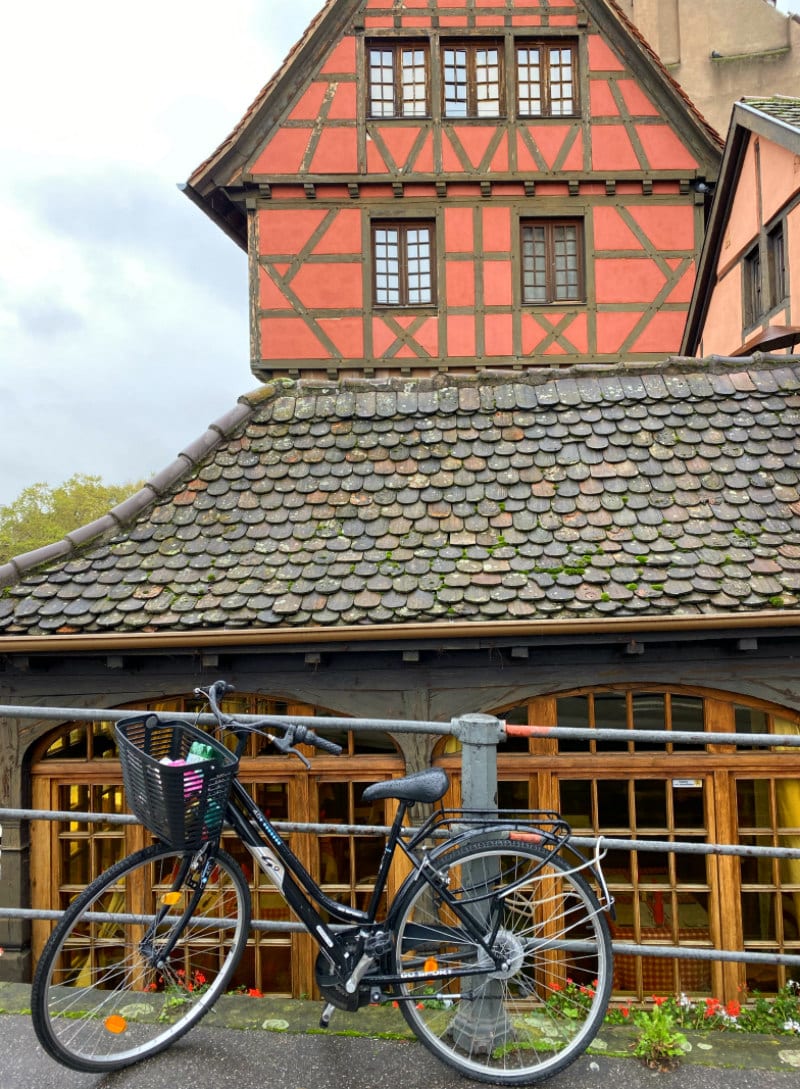 Strasbourg is the cultural center of France's Alsace region, a historical region that has alternated between German and French control over the centuries. Both cultures are reflected in the makeup of Strasbourg.
Alsatian Cuisine:
It's known for fusing hearty German fare with elegant French flair. If you love asparagus, visit this region during the spring to try the white asparagus (this is one of the few regions in France where this variety grows). Alsace's signature dish is choucroute garni, a savory mix of sauerkraut, onions and herbs braised in Riesling and "garnished" with several cuts of pork. The most prominent cheese is Munster. Alsace is the main beer-producing region of France, so you'll find plenty of choices for beer. And Alsatian wines are mostly white- producing some of the world's best dry Rieslings.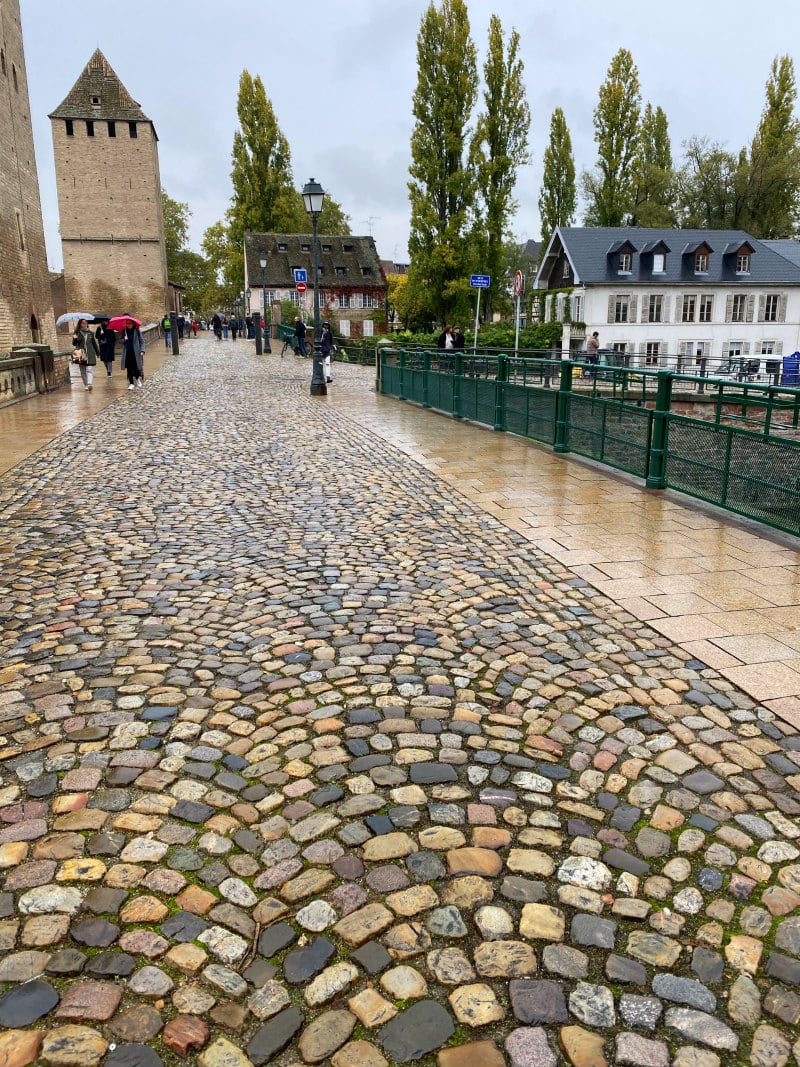 There's plenty to explore in this town. Cobblestone streets and picturesque wooden houses built along the canals are a sight to see.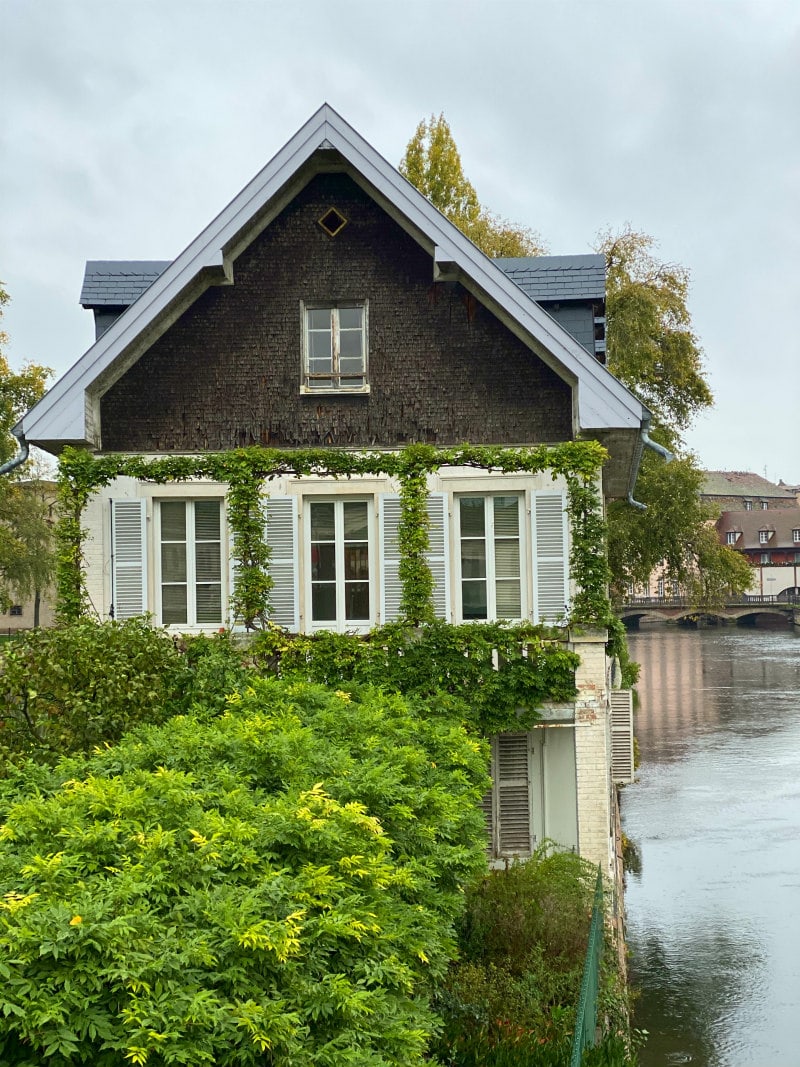 Lots of cafés are in the middle of town, allowing you to enjoy coffee and cakes and take in the scenery. For a traditional eating experience, look for small family-run bistros or bakeries. Some of the best ones are tiny places nestled in between buildings and along the canals in half-timbered houses with beautiful flower boxes.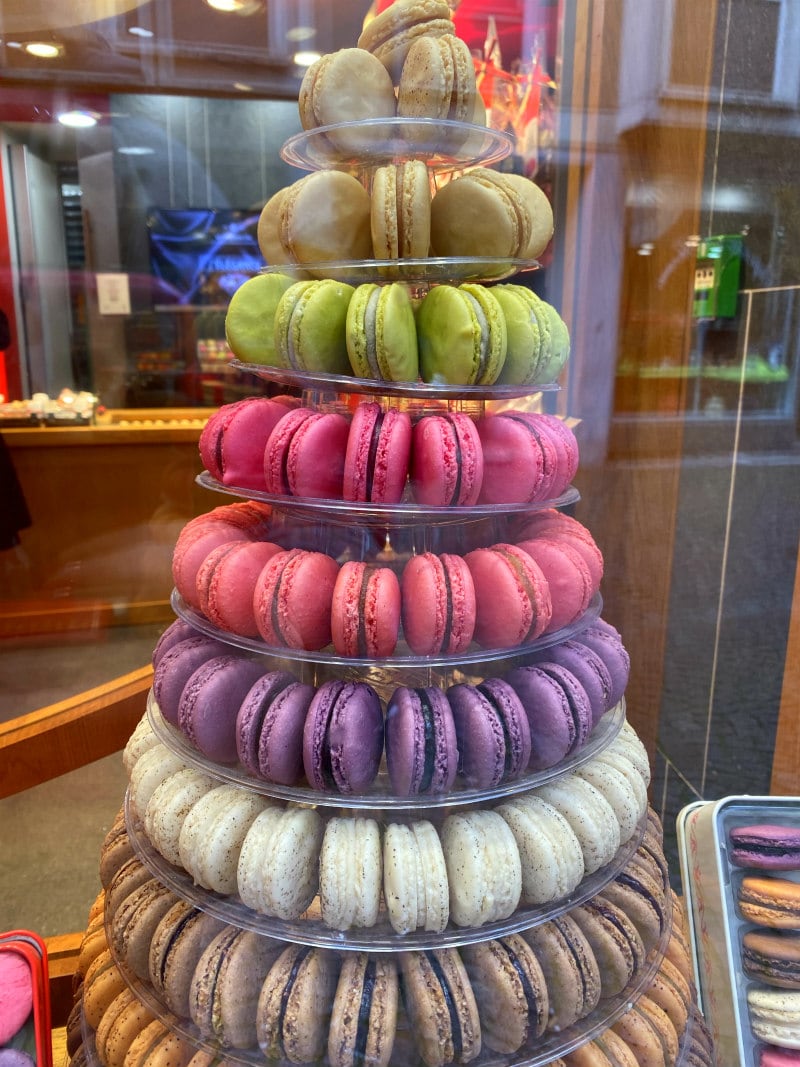 On the Viking River Cruises, you have options at each stop along the river to sign up for shore excursions. In Strasbourg, we signed up for Taste the Best of Alsace, a food and wine tasting tour with a little bit of touring around the town included too. This was one of the best food tours I've been on, so I highly recommend it. Our tour guide was fabulous, and we tasted so many things– like these macarons!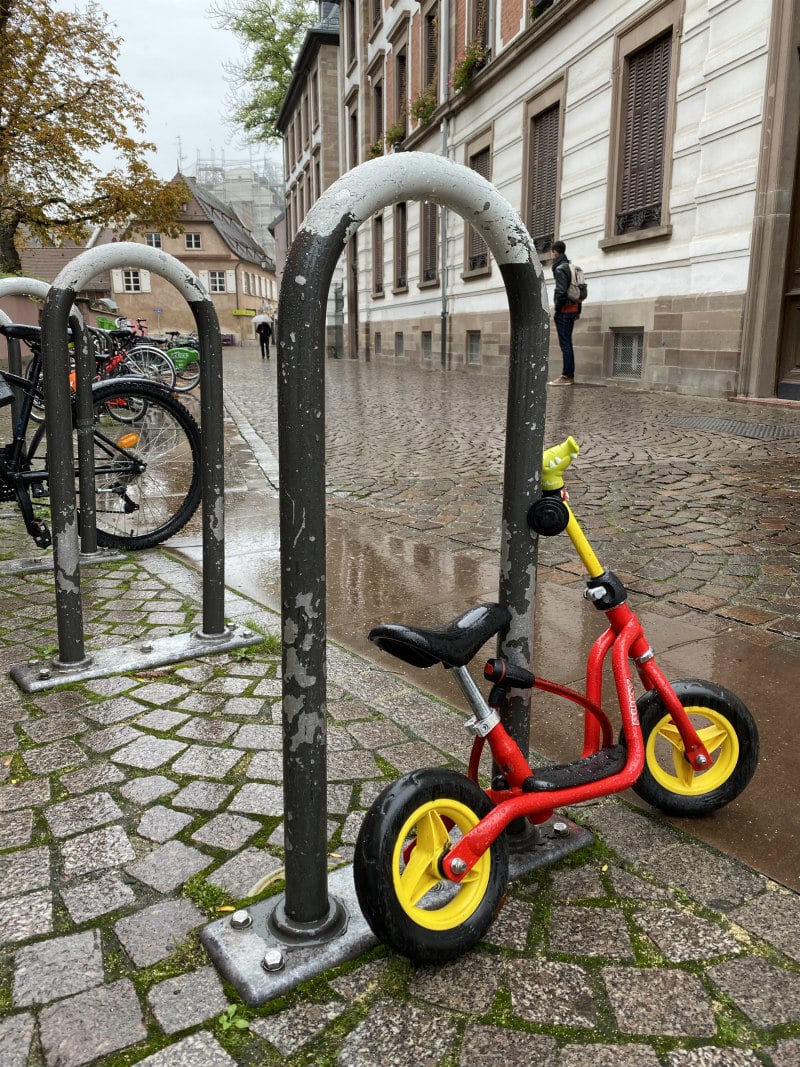 What do French schoolchildren eat for lunch?
Our tour guide shared with us that children in France have very good lunches in the schools. The lunches are several courses, beginning with a vegetable starter, a warm main dish with a vegetable side, a cheese course and dessert– which is usually fresh fruit and sometimes a sweet. It is nothing like the food in the United States. For the French, learning how to eat a meal and appreciate diverse foods is like learning how to read, write and do math. I love that!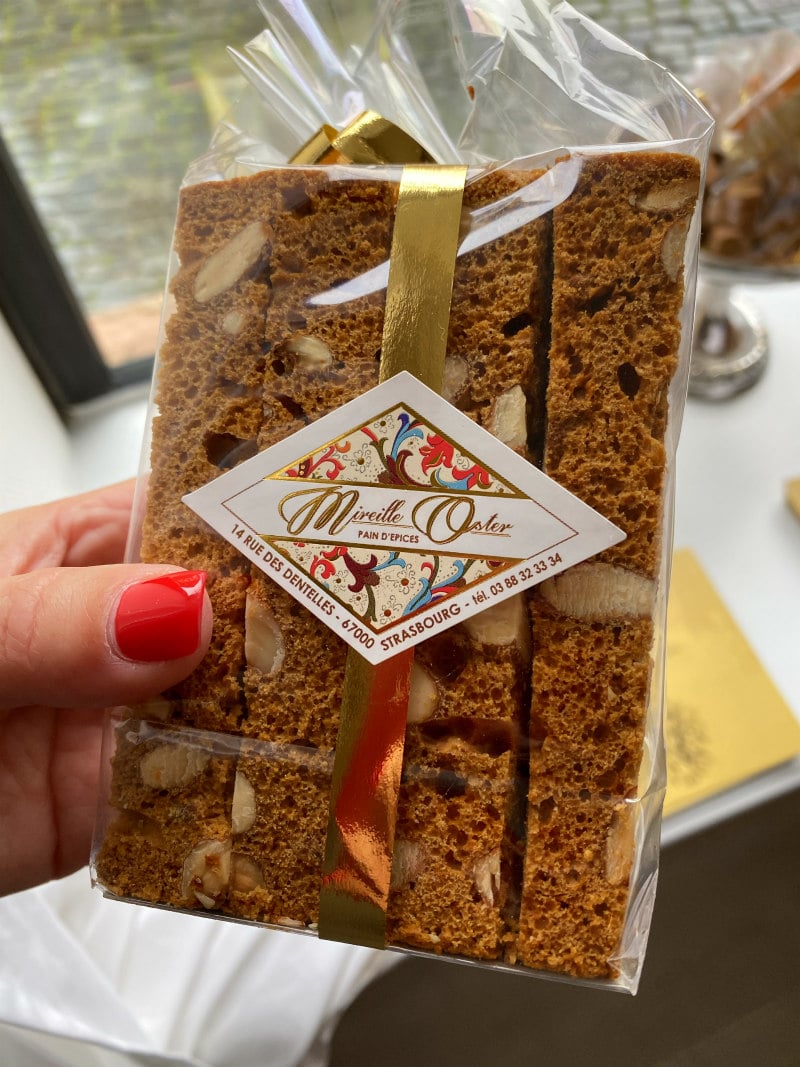 One of the stops on the food tour was stopping at Mireille Oster Pain d'epices, which is a pastry shop devoted to everything gingerbread. It was lovely, and we tasted some delicious things. There is plenty to choose from to buy and take with you for gifts or your own enjoyment!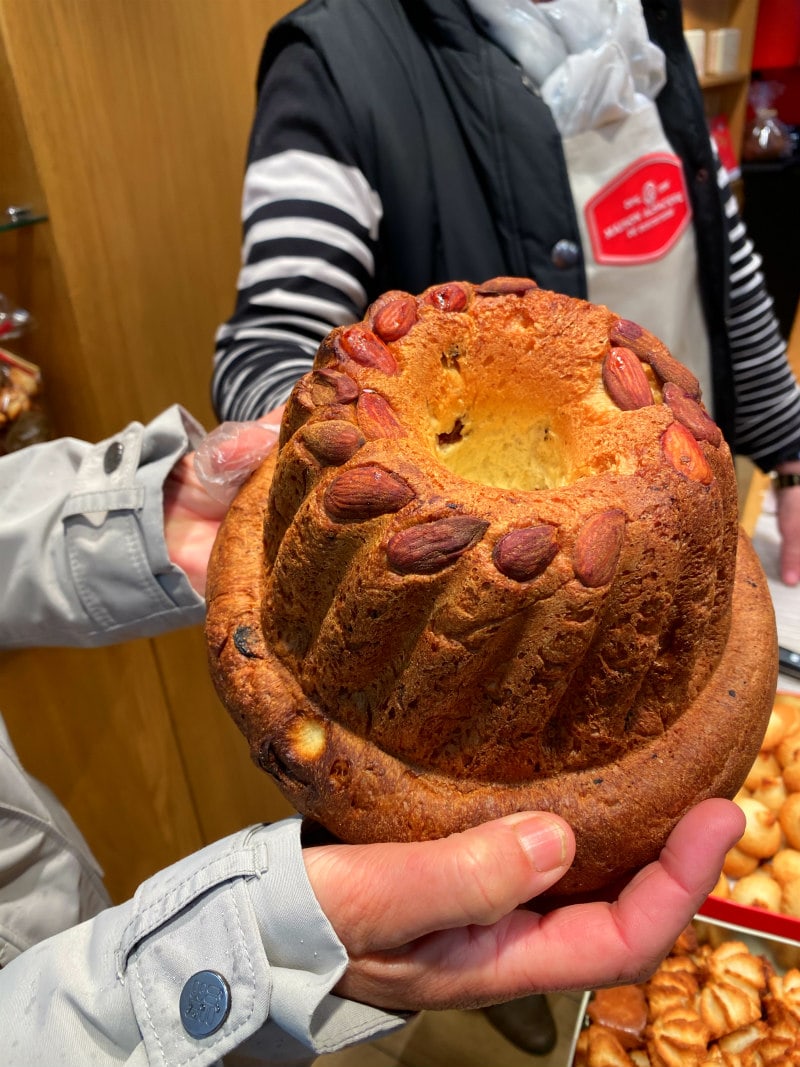 Kougelhopf is made from a brioche-type dough with dried fruits and nuts, and baked in a special round fluted pan. It's a very popular Alsatian dessert! We stopped in to a bakery and they cut pieces of the cake for us to try. It was good!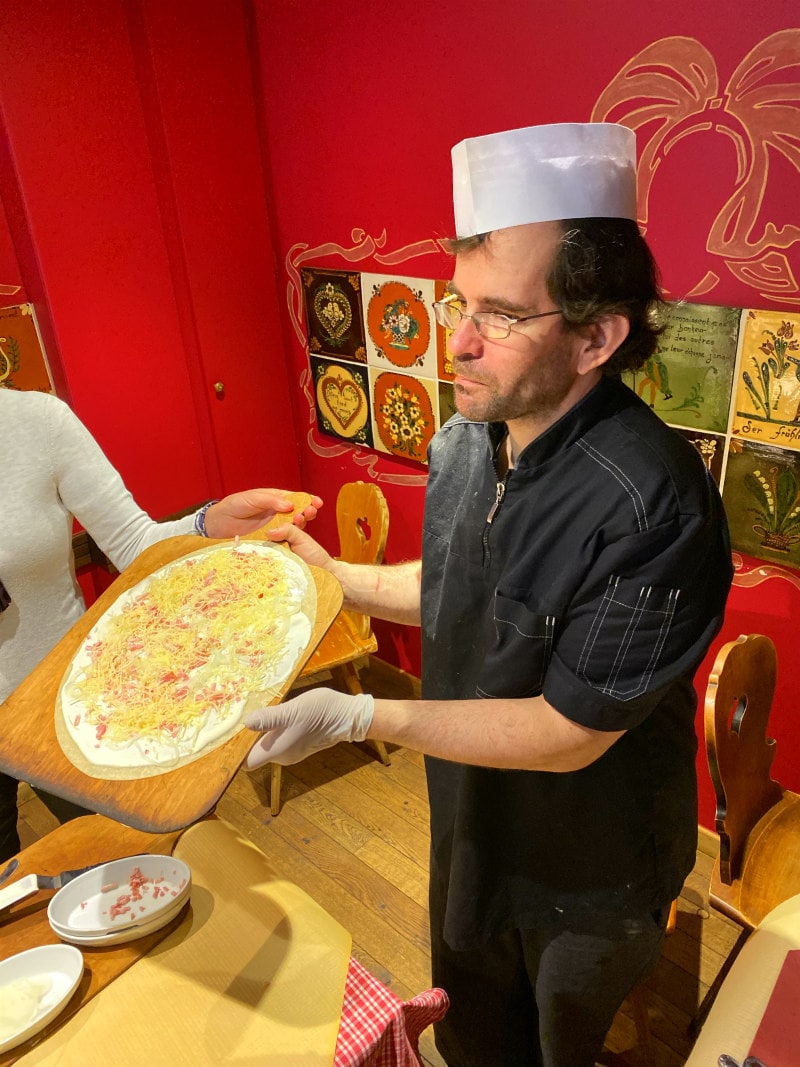 Another specialty is flammekueche (tarte flambée), a chewy flatbread smothered with ham/bacon, onions and crème fraiche). The tour took us to a restaurant, where we were served lunch. We started with salad and then had a few varieties of this amazing flatbread with white wine or beer.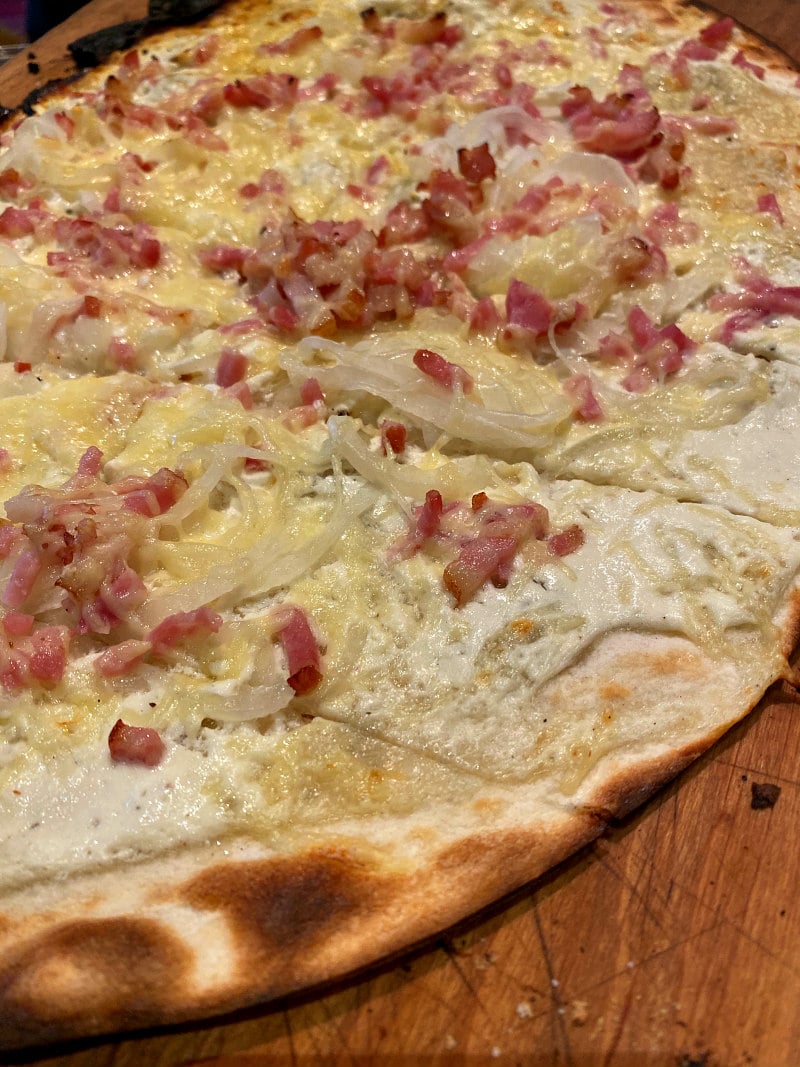 They showed us how to make the flatbread, and then cooked us as much as we wanted. It was so good, and I want to make it at home!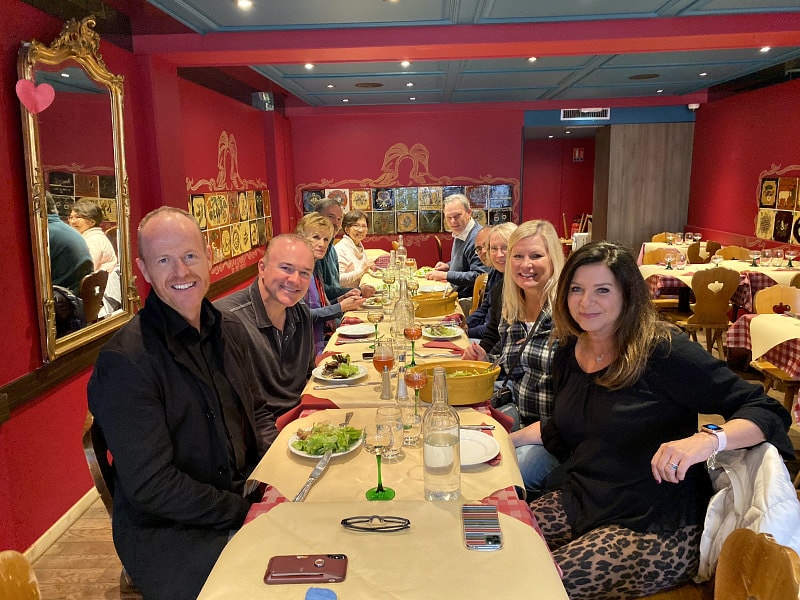 Here is our small group that was on the food tour (my friend Sandy from ReluctantEntertainer.com is there on the right). The restaurant stop was perfect because it was nice to have a meal instead of small tastes of things, and it was time to sit down and rest our feet too. After lunch, we were given an hour or so to explore the town on our own. What a great idea on a food tour! We had time to explore and let our stomachs settle before eating more on the rest of the tour. We took this opportunity to visit the cathedral.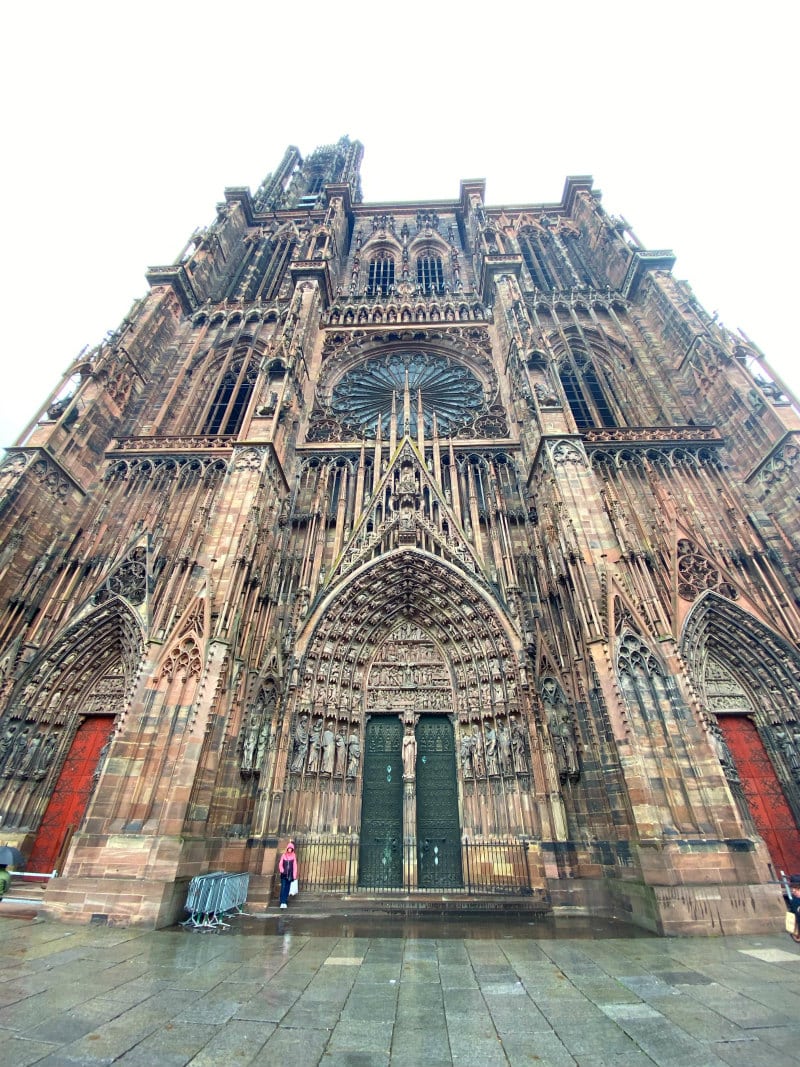 This is Strasbourg's beautifully restored Gothic cathedral. At 426 feet tall, it's the highest medieval building in Europe.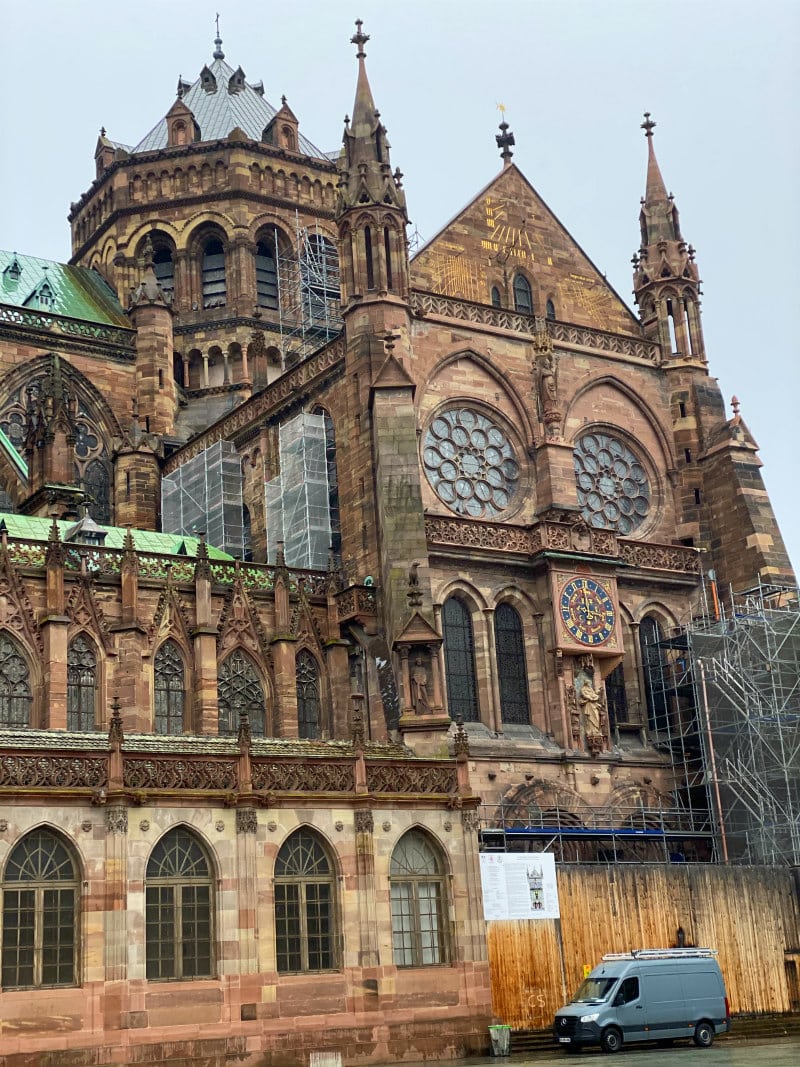 The cathedral is so impressive, and it totally towers above the town of Strasbourg. There is an opportunity to climb to the top of the cathedral to view the Alsatian countryside (we didn't do this).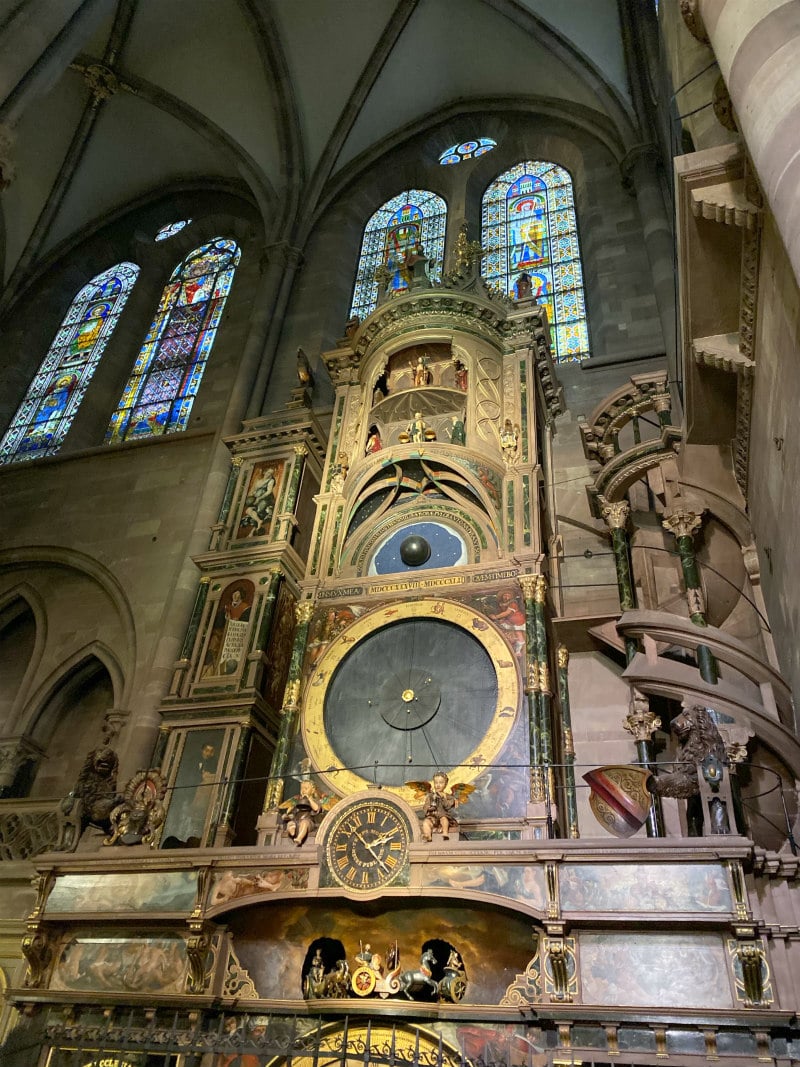 One thing definitely not to miss in the cathedral is the astronomical clock. It's a genius piece designed by artists, mathematicians and technicians. The present mechanism dates from 1842, and the world famous clock draws a crowd every day to see the automated figures on parade at exactly at half past midday. Our guide was actually with us when we went into the cathedral and was able to tell us all about it. We were there to see the figures move at the right time. Don't miss this!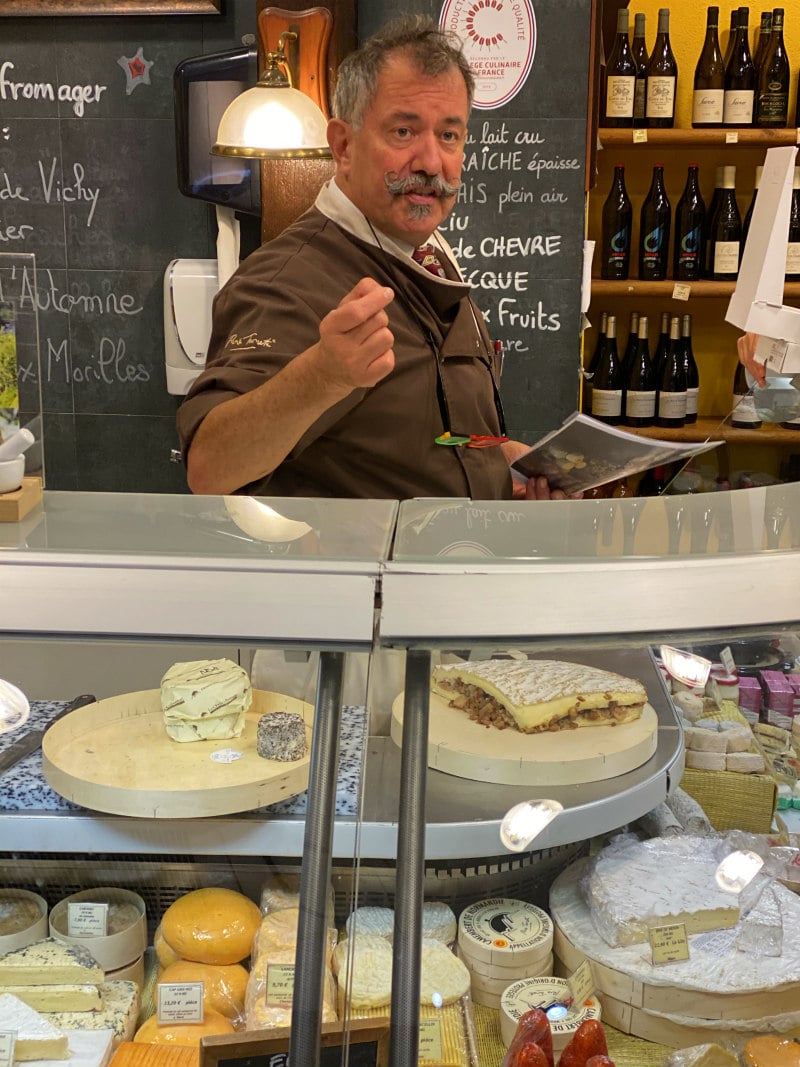 After exploring the town some more, it was time to pick up some things that we would enjoy at the end of our food tour- the wine tasting. Of course, we stopped at a cheese shop and the totally classic French cheese shop owner shared information about all of his cheeses.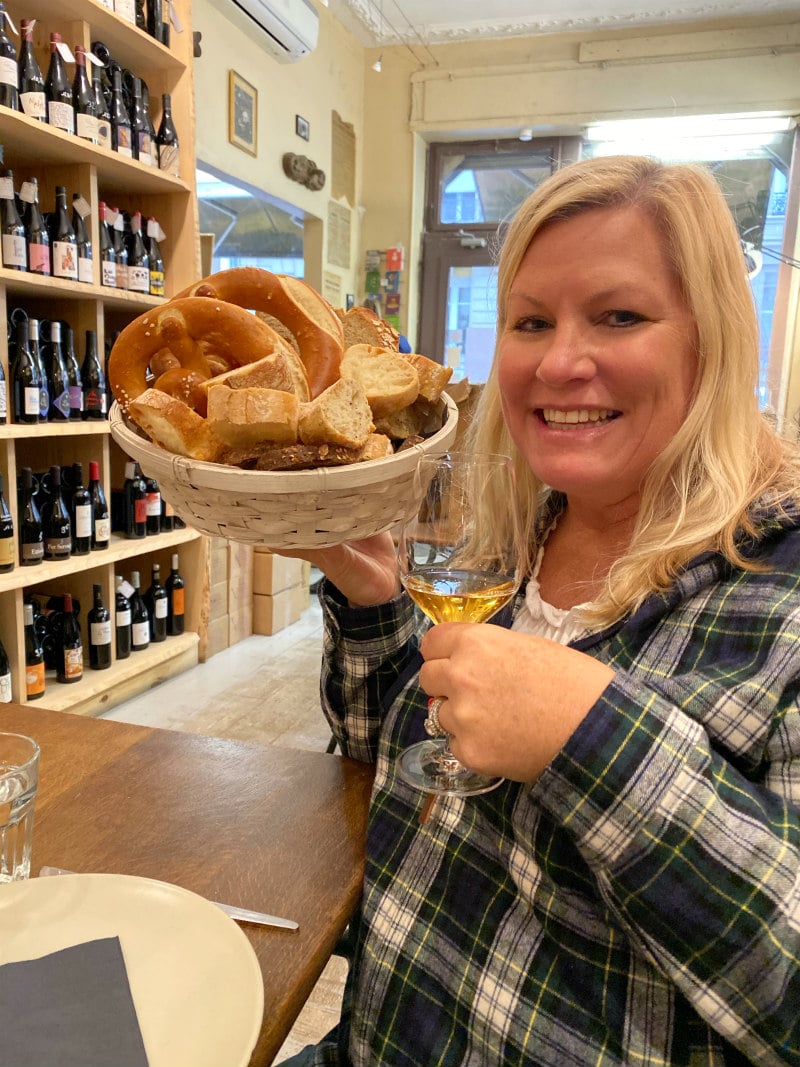 And then it was time to sit and enjoy wines and cheese and breads. I look a little rugged from walking around all day in the rain (sorry!)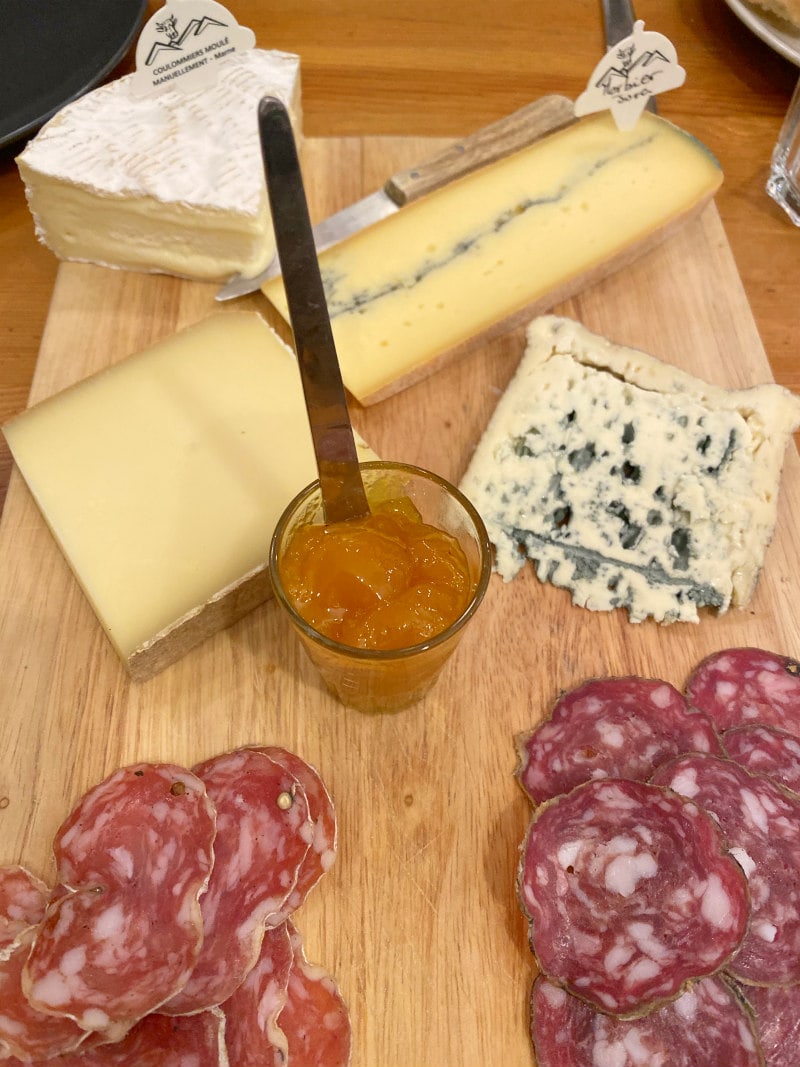 Everything was amazing, of course. How were we even hungry after that big lunch we had?? Somehow we managed to find room for more.
And then of course… éclairs for dessert! If you happen to go to Strasbourg on your own (and not on a Viking cruise), be sure to look up Strasbourg Food Tours and take one of them. We loved our tour!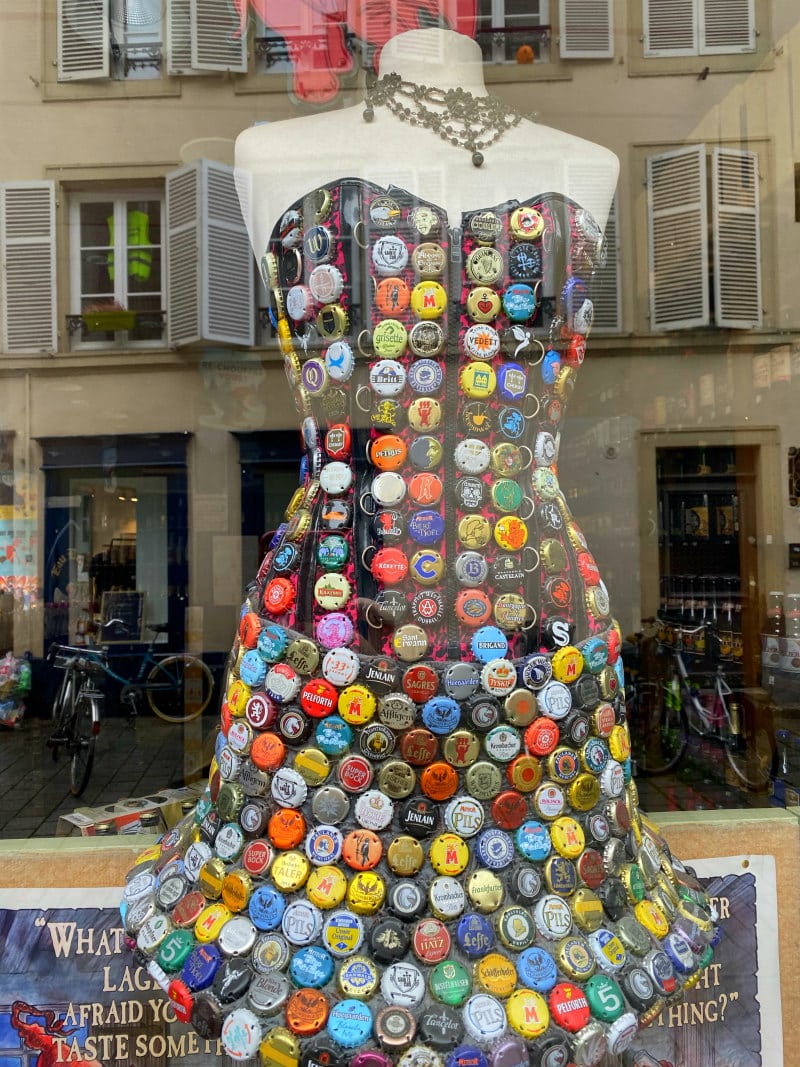 We had a short amount of time to walk around the town some more before we had to head back to our motor coach. So window shopping was in order!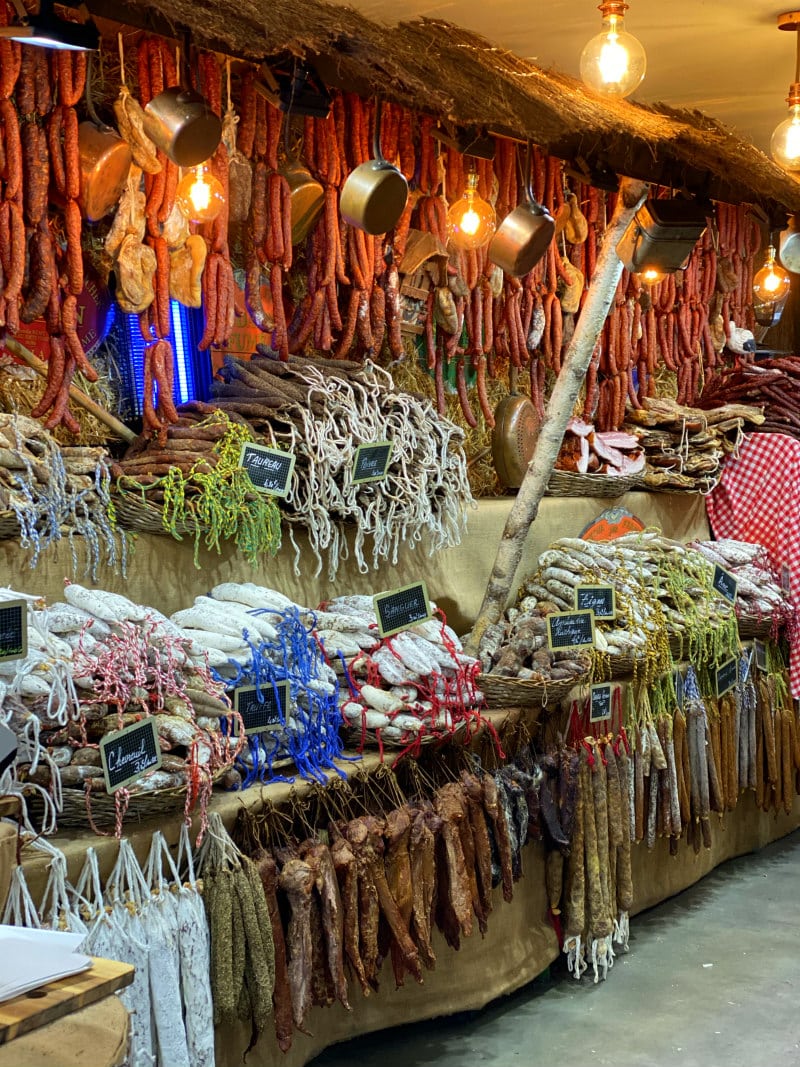 I loved looking in to this very extensive store full of cured meats and sausages.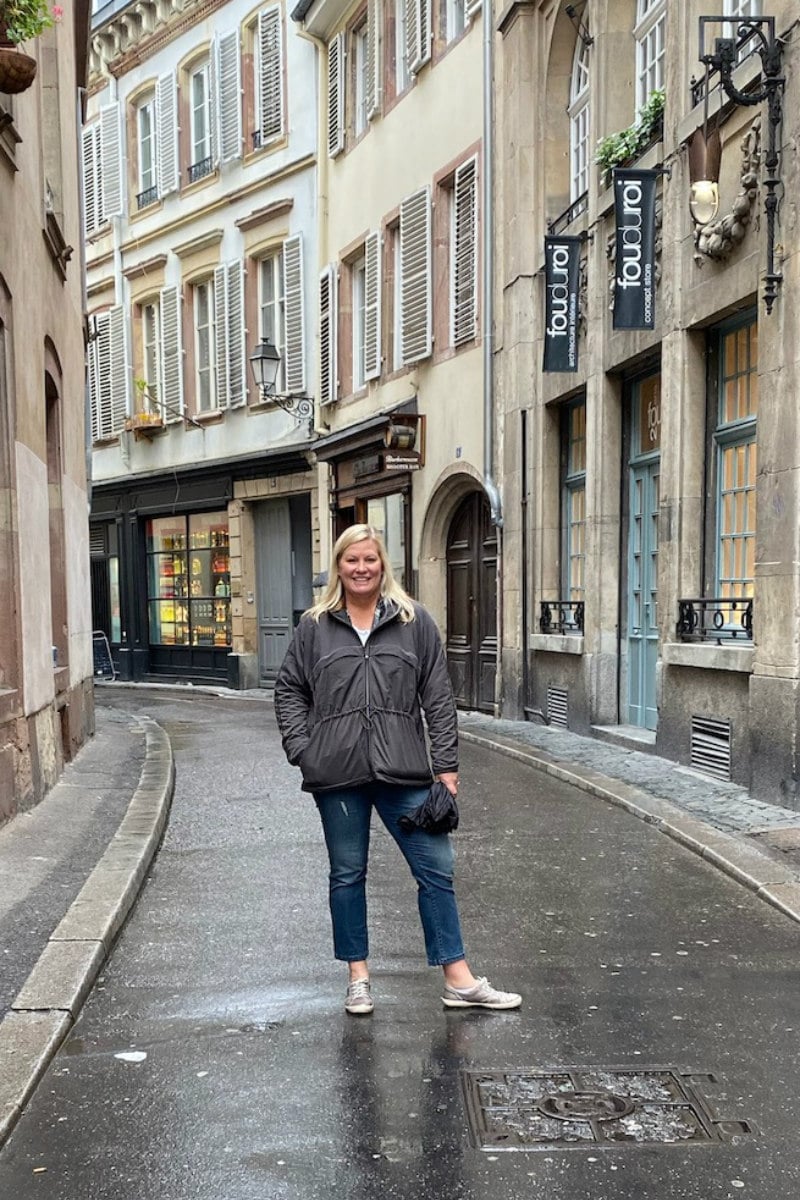 And that's it for Viking River Cruises : Strasbourg. What a lovely city. I look forward to going back someday. Everyone was very friendly, and the food was fabulous too!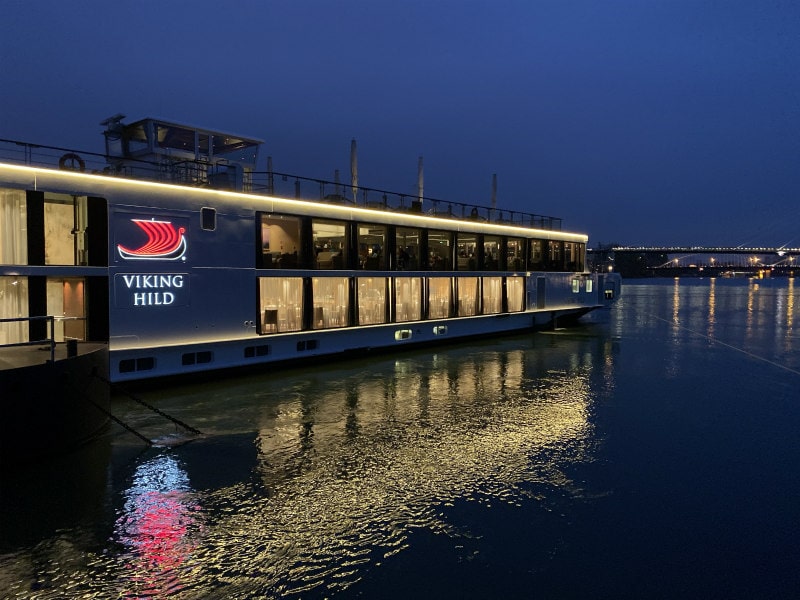 It was time to go back to our Viking River Boat for the evening. After this stop in France, we journeyed along the river to several stops in Germany– which I will be writing about next. Hope you are enjoying my Viking River Cruise posts!
For more about this Viking River Cruise itinerary, visit VikingRiverCruises.com.