Last fall I went on a Viking Cruises River Cruise on the Paris to Swiss Alps itinerary (but we did it in reverse). Here's a tour of the Viking Hild Longship and a peek at some of the cruise ship food we ate on our trip.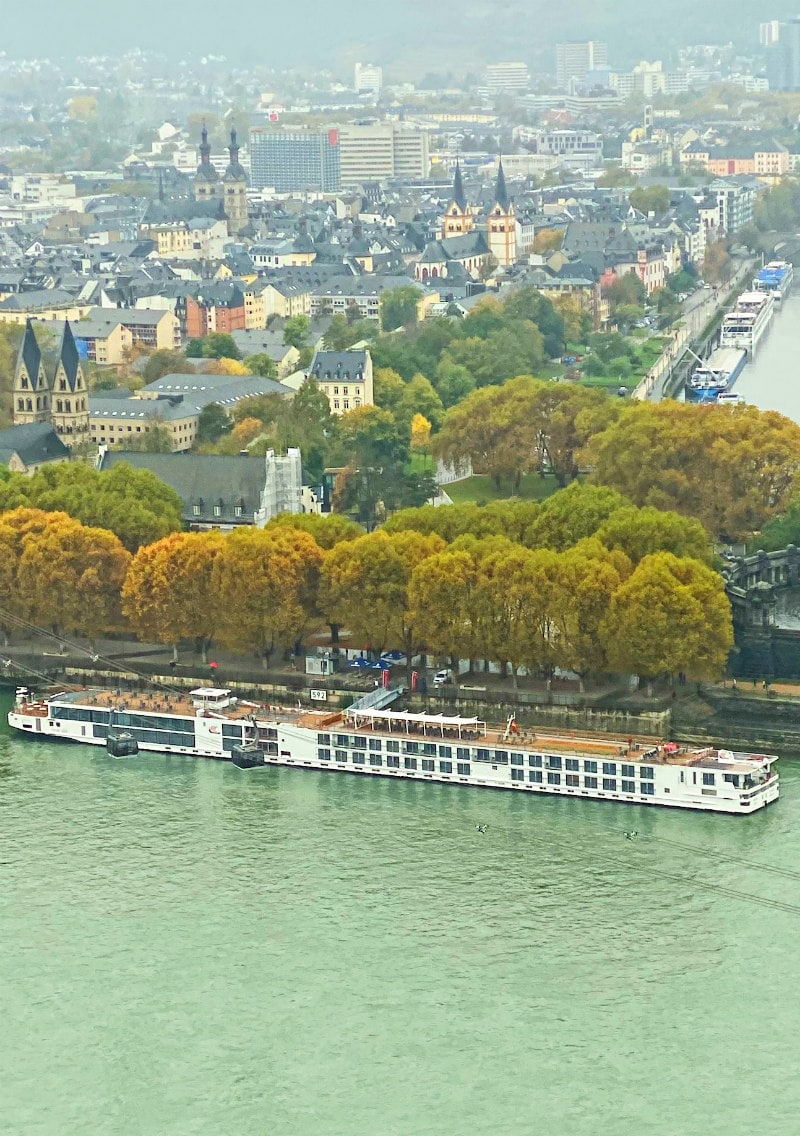 This is what the Viking Hild looks like from a distance. You've seen cruise ships before, and they're pretty massive, right? The Viking River Longships are much smaller. They have to be smaller so they can be granted permissions to float down the rivers and make their way through river locks. The Viking Hild has 95 staterooms, and carries an average of 190 passengers.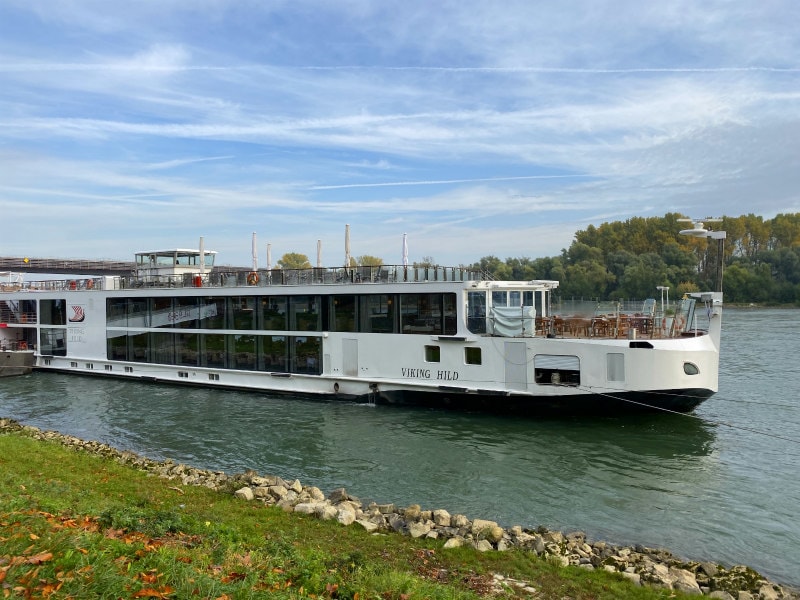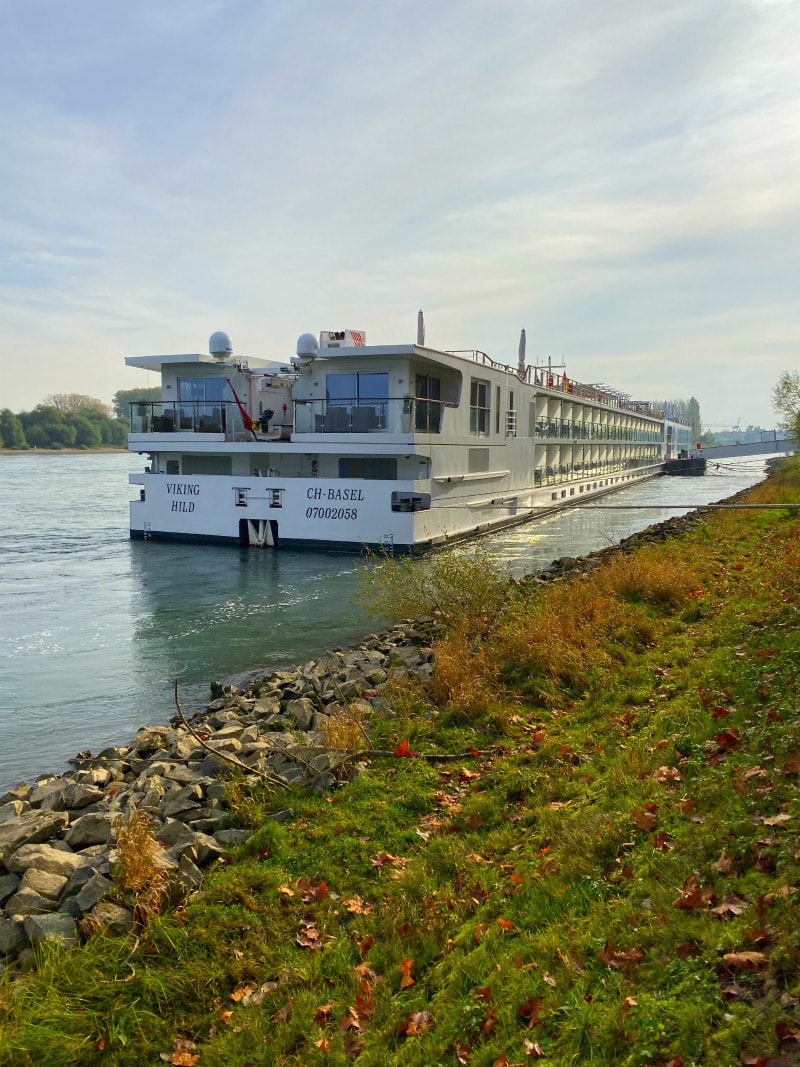 One of the things I really love about taking a river cruise is that you're always close to shore (which means you have beautiful views and things to see while cruising), and there are never any crazy rockin' and rollin' waves that rock the boat. I personally don't have to take any motion sickness medication on a river cruise, but some people may want to consider bringing a patch as a precaution.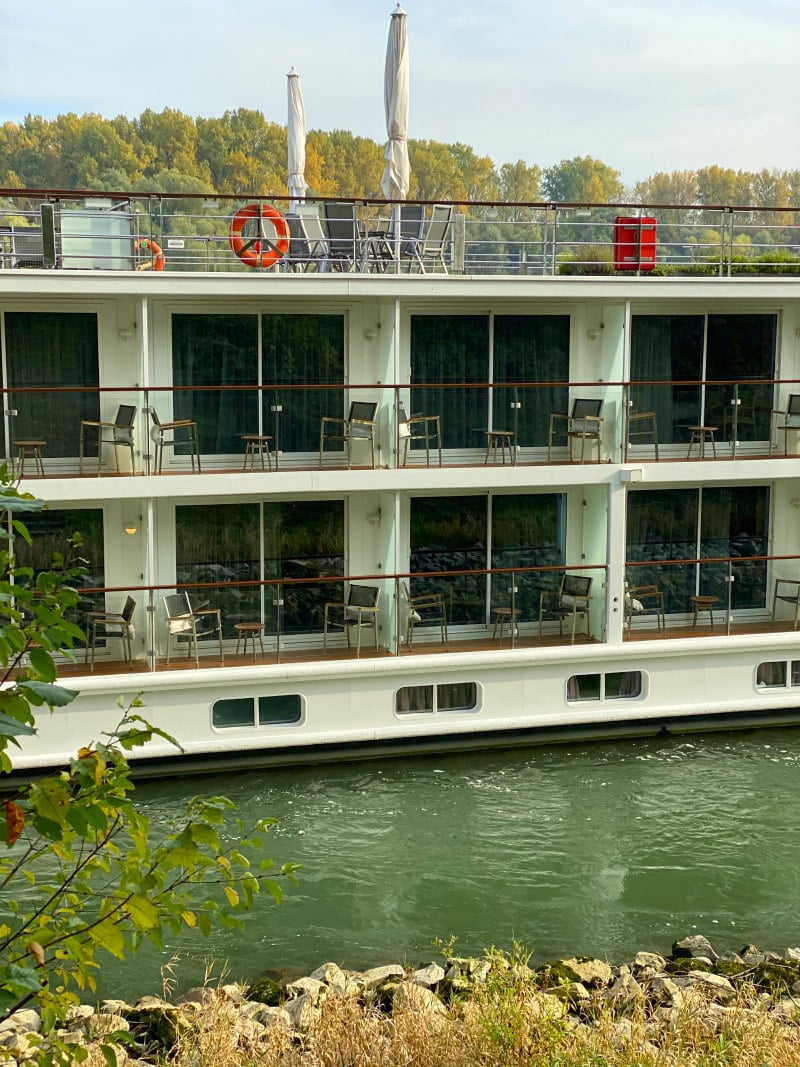 This is what the balconies of the cabins on the Viking Hild look like from shore. There are a couple of chairs and a small table. It's nice to be able to walk out onto your balcony and just gaze at the world going by while sailing.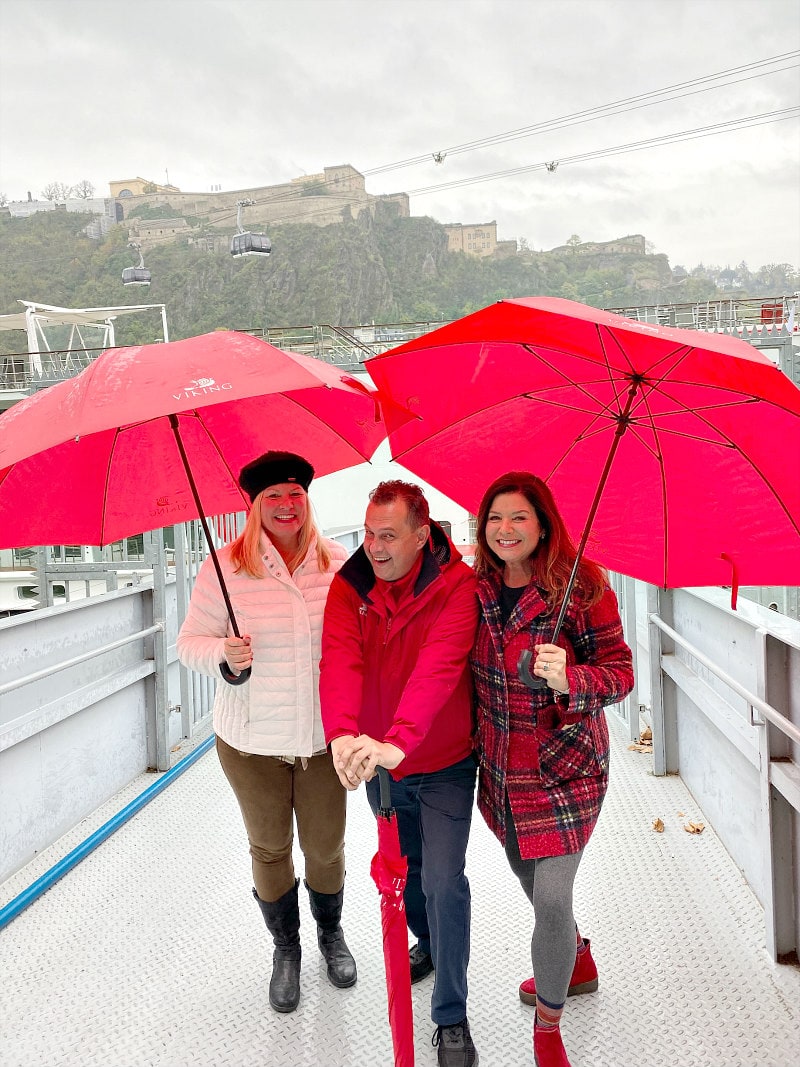 Our cruise was rainy at times, but we dressed accordingly and still experienced it all! I was on the cruise with my friend Sandy from ReluctantEntertainer.com. And this guy was our cruise director, who was fabulous. You become quite familiar with your cruise director since he/she is responsible for communicating activities and events daily on your cruise.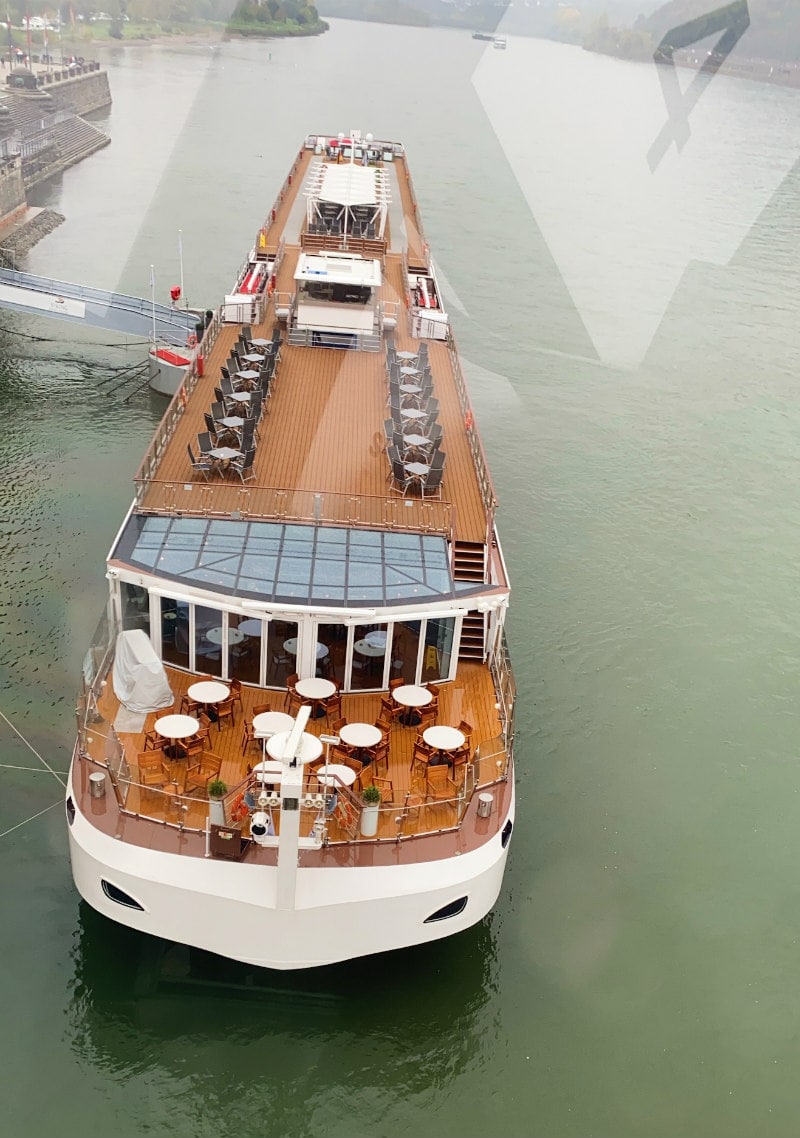 In one of the towns we visited, we hopped on a tram that traveled across the river. So I was able to capture a photo of the top of the Viking Hild. In the front there is an outdoor dining area. Up on the top level, there is plenty of seating, and there is an area of covered seating on the back part of the ship.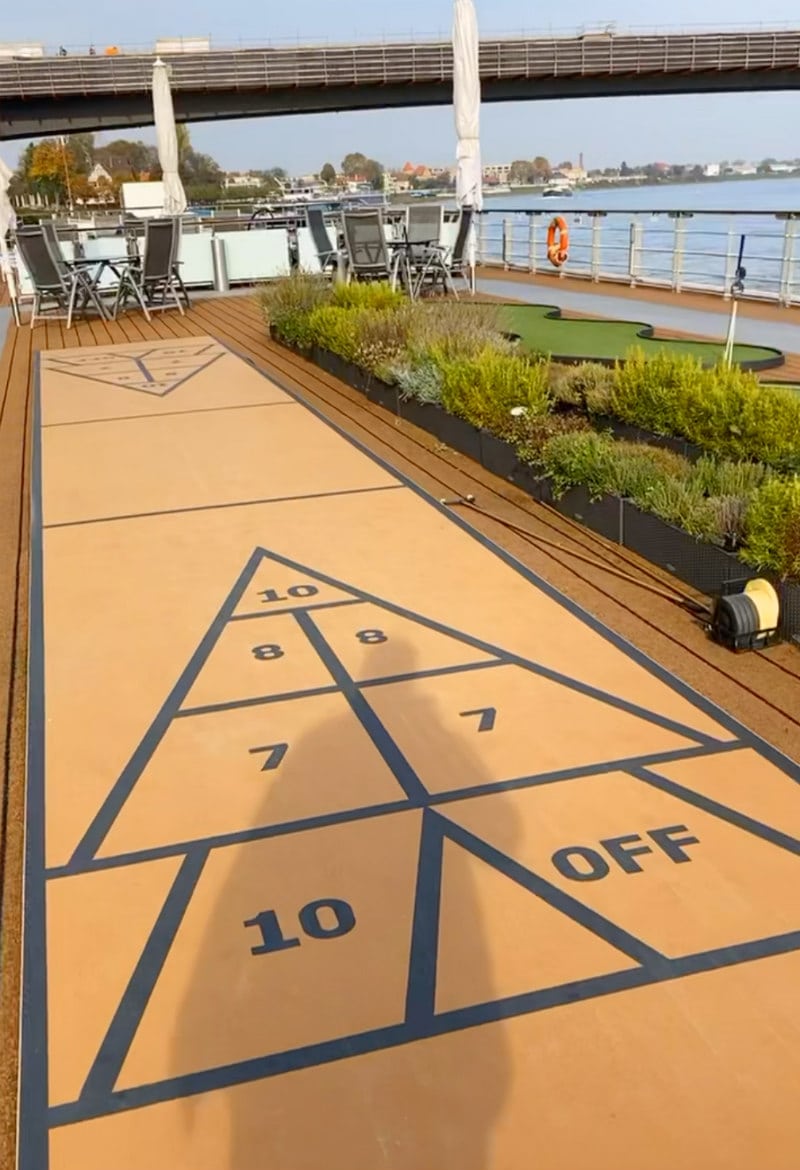 A cruise ship wouldn't be complete without a shuffleboard game! To the right of the board is a fresh herb garden, which the chefs draw from when cooking the meals for the cruise. And then there is a small putting green.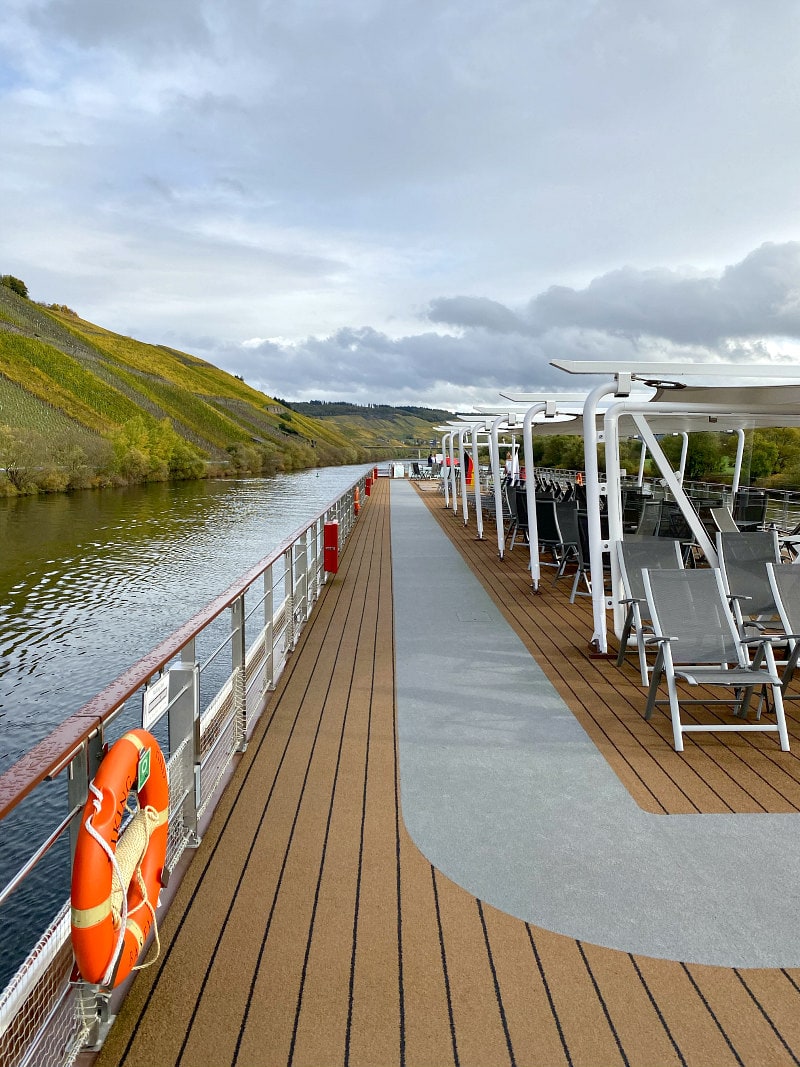 There isn't a gym on the ship, but there is a walking track. We utilized the track, walking and jogging out there and enjoying the beautiful scenery as we did so.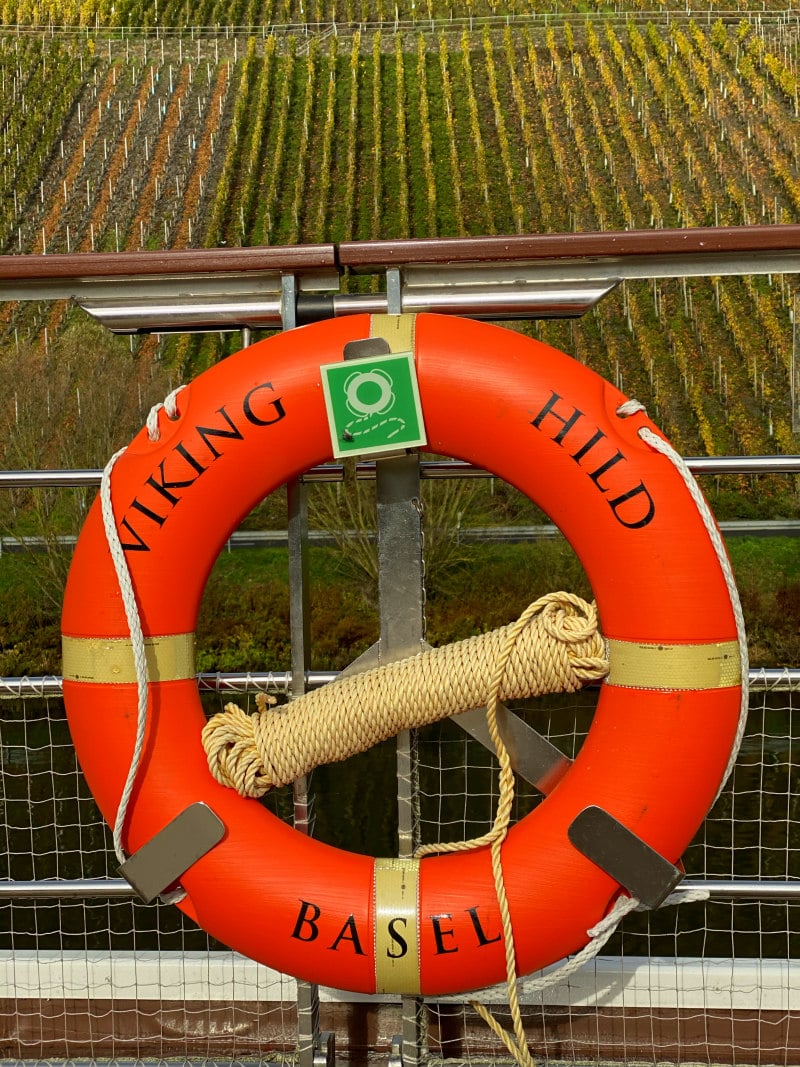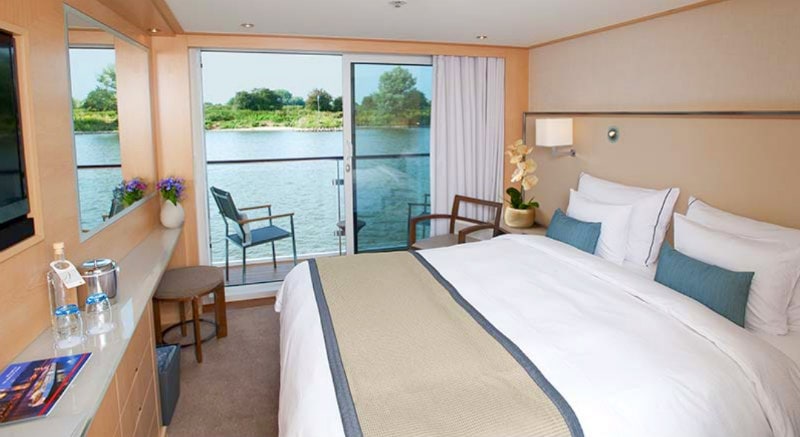 This is what our stateroom looked like on the Viking Hild. We had a Veranda Stateroom, which is basically a bed, two nightstands and the area across from the bed with some drawers for clothes. There is a closet and shelves and a bathroom. If you upgrade to a French balcony stateroom, you have a little more room and a sitting area. We don't mind the size of this one (it's cozy and comfortable), but one of these days we'll upgrade!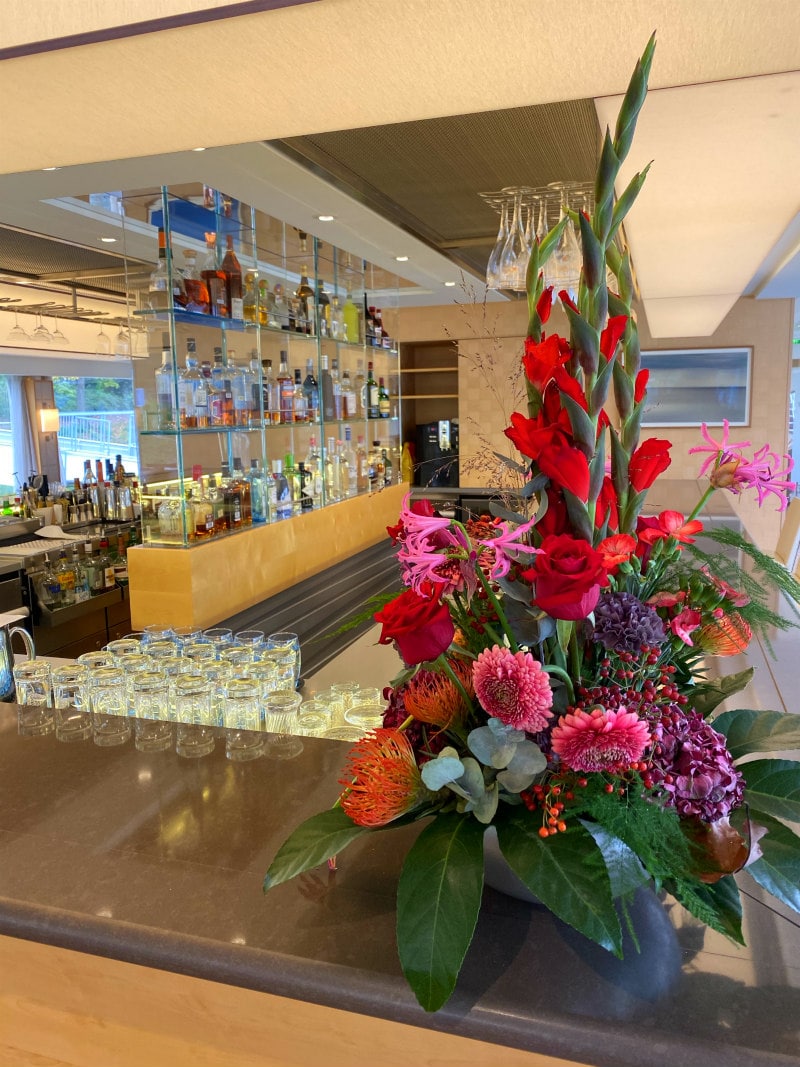 This is the bar. Viking River Cruises serves complimentary beer, wine and soft drinks with lunch and dinner; and a complimentary glass of sparkling wine is offered on embarkation day. You can upgrade to the Silver Spirits Package (we always do that), and then you'll have access to any drinks you want (including higher end wines) at any time of day. You are also welcome to purchase alcohol while in port and bring wine and other spirits onboard and drink them on the ship.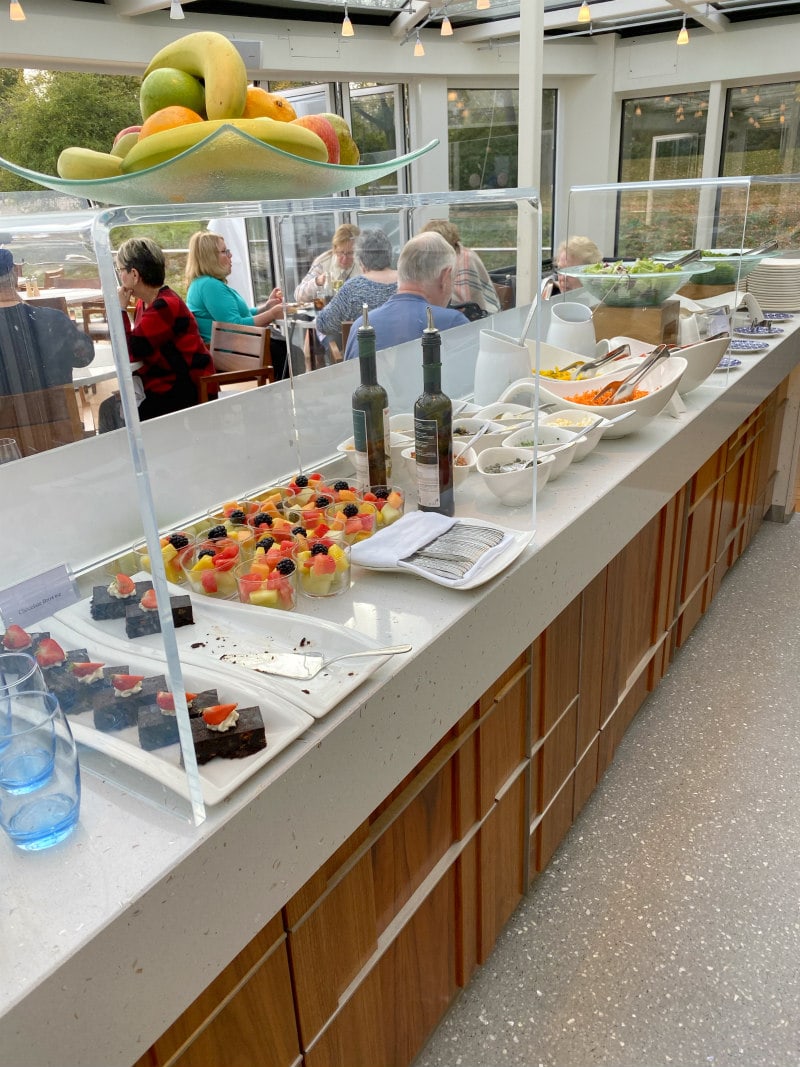 During the day, the ship offers a casual buffet on the upper level of the ship. You can also opt to eat in the restaurant for lunch. Most of the time, you'll be in port and experiencing lunch in one of the cities that you're visiting. But they'll always have food on board if you would rather eat on the ship.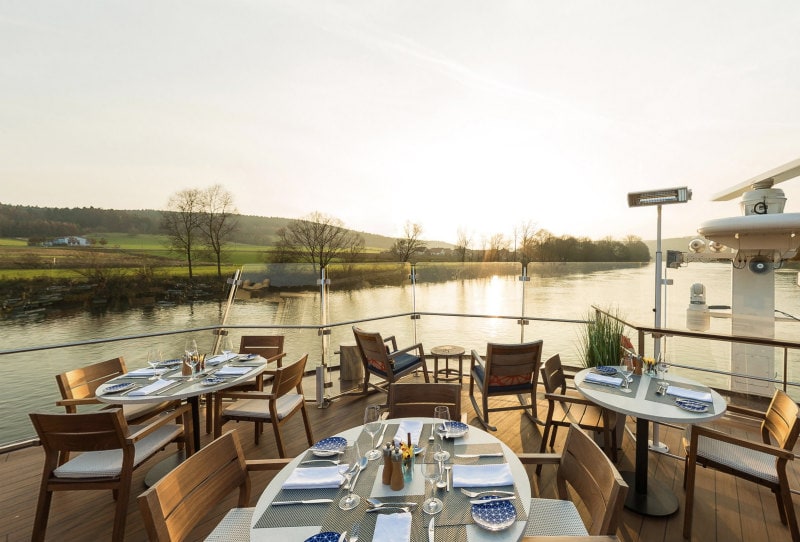 This is one of the eating areas on the upper level. It's beautiful to sit out here if it's not too hot or cold.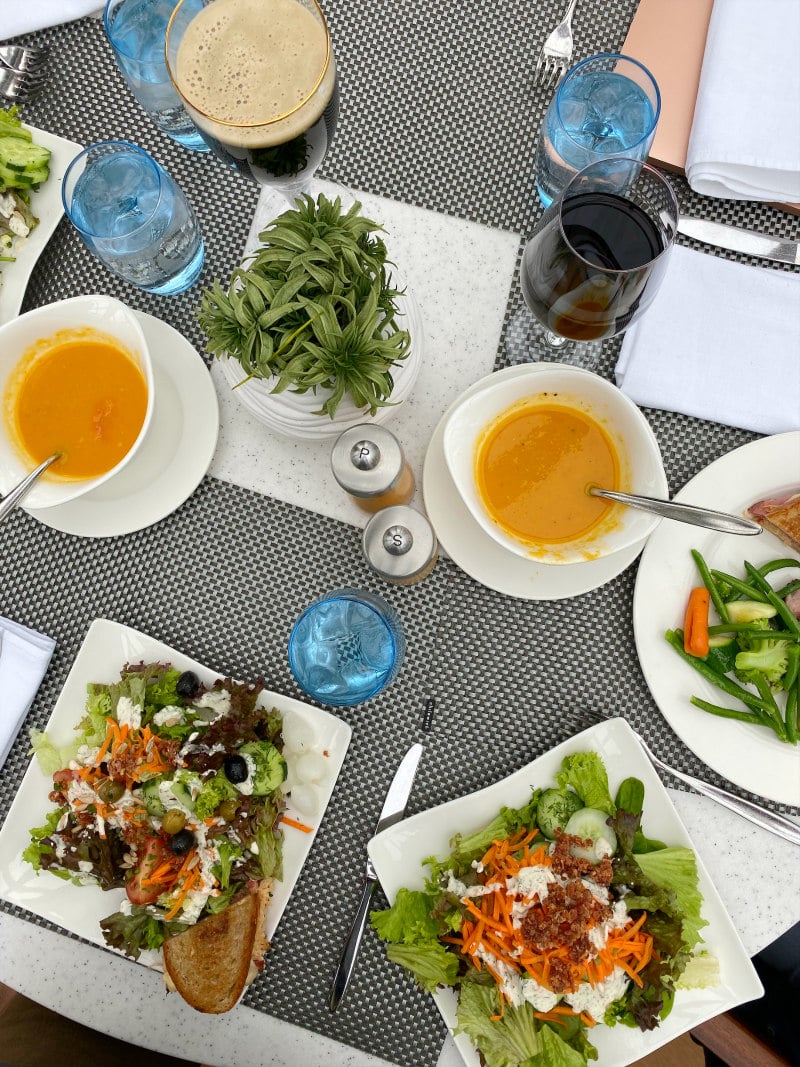 We tried to eat a little lighter during the day since we knew we'd be more indulgent for dinner.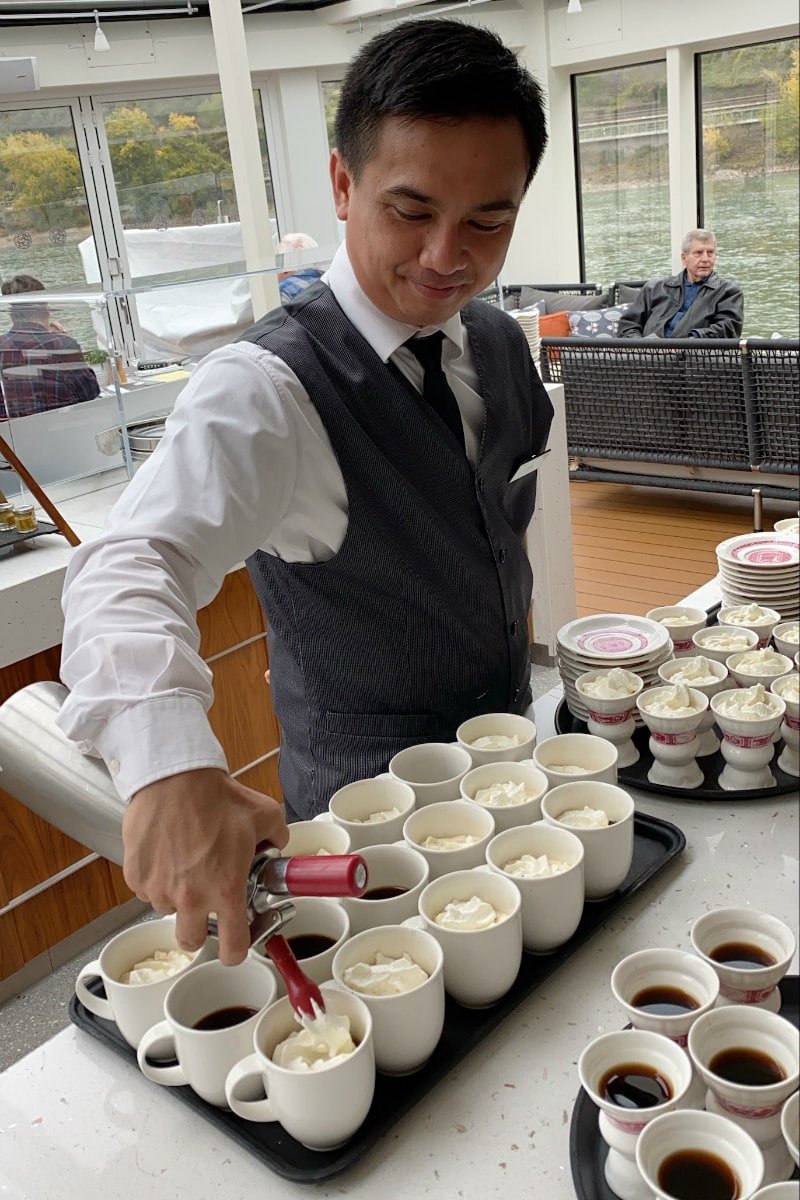 There are a few times during the cruise where they'll do a little something special. This was a specialty cocktail from the region that they shared with passengers.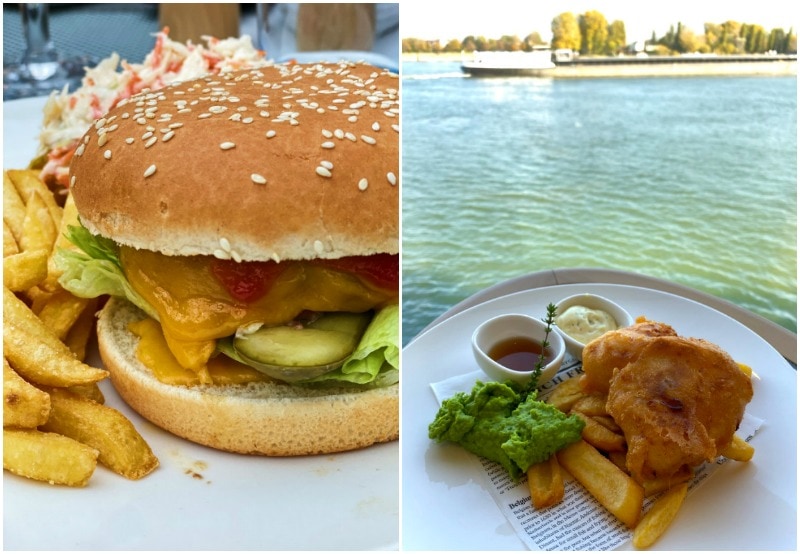 You'll find a variety of foods available for lunch. Sometimes we just opted for a burger. But they also offer special things like fish and chips with smashed peas (very good!)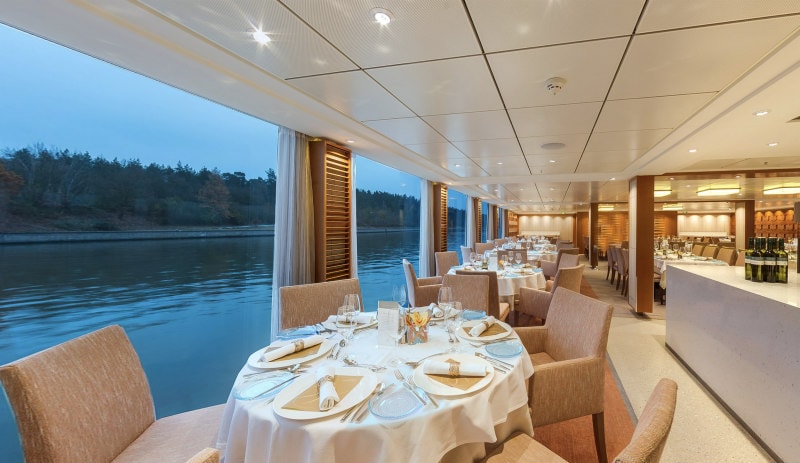 This is the main dining room where you can eat breakfast, lunch and/or dinner. It's always set nicely as you see here, and it's a comfortable and elegant place to eat and enjoy the view.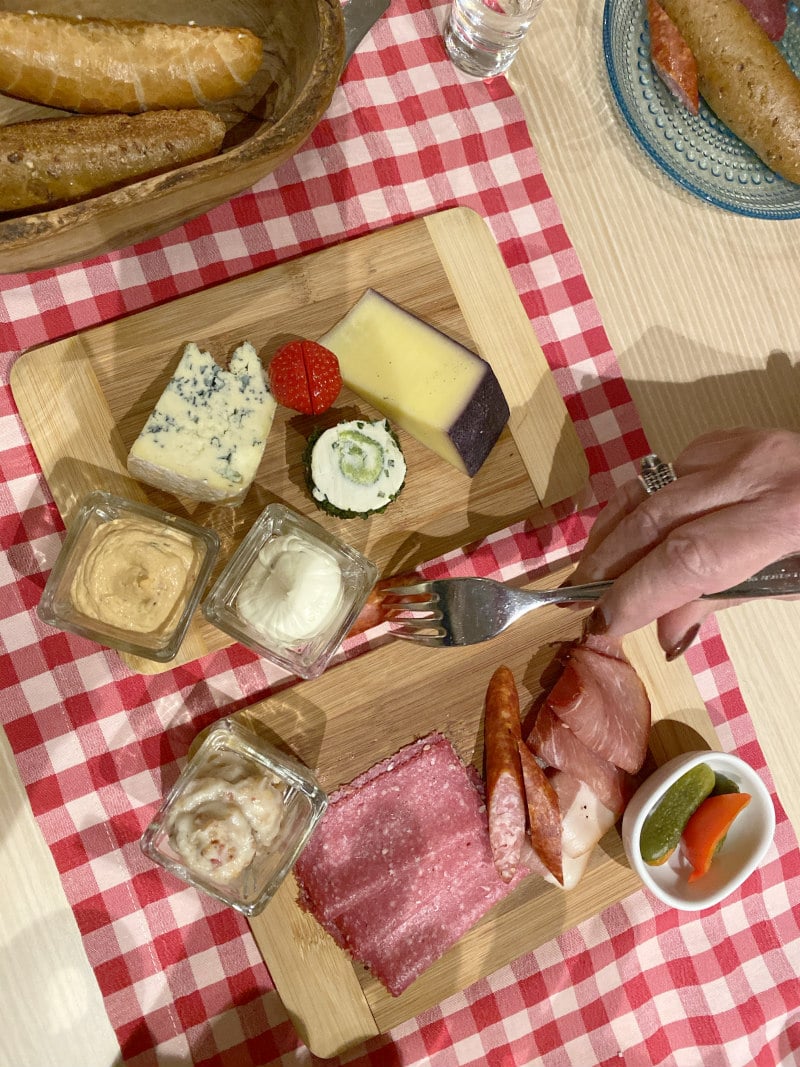 Most of the time in the dining room, they have a basic menu and then a few featured items of the evening that you can order. For example, on our cruise you could always order steak or fish or a vegetarian meal, or you could order the featured meals instead. One night we were sailing, they had a special Oktoberfest night where they had sausages, pretzels, beer and more. All of the staff were dressed in traditional Oktoberfest clothes. That was a fun night.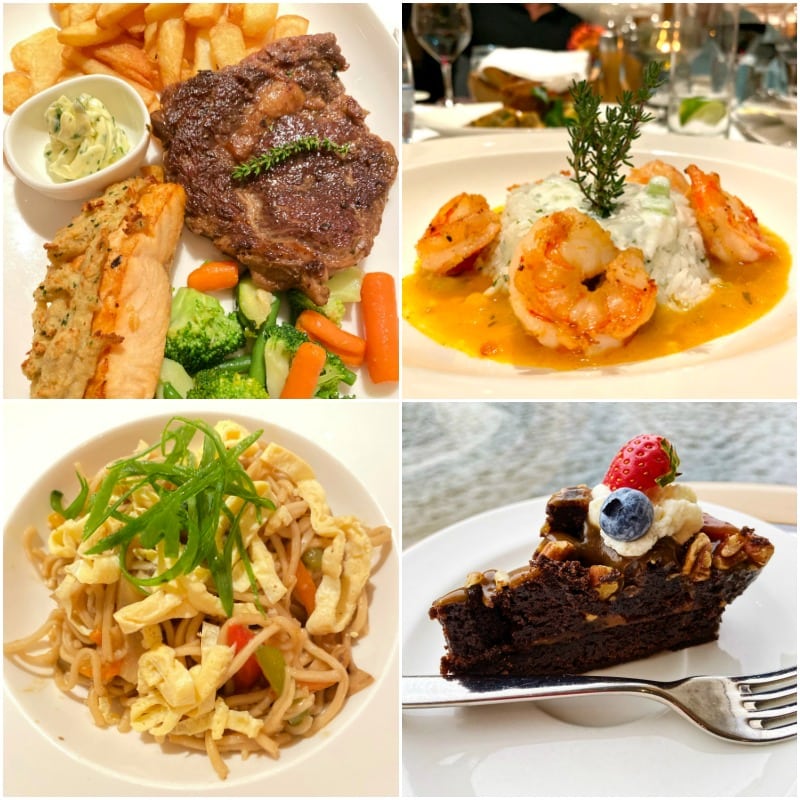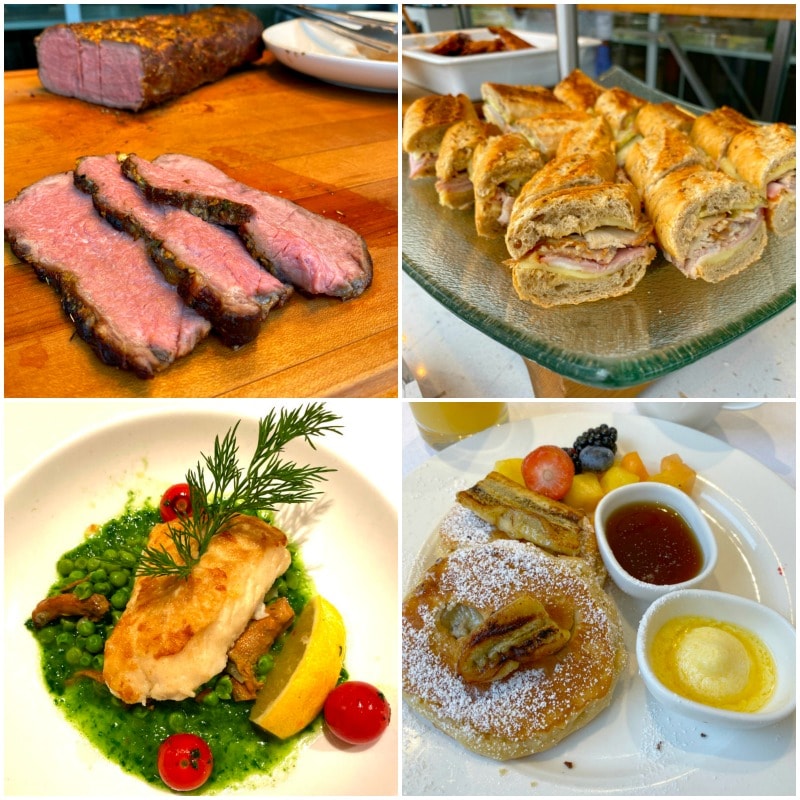 Above you'll see samples of things I ordered and ate on the cruise. Steak, shrimp, a noodle dish and chocolate brownie pie are featured in the first photo. Beef, Cubano sandwiches, fish and banana pancakes are featured in the second. I know that everyone will be asking me if the food was good. It was! The chefs are quite talented, and they are good at coming up with a variety of choices. We did eat in town a lot- mostly because we really wanted to experience the local culture and food as much as possible!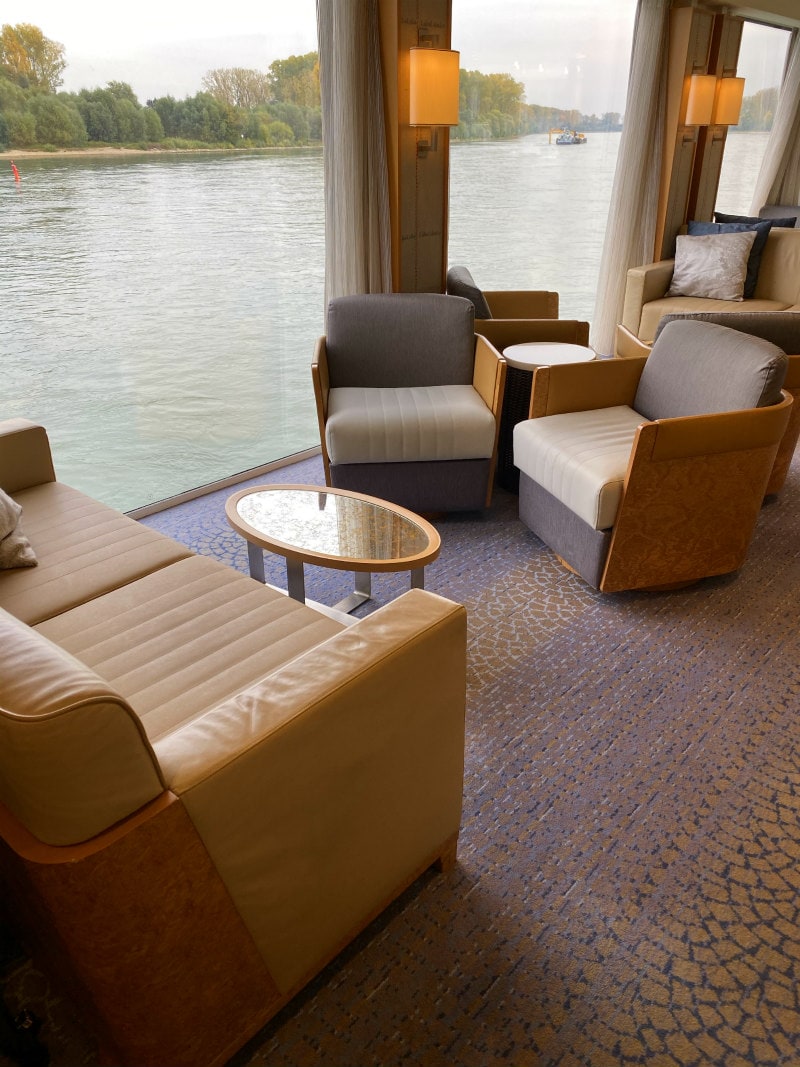 There are comfortable places to relax along the windows all over the boat.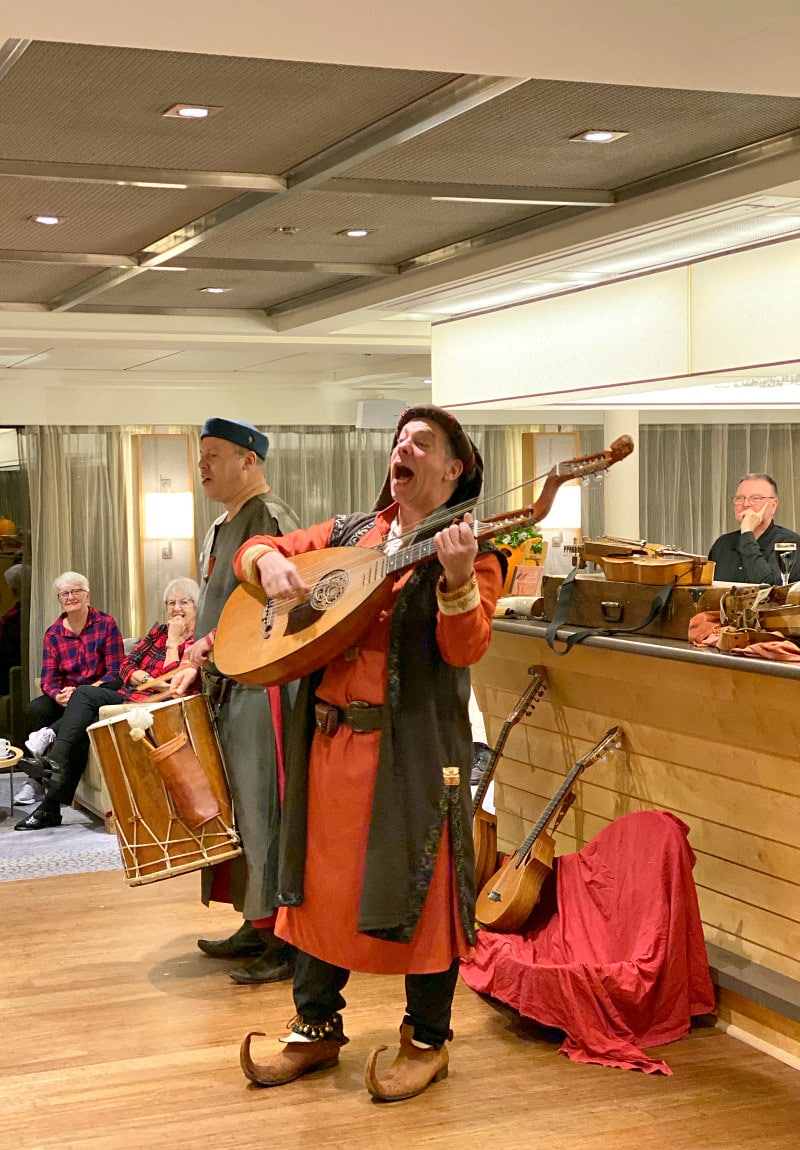 In the evenings, some sort of entertainment is always offered. Sometimes it's the ship's pianist and dancing, and other times they welcome locals on board to perform.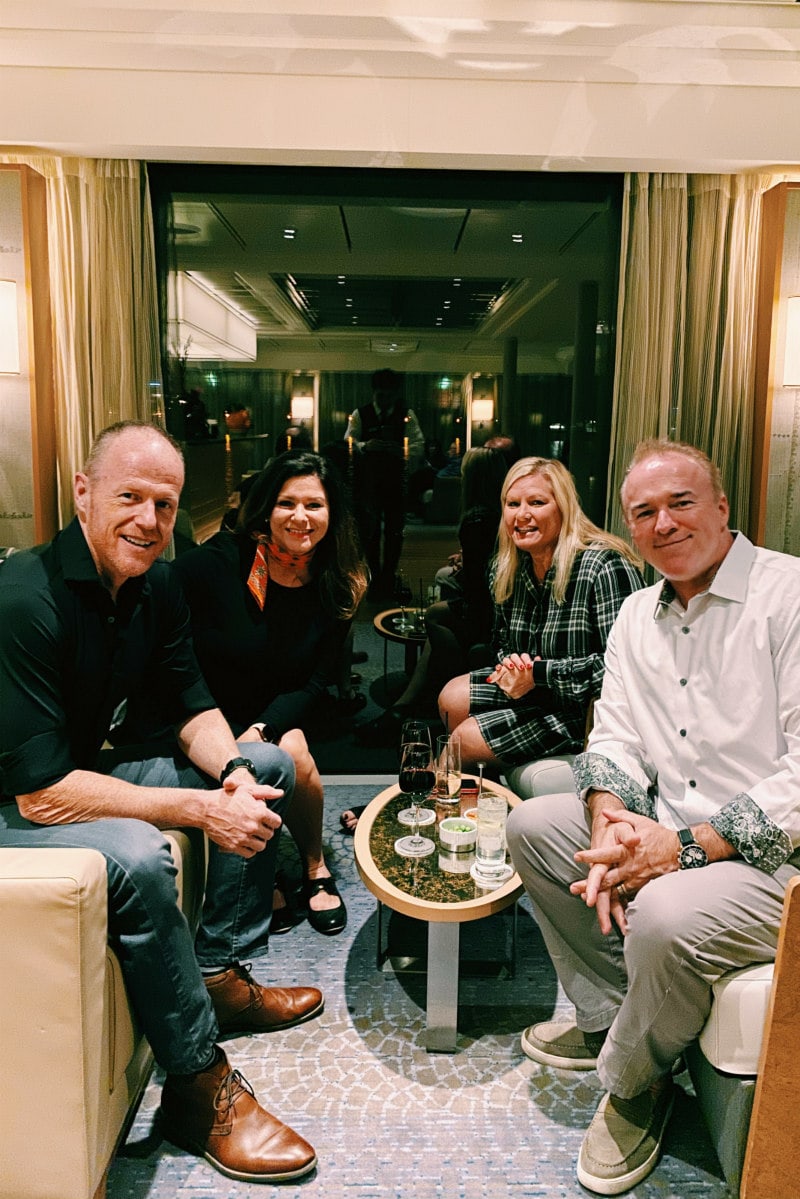 We enjoyed our evenings on the Viking Hild– sipping cocktails and wine, listening to music, dancing and visiting with new friends from all over the world that we made on the cruise.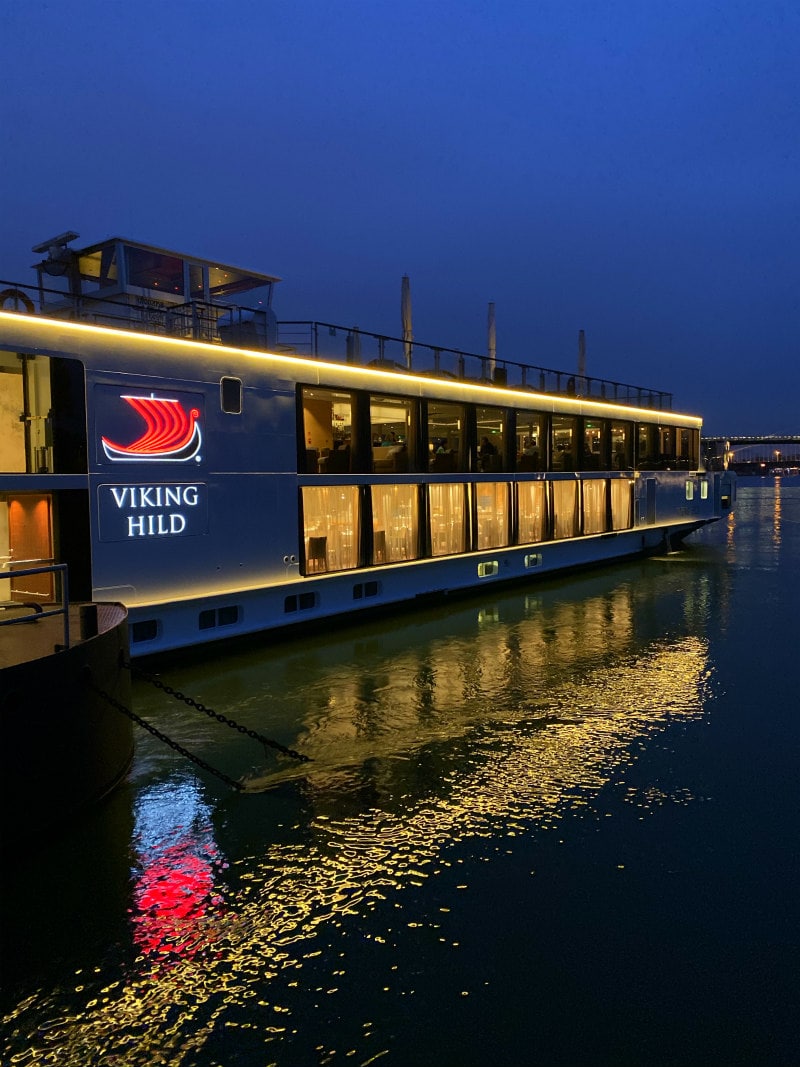 Goodnight Viking Hild! Hope you enjoyed my little tour of the Viking Hild Longship and a peek at the food too. There is more to come in the weeks ahead where I'll be sharing our experiences in France, Germany and Luxembourg. If you are interested in this cruise, be sure to read the post I shared last week: Viking River Cruises and the Swiss Alps (which was the start of our Viking trip). More information on Viking River Cruises here.