Are you familiar with the Whoopie Pie? No one in my little corner of the world has ever heard of a whoopie pie. If I weren't a food writer, I'm not sure I'd know what one was either.
According to Wikipedia:
A whoopie pie is a baked good made of two round mound-shaped pieces of chocolate cake, sometimes pumpkin cake, with a sweet, creamy frosting sandwiched between them. While considered a New England phenomenon and a Pennsylvania Amish tradition, they are increasingly sold throughout the United States. According to food historians, Amish women would bake these (known as hucklebucks at the time) and put them in farmers' lunchboxes. When farmers would find these treats in their lunch, they would shout "Whoopie!"
Remember Hostess' Suzy Q's- sweet creamy filling sandwiched between 2 layers of chocolate sponge cake? I happily scarfed down many of those (along with Twinkies and Ding Dongs) back in the 70's and 80's. I'm now so far removed from things like Suzy Q's that I wasn't even aware they were still being sold.   Whoopie Pies are slightly similar and are certainly a more delicious alternative. For Valentine's Day, I chose to make Red Velvet Whoopie Pies with Cream Cheese & Marshmallow Buttercream Filling.
Some folks are weary of red food coloring. I don't blame those folks. I don't like to use bottled food coloring in large amounts in my red velvet baked goods. Instead I use red gel (or paste), which is far more concentrated… a little goes a long way and you don't get that funky food color flavor.  Find it at baking supply stores or craft stores like Michaels.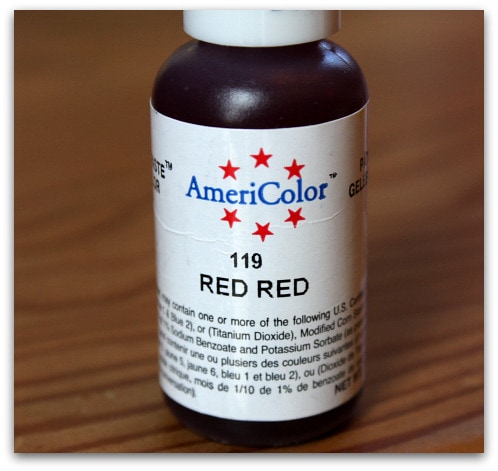 I add about 1 teaspoon of the gel and then when the batter is all mixed up, I re-evaluate and add a little more if it isn't quite the deep red hue I was hoping for.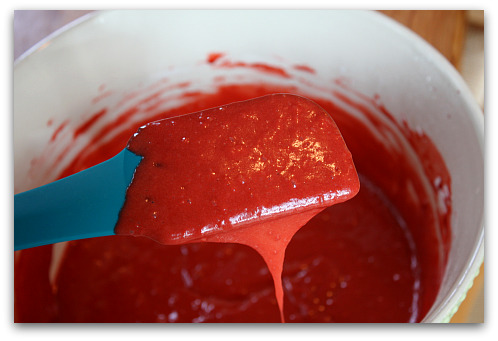 For whoopie pies, you want your little "cakes" to turn out as round and as uniform as possible. It's easiest to achieve this if you have a small ice cream scoop. Place spoon a Tablespoon or so of the batter onto the cookie sheets- they'll spread a little bit so keep space between the batter blobs.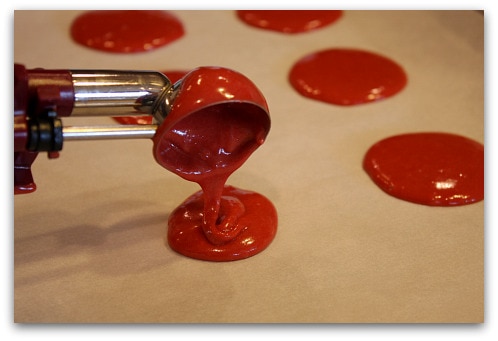 The cakey cookies themselves aren't really anything to write home about. Red velvet needs a cream cheesy companion. In this case, I made a cream cheese buttercream with a marshmallow addition. Spread it over the bottom of the cookie, and sandwich another cookie- bottom down- to make your "pie."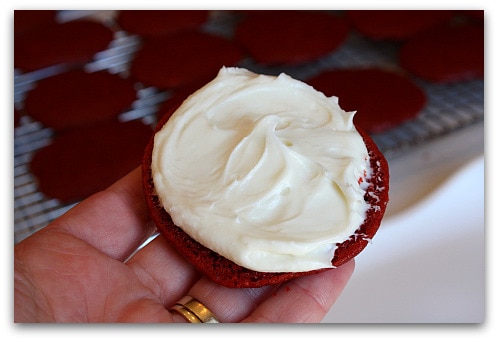 They turn out to be a very pretty little dessert for Valentine's Day. You can make them ahead of time; keep them in a single layer on a tray. Cover them with plastic wrap and refrigerate them for a day or two.  The verdict on these= YUM.  Let's be truthful… the frosting is what really makes these worthwhile.  And their festive hue makes them a good choice for a lovely dessert.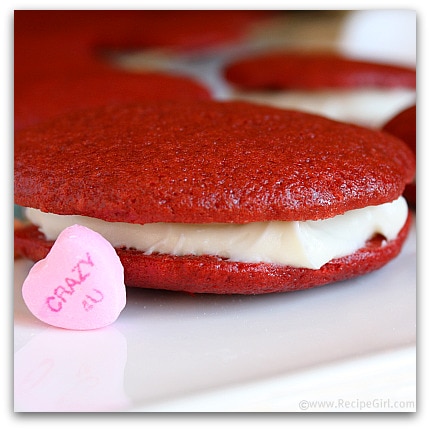 In case you're thinking that you might like to shape the batter on the cookie sheet to make cute, little heart-shaped whoopie pies, it doesn't quite work. The batter moves around too much & it's impossible to get matching cakes.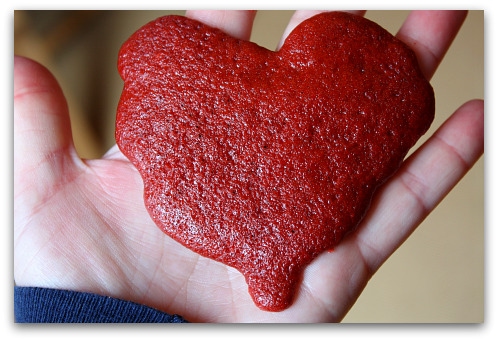 You can, however, make some larger circles and then use a cutter to cut out clean-shaped hearts if you'd like… though you'll have a few red velvet cookie scraps to contend with.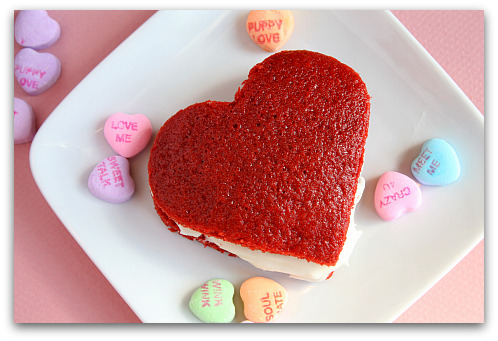 And you'll never guess what I found in my bag of conversation hearts!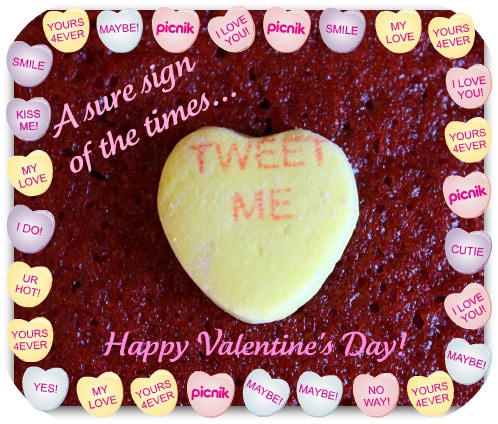 Hope you get some whoopie(s) on V-Day 😉
This recipe can be found here: Red Velvet Whoopie Pies