Delicious little treat! > Red Velvet Whoopie Pies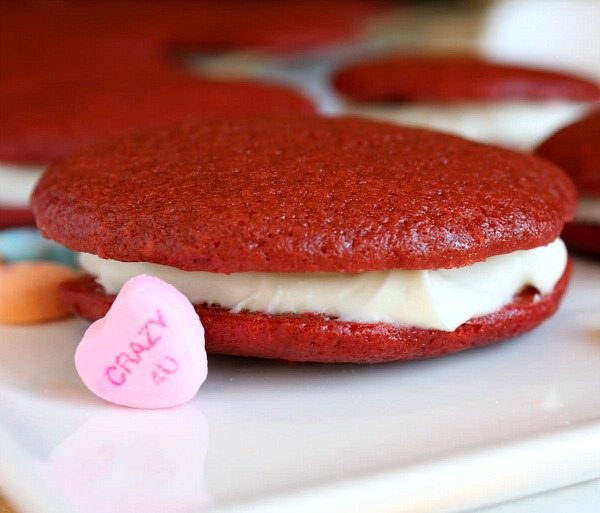 Red Velvet Whoopie Pies
Yield:
28 to 32 whoopie pies
Prep Time: 45 min
Cook Time: 7 min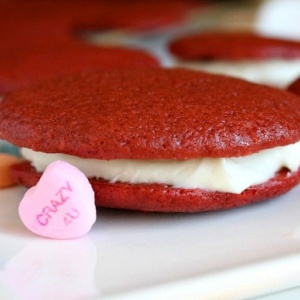 Ingredients:

PIES:
2 tablespoons unsweetened cocoa powder
1 ounce red food coloring (which equates to one bottle- or see below)
2 tablespoons water
1/2 cup canola or vegetable oil
1 1/2 cups granulated white sugar
2 large eggs
1 cup buttermilk
1 teaspoon salt
1 teaspoon vanilla extract
3 1/2 cups cake flour
1 tablespoon white vinegar
1 1/2 teaspoons baking soda

FILLING:
6 ounces cream cheese (3/4 of an 8-ounce package), at room temperature
1/2 cup (1 stick) butter, at room temperature
1/2 jar marshmallow crème (just eyeball it- about 1 cup)
1 pound powdered sugar (1 box)
1 teaspoon vanilla extract

Instructions:

1. Preheat oven to 350 degrees F. Grease cookie sheets, or line with parchment paper.

2. In a small bowl, combine cocoa powder, food color and water. Mix to combine; set aside.

3. In a large bowl, whisk together oil, sugar and eggs. Add in buttermilk, salt, vanilla extract and food color mixture. Whisk to combine.

4. Stir in flour, just until combined.

5. In a small bowl, dissolve baking soda in the vinegar; pour into the batter and stir to combine.

6. Spoon carefully onto prepared cookie sheets, careful to make sure that they are as round as possible. They'll spread a little bit so just spoon about a Tablespoon for each.

7. Bake for about 6 to 7 minutes, until they're set and no longer sticky or soft. Let cool before filling.

8. Beat cream cheese, butter and marshmallow crème together until smooth. Add in powdered sugar and vanilla. Spread a Tablespoon or so onto the bottom side of a pie, then top with the bottom side of another pie. Store in the refrigerator, keeping pies in a single layer. Cover with plastic wrap to keep fresh.

Tips:

*I prefer to use gel or paste coloring, which doesn't impart the "food color" flavoring to your baked good. If you use gel or paste, add about a teaspoon of it to the cocoa, then add 1/4 cup of water (instead of 2 tablespoons) and mix together. Re-evaluate the color of the batter after step 4- if you'd like it to be a deeper hue of red, add a few more drops of red.
*If you have one, use a Tablespoon scoop (like a little ice cream scoop) to place the batter on the cookie sheets.
More recipes for whoopie pies you might enjoy:
S'Mores Whoopie Pies by My Baking Addiction
Pumpkin Whoopie Pies by I Heart Naptime
Chocolate Whoopie Pies by Fifteen Spatulas