I've made them before and I'll make them again… I couldn't resist making another one of these cheesecake cakes (two layer cake with a layer of cheesecake tucked into the middle). I spotted a basket of Meyer lemons at my local market the other day. If you're not familiar with them, they're a sweeter and brighter variety of lemon. They're wonderful for baking, and they worked beautifully in my Meyer Lemon Cheesecake Cake.  If you can't find Meyers though, regular lemons will do just fine.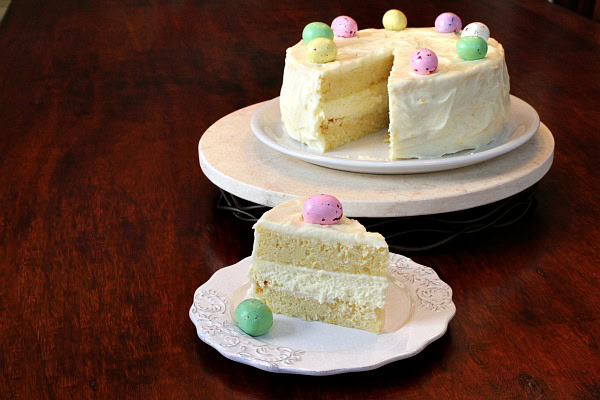 An Easter-themed cake is featured here, but you can also make it into a spring/Mother's day cake with flowers (scroll all the way down to see that version…). I used the Sunny Lemon Cake recipe from my favorite go-to cake baking book: Piece of Cake by Camilla Saulsbury. One bowl, no fuss cakes… tons of recipes. I seriously love this book and use it all the time.  You need two 9-inch baked cake layers and one 9-inch cheesecake layer too.  It sounds like a lot of work, but I usually make the cheesecake one day, toss it in the freezer overnight, and then make the rest of the cake the next day.  Not a big deal.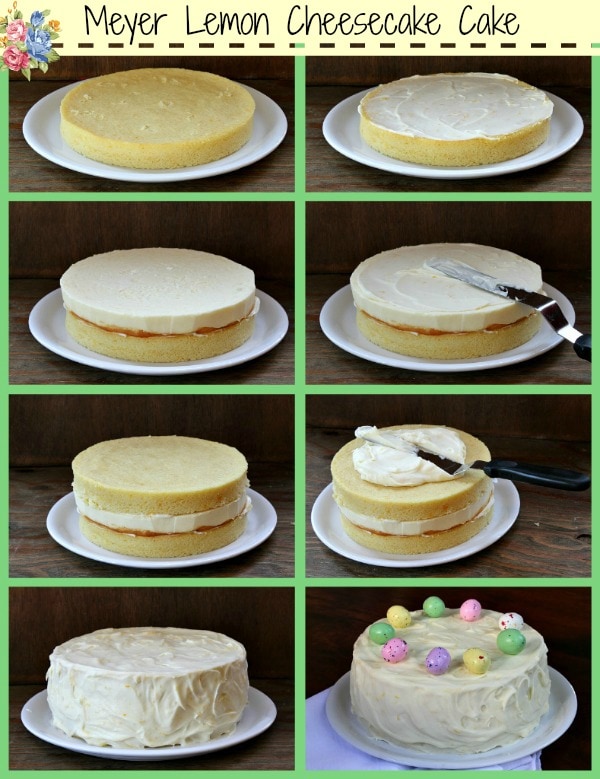 Assembly of the cake is shown above.  For flat, even cake layers (that will stack very nicely!), I recommend using these insulated cake strips.  I use them for all of my cakes and they work perfectly!
One layer of cake on the serving platter, then a little frosting, then the cheesecake layer, then a little frosting, and then 2nd cake layer.  To frost the cake, I like to start with a big blob of frosting on top and then use an offset spatula to spread it evenly on top and then down the sides.  Decorate as you wish!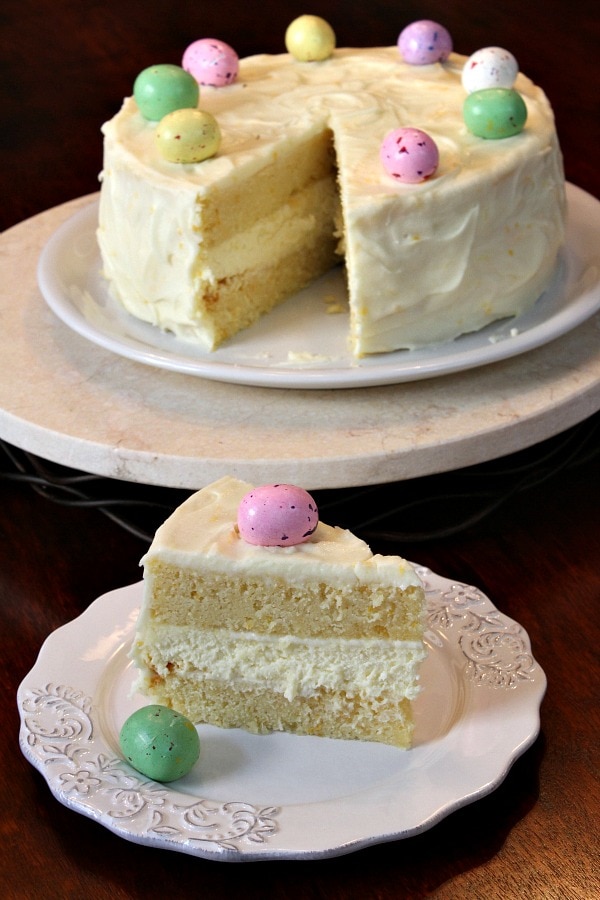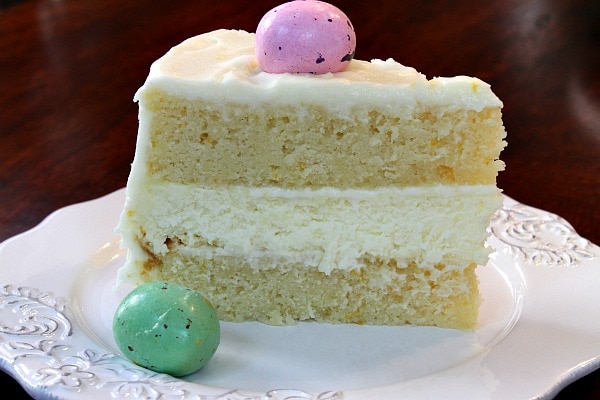 After frosting the cake, it's a good idea to give it at least an hour or two of chilling before slicing.  Then you'll be guaranteed to get neater, nicer cuts.  You can even make it the night before and let it get really chilled and firm.  It'll soften up quickly at room temp.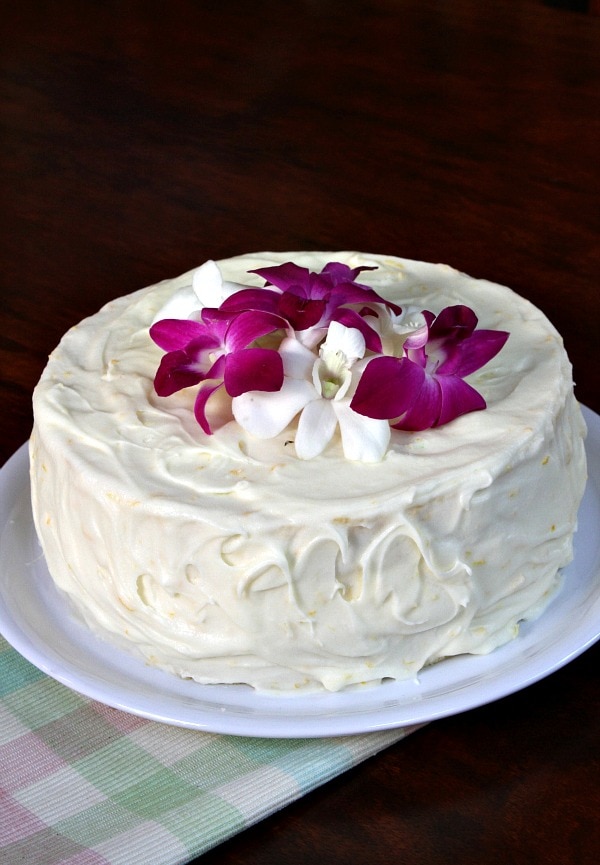 Using edible flowers (like orchids) is another pretty, easy way to decorate a cake.  Sometimes you can find edible flowers at your grocery store- packaged among the fresh herbs.  I stopped by a local florist and asked if they carried any edible flowers- they did!  Using flowers might be a nice idea for a Mother's Day cake too.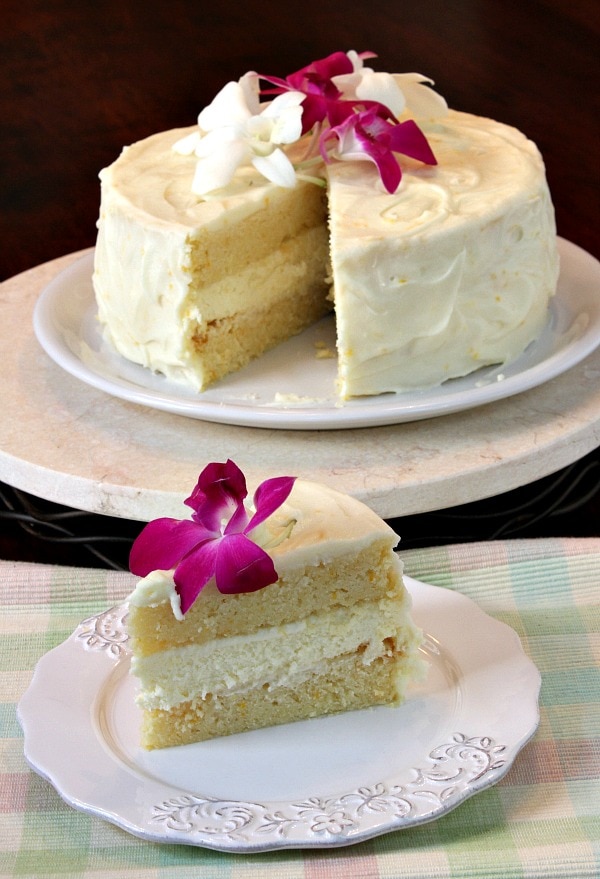 I used a plain cheesecake layer in the middle (not wishing to overwhelm the cake with excess lemon flavor), and topped it all off with a Fresh Lemon Frosting (also from the Piece of Cake book).  Chocolate Malted Eggs top the Easter version, and fresh, edible orchids top the "pretty" version.  I shared slices of this cake with three families in my neighborhood yesterday.  They enjoyed it… it's rich… you only need a small slice, so this one can feed a lot of people.  Happy Easter baking… or Mother's Day baking… or decadent dessert- splurge baking!  Just bake!
Meyer Lemon Cheesecake Cake
Use Meyer lemons for this recipe if you can find them. Regular lemons may be substituted too.
Yield:
One 9-inch cake
Prep Time: 1 hour + cooling and chill times
Cook Time: 1 hour 10 min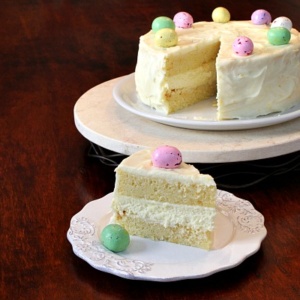 Ingredients:

CHEESECAKE LAYER:
Two 8-ounce packages cream cheese, at room temperature
2/3 cup granulated white sugar
pinch of salt
2 large eggs
1/3 cup sour cream
1/3 cup heavy whipping cream
1 teaspoon vanilla extract

CAKE:
2 cups All Purpose Gold Medal® Flour
2 cups granulated white sugar
2 teaspoons baking powder
1 teaspoon salt
3 large eggs, at room temperature
1 cup buttermilk
1/2 cup unsalted butter, at room temperature
1/2 cup vegetable shortening
2 teaspoons finely grated lemon zest
1/4 cup freshly squeezed lemon juice
1/4 cup lemon-lime soda (Sprite or 7-Up)
1 teaspoon vanilla extract

FRESH LEMON FROSTING:
6 ounces block cream cheese, at room temperature
1 cup (2 sticks) unsalted butter, at room temperature
4 1/2 cups powdered sugar
1 tablespoon finely grated lemon zest
1/4 cup + freshly squeezed lemon juice

Instructions:

1. Prepare the cheesecake layer: Preheat the oven to 325 degrees F. Place a 13x9 pan on the lower third rack of the oven and fill it halfway with water. Place another rack on a level above the pan. Spray a 9-inch springform pan with nonstick spray.

2. In a large bowl, use an electric mixer to blend the cream cheese until it is smooth and creamy, 1 to 2 minutes. Mix in the sugar and salt and blend for 2 minutes, scraping down the sides of the bowl to make sure all is mixed in. Add the eggs, one at a time, blending after each addition. Finally, mix in the sour cream, whipping cream and vanilla. Mix until smooth. Pour the batter into the prepared pan. Set the pan on the rack above the roasting pan. Bake the cheesecake for 40 to 45 minutes. It should be set to the touch and not jiggly. Remove the cheesecake from the oven and let it cool on a wire rack for at least an hour. When it has cooled, place the pan into the freezer and let the cheesecake freeze completely (4 to 5 hours or overnight).

3. Prepare the cake layers: Preheat the oven to 350 degrees F, and spray two 9-inch pans with nonstick spray with flour (Baking Spray). In a large bowl, whisk together the flour, sugar, baking powder and salt. Add the eggs, buttermilk, butter, shortening, zest, and juice to the bowl. Use an electric mixer on low speed to combine (1 minute). Scrape sides and bottom of the bowl with a rubber spatula. Beat on high speed 2 minutes. Add the soda and vanilla and beat on low speed for 30 seconds until incorporated. Divide the batter between the two prepared pans. Bake 25 to 30 minutes, or until a toothpick inserted into the center comes out with just a few moist crumbs attached. Let the pans cool on a wire rack for about 20 minutes, then run a knife around the edges of the pans and turn the cake layers onto rack to cool completely.

4. Prepare the frosting: In a large bowl, use an electric mixer on high speed to beat the cream cheese and butter until creamy. Gradually add the powdered sugar, beating on low speed until blended. Scrape down the bowl with a rubber spatula. Add the lemon zest and 1/4 cup lemon juice; beat on high speed for 1 to 2 minutes or until fluffy. If the frosting appears to be too thick, add an additional tablespoon or two until you get a nice consistency. Cover and refrigerate the frosting until you are ready to assemble the cake (it will firm up a bit upon chilling).

5. Assemble the cake: Place one cake layer into the center of a cake plate or platter. Spread a couple of spoonfuls of frosting on top. Remove the cheesecake from the freezer, take off the sides of the pan, and slide a knife under the the cheesecake to release it from the pan. Trim the cheesecake, as needed to match the size of your cake layers (see *Tips). Place the cheesecake layer on top of the first cake layer and spread a couple more teaspoons of frosting on top of the cheesecake. Place the second cake layer on top of the cheesecake. Pile the frosting on top of the 2nd cake layer, spread it to the edges and down the sides of the cake. Decorate as you wish! Keep this cake refrigerated until serving. It's okay to make it 24 hours in advance and keep it in the refrigerator.

Tips:

*Measure your cheesecake layer against the cake layers. If the cheesecake layer turns out to be slightly larger size round than your cake layers, move it to a cutting board and use a knife to gently shave off some of the exterior of the cheesecake.
*The pan of water in the oven will help prevent the cheesecake from cracking while baking.

Source:  RecipeGirl.com (Cake and frosting recipes from this cookbook:  Piece of Cake)
More Easter/Mother's Day lemon desserts on the blogs that are looking good:
Lemon Meringue Mother's Day Cake (how to video) by Zoe Bakes 
Blueberry Bundt Cake by Bake at 350 
Lemon Truffle Cake by RecipeGirl 
Lemon Bundt Cake by Crunchy Creamy Sweet 
Lemon- Blueberry Marble Cake by Your Home Based Mom
Disclosure:  Affliliate links are included within this post.