Here's a easy treat you won't be able to stop eating!! > No Bake Monster Cookie Bars
I made these for a BBQ I hosted last weekend.  When you have 12 kids and 12 adults coming to your house, you must have plenty of goodies to choose from!
Here's what these bars have going on: a layer of egg-free monster cookie dough is topped by a decent layer of chocolate ganache.  Oh, and M&M'S!  Lots of them!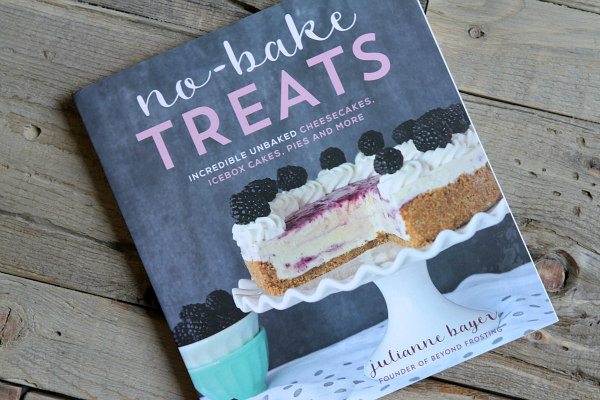 This recipe comes from a new cookbook by blogger Julianne Bayer:  No Bake Treats: Incredible Unbaked Cheesecakes, Icebox Cakes, Pies and More. Julianne is also the author of the delicious blog Beyond Frosting.  I'm loving her book filled with sweet treats that require NO BAKING!  Here are some of droolworthy favorites from the book:  Brownie Batter Cheesecake, Bourbon Butterscotch Pudding Pie, Peppermint Bark Icebox Cake, Salty Peanut Butter S'Mores Tart, Candy Lovers Ice Cream Pie, Hot Fudge Sundae Cupcakes, Cinnamon Roll Cheesecake Bars and Mudslide Parfaits.  I love having a cookbook like this around to make easy treats where I don't have to use the oven.  It's a great book to add to your collection.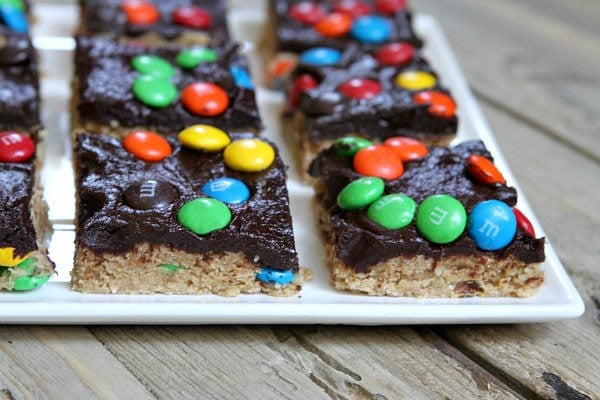 I'm someone who likes cookie dough.  Yeah, I know… you're not supposed to eat it because of this and that and it's not safe, blah blah blah.  Well, I grew up munching on cookie dough while my Mom baked cookies… and I have lived to tell about it.  That cookie dough had eggs in it.  This cookie dough does not!  If you've ever made Monster Cookies, you know how addicting the cookie dough is.  That's why these bars are awesome.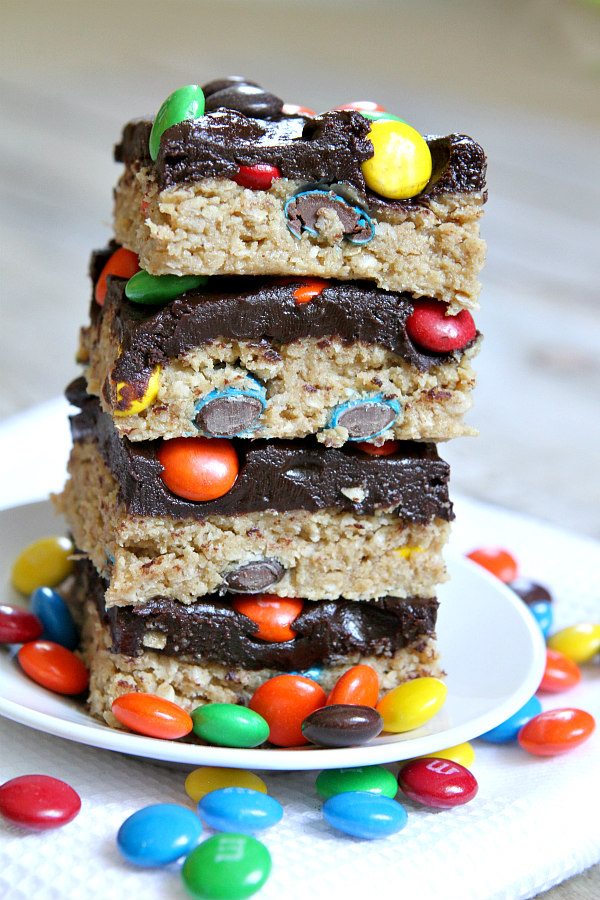 These treats were a big hit at my BBQ.  The kids devoured them.  The adults chowed down on them too.  I can't wait to make more treats from this book!
P.S. Confession:  I still like to nibble on cookie dough when I make cookies!!
No Bake Monster Cookie Bars
Yield:
16 small bites or 9 big bars!
Prep Time: 25 minutes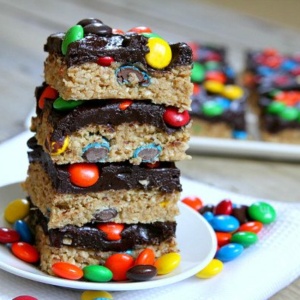 Ingredients:

Cookie dough:

8 tablespoons (1 stick) unsalted butter
1/2 cup granulated white sugar
1/4 cup light brown sugar
1 cup creamy peanut butter
1/2 cup all-purpose flour
1 teaspoon vanilla extract
2 cups oats
3/4 cup M&M's

For the topping:

8 ounces dark chocolate chips
3 tablespoons heavy whipping cream
1/4 cup M&M's

Instructions:

Prepare the cookie dough:  Line a 9-inch pan with parchment paper- covering the bottom and the sides.  Soften the butter in the microwave for 10 to 15 seconds. In a medium bowl, use an electric mixer to combine the butter, white sugar and brown sugar until combined.  Mix in the peanut butter, scraping down the sides of the bowl to incorporate.  Add the flour and vanilla, and mix until the flour starts to incorporate.  Add the oats- 1 cup at a time.  Stir in the M&M's.  Gently push the dough evenly into the bottom of the pan.
Prepare the topping:  In a medium, microwave-safe bowl, combine the chocolate chips and whipping cream.  Microwave in 30-second increments until the chocolate starts to melt, stirring occasionally.  Once the chocolate is melted, stir vigorously until the chocolate is smooth and free of lumps.  Pour the ganache over the top of the cookie dough base, spreading evenly, and sprinkle with the M&M's.  Allow the ganache to set at room temperature, and then refrigerate the bars until the cookie dough and ganache harden slightly- at least 1 hour.  Lift the parchment paper by the edges to remove the bars from the pan before cutting.
Here are a few more no bake bars you might enjoy: