Please tell me you love Nutella as much as I do.  I'm certainly not the only one, right?  I introduced it to my kiddo a few years' back and he's just crazy about the stuff.  It has a prominent place on the shelf in our pantry, it's sometimes enjoyed with a spoon and a tall glass of milk (eek!), and it's most definitely used in baking ventures too.  Our latest fun find for Nutella is stuffing it into cookies:  Nutella- Stuffed Banana Cookies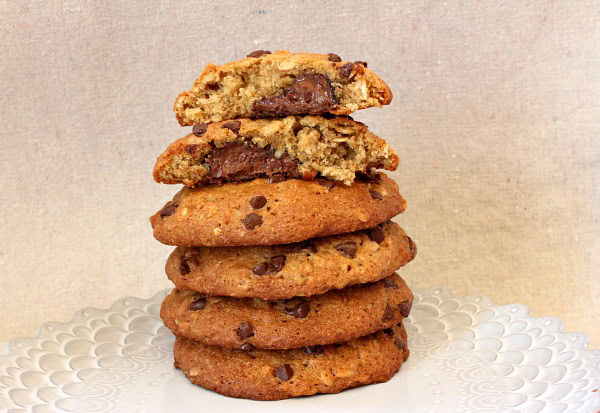 The Nutella people need to listen up real good here:  the world needs Nutella Baking Chips!  Hello?  Are you listening Nutella People?  We need baking chips and we need them bad.  It's not easy to add Nutella to cookies when it's of a peanut butter consistency.  How hard can chip- making be?  Do it!  I'll show you how I made my own…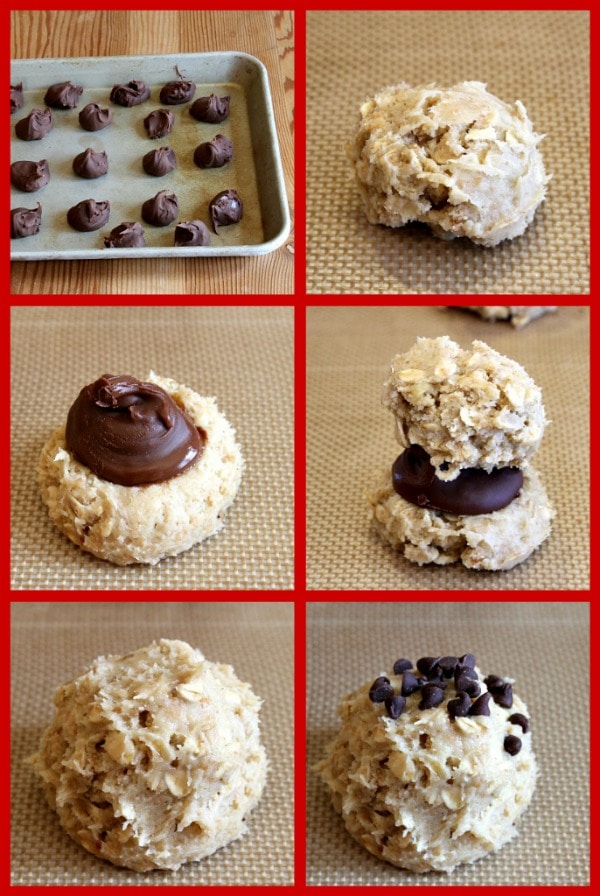 Since the Nutella People are clearly behind the times, if you just take spoonfuls, drop them on a baking sheet, and then freeze them- BOOM- you have temporarily hardened Nutella that you can use for baking.  In this case I used those frozen spoonfuls to place in between two layers of banana- oat cookie dough and then sprinkled a few mini chips on top.  It's not that tough- you just have to plan a little bit ahead and freeze some of the Nutella.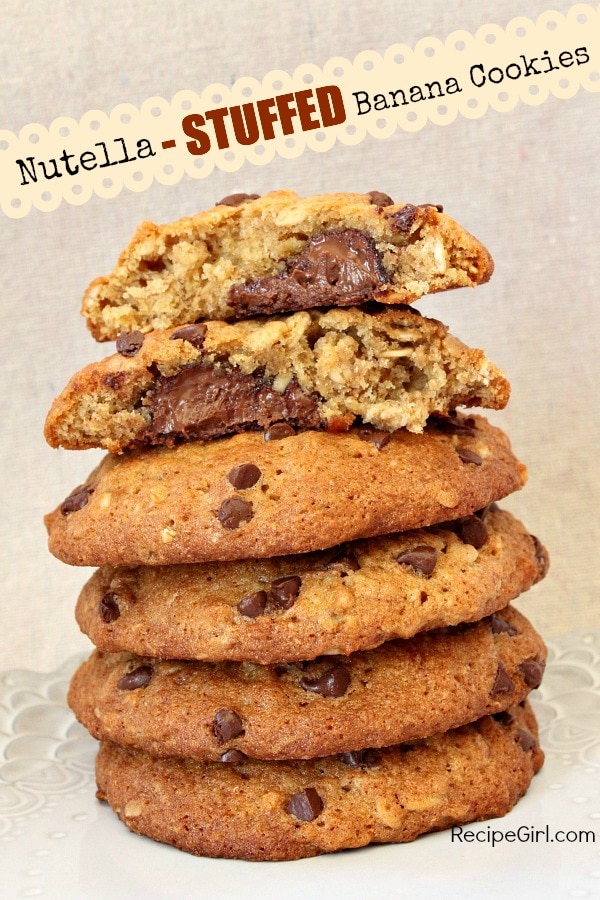 Then they bake up wonderfully- cookie dough surrounds and encloses the Nutella while baking.  And when you bite into the cookie, you get banana flavor and a Nutella surprise.  Yay!
Nutella- Filled Banana Cookies
Semi-soft banana cookies stuffed with a rich filling of Nutella.
Yield:
About 14 giant cookies
Prep Time: 30 min + freeze/chill time
Cook Time: 15 min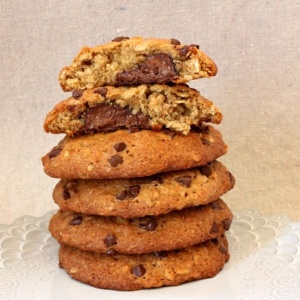 Ingredients:

Nutella (or another chocolate hazelnut spread) (about 1/2 cup)
1 cup All Purpose Gold Medal® Flour
1/2 cup Whole Wheat Gold Medal® Flour
1 teaspoon kosher salt
1/2 teaspoon baking soda
3/4 cup unsalted butter, at room temperature
1/2 cup granulated white sugar
1/2 cup packed light brown sugar
1 large egg
1 1/2 teaspoons vanilla extract
1/2 cup ripe banana, mashed
1 cup old fashioned rolled oats
About 1/4 cup miniature chocolate chips

Instructions:

1. Drop about 14 heaping teaspoonfuls of Nutella onto a nonstick baking sheet (or one lined with waxed paper). Place in the freezer until totally frozen.

2. Whisk together flours, salt and baking soda in a medium bowl.

3. In a large bowl, beat butter and sugars with an electric mixer; mix on medium speed until pale and fluffy. Reduce speed to low and add egg & vanilla; mix until combined. Mix in the banana. Add the flour mixture; mix just until combined. Stir in the oats. Refrigerate the dough for at least a couple of hours, until fairly firm.

4. Preheat oven to 375 degrees F. Line baking sheets with parchment paper (or silpat), or spray with nonstick spray.

5. Drop dough by tablespoonful onto the prepared baking sheets (or use a small cookie scoop), spacing about 3 inches apart. Place a frozen piece of Nutella on top of the cookie dough, then drop another tablespoonful of cookie dough on top of the Nutella. Use your fingers to surround the Nutella with the cookie dough. Sprinkle a few mini chips on top. Bake cookies until golden brown and just set, 14 to 16 minutes. Let cool on sheets on wire racks 5 minutes. Transfer cookies to wire racks; let cool completely.

Tips:

*Be sure to use a banana that is well on its way to the trash can. The darker it is, the softer and sweeter it becomes.
*Cookies can be stored in airtight containers at room temperature up to 2 days. They also freeze well.
Other delicious Nutella Cookies on the blogs:
Nutella Chunk Cookies by RecipeBoy
Giant Nutella- Stuffed Chocolate Chip Cookies by Two Peas and Their Pod
Fudgy Nutella Cookies with Sea Salt by Ambitious Kitchen
Chewy Nutella Cookies by Country Cleaver