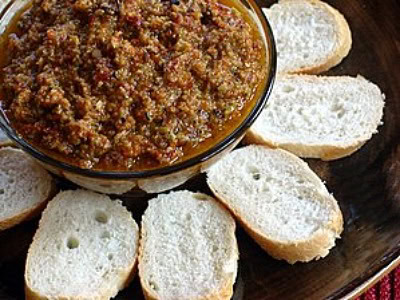 Olive- Tomato Tapenade
Yield: About 3 1/2 cups Prep Time: 30 minutes
I enjoyed this garlicky, sundried tomato spread. It might even be nice with roasted garlic too.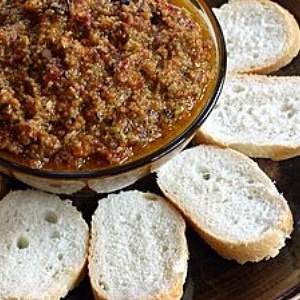 Ingredients:

1/2 pound roasted red onions (see tips below)
1 Tablespoon minced fresh garlic
1/2 Tablespoon dried oregano
1 cup stuffed green olives
2 Tablespoons chopped sun-dried tomatoes
1/2 Tablespoon dried basil
1 cup extra-virgin olive oil

Instructions:

1. Run all ingredients through the food processor, then mix well. Store in an airtight container.

2. Serve this wonderful spread with sliced baguette and crackers.

Cooking Tips
*Place sliced red onions on a large baking sheet. Spray with cooking spray and roast at 400 degrees F. until slightly browned and blackened on edges.
*If you can find sun-dried tomatoes dry and not packed in oil, use those. Soften them up in some hot water before processing.