Pasta Shells Filled with Feta and Herbs
I served these Pasta Shells Filled with Feta and Herbs to guests at a dinner party, and they all raved and asked for the recipe! Oh, and this recipe makes quite a lot, so plan to serve for a hungry group of people… or eat one pan and freeze the other for later.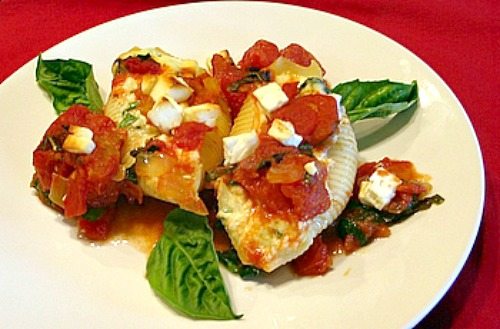 Yield: 6 to 8 servings
Prep Time: 1 hour
Cook Time: 1 hour 40 min
Pasta Shells Filled with Feta and Herbs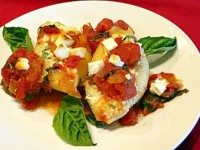 Ingredients:
SAUCE:
2 tablespoons olive oil
1 medium onion, chopped
2 cloves garlic, minced
1/4 teaspoon dried crushed red pepper
Two 28-ounce cans chopped tomatoes, with juices
1 cup chopped fresh basil
FILLING:
Two 15-ounce containers ricotta cheese
14 ounces crumbled feta cheese, divided
1/2 cup chopped fresh basil
2 bunches fresh chives, chopped
2 large eggs
PASTA:
12 ounce package jumbo pasta shells
Directions:
1. To prepare sauce: In large saucepan over medium heat, heat oil, add onion and sauté 5 minutes. Add garlic and sauté until onion is tender, about 5 minutes. Add crushed red pepper and sauté 30 seconds. Add tomatoes. Simmer until sauce is reduced to 5 cups, stirring occasionally, about 1 hour. Season to taste with salt and pepper. Remove from heat and mix in basil.
2. To prepare filling: Combine ricotta, 1 1/3 cups feta, basil and chives. Season to taste with salt and pepper. Mix in eggs.
3. Cook shells in large pot of boiling salted water until just tender but still firm to bite. Drain. Rinse with cold water until cool. Drain thoroughly.
4. Preheat oven to 350 degrees F.
5. Spread 3/4 cup of sauce in the bottom of each of two 13×9? glass baking dishes. Fill 30 shells and divide between the dishes. Top with remaining sauce and sprinkle with remaining feta.
6. Bake until shells are heated through, about 30 minutes. Garnish with additional basil leaves.
Tips:
*To save time on cooking day, you may prepare the sauce a day in advance and refrigerate.
*You may also prepare the entire dish a day ahead, cover and refrigerate until ready to bake.
SOURCE: RecipeGirl.com (adapted a little from Bon Appetit)
More stuffed shells recipes you might enjoy:
Chicken Parmesan Stuffed Shells by Favorite Family Recipes
Three Cheese Stuffed Shells with Creamy White Sauce by RecipeGirl
Spinach- Ricotta Stuffed Shells by Baked by Rachel