I'm sharing a recipe today that you're going to love. In fact, if you begin munching on this stuff… you're likely not going to be able to stop. It took all of my available willpower to package up this Peanut Butter Caramel Corn and deliver it to my neighbors. But that was only after I ate a few cupfuls myself!  Giveaway details are at the end of this post.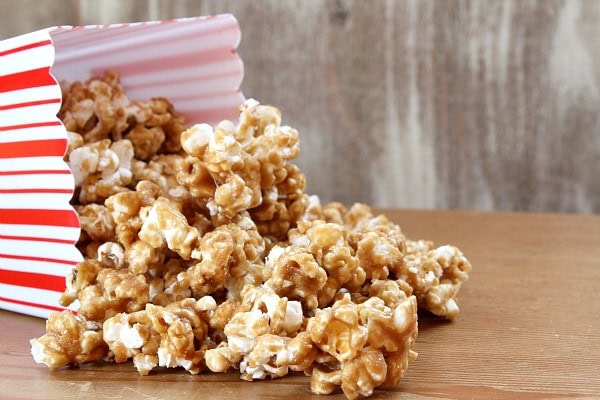 This Peanut Butter Caramel Corn is good stuff… every bite of it. And it's worth every.single.calorie consumed. Picture caramel corn- only HOMEMADE- and with a peanut buttery flavor. Yeah.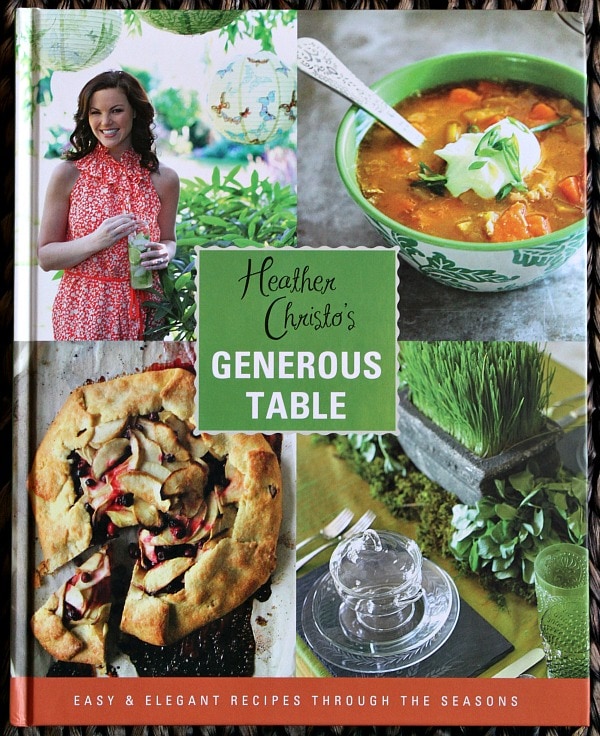 The recipe comes from a new book by Heather Christo: Heather Christo's Generous Table: Easy and Elegant Recipes Through the Seasons.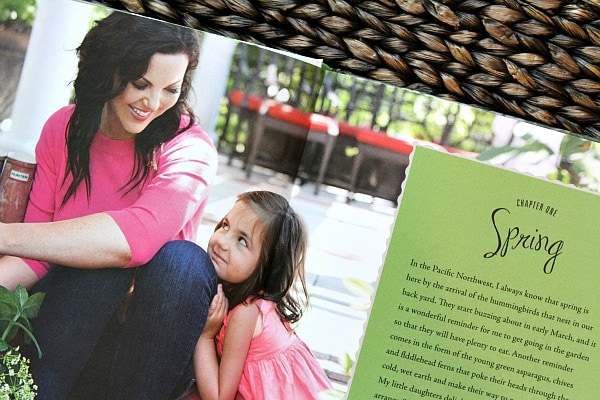 I love that Heather's book is organized by seasons (that's totally MY kind of book).  And how adorable is her little girl??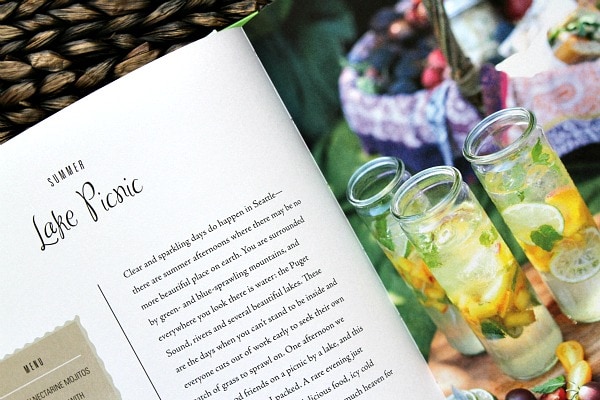 Each season is divided into menus.  This "Lake Picnic" menu includes Yellow Nectarine Mojitos, Couscous Salad with Cherries and Feta, Roasted Pork Tenderloin Sandwich with Zesty Roasted Red Pepper Spread and Raspberry-Peach Bars.  Everything sounds so good, doesn't it?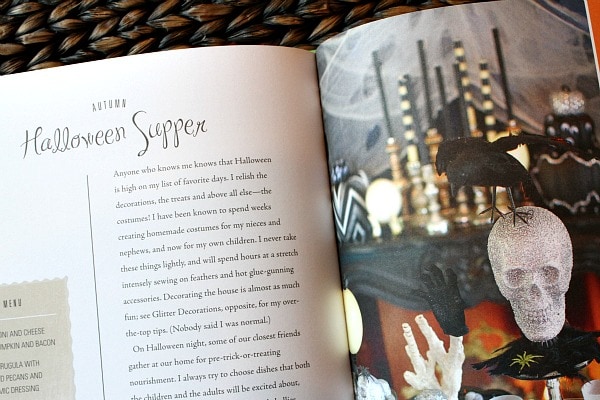 Her "Halloween Supper" menu includes Macaroni and Cheese with Pumpkin and Bacon, Spicy Arugula with Candied Pecans and Balsamic Dressing, Pecan-Caramel Coconut Bars and Pumpkin Gingersnap Trifle.  I'd enthusiastically eat all of that.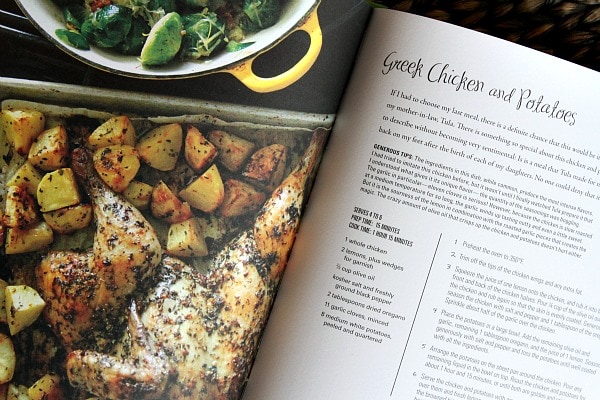 The recipes Heather chose for the book look delicious… like this Greek Chicken and Potatoes (from her "Sunday Dinner" menu)…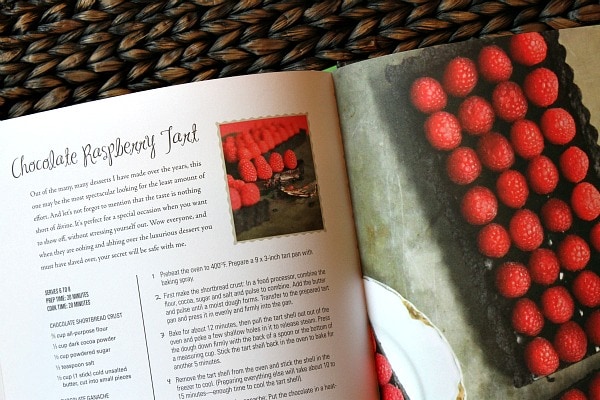 …and this Chocolate- Raspberry Tart (which comes from her "Holiday Dinner Party" menu).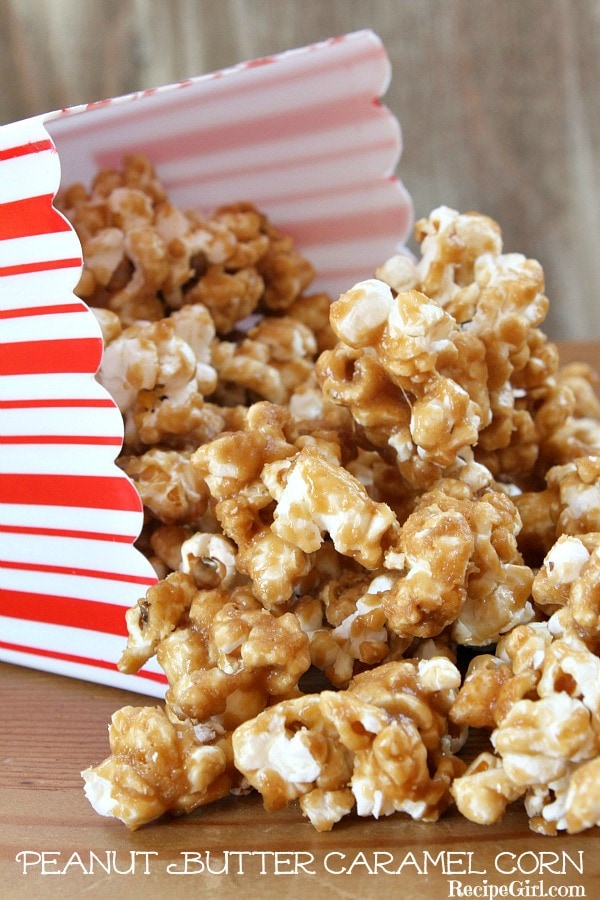 And then, of course, there is this completely and totally addictive Peanut Butter Caramel Corn (from Heather's "Snow Day Lunch" menu).  If you try one new recipe this month, try this one!  You'll be pleased… and stuffed… and over-sugared.  And happy.  Here's the recipe!  And below the recipe are the giveaway details!
Peanut Butter Caramel Corn
Yield:
16 cups
Prep Time: 5 min + rising time
Cook Time: 1 hour 15 min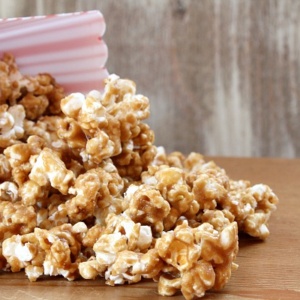 Ingredients:

POPCORN:
1/4 cup vegetable oil
1 cup popping corn
kosher salt

PEANUT BUTTER CARAMEL:
1 cup (2 sticks) unsalted butter
2 cups light brown sugar
1/2 cup light corn syrup
1/2 cup creamy peanut butter
1 teaspoon kosher salt
1/2 teaspoon baking soda
1 teaspoon vanilla extract

Instructions:

1. Preheat the oven to 250 degrees F.

2. First make the popcorn: Put a large pot over medium heat, and add the oil and popcorn. Place a lid on the pot, slightly askew, so that steam can escape. Pop the corn until there are a few seconds between pops, and it sounds like they are mostly cooked.

3. Pour the popped corn into a large roasting pan (like one you would use to roast a turkey) and sprinkle with kosher salt.

4. In the same pot that you made the popcorn, melt the butter, brown sugar, corn syrup, peanut butter and salt. Bring to a boil, stirring, for 7 minutes.

5. In a tiny bowl, mix the baking soda and vanilla together until the baking soda is mostly dissolved.

6. Remove the pot from the heat, and stir in the vanilla and baking soda mixture. The caramel should be very light and frothy. Immediately pour the caramel over the popcorn, and gently fold the caramel into the popcorn to coat it. (At this point, you might think there is not enough caramel for the corn, as there will be globs of caramel, and a lot of the popcorn will not seem well-coated. But don't worry! There will be plenty.)

7. Bake the caramel corn for 15 minutes. Remove the roasting pan from the oven and gently stir the popcorn into the melting caramel until the popcorn is better coated. Return to the oven for another 15 minutes, after which the popcorn should be evenly coated with the caramel.

8. Return the caramel corn to the oven and bake for a final 15 minutes. Remove from the oven and give the corn one final stir to coat thoroughly. Let cool completely, about 30 minutes.

9. When the popcorn is totally cool, it will have a nice, thin, crispy coating. Serve immediately or store in airtight containers for up to 10 days.

Tips:

*If there is a nut allergy in the family, simply leave out the peanut butter for a still-perfect caramel corn.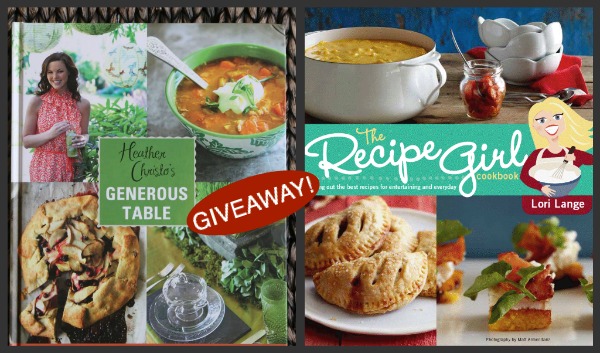 Heather Christo's book is totally near and dear to my heart because she wrote the kind of book that I absolutely love to have on my shelf.  Be sure to watch her BOOK TRAILER VIDEO to learn more about Heather Christo and her new book.  So great.  I LOOOOVE to plan seasonal menus and entertain and throw parties, so this book is perfect for me.  The Recipe Girl Cookbook ALSO has entertaining menus included in it.  So that makes Heather and I like Soul-Sisters, doesn't it??
Let's celebrate Heather's book release with a giveaway!  For a chance to win a copy of Heather Christo's Generous Table AND a copy of The Recipe Girl Cookbook (both signed copies), leave a comment below sharing an entertaining tip or trick you've learned… or if you're not so good at entertaining yet, you can share that too!  Heather and I will help you out with our entertaining menus and tips!
This giveaway is open to USA + CANADA and it will close at the end of the day on Friday, May 10th.  The winner will be chosen via random.org and will be contacted via email and announced here.  If the winner does not respond to email outreach within 48 hours, another winner will be chosen.
Giveaway winner is commenter #248: Melissa, who shared the entertaining tip: "If you don't have a lot of a particular item, place it at the end of the serving line so that guests' plates are more full by the time they reach the item that there isn't a lot of." I love that tip- Thanks, Melissa. You've been emailed, so please respond so you can get your new cookbooks!
Disclosure:  A copy of Heather Christo's Generous Table was provided for me to review, and another copy has been provided for this giveaway.  I'm providing a copy of The Recipe Girl Cookbook for the giveaway.  Amazon affiliate links are included within this post.