Here's a recipe for a quick and easy Peanut Chicken Bowl.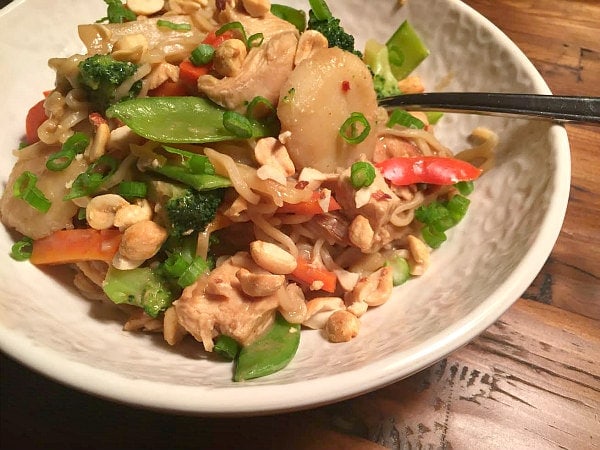 This recipe is made with Ramen noodles (everyone's favorite from back in college days, right??), vegetables and a delicious sauce. This is a family- friendly, favorite dinner.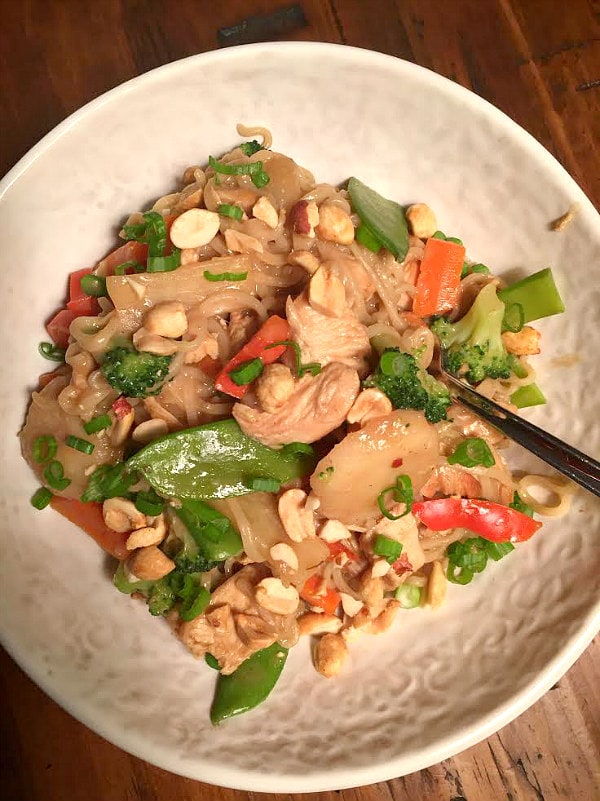 Peanut Chicken Bowl
Yield:
4 servings
Prep Time: 25 minutes
Cook Time: 10 minutes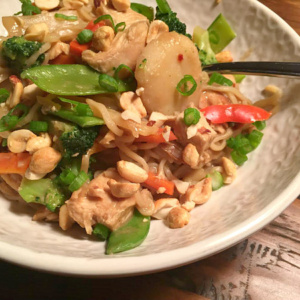 Ingredients:

Two 3-ounce packages Oriental- flavored ramen noodles
4 cups cut up vegetables, such as broccoli florets, red pepper strips, halved snow peas and/or thinly sliced carrots
1 1/4 cups water
1/4 cup peanut butter
1/4 cup soy sauce
2 tablespoons packed brown sugar
1 tablespoon cornstarch
1/2 teaspoon crushed red pepper
2 cups chopped cooked chicken
8 ounce can sliced water chestnuts, drained
8 ounce can bamboo shoots, drained
1/4 cup chopped peanuts
1/4 cup sliced green onions

Instructions:

Set aside 1 seasoning packet from noodles to use in recipe; store remaining packet for another use. In a large saucepan bring 2 quarts water to boiling. Break up noodles slightly and add to water along with cut-up vegetables. Return to boiling; reduce heat. Boil gently, uncovered, for 3 minutes. Drain and return to saucepan.
Meanwhile, for sauce, in a medium saucepan whisk together the 1 1/4 cups water, peanut butter, soy sauce, brown sugar, cornstarch, crushed red pepper, and seasoning packet. Whisk until smooth. Cook and stir over medium heat until thickened and bubbly. Cook and stir for 2 minutes more. Add chicken, water chestnuts, and bamboo shoots to sauce; heat through. Add to noodle mixture in saucepan. Toss to combine. Top with peanuts and green onions.
More "bowl"-themed recipes you might enjoy:
Slow Cooker Taco Chicken Bowls by Budget Bytes
Vietnamese Steak and Vermicelli Bowl by I Am a Food Blog
The Winter Abundance Bowl by My New Roots
Take Out Fake Out Burrito Bowls by Table for Two
Spicy Sriracha Chicken and Quinoa Bowl by Family Fresh Cooking