Here's a new idea for a meal that we enjoyed immensely:  Roasted Pork Protein Bowls with Rosemary Vinaigrette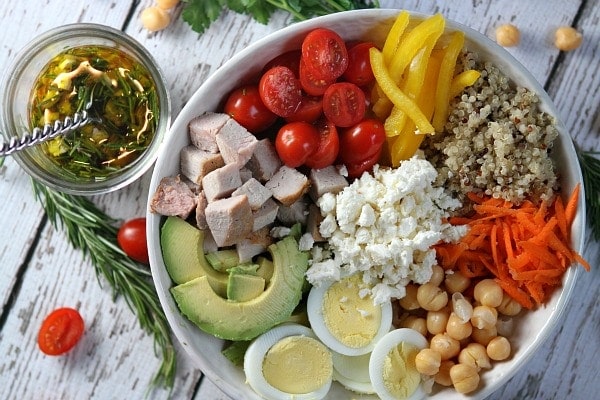 My husband was just commenting recently that he has not experienced a great main dish salad for quite some time.  He lamented that they're always the same old thing… nothing new… and nothing very filling or exciting.  I told him I was prepared to serve up a new kind of "salad bowl" that I thought he'd really enjoy.  This one would be loaded with protein: roasted pork, hard-boiled eggs, garbanzo beans, and quinoa, and I'd tuck as many vegetables in there that I could.  I'd drizzle a simple rosemary vinaigrette on top, and call it dinner!  It would also be a filling and healthy option for lunch.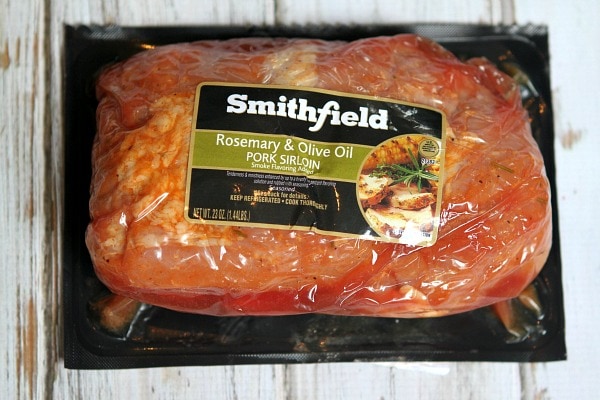 The pork used for the recipe is from Smithfield's line of already-marinated pork.  I used the Rosemary and Olive Oil Pork Sirloin for my protein bowls- it's 100% fresh pork slow marinated in rosemary and olive oil.  I love that it comes pre-marinated… it saves me time in the kitchen when I'm crazy busy assembling dinner! You'll be able to locate Smithfield's already-marinated pork tenderloin, loin filet and pork sirloin at your market.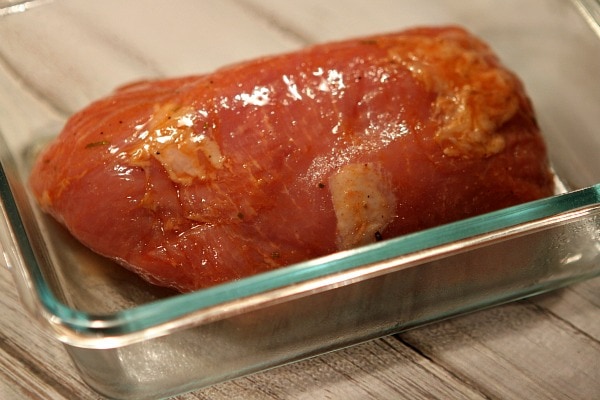 For this recipe, I roasted the pork the day before…
… then I sliced it up, chop it into chunks, and refrigerated it overnight.  I prepped/chopped everything else for the protein bowls the night before too.  It's the smart way to do it since getting dinner together the next night is so incredibly easy!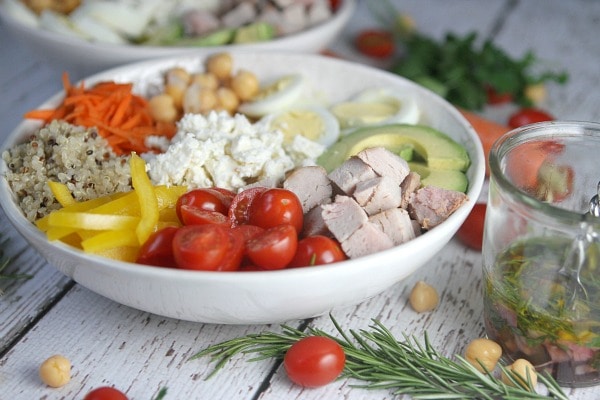 All ingredients in the protein bowls are just divided up into your serving bowls.  You'll get a good dose of healthy protein from the pork, quinoa, eggs, garbanzo beans and feta cheese.  Hint on the feta cheese: the kind that is sold as a chunk of cheese in the package is the best tasting.  Just crumble it apart with your fingers.  If there are other veggies you like more than those I included in my bowls, you can certainly add those in or substitute what you enjoy most.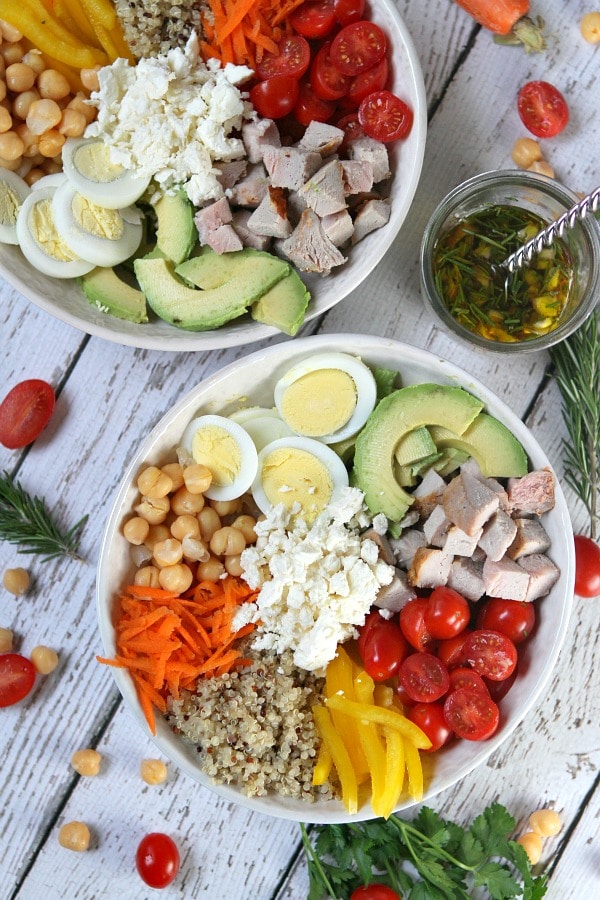 I served these protein bowls with a simple-to-make rosemary vinaigrette (to complement Smithfield's already marinated Rosemary and Olive Oil Pork Sirloin).  Everything was delicious, and we gobbled up every bite!  My husband was happy to have tried something new, and he requested that I put these into the regular dinner rotation- and lunches too!
Roasted Pork Protein Bowls with Rosemary Vinaigrette
I like to prep all of the ingredients for this dish the day before, then I can throw it all together so quickly for dinner!
Yield:
4 servings
Prep Time: 20 minutes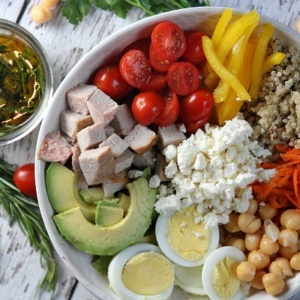 Ingredients:

BOWL:

One Smithfield Rosemary and Olive Oil Pork Sirloin, cooked according to package directions and cut into cubes
3/4 cup quinoa, cooked according to package directions and cooled
4 hard-boiled eggs, sliced
2 medium avocados, sliced
1 1/3 cups canned garbanzo beans, rinsed and drained
2 medium carrots, shredded
1 large bell pepper, seeds and ribs removed- then sliced
1 cup crumbled feta cheese
1 1/2 cups halved pear or cherry tomatoes

VINAIGRETTE:

3 tablespoons red wine vinegar
3 tablespoons white wine vinegar
2 tablespoons chopped shallots
1 1/2 tablespoons olive oil
1 tablespoon chopped fresh Italian parsley
2 teaspoons chopped fresh rosemary

Instructions:

Divide all of the "bowl" ingredients between four bowls.
Add all of the vinaigrette ingredients to a small bowl.  Whisk together and then drizzle over each of the protein bowls.  Serve immediately and enjoy!

Nutrition:
Feel free to switch out some of the veggies for other veggies that you may enjoy.
SOURCE:  RecipeGirl.com
Here are a couple more protein bowl recipes you might enjoy:
Disclosure:  This post has been written in partnership with Smithfield to share their line of marinated pork.  This is a product that I know and use in my kitchen.  All opinions shared are my own.