Here's a recipe that can help you use up garden zucchini:  Pesto Spaghetti Zoodles with Heirloom Tomatoes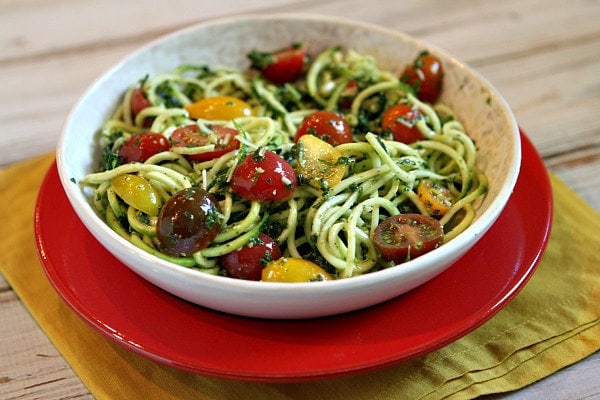 I have been totally enamored with zoodles these days.  It turns out that zoodles (zucchini noodles) are a great way to satisfy the craving for actual "noodles."  They spiral up just like classic noodles, but the carbs are magically not there at all!
Your brain is tricked into thinking that it's eating pasta, but you're really eating zucchini… and it's delicious!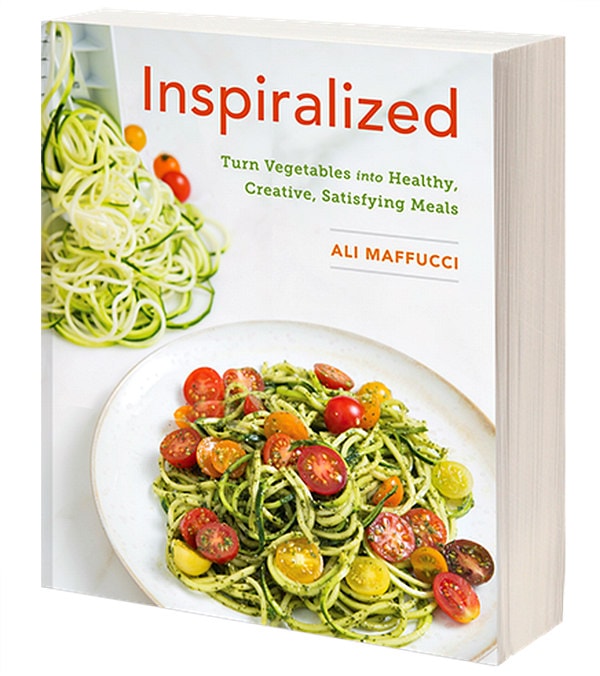 This recipe comes from a new book by Ali Maffucci:  Inspiralized: Turn Vegetables into Healthy, Creative, Satisfying Meals.  This is a really fun book because Ali teaches you how to use a spiralizer (I use this model) to spiralize just about everything!
In the book, she spiralizes Potato ("Everything Bagel" Breakfast Buns), Pear (Steak and Pear Kale Salad), Broccoli Stems (Chicken and Broccoli Skillet Bake), Butternut Squash (Halibut en Papillote with Butternut Squash), Sweet Potato (Sweet Potato Carbonara), Apple (Apple-Ambrosia Fruit Salad), and so much more.  It's sincerely a creative cookbook- one to keep on your bookshelf when the mood for spiralizing your food strikes!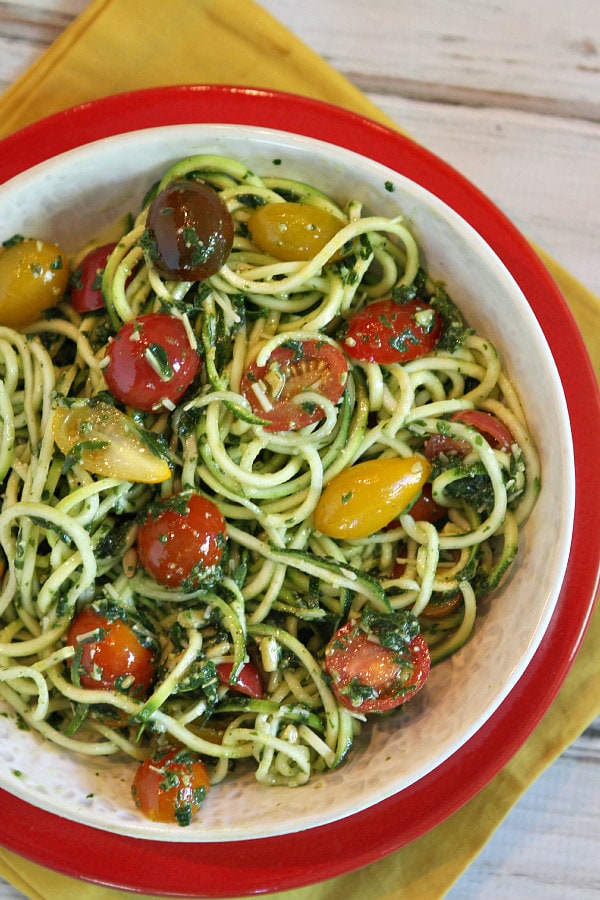 This recipe is so simple and perfect for ripe zucchini.  Spiralized zucchini is mixed with a super quick homemade pesto sauce and mixed with sweet little heirloom tomatoes.  You don't have to cook a thing!
I love easy recipes like this.  We found it to be a delicious, healthy addition to a grilled steak.  Enjoy!
Pesto Spaghetti Zoodles with Heirloom Grape Tomatoes
Yield:
3 servings
Prep Time: 20 minutes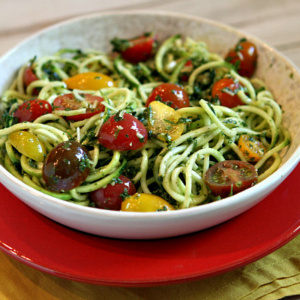 Ingredients:

3 cups fresh basil leaves
3 tablespoons pine nuts
1/4 cup olive oil
1/2 teaspoon freshly ground sea salt
1/4 teaspoon freshly ground black pepper
1 large garlic clove, minced
3 tablespoons grated Parmesan cheese
2 medium zucchini, spiralized with blade C
3/4 cup mixed heirloom cherry tomatoes

Instructions:

Combine the basil, pine nuts, olive oil, salt and pepper, garlic and Parmesan in a food processor and pulse until creamy.
Place the zucchini noodles and tomatoes in a large bowl, pour the pesto on top, and toss to combine.  Serve.

Nutrition:

8 Weight Watchers Freestyle SmartPoints per serving (3 servings).
If you prefer this dish hot, heat the zucchini noodles in a large skillet over medium heat for 2 to 3 minutes.  When they are al dente, add the tomatoes and pesto, and toss for another 1 to 2 minutes, until heated through.

SOURCE:

 RecipeGirl.com (shared with permission from

Inspiralized

by Ali Maffucci : Clarkson Potter, Copyright 2015)
Here are a few more recipes for Zoodles that you might enjoy:
Disclosure:  There are Amazon affiliate links included within this post.