This recipe has been featured in a post on The Recipe Girl blog: Cuban Dinner Party Menu.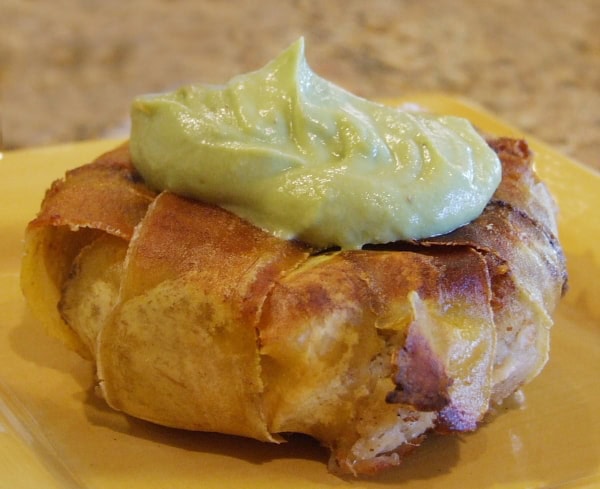 Plantain- Wrapped Crab Cakes with Avocado Aioli
This recipe was my first time trying out plaintains, and I loved this really different sort of appetizer...
Yield:
8 to 10 crab cakes
Prep Time: 45 minutes + chilling time
Cook Time: 10 minutes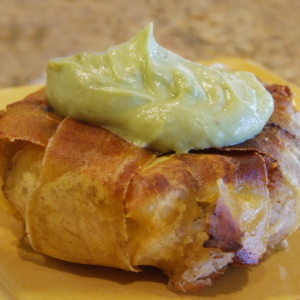 Ingredients:

2 teaspoons Old Bay seasoning
1/4 cup light mayonnaise
1 large egg yolk
1 Tablespoon spicy brown mustard
1/4 teaspoon hot sauce
1/8 teaspoon worcestershire sauce
1 pound fresh jumbo lump crab meat, drained & picked through for shells
1/2 cup panko (Japanese) breadcrumbs
3/4 teaspoon salt, divided
1/2 teaspoon freshly ground black pepper, divided
1 large avocado, peeled & pitted
2 Tablespoons sour cream (light is okay)
1 Tablespoon fresh lime juice
1/4 cup water
3 green plantains
vegetable oil

Instructions:

1. Stir together Old Bay seasoning, mayo, yolk, mustard, hot sauce and worcestershire sauce. Fold dressing into crab meat. Then fold in breadcrumbs. Season with 1/4 teaspoon salt and 1/4 teaspoon pepper; cover and chill for 1 hour.

2. Prepare aioli: In a food processor, process avocado, sour cream, lime juice, and water in a food processor until smooth. Add 1/2 teaspoon salt and 1/4 teaspoon pepper; cover and chill.

3. Preheat oven to 350°F. Line baking sheets with parchment paper. Peel plantains. Use vegetable peeler to slice plantains lengthwise (you should be able to get about 40 slices). Place strips on prepared baking sheets and spray the sliced plantains lightly with cooking spray. Bake for about 3 minutes, just enough to allow the plantains to become pliable. Remove from oven.

4. Prepare the cakes: Arrange 4 plantain slices like the spokes of a wheel on a piece of plastic wrap. Scoop about 1/3 cup of crab meat mixture in the center of each wheel and pat into a round cake. Wrap plantains around the cake, and pull plastic wrap around each crab cake. Repeat with remaining plantains and crab mixture. Chill wrapped crab cakes for at least an hour.

5. Drizzle oil in a large skillet and heat to sizzling. Fry crab cakes over medium-high heat for 3 to 4 minutes on each side, or until evenly browned. Remove and pat dry.

6. Top each crab cake with avocado aioli and serve warm.

Tips:

*Costco sells a 1 pound tub of fresh crab meat in their refrigerated section (where you'd find cheeses).