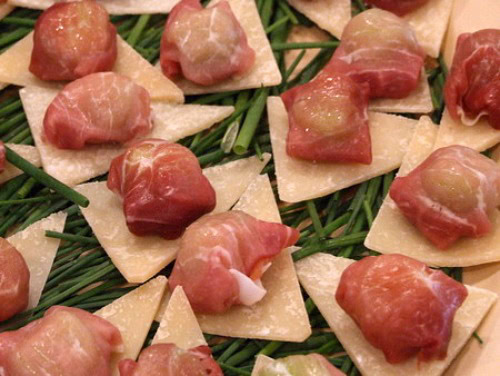 Prosciutto Purses
Yield: 18 appetizers Prep Time: 25 minutes
Plan ahead on this one... scoop the melon balls and cut up the Parmesan. The recipe will be so simple to assemble at the last minute if you have the ingredients already prepped.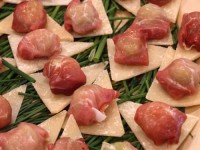 Ingredients:
1 medium cantaloupe, halved crosswise & seeds scooped out
1 medium honeydew melon, halved crosswise & seeds scooped out
18 thin slices prosciutto (about 3/4 pound)
8 ounce wedge Parmesan cheese
Directions:
1. Use a melon baller to scoop out balls from the melons- you need 18; set aside.
2. With a very sharp knife, cut out very thin Parmesan slices- triangles are fun if you can manage that. (again, you need 18); set aside or store in a tupperware (chilled) until ready to use.
3. With a very sharp knife, cut prosciutto into 2 1/2-inch squares. Cover prosciutto loosely with plastic wrap to prevent it from drying out while assembling the appetizers.
4. On a clean work surface, place one melon ball in the center of one prosciutto slice, then fold all sides of the prosciutto over the melon ball as you would a package. Place the finished purse, seam-side-down, on a baking sheet and cover with plastic wrap. Repeat with remaining prosciutto/melon.
5. When ready to serve, arrange Parmesan slices on a platter. Place a prosciutto-wrapped melon ball on top of each Parmesan slice and serve.
Cooking Tips
*You can prepare the prosciutto wrapped melon balls up to a day ahead. Keep tightly covered with plastic wrap and refrigerate.
*For a pretty serving idea, scatter whole chives on a platter and place appetizers on top of the chives.
Recipe Source: Adapted from Giada DeLaurentiis