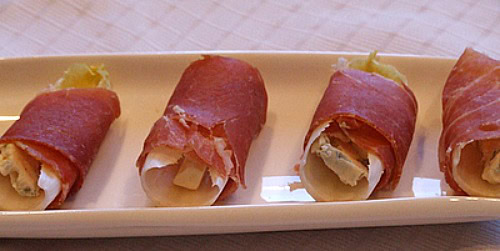 Prosciutto- Wrapped Endive with Blue Cheese and Pear
Yield: 12 appetizers Prep Time: 15 minutes
This recipe just works! A really good prosciutto can make all the difference in how this one turns out. And using a ripe pear is a must.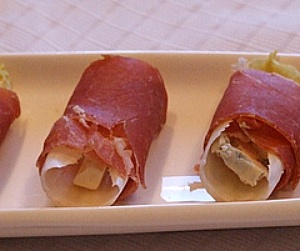 Ingredients:

1 bunch endive, cleaned, leaves separated and dried
2 ounces crumbled blue cheese
1 medium ripe pear, peeled and sliced into thin, small slices
12 small slices prosciutto

Instructions:

1. Choose bite-sized leaves to use for your appetizer. Place a slice of ripe pear into each endive leaf, and top with a few crumbles of blue cheese. Wrap gently with a piece of prosciutto.

2. Serve immediately.