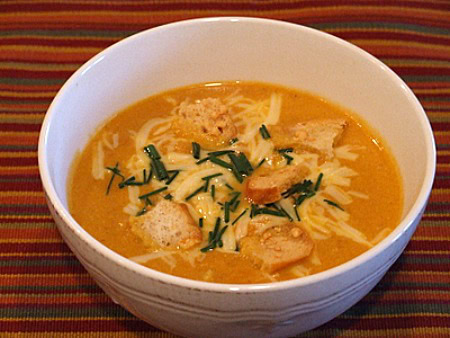 Pumpkin Soup with Gruyere
Yield:
6 servings
Prep Time: 30 min
Cook Time: 30 min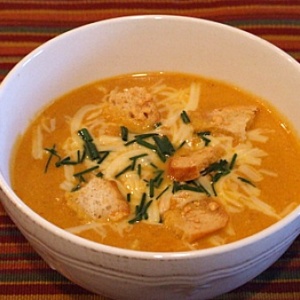 Ingredients:

1/4 cup unsalted butter
1 large onion, finely chopped
4 cups vegetable broth
4 cups canned pure (unsweetened) pumpkin puree
1 whole bay leaf
1 cup half and half cream
1 Tablespoon grated orange zest
1 Tablespoon freshly squeezed orange juice
1 Tablespoon freshly squeezed lemon juice
3/4 teaspoon ground nutmeg
3/4 teaspoon ground ginger
1 1/2 cups shredded Gruyère or Swiss cheese, divided
salt and ground white pepper
2 tablespoonss finely chopped fresh chives
croutons, optional (see *Tips below)

Instructions:

1. In a large saucepan, melt the butter over medium heat. Add the onion and sauté until it begins to turn golden, 4-5 minutes. Add the broth, pumpkin puree, and bay leaf. Bring to a boil, reduce the heat to low, cover, and simmer 15-20 minutes. Discard the bay leaf.

2. In small batches, purée the soup in a food processor or a blender. Return the purée to the pan and stir in the half and half, orange zest, orange and lemon juices, nutmeg and ginger.

3. Stir in 1 cup of shredded cheese. Heat over low heat until the cheese melts and blends in. Season to taste with salt and white pepper. Pour into individual bowls and garnish with remaining cheese, chives and croutons (if desired).

Tips:

To make homemade croutons: Preheat oven to 350[dg]F. In a medium bowl, toss 2 cups of bread chunks with 2 tablespoons salted butter 1/2 teaspoon garlic powder and 1/4 teaspoon Italian seasoning. Spread onto a rimmed baking sheet. Sprinkle with 2 tablespoons finely grated Parmesan. Bake for 15 minutes. Let cool at room temperature.