It's really great living so close to beautiful Lake Tahoe, so my family tries to get up there as much as humanly possible.  My husband and I snuck away for a couple of nights last week to check out The Ritz- Carlton.  October is considered "off-season" there, so we were able to secure an extremely reasonable rate for this luxury hotel.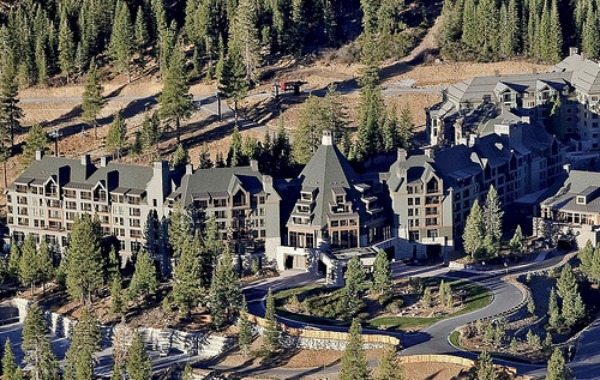 The hotel is located off highway 267 – between King's Beach and Truckee, and it's positioned mid-mountain at Northstar Ski Resort.  Travel the winding road off the highway and up the mountain a few miles, and you end up landing in this magical place.  It's truly a grand sight- like a castle nestled against the mountain.  From the moment we arrived, the staff at the hotel were gracious, professional, polite, helpful and kind.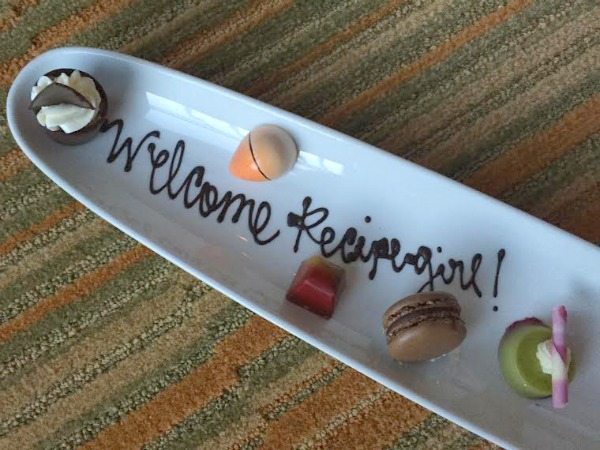 Although we paid for our hotel stay, they did know I was coming.  So there was this fun little surprise of goodies waiting in our room.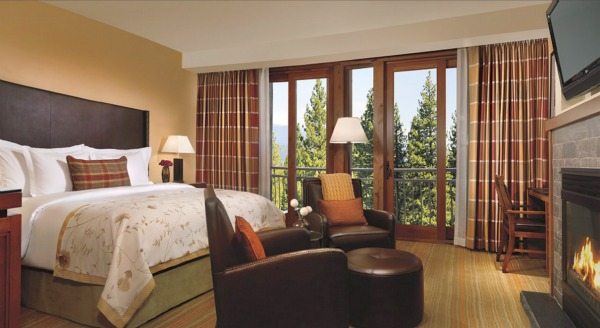 Our room was this exact one:  a deluxe with a view.  The fireplace is a must for being in the mountains, so we totally utilized that.  And there is a little balcony to sneak out onto as well.  We snuck out there often to drink wine and enjoy the mountainside views.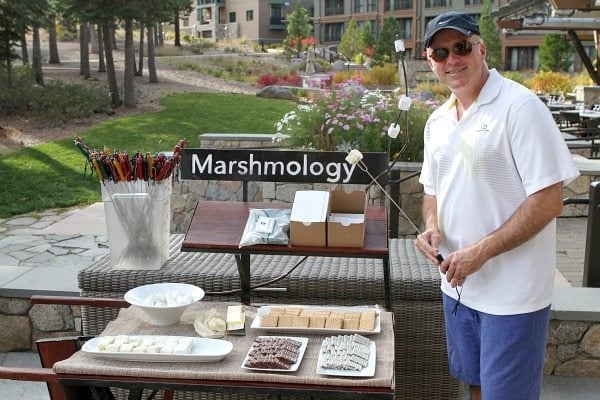 Every day from 4 to 5pm, they host a S'Mores event near their fire pit.  Of course, we had to check that out the day we got there.  They had classic marshmallows and some homemade marshmallows too.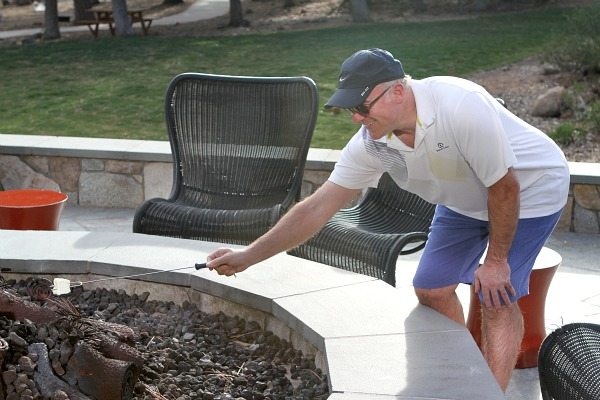 That's my husband toasting his marshmallow at the fire pit.  We took advantage of this fire pit later in the evening after dinner also to enjoy an after-dinner drink and cuddle by the fire.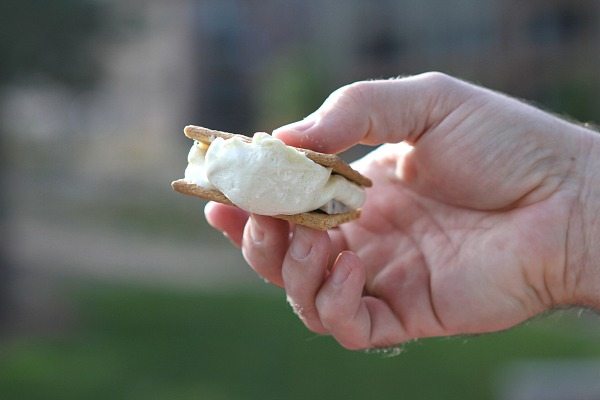 S'mores done- ta da!  My husband chose to make his with Cookies & Cream Hershey's Bar instead of regular chocolate.  This was a fun afternoon treat!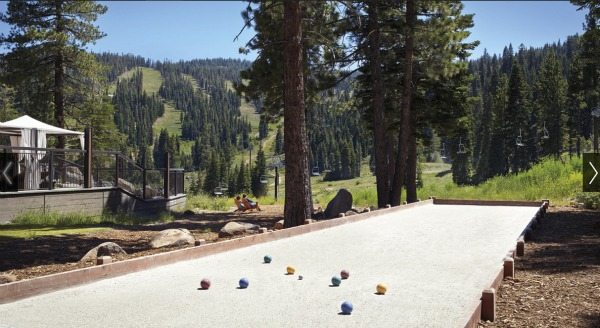 There is a bocce ball court nearby and walking paths everywhere.  Can you spot the ski runs of Northstar in the background?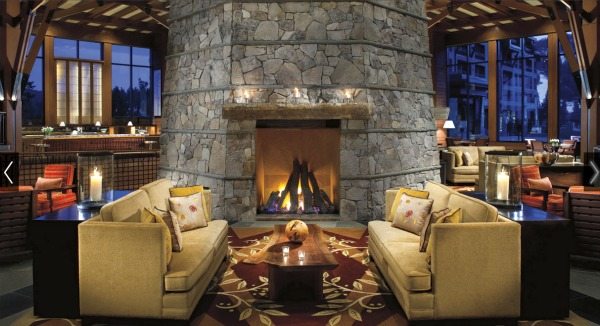 Before our first night's dinner, we found this cozy space in the lobby to enjoy a glass of wine.  The whole resort has a great mountain feel to it.
Dinner the 1st night was at the resort's restaurant:  Manzanita.  The restaurant has an open kitchen, so you can see it from all over the restaurant (though it's not noisy).  Manzanita is designed to have a mountain-feel to it, and its menu reflects that too.  They use seasonal produce and feature organic and local meats and products as available.  We sat at that table just to the left of the fire.  It was cozy and quiet.  A bottle of red wine went very well with our meal.  Highlights were the  simple Butter Lettuce Salad with Point Reyes Blue Cheese, and also the featured special:  Roasted Squab.  It was our first time having squab (a bird)- it was roasted perfectly, and it was absolutely delicious.  The twice-baked lemon cheesecake for dessert was also a delight to sample.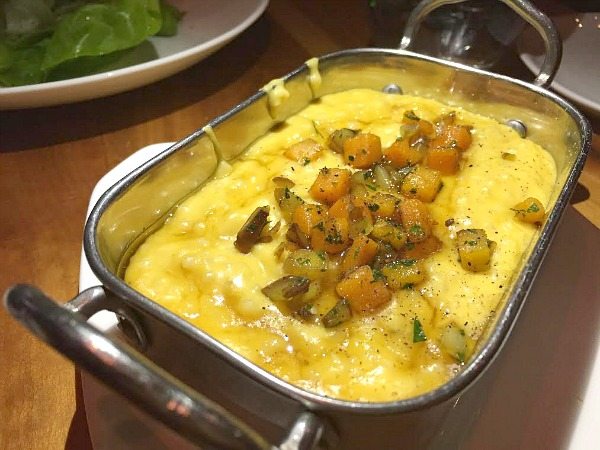 The best dish of all was this Autumn Porridge.  It was basically like a butternut squash soup that was very chunky and rich and delicious.  LOVED IT.  I want the recipe!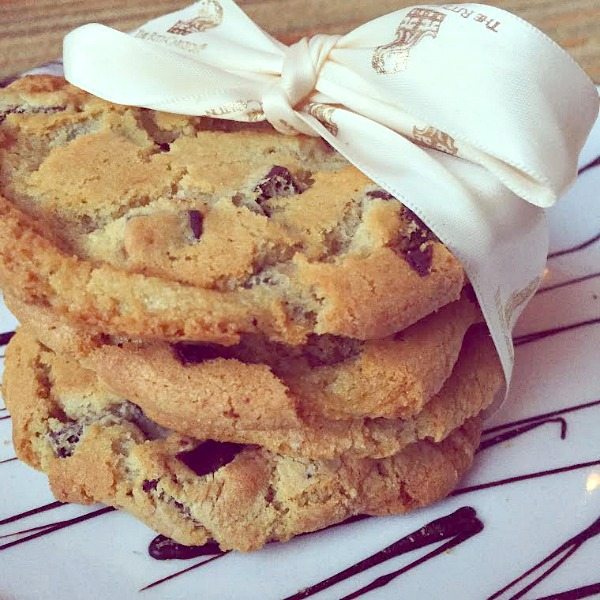 When we came back to our room, we were delighted to find the famous Ritz- Carlton chocolate chip cookies waiting for us.  These are some excellent cookies!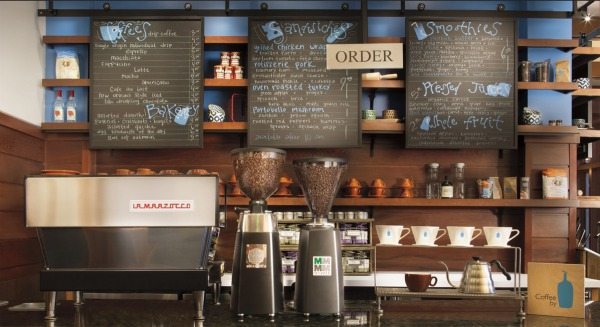 The next morning, we headed to Cafe Blue: a cool little spot in the hotel to grab coffee, juice, smoothies, pastries, oatmeal, and egg sandwiches (they also serve paninis for lunch).  We tried the egg sandwiches, which were excellent.
After breakfast, we had a chat with the concierge about hiking trails.  She sent us back to the 267 to drive a couple miles toward the lake, where we found part of the Tahoe Rim Trail.
There is the GORGEOUS view once you get to the top (it's about a 45 minute hike to the top).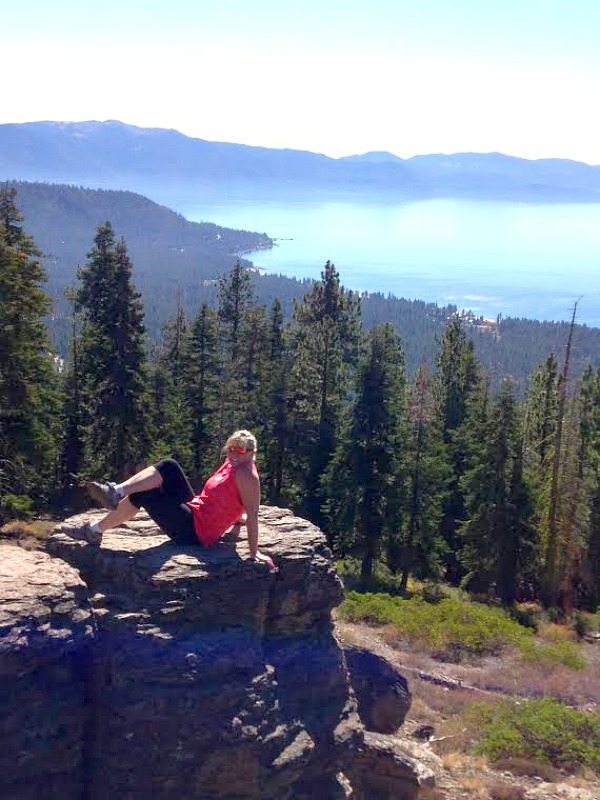 Top of the world!  All we were missing was wine and cheese and crackers.  Next time, we're totally bringing a picnic lunch!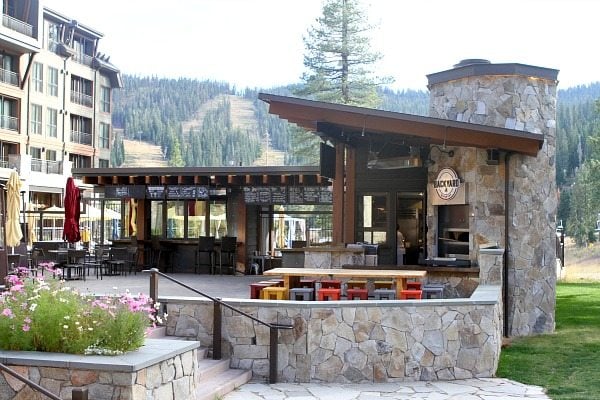 Since we didn't have lunch on our hike, we headed to the Backyard Bar and BBQ next to the pool.  They have a smoker and a wood-fired pizza oven on site, so they serve up things like pulled pork, ribs, chicken, and pizza.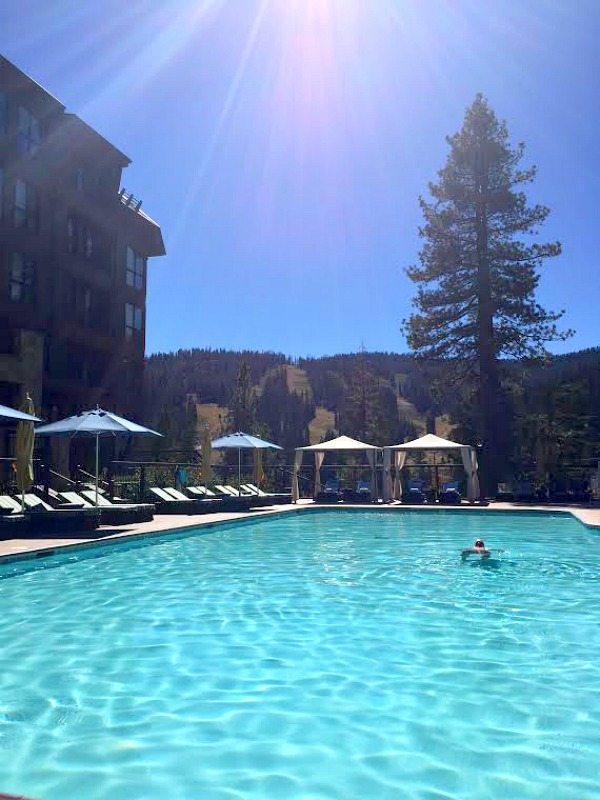 We had the Ritz- Carlton pool entirely to ourselves that day!  We were thrilled to be in bathing suits and enjoying the warm weather in Tahoe in October.  Amazing!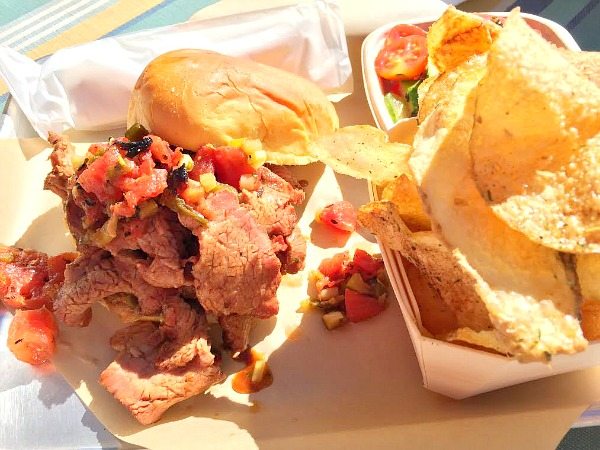 We opted for poolside dining for lunch.  My husband ordered the Tri-Tip sandwich, which came with an array of interesting sauces to choose from- along with the most delicious homemade kettle chips.  I had my sight set on a good dinner, so I opted for a salad.  They also serve cocktails and beer at the pool.
After our relaxing day at the pool, we made our way….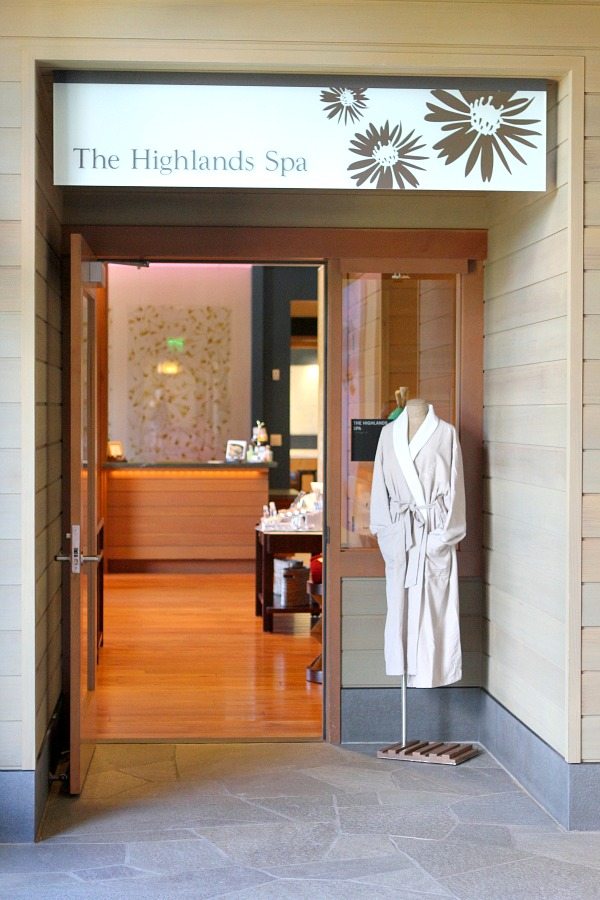 … to the SPA!  Let me just tell you right now that I'm not a spa person at all.  I always consider it too much of an indulgence to spend on myself, so I usually opt-out.  But since we were so excited to have a couple of days to ourselves… and because we never spend any money on stuff like this… we went for it.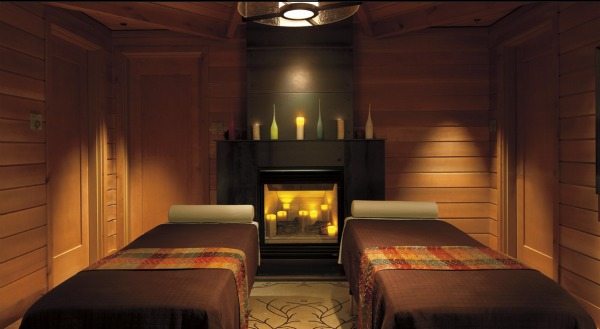 We had a "Cozy Cabin Couples Massage."  I'll admit that it was a workout.  The massage therapists really worked out kinks and massaged muscles.  We asked for them to really work on us good, and they did!  It was great because I had so much tension in so many places.  I clearly need to get massages more often!  I also got a facial, which is something I haven't gotten for like 20 years.  The facial was terrific, and it reminded me that I need to be taking better care of my skin as I get older!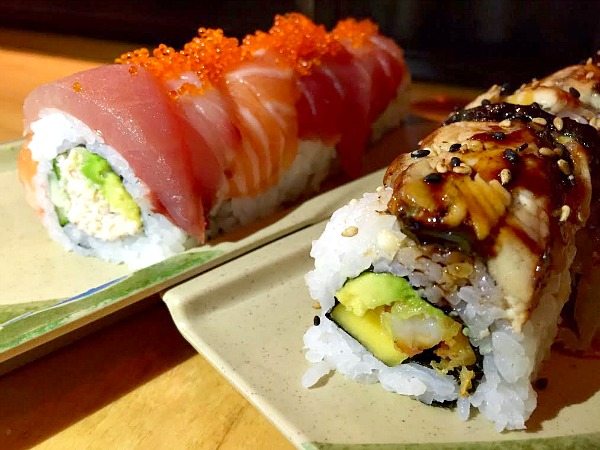 Our second night for dinner, we snuck off property to go to a nearby sushi place:  Drunken Monkey Sushi.  It's a short drive away from the hotel- near Truckee.  We don't have a lot of great sushi in Reno, but Drunken Monkey is my favorite.  Their fish is the freshest around, and they have some really interesting appetizers and other dishes too.
To cap off our last night, we had an after dinner drink next to one of the outdoor fireplaces at the hotel.  It really is a beautiful place, we had an amazing time, and we felt sooooo relaxed.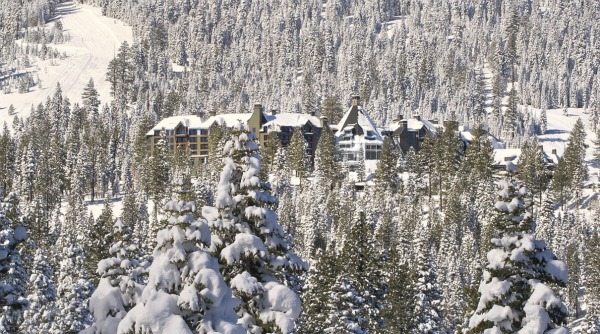 And because this is what it looks like in the winter, I am really, really hoping we can come back to stay in their winter wonderland.  Ski in/ Ski Out at Northstar.  That works for me!
A few details about the hotel to note:
*They have a shuttle and will bring you into Northstar Village to shop and eat at the restaurants there.  In the winter, you can ride the gondola to the village.
*The town of Truckee is a 10-minute drive away. It has fun shopping and good restaurants (try Jax at the Tracks Diner for breakfast- it's GOOD).
*Tahoe City is another nearby town with fun shopping and food.  And it's right on the lake, so beautiful views too.  Just past Tahoe City (in Homewood) is Sunnyside Restaurant (on the lake)- go there for lunch.
*If you find yourself over in Incline Village, splurge on lunch or dinner or happy hour at Lone Eagle Grille.  It's right on the lake, and the view is amazing.
*There are lots of outdoor activities are nearby.  In the summer, go rafting, fishing, biking, hiking, golfing, boating, to the beach and more.  In the winter, go snowshoeing, snowmobiling, skiing, or sledding!
*If you want to enjoy a nice beach in the summer, drive to Sand Harbor– it's the best one.  Get there early because the parking lot fills up quickly in the summer.
*In both the summer and the winter, the hotel offers a camp-like program called, Ritz Kids (9am to 4pm for ages 5 to 12).
*The Ritz charges $35/night for valet parking (they do not have self-parking, so this fee is required).
Disclosure:  This is not a sponsored post.  We paid for our own room at the hotel.  We were hosted one dinner at their signature restaurant:  Manzanita.  Some of the photos in this post were borrowed from The Ritz- Carlton, Lake Tahoe website as they captured part of our experience.