I'm continuing to share my Road Trip in Portugal: Monsanto. This is the fourth post in this travel series about my visit to Portugal.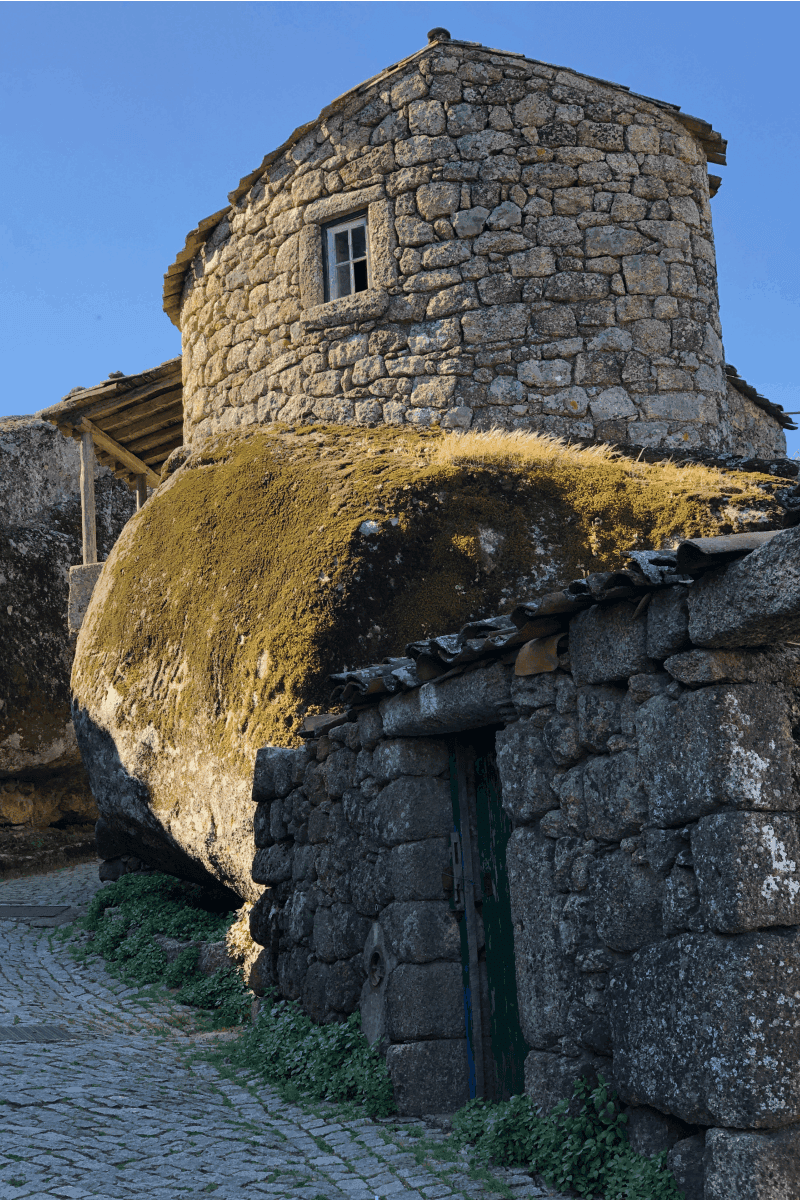 Monsanto is a historical village in the hills of eastern Portugal, very close to the border of Spain. It was fought over and populated by kings of Portugal (in the 12th century and beyond). The castle at the top was destroyed in the nineteenth century by an ammunition explosion in the castle.
In recent decades, Monsanto has become known as "the most Portuguese village of Portugal" in a class of twelve classified historic villages in Portugal.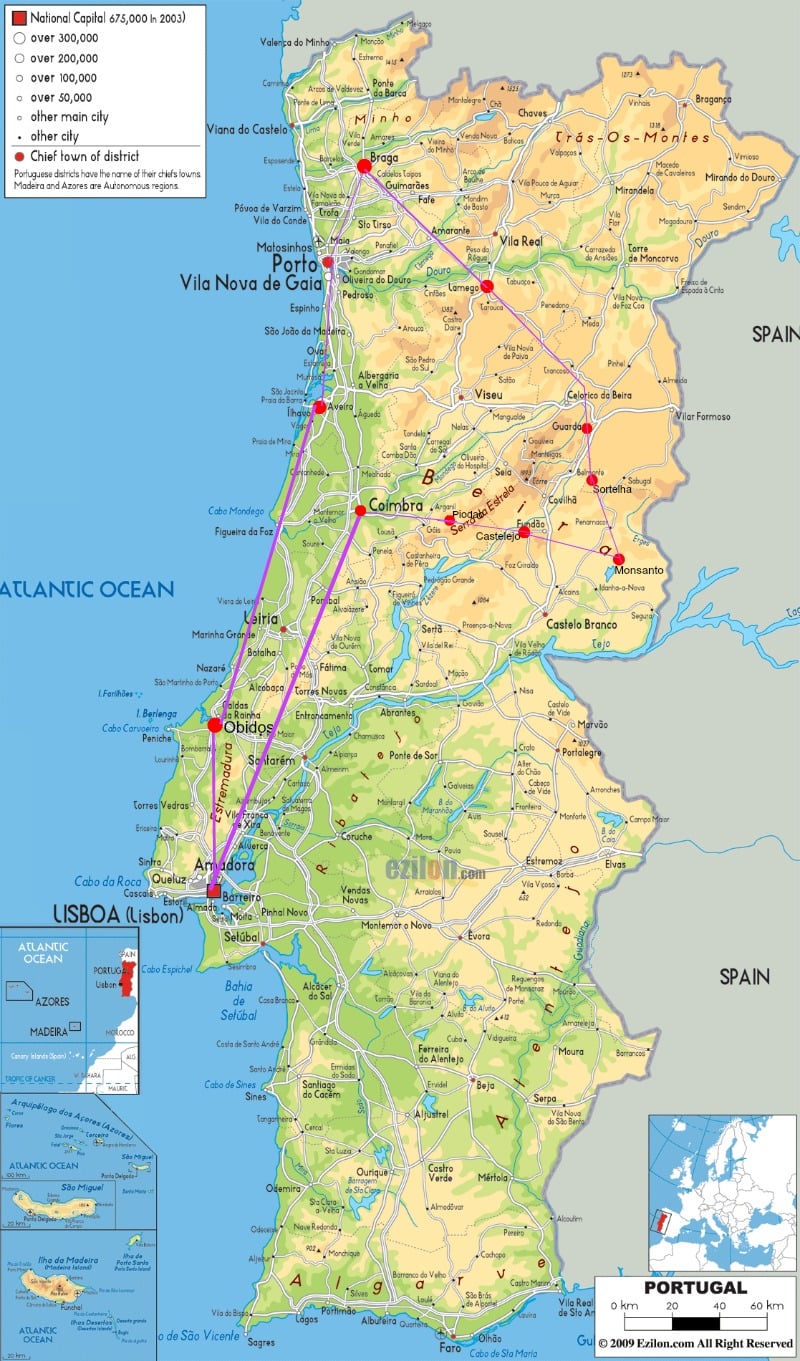 My cousins and sister and I traveled to Portugal at the very end of March. It was a good time of year to do so– very few tourists were in most of the places we visited, and the weather was perfect. Many of the photos shared here were taken either by my cousin Paula, who shares her travel experiences on her Instagram account: Sweet Spot Travels or by my sister Susie, who writes a book review blog at NovelVisits.com.
We began our journey in Lisbon, rented a car, and then we drove immediately to Óbidos and Aveiro. We continued on to the larger city of Porto and toured the smaller town of Braga. Then we made stops in the small towns of Lamego, Guarda and Sortelha. These three places were all visited in one day on our road trip. They weren't a final destination for lodging for us. My cousin's husband helped create our itinerary by researching all of the regions of Portugal. That's how we discovered these smaller towns that were all worth visiting while on a road trip! Our next stop was in the village of Monsanto, where we stayed one night.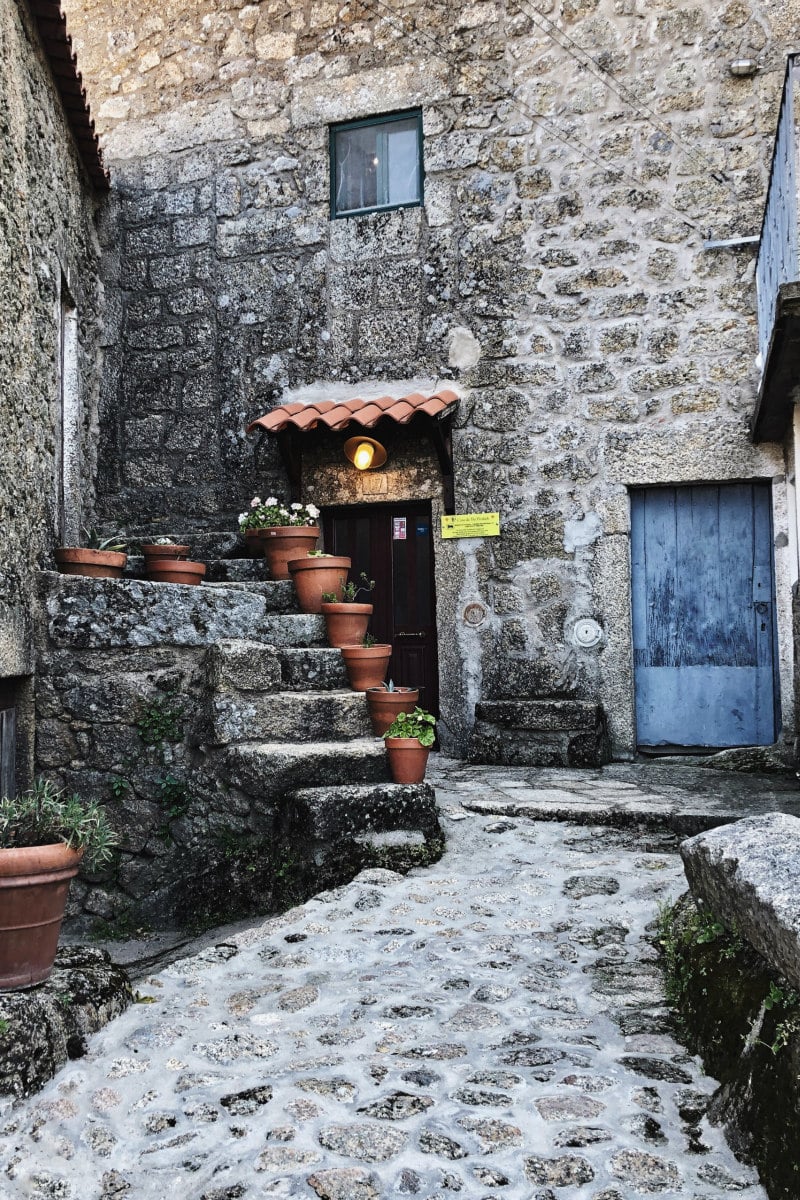 Our Accommodations:
Driving up into the hills to Monsanto, we began to learn that Monsanto was going to be a pretty special place to visit. It was early evening, so we thought we'd check into our rental for the night and grab some dinner. We came to realize how tiny the village of Monsanto really is. The population is only about 900. Our host met us at the base of the town and instructed us to park and take out our bags. We followed him up an old steep, cobblestoned street until we reached this place. He lives in this house with his wife, and they rent out a section of their home to visitors.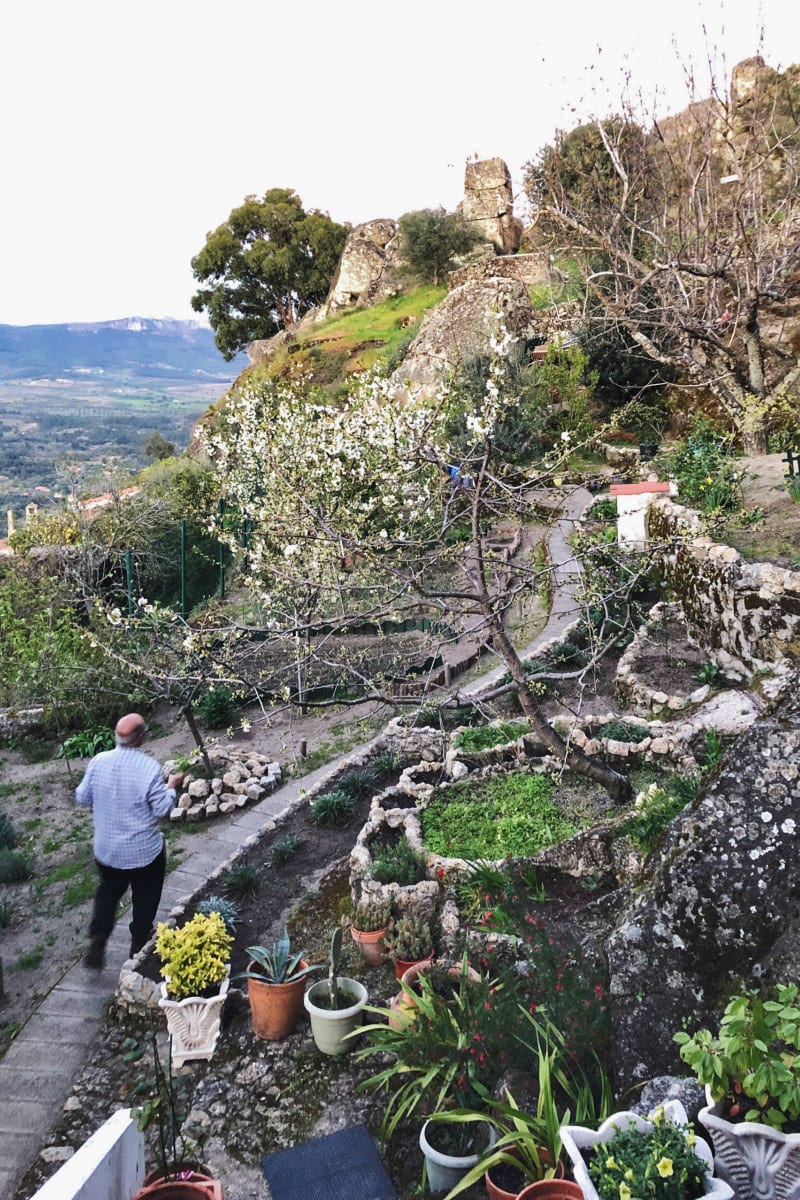 Our host showed us around, and then took us out back to share his garden- which was incredible! It's important to note that our hosts did not speak any English AT ALL. We communicated through Google Translate on their computer. It was pretty funny.
He was so proud of everything in his garden.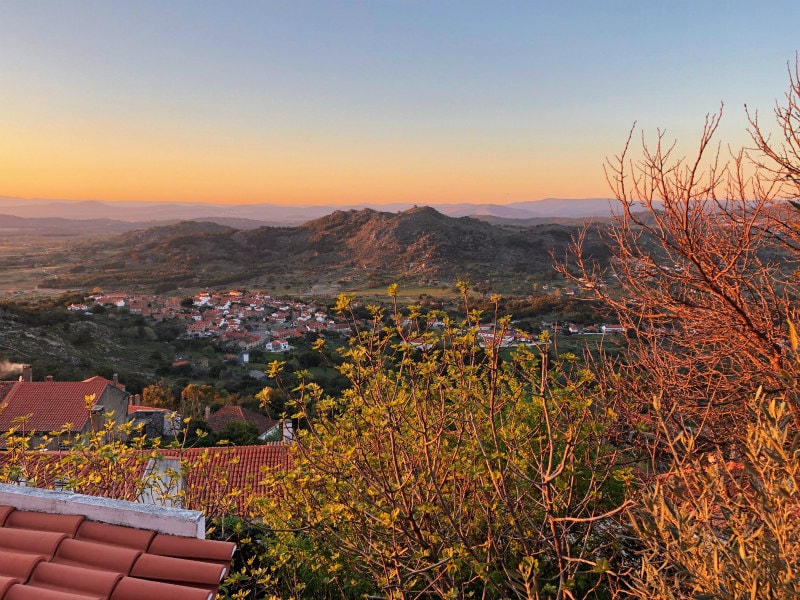 And the view from their hilltop home was incredible!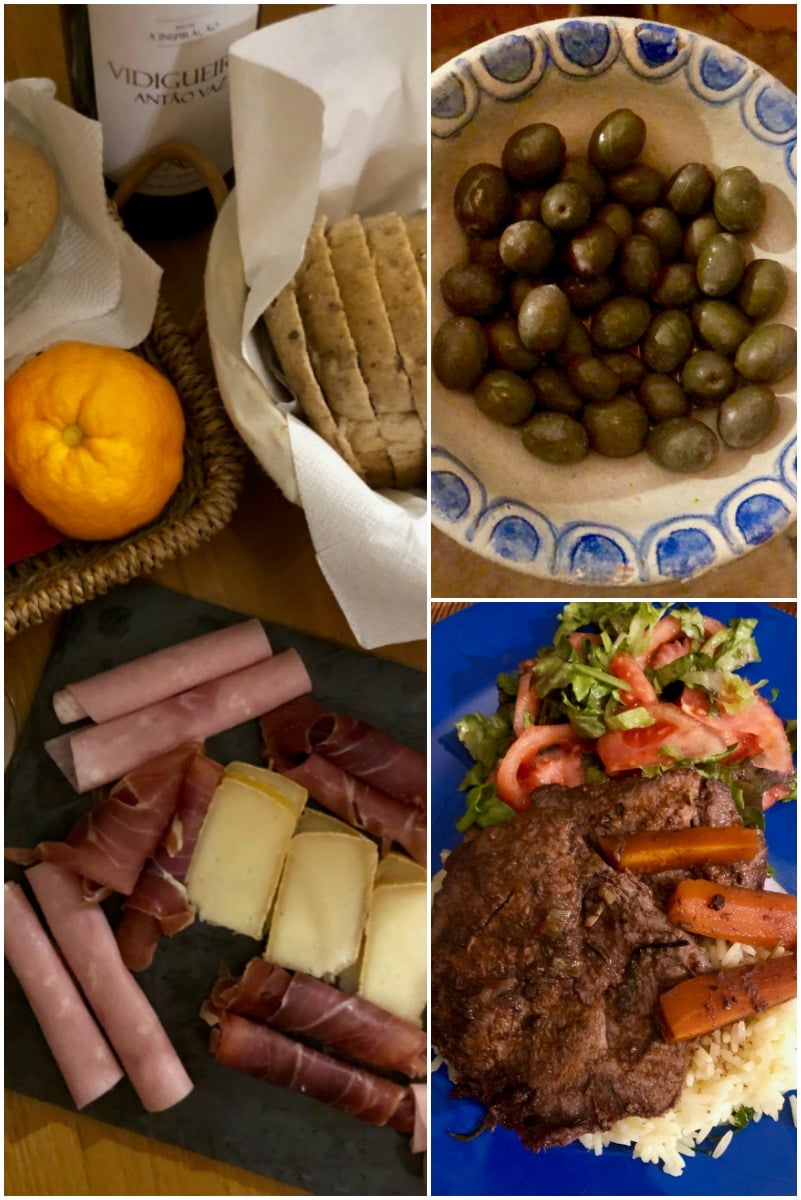 Dinner in Monsanto:
We learned through communicating with our hosts through Google Translate that there were no restaurants open in the village on the evening that we arrived. We were starving, and we weren't sure what to do. Our host immediately offered to MAKE US DINNER! We agreed, and it turned out to be the most incredible evening. We popped open a bottle of wine that they gave us, and we were served a tray of appetizers and olives that were fresh from a tree in their garden. Dinner was WILD BOAR with rice and a salad that was put together from the fresh produce in their garden. We loved every minute of it!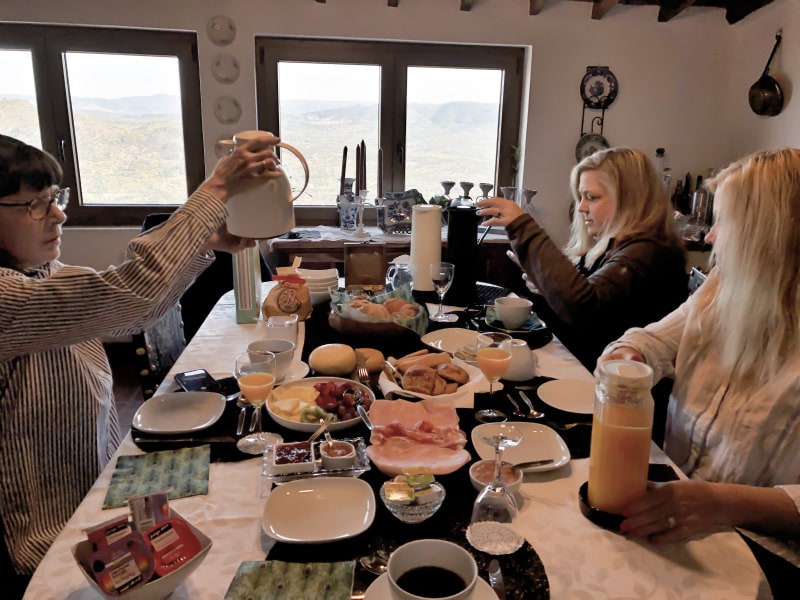 We paid a minimal fee for the dinner that was prepared for us, but breakfast the next morning was included in the cost of our one night of accommodation. What a lovely experience.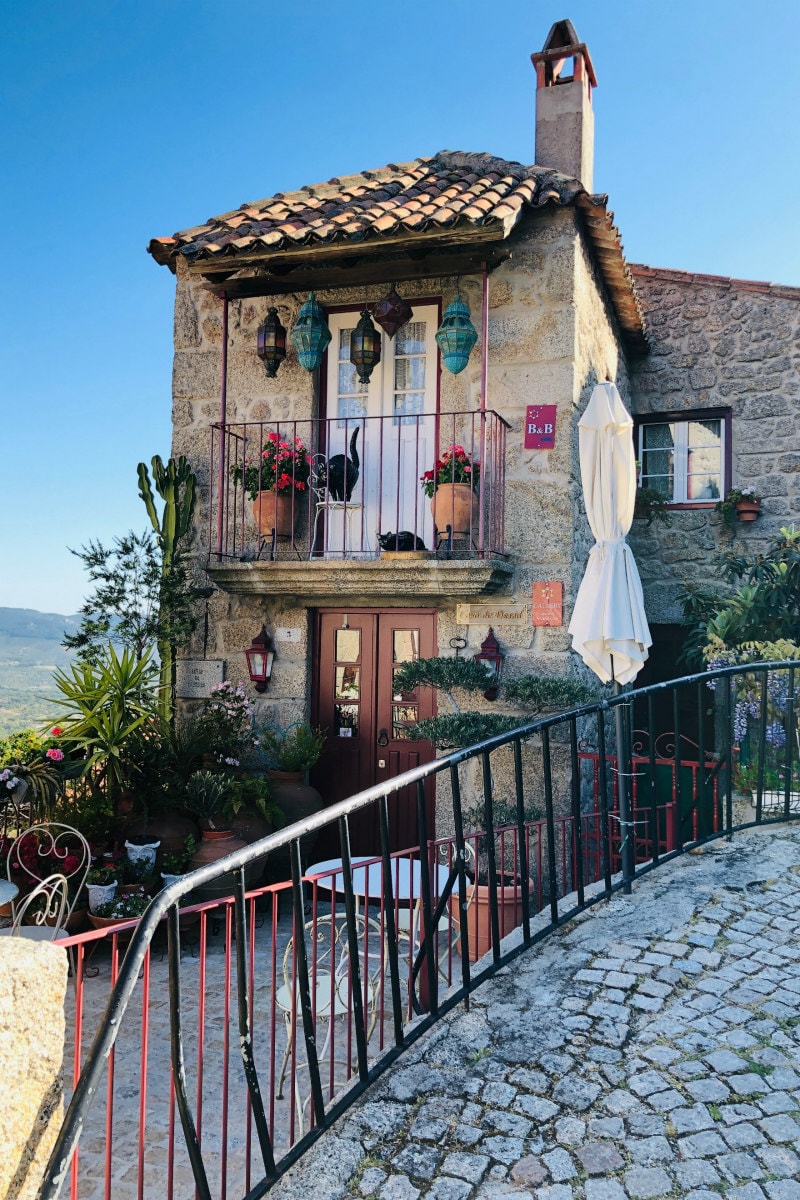 The following day, we spent a couple of hours exploring Monsanto before we headed to the next town. Despite it being such a small village, it is a popular place to visit and there are quite a few Bed & Breakfast places available to stay. Here's a peek at another one that looked cute.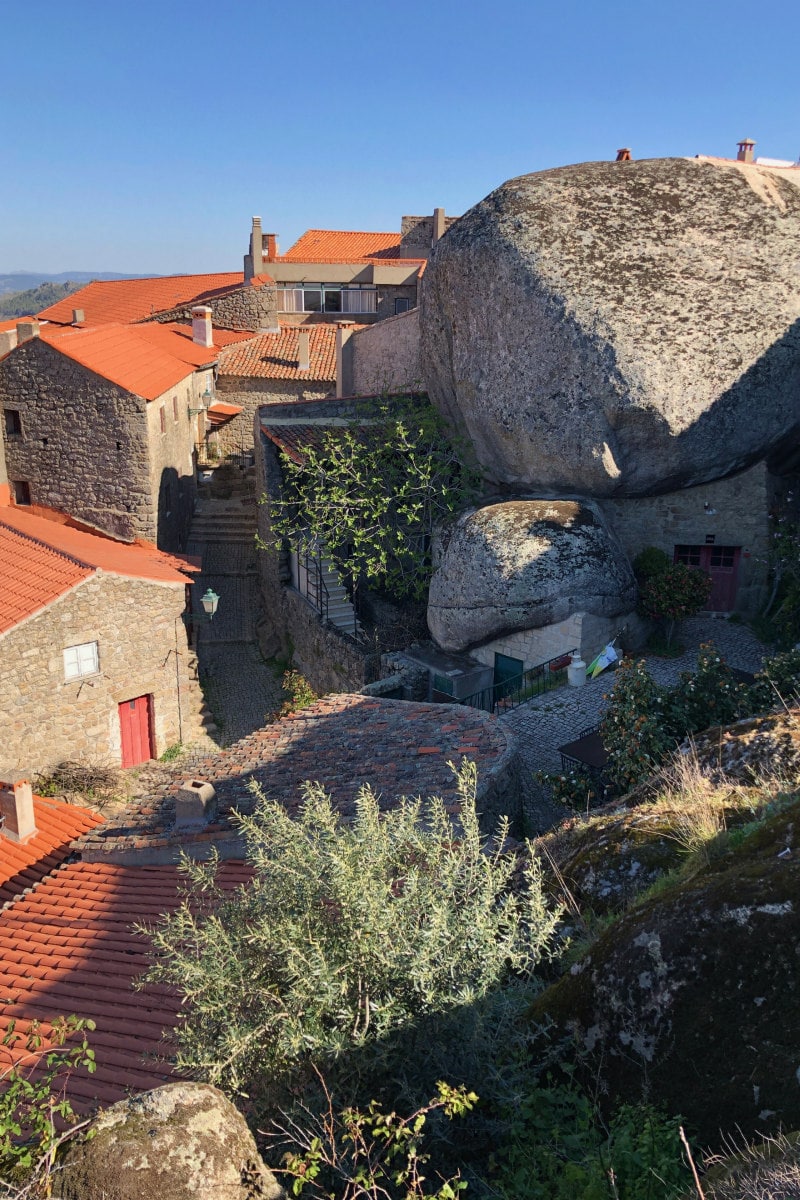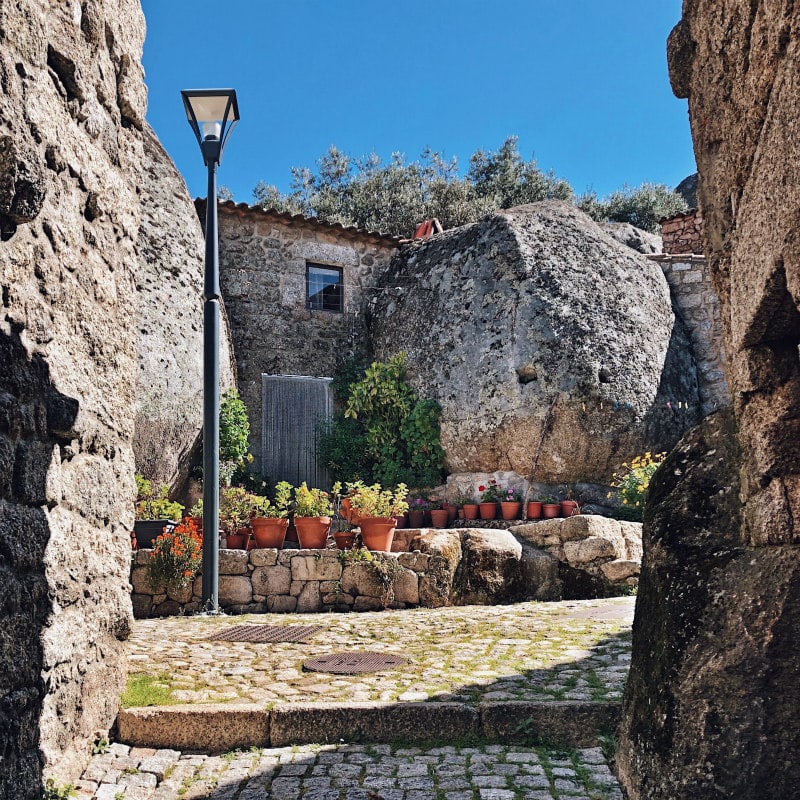 The super interesting thing about Monsanto is that it is a village that was built around giant boulders. Some houses even use the boulders as walls in parts of their home. It's really very cool.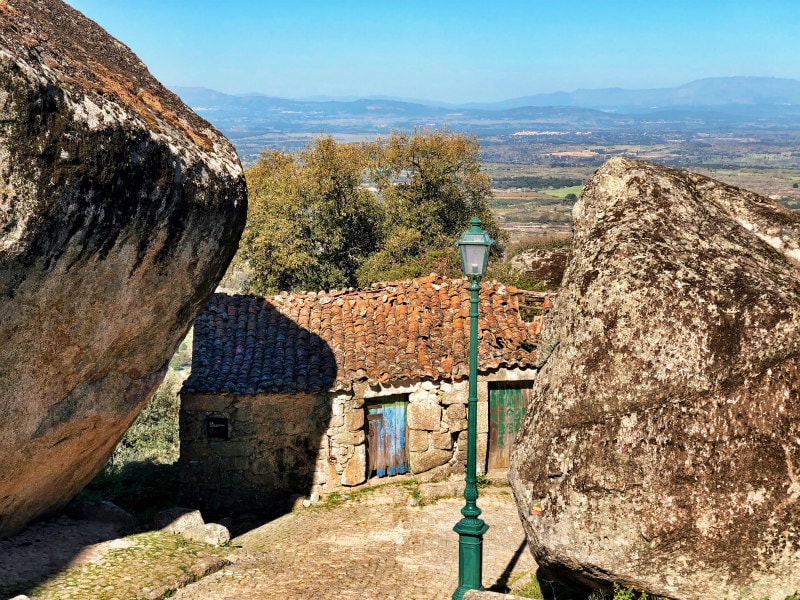 In some cases, the homes look like they could be crushed by the boulders!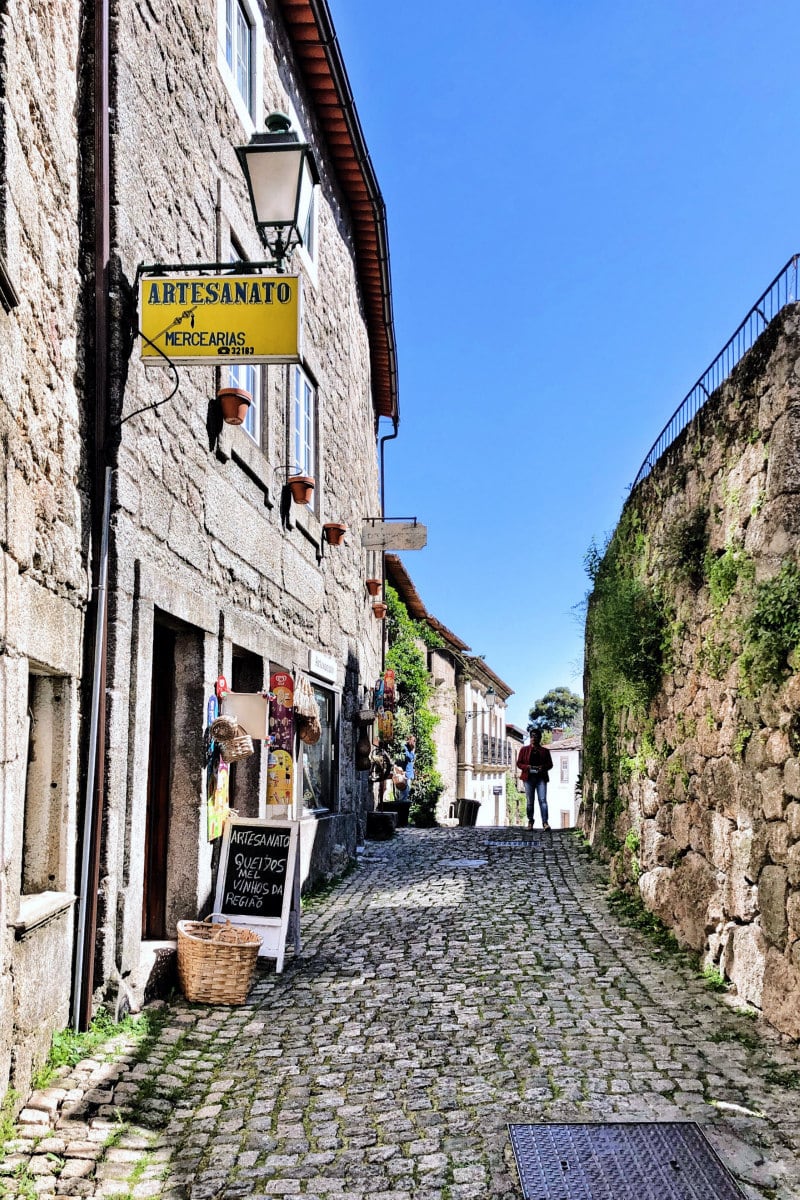 A visit to Monsanto feels like a stroll back in time. Tiny shops with shop owners and artisans hanging out in the doorways. Narrow streets made out of unstable stone tiles and stone walls too.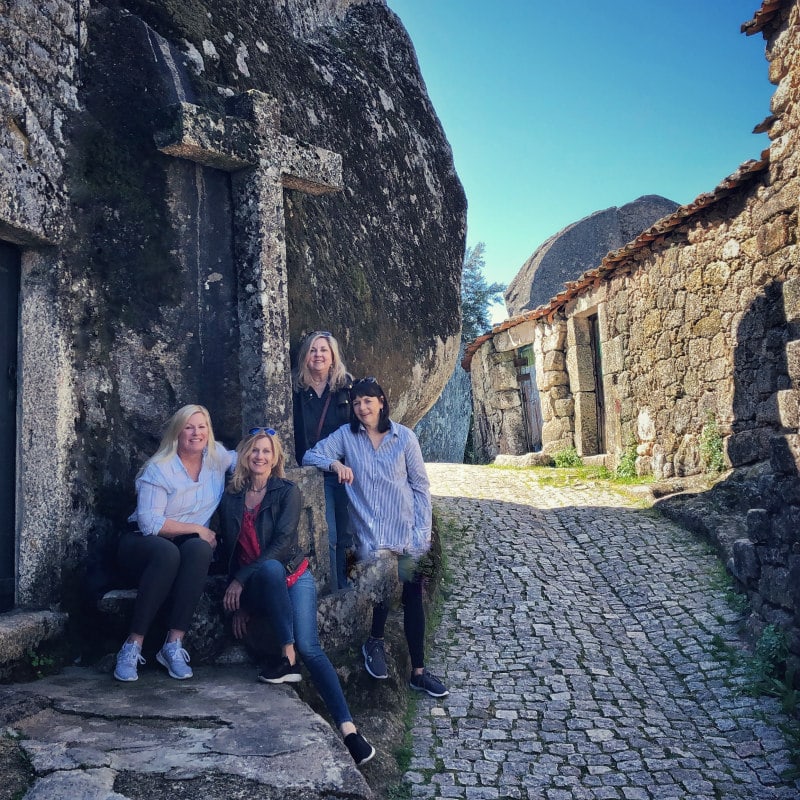 It's not a village that was created for the tourists– this is really how it has looked for a long time. This is my travel crew: me with my two cousins (Kelly and Paula) and my sister Susie (in the striped shirt on the right).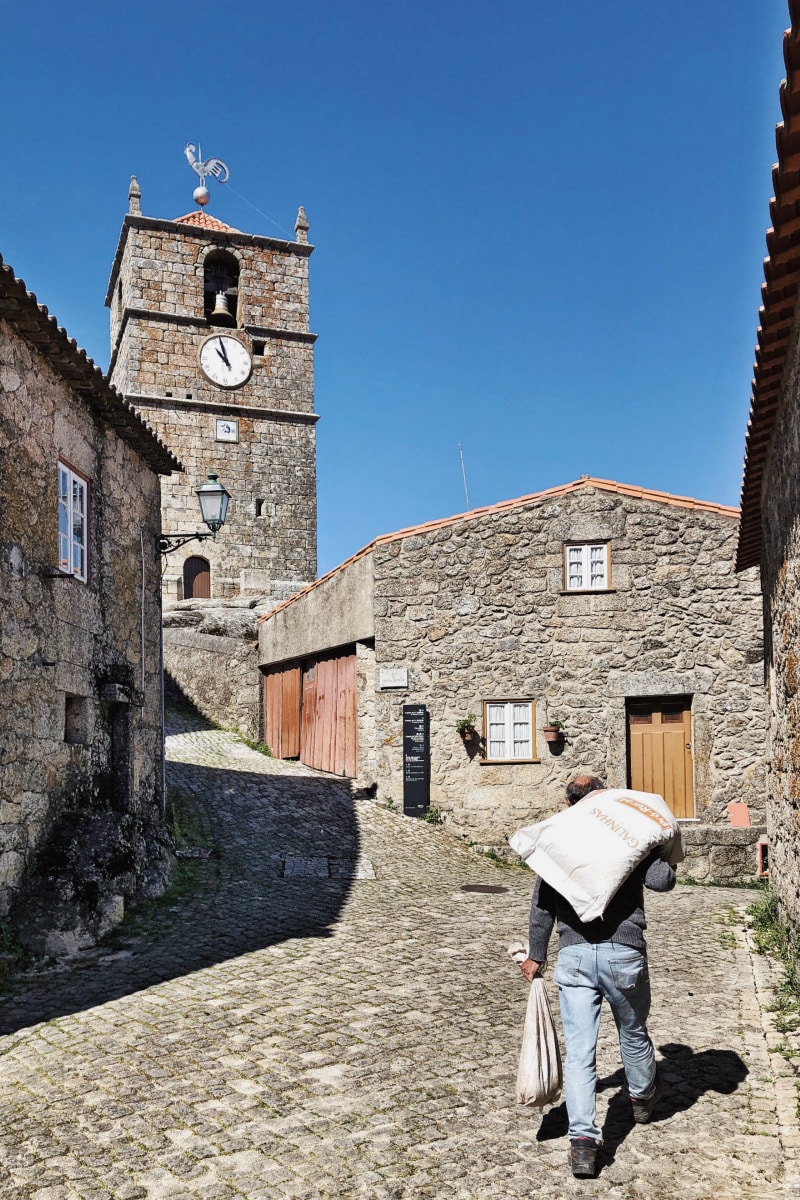 Something you must do in Monsanto is walk up the stone streets and onto the dirt trail that goes to the top of the town. There are castle remains at the top.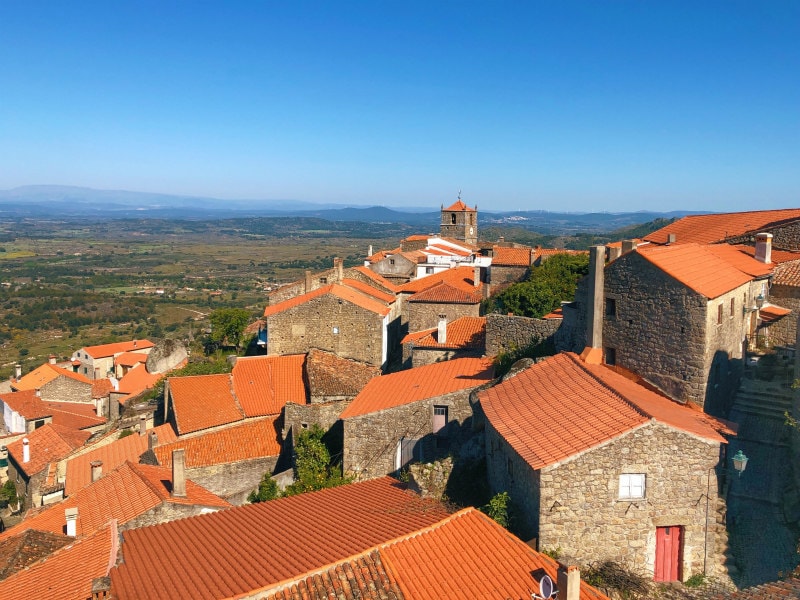 As you walk up the trail, you get to look down on the town and see lots of orange tile roofs- so common all over Portugal.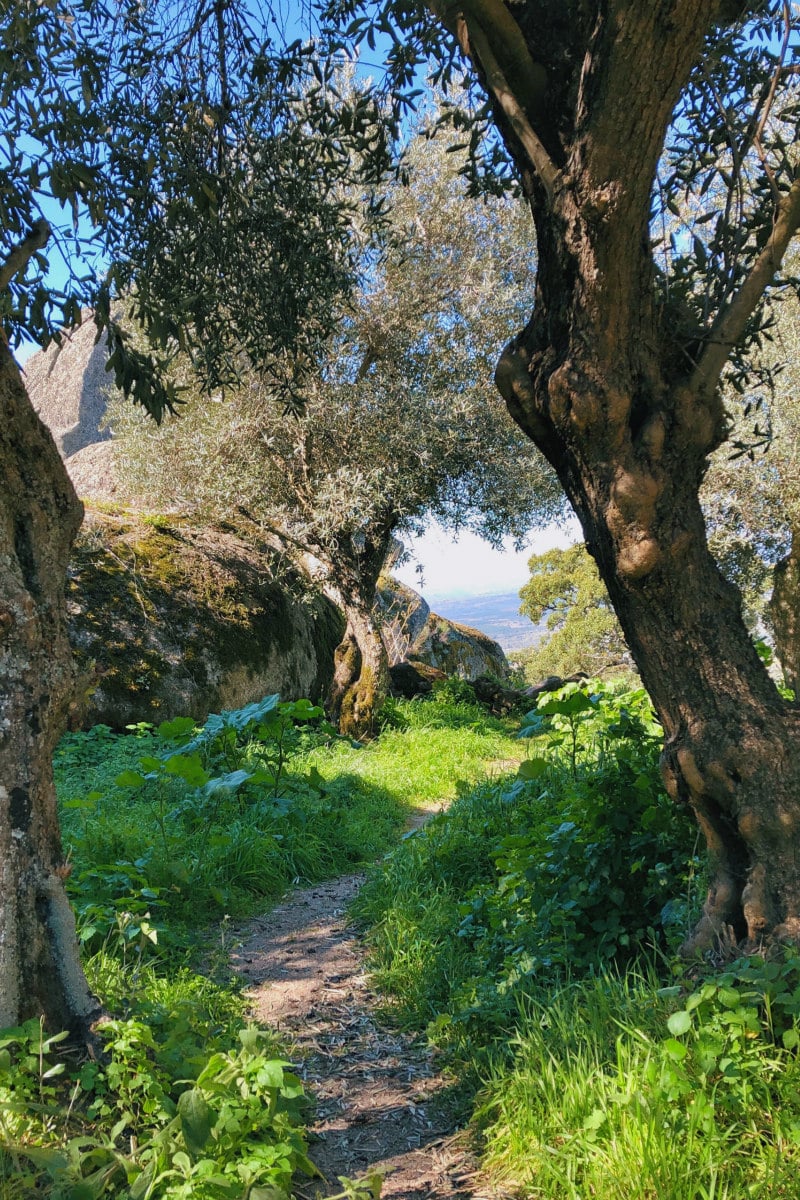 There are lots of pretty places to stop and take photos!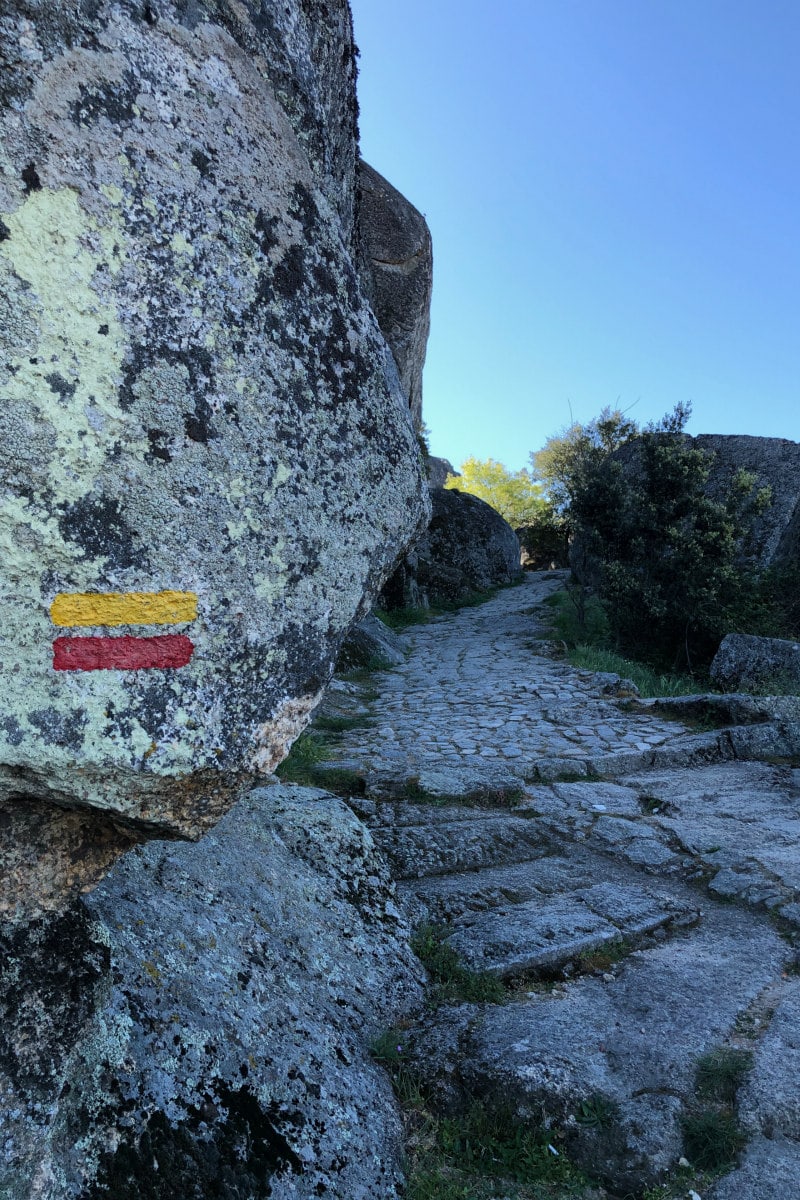 The trail to the top of Monsanto:
A couple of things are important to note about walking to the top of Monsanto. The people of Monsanto have made it very easy to find your way by painting these yellow/red stripes on various rocks along the path. Just follow the stripes to stay on track!
The path to the top is not an easy path to walk. It's pretty unstable, steep and the stones are very uneven. I wouldn't recommend walking up the path unless you have very comfortable shoes on that are not slippery. Some sort of good sneakers or hiking shoes are probably best. I'd call it kind of a short hike, but it's kind of vigorous if you're not used to hiking much. Some people might need to take it a little slower than others.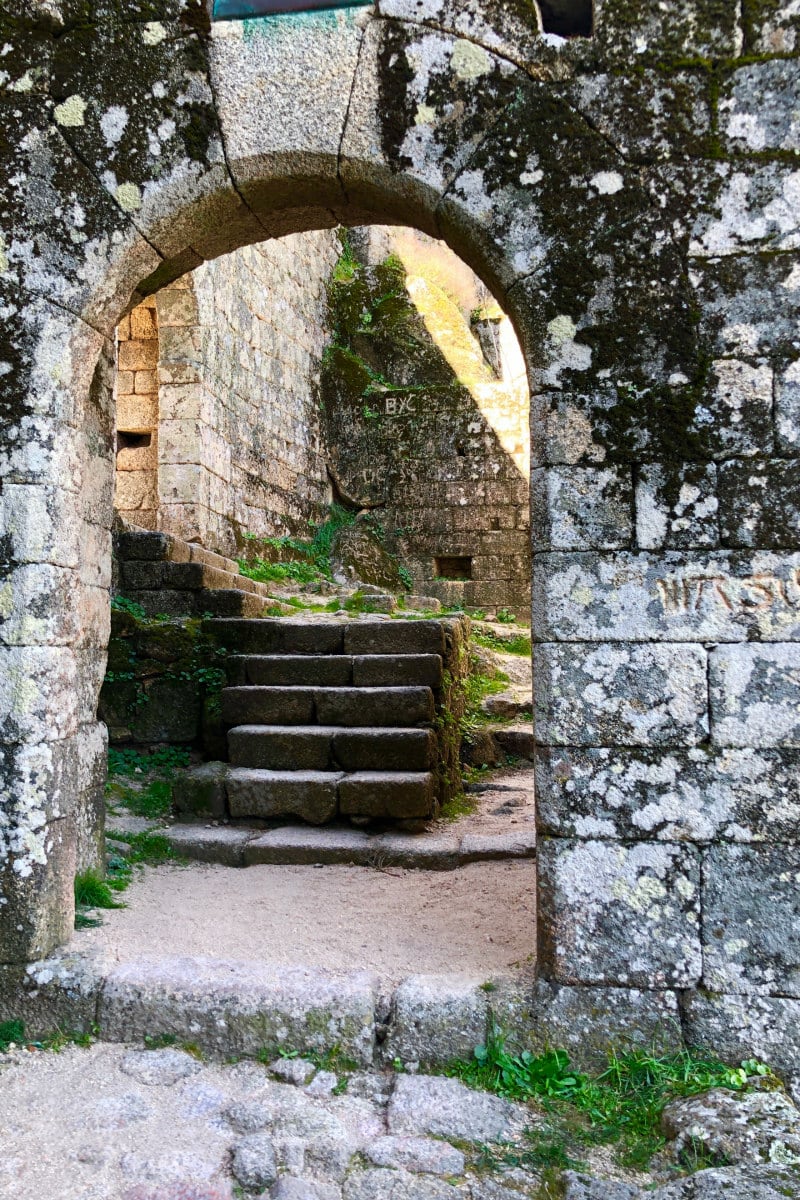 Once you get to the top of Monsanto, there is a lot to explore with the remains of the castle from long ago. You'll begin by walking through this beautiful archway.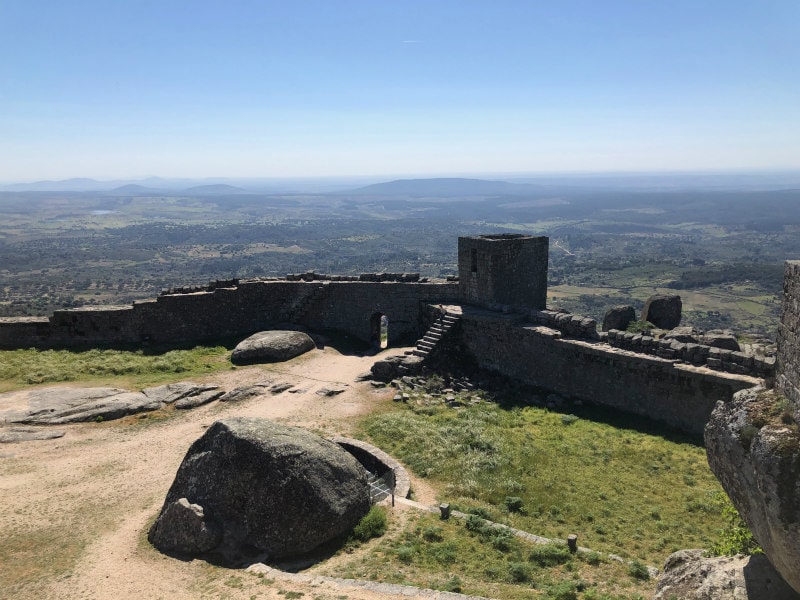 Here's a peek at the exterior walls of the castle. In true Portugal fashion, the castle was built at the top of the hill so they'd have good position for possible invaders.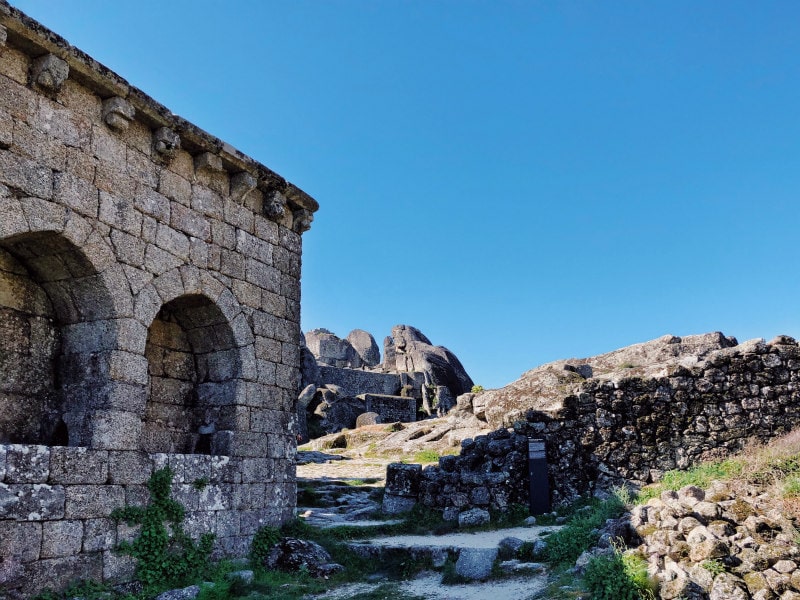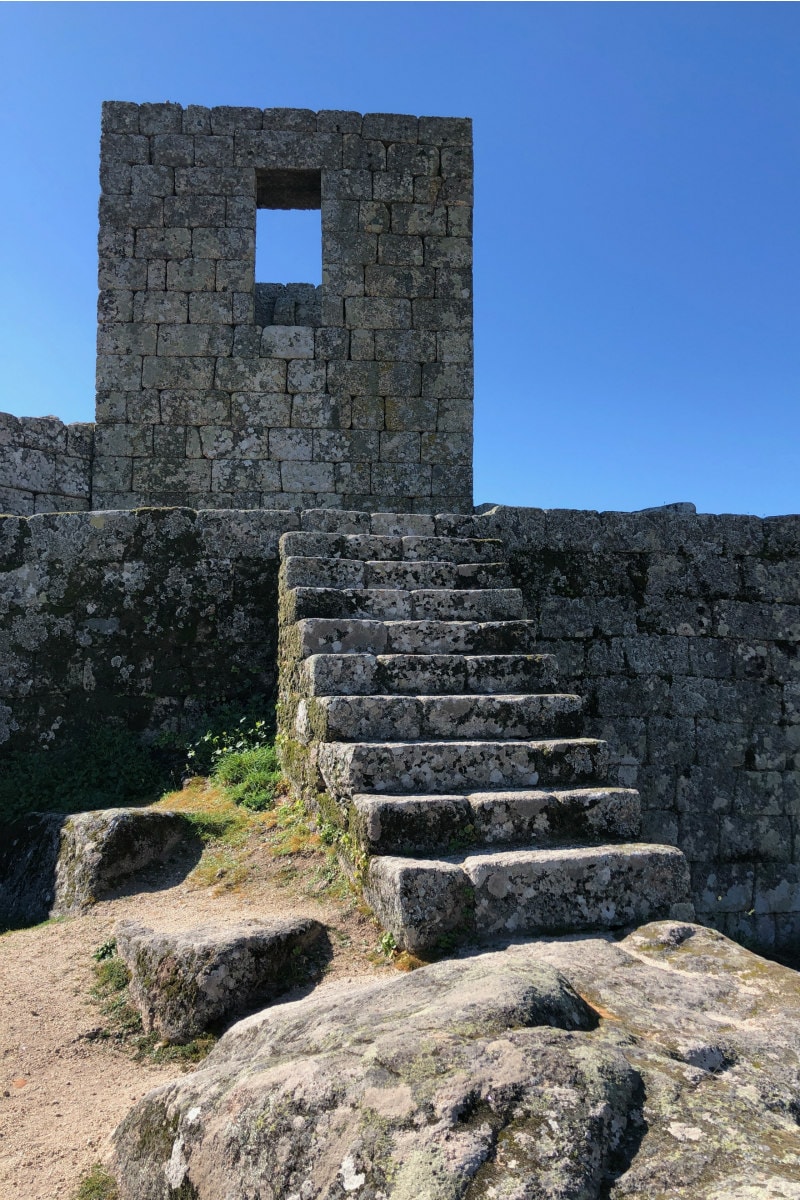 I suggest that you walk all over the property and take it all in.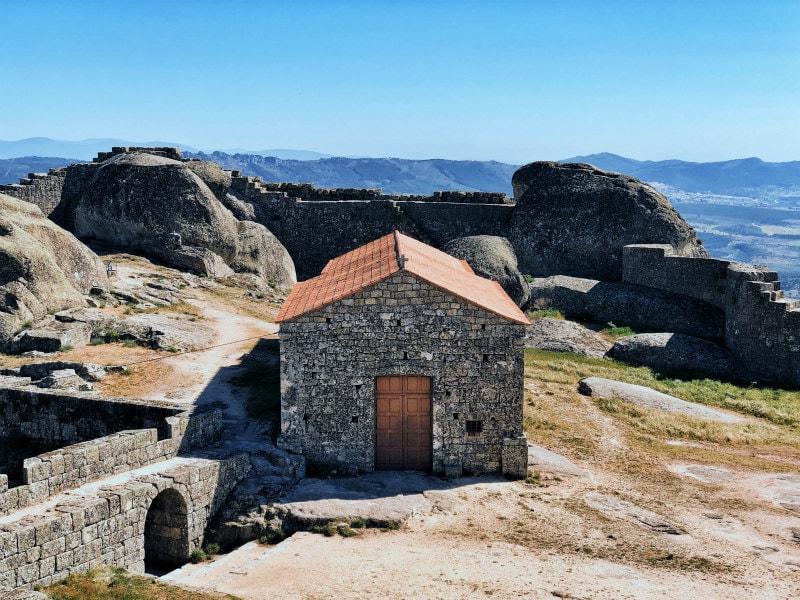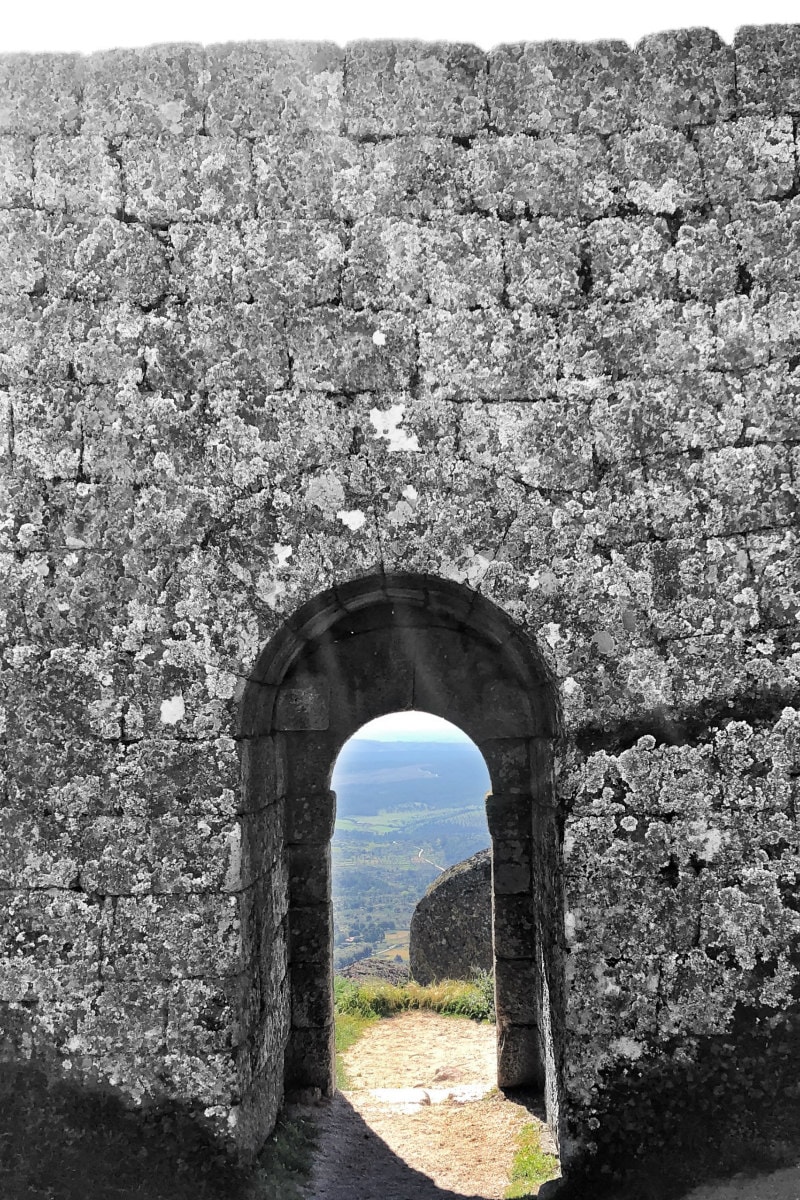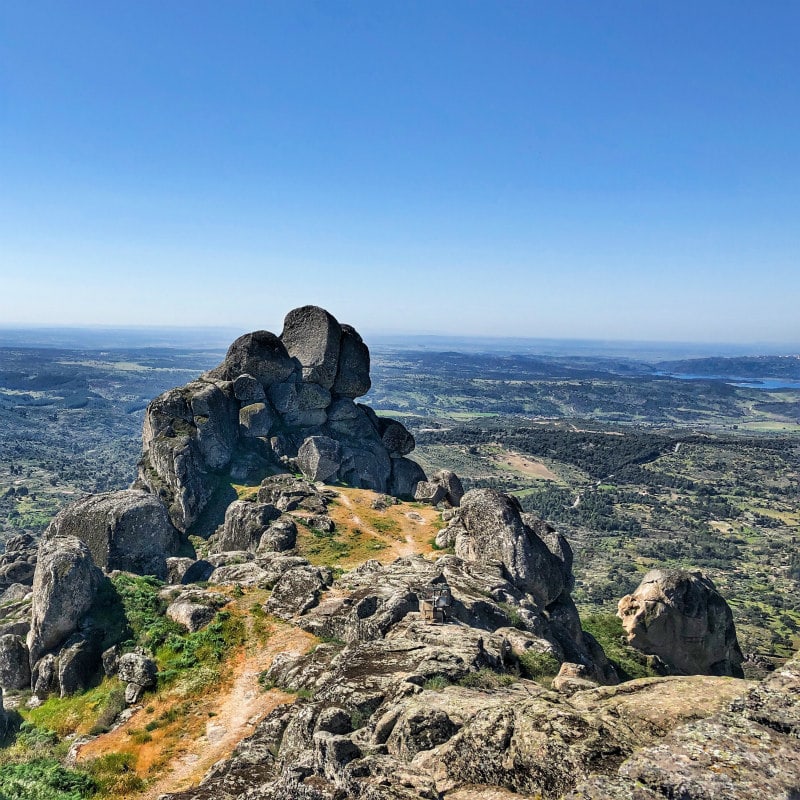 The views from the top down to the valley below… and toward Spain… are amazing! It's truly remarkable to be able to view castle remains in places like this.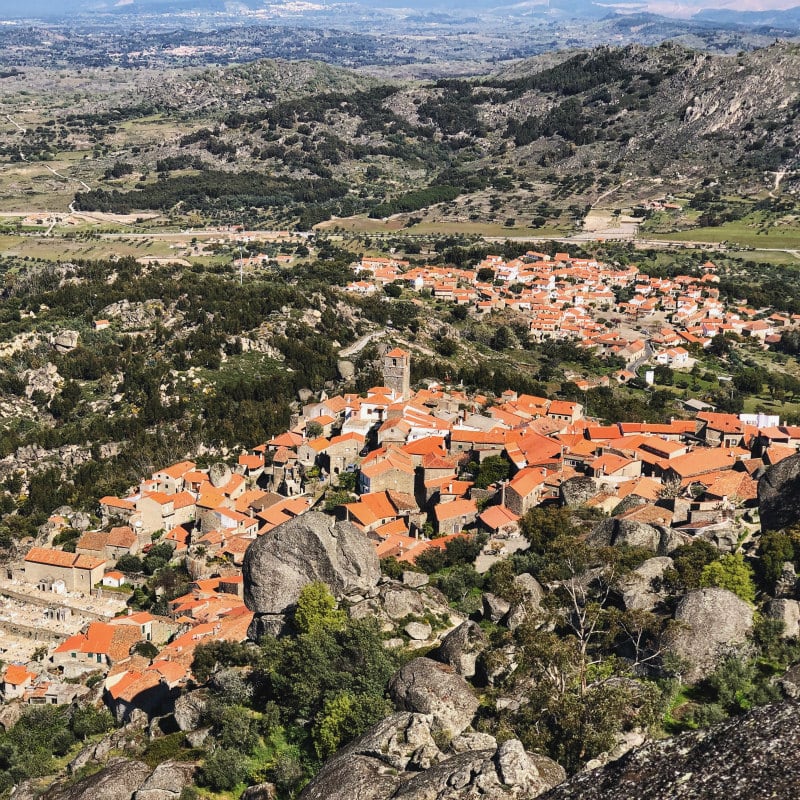 And of course there are great views down to the village of Monsanto below. If you're in Portugal and you want to take a day trip (or if you're looking for a one night stay in a unique place), I suggest you visit Monsanto. It was a favorite for all of us on this Road Trip in Portugal!
IF YOU'RE INTERESTED IN READING THE OTHER POSTS ON MY ROAD TRIP IN PORTUGAL, GO HERE: