Salty + sweet is a match made in heaven. If you've never tried it, you simply must trust me and give it a go. Picture this… super fudgy, chocolatey, velvety brownies… sprinkled with a bit of flaky sea salt. Yes, that's what these are: Salted Fudge Brownies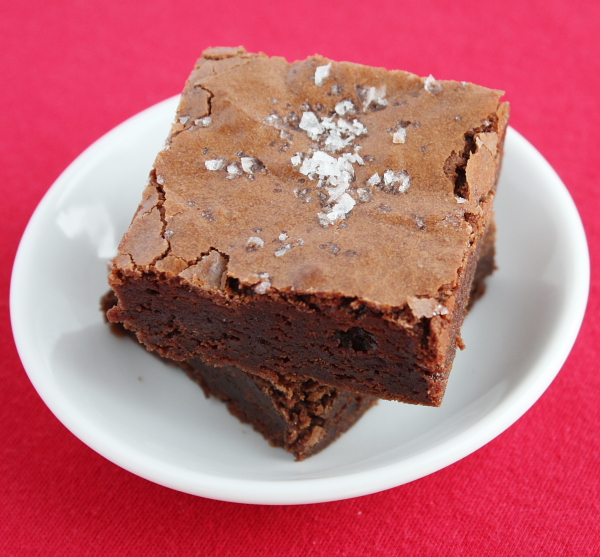 Here's the how-to: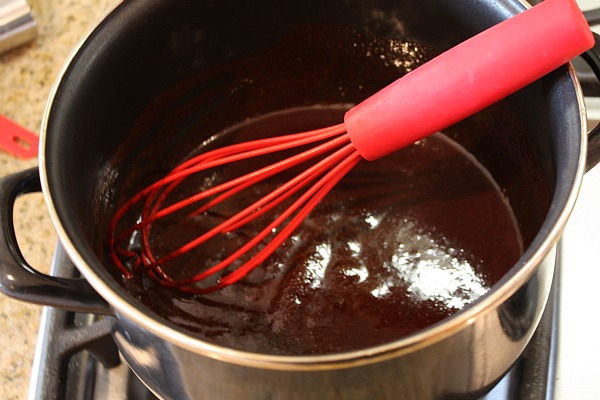 Melt butter and unsweetened chocolate.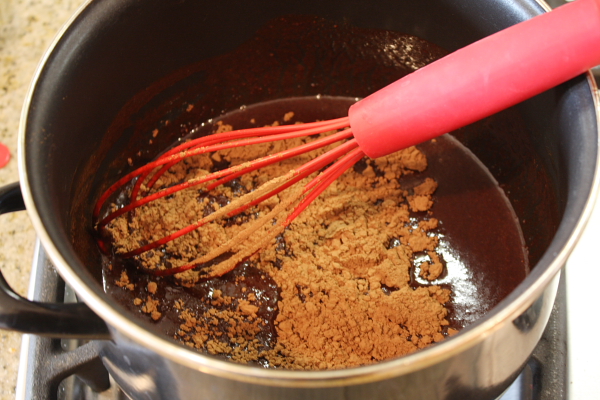 Heat turned off at this point, add unsweetened cocoa.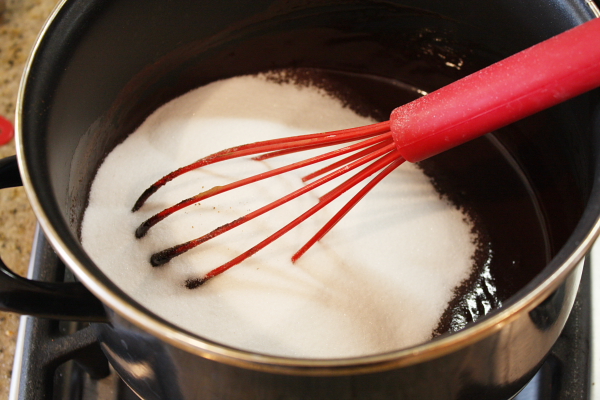 Then add the sweet… a whole lot of sugar.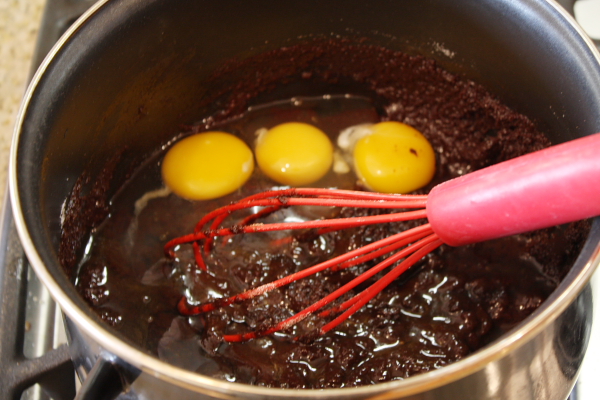 By this time, the mixture is cooled off enough to add the vanilla and eggs (they won't cook!)
Then the flour.  That's it!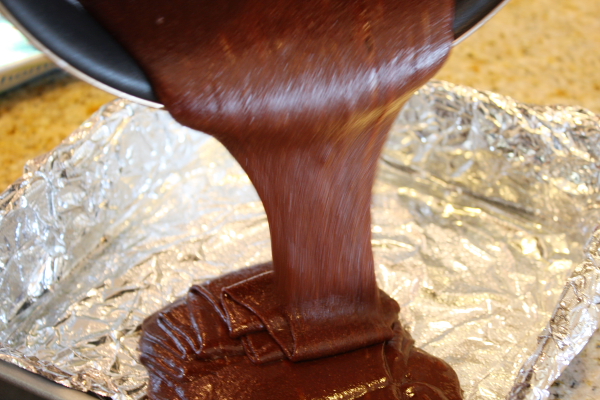 Pour batter in a foil-lined pan sprayed with nonstick spray.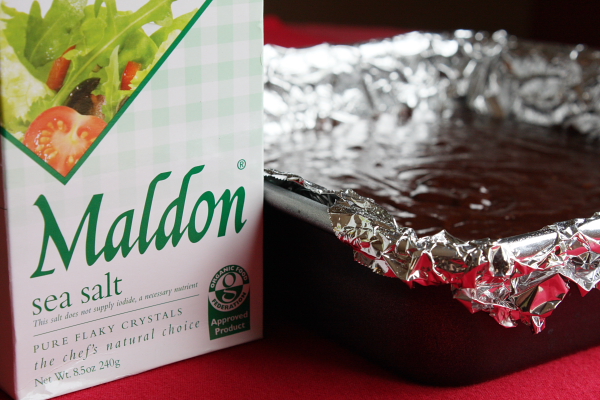 Then get out your sea salt… the flaky kind.  Flakes make a difference- they're prettier and they'll sit on top of the batter (visually) a little easier than finely ground sea salt.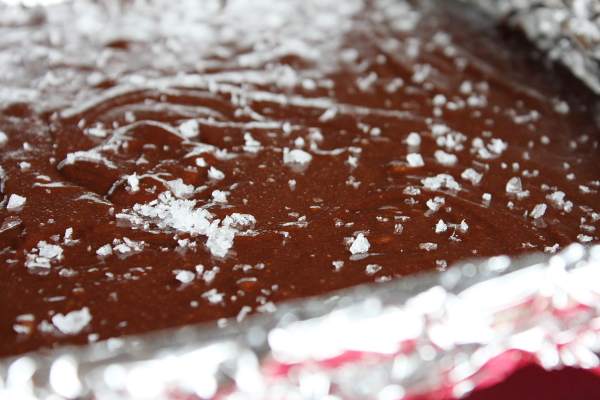 Sprinkle flaky sea salt on top.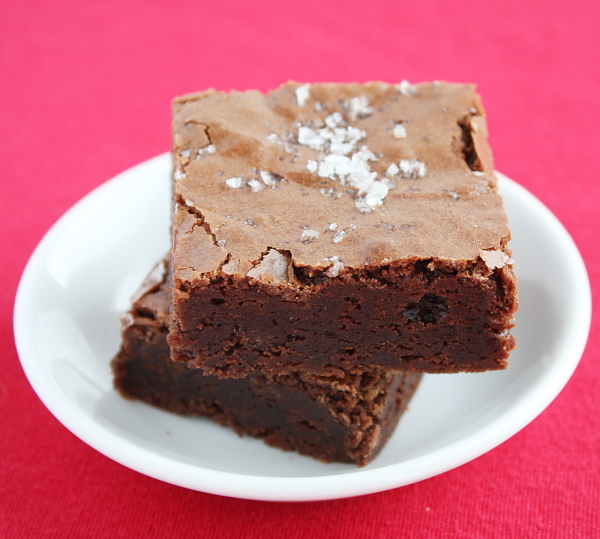 And that's the Salted Fudge Brownie! It turns out to be quite fudgy on the inside with a slightly crisp, thin layer on top. Every bite gives you a little bit of sweet and a touch of the salty too. Big time deliciousness 🙂
Salted Fudge Brownies
Chocolate + a little sea salt = Heaven
Yield:
16 brownies
Prep Time: 20 min
Cook Time: 35 min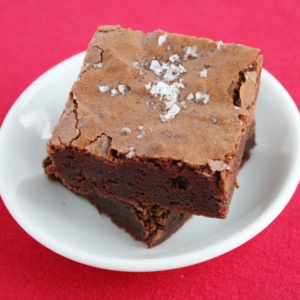 Ingredients:

3/4 cup unsalted butter
2 ounces unsweetened chocolate, finely chopped
1/4 cup + 2 Tablespoons unsweetened cocoa powder
2 cups granulated white sugar
3 large eggs
1 1/2 teaspoons vanilla extract
1 cup all-purpose flour
1/2 teaspoon flaky sea salt (I use Maldon)

Instructions:

1. Preheat oven to 350 degrees F. Line 9-inch square pan with foil, draping foil over edges. Spray foil with nonstick spray.

2. In a large saucepan, melt butter with chocolate over low heat, stirring occasionally. When mixture is melted and smooth, remove from heat. Whisk in cocoa, then sugar, then eggs, then vanilla and then flour... making sure that each is incorporated before adding the next. Pour batter into prepared pan. Sprinkle flaky sea salt over the top of the batter.

3. Bake brownies for about 35 minutes, until edges are set but the center is still a bit soft. A toothpick inserted into the center should come out coated with a little bit of the batter. You want them to remain fudgy and not come out dry.

4. Let brownies cool at room temperature for about an hour, then refrigerate just until firm (about another hour). At this point, gently lift brownies from the pan and peel back the foil. Cut brownies into squares and serve.