This recipe has been featured in a menu on the site- Italian Dinner Party.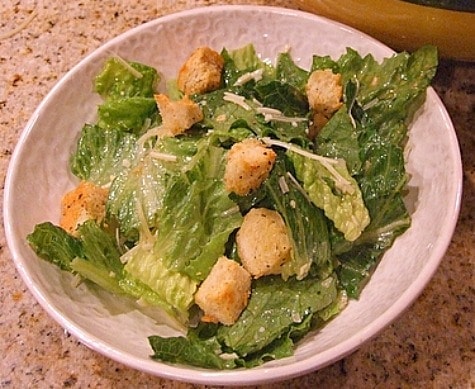 Caesar Salad w/ Homemade Sourdough Croutons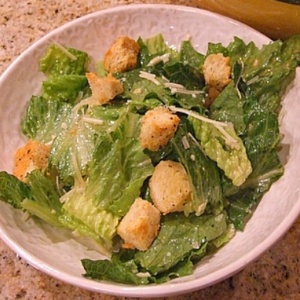 The homemade Italian-seasoned croutons really make this salad special...
Yield:
6 servings
Prep Time:30 min
Cook Time:15 min
Ingredients:
CROUTONS:
2 cloves garlic, crushed
2 Tablespoons extra-virgin olive oil
1 Tablespoon butter
3 cups cubed sourdough bread
1 teaspoon course black pepper
1/2 cup grated Parmesan cheese
2 Tablespoons chopped fresh thyme leaves
SALAD DRESSING:
1 clove garlic, finely chopped
1 lemon juiced
1 teaspoon tabasco sauce
1 teaspoon worcestershire sauce
1 teaspoon Dijon mustard
1/3 cup extra-virgin olive oil
SALAD:
2 hearts of romaine lettuce, chopped (7-8 cups)
1/2 cup shredded Parmesan cheese
salt & fresh ground pepper
anchovies (optional)
Directions:
1. Preheat oven to 325 degrees F.
2. Heat garlic and oil over low heat and melt butter into the oil. Place bread in a large bowl and toss with garlic oil and butter. Season with pepper, Parmesan and thyme. Spread croutons evenly on a baking sheet. Bake until crisp and golden- about 15 minutes.
3. In the same bowl in which you made the croutons, combine garlic, lemon juice, tabasco, worcestershire and mustard. Whisk in olive oil.
4. Remove croutons and let cool. When ready to serve, add lettuce to the bowl with the dressing. Toss to coat evenly. Add cheese, salt, pepper and croutons. Toss again. Adjust seasonings and serve, with or without anchovies.